There are numerous ways to prepare salmon, and one of the most popular ways is to smoke it.
Salmon can be smoked at 250 degrees Fahrenheit in a smoker for 60 to 90 minutes or until the meat flakes nicely and has an internal temperature of 145 degrees. The thickness will determine exactly how long the salmon needs to smoke.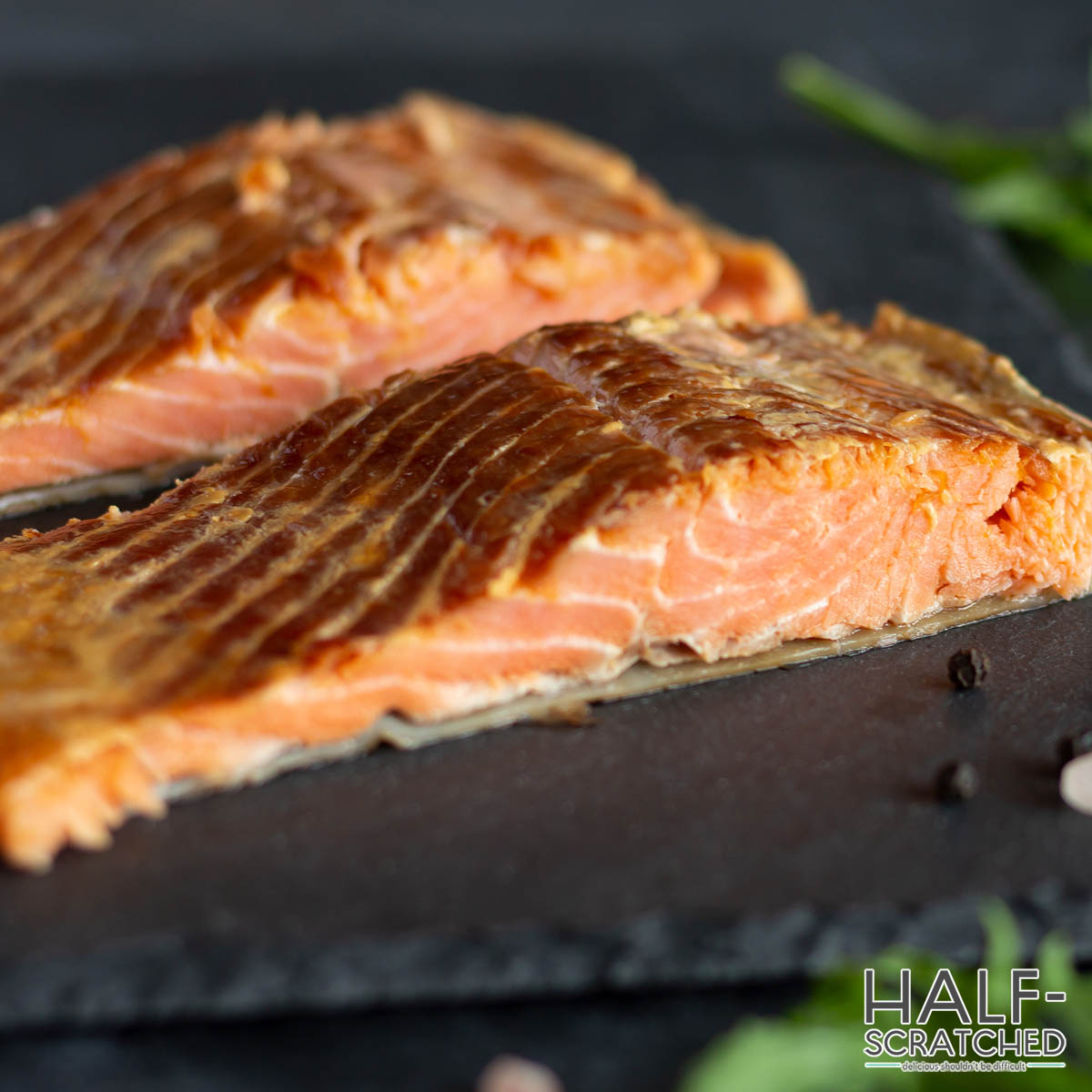 This article will give you tips and tricks on how to smoke salmon, and provide a delicious smoked salmon recipe that will make a nice lox bagel or sought-after hors d'oeuvres!
How Do I Prepare Salmon for Smoking?
The first step in smoking salmon is to prepare the fish for the smoker! Here are some common questions and helpful tips before you get started.
Can I Smoke a Whole Salmon?
Yes, you can smoke an entire salmon fillet but you shouldn't smoke a whole fish without first cutting it up. When you cut the salmon into fillets or steaks, then it's easier to smoke and the flavor will permeate the flesh. Here are different parts to smoke:
Fillets
Salmon filets are by far the most popular part of the fish to smoke. It's the biggest area of the fish's body and provides the most meat. People like the fillet because it's also quite easy to remove all the bones. Fillets run parallel to the bones and can be cut thinly or thickly.
Salmon Steak
Salmon steaks also come from the fish's body but the cut is perpendicular to the spine instead of parallel like the fillets. It tends to be a serving for one person but you can make the steak as thick or thin as you'd like.
Salmon Head
While fish heads aren't often thought of as edible, they are! If you have a whole salmon, you can chop off the head and save it for smoking later. They're a rich source of omega-3s and Vitamin A. Be careful of bones, though!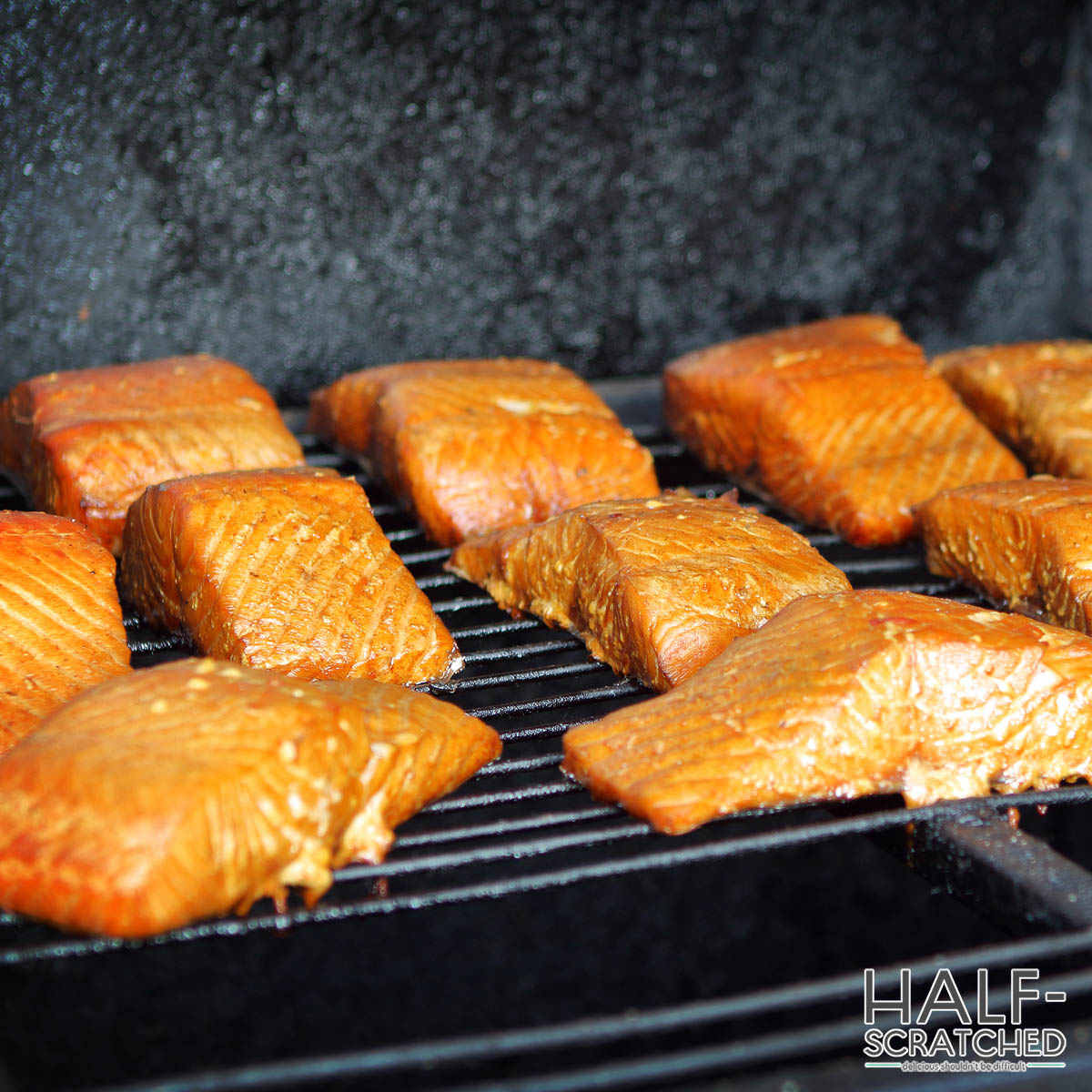 Best Salmon for Smoking
Once you've decided you want to smoke salmon, you have to decide on the kind of salmon:
Sockeye salmon: this kind of salmon has a firm body and is great for smoking because it won't fall apart. It also has a higher oil content than other kinds of salmon, which means the meat better absorbs the smokey flavor.
King salmon, or Chinook salmon: the name says it all. King salmon is king and is one of the most popular breeds to smoke. It has a beautiful deep red color and high-fat content to keep everything moist.
Atlantic salmon: this salmon is readily available, so it's often chosen to smoke. It has a bright orange color and a stronger fish flavor. Because it's easier to obtain, it tends to be more affordable than the other kinds of salmon.
A lot of the differences in the salmon are subtle, but depending on what kind of texture and flavor you want, one may be a better choice for you than the others.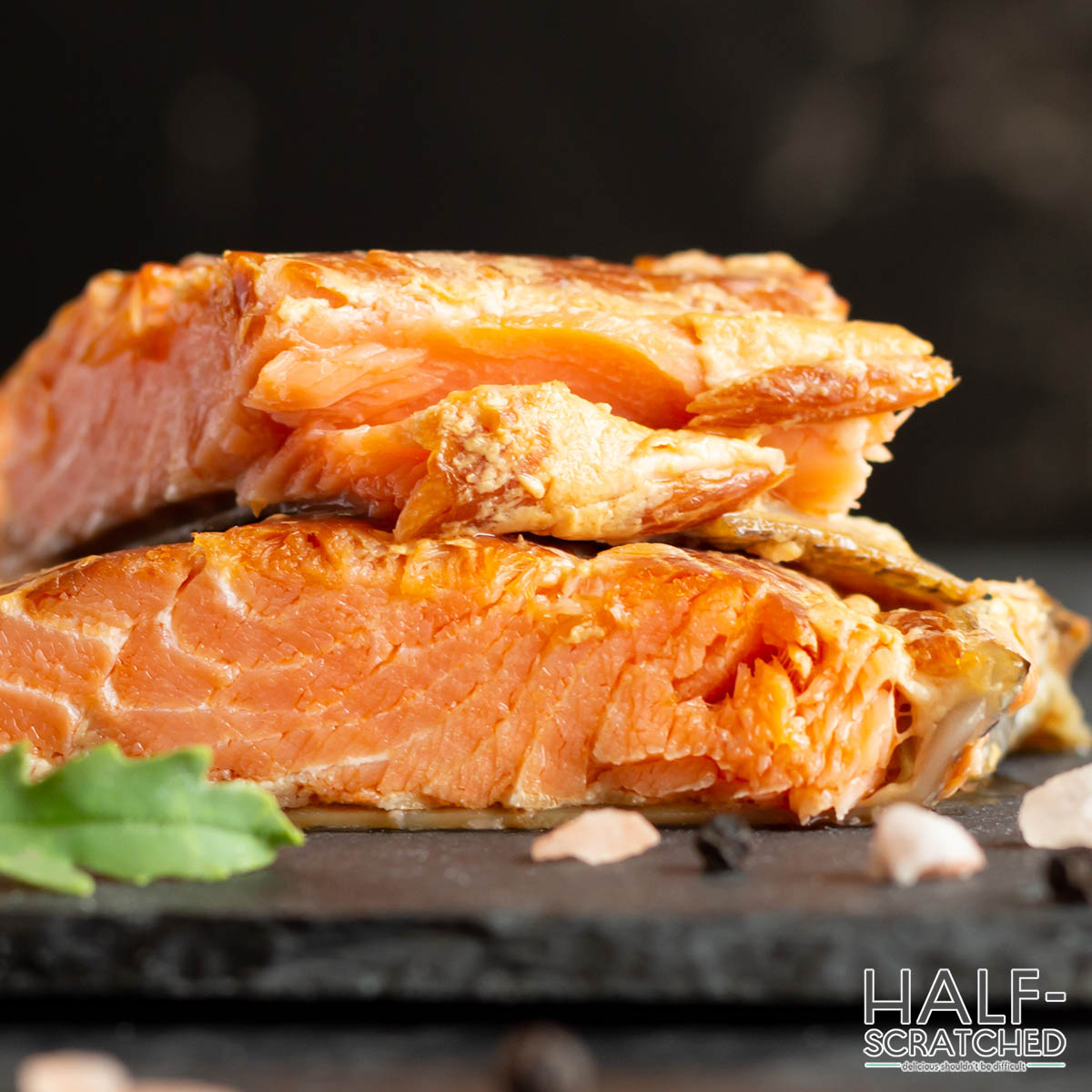 Expert Tips for Smoking Salmon
Whether it's your first time smoking salmon or you consider yourself an expert, keep these tips in mind to make the perfect meal!
Experiment with Different Woods
Different woods will give your salmon a slightly different flavor, so have some fun and test out different ones. Popular smoking woods include alder, apple, pecan, or maple. Aim to get high-quality wood pellets because some are treated with harmful chemicals that can affect the finished smoked salmon.
Form a Pellicle
A very important step in smoking salmon is to form a pellicle on the salmon's skin after you brine or season it.
What is a Pellicle?
The pellicle is a coating on the salmon's skin that's made up of proteins that help the smoke stick to the salmon. It creates a much richer flavor and is worth doing.
How Do I Form the Pellicle?
After you've brined or seasoned your salmon, rinse everything off and pat the salmon dry with a paper towel. Put the salmon in the fridge and let it sit uncovered for about four hours, or until the skin has a glossy texture.
Keep an Eye on the Internal Temperature
You don't want to over smoke the salmon, so keep an eye on the internal temperature. When it reaches 145 degrees Fahrenheit, then it'll finish cooking. If you notice white spots starting to form on the meat (called albumin), then you know that the temperature is too high and you need to turn it down.
Seasonings
You can either brine your salmon or sprinkle your seasonings and rub them in. The sprinkling tends to be less messy and easier because you don't have to let the salmon sit in a brining solution.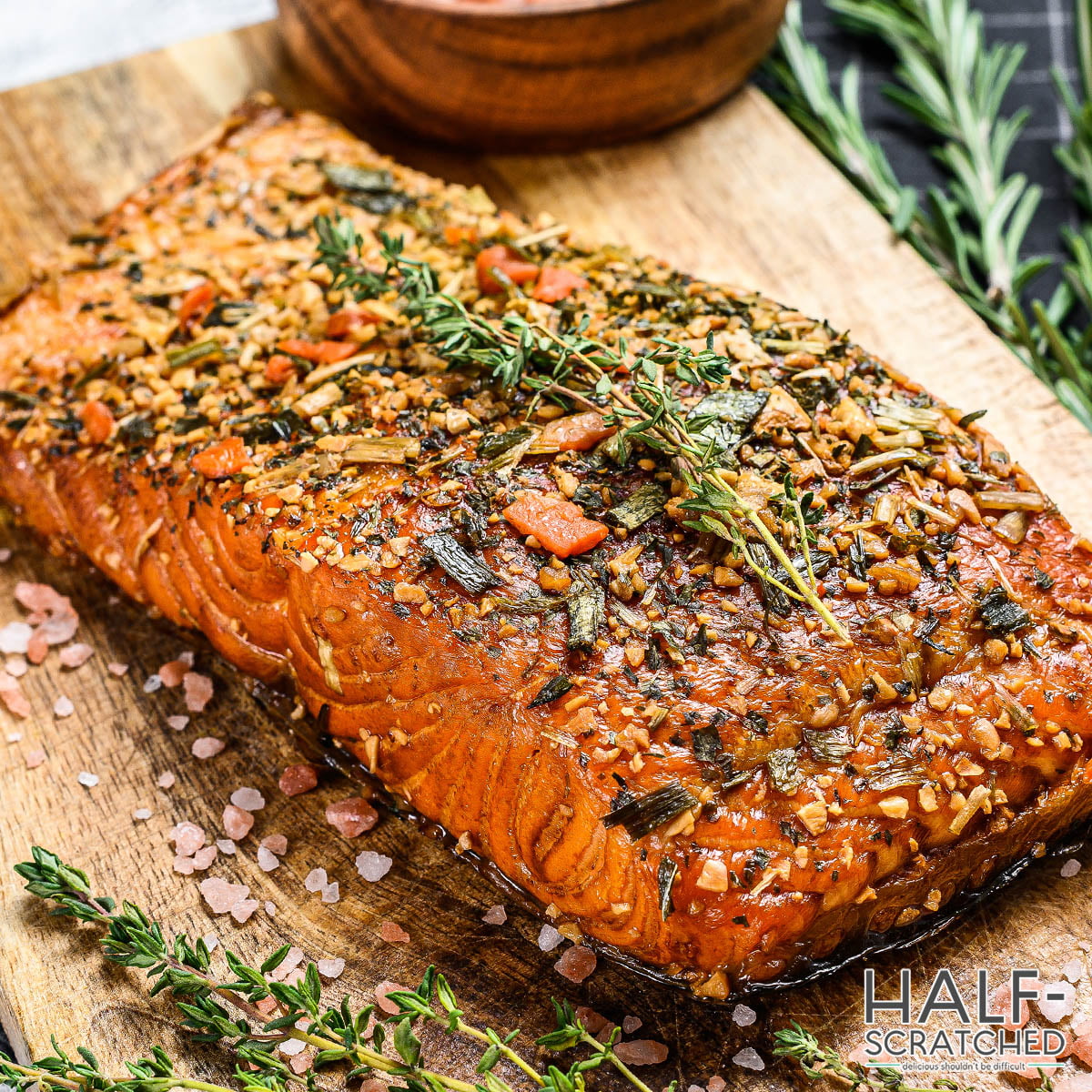 Should I Leave the Skin On?
It's not necessary for smoked salmon to have the skin on, but it does lend the fish a nice texture and flavor. The only downside is that some salmon skin can contain toxins, which depends on where the fish came from. For this reason, it's best to stick with wild-caught salmon.
Is Smoked Salmon Considered Raw?
Even though some might think that smoked salmon is raw, it's actually considered cooked! Once the internal temperature reaches 145 degrees, then the FDA considers the fish safe to eat.
Hot Smoking Versus Cold Smoking
Generally, there are two different ways to smoke salmon: hot smoking or cold smoking. Is one better than the other? We compare the two below.
Hot Smoking
When you hot smoke something, you are smoking it at 120 degrees Fahrenheit or higher. It usually tends to have a stronger, smokier flavor and a flakier texture. Hot smoking also has a shorter cooking time.
Cold Smoking
Cold smoking involves smoking the salmon at 90 degrees Fahrenheit or below. The smoke preserves the meat but because the temperature is lower, the salmon should remain in the smoker for a longer period (often over a day). Cold smoked salmon has a silkier texture and looks glossy.
Perfect Smoked Salmon Recipe for Lox Bagels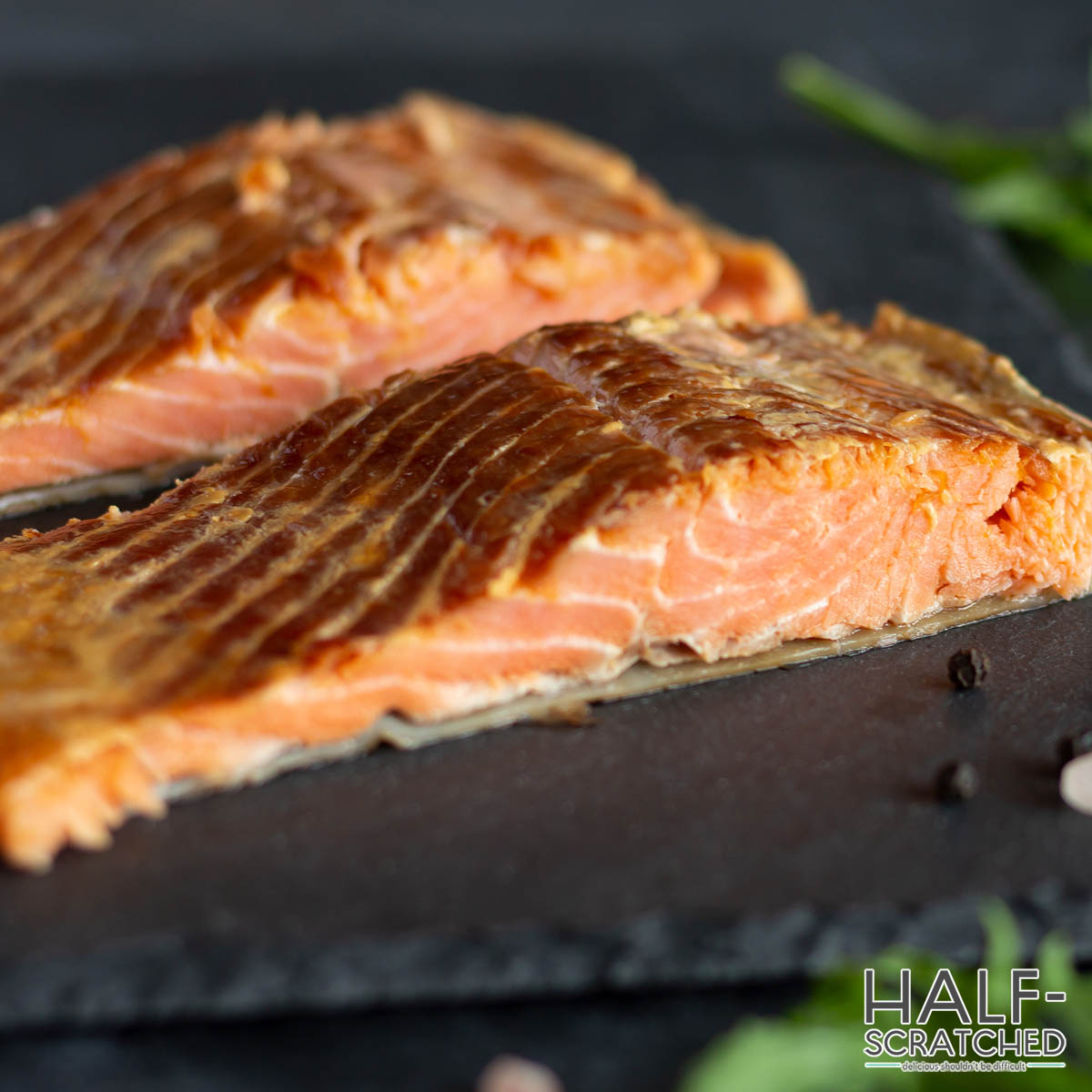 How Long to Smoke Salmon at 250 F
Smoked salmon pairs well with everything and in this article, we show you how easy it is to smoke salmon at 250 degrees.
Ingredients
1 pound salmon fillet
2 tablespoons salt
2 tablespoons dark brown sugar
Instructions
Pat the salmon fillet dry with a paper towel and place it on a sheet pan.
Mix the salt and brown sugar in a bowl, then apply the seasonings on the fillet. Cover it and let it sit in the fridge for 8 hours.
The next day, rinse off the brine and pat dry again. Put it back in the fridge (uncovered) and let it sit for about 4 hours to form the pellicle.
Preheat the smoker to 250 degrees Fahrenheit. Put the salmon fillet in and check on it every 20 minutes, or until the internal temperature is 145 degrees.
Take it out and let it sit for 10-15 minutes.
Nutrition Information:
Yield:

2
Serving Size:

1
Amount Per Serving:
Calories:

509
Total Fat:

28g
Saturated Fat:

5g
Trans Fat:

0g
Unsaturated Fat:

20g
Cholesterol:

143mg
Sodium:

6486mg
Carbohydrates:

11g
Fiber:

0g
Sugar:

11g
Protein:

50g