Smoking a whole chicken may feel like a too-arduous task. However, when you know how long to smoke it at 225°F (and a few other things), it's a breeze.
A 4-pound whole chicken will take roughly 3.5 hours to 4.5 hours to cook thoroughly in your smoker. However, this time will vary depending on humidity, the size of your chicken, the smoker's hot spots, the wind, and more.
To be on the safe side, always use a digital, instant-read thermometer to check the breast has reached 160°F to 165°F and the thighs have hit 170°F to 175°F.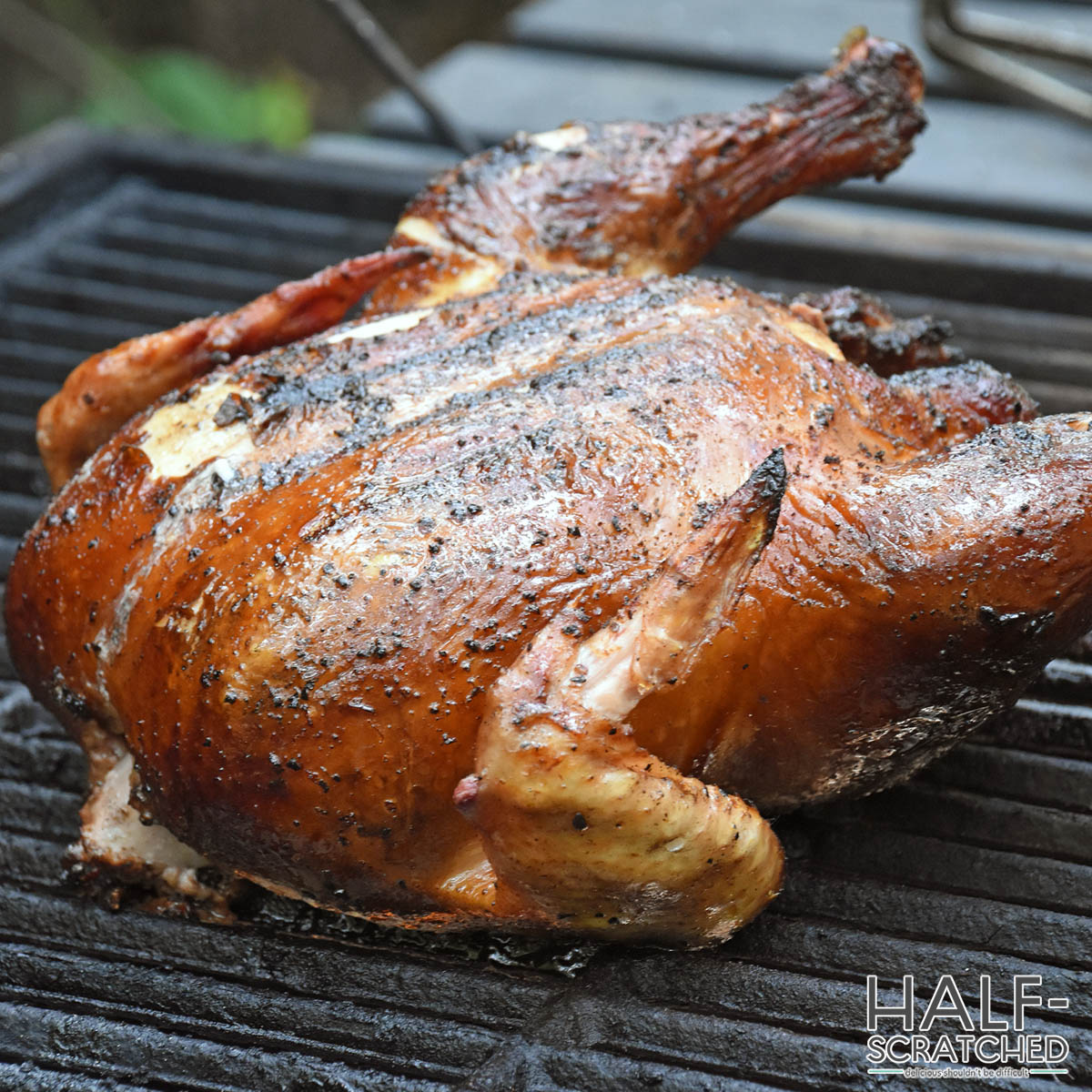 You've got the (arguably) most confusing part down to a T. In the following sections, we'll go over the preparation steps, choosing wood, storing, and more.
How to Prepare a Whole Chicken for Smoking
Despite how daunting it may feel, preparing a whole chicken isn't as scary as it sounds. Just follow these steps:
[Optional] Brine the chicken in a saltwater solution for as long as 24 hours. It helps the meat retain its natural moisture while adding some extra plumpness and juiciness. Not to mention that it guarantees a deliciously seasoned bird. If you don't have time, though, feel free to skip.
Remove the giblets (if your chicken has come with them).
Throw them away.
Allow your chicken to get to room temperature. Do this by simply leaving it on the counter for 20 to 30 minutes.
Use paper towels to pat the chicken dry before spraying it with oil, seasoning, and applying a rub (if necessary). We'll talk more about rubs when we share the recipe later on.
Truss (i.e., tie) the legs with kitchen or butcher twine. While perhaps tempting, don't skip this step; it ensures everything cooks evenly and prevents the legs from burning. Plus, the presentation will look much tidier.
Finally, tuck the tips of the wings behind the back of the chicken or underneath it. Like the trussing step, this is to stop them from burning.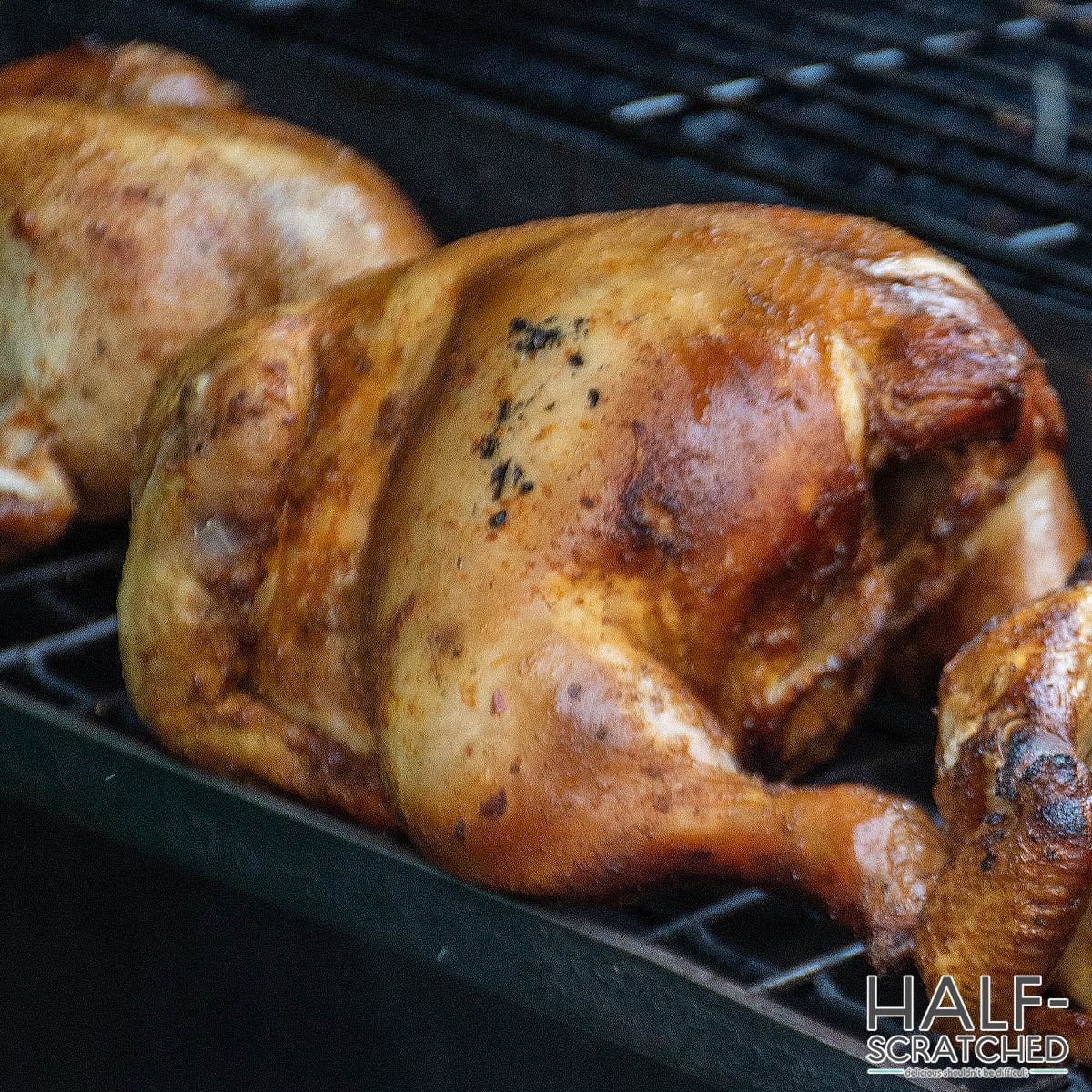 The Perfect Wood for Smoking Whole Chicken
Almost any hardwood (don't use softwood, it burns far too quickly) will work wonders for your smoked chicken. However, some woods are particularly suited for whole chicken due to the flavors they infuse into the meat.
Even though the taste's intensity may change based on where the tree was grown, we typically choose one of these wood types when smoking whole chicken.
Maple - As one of the lightest woods, it offers a delicate sweetness to poultry, vegetables, and cheese. It definitely won't overpower your chicken, ensuring your marinade and/or rub takes center stage.
Applewood - Almost any fruit wood works wonders with a whole chicken. Many pitmasters prefer peach, but this can be pretty hard to source, depending on where you're based.
Post oak - This smoking wood pairs wonderfully with almost all meat types, chicken included. It delivers a fairly powerful smokey taste that could be too much for chicken if it isn't handled with care or mixed with lighter hardwood.
Cherry - Some people are put off from smoking chicken with cherry wood. Why? Because it can give the meat a pinkish, sometimes reddish, hue. Obviously, said color and chicken do not go hand-in-hand. However, the flavor is sweetly smoky, which complements the chicken perfectly.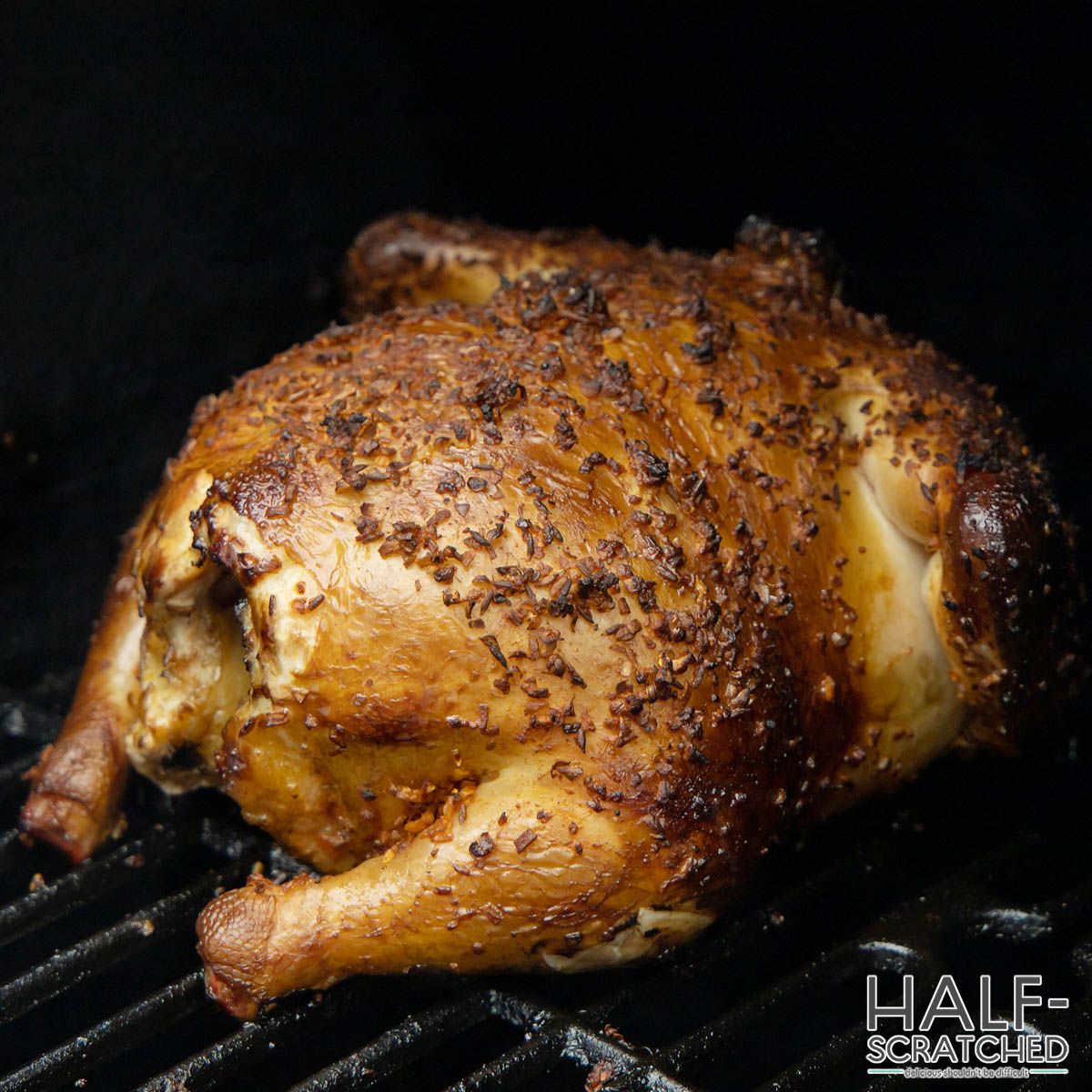 Store and Use Smoked Chicken Leftovers Like a Pro
You'll likely have leftovers when smoking a whole chicken, regardless of how delicious it is. But you don't have to let them go to waste.
Storing
Once the chicken has cooled completely, place it in an airtight container. It will keep nicely in the fridge for three to four days.
Of course, you can freeze the meat if you want it to last longer. Place in vacuum packs or freezer bags and put them in the freezer for roughly four months.
Using
You can use leftover (and properly stored) smoked chicken for a variety of tasty meals, including:
Sandwiches and wraps - Slice or shred the meat, using it to fill sandwiches or wraps. Try incorporating fresh vegetables and your favorite sauces for a truly tasty lunch.
Salads - Shred or chop the chicken, tossing it into fresh salads for added texture, protein, and flavor. Add a dressing and some greens for a satisfying dish.
Quesadillas and tacos - Smoked chicken works well as fillings for tacos or warm quesadillas with melted cheese. Pair with dips like sour cream, guacamole, and salsa.
Soups and stews - Probably not something you fancy eating in the summer. But nevertheless, you can shred smoked chicken and add it to soups or stews for a touch of protein and a deeper, more enhanced flavor.
Flatbreads - Use it as a topping for homemade flatbreads alongside vegetables, sauces, and cheese.
The Moistest, Tastiest Smoked Whole Chicken Recipe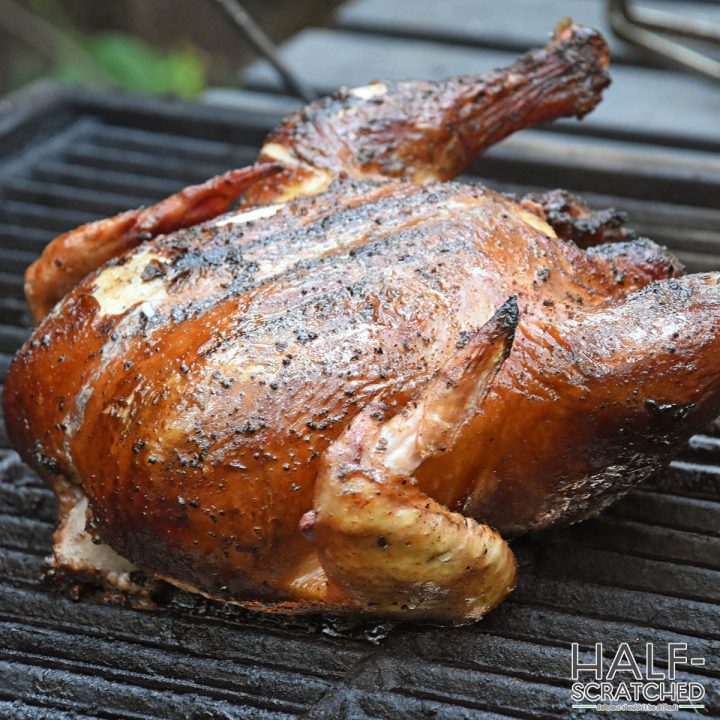 How Long to Smoke Whole Chicken at 225 Fahrenheit
Total Time:
4 hours
10 minutes
Smoke the perfect whole chicken at 225°F every single time with our in-depth tutorial. Several expert tips included!
Ingredients
4 pounds whole chicken
2 teaspoons cooking oil
1 tablespoon kosher salt
2 teaspoons onion powder
2 teaspoons garlic powder
2 teaspoons paprika
½ teaspoon turmeric
½ teaspoon ground black pepper
1 tablespoon dried oregano
½ teaspoon coriander
½ teaspoon ground cumin
¼ teaspoon ginger
Instructions
Mix the kosher salt, onion powder, garlic powder, paprika, turmeric, ground black pepper, ground cumin, coriander, dried oregano, and ginger in a small bowl. This is your rub.
Make sure your chicken is completely thawed.
Remove the giblets, ensuring the cavity is completely empty.
Bring the raw chicken to room temperature.
Preheat the smoker to 225°F.
Use paper towels to pat it dry.
Drizzle or spray the entire chicken with oil.
Use your hands to massage the oil into the whole chicken.
Apply the rub you made earlier, ensuring the entire chicken is evenly coated. Try to get it under the skin where possible. You want to cover every nook and cranny with it.
Use kitchen twine to truss the legs.
Tuck the tip of the wings underneath or behind the bird's back.
Put the chicken directly on the smoker, making sure its breast side up.
Close the smoker's lid.
Smoke it for 3.5 to 4.5 hours. Insert an instant-read thermometer into the thickest part of the chicken, ensuring the tip reaches the center at regular intervals. Take it out when the thermometer reads 165°F.
Once the safe-to-eat temperature is reached, remove the chicken from the smoker and cover it with tin foil.
Allow it to rest for 10 to 20 minutes. This will let the juices redistribute before carving.
Serve with your favorite side dishes!
Notes
You don't need to use the rub recipe we've supplied if you don't want to. Instead, mix two or three tablespoons of butter with two or three teaspoons of minced garlic. Rub it all over the chicken before sprinkling with ground black pepper and salt. Smoke as outlined in the recipe.
If you want crispier skin:

Take the whole chicken off the smoker when the thermometer reads 160°F.
Transfer it to a grill running on high heat (about 500°F).
Leave the chicken there for about five minutes for delightfully crispy skin.

During the last 30 minutes, you can baste the chicken with barbecue sauce for an even smokier taste.
There are plenty of side dishes that pair gorgeously with smoked chicken, but here are a few of our favorites — smoked asparagus, smoked potatoes, French-style potato salad, grilled corn on the cob, parmesan asparagus, coleslaw, mac and cheese, roasted carrots, braised kale, cornbread, watermelon and cucumber salad, or bourbon baked beans.
Nutrition Information:
Yield:

4
Serving Size:

1
Amount Per Serving:
Calories:

1123
Total Fat:

64g
Saturated Fat:

17g
Trans Fat:

0g
Unsaturated Fat:

40g
Cholesterol:

399mg
Sodium:

1319mg
Carbohydrates:

4g
Fiber:

1g
Sugar:

0g
Protein:

125g