Filet Mignon is considered a high-end cut of meat. It's tender, flavorful, and usually on the more expensive side.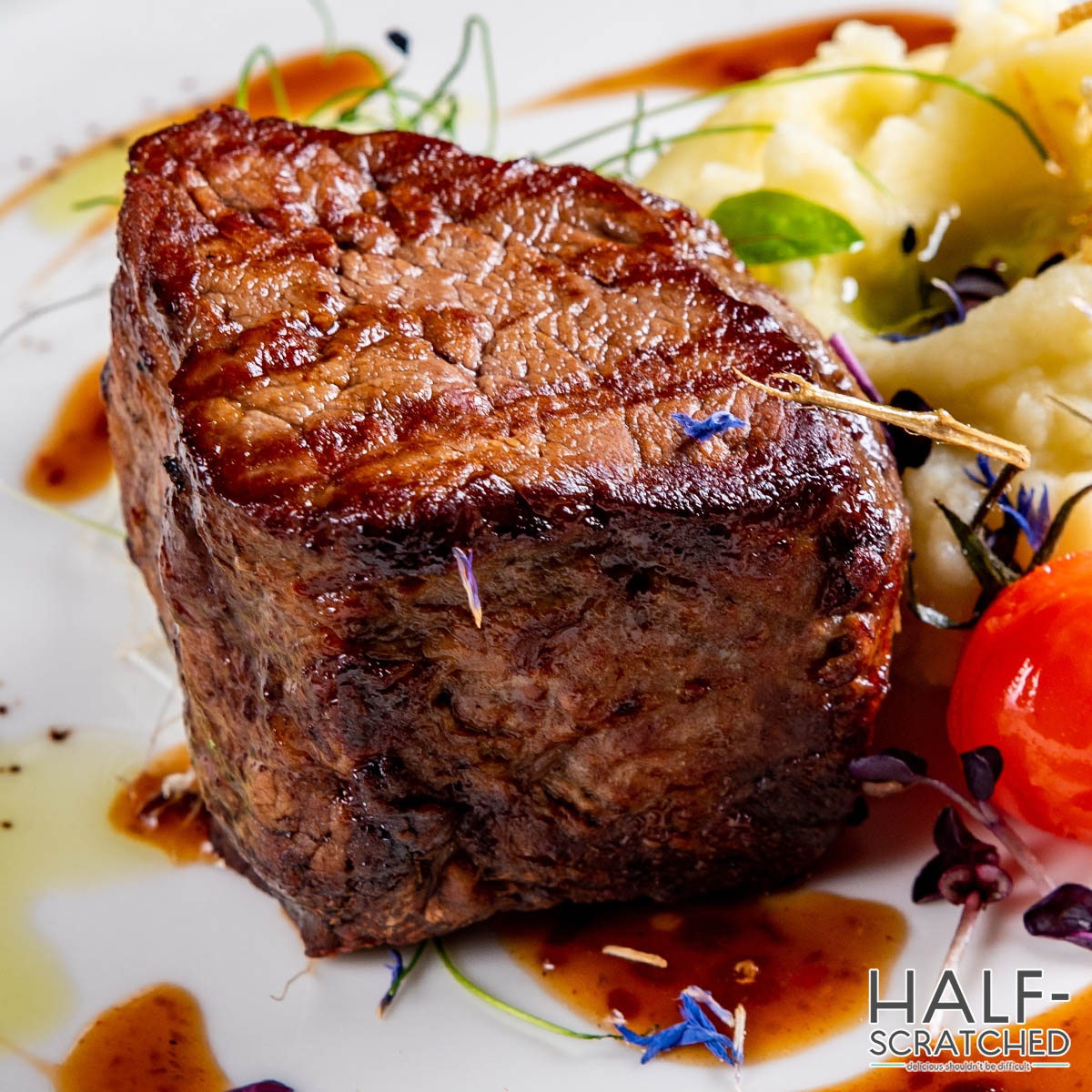 The amount of time you bake filet Mignon in the oven depends on how well done you want it. For a 2 pound cut of filet Mignon, you should leave it in a 350-degree oven for 14–16 minutes. If you prefer your filet Mignon rare, lean toward 14 minutes. If your meat is really thick, you'll need to bake it a bit longer.
Baking Filet Mignon Based on Size
Many people like their filet Mignon with plenty of pink on the inside. To achieve rare filets on a 1.5 inch filet Mignon, bake your meat at 350 F for about 14 minutes. If you prefer it more well-done, shoot for closer to 16 minutes.
As a rule of thumb, bake your filet Mignon for about 10-12 minutes per inch. Doing so leads to a beautiful, melt-in-your-mouth filet Mignon. Cooking it at the lower temperature of 350 Fahrenheit, while many recipes suggest 400, will allow for slow rendering of fats and create an even more delectable final product.
Before you bake your meat, it's best to sear your filets in a saucepan over high heat with butter for about 1-2 minutes per side. This will make for delicious crisping on either side and seals in that coveted moisture.
Try to stay away from very thin cuts of filet Mignon – skip out on anything less than 1 inch thick unless you plan to use it in a non-traditional way. Thinner cuts will cook too fast and dry out in a hurry.
What Temperature Does Filet Mignon Need to Be Cooked To?
While plenty of people love a tasty rare cut, there is such a thing as making the meat a little bit too underdone. Eating undercooked meat of any type can be dangerous, resulting in gastrointestinal distress or worse.
For a rare filet Mignon, cook your steaks to 130-135 F. For medium, you want an internal temperature of 145 F. If you want to get all the way to well done, look for 160 F.
Most people prefer their filet Mignon on the rarer side because it is always going to be much moister than medium or well-done counterparts. The science behind this is because of how the muscle behaves. As the meat cooks past 140 degrees, the muscle fibers start squeezing out moisture and drying out.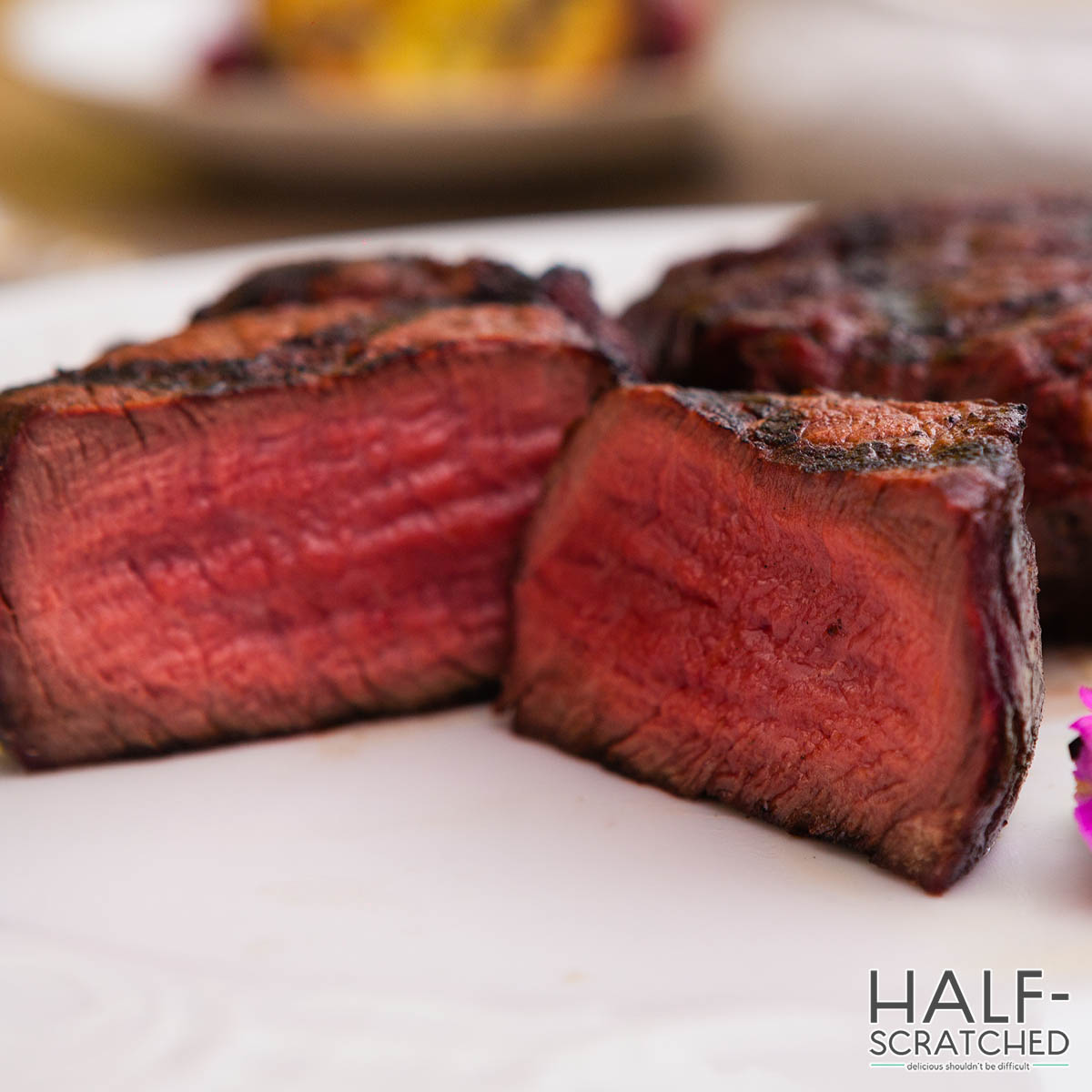 How to Check the Temperature of Filet Mignon
The best way is to use a meat thermometer, though there are a few other ways of checking that internal temp.
With a Meat Thermometer
To check the internal temperature of a filet Mignon effectively, insert the probe of a clean meat thermometer into the thickest part of your filet Mignon. If you have an instant-read thermometer, you'll be able to get the internal temperature indication even faster and sometimes more accurately.
Without a Meat Thermometer
A lot of people like to use the finger test to see how done their steaks are when they find themselves without a meat thermometer.
Poke the spot on your palm just below your thumb with your opposite index finger. The amount of firmness will be similar to that of raw meat. As you touch different fingers toward your thumb and poke that same spot, you'll experience different levels of firmness that correspond to the firmness you'd find in meats cooked to various levels of doneness.
Put your index finger to the tip of your thumb and press for rare.
Put your middle finger against your thumb for medium rare
Put your ring finger against your thumb for medium
Finally, press your little finger against your thumb for well-done steak
While it's not a foolproof method – everyone's hands are different, after all, and people with more or less cushioning on their palms will see different results – it's still a valuable method for getting your filet Mignon in the neighborhood of how cooked you'd like it to be when you take that first bite.
Tips for Baking Perfect Filet Mignon
When you cook a filet Mignon, you want to get it just right. Cooking it for the right amount of time is the foundation for a good steak, but what are some other things you can do to ensure that your filet outclasses the rest?
Find Good Quality Meat
Sometimes you get what you pay for. Though that's not the universal case, cuts of meat are a definite example of this. Going to a local butcher who sources their meat from reputable, small-scale sources will yield the most tender, succulent filet Mignon you can imagine.
The size of your filet matters too. You'll want to find a cut that's at least 1 inch thick if not more. Thinner slices may cook faster, but that speedy cooking time isn't worth how easily they'll get tough and dry.
When picking out your filet Mignon, be mindful of what you're getting; try to cook your meat as soon as you buy it instead of leaving it in the freezer for a long time. While it's completely doable to freeze filet Mignon (both raw and cooked), it will truly thrive fresh.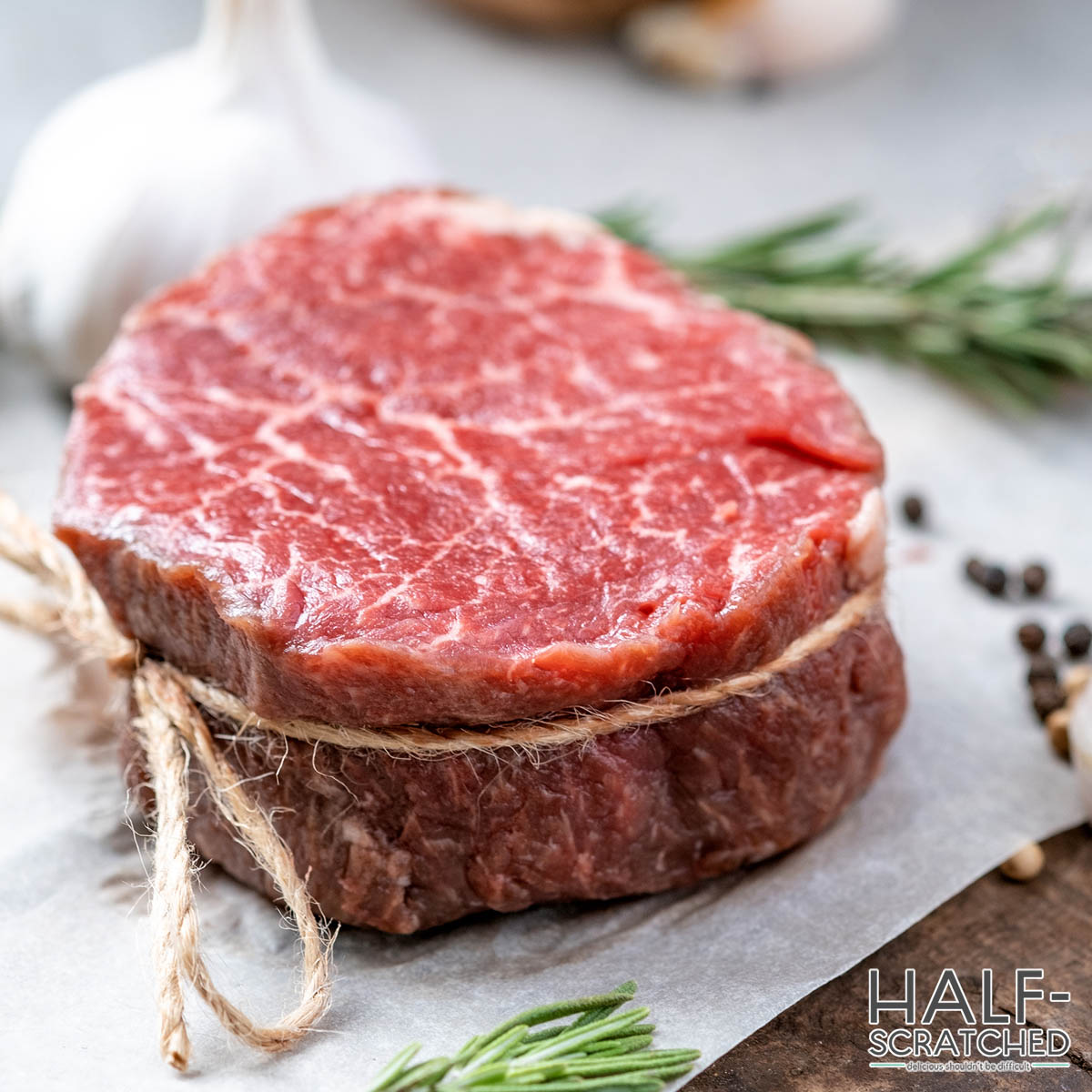 Season Generously
While the succulent, savory flavor of filet Mignon will stand deliciously on its own, a good sprinkling of seasoning will do wonders for it. Seasoning the raw steak with a generous helping of salt and pepper will cause chemical reactions that draw out the flavors and enhance tenderness. It will also help create a sort of 'crust' for the outside of the filet.
You can also season with paprika, rosemary, high-quality mustard, or anything else that will enhance and complement the meat itself.
Preheat Your Oven
The first step to cooking filet Mignon in the oven at 350 F is, of course, turning the oven on. Allowing the oven plenty of time to preheat will ensure that the meat cooks quickly and evenly.
Cook to Just Under the Desired Temperature
It may seem like a bad idea, but this is an excellent idea for cooking a filet Mignon. When you're checking the internal temperature, take the meat out when it's 5 degrees below what you're looking for. So, for example, if you want a rare steak that's cooked to 135, take it out of the heat when it's reached 130.
As you let it rest, cover the steak with foil. A covering of foil traps in heat and allows carryover cooking to do the rest; it will help your steak come to a safe internal temperature where it's not only ready to enjoy but perfectly cooked to your liking.
Do You Need to Let Filet Mignon Rest After Baking?
As with many baked dishes, allowing a filet Mignon to rest after you bake it at 350 will do an excellent job of redistributing the juices and making for meat that is moist and delicious every time, so long as it hasn't been overcooked.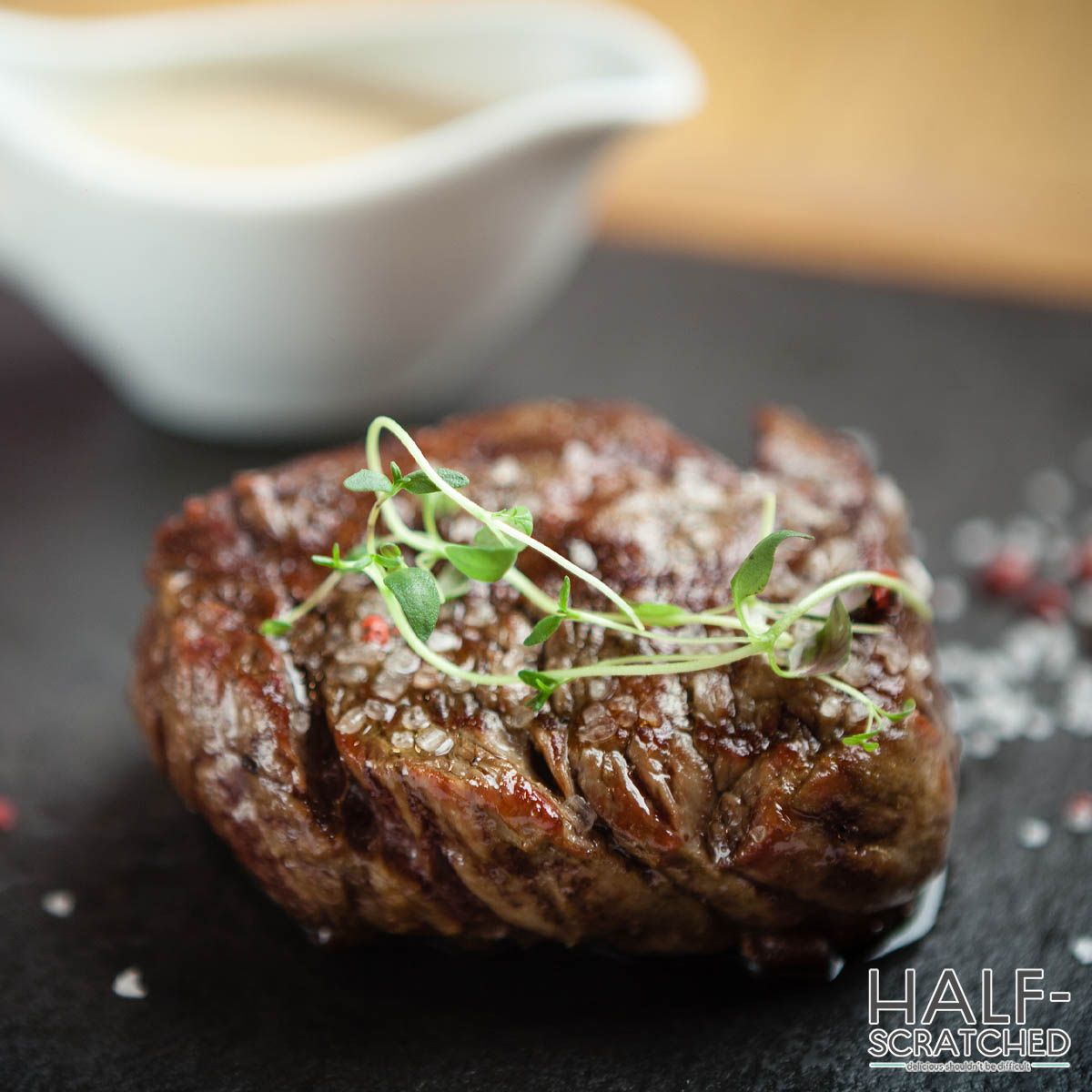 Can You Cook Filet Mignon From Frozen?
Many chefs and food experts will tell you that a thawed filet Mignon will yield the tastiest results. However, there's some debate as to whether or not you can cook a filet Mignon from a frozen state – and if that might be even better than when it's thawed.
Obviously, you'll need to bake a frozen filet Mignon for longer than you would a thawed one. It will take about 18-20 minutes in the oven for a filet Mignon that was pan-seared to cook to medium rare.
Easy & Delicious Filet Mignon Recipe
Ready to get cooking on this excellent cut of meat? Once you've selected your filets, it's time to start baking. This is a very basic recipe; feel free to dress yours up with marinades, spices, sauces, and sides.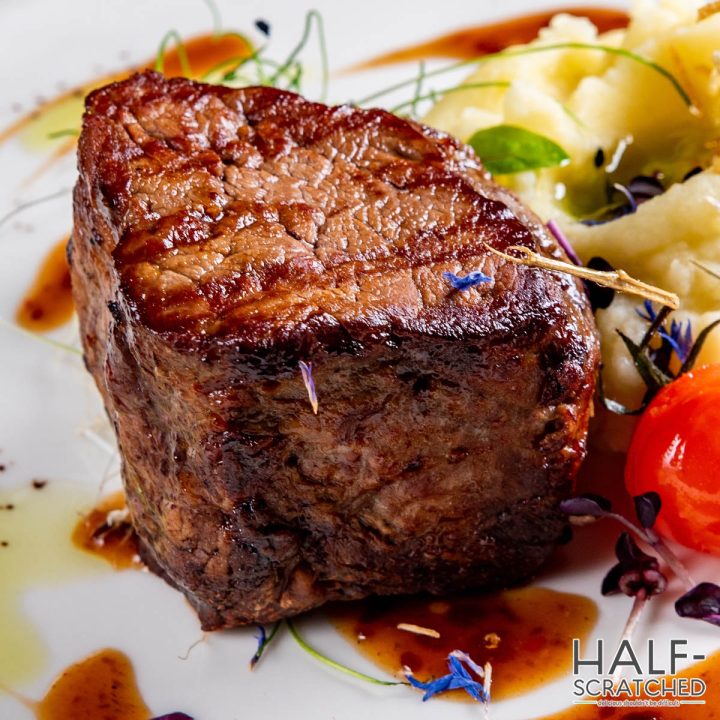 How Long to Cook Filet Mignon in Oven at 350 F
Learn how long to bake Filet Mignon at 350 F in the oven and what temperature to cook it to for rare, medium rare, and well-done cuts.
Ingredients
2 2.5 inch filet Mignon steaks 
Salt and pepper, enough to generously dust both sides of the cut 
1-2 tablespoons of vegetable or olive oil or melted butter, enough to coat the bottom of your pan. 
Instructions
Ensure that your filet Mignon is completely thawed. For best results, allow it to sit out, covered, for 15-20 minutes, until it comes to room temperature.
Preheat the oven to 350 degrees Fahrenheit.
In a heavy skillet over high heat, heat your oil or butter for about 5 minutes until it is very hot. The hotter the skillet, the better the sear you'll get on the finished product.
Once the oil or butter is hot, add in your filets. Sear them each for 1-2 minutes per side.
If you're using an oven-proof skillet, such as a cast iron one, you can place it directly in the oven. If you're not, transfer the filet Mignons to an oven-safe baking tray.
Cook the steaks uncovered for about 14 minutes. The trick here is to cook them until they're about 5 degrees lower than what you'd want for your preferred doneness.
Remove the steak from the oven and allow it to rest, covered with foil, for about 5 minutes. This five-minute rest will allow the meat to continue cooking to the perfect eating temperature while retaining the juices and flavor. This is a process called 'carryover cooking', and it's great for making the tastiest filet Mignon.
Once your steak has had time to rest, you're ready to enjoy it. Make sure, when you're digging in, that you cut your steak against the grain. Cutting against the grain helps make sure that every bite is perfectly tender and juicy.
Nutrition Information:
Yield:

2
Serving Size:

1
Amount Per Serving:
Calories:

232
Total Fat:

20g
Saturated Fat:

7g
Trans Fat:

0g
Unsaturated Fat:

11g
Cholesterol:

57mg
Sodium:

220mg
Carbohydrates:

2g
Fiber:

1g
Sugar:

0g
Protein:

12g