Smoked potatoes are the secret to acing cookout side dishes or any summer family meal. But without understanding the proper cooking times, the potatoes will be less-than-desirable.
Patience is a virtue when it comes to smoking potatoes, but the flavor-packed results are worth it. Timings vary drastically depending on the humidity, grill hot spots, temperature, and size of the potatoes.
As a general rule, expect to smoke whole potatoes for 2 to 2.5 hours at 225 Fahrenheit and cubed potatoes for 1.5 to 2.5 hours. Use an instant-read thermometer to check doneness, taking them out when their internal temperature sits between 205 °F and 210 °F.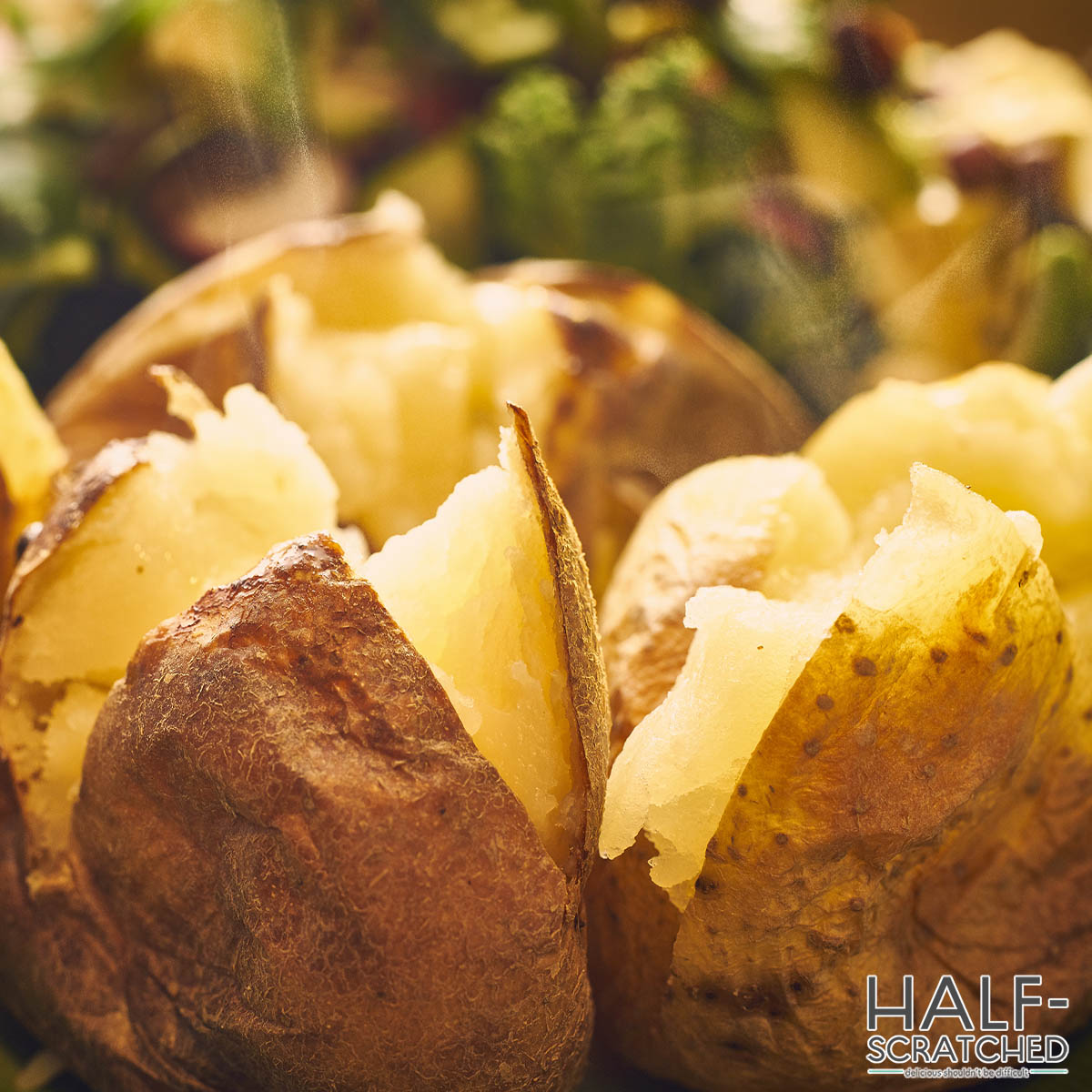 We're only scratching the surface of the smoked potatoes conundrum. So, become an uncertified expert with the following sections.
Smoking Whole VS Cubed Potatoes
Both cubed, and whole potatoes have their positive and negative attributes when it comes to smoking. And if you're stuck between the two, consider this — would you rather eat diced potato or a baked potato?
Granted, you may well say "either." In this case, peruse the most notable similarities and differences to make deciding a touch easier.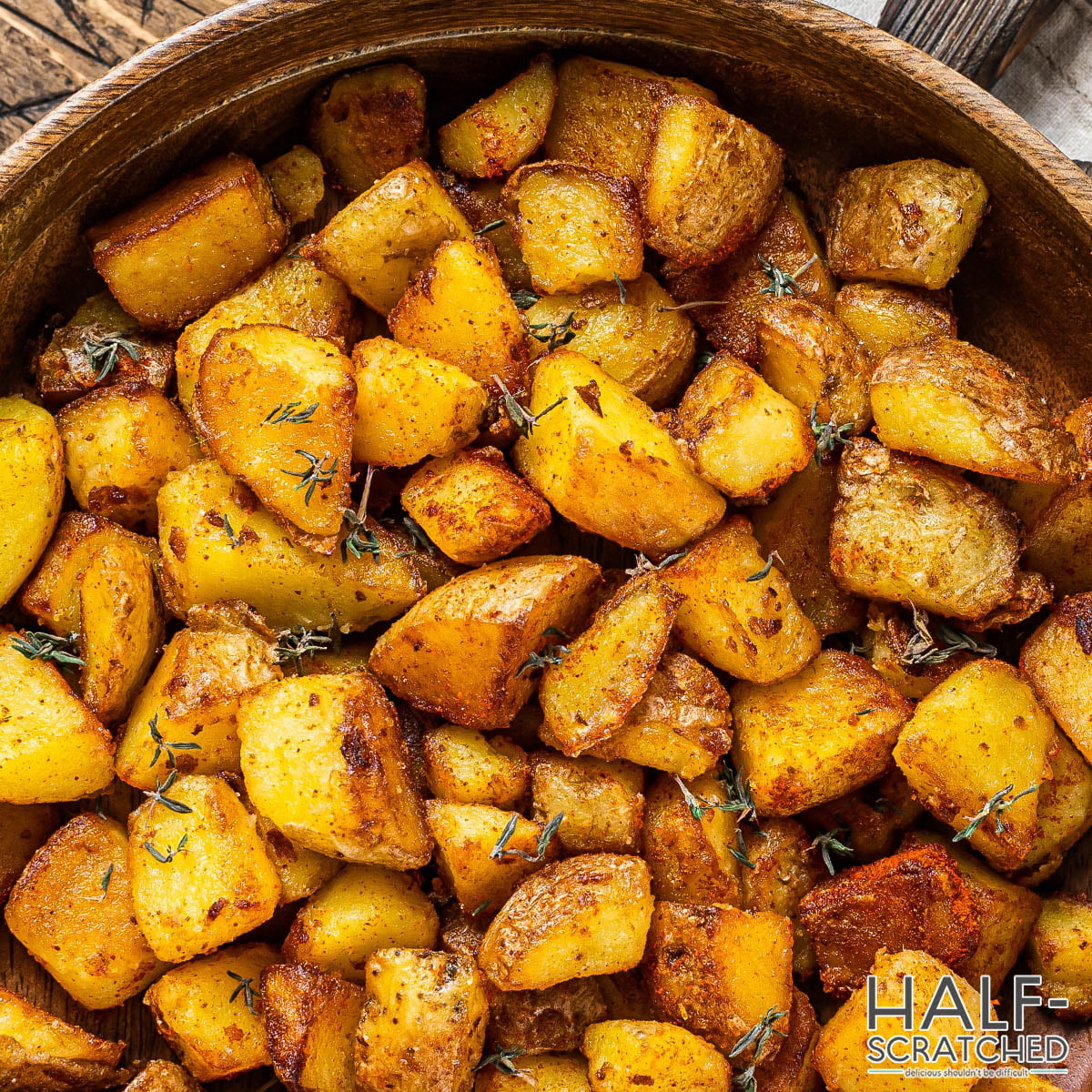 Smoked Potatoes Preparation Steps
Clearly, there are more prep steps involved with cubed potatoes. While both types require oiling and seasoning before going in the smoker, you need to chop the latter into one-inch pieces.
The only thing you need to do with whole potatoes is wash, dry, and poke some holes into all sides with a fork — they don't even need to be deep holes.
Ingredients Needed
As mentioned previously, cubed and whole potatoes need oil and seasoning before heading into the smoker. If you're a huge baked potato fan, this might seem strange to you. Most home cooks don't necessarily oil or season the skins. But here's why you should.
It adds extra flavor. While chefs recommend oiling potato skins during standard baking to prevent the skins from drying out and crisping too much, they suggest it when smoking for taste reasons.
Either put olive oil (or another oil you like the flavor of) or a flavorless oil. Don't worry about the smoking points; 225 °F is low enough that it won't be affected.
After that, apply the seasoning. This can be as simple as salt and pepper or as somewhat complicated as making your own rub. The choice is yours. However, we suggest choosing flavor combinations that complement the potato and the dish it's served with.
As for oiling and seasoning cubed potatoes, we cover all that in the recipe at the end!
Taste
The best taste-wise will come down to the herbs and spices you choose to add to your cubed or whole smoked potatoes.
That said, most people find that cubed smoked potatoes are more flavorful because they're wholly coated in the seasonings. Whole potatoes are only seasoned before smoking on their skins.
Ease
Preparation is easier for baked potatoes, except when it comes to applying seasonings and oil. In contrast, cubed potatoes have extra preparation steps but are easy to oil and season. Thus, they balance out regarding ease.
To decide between the two, think about who will be eating your smoked potatoes. Whole varieties have more "admin" involved for the diner, especially if they don't like the skins. Cubed, however, can be tucked into immediately.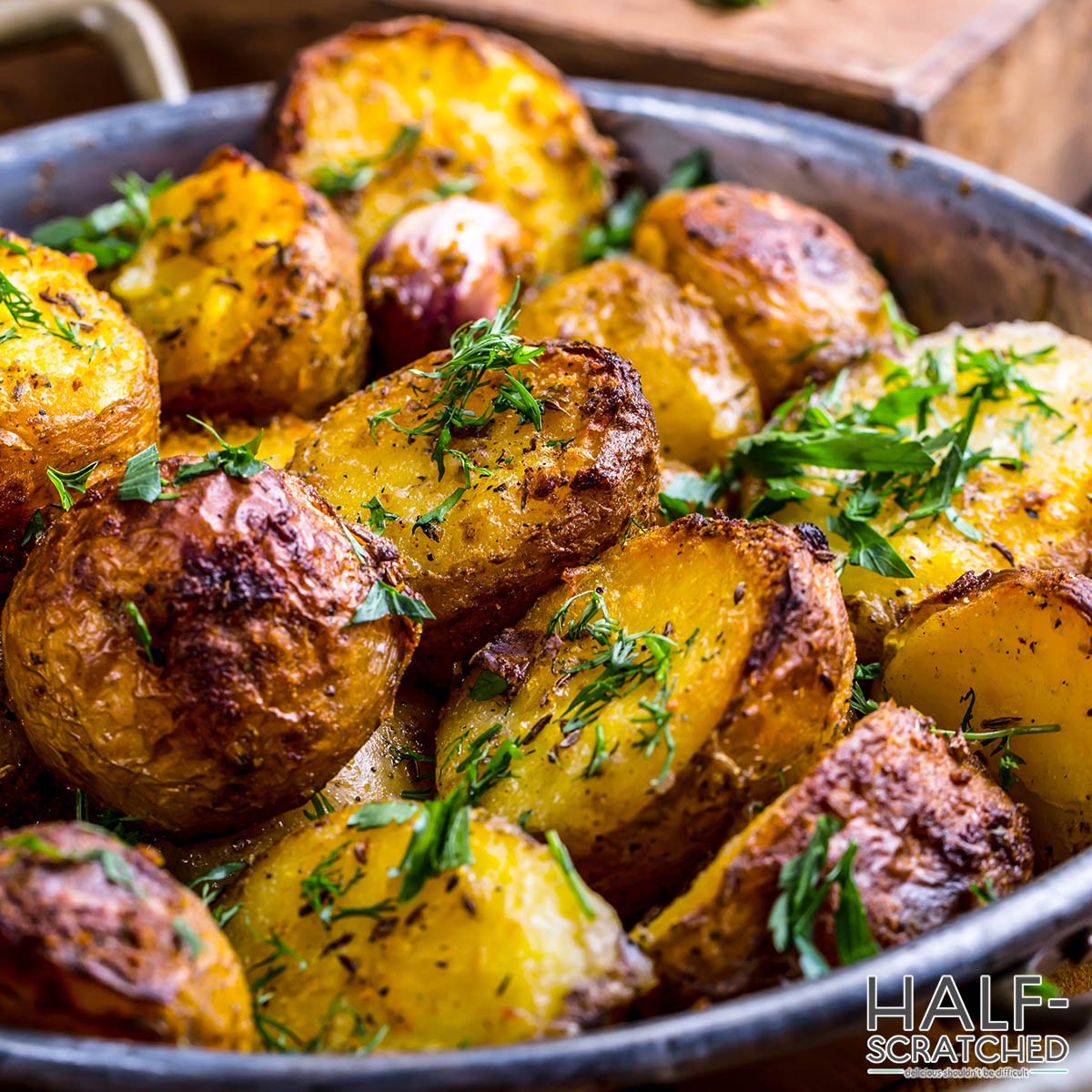 Storing and Reheating Smoked Potatoes (Whole and Diced)
Whether you've decided to smoke whole or diced potatoes, you need to know how to store and reheat any leftovers.
Perhaps one of the best things about the carb is that it seems to keep forever. But don't be fooled; proper storage remains necessary to ensure they're safe for eating.
Storing Smoked Potatoes
Once the whole potatoes are cooled, simply transfer them to an airtight container and place them in the fridge. They'll keep quite nicely for four to five days.
If you don't have a container (or don't want to use one), wrap them in aluminum foil instead.
The same can be said for cubed potatoes. Although, they'll typically only keep for four days in the fridge.
Freezing Smoked Potatoes
Naturally, both types of potatoes will stay safe to eat for much longer in the freezer.
To properly freeze smoked whole potatoes, wrap them in a layer of plastic wrap covered by a clean sheet of tin foil. Keep them in the freezer for two to three months, making sure you thaw them in the fridge overnight before reheating.
As for diced potatoes, lay them on a sheet pan lined with parchment paper. Put them in the freezer like this for an hour (or until they're frozen solid). Then, package them into freezer bags, removing the air before sealing them. They'll keep nicely for up to three months and should be thawed prior to warming.
Reheating Smoked Potatoes
Reheating whole potatoes may seem like a long-winded chore, but it's far from it. While there are longer ways to reheat them, our handy microwave method takes less than five minutes.
Simply follow these steps:
Cut the whole potatoes in half.
Wet a paper towel.
Put a damp paper towel on the sides of the potatoes.
Put in the microwave on high for two to three minutes or until they're thoroughly cooked through.
The above won't give you the best results. To return your smoked whole potatoes to their former glory, you'll need to use the oven:
Preheat the oven to 350 °F.
Put the potatoes on a baking sheet or straight on the oven rack. Choose the latter option if you want extra crispy potato skins. In our opinion, it's worth the potential mess on the rack! Just put a tray on the bottom of your oven to catch the drippings for easier clean up.
Heat for 15 to 20 minutes.
Check whether they're cooked through.
Remove from the oven and enjoy!
Cubed potatoes can be reheated in a similar fashion, just shorten the oven time slightly to avoid burnt bits.
Easy and Delicious Smoked Potatoes for Beginners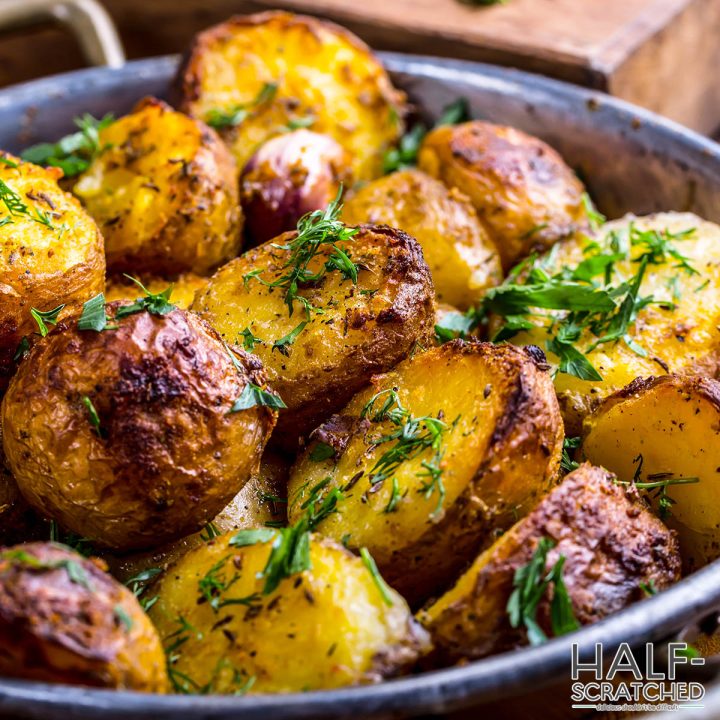 How Long to Smoke Potatoes at 225 Fahrenheit
Cook Time:
2 hours
30 minutes
Total Time:
2 hours
40 minutes
Find out how long to smoke potatoes at 225 Fahrenheit with our intuitive guide + some expert tips for perfect smoked potatoes.
Ingredients
1.5 pounds baby red potatoes or baby Yukon gold potatoes
1 tablespoon avocado oil
½ teaspoon kosher salt
¼ teaspoon ground black pepper
¼ teaspoon ground oregano
¼ teaspoon garlic powder
¼ teaspoon onion powder
¼ teaspoon marjoram
Instructions
Preheat the smoker to 225 °F.
Cut the potatoes into rough 1-inch chunks.
Put the potatoes in a medium mixing bowl.
Add the oil, salt, pepper, onion powder, marjoram, garlic powder, and oregano.
Stir, ensuring you coat the potatoes easily.
Make a foil boat.
Spray the bottom of the foil boat with non-stick or olive oil.
Put the potatoes inside.
Place one or two spoonfuls of butter on top of the potatoes.
Place the potato-filled foil boat on the smoker.
Close the lid.
Leave them to smoke for 1.5 to 2.5 hours.
Remove from the smoker.
Serve immediately with whatever you like!
Notes
You can add some onion or garlic into the foil boat if you feel like it. They'll infuse extra flavor into your potatoes.
Feel free to use russet potatoes. They might cook a bit quicker, though, so be sure to check them more often for doneness.
If you don't know what to serve with your smoked cubed potatoes, try these — smoked baby back ribs, smoked pork shoulder, smoked chicken breasts, smoked pork tenderloin, or smoked beef roast. They go with just about anything, so have some fun playing around with different pairings to find your favorites!
Nutrition Information:
Yield:

3
Serving Size:

1
Amount Per Serving:
Calories:

287
Total Fat:

5g
Saturated Fat:

1g
Trans Fat:

0g
Unsaturated Fat:

4g
Cholesterol:

0mg
Sodium:

242mg
Carbohydrates:

55g
Fiber:

5g
Sugar:

4g
Protein:

6g