Want to learn how long you should smoke chicken breasts at 225 Fahrenheit? Welcome! You've found the right place. And you'll probably be pleased to know that 225 Fahrenheit is the ideal temperature for smoking chicken breasts — low and slow is the key to juicy meat every time.
Generally speaking, bone-in chicken breasts take around 90 minutes on a smoker at 225 °F, whereas boneless chicken breasts will be cooked completely in 60 minutes.
But since your smoker's hot spots, the size of the chicken breasts, and humidity can affect smoking times, always use an instant-read thermometer to ensure the internal temperature has reached 165 °F — and don't forget to plunge it into the thickest part of the meat!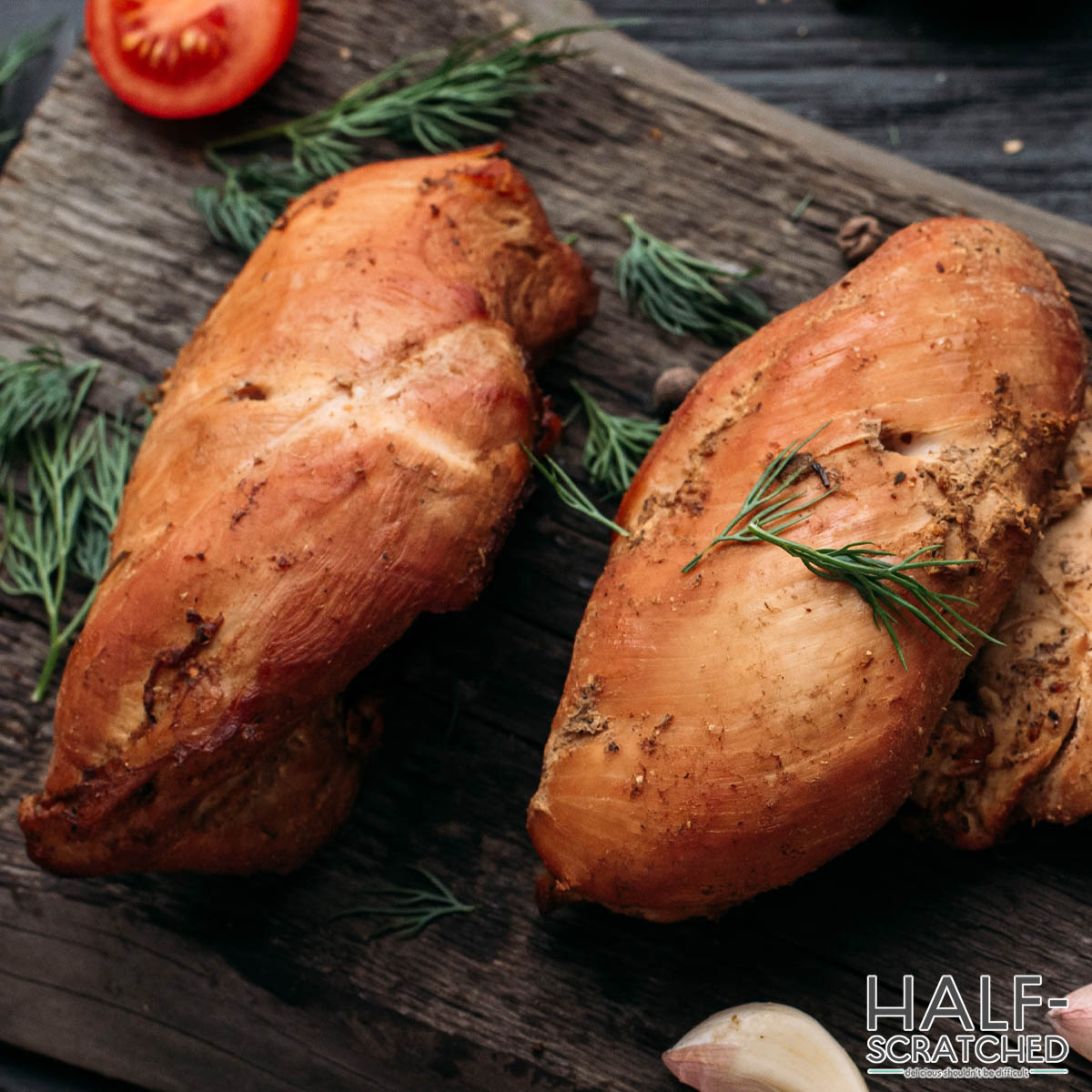 Since knowing how long to smoke it for was probably quicker than you thought, we're answering some top chicken-breast-smoking questions in the following sections. You'll basically be a pro by the end.
How to Keep Chicken Breasts Moist During The Smoking Process
Frankly, cooking at 225 °F for an hour (or 90 minutes for bone-in breasts) is enough to retain the moisture. As we said before, low and slow cooking is the key to juicy chicken breasts.
However, you can brine the meat before smoking to further enhance its tenderness once its internal temperature has reached 165 °F.
To add and retain the already-present moisture, use a wet brine. Just put salt, sugar, water, and your favorite herbs and/or spices into a bag, leaving it in the fridge for a handful of hours.
Here's a recipe to get you started on your wet-brining journey:
Ingredients
2 gallons water
10 garlic cloves
2 tablespoon peppercorns
2 cups salt
½ cup vinegar
2 tablespoon rosemary
2 tablespoon thyme
1 ½ cups white sugar
Steps
Combine all the ingredients in a large pan.
Cook it on the stove over low heat, stirring occasionally, until the sugar dissolves completely.
Cook it for 2 minutes.
Allow it to cool completely off the heat.
Put the chicken breasts in a shallow dish.
Pour the rosemary brine over it. Make sure each breast is fully covered.
Cover with tin foil, plastic wrap, or the dish's lid.
Refrigerate the chicken for up to six hours.
Discard any leftover brine when you're ready to use the chicken.
Should You Flip Chicken Breasts When Smoking?
Remember — smoking isn't grilling. So you don't have to flip the chicken breasts while they're in the smoker.
That said, it's your choice; flipping them won't do them anymore. However, smokers use airflow to cook the chicken, ensuring all sides benefit from the heat.
Unlike grilling, you're cooking with indirect heat, allowing you to save time by leaving the chicken on one side.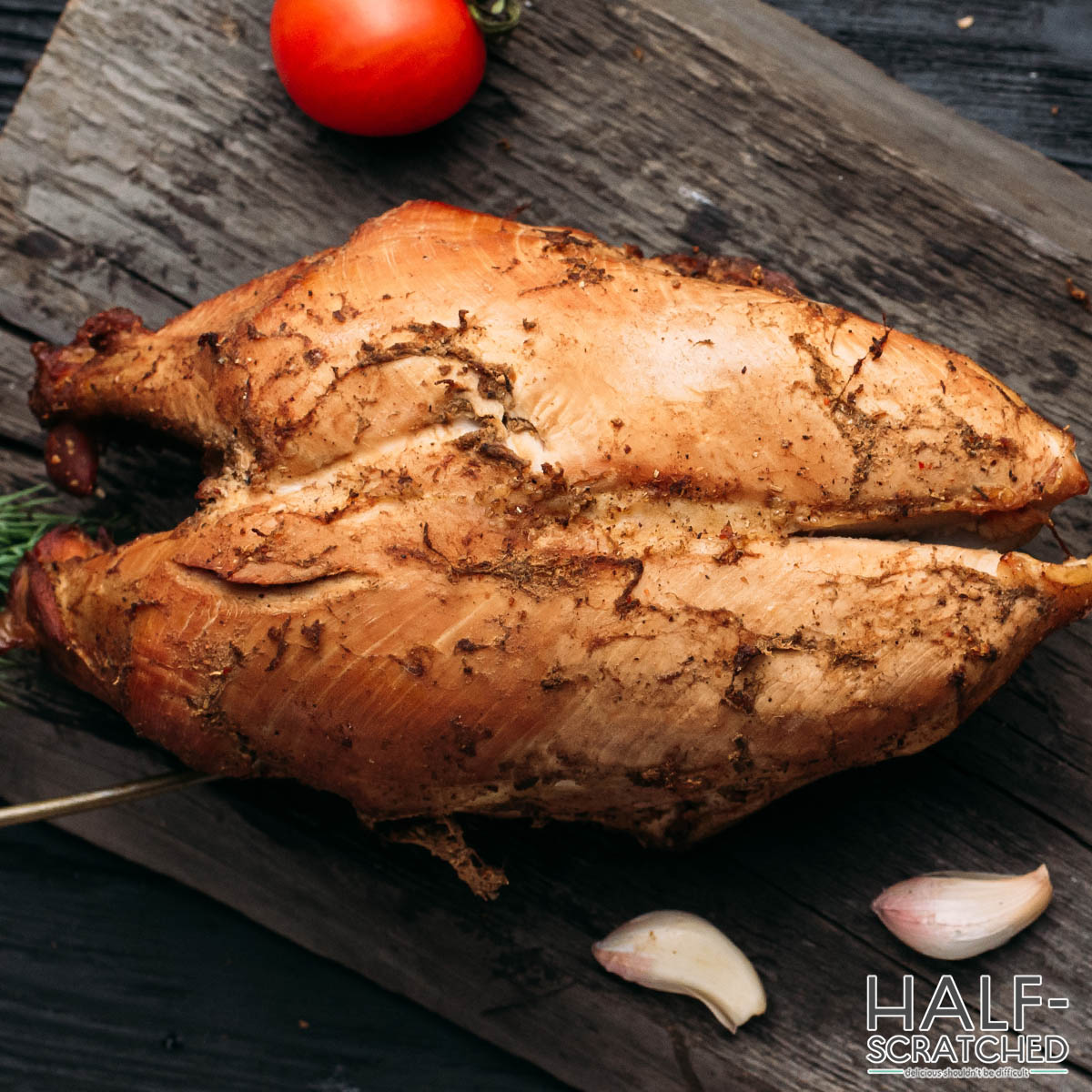 Choosing the Best Wood for the Perfect Smoked Chicken Breasts
If you have a charcoal smoker, you can skip this step; your chicken breasts will achieve its unique flavor from the charcoal itself.
But if you have a propane, electric, or pellet smoker, the wood you pick will impact the flavor. Ideally, you want to strike the perfect balance between the brine (if applied), seasonings, and the wood smoke.
We recommend choosing one of the following:
Applewood: It infuses a sweet, mellow flavor. Many meat smokers love using this type of wood for chicken breasts for that reason.
Maple wood: You'll get a sweet smokiness from this wood. It works especially well with chicken breasts that are dry rubbed with paprika and brown sugar.
Cherry wood: This fruity wood provides a mildly sweet taste. If you want to add a hint of oak, pair it with alder or hickory.
Mesquite: Expect intense flavor with this hardwood. Its boldness crafts an incredibly strong smoke that pairs wonderfully with chicken breasts that are dry-rubbed or brined in salt alone.
Beginner-Friendly BBQ Smoked Chicken Breast Recipe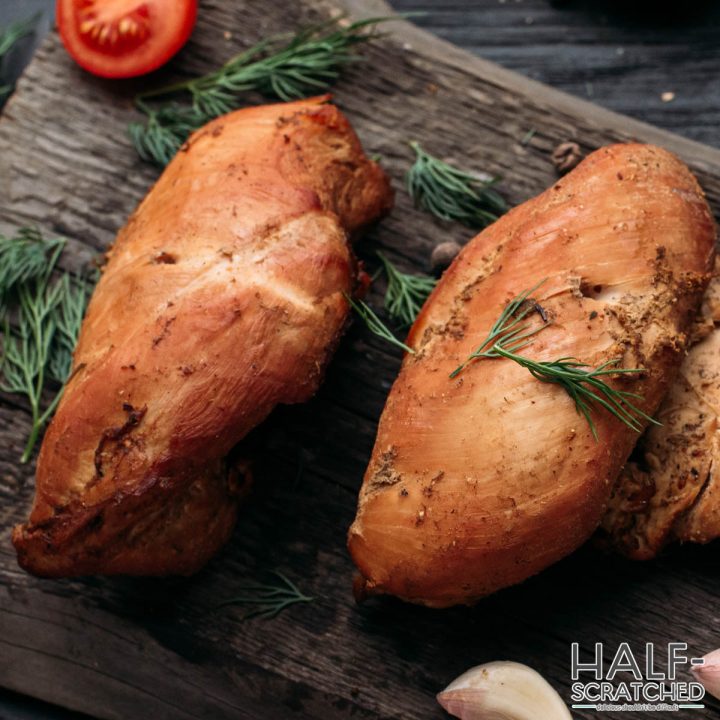 How Long to Smoke Chicken Breast at 225 Fahrenheit
Cook Time:
1 hour
15 minutes
Total Time:
1 hour
30 minutes
Fancy learning how long to smoke chicken breasts at 225 Fahrenheit? Get the low down with our in-depth guide!
Ingredients
6 chicken breasts (skinless, boneless)
2 tablespoons olive oil
¼ cup chili powder
1 tablespoons paprika
1 tablespoon thyme
2 teaspoons salt
2 teaspoons garlic powder
1 teaspoon cumin
1 tablespoon brown sugar
1 teaspoon black pepper
1 teaspoon cayenne pepper
Instructions
Preheat your smoker to 225 °F.
In a bowl, mix together the chili powder, paprika, thyme, salt, garlic powder, cumin, brown sugar, black pepper, and cayenne pepper. This will be your barbecue rub!
Trim the chicken breasts, removing any unwanted fat.
Using a paper towel, pat each breast dry.
Spray or rub them with olive oil.
Coat all sides of each breast with the barbecue rub.
Place the chicken breasts on your smoker using indirect heat.
Smoke them for an hour.
Remove them from the smoker when the internal temperature reaches 160 °F.
Place a foil tent over the chicken, letting it rest for around ten minutes. Not only will this let the juices redistribute for moist morsels, but it will also allow the residual heat to bring the internal temperature up to the safe-to-eat level of 165 °F.
Finally, serve with your favorite accompaniments!
Notes
If you don't want to use olive oil (or you don't have any) use vegetable or canola oil instead.
When seasoning your chicken breasts, we recommend starting with the presentation side down. Why? Because once you flip it over, you won't ruin the seasoning on the presentation side prior to smoking.
Are you struggling to come up with sides to accompany your smoked chicken breasts? Not to worry; try these perfect sides — roasted brussels sprouts, coleslaw, grilled corn on the cob, crispy green beans, cucumber salad, creamy mashed potatoes, grilled asparagus, cornbread, or baked mac and cheese.
Nutrition Information:
Yield:

6
Serving Size:

1
Amount Per Serving:
Calories:

270
Total Fat:

10g
Saturated Fat:

2g
Trans Fat:

0g
Unsaturated Fat:

7g
Cholesterol:

102mg
Sodium:

950mg
Carbohydrates:

7g
Fiber:

3g
Sugar:

2g
Protein:

38g