Steak is one of the few foods that can be elevated to a higher, almost transcendent level simply by cooking it well. And, while most people would think to grill their steak, it's not always the most enjoyable experience standing outside by the grill during the colder winter months. Sometimes, you might not even have a grill. Fortunately, though, you can cook beautiful steaks in the oven.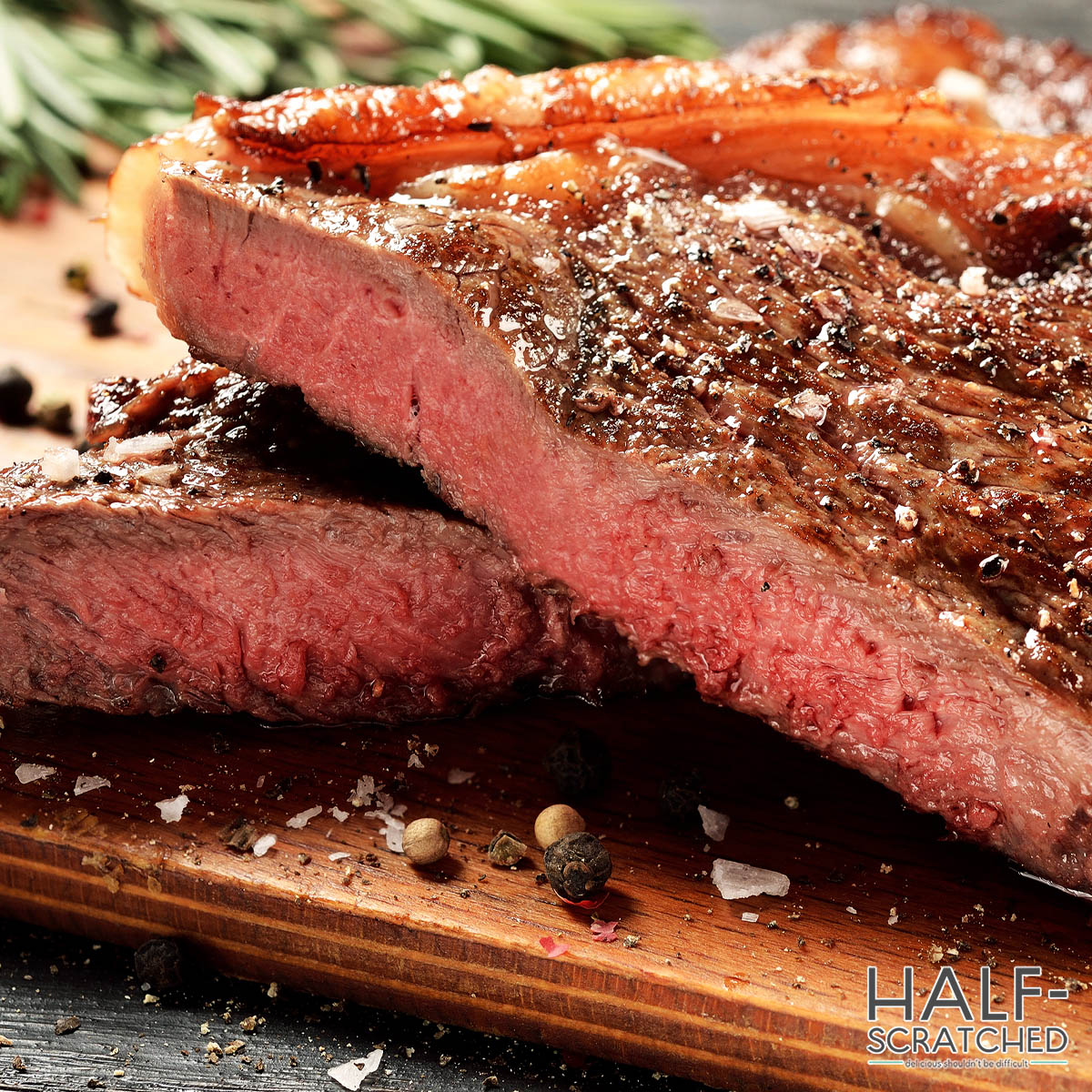 The trick to cooking steaks in the oven is good timing and the right temperature. As a general rule of thumb, you should cook steak for about 10 minutes per inch of thickness at 400 degrees Fahrenheit. So, if you have a 1-inch-thick steak, cook it for about 10 minutes. This should cover most cuts of meat, but for anything thicker, adjust the cooking time accordingly.
Of course, not everyone takes their steak the same way. In this guide, we'll explain how to cook steaks for all tastes, walk you through some of the factors that can affect the cooking time, and then guide you through a few insider secrets to maximize the flavor, tenderness, and richness of your meat.
Good Steak Deserves a High Temperature
Although most people think of grilling when they imagine steak, you can achieve a similar or even better result by cooking your steak in the oven. You just have to expose the meat to a high temperature.
Think of it this way—when you're grilling meat, you are essentially exposing the outer layer to direct fire. This creates a sear that locks in the juices.
When you cook steak in the oven, you are basically doing the same thing but on all sides. This is why you need a high temperature. The ideal temperature for cooking steak in the oven is 400 degrees Fahrenheit.
This will give you the perfect sear on the outside while keeping the inside juicy and tender. Anything lower than this, and you won't get that all-important sear. Anything higher, and you run the risk of overcooking the meat.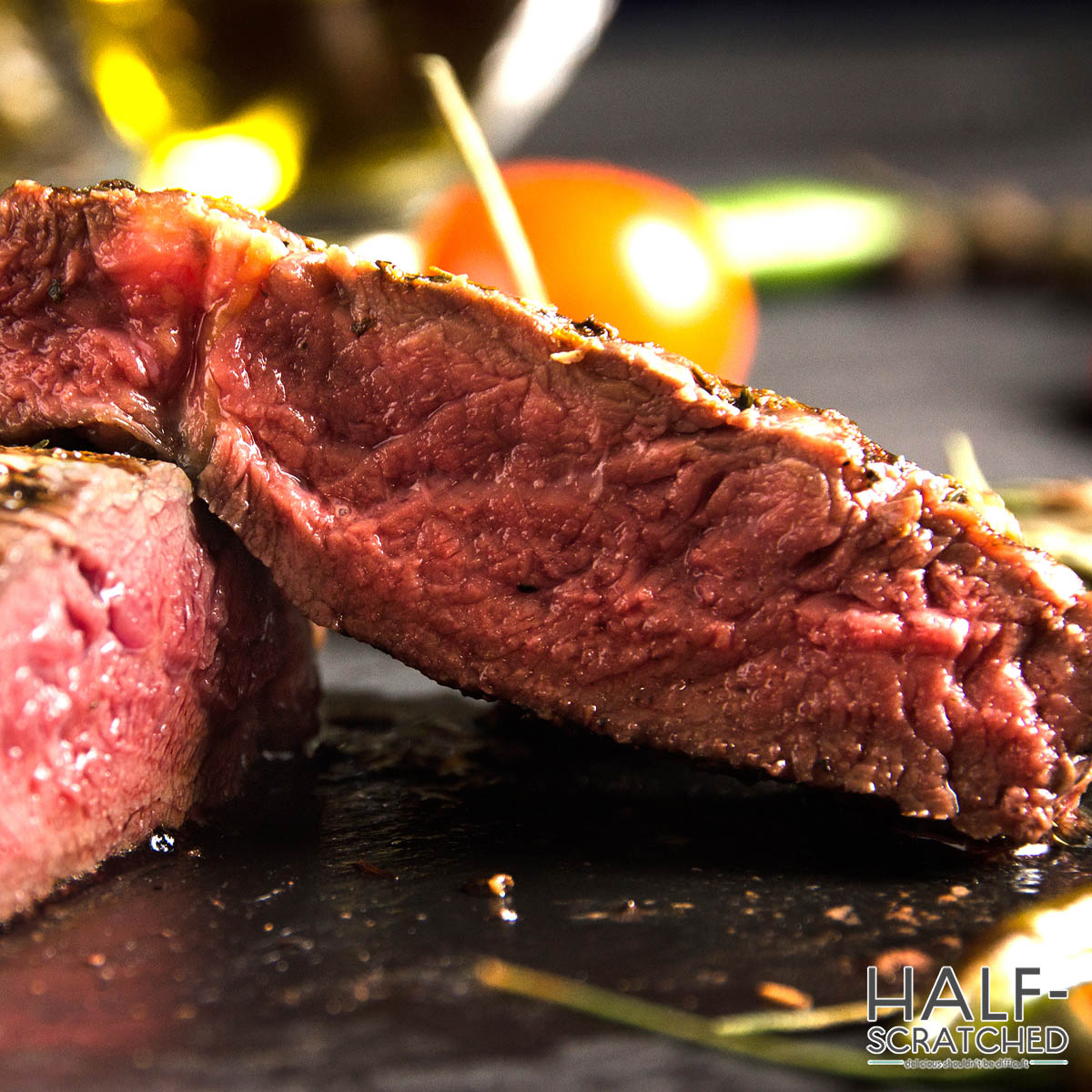 The 10-Minute Rule Will Produce a Medium-Rare Steak
As a general rule of thumb, you should cook your steak for 10 minutes for every inch of thickness. This will produce a medium-rare steak, which is the perfect balance of juicy and tender. Of course, not everyone enjoys a medium-rare steak. Therefore, if you're cooking for a crowd, you'll have to adjust the cooking times for each person. Follow these guidelines to always get the best results:
Rare steak: cook for 7-9 minutes per inch of thickness
Medium-rare steak: cook for 10-13 minutes per inch of thickness
Medium steak: cook for 13-16 minutes per inch of thickness
Well-done steak: cook for 18 minutes per inch of thickness
Because ovens circulate hot air, you'll have to be extremely precise with these times. Just a couple of minutes over and you could end up with a dry and unenjoyable cut of meat.
Fat Content Will Also Affect Juiciness
When we use the term "steak", we're really talking about 15 different cuts of meat. Some cuts are incredibly lean, such as the filet mignon, while others, such as the rib-eye, are much fattier. The amount of fat will also affect the cooking time.
As a general rule of thumb, the leaner the steak, the less time it will need in the oven. For example, a filet mignon, which is one of the leanest cuts of steak, will only need about 8 minutes in the oven.
On the other hand, fattier cuts, such as the rib-eye, will need a few minutes longer. This is because the fat needs time to render and create that all-important sear. If you're unsure about the fat content of your steak, ask your butcher. They'll be able to tell you how long to cook it for.
Never Wrap Steak in Aluminum Foil
You may have seen some recipes that call for wrapping the steak in aluminum foil. This is a huge no-no. While it's true that wrapping the steak in foil will help it to cook evenly, it will also steam the steak and make it tough.
If you want to cook your steak evenly, simply make sure that it's at room temperature before you start cooking it. If it's too cold, the outside will cook faster than the inside. Simply wash the meat, season it with salt and pepper, and then let it rest for at least 5 minutes.
Air-Frying Will Dry Out the Steak
If you have an air fryer, you might be tempted to use it to cook your steak. While it's true that air fryers are great for cooking a variety of foods, they're not ideal for steak. This is because they work by quickly circulating hot air around the food.
While this is fine for chicken or fish, it will dry out the steak and make it tough. If you want to cook a juicy steak, stick to using the oven and let it cook a little more slowly than in an air fryer.
Use a Meat Thermometer for Perfection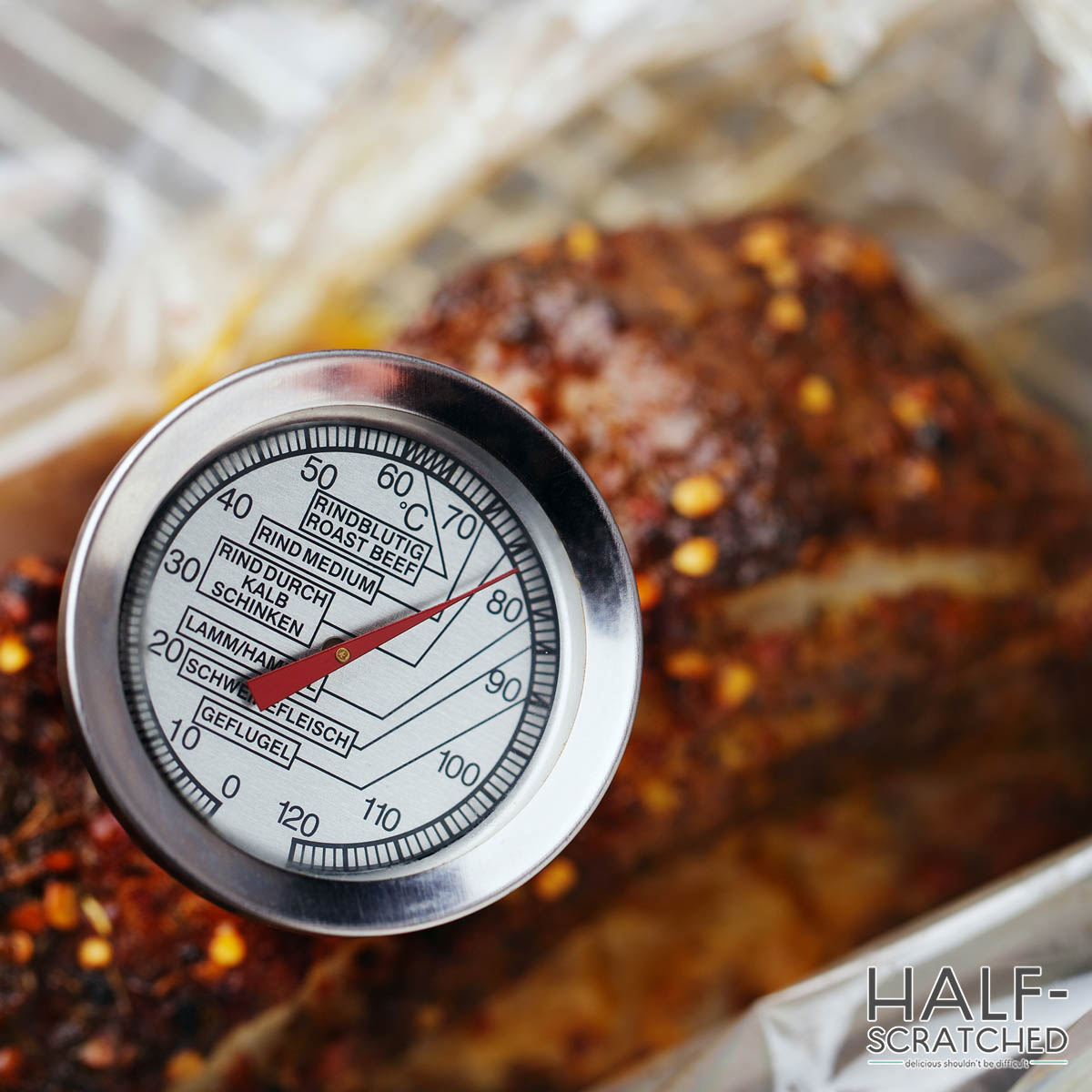 If you want to take the guesswork out of cooking your steak, use a meat thermometer. This will help you to cook the steak to perfection every single time. Simply insert the thermometer into the thickest part of the meat and cook until it reaches the desired temperature.
Here are the ideal temperatures for each level of doneness:
Rare steak: 125 degrees Fahrenheit
Medium-rare steak: 135 degrees Fahrenheit
Medium steak: 145 degrees Fahrenheit
Well-done steak: 160 degrees Fahrenheit
Once the steak reaches the desired temperature, remove it from the oven and let it rest for at least 5 minutes. This will help the juices to redistribute.
Top Tips You May Not Know to Cook Perfect Steaks
If you've never cooked a steak in the oven, we recommend checking out some of the following tricks. While they're not completely necessary, they can help to increase flavor and lock juiciness into the meat.
Dry-Brine the Steaks: Dry-brining might sound like a fancy culinary technique, but it essentially means sprinkling the steaks with salt and pepper and letting them sit for at least 30 minutes. This will help to flavor the meat and also make it more tender.
Quickly Pan-Sear the Steaks in Garlic Butter: Once the steaks have finished cooking in the oven, quickly pan-sear them in garlic butter using a smoking-hot cast iron skillet. This will help to create a beautiful crust on the outside.
Use a Basting Brush: Throughout the pan-searing process, use a basting brush to brush the steaks with a little bit of garlic butter. This will help to keep the meat moist and also add flavor.
Let the Steaks Rest: After cooking the steaks, let them rest for at least 5 minutes. This will help to redistribute the juices and make them even more tender. If you try cutting into the steaks right away, the juices will run away, leaving you with a dry and tough piece of meat.
Buy Fresh and High-Quality Steaks: At the end of the day, even a perfectly cooked low-quality steak will pale in comparison to a poorly cooked yet higher-quality cut of meat. If you want the best-tasting steak, make sure to buy fresh from a butcher and ask for high-quality meat.
Some Common Questions About Steaks
Why are so many cuts of meat called "steak"?
The word "steak" is derived from the Old Norse word "steik," which means "roast." In the Middle Ages, steak referred to a thick, roasted cut of meat. Over time, the word came to refer to any thick, grilled, or pan-fried cut of meat. It doesn't even have to be beef. You can have lamb steaks, pork steaks, and even chicken steaks.
Should you marinate steak?
There is some debate on whether or not marinating steak actually does anything. Some people believe that it flavors the meat, while others believe that it makes the meat more tender. However, there is limited scientific evidence to support either of these claims.

If you do choose to marinate your steak, the best way to do it is to use a simple mixture of olive oil, garlic, and salt. Place the steak in a resealable bag and pour in the marinade. Let it sit for at least 30 minutes, or up to 24 hours for a more intense flavor.
What's the best way to reheat steak?
The best way to reheat steak is in a cast iron skillet. Preheat the skillet over medium-high heat, and then add a little bit of oil. Place the steak in the skillet and cook for about 1-2 minutes per side, or until heated through.
What is dry-aged steak?
Dry-aged steak is beef that has been aged in a controlled environment for a period of time, typically two weeks to two months. During this time, the beef loses moisture, which concentrates the flavor and makes the steak more tender. Dry-aged steak is more expensive than regular steak because of the time and effort required to produce it.
My Personal Recipe for Oven-Cooked Steaks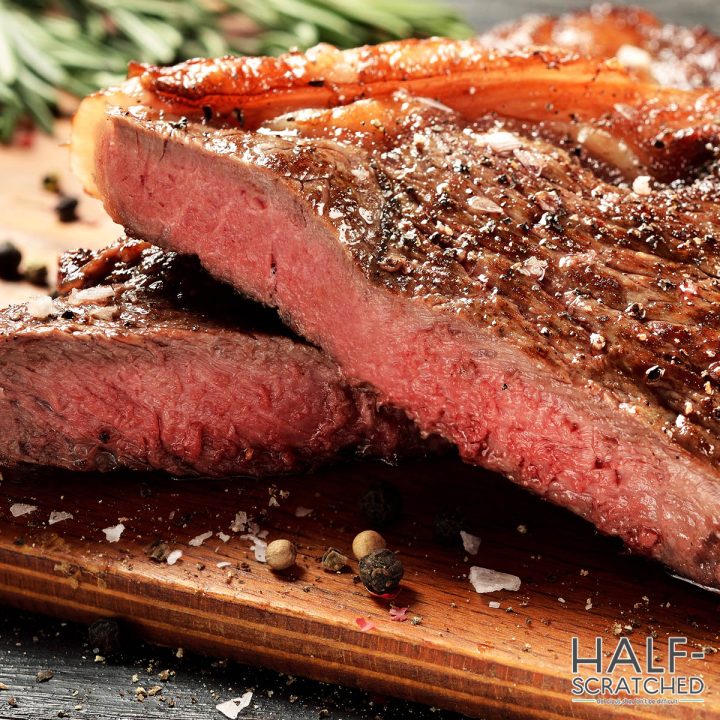 How Long to Cook Steak in the Oven at 400° F
Who says you need a grill to cook perfect steaks? Simply sear the meat and then bake your steaks in the oven for 10 minutes.
Ingredients
2 New York strip steaks
1 teaspoon garlic powder
1 teaspoon smoked paprika
1 teaspoon onion powder
1 teaspoon black pepper
¼ teaspoon cayenne pepper
1 tablespoon vegetable oil
1 large pat of salted butter
Instructions
Preheat oven to 400°F (200°C).
Mix together garlic powder, smoked paprika, onion powder, black pepper, and cayenne pepper.
Rub the spice blend all over the steaks.
Heat vegetable oil in a large cast-iron skillet over high heat. Wait for the pan to start smoking, pour out the oil, and then add a pat of butter to the pan.
Place the steaks in the skillet and cook for 1-2 minutes per side or until a golden brown crust develops.
Transfer the skillet to the oven and cook for 5-7 minutes for rare, 7-9 minutes for medium-rare, or 9-11 minutes for medium.
Remove from oven and let rest for 3-5 minutes.
Serve with your favorite sides.
Nutrition Information:
Yield:

2
Serving Size:

1
Amount Per Serving:
Calories:

390
Total Fat:

32g
Saturated Fat:

12g
Trans Fat:

0g
Unsaturated Fat:

17g
Cholesterol:

82mg
Sodium:

103mg
Carbohydrates:

3g
Fiber:

1g
Sugar:

0g
Protein:

23g