Hamburgers — the sumptuous all-American classic. Usually cooked on a grill, these delicacies are just as good broiled. But the question is how long for?
While your oven and the thickness of the patties dictate the broiling time, you should expect to cook them for about four minutes on each side while ensuring they're between four and five inches below the heating element. Make sure you use tongs to flip them to avoid burning yourself, and season liberally before they head under the heat for best results.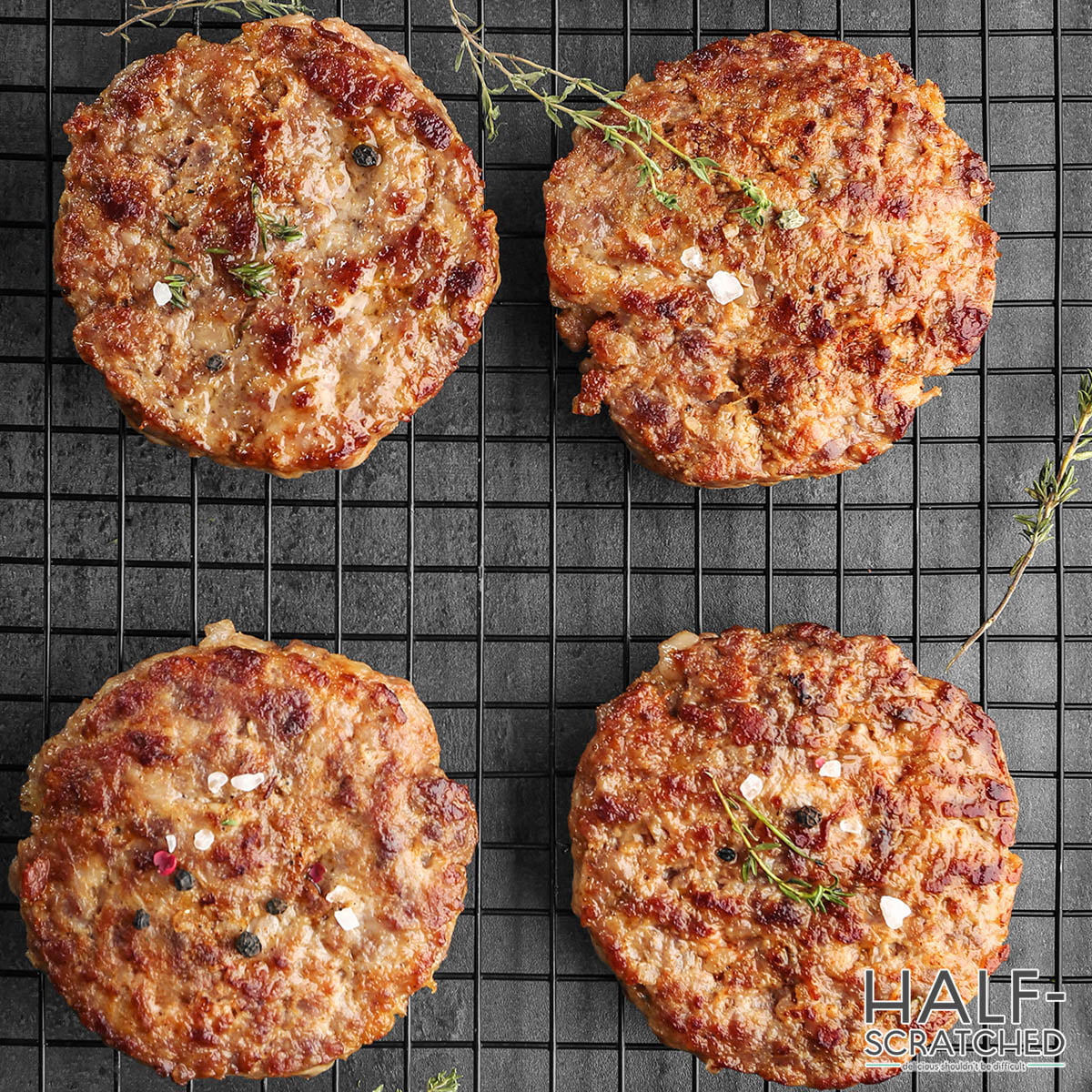 If you haven't broiled hamburgers before, consider this your cue to give it a go. There are many benefits, tender meat, and flavor combinations waiting for you to discover.
Why Broil Your Hamburgers?
Some people can't imagine eating hamburgers that haven't been grilled. But broiling provides the same result (if not better, in some cases) in a much faster manner. Plus, it preserves the meat's natural juices and supplies perfect doneness without drying.
Alongside all that, broiling is a healthier cooking method than grilling. And it's a great way to still enjoy hamburgers when it's cold outside all you find yourself with a grill.
How to Prepare Hamburgers for Broiling
Hamburgers might seem like a straightforward thing to broil. However, there are a few things you need to keep in mind to ensure you get the best results.
For delicious hamburgers, we strongly suggest staying away from frozen meat. Why? The extra moisture can cause the patty to crumble!
Use fresh ground beet with a 20% to 25% fat content. Of course, you can choose a leaner meat if you're watching your fat intake (just be aware that your burgers will be drier). For maximum deliciousness, you'll want to err on the unhealthy side (everything in moderation, after all).
Additionally, try to handle the meat sparingly. Overdoing it will cause denseness since the heat from your hands melts the fat. Handle with care and shape your patties slightly bigger than your buns — they shrink during broiling.
Once formed, make a slight depression in the middle of the patty. It will prevent extreme shrinkage and a domed top, meaning stacking with tomato, lettuce, and other fixings is easy.
Finally, cover them with plastic wrap and put them in the fridge for 15 minutes before broiling. This resting time lets the meat set.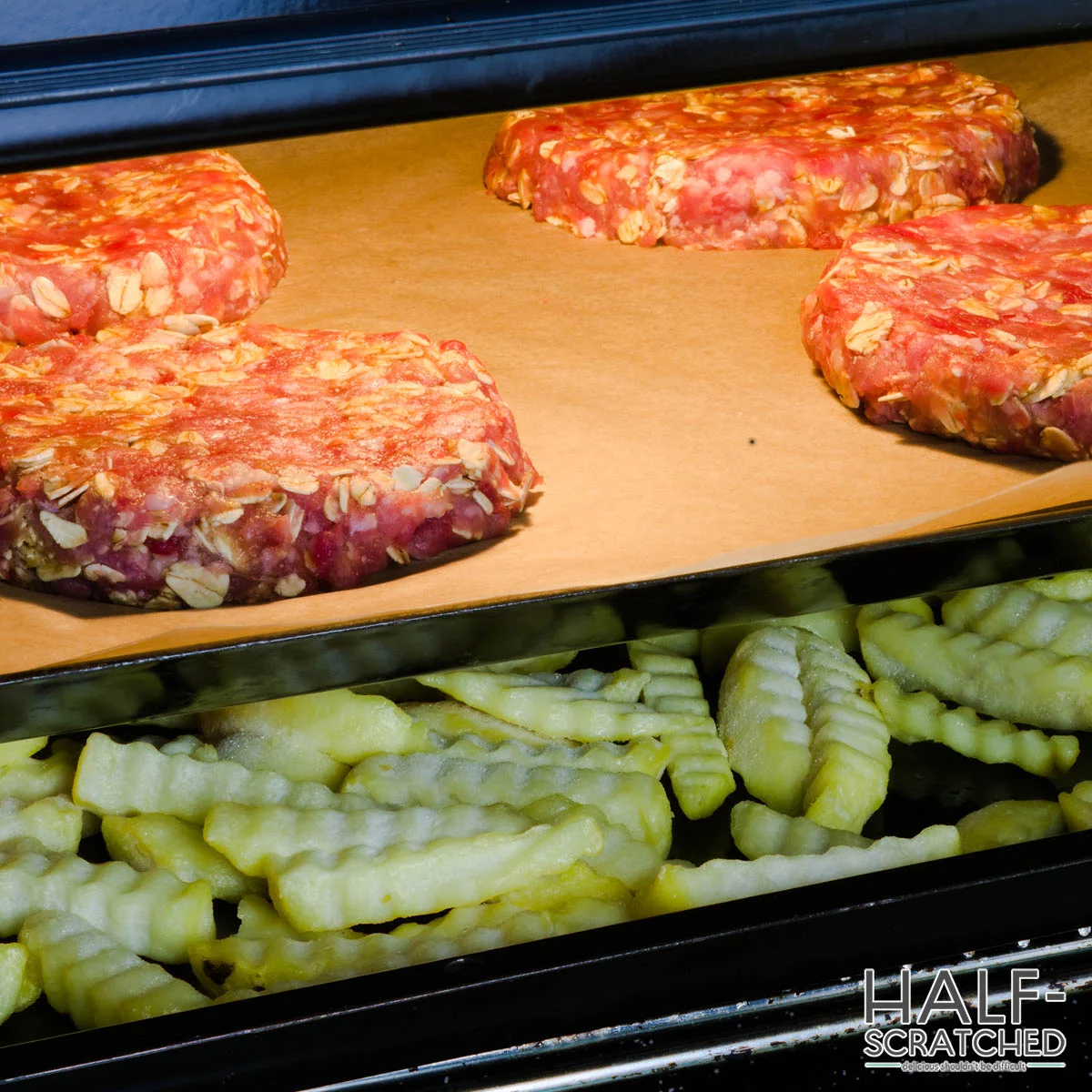 How to Achieve Perfect Hamburger Doneness Every Single Time
To be certain your hamburgers are cooked to your idea of perfection, always check the internal temperature with an instant-read thermometer.
According to official US governing bodies, letting hamburgers reach an internal temperature of 160°F ensures maximum food safety. However, you may not love the idea of a well-done burger.
Use our simple table below to establish the correct internal temperature for exactly how you like your meat.
| Doneness | Temp |
| --- | --- |
| Rare (red center) | 125°F |
| Medium-rare (pink center) | 135°F |
| Medium (pink-gray center) | 145°F |
| Well-done (gray center) | 160°F to 165°F |
Top Tips for Broiling Hamburgers
You're almost an expert hamburger broiler. There are just a few more tips and tricks to keep in mind throughout your newfound speedy cooking journey.
Always Check the Oven Rack Height
When broiling, you control the cooking in two ways — the duration and the distance of the oven rack from the heat source. You want the burgers to be close enough to cook quickly but far enough to avoid burning.
As we mentioned before, all ovens differ. However, a distance of four to five inches tends to work perfectly. Any closer and the exterior will burn, while the insides remain raw.
If putting your oven rack on the top level puts the burgers too close, go down a level. It's better to be safe than sorry and end with a load of meat nobody can eat.
Don't Skip the Preheat
Let the oven preheat for up to eight minutes before you put the burgers in. The cooking times we've discussed are only applicable to preheated ovens.
Use the preheat time to season your burgers. Just don't brush them with oil — the meat's fat content works fantastically on its own. Heat is the only element that does the cooking when broiling, making it one of the healthiest approaches.
Don't Turn Your Back on the Hamburgers While Cooking
As you know by now, broiling hamburgers is a very quick process. Taking your eye off them can be the difference between delicious morsels and burnt-to-a-crisp patties.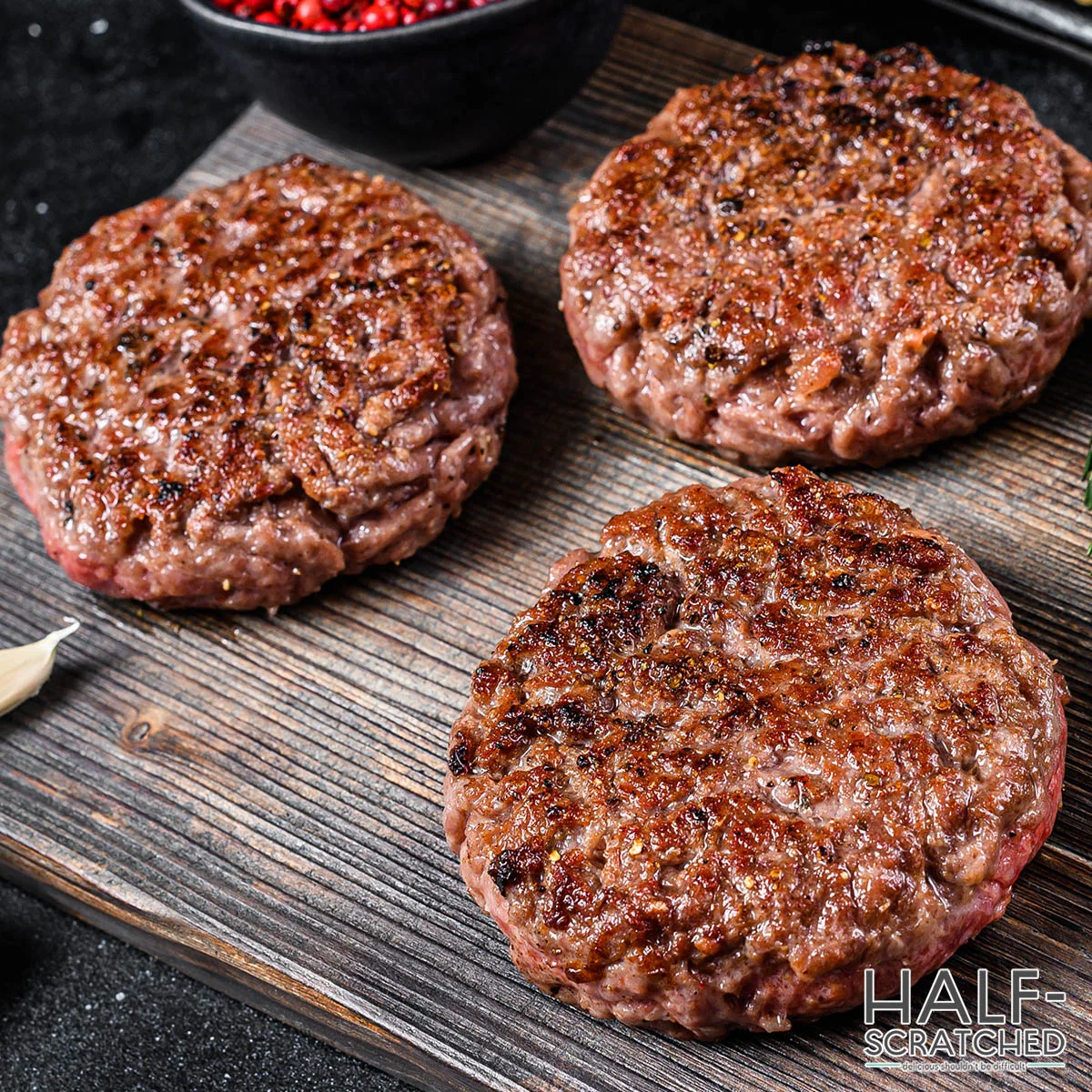 Season to Your Heart's Content
When it comes to homemade hamburgers, seasoning makes the world go around! Generous seasoning means unforgettable burgers!
Salt and pepper alone can work wonders, but to give your broiled hamburgers an edge, make a seasoning mix. They're super easy to whip up and experiment with.
If you're having trouble picking your seasoning combinations, try this (it's one of our favorites):
1 teaspoon garlic powder
1 teaspoon brown sugar
1 tablespoon smoked paprika
1 ½ teaspoons kosher salt
½ teaspoon dried oregano
¼ teaspoon cayenne pepper
Ground black pepper (to taste)
Simply put all the ingredients in a small bowl, mix, and use it to season your hamburgers before putting them under the broiler.
The Tastiest Broiled Hamburgers Recipe You'll Ever Make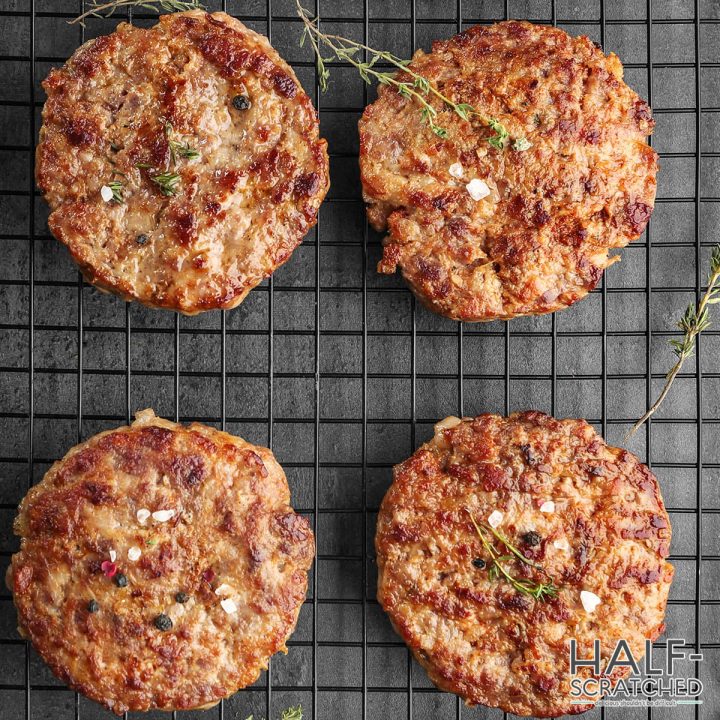 How Long to Broil Hamburgers
Discover how long it takes to broil hamburgers (and why it's a better approach than grilling)! + expert tips for perfect burgers.
Ingredients
1 pound ground beef
1 teaspoon onion (minced)
1 garlic clove (minced)
1 teaspoon Worcestershire sauce
1 teaspoon salt
1 teaspoon pepper
2 tablespoons ketchup
½ horseradish
1 teaspoon Dijon or yellow mustard (just choose your favorite)
Cheese slices (optional)
Instructions
Preheat the broiler on the high setting.
Put the oven rack about six inches from the heating element.
Line a baking sheet with aluminum foil. If you don't want to use aluminum foil, you don't have to. It just makes cleaning up easier.
Place all the ingredients listed in the previous section into a large mixing bowl.
Mix them with your hands to ensure the flavors are distributed evenly.
Make four or five patties from the mixture and put them on the baking sheet.
Slide the baking sheet underneath the broiler for six to seven minutes.
After this time has passed, flip each of the patties.
Broil for five minutes on this side.
Turn the broiler off and remove the hamburgers from the oven.
Add cheese (if you want to) and put them back in the hot oven for about one moment, allowing the cheese to melt.
Serve on lettuce wraps or fresh hamburger rolls for maximum enjoyment!
Notes
This recipe assumes you like your hamburgers medium. You will need to adjust the broiling time and follow the internal temperature guide we gave you earlier to ensure you're broiling burgers to your preferences.
As far as the cheese goes, you can choose any kind — cheddar, pepper jack, provolone, American; you name it.
We recommend including the fixings, giving your diners tons of choice. This includes (but isn't limited to): onions, pickles, bacon slices, sliced tomatoes, lettuce, sautéed mushrooms, onions, over-easy eggs, and peppers.
For the ultimate meal, you will want to add a side dish to accompany your broiled hamburgers. For that, we suggest panzanella, pasta salad, kielbasa and beans, poutine with gravy, or a bright and fresh strawberry salad.
Nutrition Information:
Yield:

4
Serving Size:

1
Amount Per Serving:
Calories:

351
Total Fat:

22g
Saturated Fat:

9g
Trans Fat:

1g
Unsaturated Fat:

10g
Cholesterol:

108mg
Sodium:

815mg
Carbohydrates:

4g
Fiber:

0g
Sugar:

2g
Protein:

33g