Cooking burgers in the oven is an easy, mess-free way to make a large number of burgers quickly. Oven-baked burgers can also be healthier than grilled burgers because they don't require the extra oil and fat used in grilling. Additionally, cooking burgers in the oven can help to keep them juicy and tender. But, to get the best results, you'll have to bake the patties for the right amount of time.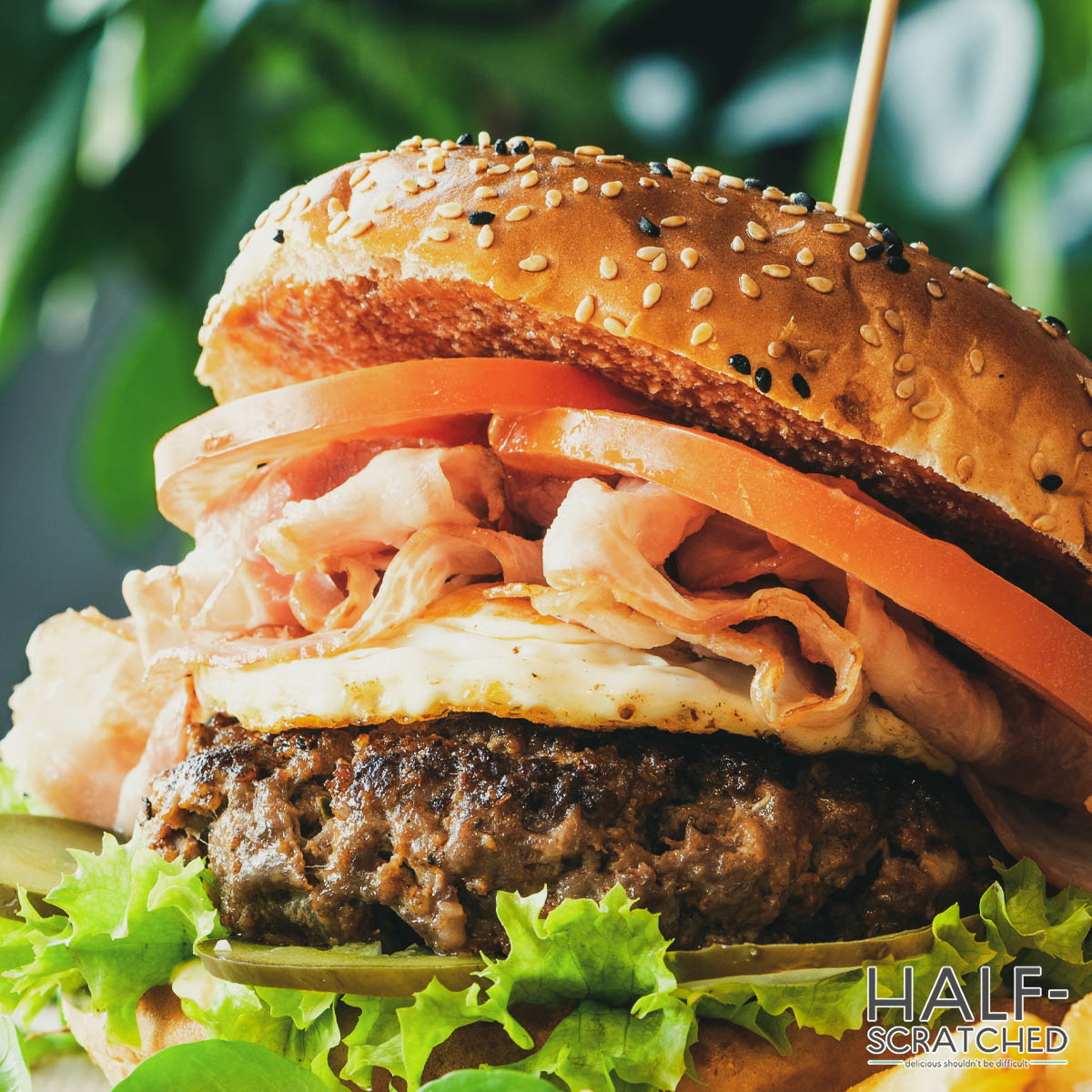 The length of time needed to cook burgers in the oven will depend on the size and thickness of the patties. Generally, though, burgers should bake at 400°F for 15 to 20 minutes. If you prefer your burgers to be well done, cook them for a few minutes longer. To check that they're finished, use a meat thermometer to measure whether the internal temperature has reached 160°F.
While it's generally more common to grill or pan-fry burgers, baking them in the oven is a guaranteed way to make a delicious meal that everyone will enjoy. If you've never tried to bake burgers, continue reading to learn more. This recipe guide will explain everything you need to know and offer a few top tips to improve the overall flavor, juiciness, and texture of your burgers.
Baking Burgers at a High-Temperature Seals in Their Juices
Burgers are often grilled over an open flame or on a hot griddle because these cooking methods help to generate an intensity of heat that sears the outside and quickly locks in the juicy flavors. While baking burgers in the oven won't give you the same kind of crisp, seared texture, it can still be a great way to cook juicy, flavorful burgers.
The trick is to bake the burgers at a high temperature. Baking the patties at 400°F will help to seal in the flavor and juices, resulting in a juicy and tender burger. You can also let them sit under the broiler for the last few minutes of cooking to achieve a crisp texture on the outside of the patty.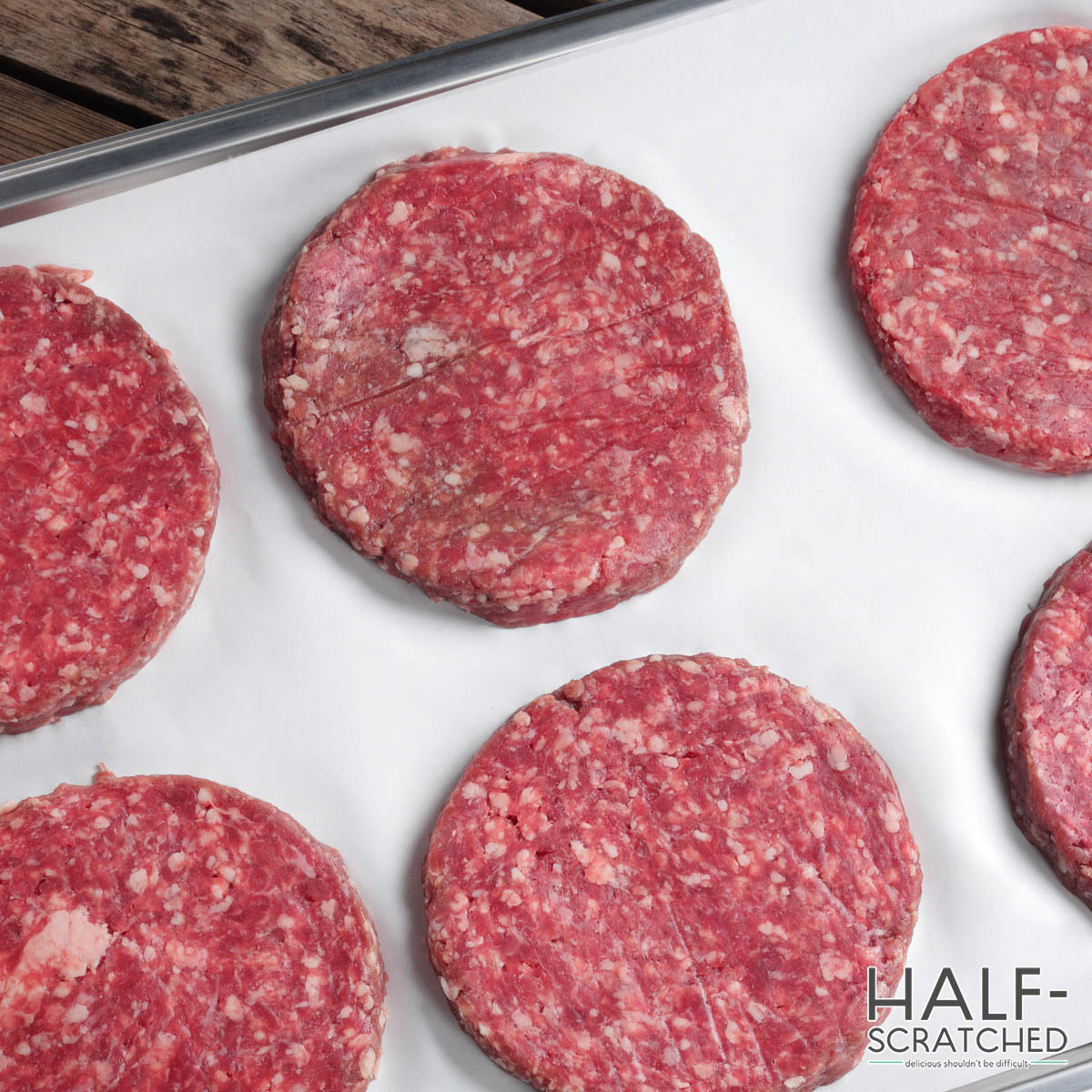 Keep an Eye on the Time
When it comes to baking burgers, you have to be careful not to overcook them. If the burgers are in the oven for too long, they can become dry and unpleasant, leaving you with a bitty and grainy patty. You can avoid this by making the patties as close to uniform as possible so that all of the burgers cook for an equal amount of time.
To avoid overcooking, keep an eye on the clock and use a timer. Most burgers will take between 15 and 20 minutes to cook at 400°F, but if you're using small and thin patties, they may only need to be in the oven for 10 to 12 minutes. If they're closer to quarter-pound burgers, the cooking time will be closer to 20 minutes.
The best way to ensure that your burgers are cooked properly, though, is to check their internal temperature. The USDA recommends cooking ground beef to an internal temperature of 160°F, so you should use a meat thermometer to check that the burgers have reached this temperature.
When the burgers have reached 160°F, they're ready to be served. If they're not quite there, you can put them back in the oven for a few more minutes until they're cooked through.
Bake the Patties on a Broiler Pan to Reduce Your Fat Intake
If you're choosing to bake your burgers in the oven for health reasons, you may prefer to use a broiler pan to reduce your fat intake. A broiler pan is a two-piece pan that sits on top of your baking sheet and allows fat to drip away from the burgers. This way, your burgers around frying in their own juices.
To use a broiler pan, simply place your raw patties on the top piece of the pan and place it on top of the bottom piece. When the burgers cook, the fat will drip through the slits in the top piece and collect in the lower pan. This will help to keep the burgers from becoming greasy and will also help to reduce your fat intake.
Once the burgers have cooked for the recommended amount of time, you can remove them from the oven and let them rest for a few minutes before serving. This will help to keep them juicy and tender.
Don't Worry About Flipping the Burgers
Although it's common practice to flip burgers when you're grilling or pan-frying, it's completely unnecessary if you're baking the patties in the oven. The beauty of baking burgers is that they cook evenly on both sides, so you don't have to worry about flipping them.
This doesn't mean that you should ignore the burgers while they're in the oven, though. You should still keep an eye on your burgers and check their internal temperature with a thermometer. As soon as they reach 160°F take them out, or you'll end up with a dried-out meat patty.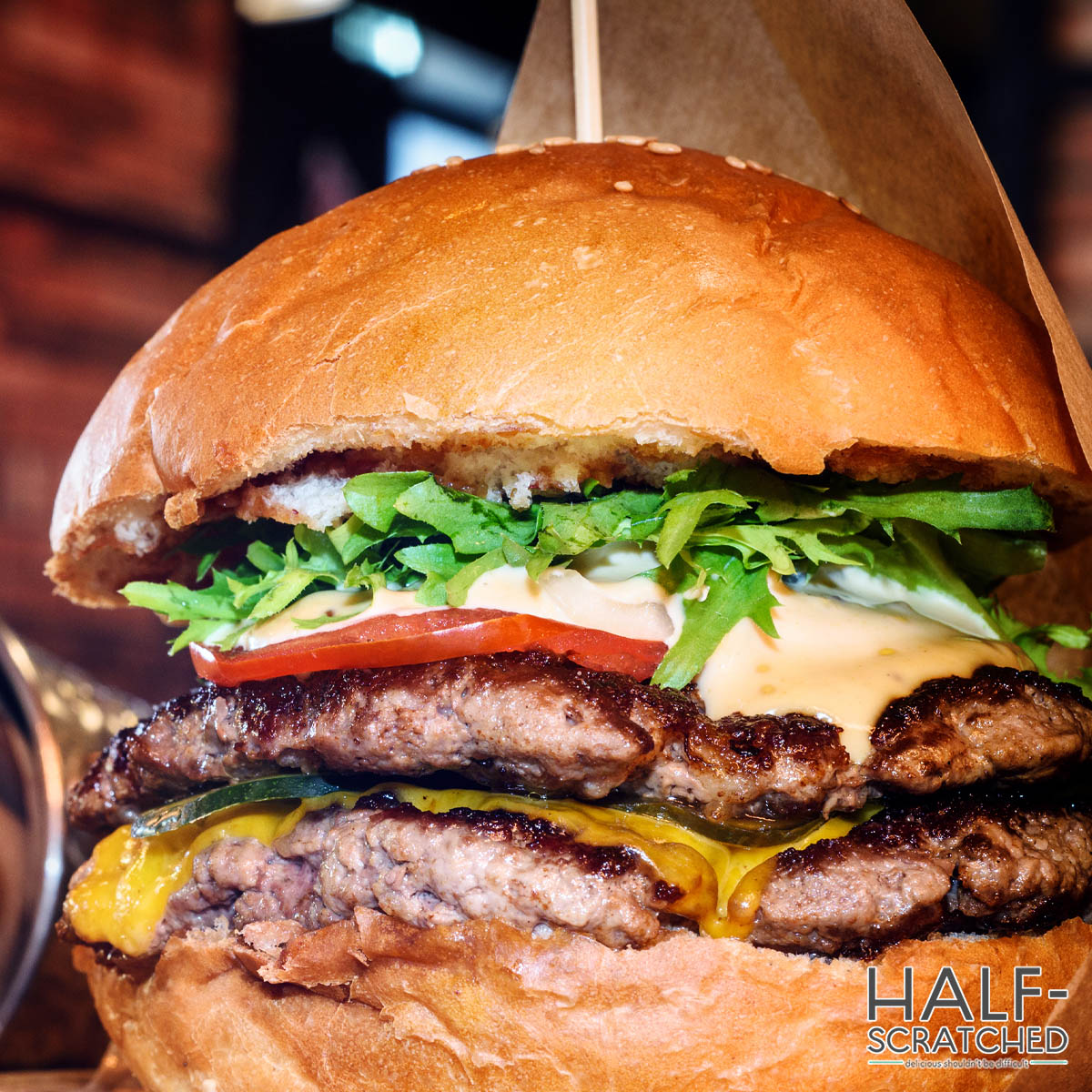 A Few Helpful Tips to Improve the Quality of Your Burgers
The following tips aren't really guidelines but a handful of suggestions that can improve the flavor, texture, and juiciness of your burger patties. Apply them as you see fit and don't be afraid to experiment with your own approach.
Use an 80/20 Blend of Ground Beef
Ground beef might seem like a straightforward product but there's actually a good bit of variety from which you can choose. As you're shopping, we recommend that you keep an eye out for the fractions on the package.
These denote the percentage of lean meat to fat in the mixture. Ideally, you should use an 80/20 blend, meaning a mix of 80% lean meat and 20% beef tallow. This will create a juicy burger that has just the right amount of fat for flavor. If you use a leaner blend, your burgers may be dry and flavorless.
Don't Overwork the Meat
When you're forming the burgers, you should be gentle with the ground beef. Overworking the meat can cause it to become dense and tough, which will result in a dry and unappetizing burger. To avoid this, use your hands to gently form the patties, and be sure not to pack them too tightly.
Add a Little Bit of Liquid to Meat
If you're a die-hard fan of juicy, tender burgers, you can add a little liquid to the patties to help keep them moist. You can use anything from beef broth to beer or even a mixture of Worcestershire sauce and water. Just add a tablespoon or two to the ground beef before forming the patties. This will help to keep them moist and flavorful.
Use the Lid from a Jar to Make Perfectly Shaped Patties
To make perfectly shaped burgers, you can use the lid from a jar of pickles or olives. Place the ground beef in the lid and press down firmly. This will form a patty that's perfectly sized and perfectly shaped. If they're too thin for your liking, use a peanut butter jar lid. This will create a patty that's about twice as thick yet roughly the same shape.
Add Onion Powder and Smoked Paprika to Amplify the Burger Flavor
If you'd like to add a bit of extra flavor to your burgers, you can use onion powder and smoked paprika. First, mix the ground beef with a teaspoon of onion powder and a teaspoon of smoked paprika. This will add a subtle smoky flavor to the burgers that pairs perfectly with the beefy taste.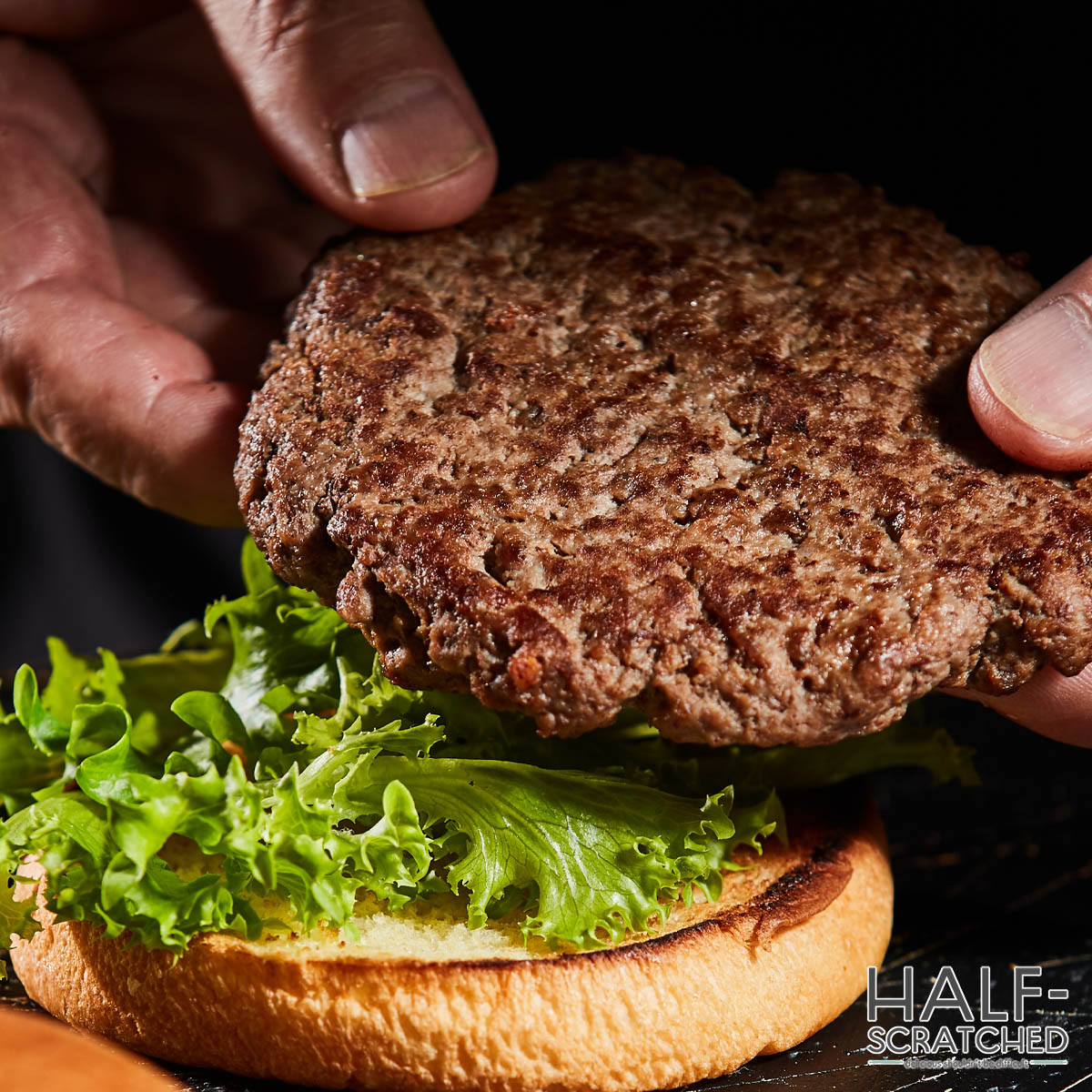 Questions and Answers About Baking Burgers
How can I reheat burger patties without drying them out?
The best way to reheat burgers without drying them out is to wrap them in foil and bake them in the oven at 350°F for 10-15 minutes. This will help retain the moisture in the burgers and keep them juicy.
Can I freeze burgers ahead of time and bake them straight from the freezer?
Yes, you can. To freeze burgers, place the raw patties on a baking sheet and place it in the freezer. Once the patties are frozen solid, transfer them to a freezer-safe bag or container. When you're ready to bake them, thaw the burgers in the fridge overnight. Then, cook them in the oven at 400°F for 20 minutes or until the internal temperature reaches 160°F.
What happens if I use ground beef with less fat?
Ground beef with less fat will not be as juicy or flavorful as a higher-fat blend. Additionally, the burgers may be dry and crumbly. To get the best results, we recommend using an 80/20 blend of ground beef.
How long should I bake vegan burger patties?
Ideally, you should follow the instructions on the package for vegan burgers. The baking time will all depend on the ingredients used the make the patties.
Are there healthy side dishes that go well with burgers?
Although fries are the traditional side dish for burgers, they're not exactly healthy. If you're watching your cholesterol, consider a side salad or a baked sweet potato instead. Alternatively, you could always bake potato wedges for something similar but far healthier.
My Favorite Recipe for Homemade Oven-Baked Burgers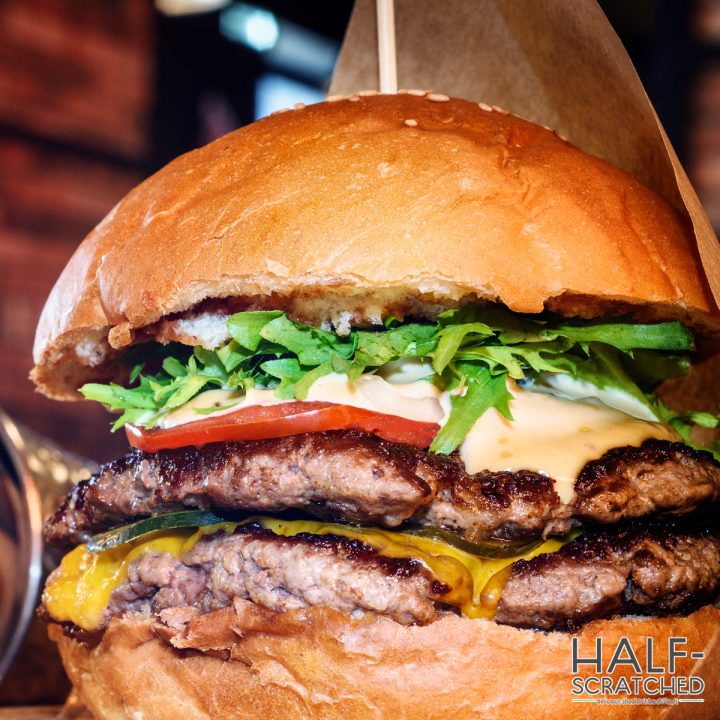 How Long to Cook Burgers in the Oven at 400° F
To make perfect burgers, bake them for 20 minutes at 400 degrees Fahrenheit or until they reach an internal temperature of 160.
Ingredients
2 lbs. of 80/20 ground beef
1 teaspoon of onion powder
1 teaspoon of smoked paprika
1 teaspoon of garlic powder
1 teaspoon of sea salt
1 teaspoon of cracked black pepper
1 tablespoon of beef broth
Burger buns
Sliced tomatoes
Lettuce
Sliced pickles
Your sliced cheese of choice
Your sauce of choice
Instructions
Preheat your oven to 400°F.
In a large bowl, mix together the ground beef, onion powder, smoked paprika, garlic powder, sea salt, and cracked black pepper using a fork. Be careful to avoid overworking the meat.
Add the beef broth and mix together until the seasonings are evenly distributed.
Shape the ground beef into 8 patties using the lid from a peanut butter jar. Simply pull a chunk of meat from the bowl, press it into the lid, and keep adding until it fills the space.
Arrange the patties on a broiler pan so that they don't touch.
Place the broiler pan in the oven and bake the burgers for 15-20 minutes or until the internal temperature reaches 160°F.
Remove the burgers from the oven and let them rest for a few minutes before serving.
Assemble the burgers by adding your desired toppings on a toasted bun.
Nutrition Information:
Yield:

4
Serving Size:

1
Amount Per Serving:
Calories:

712
Total Fat:

43g
Saturated Fat:

16g
Trans Fat:

2g
Unsaturated Fat:

20g
Cholesterol:

209mg
Sodium:

1072mg
Carbohydrates:

12g
Fiber:

2g
Sugar:

4g
Protein:

65g