Broiled chicken may have a reputation for being bland, dry, and rubbery. But with the right knowledge on your side (like optimal cooking times), you can broil this versatile meat cut to perfection every single time.
You should broil chicken breasts for three to five minutes on each side while keeping the meat roughly four inches from the heating element. But since every oven is different, these timings may change slightly.
Weight doesn't matter too much here. It's all about temperature. The trick is to insert a thermometer into the thickest part of the breast; you'll know it's cooked when the temperature reads 165°F (74°C).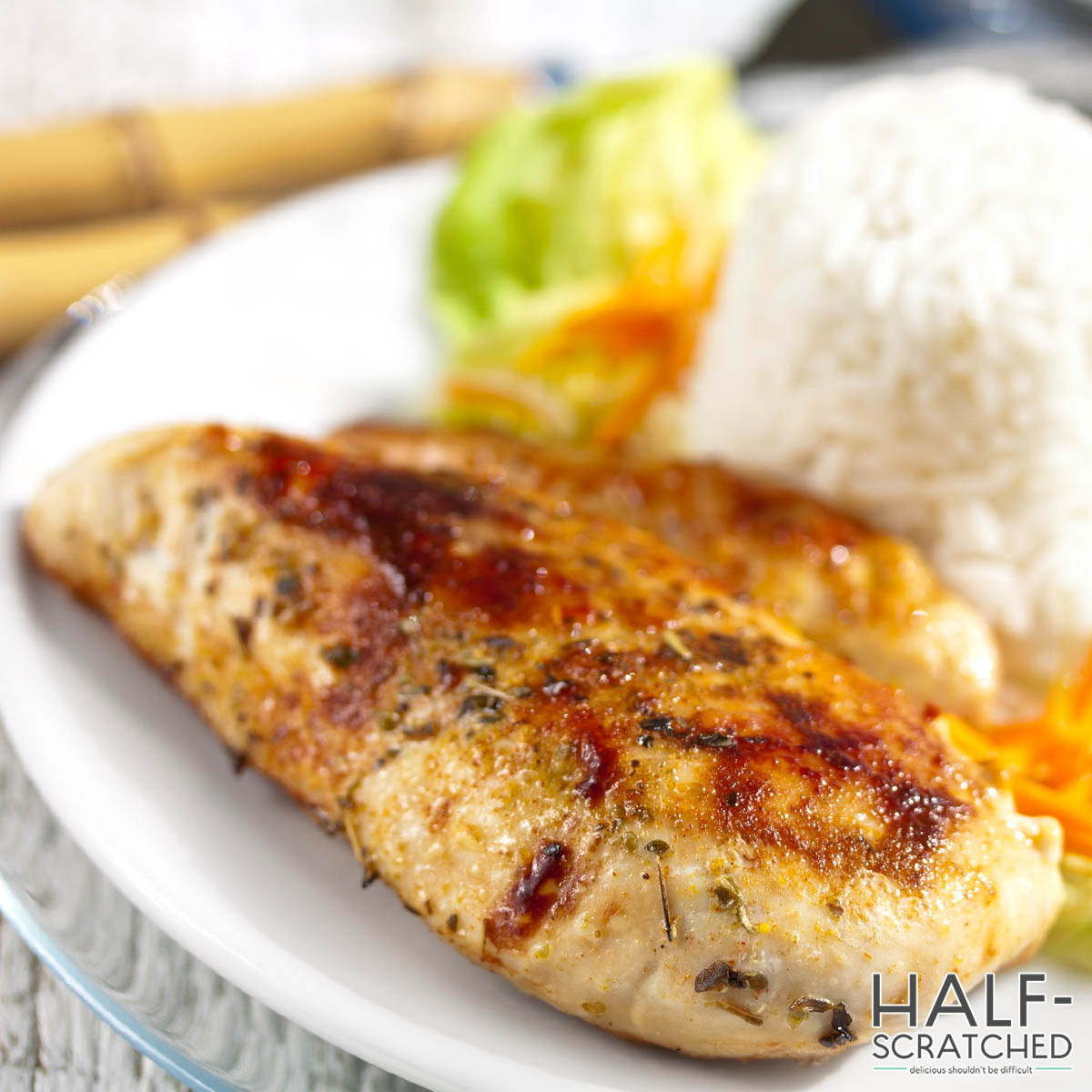 The above is just the basics. Stick with us to get the lowdown on all aspects of broiling chicken breasts, including common mistakes to avoid.
How to Keep Chicken Breasts Juicy When Broiling Them
Chicken breasts boast very little fat, especially without the skin, meaning it's a go-to option for those trying to boost protein intake without piling in the fat. But that presents an all-too-common problem — they're prone to becoming ultra-dry when cooked.
Luckily, there are a few things you can do to ensure your broiled chicken breasts are succulent and delicious.
For Best Results, Broil with the Skin On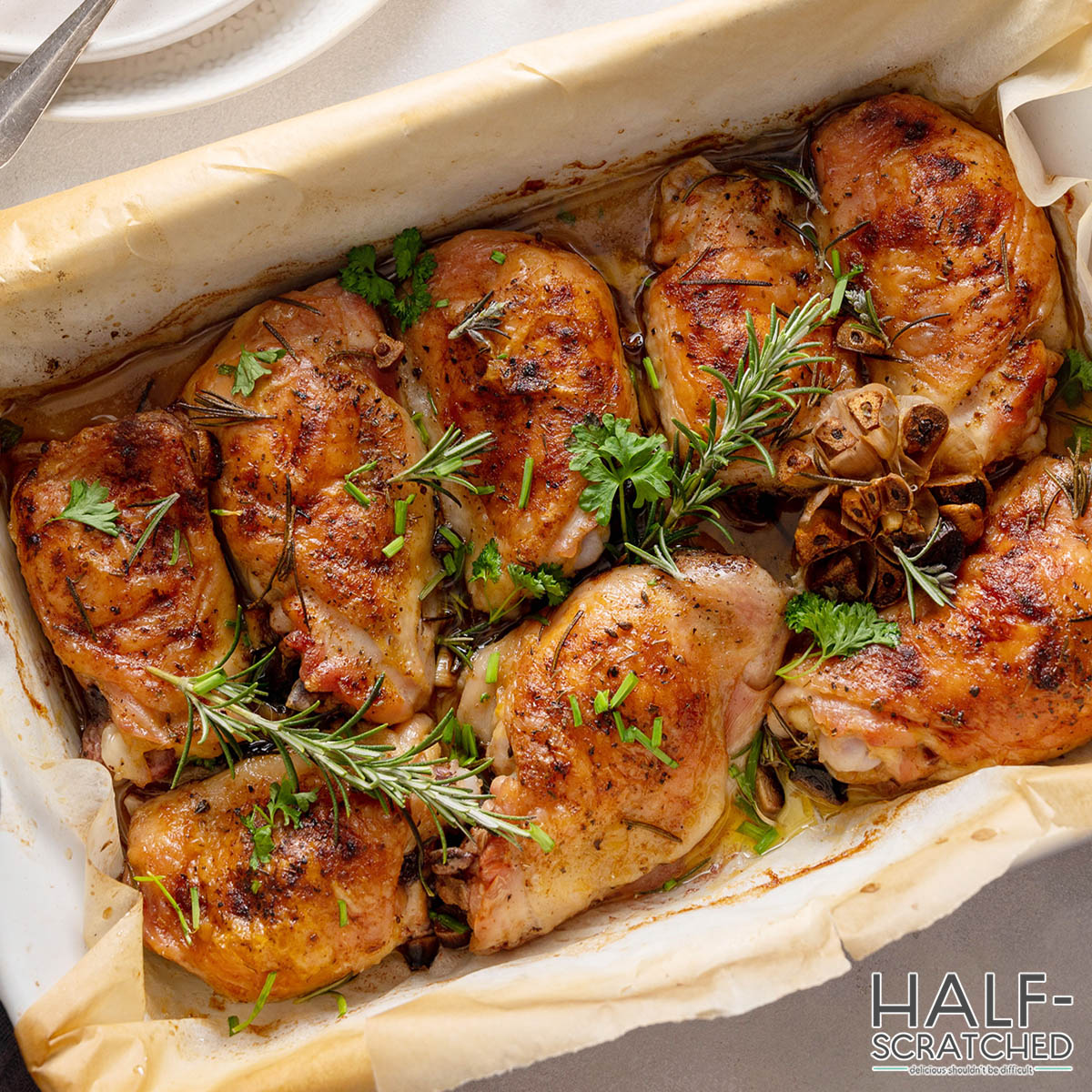 If you aren't concerned about the fat content, broil the breasts with the skin on. Start the cooking process with the skin side down before flipping it halfway through (after three to five minutes) so the skin faces the heating element.
With this method, retaining the chicken's natural moisture is a breeze. Plus, you don't even have to eat the skin. Simply take it off before serving!
But don't be disheartened if you've purchased skinless chicken breasts — keeping them succulent takes a little extra work, but it isn't impossible.
For skinless chicken breasts, rub them with a tiny amount of olive oil or let them marinade before broiling. You can even experiment with various flavored oils to discover your favorite combination.
Alternatively, brush each breast with Italian dressing or spray with cooking spray for the same moisture-retaining effect.
Precook in Stock
Home cooks generally don't do this, but you'll be surprised by the difference it makes.
Let them cook in chicken stock before placing them under the broiler. They'll begin their broiled life infused with flavor and moisture, ensuring they spend less of their final cooking time drying out.
Don't Fancy Stock? Try a Herb Rub Instead
Coating the chicken breasts in a herb rub before broiling is another great way to add flavor and achieve succulent meat. The inside remains tender and moist, while the outside will boast a beautiful brown crust.
The versatility of chicken means you have loads of herbs to choose from. However, some of the best for broiled breasts are undoubtedly:
Dill
Sage
Thyme
Rosemary
Basil
Coriander
Oregano
But don't be afraid to experiment! You never know; you might find a tasty never-tried-before flavor combination.
Use Foil as a Shield
Wrapping the entire breast in foil defeats the purpose of broiling the meat. However, you can always use small pieces of foil to ensure the thinner edges don't burn before the thicker parts of the meat are cooked all the way through.
Or Skip the Foil and Cut Them Lengthways
If foil isn't an option for you, cut the breasts lengthways before cooking. This eradicates the excess thickness at one end of the chicken cut, making sure it cooks evenly under the broiler and limiting the chances of burnt edges.
5 Mistakes to Avoid When Broiling Chicken Breasts
Knowing that the internal temperature must be 165°F after broiling it on both sides for three to five minutes is the main fact to understand about broiling chicken breasts. But this leaves ample room to make various common mistakes.
So, let's make sure you don't fall prey to them.
#1 Not Letting It Rest
Most people know that steak needs to rest after it's finished cooking. However, many don't understand the importance of letting chicken rest, too.
Once the internal temperature hits 165°F, turn the heat off and let the breasts rest for a few minutes before slicing into it.
This short "time-out" period allows the juices to redistribute themselves through the whole cut. Plus, it boosts collagen production, which thickens the juices, ensuring succulence in every bite.
#2 Purchasing Frozen Chicken Breasts
Properly broiled chicken happens when the water content is locked in. When chicken breasts are frozen before cooking, it can cause significant dryness, resulting in a less-than-pleasant broiled cut.
Buying meat from your local butcher is one of the best ways to ensure you aren't purchasing previously frozen chicken breasts. Alternatively, look for a label that reads "fresh, never frozen" on the package.
#3 Starting the Broiling with Cold Meat
Starting the cooking process with chicken breasts fresh from the fridge leads to uneven cooking or even overcooking. Do what the chefs do and always temper your meat.
Take your chicken cuts out of the refrigerator for at least 30 minutes before you want to broil it. In fact, you can leave it on the countertop for up to four hours prior to cooking! Unbeknownst to popular belief, it won't turn bad.
Just give it a pat with a paper towel before covering it in the marinade/rub of your choice and placing it under the broiler.
#4 Being Too Hasty
Always preheat the broiler before putting your meat in. Depending on your oven, this will take around ten minutes. Attempting to broil the chicken in a non-preheated broiler will severely dry it out.
#5 Putting the Chicken Too Close to the Heating Element
Yes, you want the chicken breasts to be closer to the heating element than in other cooking processes. But too close and you risk burning the meat. Keep the breasts around three to five inches away from the heating element for the best broiling.
Simple (Yet Oh-So-Tasty) Broiled Chicken Breast Recipe
How Long To Broil Chicken Breast
Discover how long you should broil chicken breasts with our ultimate guide! Succulent broiled meat is just around the corner.
Ingredients
3 skinless boneless chicken breasts
5 minced garlic cloves
3 teaspoons olive oil
Salt and pepper
Cayenne pepper
Finely chopped fresh dill (or your favorite herbs)
Instructions
Put the top rack roughly 3" to 4" below the heating element.
Turn the oven to broil and leave it to preheat on high.
Line a baking tray with foil.
Slice the chicken breasts in half lengthways before lining them up on the baking tray.
Rub each one with ½ teaspoon of olive oil.
Add salt, pepper, herbs, minced garlic, and cayenne pepper to each breast, patting them to ensure the seasoning sticks.
Broil the breasts for 3-5 minutes per side until they're browned, and the internal temperature displays 165F.
Serve with your favorite accompaniments for a satisfying, delicious meal.
Notes
Stay away from dry herbs! They burn far too easily. If you don't have fresh herbs, leave them out altogether as you'll get plenty of flavor from the garlic.
The broiling time may change depending on your oven and the power of its heating element. So, make sure you pay close attention to the chicken — it only needs a few minutes on each side.
Nutrition Information:
Yield:

3
Serving Size:

1
Amount Per Serving:
Calories:

247
Total Fat:

9g
Saturated Fat:

2g
Trans Fat:

0g
Unsaturated Fat:

6g
Cholesterol:

102mg
Sodium:

189mg
Carbohydrates:

2g
Fiber:

0g
Sugar:

0g
Protein:

38g