You can cook pork chops in several ways. The trick is to avoid overcooking it, and broiling is an excellent choice for a quick yet tasty meal.
Pork chops can be a bit finicky, requiring broiling for anywhere from four to ten minutes per side. The thickness determines the cooking time — the thicker the meat, the longer it takes. To prevent over (or under) cooking, use a thermometer to check the thickest parts have reached 145˚F before removing them from the oven.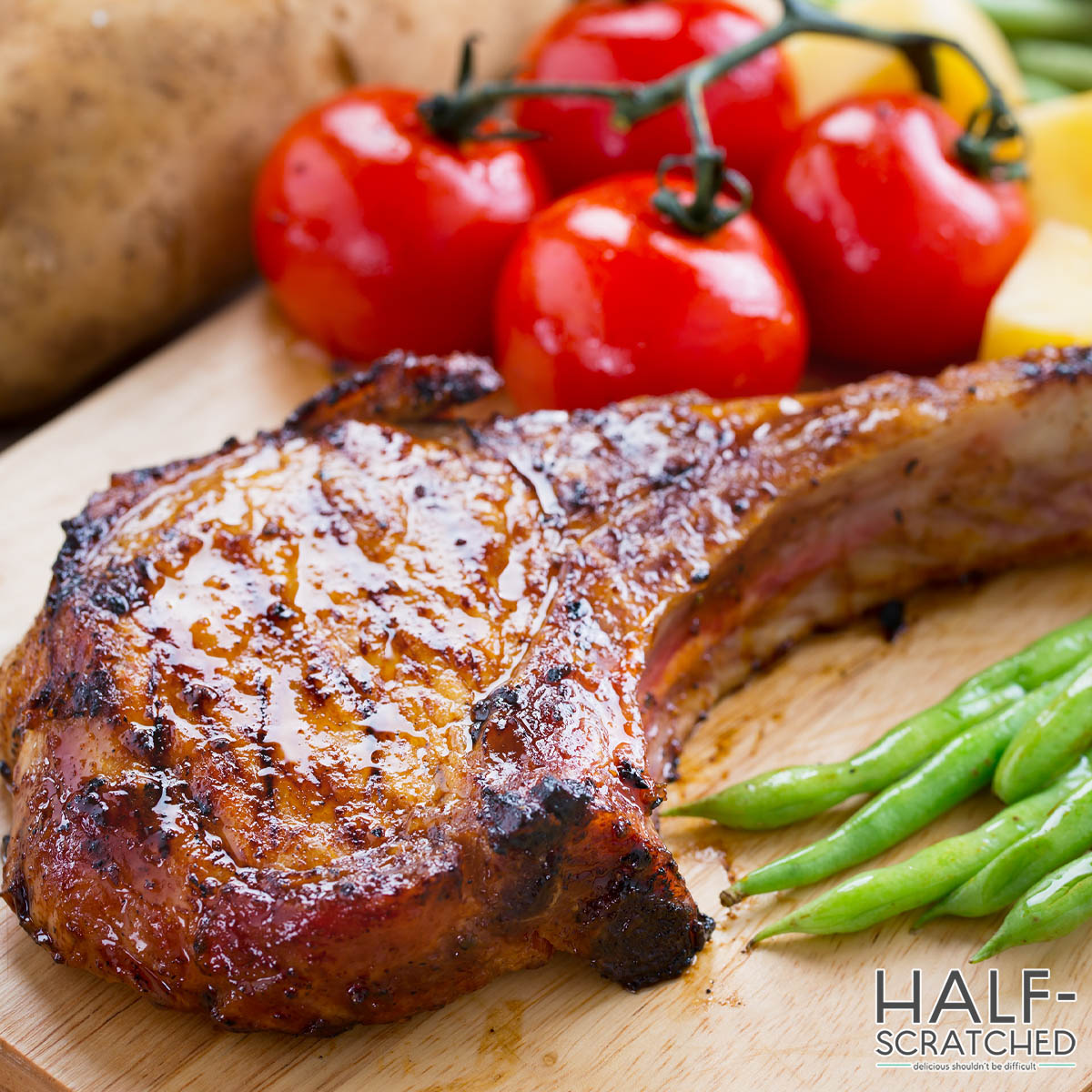 Read on and learn how to cook perfect pork chops. From choosing the right cut to accurate timings to professional tips and tricks, we go through everything in the following sections.
The Ultimate Timing Guide for Broiling Pork Chops
Pink is a huge no-no when cooking white meat like chicken. However, blush tones aren't to be feared when broiling pork chops.
Color isn't the best indicator of readiness here. Instead, you should insert a thermometer into the thickest part, ensuring it reads 145˚F, as per USDA recommendations.
As we mentioned earlier, the optimal broiling time depends on the thickness of the meat. Determine the thickness of your cut and use the table below to discover how long to cook it on each side.
| Thickness of Pork Chop | Broiling Time Per Side |
| --- | --- |
| Chops less than ¾ inch thick | 4 to 5 minutes |
| Chops ¾-inch thick | 7 to 8 minutes |
| Chops 1+ inches thick | 8 to 10 minutes |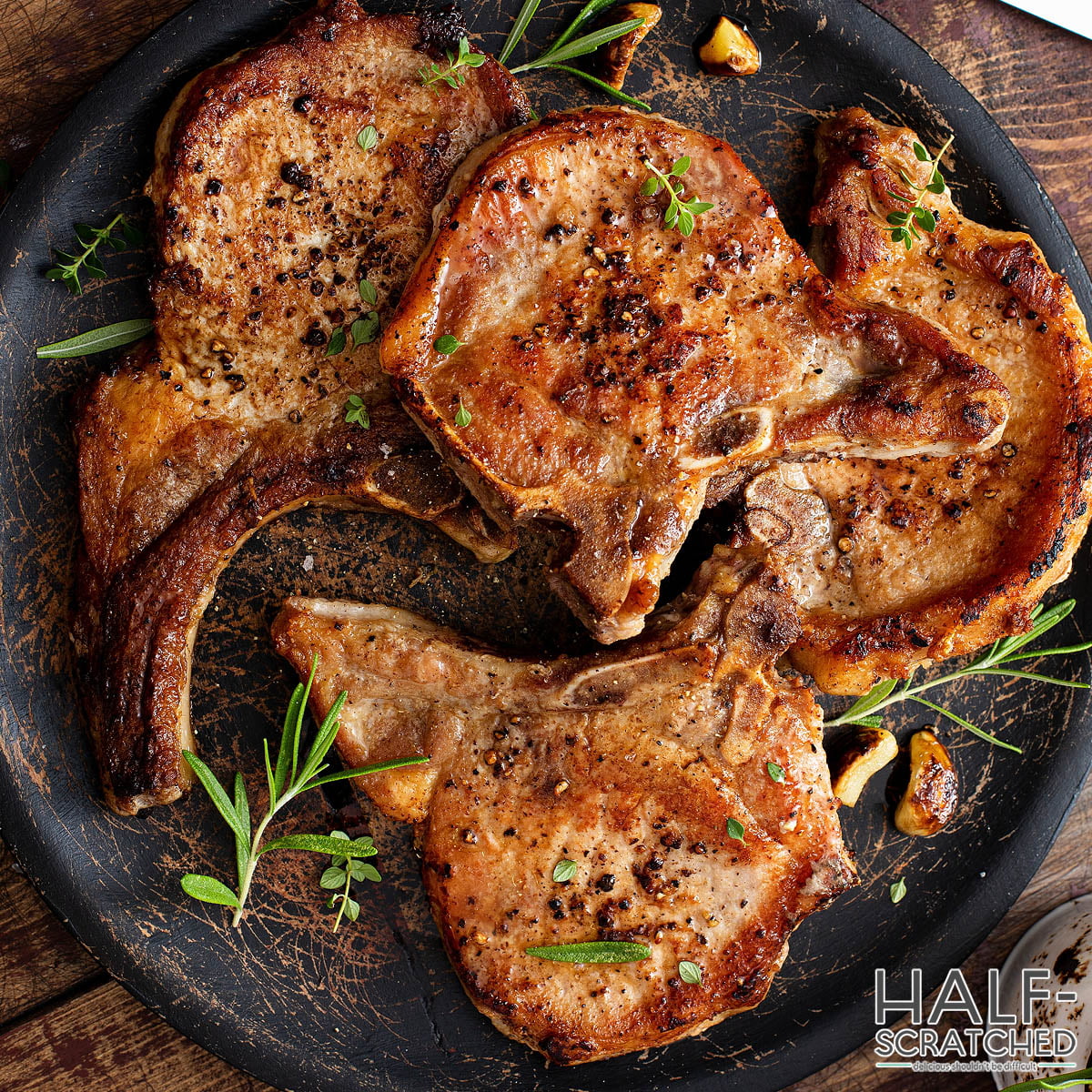 The 4 Types of Pork Chops to Broil
Some types of pork chops are more suitable for broiling than others. When shopping for the premium cut, stick to those listed here:
#1 Shoulder Chop
Other names: Blade chops, blade-end pork loin chops, pork shoulder steaks, blade stakes
Shoulder chops are famed for having a boatload of flavor. However, there can be a lot of tough gristle and bone that gives your jaw a real workout if you're not careful.
While the most common method for blade-end pork loin chops is slow cooking, they can be broiled to perfection — all you need to do is tenderize the cut correctly beforehand.
#2 Rib Chop
Other names: Pork chop end cut, rib end cut, center-cut rib chop, rib pork chop
This large lean loin meat has a bone running along its side and can come with a fatty layer around the outer edge. Those cut from the blade end tend to have more connective tissue and fat than those from the shoulder area.
Broiling is one of the best ways to get the most out of your rib chops. You'll achieve a golden sear on the outside while retaining the juiciness on the inside.
#3 Loin Chop
Other names: Center-cut loin chop, porterhouse, top-loin chop, pork loin end chop, center loin chop
Center-cut loin chops boast a T-shaped bone with a tenderloin on one side and a loin on the other. Typically, the more of the former, the pricier it will be. So, if you're on a tighter budget, choose a top-loin chop instead.
Due to the presence of both loin and tenderloin, broiling can be rather difficult, and the sides may be cooked at different times. That said, broiling is still the best method. Just make sure you keep a keen eye on them to prevent overcooking and dryness.
#4 Boneless Chop
Other names: Pork loin fillets, America's cut
Boneless chops are less fatty, which is great for nutrition-focused cooks but can make them less flavorful (seasoning is a non-negotiable here). Plus, the absence of bone provides no protection against overcooking, so you need to be careful.
That said, like loin and rib chops, boneless chops are made for broiling.
My Tips for Excellently Broiled Pork Chops Every Time
With your pork chop selected, keep these five tips in mind throughout the broiling process:
Thicker is Better When Broiling Pork Chops
The modern-day pork chop tends to be rather lean and thin. However, those aren't the cuts you want for broiling as they're too easy to overcook.
Purchase double-cut pork chops (i.e., those that are sliced twice as thick as regular ones) for a more forgiving broiling experience. If you can't find them, pay close attention to the table we provided in the first section — you'll need to follow it closely to ensure moist, tender chops.
Opt for Bone-In Pork Chops
The bone offers protection from overcooking and has fat around the edges to keep it moister and delicious.
Experiment with bone-in and boneless chops; you'll likely find the former is your favorite.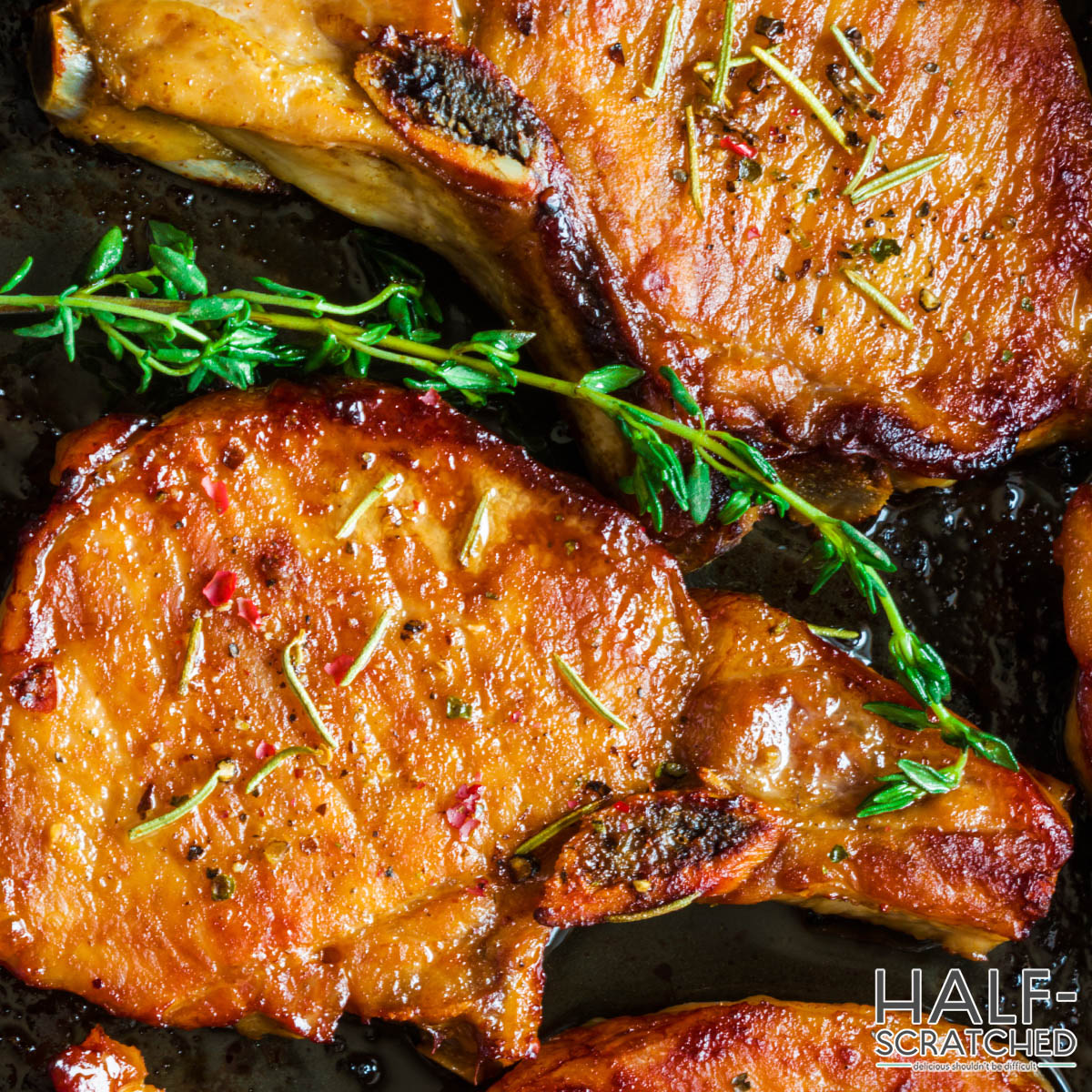 Keep an Eye on Them During the Broiling Process
We've mentioned overcooking a lot, but it's for a great reason. The quick-cooking nature of broiling makes it easy to leave pork chops under the heat for too long, causing dry, chewy meat. So, use your thermometer; it's the key to perfection.
Forget Brine, Just Season Generously
Many people swear by brining chops for an influx of moisture and a flavor boost. However, the amount of water it adds can damage its texture.
Instead, make a salt or spice rub and apply liberally to both sides of the chop, including the bone and fat cap. It will char the outside beautifully while providing mouth-watering flavor.
Pork Chops Should Rest Twice
Once you've seasoned the meat, leave it at room temperature for at least 30 minutes but no longer than two hours. This waiting period prior to cooking gives the spices (or salt) time to settle into the meat and ensures the chops arrive at room temperature to achieve even cooking.
The second rest comes after they're broiled. At this stage, the juices will relax and redistribute throughout the chop, boosting tenderness and flavor. Leave them for at least five minutes — you could use the time to sort the sides out!
The Best Broiled Pork Chops Recipe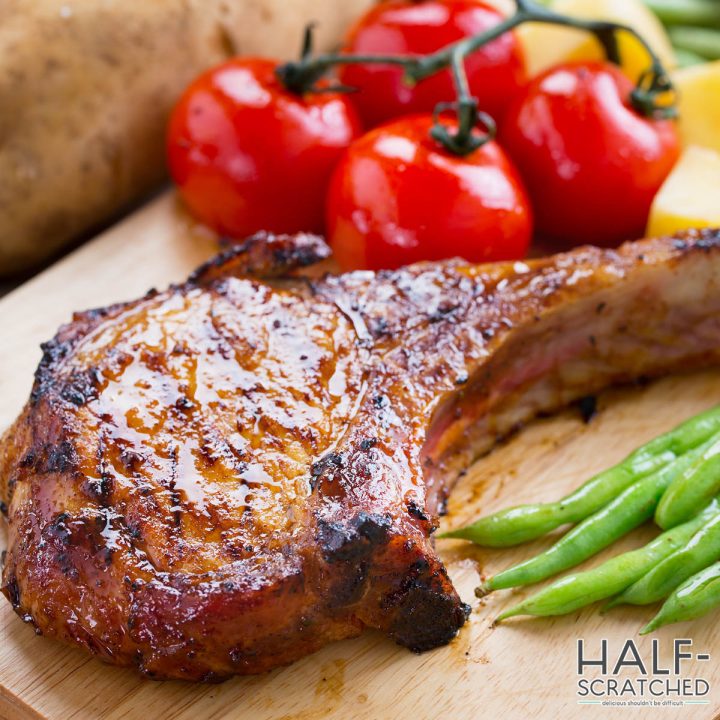 How Long to Broil Pork Chops
Learn exactly how long to broil pork chops and find some expert tips and tricks for perfect pork chops.
Ingredients
4 bone-in pork chops
1 teaspoon black pepper
1 teaspoon kosher salt
1 teaspoon garlic powder
1 teaspoon sweet paprika
2 tablespoons olive oil
Instructions
Preheat your oven broiler on high heat and make sure the oven rack is close (about four to five inches) to the heating element.
Mix the black pepper, garlic powder, sweet paprika, and kosher salt in a small bowl.
Rub the spice mix on both sides of the pork chops. Try to leave a little extra in the bowl for sprinkling on top after cooking.
Place the spiced pork chops on a baking sheet, making sure the sheet can handle the super-high temperatures of the broiler.
Broil the pork chops for four to five minutes on the first side.
Use tongs to flip the pork chops and broil for another three to four minutes on this side.
Put a thermometer into the thickest part of the chop to ensure they've reached at least 140˚F. For optimal tenderness and tastiness, it should read 145˚F.
Take them out of the oven and sprinkle the pork chops with the leftover spice mix.
Leave them to rest for about five minutes (longer is fine).
Serve while they're still warm with your preferred side dishes. Some people choose to slice the bone away, cutting the pork into ¼- to ½-inch-thick pieces.
Notes
If you're struggling to choose side dishes for your broiled pork chops, try glazed carrots, scalloped potatoes, sweet potato fries, mashed potatoes, creamed spinach, or miso braised cabbage.
Nutrition Information:
Yield:

4
Serving Size:

1
Amount Per Serving:
Calories:

393
Total Fat:

24g
Saturated Fat:

6g
Trans Fat:

0g
Unsaturated Fat:

14g
Cholesterol:

132mg
Sodium:

402mg
Carbohydrates:

1g
Fiber:

0g
Sugar:

0g
Protein:

40g