Salmon is a versatile and delicious fish that can be prepared in various ways. Broiling is an excellent cooking method for salmon, as it allows for a quick and flavorful result.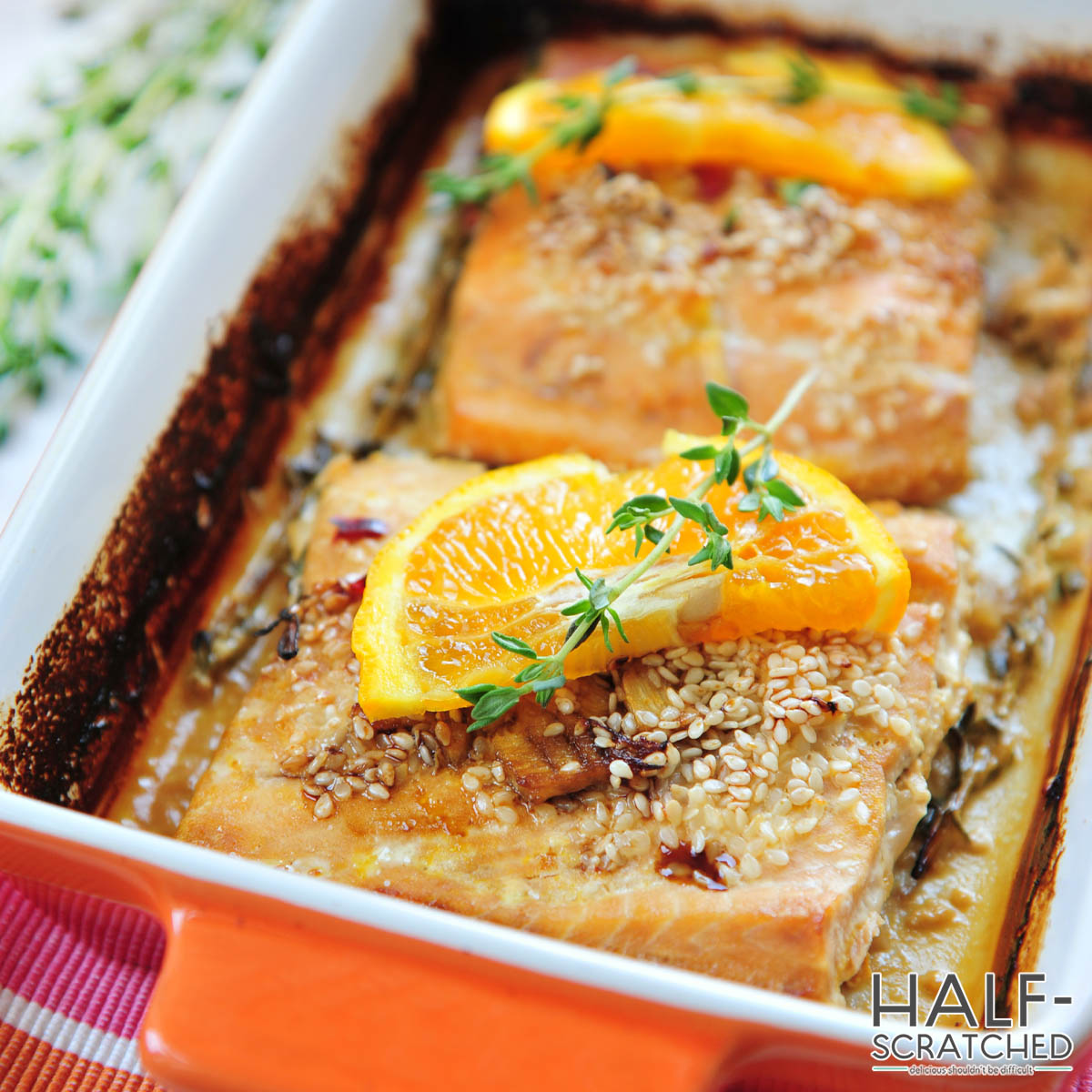 When it comes to broiling salmon, the cooking time primarily depends on the thickness of the fish. As a general guideline, you can estimate approximately 7-9 minutes per half-inch of thickness. However, keeping a close eye on the salmon during cooking is essential to avoid overcooking or undercooking. The goal is to achieve a tender and flaky texture with a slightly caramelized exterior.
Some people do prefer their salmon to be a bit more 'rare' than others; while this is okay, ensure that it is at least cooked to the FDA-recommended cooking temperature of 145 degrees Fahrenheit.
Factors Affecting Cooking Time
The biggest thing you'll need to consider when figuring out how long to broil salmon is the weight. Heavier cuts of salmon will, naturally, require a slightly longer cooking time. Here are a few other key considerations to note when you're getting ready to broil up a tasty salmon dinner.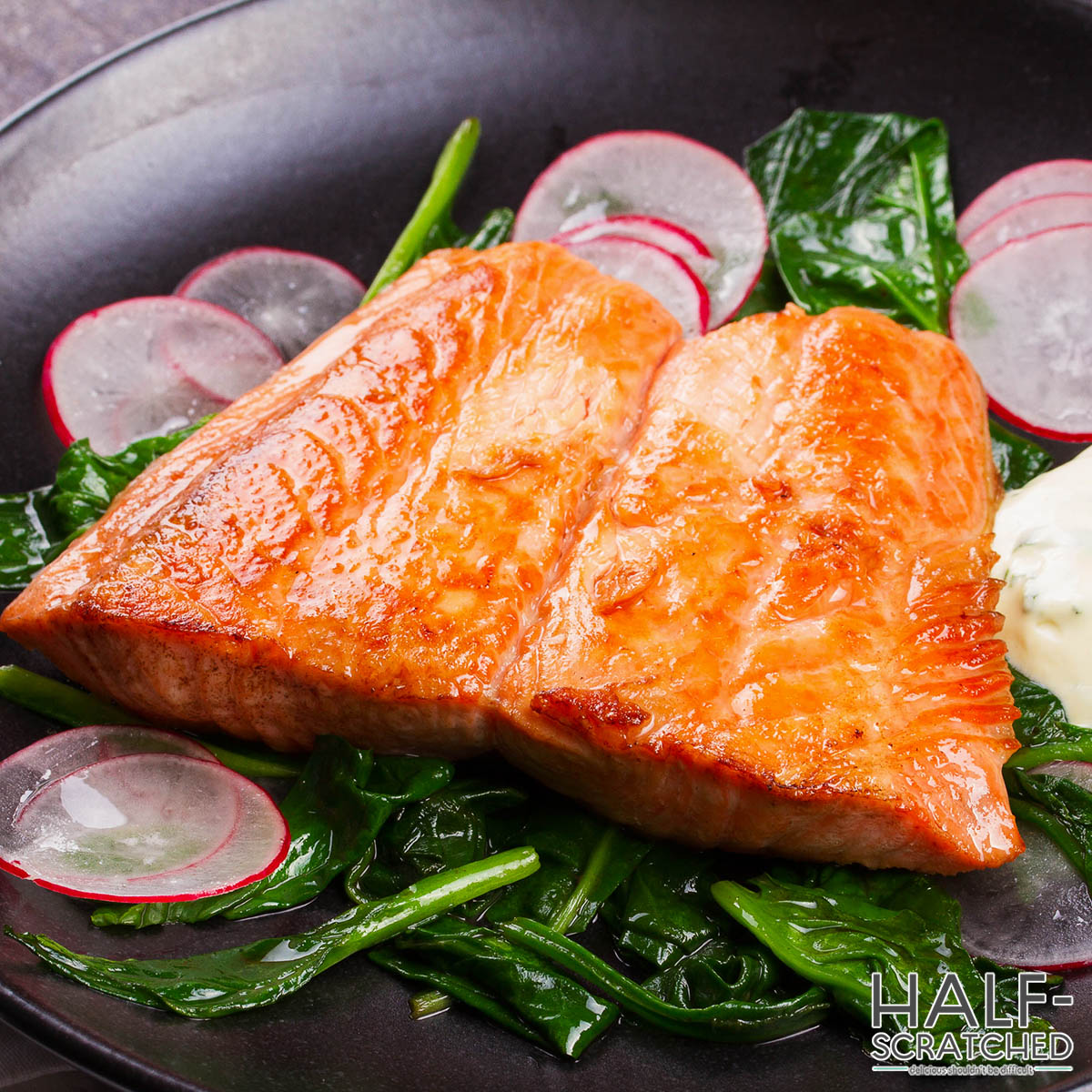 Using Foil
Wrapping the salmon in foil can help retain moisture and prevent excessive browning. If you prefer a more delicate and tender texture, consider using foil during broiling.
If, instead, you want a crispy salmon skin, skip the foil for this round.
Safe Cooking Temperature
To ensure the salmon is safe to eat, it's recommended to cook it to an internal temperature of 145 degrees. This temperature kills any potentially harmful bacteria while still preserving the fish's succulence.
Variations in Cooking Time
Factors such as the initial temperature of the salmon, the broiler's intensity, and the individual oven's performance can slightly affect the cooking time. Therefore, it's essential to monitor the fish closely during the broiling process.
Cooking Frozen Salmon
If you're starting with frozen salmon, it's advisable to thaw it before broiling. The best method is to place the salmon in the refrigerator overnight or use the defrost setting on your microwave. Thawed salmon ensures even cooking and better flavor absorption.
Determining Doneness
There are a few ways to determine if your broiled salmon is ready. You can use a food thermometer to check for an internal temperature of 145 F. Don't have a meat thermometer? No worries: gently press the fish with a fork—if it flakes easily and appears opaque, it's done.
Breaded vs.Non-Breaded
Broiling breaded salmon may require slightly longer cooking times due to the additional coating. That coating, after all, is acting as a barrier to the heat. It's important to monitor the breading closely to prevent burning. Add 2-3 more minutes to your cook time to compensate.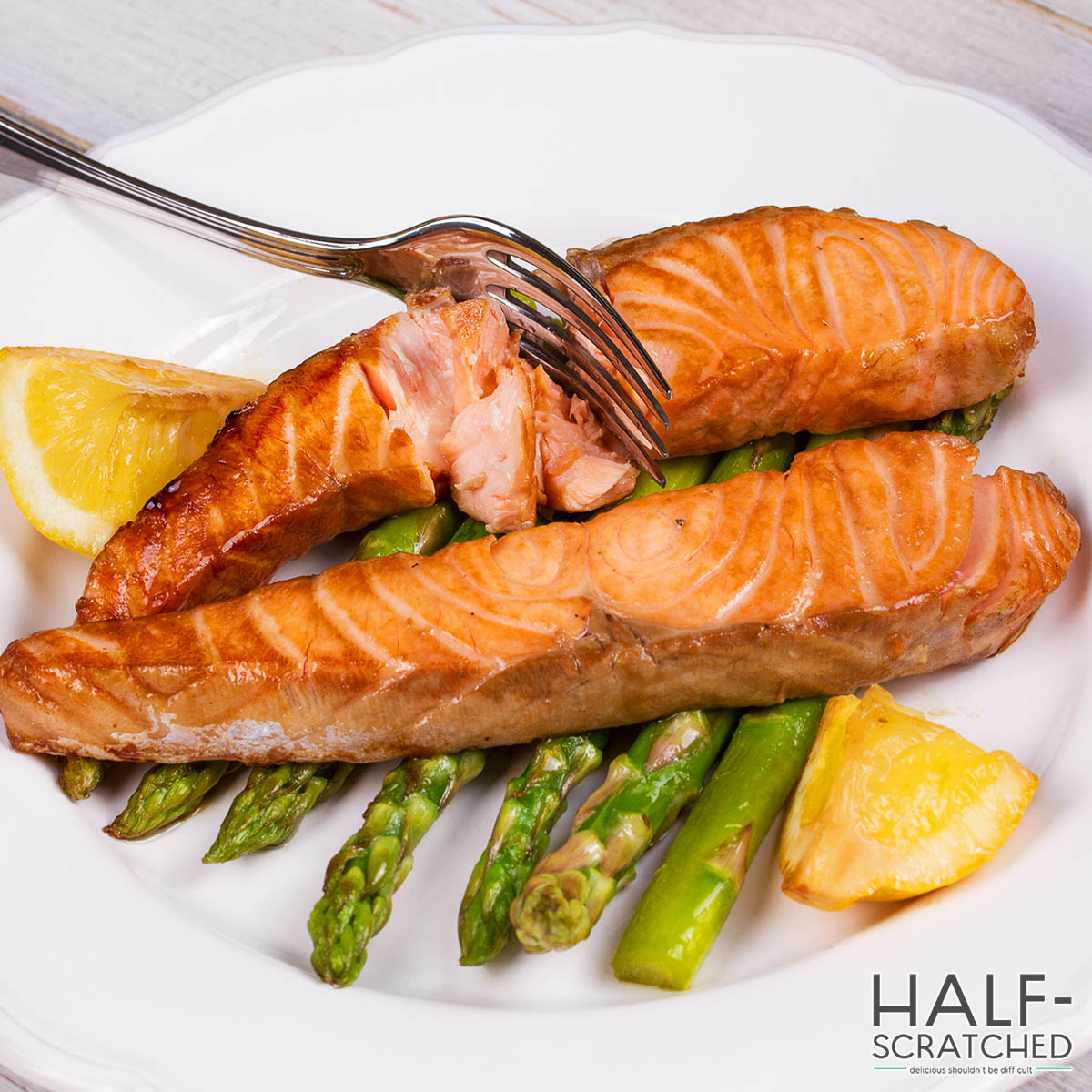 General Tips For Broiling Salmon
Get fresh, high-quality salmon for the best results. This goes for any cooking method!
Season the salmon with your favorite herbs, spices, or marinades before broiling. You can also buy pre-made salmon rubs or seasoning blends to up the deliciousness while cutting down on effort.
Preheat the broiler for a few minutes to ensure even heat distribution. Preheating ensures that the broiler is ready to rock when you add in your salmon.
Adjust the oven rack to a position that places the salmon about 4-6 inches away from the broiler element. Broiling relies on close, intense heat to cook correctly.
Use a baking sheet lined with foil or parchment paper for easy cleanup. No one likes scrubbing a sheet pan - save yourself a step!
Let the broiled salmon rest for a few minutes before serving to allow the flavors to settle and the juices to redistribute. Good things come to those who wait!
How Long to Broil Salmon in the Air Fryer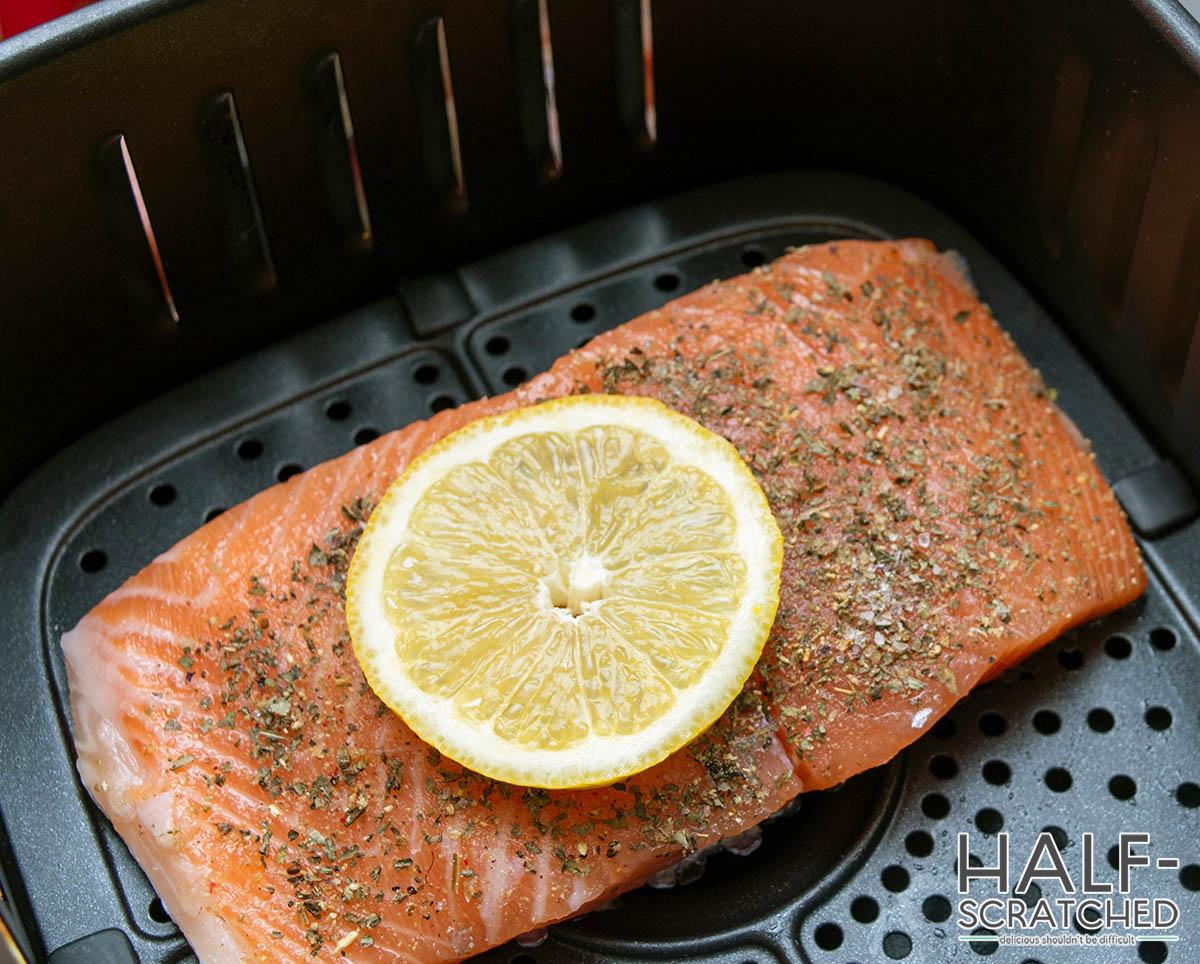 Some air fryers have a broil setting, especially newer ones that can hit those higher heat marks indicative of this cooking method. If you're lucky enough to have one, you can definitely put it to work with a fillet of salmon. How long should you broil salmon in the air fryer?
The cook time for this method is just the same as it is in the oven; 7-9 minutes. You can start to check on it after about 6 minutes if you're worried about overcooking.
Delicious Broiled Salmon Recipe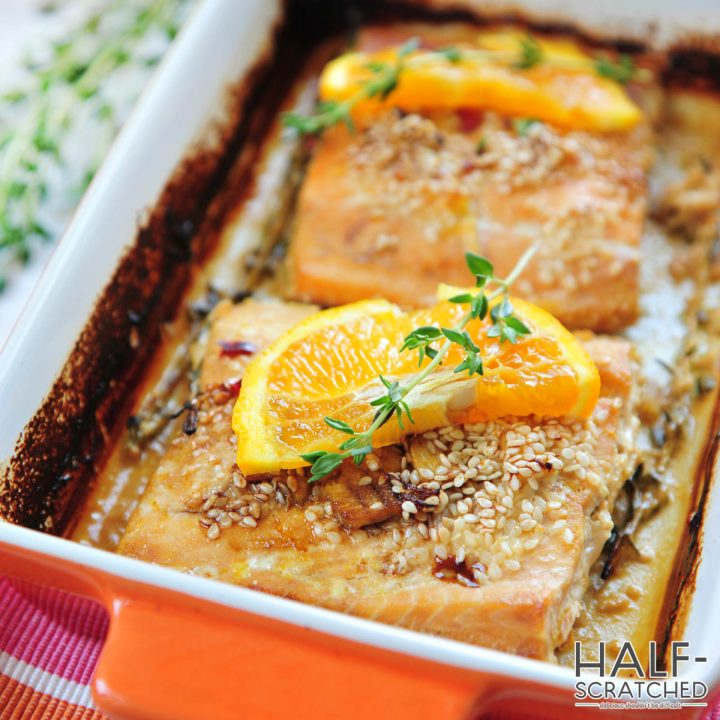 How Long To Broil Salmon
Additional Time:
21 minutes
Learn how long it take to broil salmon and also learn about factors that can influence the cooking time and get awesome tips and a delicious recipe.
Ingredients
2 salmon fillets, approximately 6-8 ounces each
Salt and pepper to taste
Paprika to taste
Garlic powder to taste
Additional herbs and spices, to taste
1 tablespoon olive oil
Optional: lemon or orange wedges, sesame seeds, fresh herbs for garnish
Instructions
Preheat the broiler: Set your oven to the broil setting and adjust the oven rack to a position that places the salmon about 4-6 inches away from the broiler element. Preheating the broiler ensures that the salmon cooks evenly and develops a delicious caramelized exterior.
Prepare the salmon: Pat the salmon fillets dry with a paper towel. This helps remove any excess moisture, allowing the fish to broil more effectively. Season both sides of the salmon fillets generously, according to your taste preferences.
Brush with olive oil: Drizzle or brush the salmon fillets with olive oil, ensuring they are lightly coated. The oil helps to enhance the flavor and aids in browning during the broiling process.
Place the salmon on a baking sheet: Line a baking sheet with foil or parchment paper for easy cleanup. Arrange the seasoned salmon fillets on the baking sheet, leaving some space between them for even cooking.
Broil the salmon: Carefully place the baking sheet with the salmon into the preheated oven. Allow the salmon to broil for approximately 5-7 minutes per half-inch of thickness. Keep a close eye on the salmon as it broils to prevent overcooking.
Check for doneness: To ensure the salmon is cooked to perfection, you have a couple of options. Use a food thermometer to measure the internal temperature, which should reach 145°F. Another method is to
gently press the fillets with a fork. If they flake easily and appear opaque, they are ready to be removed from the oven.
Rest and garnish: Once the salmon is cooked, remove it from the oven and let it rest on the baking sheet for a few minutes. This allows the flavors to settle and the juices to redistribute. Optional: Garnish the salmon with fresh herbs and serve with lemon wedges for a vibrant and zesty touch.
Serve and enjoy: Transfer the broiled salmon fillets to individual plates or a serving platter. Accompany them with your favorite side dishes, such as roasted vegetables, steamed rice, or a refreshing salad. Serve immediately and savor the delicious flavors of perfectly broiled salmon.
Nutrition Information:
Yield:

2
Serving Size:

1
Amount Per Serving:
Calories:

677
Total Fat:

42g
Saturated Fat:

7g
Trans Fat:

0g
Unsaturated Fat:

31g
Cholesterol:

143mg
Sodium:

295mg
Carbohydrates:

21g
Fiber:

7g
Sugar:

7g
Protein:

55g