Learning how to broil chicken thighs unlocks a world of tasty culinary adventures that take only a few moments to complete. The key is to learn proper timings to avoid dry, overcooked meat.
Generally speaking, you should broil chicken thighs for around seven minutes and place them three to four inches from the heating element. That said, all ovens are different, so be mindful of slight timing changes and always use a thermometer to check it's safe to eat (165°F). The best part? You don't have to worry about weight or flipping them!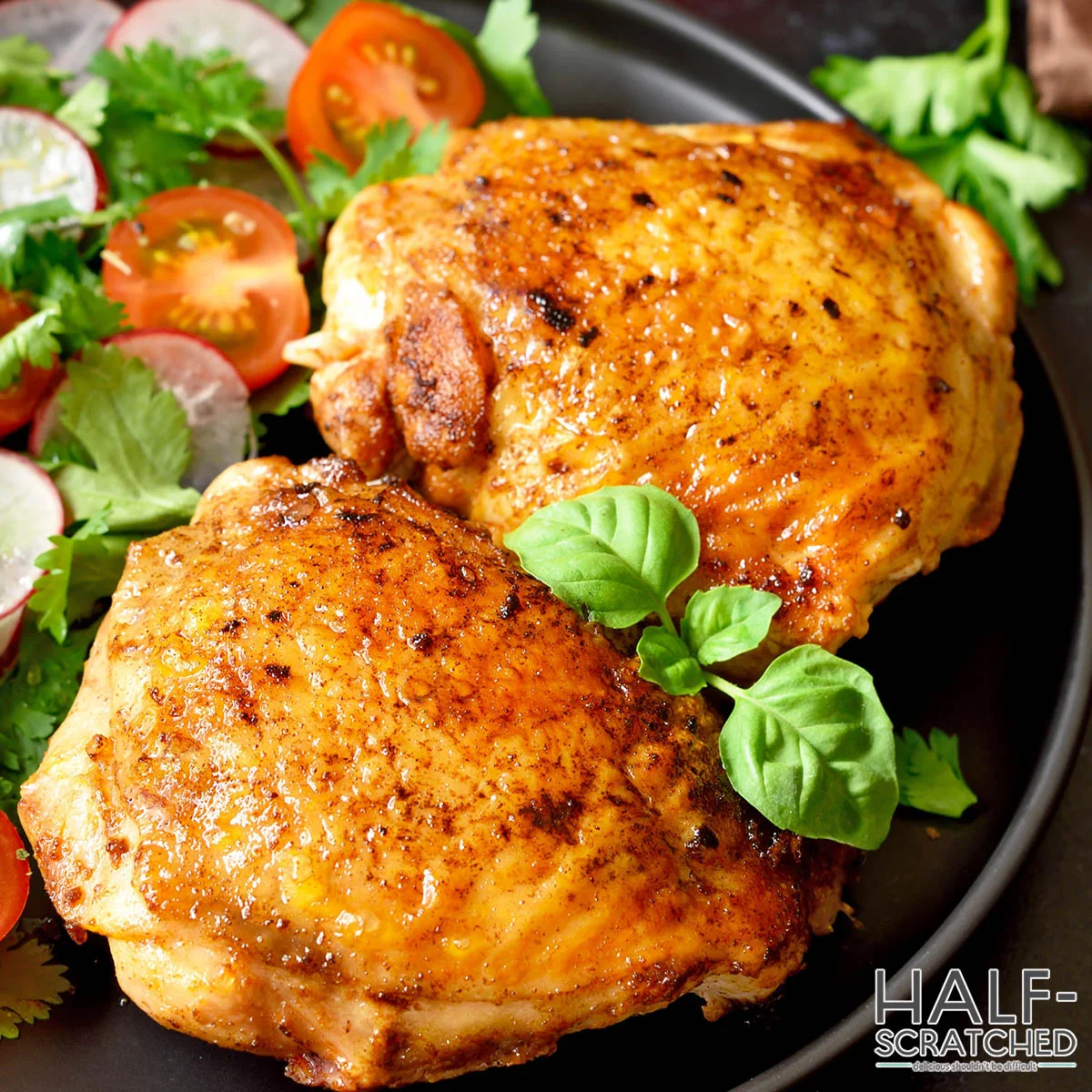 If broiling chicken thighs isn't something you've done before, get ready to experience the quick-cooking, delicious magic.
A Quick Guide to Buying the Best Chicken Thighs for Broiling
Chicken thighs are the ultimate budget buy, depending on the cut you purchase. You have three options at variable prices:
Bone-in, skin-on chicken thighs — These are the cheapest. They have higher fat content and require more cooking time as the bone slows down the heating process.
Bone-in, skinless chicken thighs — They're a fab pick for healthy eaters and are typically more expensive than the former cuts but cheaper than the latter. Like bone-in, skin-on chicken thighs, they'll take longer to broil because of the bone.
Boneless, skinless chicken thighs — Since the butcher needs to do extra work to prepare these thighs, they are the priciest option. But don't count them out. Their boneless characteristics ensure they cook exceptionally fast.
While buying boneless, skinless chicken thighs saves you some preparation time; many people choose to purchase the bone-in, skin-on option to ensure versatility and save money.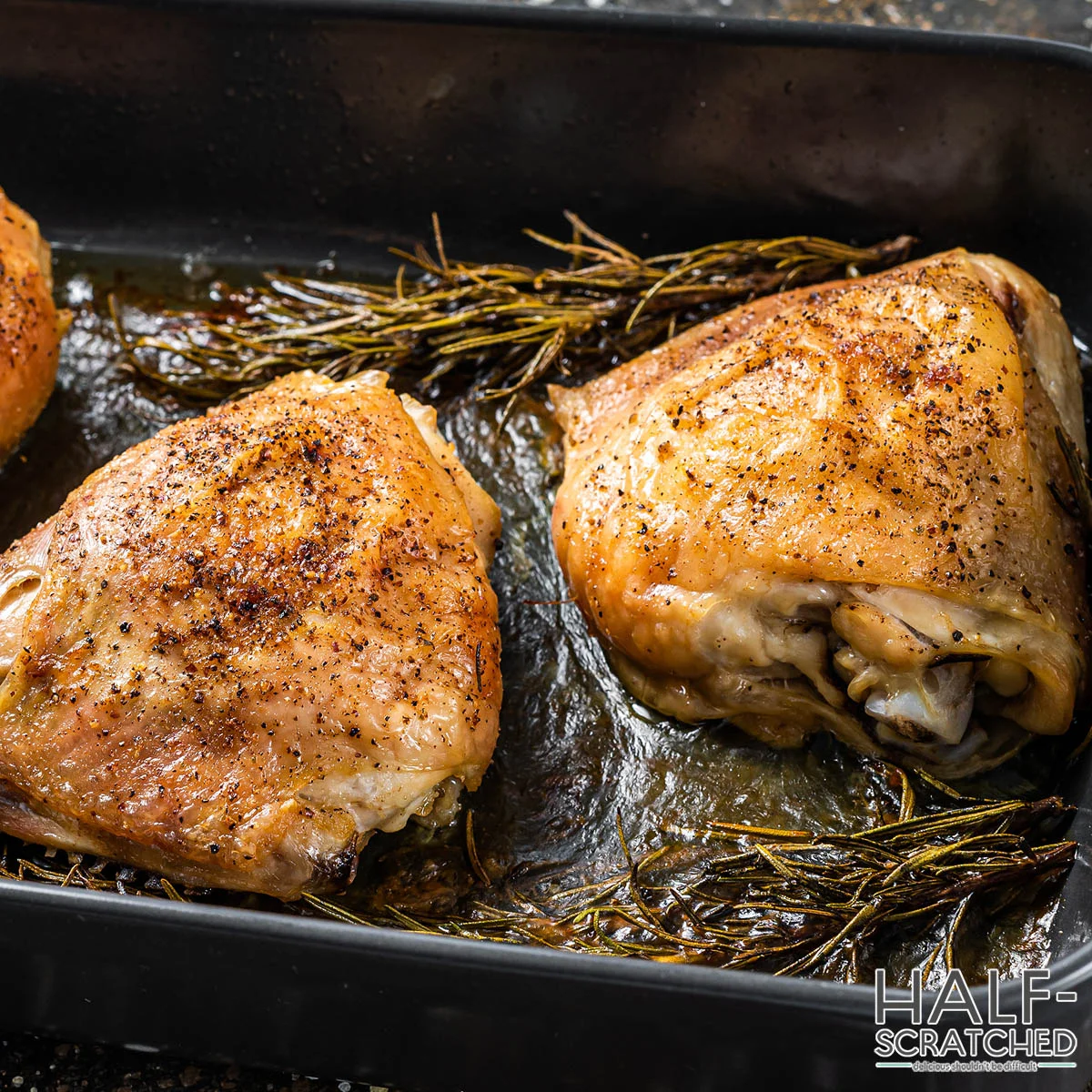 Do You Need to Flip Chicken Thighs During Broiling?
Most meats have to flipped when broiled, but chicken thighs are unique — you don't have to flip them!
While the option to flip them is always there, you can simply broil the thighs on one side for seven minutes, provided the tray is three or four inches away from the heating element. This will give you tender meat with one beautifully caramelized side.
Even though it's tempting to get rich caramelization on both sides, you'll dry the meat out by the time it's ready. So, stick to one side for the moistest, tastiest chicken thighs.
To Keep the Skin On or To Take It Off
It's a personal preference here — if you're watching your fat intake, remove the skin; if you aren't bothered about the fat content, keep the skin on for a more flavorsome cut.
To remove the skin from raw chicken thighs, follow these three easy steps:
Place the chicken thigh on a chopping board with the skin side facing up.
Use your fingers to tug on the skin, it should peel off quite easily after several pulls.
If you're having trouble, use a pair of scissors to snip parts where the skin is strongly connected to the meat. It'll make the skin-removal process much quicker.
Despite the fat content, we recommend keeping the skin on while you're broiling it, as it helps retain the moisture content throughout the cooking process. Then, remove it after cooking for juicy yet less-fatty bites.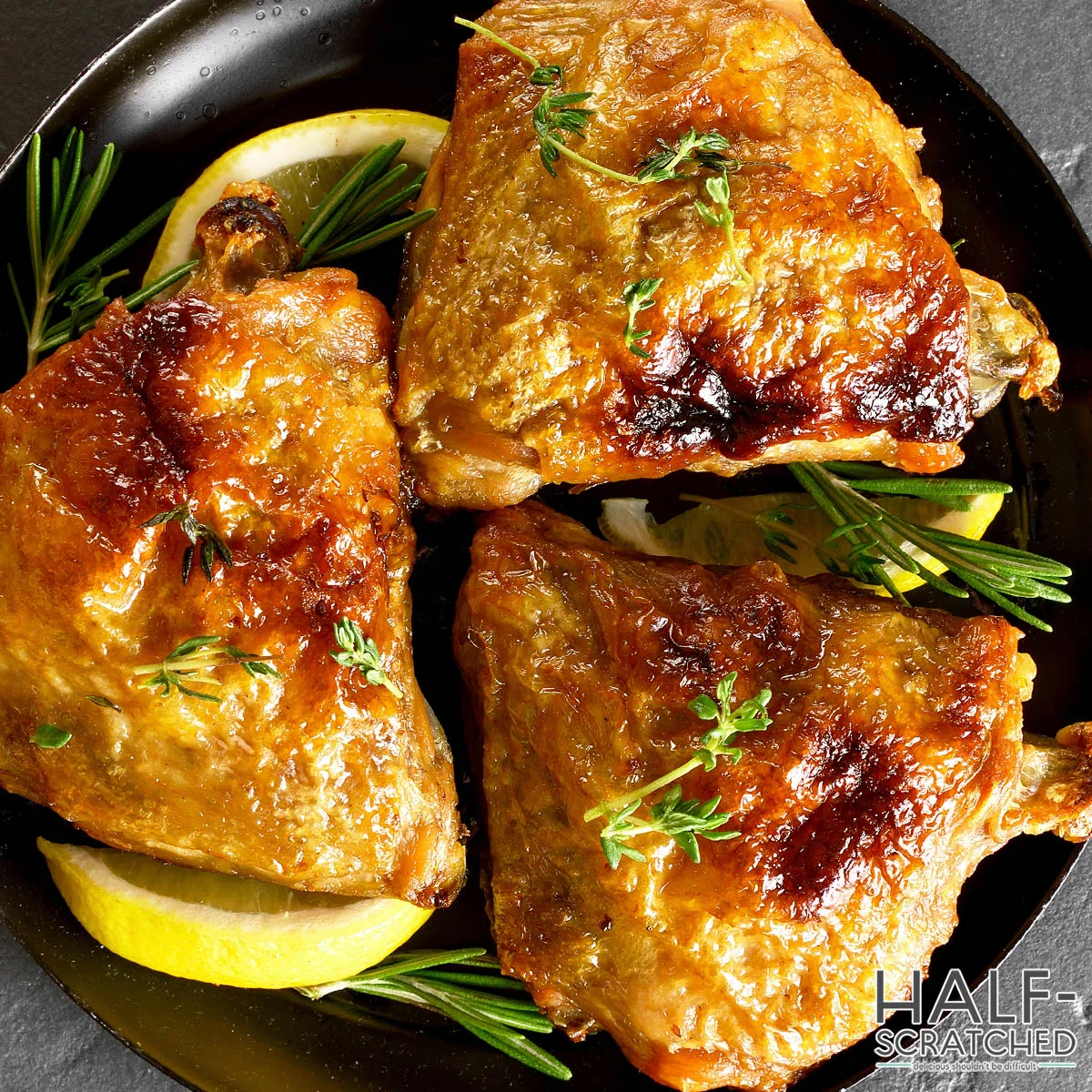 How to Prepare Chicken Thighs for Broiling
You can broil chicken thighs straight from the store-bought package, even skin-on, bone-in varieties. But even though leaving the bone inside protects them from overcooking, it can increase broiling times.
If you're after a faster-broiling protein, you'll need to remove the bone. Here's how to do it:
Place the skin side down on your cutting board.
Using a sharp knife, cut along the bone, piercing the meat as you go.
Pull the bone up and away from the meat with your non-cutting hand.
Gently run your knife between the meat and bone while holding it up.
Then, scrape along the edge of the bone with your knife until it frees itself from the meat.
Tips and Tricks for Broiling the Perfect Chicken Thigh
You're well on your way to being an expert chicken broiler but following these tips will elevate your dishes to all-new heights.
Add Barbecue Sauce for That Smoky Flavor
Not every recipe will warrant the smoky flavor that barbecue sauce provides. However, if you're looking for that grill taste, adding the sauce near the end of the cooking process will provide it.
Be careful not to add it too early! Sauces tend to have a high amount of honey or sugar, which can burn quickly under intense heat.
Marinade Before Broiling for Enhanced Tenderness
For ultimate tenderness (not to mention deliciousness), let the chicken marinate in the fridge overnight or for a few hours before you plan to broil it.
Most people choose a barbecue marinade, but you can use whatever flavor combination best suits your recipe.
Stay in The Kitchen
If you haven't guessed it by now, chicken thighs cook fast under the broiler. You won't want to leave them alone. Instead, stay in the kitchen and watch closely to avoid burning.
It should take about seven minutes, but the exact time will depend on your oven. Our advice? Get to know your appliance — the more you experiment, the higher the chance of discovering the perfect broiling times.
Baking Trays Suffice, But Broiler Pans Are Optimal
As you'll see in the recipe below, baking trays work well when broiling chicken. However, broiler pans are best (if you have one). Like the trays, place it three to four inches from the heating element for fast, delectable results.
You Can Broil Frozen Chicken Thighs
Granted, chefs will dissuade you from broiling frozen chicken thighs, but it's certainly an option if that's all you have. Just keep in mind that the cooking time will be about 50% longer.
Mouth-Watering Broiled Chicken Thighs Recipe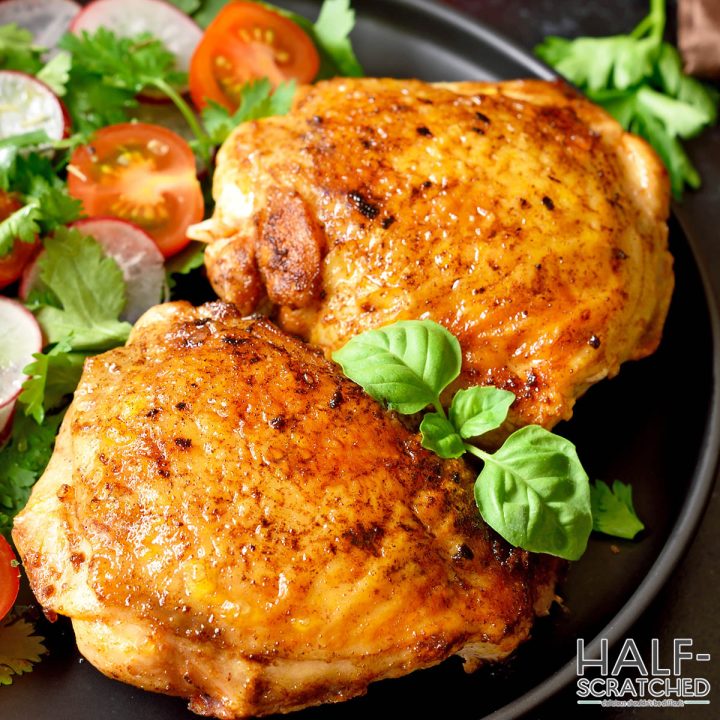 How Long to Broil Chicken Thighs
Get the lowdown on how long to broil chicken thighs in the oven with our ultimate guide + expert tips for perfect chicken thighs.
Ingredients
6 chicken thighs (preferably boneless and skinless)
1 teaspoon garlic powder
1 teaspoon onion powder
Sea salt (to taste)
Black pepper (to taste)
Cayenne pepper (to taste)
1 tablespoon olive oil
Instructions
Put the top rack of the oven roughly three to four inches away from the heating element in your oven.
Set the temperature to high broil and allow it to preheat.
Line a baking tray with aluminum foil.
Put all six chicken thighs in a large bowl.
Pour the olive oil over the chicken thighs.
Add the garlic powder, onion powder, cayenne pepper, salt, and pepper.
Mix thoroughly, making sure the seasoning coats every thigh.
Transfer the six thighs to the baking tray, spreading them out to ensure all of them will be directly below the heating element.
Broil the thighs for roughly seven minutes, until the internal temperature reads 165°F and the outside is browned.
Serve while still warm with your choice of sides.
Notes
Always pay close attention to the chicken thighs as they broil. They only need a few minutes to cook, and you don't want to risk drying the meat out!
Need some inspiration for side dishes? Try garlic-herb mashed cauliflower, sweet potato fries, kimchi fried rice, baked herby potato wedges, sautéed Swiss chard, or oven-roasted beets.
Depending on the size of your oven's heating element, cooking this number of chicken thighs may take a little longer. If it isn't very big, consider reducing the amount you broil at once to ensure every thigh is evenly cooked.
Nutrition Information:
Yield:

6
Serving Size:

1
Amount Per Serving:
Calories:

303
Total Fat:

20g
Saturated Fat:

6g
Trans Fat:

0g
Unsaturated Fat:

14g
Cholesterol:

166mg
Sodium:

324mg
Carbohydrates:

1g
Fiber:

0g
Sugar:

0g
Protein:

31g