Baked salmon is one of the tastiest, most nutritious fish you can buy. Perfect with a wealth of sides, knowing how long to bake salmon at 425 Fahrenheit unlocks endless culinary doors.
You should aim to bake salmon at 425 °F for roughly 12 to 15 minutes. A good rule of thumb is 10 to 12 minutes per inch of fillet thickness at this temperature. If you like your salmon firm yet slightly silky, you should take it out when the international temperature reaches 125 °F (use an instant-read thermometer to check it).
Keep in mind, though, that cooking times can vary depending on your oven and whether your fish is frozen.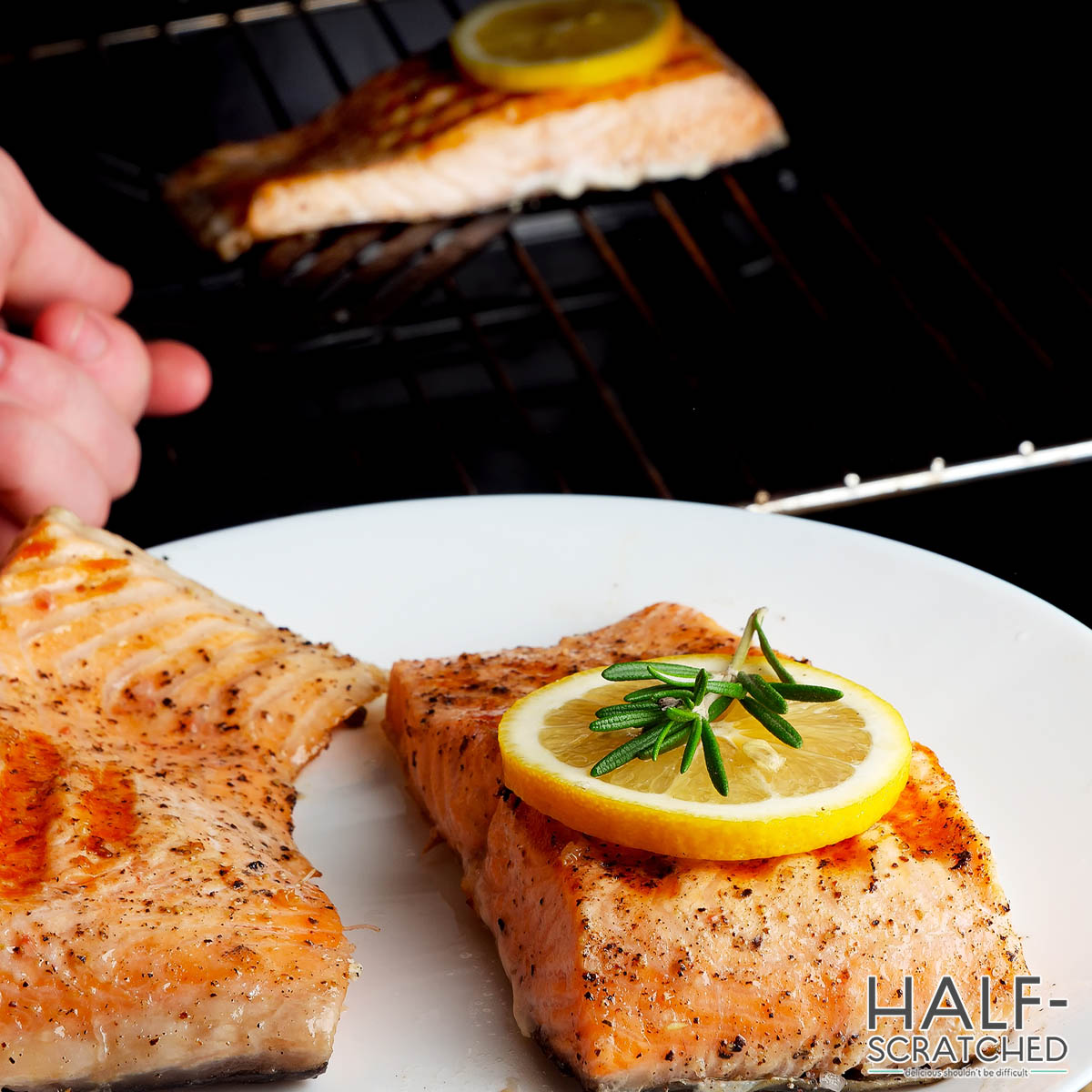 To become a non-certified salmon baking expert, stick with us; we explain everything from knowing when it's done to cooking from frozen to seasoning to baking it in foil.
How to Know When Baked Salmon is Done
The easiest method? Use an instant-read thermometer. They are cost-effective and will help move your fish-cooking journey in the right direction. Simply insert it into the fleshiest part of the fillet, read the temperature, and decide whether to take it out!
The USDA recommends baking salmon until it reaches an internal temperature of 145 °F. However, you'll find the fish is overdone at this point, so aim for 125 °F instead — it makes for a much nicer dining experience.
If you don't have a thermometer, cut into the thickest part to measure doneness. It should be slightly translucent in the center, flaking at the edges, and pulling away at the white lines when touched with a fork.
Should You Bake Salmon in Foil or Parchment Paper?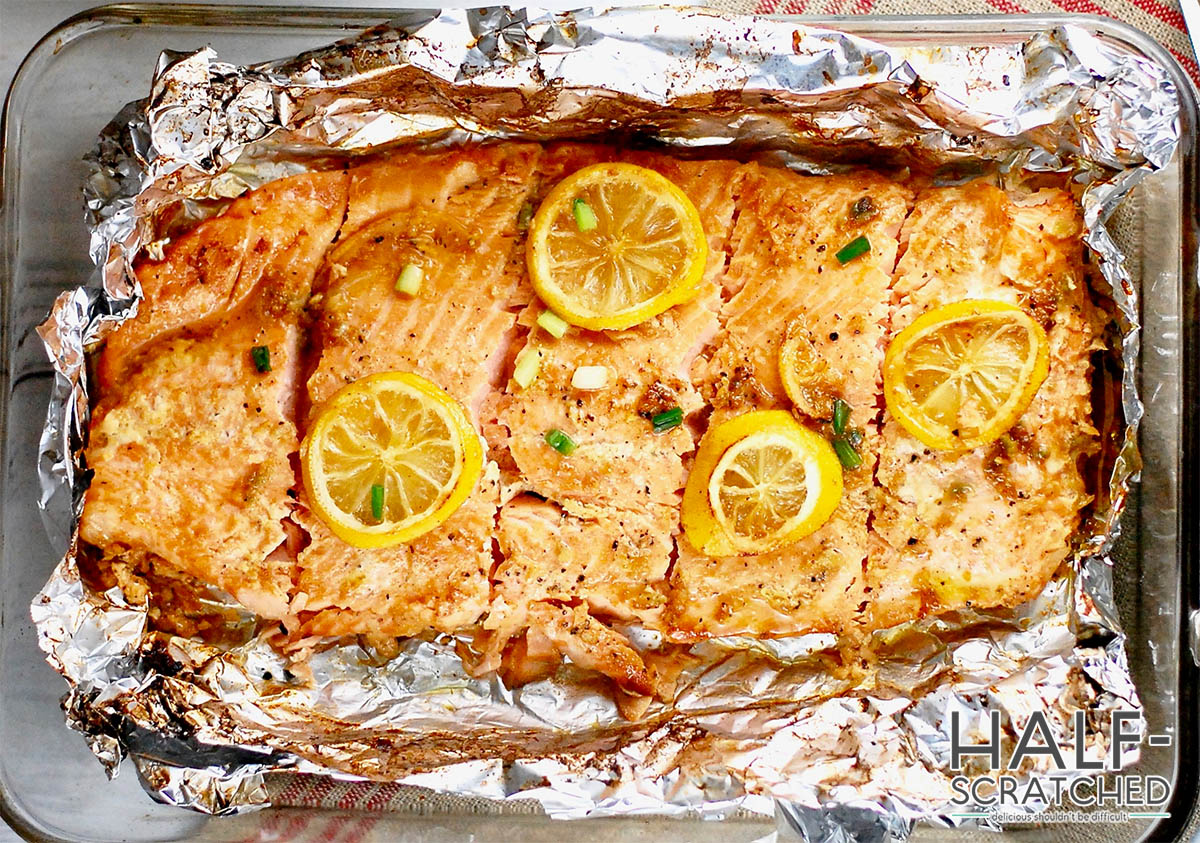 You don't need to bake your salmon in anything — a lined baking tray is enough. However, baking in tin foil does have an advantage, making it one of the preferred methods for cooking salmon.
Tin foil traps moisture, ensuring the fillets are tender, moist, and flakey. Not to mention that the foil acts as a flavor incubator, meaning any savory ingredients' tastes you add to the parcels will infuse into the fish.
To Defrost or Not to Defrost? That Is the Question
While fresh salmon is the best of the best, sometimes frozen is your only option. And perhaps surprisingly, you can bake it from frozen (it just takes longer).
The No-Defrosting Method
Baking your salmon without defrosting it first does require a bit of extra effort. Here's how it's done:
Preheat the oven to 425 °F.
Place your salmon fillets in an oven-proof dish.
Cover the dish with industrial tin foil to ensure steam doesn't escape.
Bake covered for about 15 minutes.
Take the fish out of the oven.
Uncover the fish.
Put the salmon back in the oven for eight to ten minutes.
Et voilà!
That said, if you'd rather defrost your salmon before baking, there are two methods to choose from. The one you choose depends on your time constraints.
The Safest Defrosting Method
For ease (but not speed), you'll want to choose this approach. All you do is let it defrost slowly in the fridge.
Just snip a hole in the frozen package and put it in the fridge. Leave it there for 24 hours and the fillets will be fully defrosted and ready to go. We recommend keeping it on a plate lined with paper towels to stop the condensation from ruining other items in your fridge.
Even though it's tempting, please don't leave it out on the side or put it in the microwave to defrost. If it reaches 41 °F to 135 °F, bacteria can grow rapidly, making it dangerous to eat.
The Quick Yet Safe Defrosting Method
Don't be disheartened by the 24-hour duration. This method is safe yet much quicker — thaw it in cold water, like chicken.
To do this:
Fill a bowl with cold water and put the fillets in a resealable plastic bag.
Place the bag into the cold water, ensuring it's fully submerged.
Leave it for half an hour before you replace the water and wait another 30 minutes.
After that, it's ready to bake.
Choosing the Best Seasoning for Baked Salmon
Salmon is one of the most flavorsome fish, but that doesn't mean you should skip the season. With the right additions, you can enhance its natural deliciousness.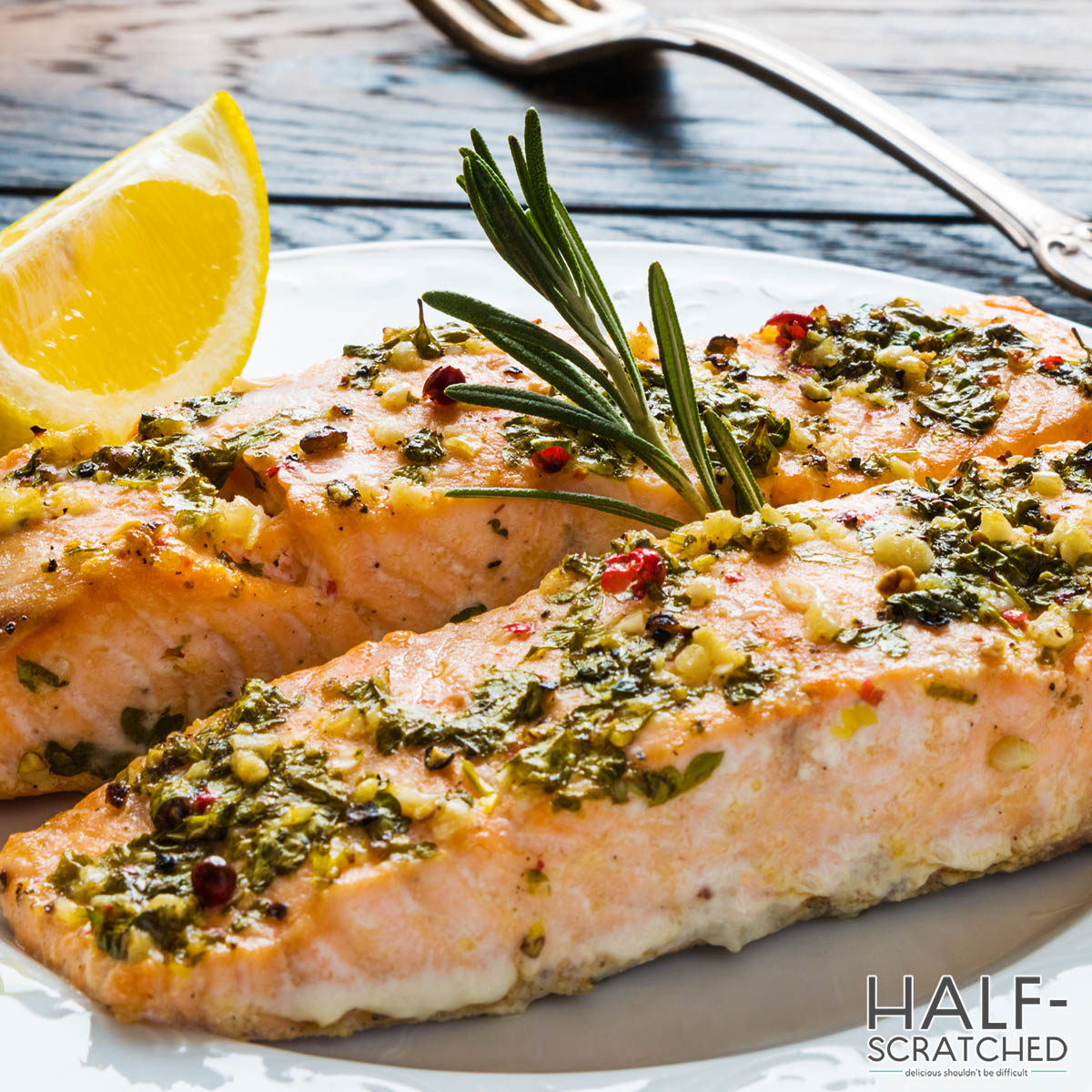 Salmon Herbs and Spices
There are seemingly endless herbs and spices that work well with salmon. The below are truly just the tip of the iceberg:
Parsley
Basil
Dill
Tarragon (one of our favorites)
Oregano
Bay leaves
Rosemary
Sage
Thyme
Fennel
Chili powder
Cumin
Make sure you season your fish before cooking for best results. It will boost the flavor, protect the gorgeous color of the fillet, and ensure it stays firm.
Salmon Marinades
Marinating salmon infuses extra flavor and elevates its moistness. Typically, marinades include lemon, vinegar, or another acidic addition that provides a pleasant zing.
You can buy marinades in the store or make your own (we prefer the latter). Just make sure the fish is marinated for up to an hour before cooking.
Top Tip: Super acidic marinades will dry the salmon out. So, either don't use marinades with excessive lemon/vinegar contents or only marinate the fish for a short period.
Salmon Glazes
Glaze is applied to the top of the salmon before cooking to protect it from drying and add flavor.
Since it needs to stick to the fish, glazes (whether store-bought or homemade) contain spreadable fat/oil components.
If you want to use a glaze, we suggest adding other seasonings as well for the best results.
Salmon Sauces
Sauces, added after cooking, also provide extra flavor and moisture. Opt for creamy ones as they complement the fish's fattiness.
Don't just use a sauce, though; you should season the salmon before cooking, too.
Succulent Baked Garlic-Lemon Salmon Recipe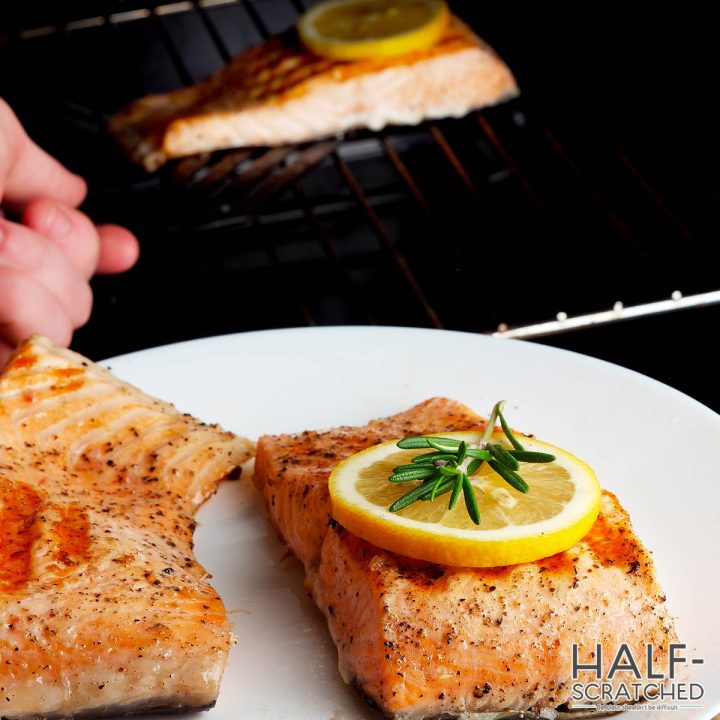 How Long to Bake Salmon At 425 Fahrenheit
Don't know how long to bake salmon at 425 °F? Find out right here + get some expert tips for baking perfect salmon.
Ingredients
4 salmon fillets
4 tablespoons unsalted butter
4 lemon slices
1 tablespoon garlic salt
Fresh parsley (to taste)
Instructions
Preheat the oven to 425 °F.
Finely chop the parsley.
Rinse your salmon fillets under the cold tap.
Pat each fillet dry with a paper towel.
Line a baking sheet with tin foil or baking paper.
Put the salmon the lined baking sheet with the skin side down.
Top the salmon with 1 tablespoon of unsalted butter each.
Sprinkle the garlic salt and chopped parsley onto the fillets.
Add a lemon slice to the top of each salmon fillet.
Bake the salmon for 12 to 15 minutes, until the salmon is cooked through.
Serve with your favorite sides and enjoy!
Notes
Do you want crispier skin on your baked salmon? Keep the baking time between six and eight minutes. Then, turn your oven to high broil, flip the fillets, and broil for three or four minutes before plating.
If you don't know what to serve with your (new favorite) baked salmon, try these — grilled asparagus, broccoli cheese pasta, pan-fried potatoes, lemony herb couscous, Mediterranean chickpea salad, fried rice, sesame noodles, roasted cauliflower, grilled green beans, cilantro lime rice, or quinoa salad.
Nutrition Information:
Yield:

4
Serving Size:

1
Amount Per Serving:
Calories:

575
Total Fat:

40g
Saturated Fat:

13g
Trans Fat:

0g
Unsaturated Fat:

24g
Cholesterol:

174mg
Sodium:

1330mg
Carbohydrates:

2g
Fiber:

0g
Sugar:

0g
Protein:

51g