Chicken breast meat can be prepared in numerous ways. One of the easiest ways is to bake it.
Chicken breasts are easy to bake and can be popped in the oven at 375 degrees Fahrenheit for about 30 minutes.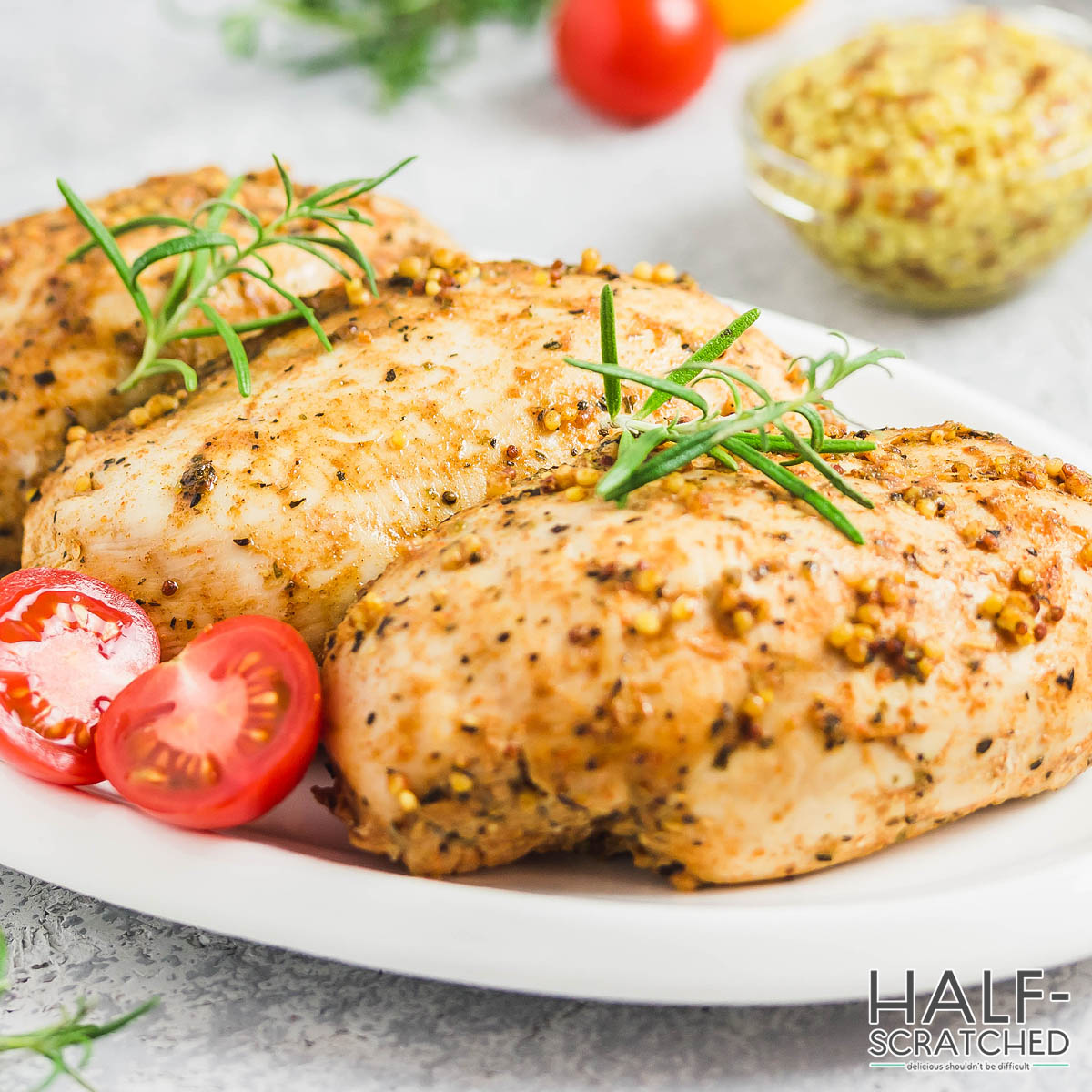 This guide will walk you through some tips and tricks for baking chicken breasts, such as ideal temperatures for baking chicken breasts, the best toppings, and a delicious baked chicken breast dish. Read on!
Ideal Temperatures to Bake Chicken Breasts
Unlike red meat, such as beef, chicken needs to be fully baked. Even eating a little bit of chicken that's not fully cooked can cause you to become seriously sick. To ensure that chicken is never undercooked, always bake at a minimum of 325 degrees Fahrenheit, although an ideal temperature is 375 degrees.
How to Prep Chicken Breasts for Baking
Unless you're butchering your own chickens, chicken prep is relatively easy. Most butcher shops or grocery stores will sell chickens that are already de-feathered and often deboned.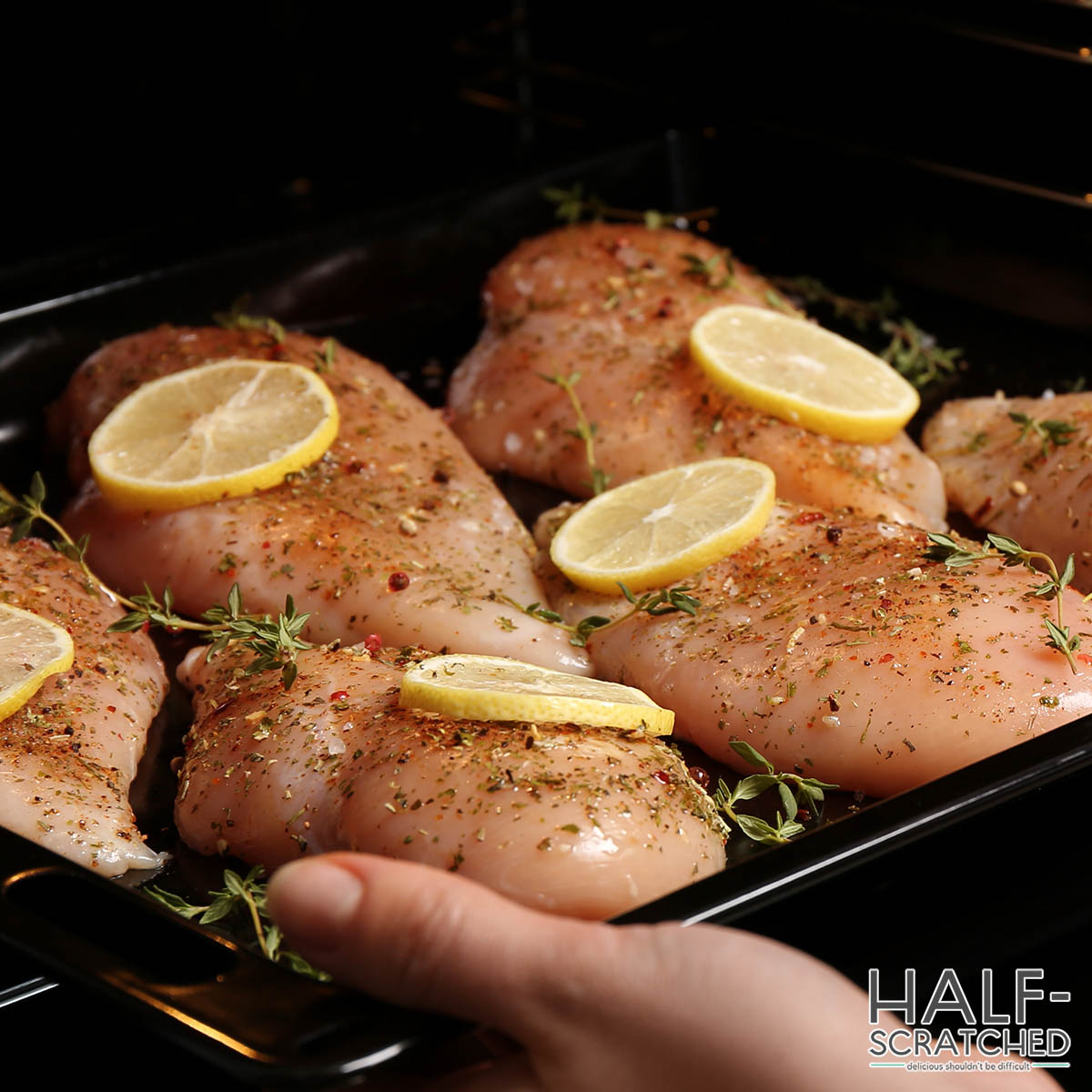 Skin On or Skin Off?
One of the biggest decisions when making chicken is whether or not to have the skin on. Many people like the skin of the chicken because it gets crispy when baked and often keeps a lot of the flavoring.
On the other hand, many people steer clear of chicken skin because it's fattier than the meat and has more saturated fat, which isn't great for people with high cholesterol or other heart conditions.
If you decide that you don't want the skin, then you can cut it off and either throw it away or use it in soup stock. It also makes a very tasty treat for dogs, so if you have a furry friend, then treat them to some.
Bones
Similar to chicken skin, you can buy chicken with bone-in or boneless. When you have bone-in, it's easiest to prepare the chicken as-is, meaning that you don't want to take the bone out. This is best exemplified with chicken wings or drumsticks because when people eat these, they tend to like the bones.
There are some chicken breasts that come with bones and people buy them because they tend to be cheaper, but if you don't want them in, then you'll need to spend some time cutting the meat off of the bone.
One great benefit to having chicken bones is that they can be saved and used for creating soup broth. Chicken bones are an excellent way to add flavor because all you have to do is throw them in a pot of water and let them boil for a few hours.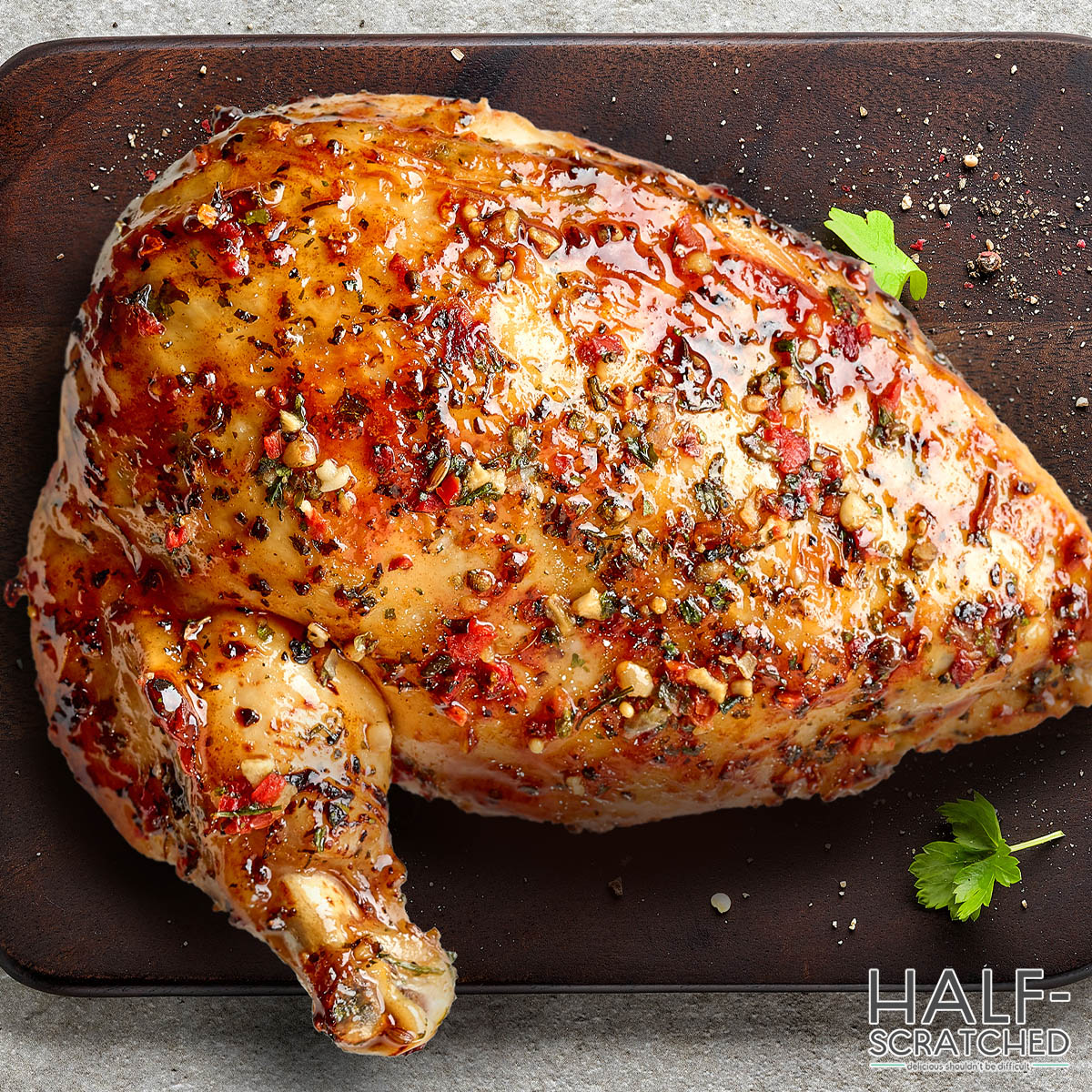 Is Foil Good for Baking Chicken?
Aluminum foil was invented as a way to provide a barrier against moisture and bacteria. It's also used as an insulating cover, meaning that it keeps heat in, so when baking chicken, aluminum foil can be used as a way to seal in the delicious juices. The foil keeps the meat moist and keeps the heat of the oven from drying out the bird.
Can You Overbake Chicken Breast?
Unfortunately, it's pretty easy to overbake chicken, and one of the most commonly heard complaints about chicken is that it tends to be dry. Here are some tips for how to not overcook your chicken and how to avoid dryness:
Set a Timer
The easiest way to not overbake a chicken is to set a timer. This way, you know when it's time to check the chicken or take it out instead of guesstimating when it's done.
A good rule of thumb is to set the timer a little earlier so you can check on how things are progressing. This also allows you to see if the chicken is done, which sometimes happens.
Sudden Change in Temperature
Another reason that chicken tends to dry out is due to a change in temperature. Try to avoid this. Keep the temperature consistent throughout the baking. Sometimes ovens heat up unevenly or someone accidentally raises or lowers the temperature, which is all part of life.
Keep Bones and Skin
Keeping the skin on a baking chicken helps to retain moisture and keeps it from drying out too much. It also acts as a protective shield from the heat. Similarly, keeping the bones in also helps the inside of the chicken retain its moisture.
How to Reheat Baked Chicken
You can reheat baked chicken in the microwave, but this sometimes results in a tough or rubbery texture. The best way to reheat the meat is on the stove. Take a pot and add some water or broth to the bottom. Place the baked chicken inside and simmer.
You can also use an air fryer to reheat the baked chicken. Place the chicken meat in a single layer in the air fryer, set it to 375 degrees Fahrenheit, and bake for about 5 minutes. Check the chicken, and if it still doesn't feel hot enough, air fry it in 5-minute increments.
How Long Will Baked Chicken Last in the Fridge
The USDA states that baked chicken should be kept in a fridge at 40 degrees Fahrenheit or less and eaten within three to four days. If you want your baked chicken to last, put it in the freezer, where it can last for up to four months.
My Personal Tips for Baking Delicious Chicken
Baking chicken is an easy way to create a delicious dish, even if you're a novice chef. Here are some general tips to think about before starting to bake a chicken:
Use a Lot of Salt and Pepper
Chicken needs a lot of salt and pepper to really bring out the flavor, so before you bake it, sprinkle liberal amounts of salt and pepper all over the raw chicken. This ensures the chicken is seasoned all the way through.
Invest in a Meat Thermometer
A meat thermometer is a godsend, especially if you plan on cooking a lot of chicken. Poultry must be cooked fully and the only way to check is to take note of the internal temperature. Chicken is deemed safe to eat and fully cooked at 165 degrees Fahrenheit. Place the thermometer in the thickest part of the chicken to make sure you get the most accurate reading.
Cook Chicken in Fat
Chicken doesn't have as much fat as beef or pork, so cooking it in fat makes it more juicy and flavorful. Some solid options are olive oil, butter, or ghee (a type of clarified butter from South Asia). Drizzle the cooking fat over the chicken or put some inside the chicken if you're baking a whole bird.
Let Baked Chicken Sit For 5 to 10 Minutes After Taking It Out of the Oven
That baked chicken might smell delicious but before you dig in, let it sit for 5 to 10 minutes. The reason for this is that a lot of moisture builds up inside and if you cut into the chicken right away, all of this will be lost. Sitting lets the flavor and juices soak into the meat.
Toppings and Spices for Baked Chicken
While baked chicken breasts can be delicious on their own, there are some spices and toppings that can elevate the bird even more:
Marinades: these sauces can be dairy-based (using cream) or more acid-based (such as balsamic vinegar or pineapple), but either way, letting the chicken soak in it before baking will result in some very flavorful meat.
Herbs: the great thing about chicken is that there are a variety of herbs that will make it taste better. From cilantro to thyme to rosemary, chop up the herb and rub it into the chicken meat and sprinkle some on top.
Citrus: lemon is often used with chicken, but other citrus fruits, such as lime and oranges, can also be squeezed onto the meat. Another option is to slice the citrus fruits and place them all over the chicken while it's baking.
Cheese: cheese can elevate a lot of food, but when it tops chicken or is stuffed into it, it makes the dish that much better. It's warm and gooey and adds a creaminess that makes for a unique flavor.
Gravy: gravy is made using the drippings and stock from meat, and topping baked chicken with gravy is a great way to increase the flavor. It's often combined with butter, flour, and other seasonings.
Barbeque sauce: the sweet and spicy flavoring perfectly complements the juicy chicken meat.
Delicious Tuscan Chicken Breasts Recipe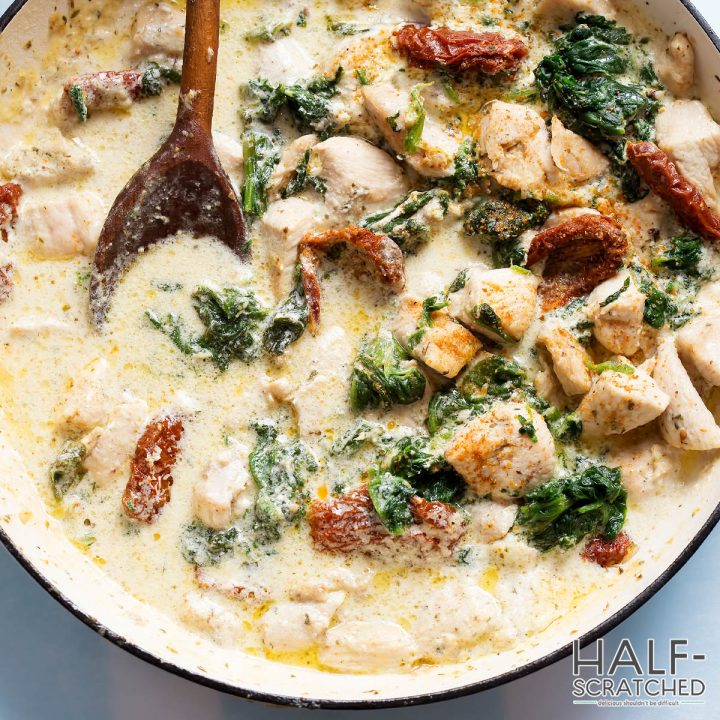 How Long to Bake Chicken Breast at 375 F
One of the tastiest and healthiest ways to prepare chicken is to bake it. We teach you to bake delicious chicken breasts.
Ingredients
Chicken 
4 chicken breasts (skinless and boneless)
½ teaspoon Italian seasoning
1 tablespoon oil
½ teaspoon salt
¼ teaspoon black pepper
¼ teaspoon paprika
Cream Sauce
1 cup heavy cream
½ cup chopped sundried tomatoes
2 teaspoons minced garlic
1 teaspoon corn starch
¼ teaspoon salt
¼ teaspoon black pepper
½ cup chopped spinach
¼ cup Parmesan cheese (shredded)
Instructions
Prep the oven by preheating it to 375 degrees Fahrenheit.
Put the breasts into a 9" x 13" baking dish. Make sure they're not smushed together.
Combine the paprika, Italian seasoning, salt, and pepper together. Drizzle the breasts with the olive oil and rub it into the above mixture onto the chicken breasts.
Whisk together the garlic, cream, cornstarch, pepper, and salt. Stir in the Parmesan cheese and sundried tomatoes. Pour it around the chicken breasts. It doesn't have to fully cover the chicken but it's okay if it does.
Bake at 375 degrees for 30 minutes. Measure the internal temperature, which should be 165 degrees Fahrenheit. If it hasn't reached that temperature yet, leave it in for another 10 minutes.
Remove the baking dish and stir spinach into the sauce. Cover the dish and let it sit for five to ten minutes until the greens wilt.
Uncover and serve.
Nutrition Information:
Yield:

4
Serving Size:

1
Amount Per Serving:
Calories:

486
Total Fat:

31g
Saturated Fat:

16g
Trans Fat:

1g
Unsaturated Fat:

13g
Cholesterol:

175mg
Sodium:

638mg
Carbohydrates:

9g
Fiber:

2g
Sugar:

4g
Protein:

42g