Baking chicken drumsticks is an easy and healthy way to cook chicken. It requires minimal prep work, is a low-fat way to cook, and is an easy way to make a large amount of chicken. The oven's dry heat helps to keep the chicken moist while adding a nice crisp exterior. Of course, before you start baking, though, it's important that you know how long to cook the meat.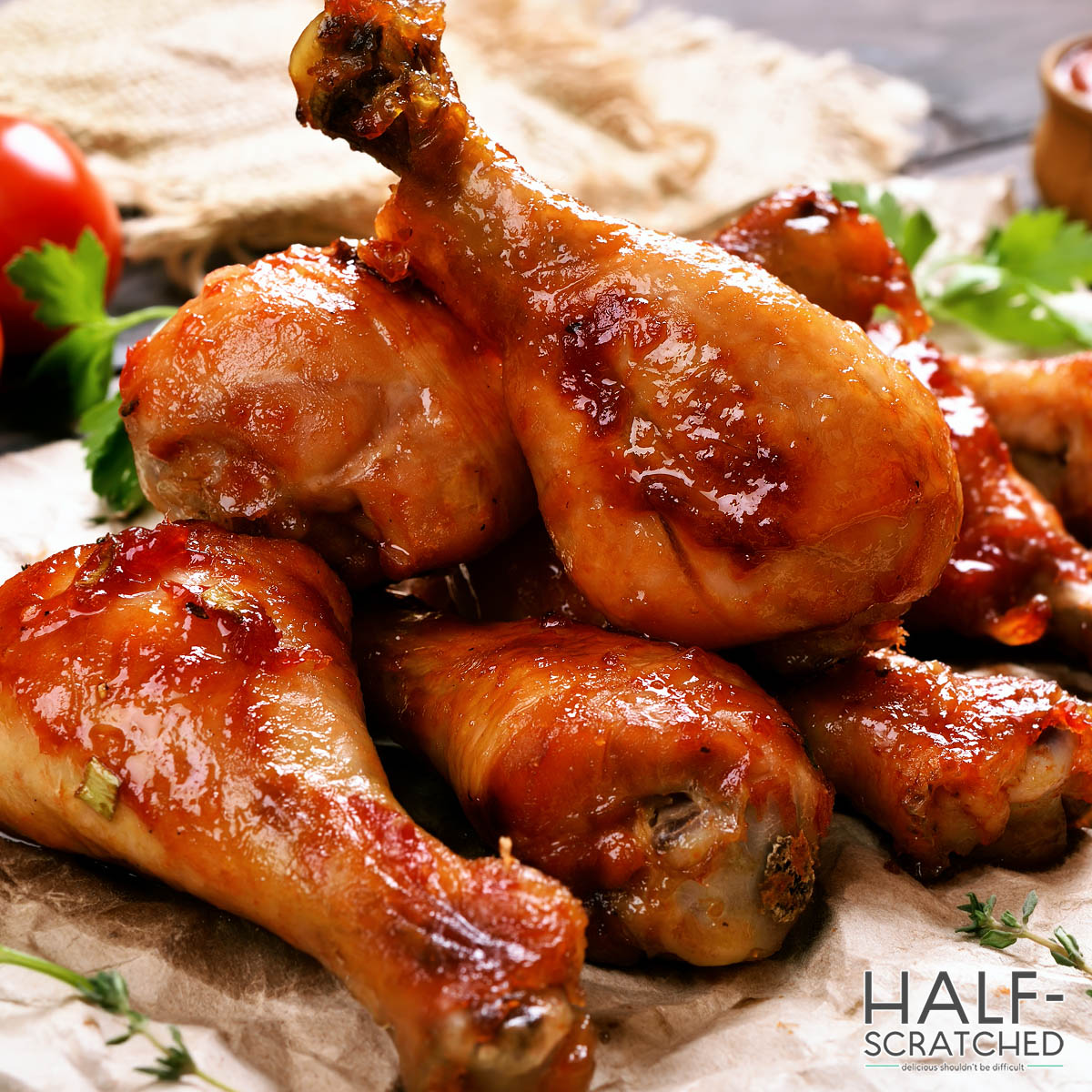 For chicken drumsticks, bake them in a preheated 400° Fahrenheit oven for about 40-45 minutes. To check that they're fully cooked, insert a meat thermometer into the thickest part of the meat and make sure it reads at least 165° Fahrenheit. If it's not done, continue baking for a few more minutes and check the temperature again.
These times can vary if you're baking particularly large drumsticks or if you're baking smaller wing-style drumsticks. Nevertheless, we're here to help you make a wonderful meal that everyone will enjoy. Keep reading to learn more about baking chicken drumsticks and discover a handful of helpful tips to improve the overall result.
400° Fahrenheit is the Perfect Temperature for Drumsticks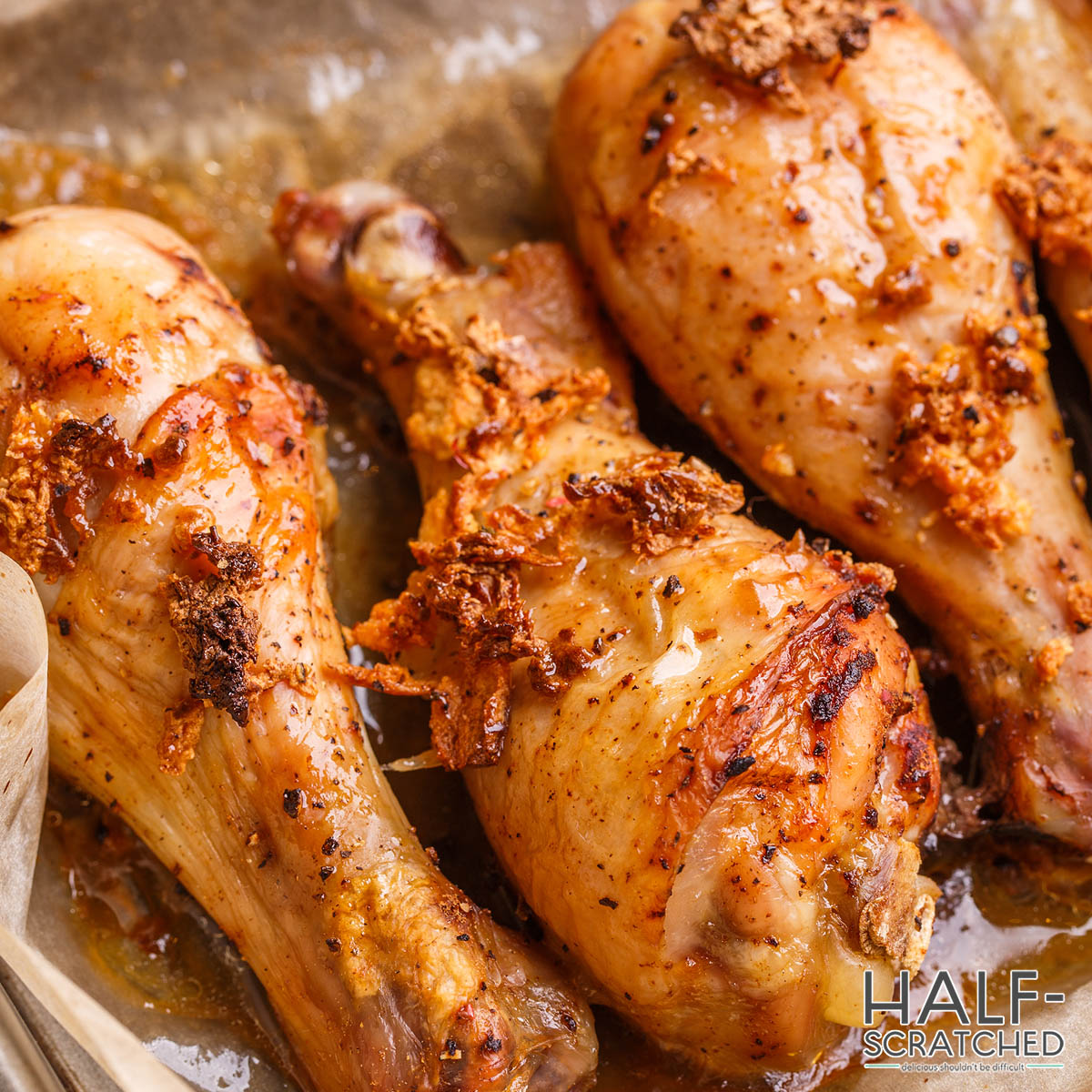 Nobody likes a soggy or flabby drumstick. To make sure you get a crispy exterior and juicy interior, you need to bake at the right temperature. The ideal temperature for drumsticks is 400° Fahrenheit. This is hot enough to crisp up the exterior while not overcooking the interior. It's also a great temperature for baking other chicken parts, like wings, thighs, and breasts.
At 400° Fahrenheit, you should expect to bake your drumsticks for about 40-45 minutes. This is a general time frame that can vary depending on the size of your drumsticks. To be sure, use a meat thermometer to check the temperature. The internal temperature should reach at least 165° Fahrenheit before you consider the drumsticks done.
Small Bite-Sized Drumsticks Will Cook Faster
If you're using smaller wing-style drumsticks, they'll likely cook faster than larger drumsticks. The smaller size allows the heat to penetrate the meat faster and cook it more quickly. For these bite-sized drumsticks, you should expect to bake them for about 25-30 minutes at 400° Fahrenheit. Again, use a meat thermometer to check the temperature to make sure they're cooked through.
Breaded Drumsticks Will be Even Crunchier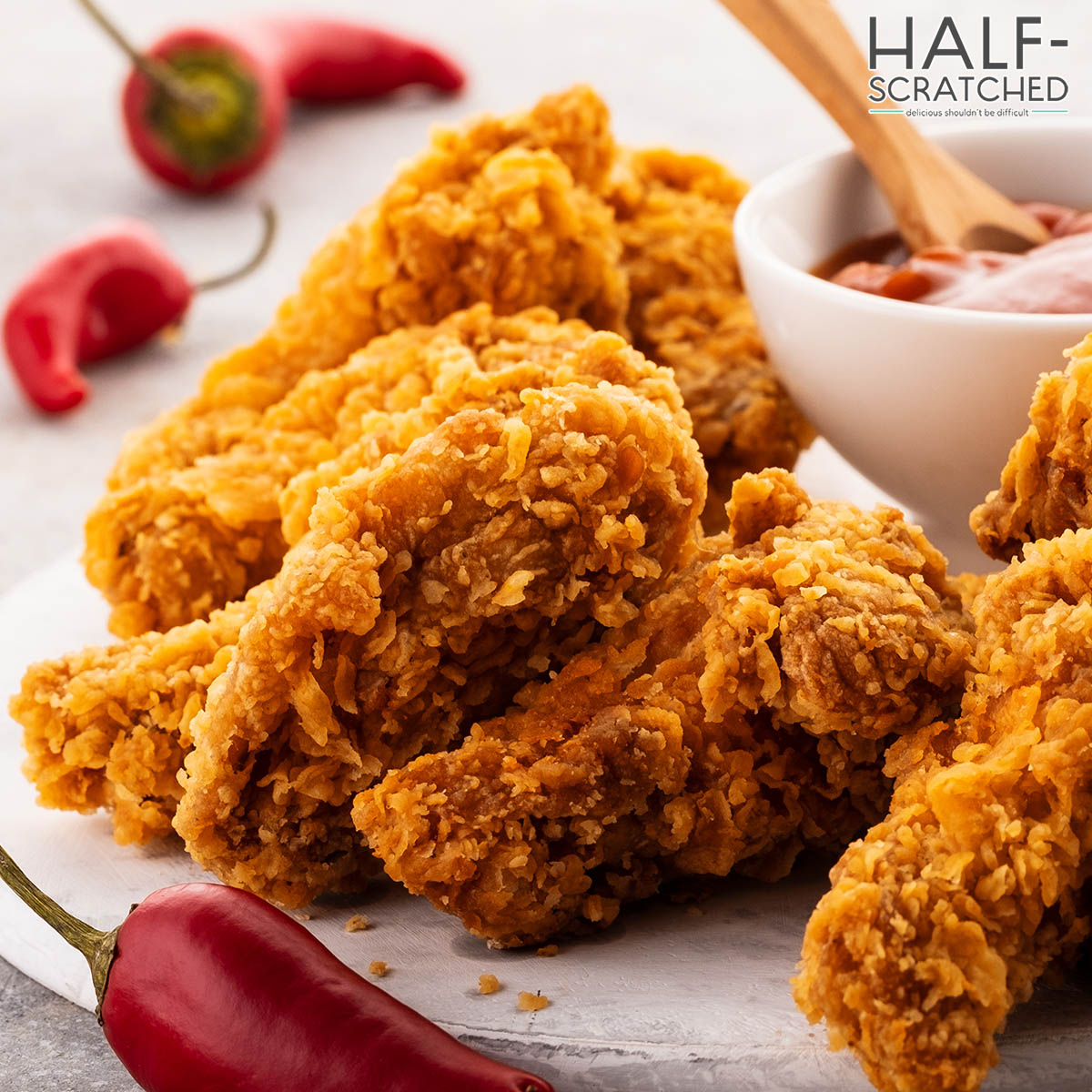 If you really love the crunch of a good chicken drumstick, consider breading them. Breading the drumsticks helps to create an even crispier exterior that's sure to be a hit with your family and friends. To bread the drumsticks, dip them in an egg and milk mixture and then roll them in a mixture of breadcrumbs and whatever seasonings you like.
Breading the drumsticks adds a few extra minutes to the baking time, so you should expect to bake them for about 45-50 minutes at 400° Fahrenheit. Again, use a meat thermometer to make sure the drumsticks reach an internal temperature of at least 165° Fahrenheit before taking them out of the oven.
Consider Baking the Drumsticks in an Air Fryer if You're Short on Time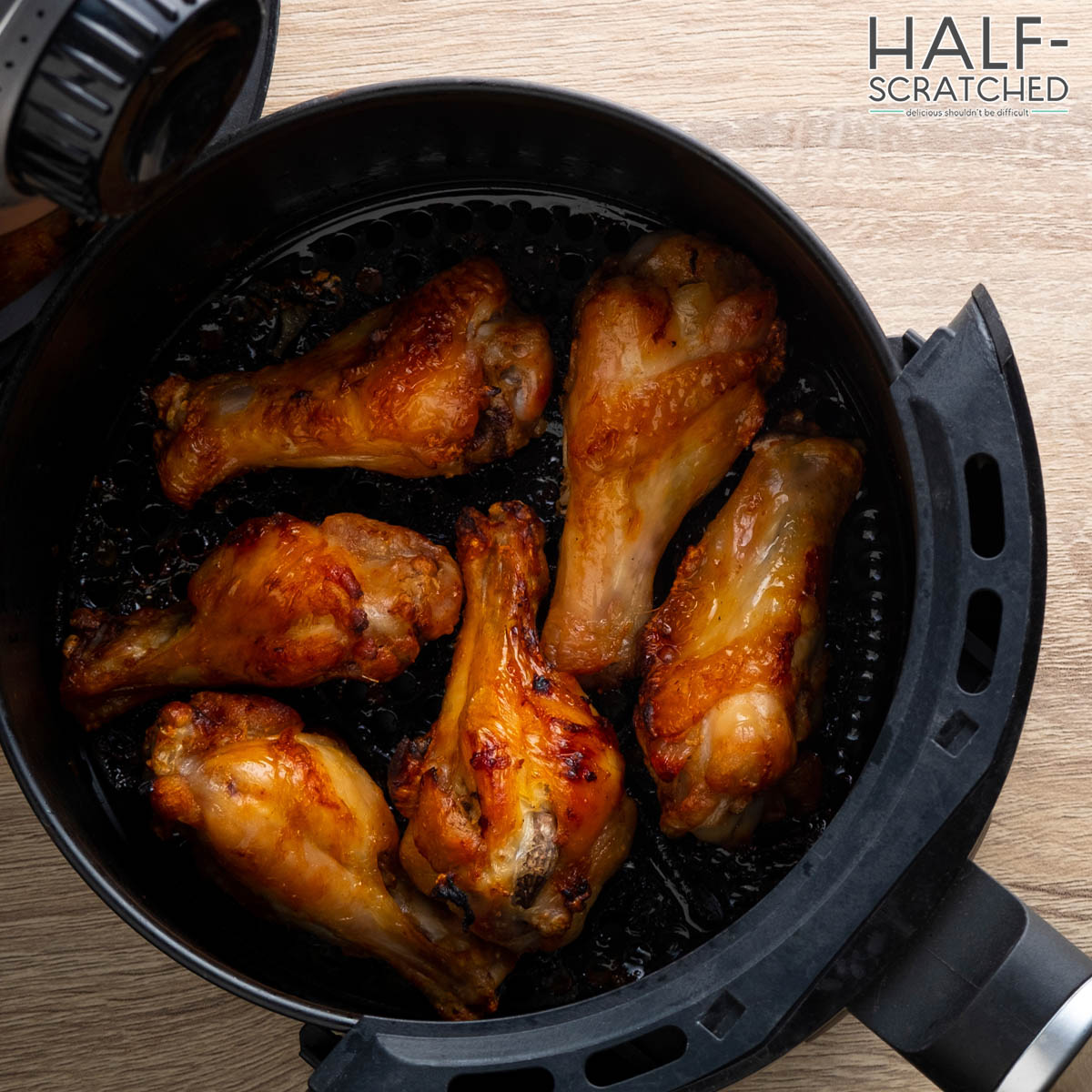 If you're short on time and still want to enjoy a delicious and crispy drumstick, consider using an air fryer. An air fryer works by circulating hot air around the food, creating a crisp exterior without needing to preheat the oven. For drumsticks, you should expect to cook them in an air fryer for about 20-25 minutes at 400° Fahrenheit.
Again, make sure to check the internal temperature with a meat thermometer to make sure they're cooked through. Chicken is notorious for harboring bacteria, so it's important to make sure it's cooked through.
Flip the Drumsticks Halfway Through Baking
No matter which cooking method you choose, it's important to remember to flip the drumsticks halfway through baking. This ensures that both sides of the drumsticks have a chance to get nice and crispy, and also ensures that the heat is evenly distributed throughout the drumsticks.
Be careful when you take them out of the oven, though, as they'll still be quite hot. We recommend using a pair of tongs or even chopsticks to flip the drumsticks. If you have neither, you can use a fork or spatula, just be sure to be gentle, so you don't damage the exterior of the drumsticks.
Don't Add a Sauce Until the Drumsticks are Almost Done
Keep in mind that most sauces contain sugar and that 45 minutes is a long time to have a sauce in the oven. The high heat of the oven can cause the sugars in the sauce to burn, so it's best to wait until the drumsticks are almost done before brushing them with a sauce.
If you want to add a sauce, wait until the drumsticks have about 5 minutes left to bake, and then brush the sauce on. Doing this will help to ensure that the drumsticks are cooked through and that the exterior won't burn.
Consider Par-Boiling the Chicken Ahead of Time
It can sometimes be tricky to get the center of the drumstick to cook through, especially toward the bone. If you're concerned about health risks, consider par-boiling the drumsticks before baking them. Par-boiling is a quick and easy way to ensure that the center of the drumstick is cooked through.
To par-boil the drumsticks, fill a large pot with water and bring it to a boil. Once it's boiling, add the drumsticks to the water and let them cook for about 5 minutes. Once they're done par-boiling, take them out of the water and place them on a baking sheet.
Pop the baking sheet in the oven at 400° Fahrenheit and bake for about 30-40 minutes. This should help to ensure that the centers of the drumsticks are cooked through without overcooking the exterior.
My Top Tips You Can Use to Make Perfect Chicken Drumsticks
Baking times and techniques can definitely improve your drumsticks, but if you want to make them truly perfect, you'll have to get a little more creative. The following tips can help take your drumsticks to the next level by amping up their flavor and creating interesting textures.
Experiment with Flavor Profiles
The beauty of a good chicken drumstick is that it acts as a vehicle for all sorts of flavors. Consider experimenting with different herbs and spices to create unique flavor profiles. For instance, you could try using a blend of smoked paprika, garlic powder, and chili powder for a smoky, spicy flavor. Or, you could use a blend of thyme, oregano, and rosemary for a more herby flavor.
Marinate the Drumsticks
Marinating the drumsticks can also help to amp up their flavor while tenderizing the meat. Marinating the drumsticks ahead of time can help to ensure that the flavors penetrate deep into the meat. Consider marinating the drumsticks in a mixture of olive oil, soy sauce, garlic, and ginger for an Asian-inspired flavor.
Sprinkle with Cheese
Cheese and chicken is a classic combination. Consider sprinkling your drumsticks with cheese before baking for an irresistibly cheesy flavor. You could also sprinkle the drumsticks with a mixture of cheese, herbs, and spices for an even more flavorful result.
Bake in the Oven and Finish on the Grill
If you want to give your drumsticks an extra crispy exterior, consider baking them in the oven and then finishing them on the grill. This will ensure that the drumsticks are cooked through and also give them a nice smoky flavor. Just be sure to watch them closely while they're on the grill to make sure they don't burn.
Baste the Drumsticks with Butter
Basting the drumsticks with butter can also help to create a nice, crisp exterior. Before baking, brush the drumsticks with melted butter and then sprinkle with salt and pepper for an extra flavorful result.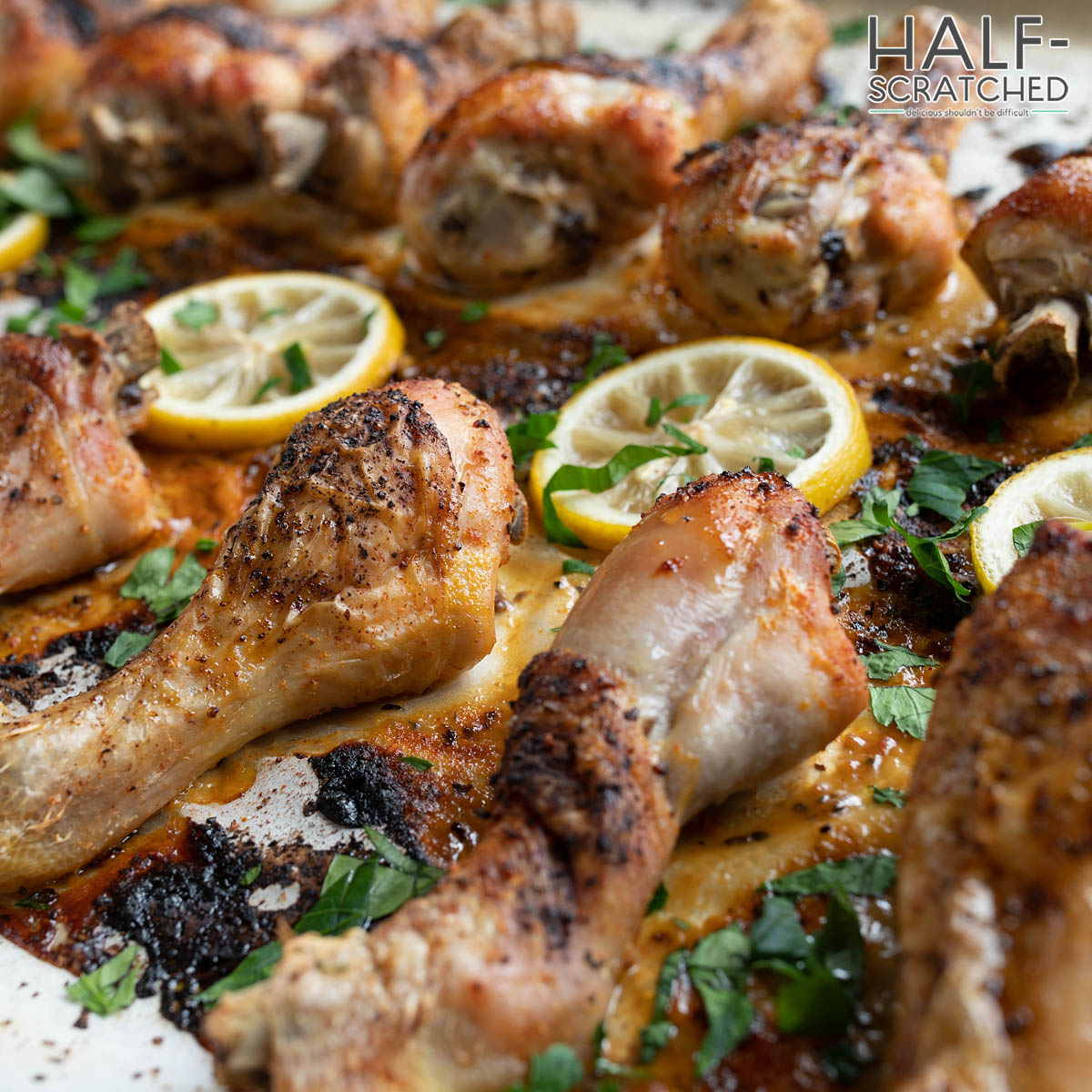 Questions and Answers About Chicken Drumsticks
What's the difference between chicken drumsticks and chicken legs?
Chicken drumsticks and chicken legs are both parts of the same cut of chicken. The difference is that drumsticks are the lower portion of the leg (calf), and the legs include the entire lower portion of the chicken (calf and thigh). So, in terms of size, chicken drumsticks are smaller.
How can I reheat chicken drumsticks without them going soggy?
The best way to reheat chicken drumsticks without them going soggy is to reheat them in the oven. Preheat the oven to 350° Fahrenheit and place the drumsticks on a baking sheet. Bake for about 15-20 minutes, or until they're heated through. You can also reheat them in the microwave, but they may become soggy.
What goes well with chicken drumsticks?
Chicken drumsticks pair well with a variety of sides. Some favorites include roasted vegetables, mashed potatoes, mac and cheese, and salads. If you're making Asian or Hispanic-themed drumsticks, you might also consider serving the chicken with side dishes from those cuisines.
Are chicken drumsticks a summer food or a winter food?
Chicken drumsticks can be enjoyed any time of year. They're a great summer food because they're easy to make and don't require a lot of time in the kitchen. They're also a great winter food because they're a comforting and hearty meal.
How do I turn drumsticks into chicken lollipops?
To make chicken lollipops, start by cutting off the meat from the bone. Then, take the bone and press it into the meat so it looks like a lollipop. Finally, season the drumsticks with salt, pepper, and any other seasonings you like. Traditionally, you should also wrap the lower half of the lollipop with aluminum foil to act as a hand grip.
Our Favorite Recipe for Delicious Over-Baked Chicken Drumsticks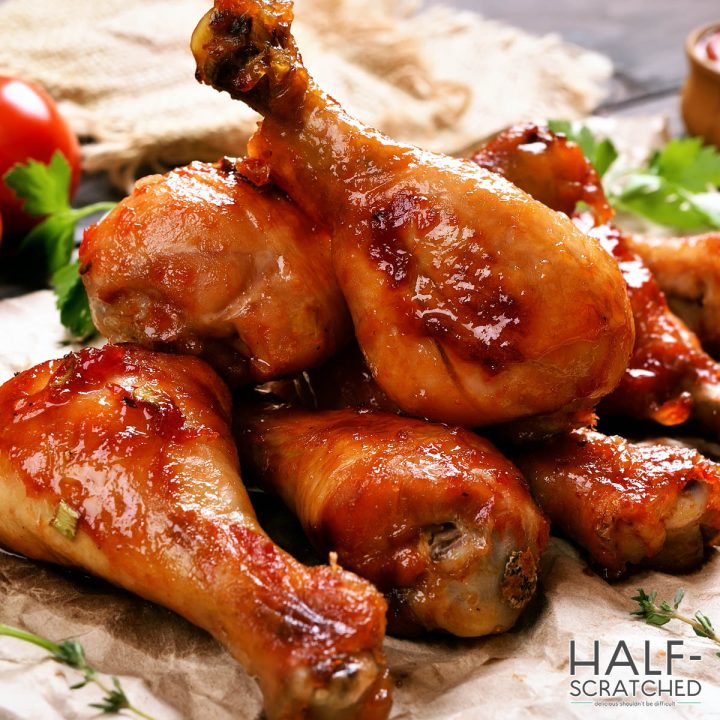 How Long to Bake Chicken Drumsticks at 400° F
Learn how to bake perfect chicken wings in an oven preheated to 400 degrees Fahrenheit. Step-by-step instructions and great tip.
Ingredients
8 chicken drumsticks
¼ cup of olive oil
2 tablespoons of garlic, minced
2 tablespoons of fresh thyme, chopped
2 tablespoons of fresh rosemary, chopped
1 teaspoon of salt
1 teaspoon of black pepper
Instructions
Preheat your oven to 400° Fahrenheit.
In a large bowl, combine the olive oil, garlic, thyme, rosemary, salt, and pepper. Keep mixing until all of the ingredients are combined.
Place the chicken drumsticks in the bowl and toss them until they are completely coated with the marinade.
Place the drumsticks on a baking sheet and let them bake in the preheated oven for 40 minutes.
Check the internal temperature of the drumsticks with a meat thermometer. The internal temperature should be at least 165° Fahrenheit.
Remove the drumsticks from the oven and let them cool for 5 minutes before serving. Enjoy!
Nutrition Information:
Yield:

2
Serving Size:

1
Amount Per Serving:
Calories:

929
Total Fat:

60g
Saturated Fat:

13g
Trans Fat:

0g
Unsaturated Fat:

42g
Cholesterol:

462mg
Sodium:

1417mg
Carbohydrates:

4g
Fiber:

1g
Sugar:

0g
Protein:

88g