Chocolaty, peanut-buttery, protein-packed smoothie. Low carb with unsweetened almond milk, cocoa powder, and no-calorie sweetener. Perfect for those who want a delicious keto peanut butter smoothie!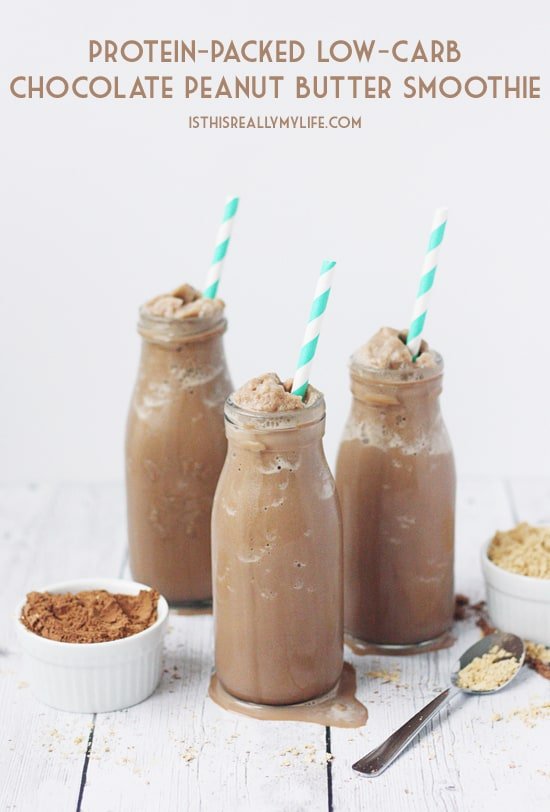 Disclosure: Though this is a sponsored post for Purely Inspired, all thoughts and opinions are mine.
If you're a longtime reader of this site, you know I absolutely love any recipe that combines peanut butter and chocolate. I've shared recipes for everything from homemade Reese's peanut butter eggs to a copycat peanut butter moo'd smoothie.
Okay, now I need to pilfer the rest of George's Reese's Peanut Butter Cups left over from Halloween.
Of course, those treats are far from low-carb, which means they're far from fitting into any New Year's resolutions. Fortunately this protein-packed low-carb chocolate peanut butter smoothie totally does.
It's one of the tastiest keto peanut butter smoothie recipes ever, too!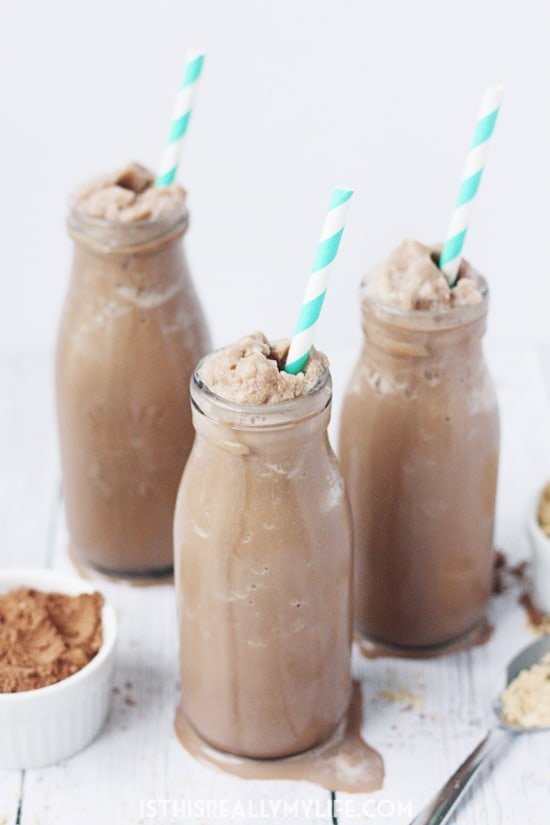 This smoothie owes its low-carb status to unsweetened almond milk (fewer calories and more calcium than skim milk), peanut butter powder (WAY fewer calories than regular peanut butter; PB2 is my absolute favorite for texture and flavor), unsweetened cocoa powder and no-calorie sweetener.
It owes its protein-packed title to the peanut butter and Purely Inspired organic French vanilla protein powder.
Gotta love keto chocolate peanut butter smoothies with all that protein!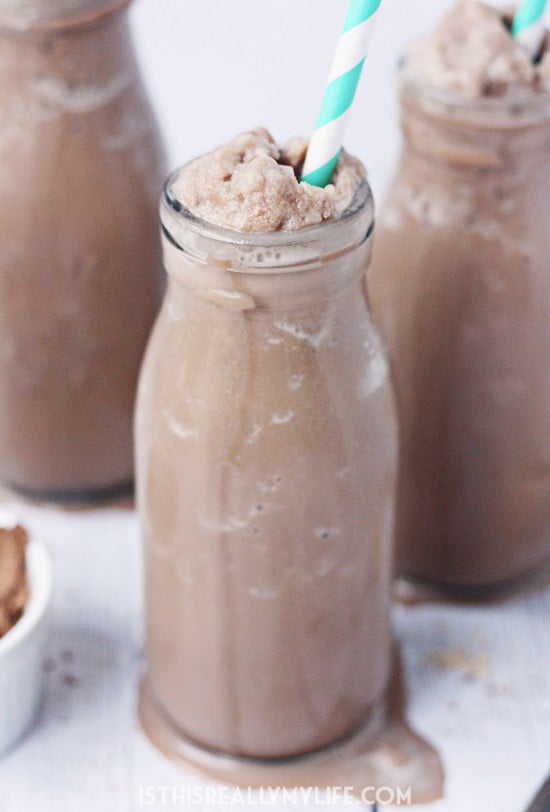 I wasn't sure whether to call this recipe a smoothie or a shake because it has a thick, rich flavor, but it does call for quite a bit of ice, giving it more of an icy texture than creamy, so smoothie it is! Along with being low carb, this chocolate peanut butters smoothie comes in at just under 275 calories and has nearly 30 grams of protein. It's basically one of the most delicious ways to fuel your day.
Or at least fuel my day if you're not interested in delicious chocolate peanut butter beverages.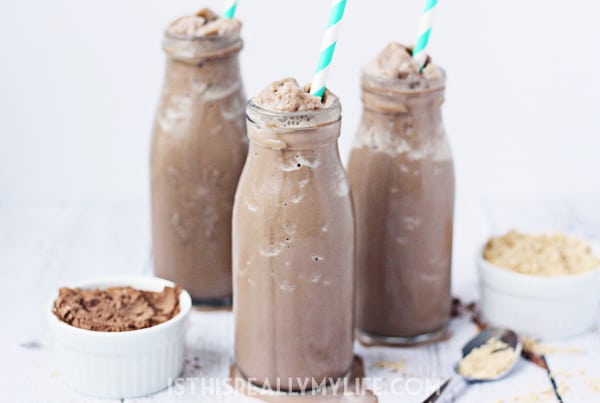 Printable recipe for protein-packed low-carb chocolate peanut butter smoothie below. Enjoy!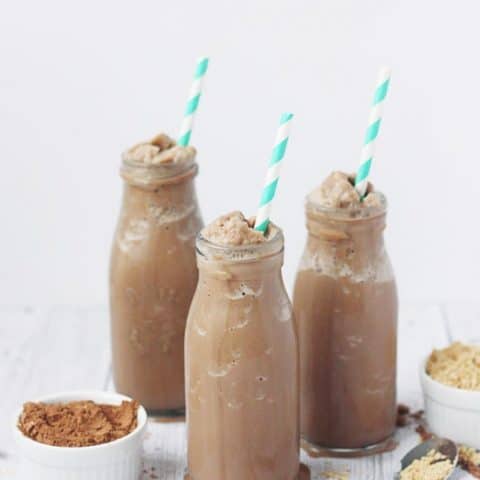 Protein-Packed Low-Carb Chocolate Peanut Butter Smoothie
Yield: 1

Prep Time: 5 minutes

Total Time: 5 minutes

This chocolaty, peanut-buttery, protein-packed smoothie is low carb thanks to unsweetened almond milk, cocoa powder and no-calorie sweetener. Makes approx. 1 serving.
Ingredients
1 ½ cups unsweetened almond milk
2 cups ice
3 T peanut butter powder
2 T unsweetened cocoa powder
1 scoop Purely Inspired Organic French Vanilla protein powder (or your favorite protein powder)
¼ teaspoon vanilla extract
1 T no-calorie sweetener like Splenda
Instructions
Place ingredients in blender in order listed.
Blend until smooth. Serve immediately.
Nutrition Information:
Yield: 1 Serving Size: 1
Amount Per Serving:Calories: 279Total Fat: 8gSaturated Fat: 1gTrans Fat: 0gUnsaturated Fat: 5gCholesterol: 7mgSodium: 109mgCarbohydrates: 14gFiber: 5gSugar: 3gProtein: 39g

Here are a few more protein-infused recipes you might enjoy!