French bread pizza is a super quick and easy way to make homemade pizza. Let the kids make their own for a fun family meal!
.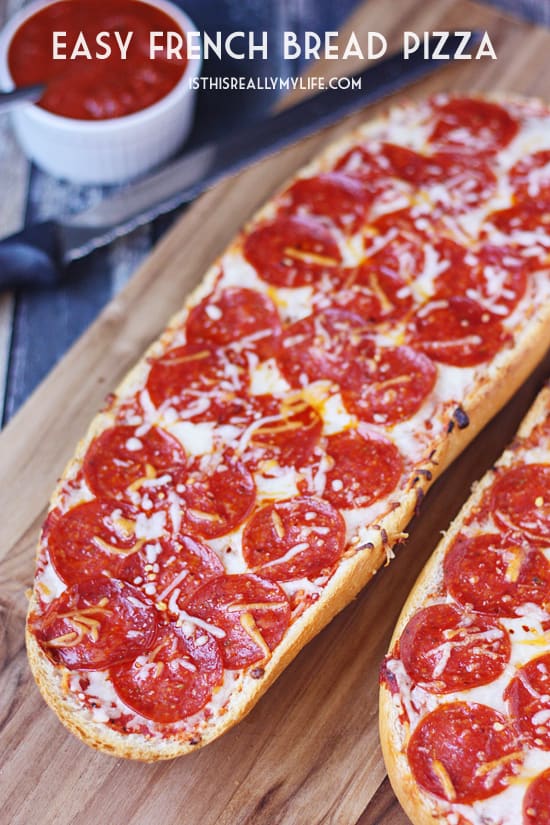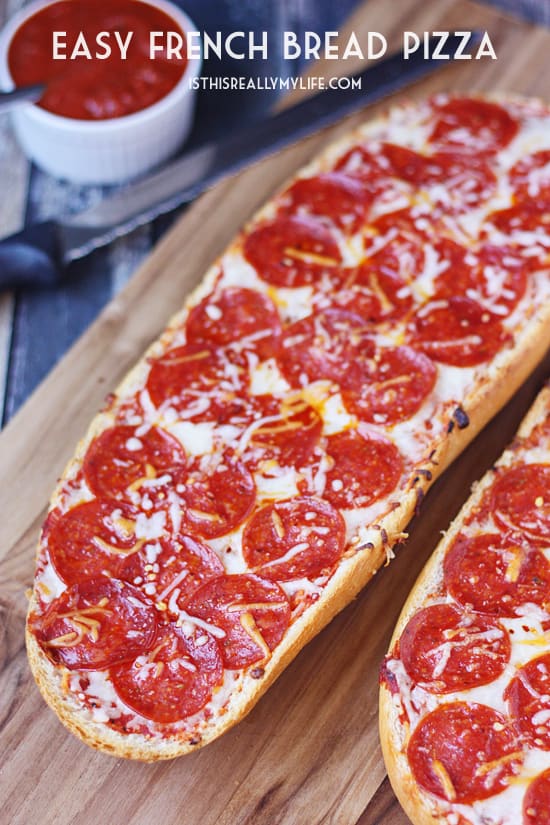 .
While Madison was home from college, she made us the most delicious chicken bacon Alfredo pizza (recipe coming soon!). George and Livi weren't too interested in a slice (more for me!) so I threw together this easy french bread pizza and they loved it!
.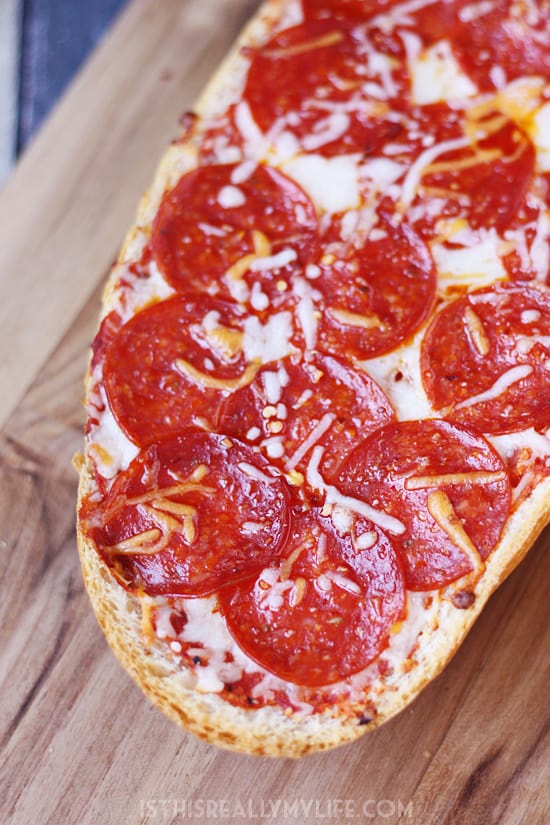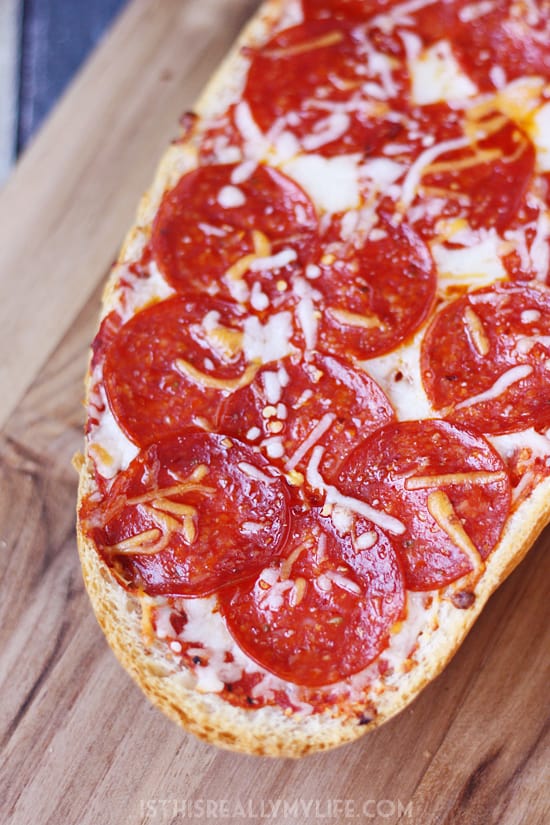 .
And I loved how quick and easy it was. The trick is to toast the French bread a bit before adding the sauce so the bread doesn't get too mushy. Though I stuck with the classic pepperoni pizza, I shook on a few red pepper flakes for added flavor. They're totally optional of course.
.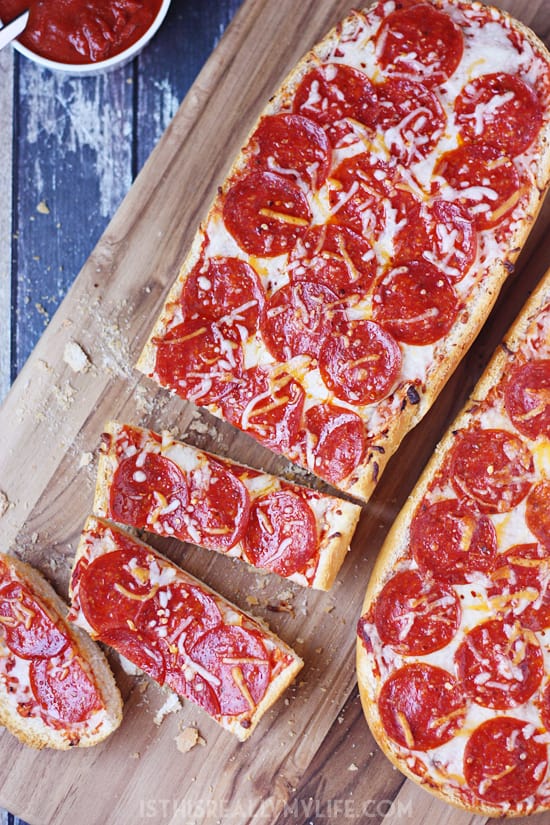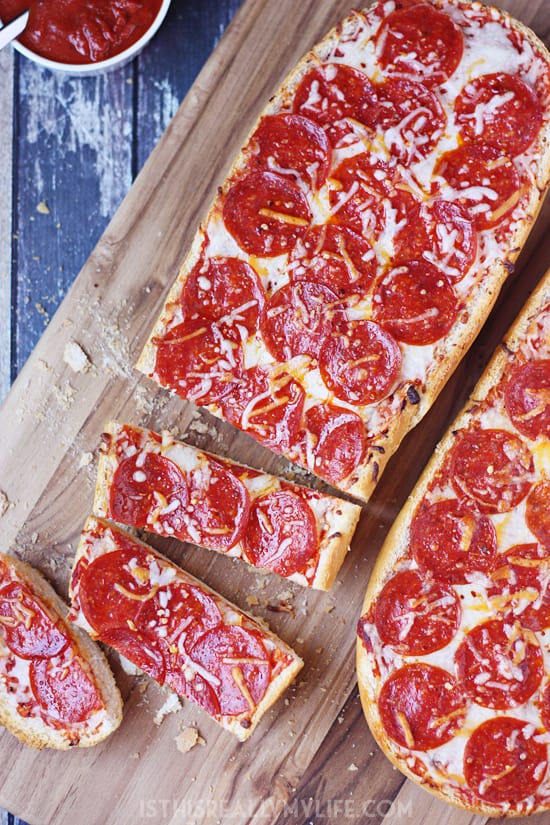 .
Next time I'm going to make this french bread pizza a family affair and let everyone make their own half of a half. I know Nathan will go for classic Hawaiian, Madison and George will stick with pepperoni, Livi will do all cheese, Lauren will do something with a ton of red pepper flakes and I'll go with pepperoni drizzled with some sort of honeyed chili pepper sauce like our local pizzeria uses. Mmm…
.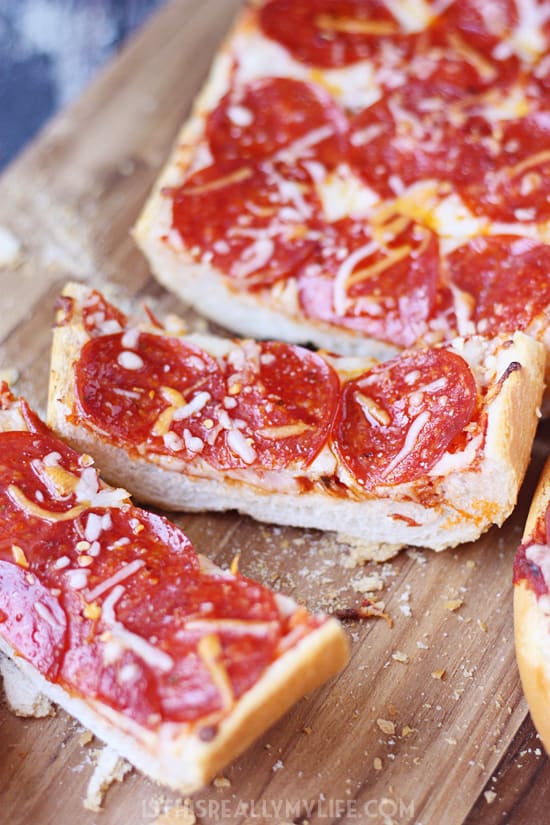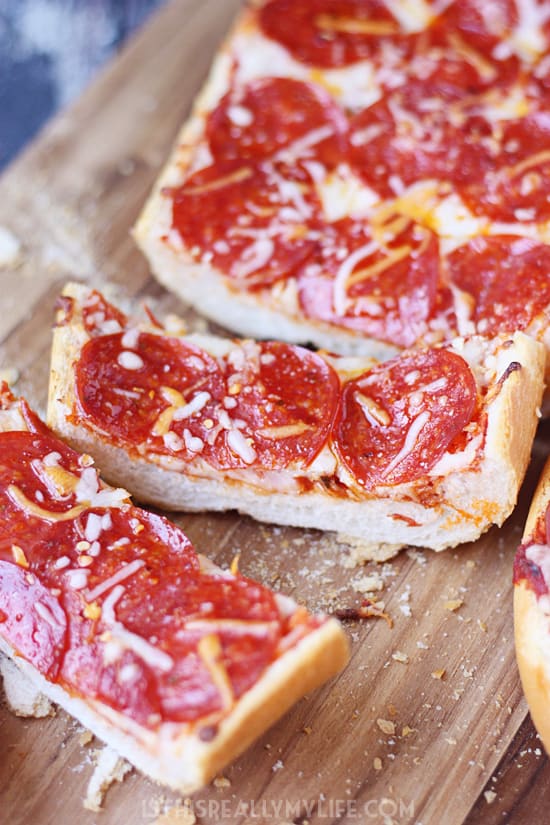 .
Printable recipe for easy french bread pizza below. Enjoy!
.

Easy French Bread Pizza
French bread pizza is a super quick and easy way to make homemade pizza. Let the kids make their own for a fun family meal!
Author:
Emily ~ isthisREALLYmylife.com
Ingredients
1 loaf soft French or Italian bread, split in half lengthwise
1 garlic clove, smashed
1 cup pizza sauce
2 cups grated mozzarella cheese
½ cup medium cheddar cheese
3 ounces sliced pepperoni
¼ tsp crushed red pepper flakes (optional but so yummy!)
Freshly grated Parmesan cheese
Instructions
Place rack in top third of oven and preheat to 425 degrees.
Place bread cut side up on baking sheet and bake 5 minutes. Remove from oven and rub cut sides with garlic.
Spread tomato sauce on cut sides of bread and top with mozzarella, pepperoni and red pepper flakes.
Bake until cheese is melted and golden brown, about 10 minutes. Top with freshly grated Parmesan cheese and more red pepper flakes (if desired).
.
Here are a few salads you could totally enjoy with your easy French bread pizza!
.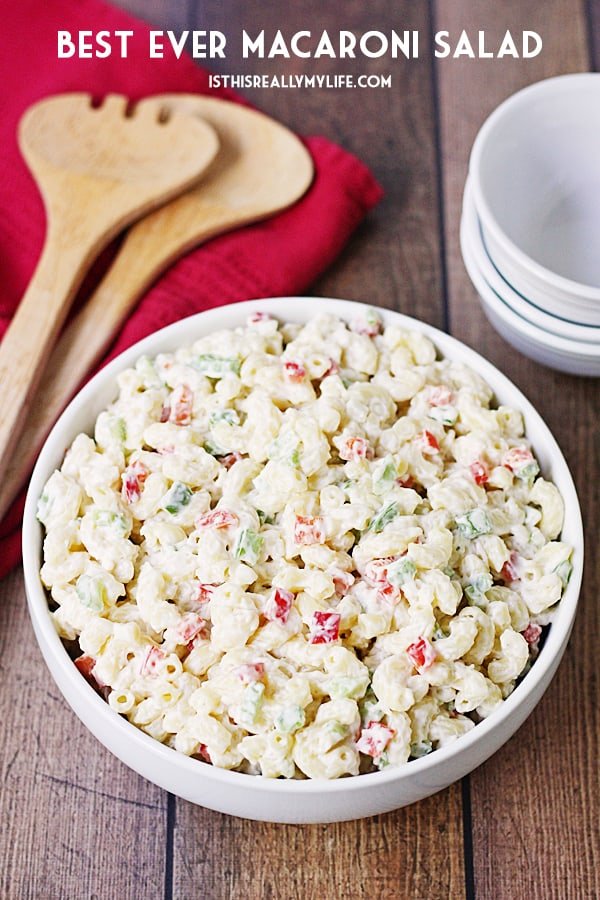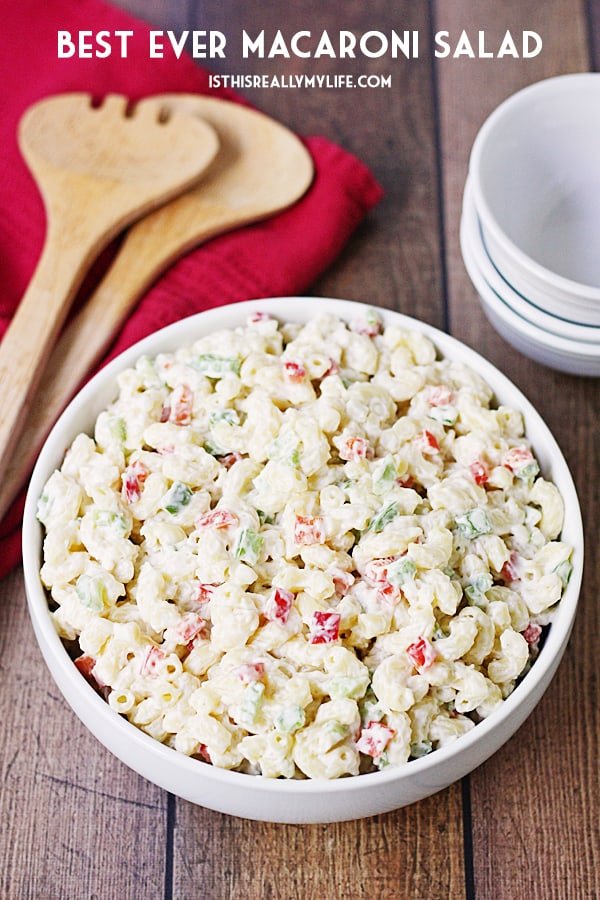 .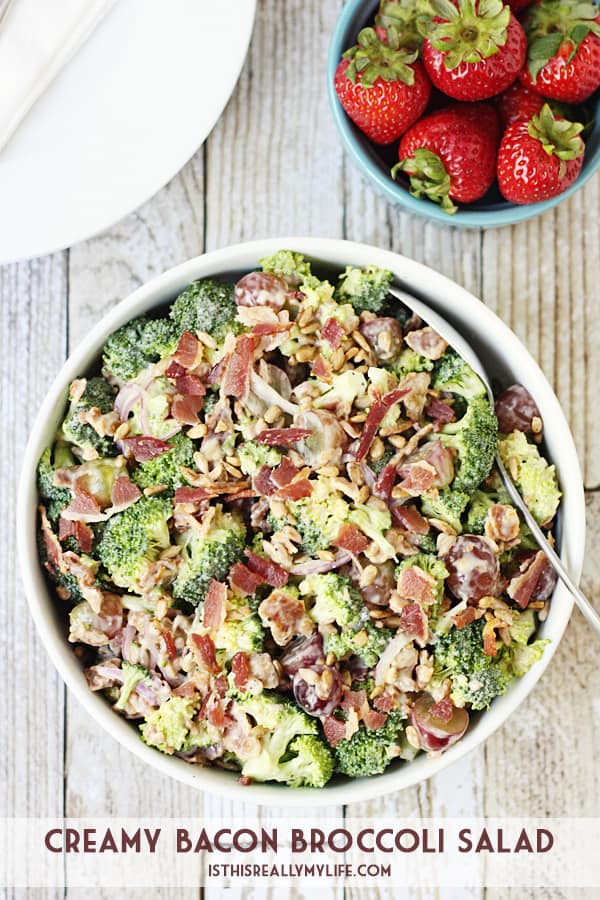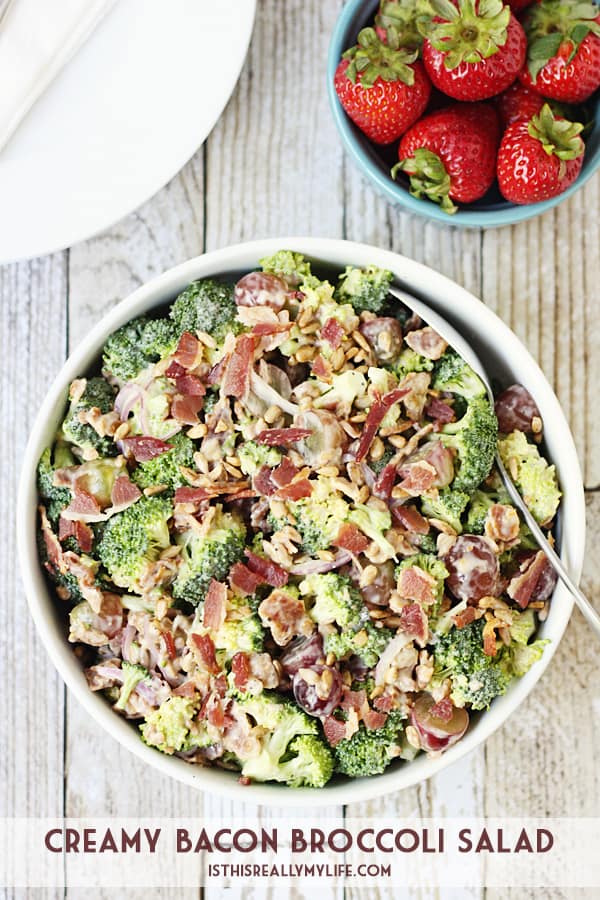 .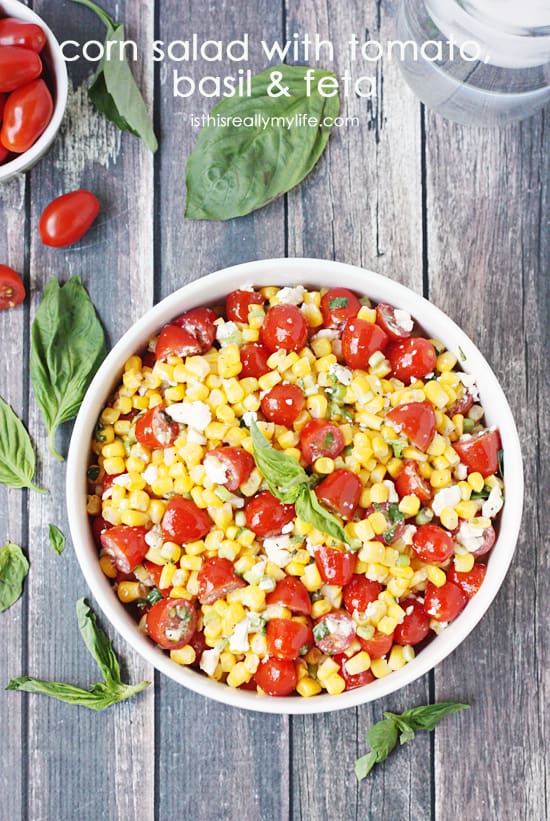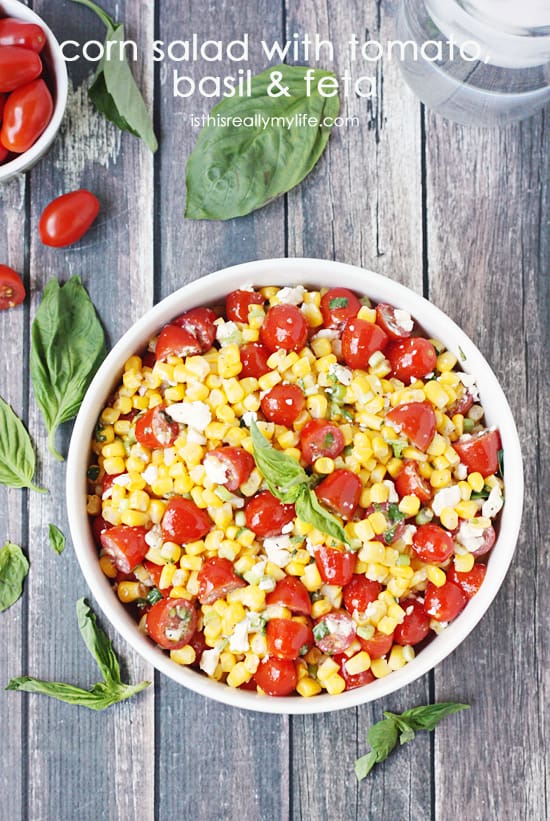 Corn salad with tomato, basil & feta
.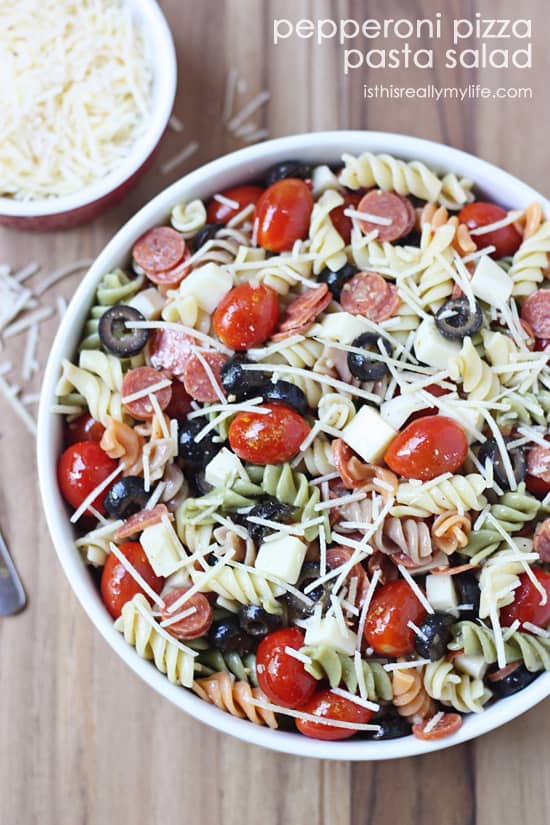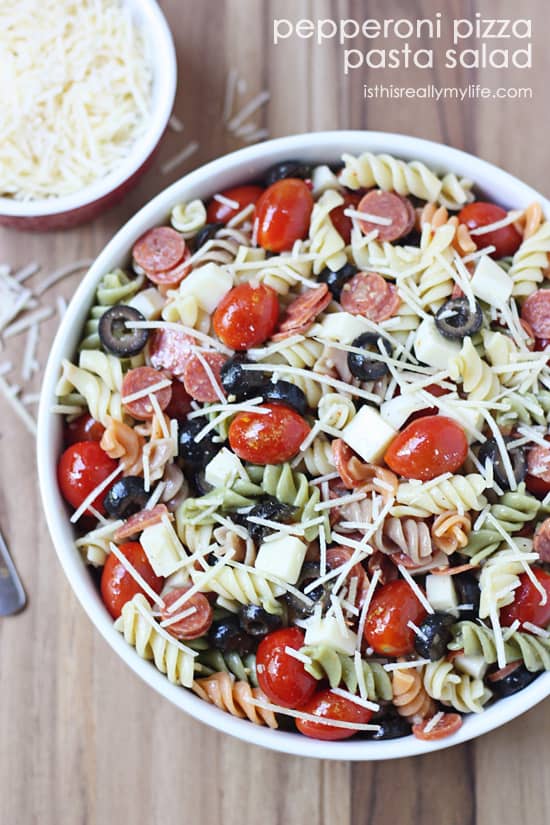 .

.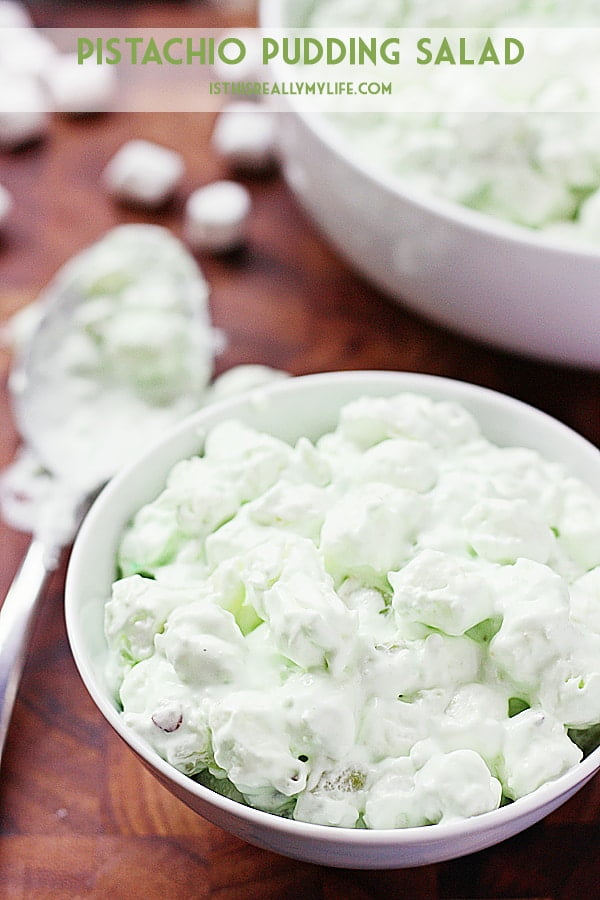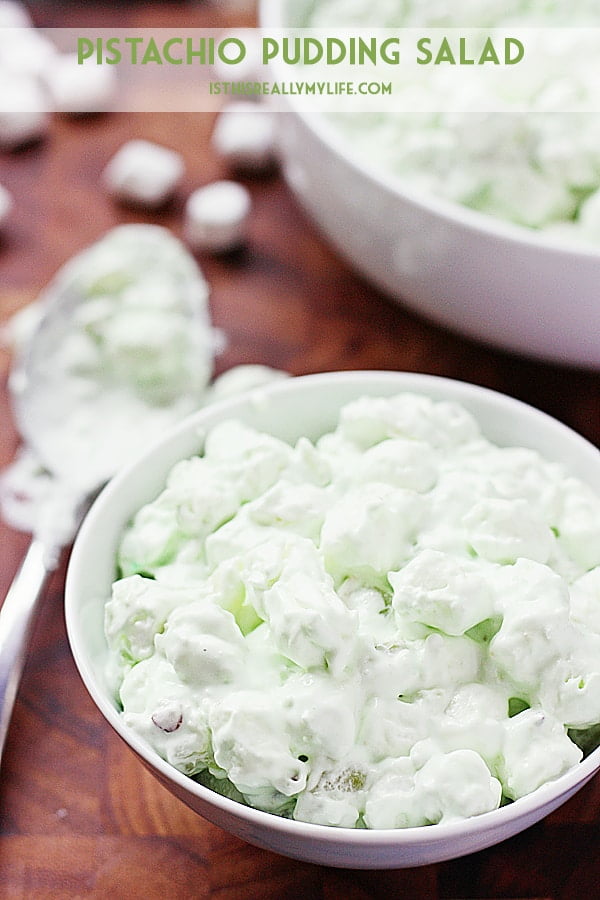 Pistachio pudding salad (my mom's specialty)
.
.
If you're looking for more yummy recipes, you should browse my "best of" Pinterest board.
.
.


Feel free to "like" Is This Really My Life on Facebook. It won't earn you an extra entry in a giveaway but it will give you warm fuzzies.
Don't forget to sign up for free Is This Really My Life updates via RSS or email so you don't miss a single awesome post.
.