Everyone in my family loved these creamy chicken crescent rolls—even Olivia, my very pickiest eater. If you haven't tried these yet, I highly recommend making them. And eating them. And then eating the leftovers for lunch the next day. (Or breakfast if you're like Nathan and do that sort of thing.)
I used homemade seasoned breadcrumbs but you're more than welcome to use store bought. I've heard you can even crush croutons if you'd like. Who knew?
Yes, these chicken-stuffed crescents take a little time assembling, but they're totally worth it. Plus, once you figure out how best to wrap these babies, they'll go quickly.
Almost as quickly as your kids eat them.
Here's how Madison and I wrapped them; if you find a way that works better, go for it! We adjusted as we went along until we were pros:
Take the longest end of the triangle and pull it across and over the filling.
Bring up each remaining corner or point and pinch to seal.
Wrap any leftover length of that long end underneath and pinch to seal. (Check out the photo of the baked rolls to see the mad skills we acquired after making 32 of them.)
You can tell by the photo below, it took a couple trays before these creamy chicken crescents morphed into the finished product you see in the last photo.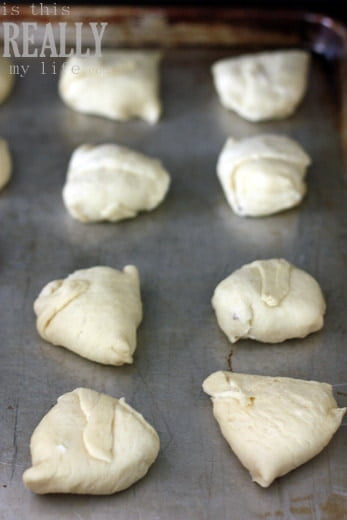 As long as you can pinch and seal the crescent roll dough, you're good to go! Enjoy!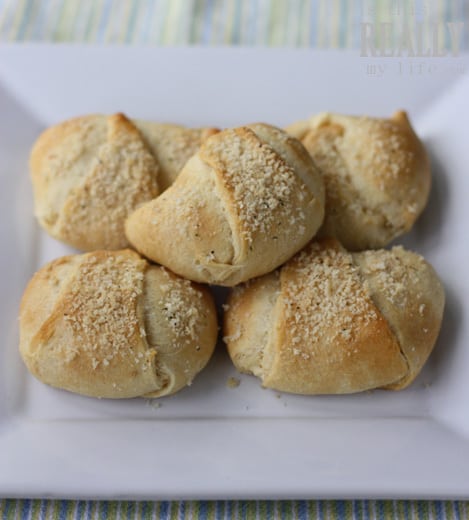 Printable recipe for creamy chicken crescents below.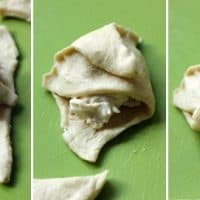 Creamy Chicken Crescents
Truly a family-friendly recipe and totally worth the little bit of time it takes to wrap these babies.
Ingredients
4 cans crescent roll dough
1 can cream of chicken soup
½ cup skim milk
1 cup reduced-fat sour cream
2 to 3 cups cooked, diced chicken
¼ cup chopped green onions
¼ cup butter, softened
1 (8-oz) package reduced-fat cream cheese
Salt and pepper, to taste
¼ cup melted butter
Seasoned bread crumbs*
Instructions
Preheat oven to 375 degrees.
In a large bowl, combine cream of chicken soup, milk and sour cream.
Add chicken, green onions, softened butter, cream cheese, salt and pepper and mix well.
Unroll crescent roll dough and separate into triangles. Gently press each triangle so it's slightly larger, but don't stretch the dough too much or it will be too thin to wrap.
Place a heaping tablespoon** of filling towards the larger end of the triangle.
Wrap the crescent roll dough around the filling, pinching to seal. Place on a greased cookie sheet.
Brush with melted butter and sprinkle with bread crumbs.
Bake 11 to 13 minutes or until golden brown.