This copycat Sonic Ultimate Meat & Cheese Burrito recipe comes as close to the drive-thru original as possible. Don't forget to throw in an extra side of tots!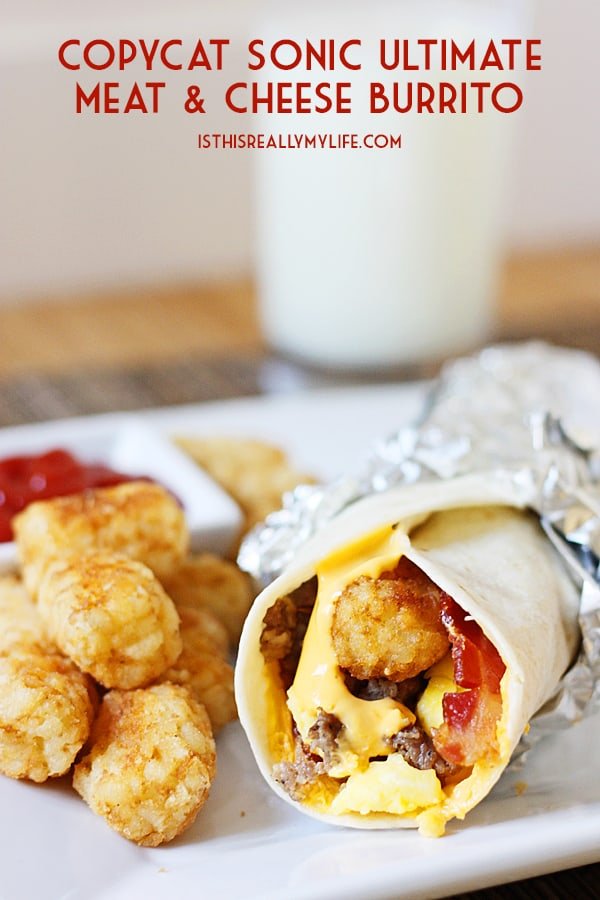 Disclosure: This is a sponsored post for Diet-to-Go; the content and opinions expressed are my own.
Many of you know how much I love Sonic's Route 44 Diet Coke with vanilla and extra ice, but I'm not sure you're aware of how much I love other things on the menu. Their tater tots are to die for, the mozzarella sticks are a steal on Saturdays at just $1.09 (locally) and the Ultimate Meat & Cheese Burrito will fulfill your daily caloric intake.
Because it's one of Madison's and my favorite menu items, it wasn't long before we threw together this copycat Sonic Ultimate Meat and Cheese Burrito recipe.
The only thing we couldn't quite figure out was recipe for the zesty cheese sauce Sonic uses. I searched high and low for some sort of insight but couldn't find one.
I bet you could try a nacho cheese sauce and come really close. We didn't have any on hand so we went with the cheese sauce featured in Oh Sweet Basil's Arby's Beef n Cheddar recipe.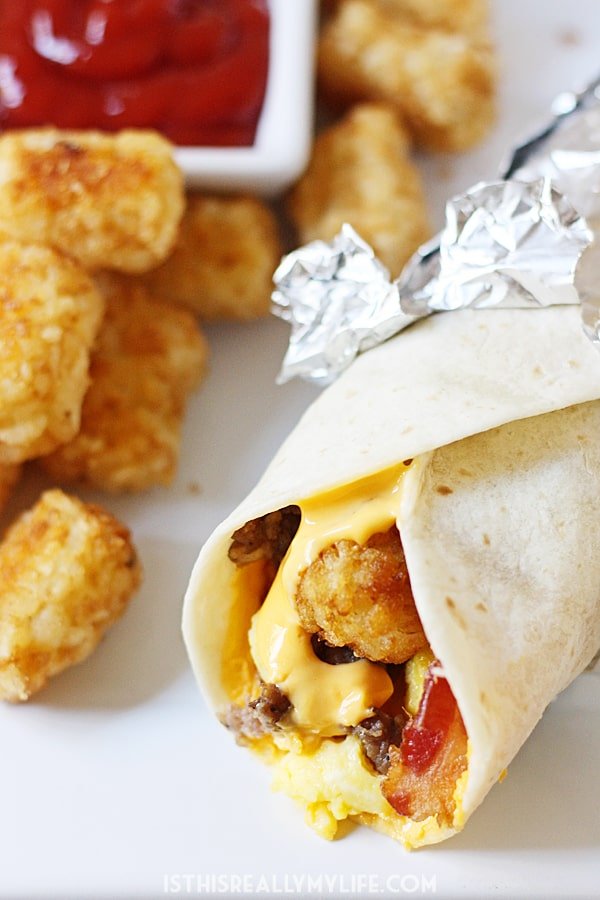 We don't eat these copycat Ultimate Meat and Cheese Burritos very often for Waffle Wednesday (aka "brinner"). They're (obviously) not the healthiest breakfast-for-dinner choice, but I do believe in the occasional indulgence...and these babies are indulgent. Fortunately they're easy to make, though I'll warn you now. You will dirty a few pans.
But these breakfast burritos are so worth it.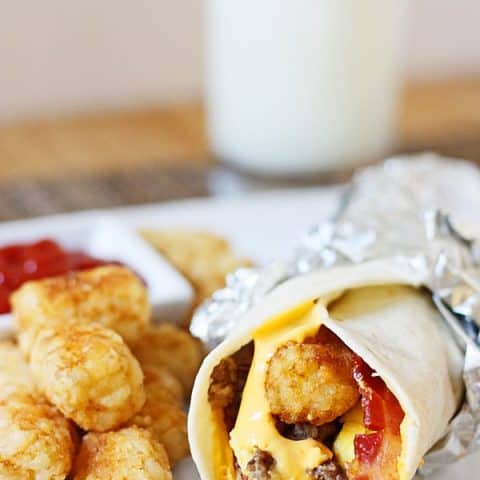 Copycat Sonic Ultimate Meat and Cheese Burritos
A copycat recipe for Sonic's Ultimate Meat & Cheese Burritos. Super easy to make and so filling. Balance it out with some fresh fruit or a green smoothie.
Ingredients
6 to 8 large flour tortillas
Scrambled eggs (I use about 2 eggs per person)
½ pound bacon, cooked
½ pound sausage, cooked
¼ package Ore-Ida tater tots, baked
4 ounces American cheese (approx. 6 slices)
2 to 3 tablespoons milk
Instructions
To make cheese sauce, tear American cheese slices into small pieces and place in a small microwave-safe bowl. Add milk. Microwave on medium power 30 second intervals, stirring between until completely melted.
Warm tortillas between two damp paper towels for 30 to 45 seconds in the microwave.
Spread a couple tablespoons of cheese sauce in center of tortilla. Top with about ¾ cup scrambled eggs, 2 to 3 slices bacon, ¼ cup sausage, and a handful of tater tots. Tuck in the ends and roll up burrito style. Serve immediately.
Notes
* The amount of filling is totally up to you. Use more or less eggs, bacon, sausage, tater tots and cheese sauce depending on preference.

* You could use burrito-size tortillas and make these things ginormous.

* For a healthier option, substitute egg whites or Egg Beaters for the scrambled eggs and use low sodium bacon and low-fat sausage. You could even go with skim milk American singles. Throw in low-carb tortillas and you're all set!
Nutrition Information:
Yield:

6
Serving Size:

1
Amount Per Serving:
Calories:

588
Total Fat:

34g
Saturated Fat:

12g
Trans Fat:

0g
Unsaturated Fat:

19g
Cholesterol:

105mg
Sodium:

1531mg
Carbohydrates:

40g
Fiber:

2g
Sugar:

2g
Protein:

28g

Speaking of smoothies, here are more scrumptious smoothie recipes: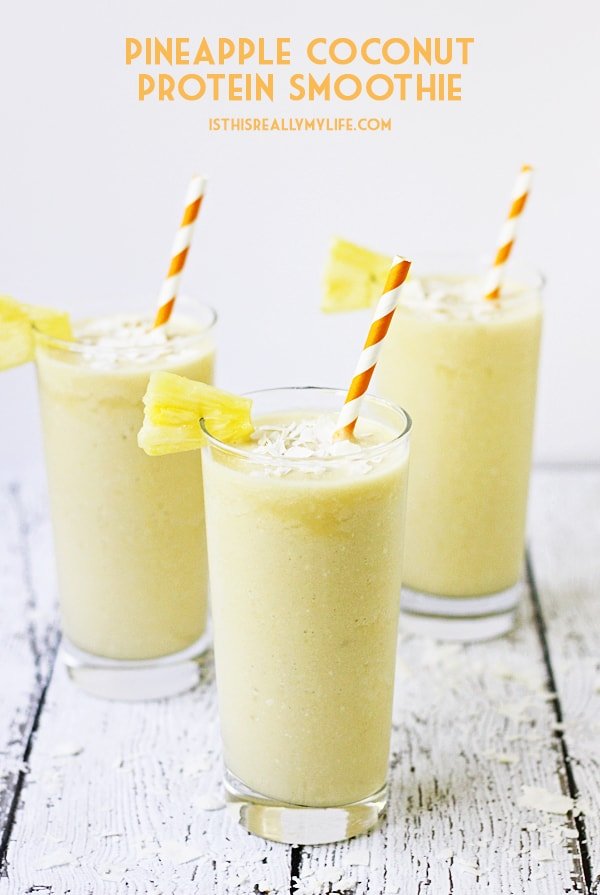 Pineapple coconut protein smoothie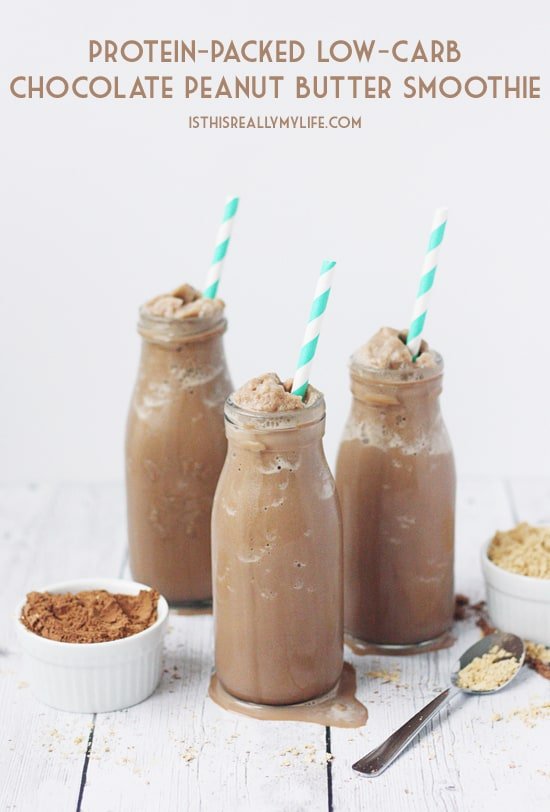 Protein-packed low-carb chocolate peanut butter smoothie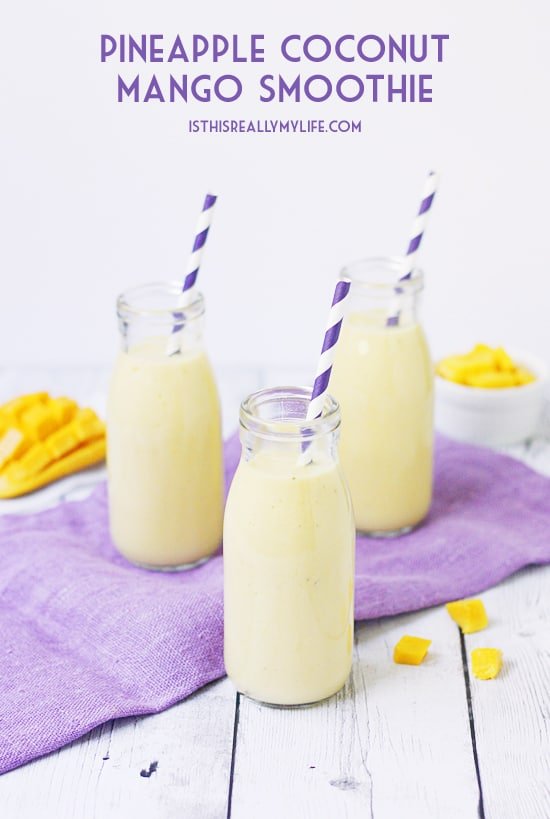 Pineapple coconut mango smoothie