This is a sponsored conversation written by me on behalf of National Mango Board. The opinions and text are all mine.
This vitamin-packed pineapple coconut mango smoothie features fresh mango, frozen pineapple, banana, coconut milk & low-fat Greek yogurt for the perfect post-workout snack.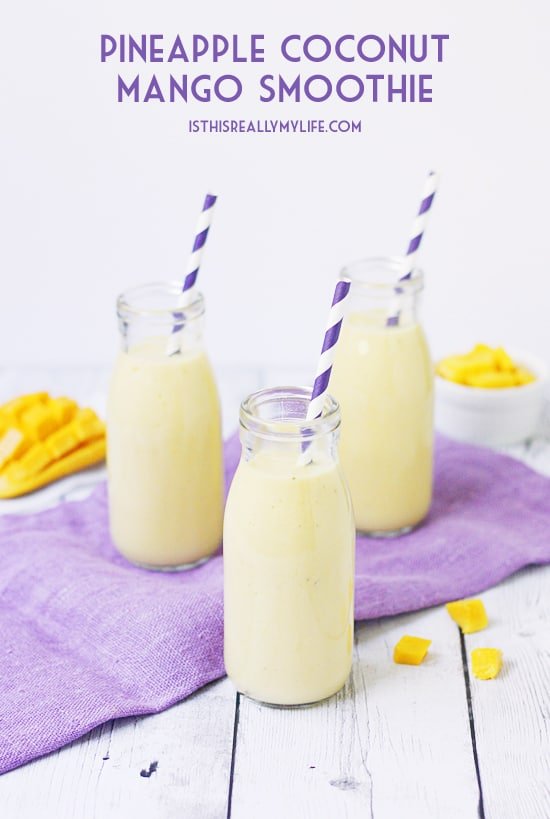 After last week's antioxidant-packed tropical berry smoothie and this week's amazing pineapple coconut mango smoothie, I may switch to a smoothie-only diet, especially as the temperature hits 90-something this weekend. In fact, today's smoothie is so good, I may end up bathing in it.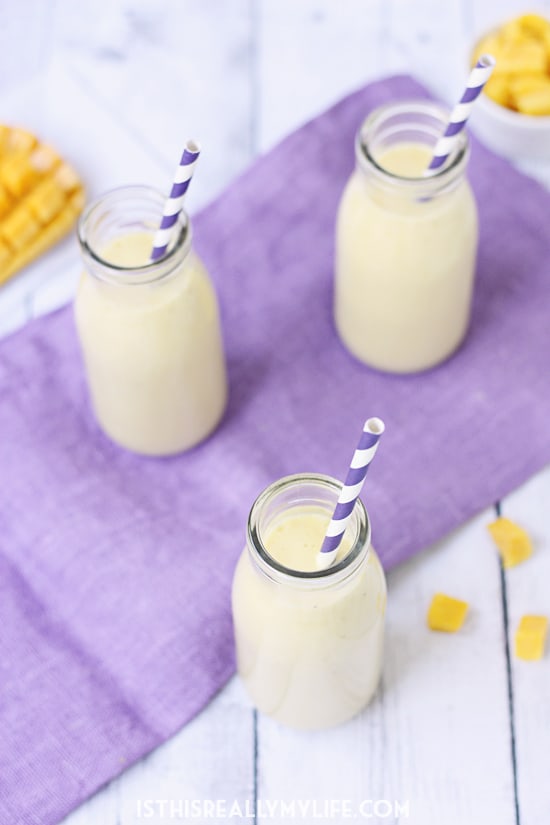 The two things I love most about this mango smoothie is the short list of ingredients (only five!) and the creamy, smooth flavor combination of pineapple, mango and coconut. The recipe makes two 12-ounce servings and I nearly polished both of them off before the photo shoot was over.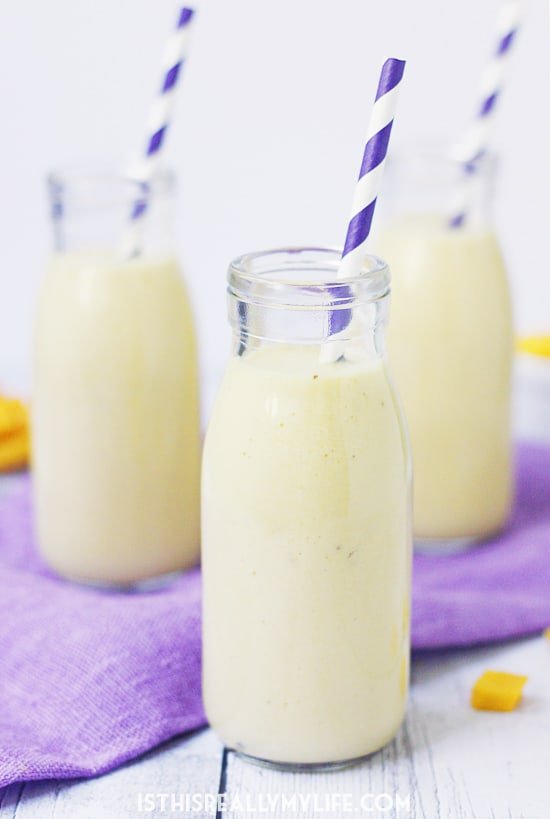 Why do I think this pineapple coconut mango smoothie a great workout companion? Like the aronia berry in that tropical berry smoothie, mangos are a superfruit packed with antioxidants and over 20 vitamins and minerals, plus a 1-cup serving of mango is only 100 calories.
Gotta love vitamin-packed, good-for-you food that's also low cal!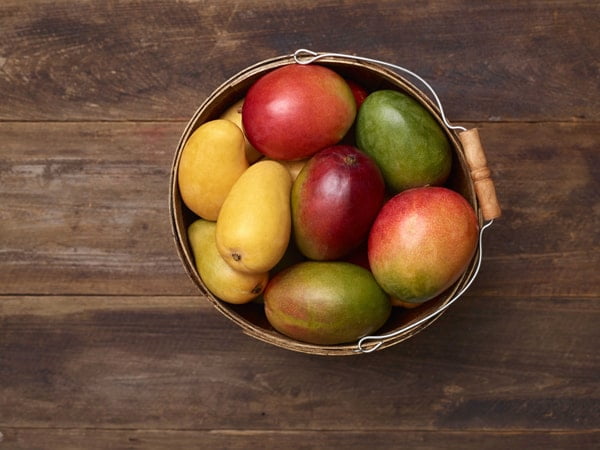 Here's what you'll get in 1 cup of fresh mango:
100% of the daily requirement of vitamin C, an antioxidant that boosts immunity.
A good source of fiber, which makes you feel full faster and longer (bonus!).
An excellent source of vitamin A, which helps maintain healthy skin and is important for immune function and bone growth.
An excellent source of folate, a B vitamin with many functions throughout the body, including cardiovascular health.
10% of the Daily Value for both vitamin B6 and copper, to support healthy immune function.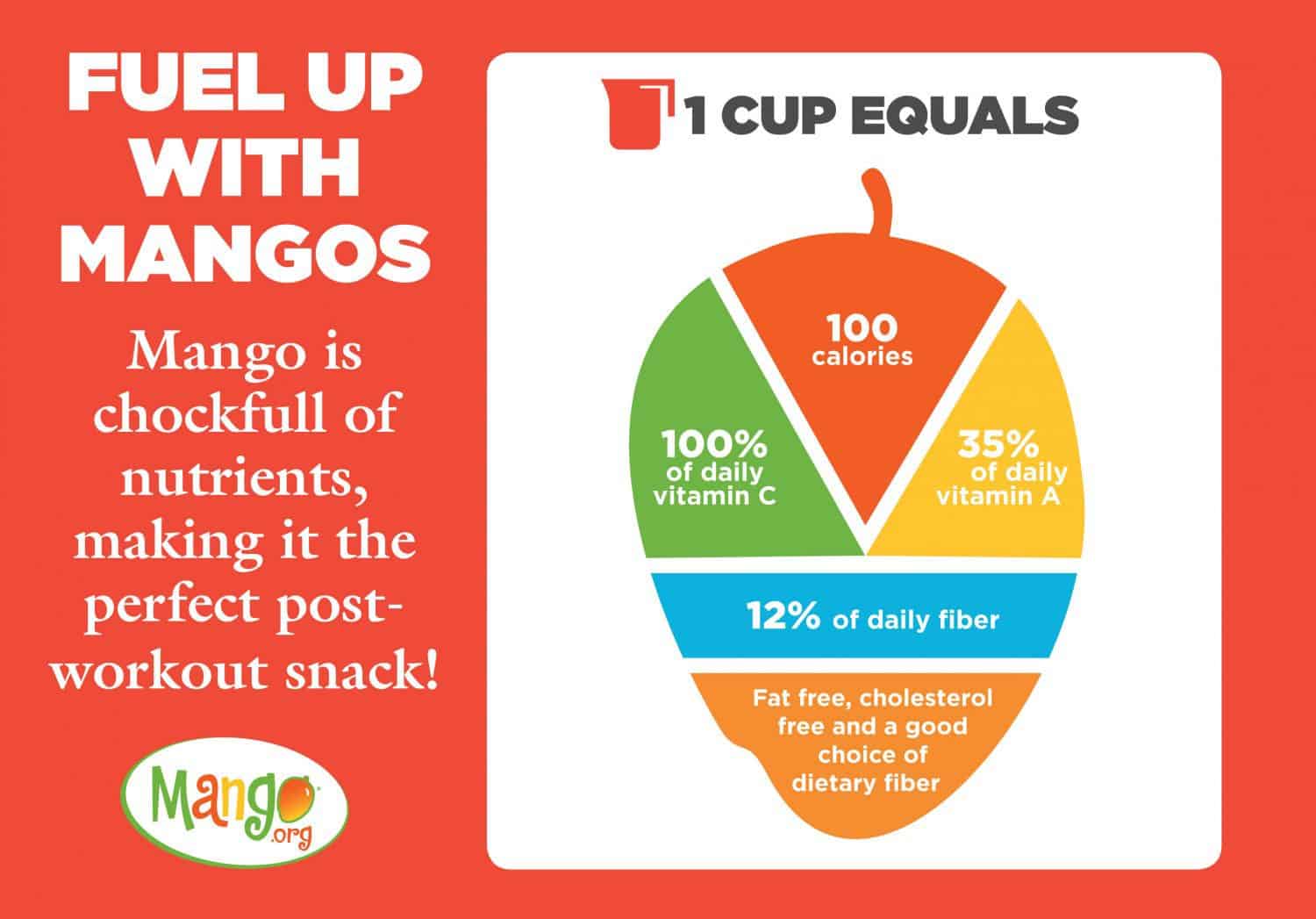 For athletes, mangos and other superfruits can help optimize physical activity and performance by delivering readily available carbohydrates in a perfect 100-calorie portion. That's good news for spin class attendees like me, especially when it's the monthly 90-minute endurance ride...
Before making this smoothie, I had never purchased a mango. I'd purchased mango salsa, which is almost the same thing, but never fresh mango. I had no idea how to pick one out, and I'd heard cutting one was tricky. After a bit of quick reading, I learned mangos come in a variety of colors and many mangos show more than one color. As beautiful as they can be, don't focus on color when choosing mangos. A ripe, ready-to-eat mango will give slightly when gently squeezed. If you plan to eat mangos a few days later, choose those that are a bit former and then keep them at room temperature. They will continue to ripen, getting sweeter and softer. Once ripe, you can move mangos to the fridge where they can be stored up to five days.
Never refrigerate mangos before they are ripe!
As far as cutting a mango, I found this tutorial super helpful. I totally nailed it the first time using the slice and scoop method. Easy peasy!
For more information on everything from choosing mangos to mango varieties, visit the National Mango Board. You can also find all things mango on Facebook, Twitter, Pinterest, and Instagram.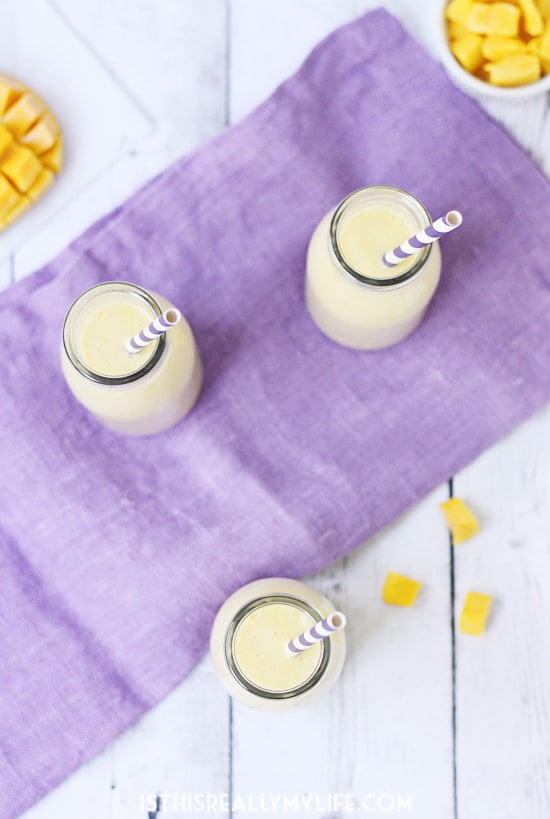 Printable recipe for pineapple coconut mango smoothie below. Enjoy!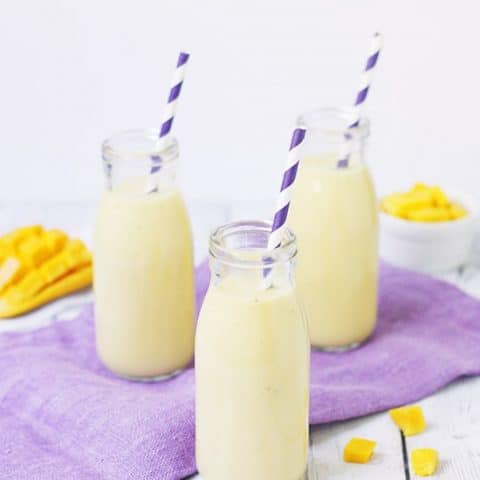 Pineapple Coconut Mango Smoothie
This vitamin-packed pineapple coconut mango smoothie features fresh mango, frozen pineapple, banana, coconut milk & low-fat Greek yogurt for the perfect post-workout snack.
Ingredients
1 ½ cups unsweetened coconut milk
¼ to ½ cup low-fat vanilla Greek yogurt
1 ripe banana, peeled
1 cup frozen pineapple chunks
1 cup fresh mango (if using frozen mango chunks, you may need to increase the coconut milk)
Instructions
Place ingredients in blender in order listed and blend until smooth.
Serve immediately.
Nutrition Information:
Yield:

2
Serving Size:

1
Amount Per Serving:
Calories:

254
Total Fat:

5g
Saturated Fat:

4g
Trans Fat:

0g
Unsaturated Fat:

1g
Cholesterol:

1mg
Sodium:

18mg
Carbohydrates:

55g
Fiber:

4g
Sugar:

46g
Protein:

3g
Here are a few more delicious smoothie recipes for you to enjoy this summer!