Pumpkin season is here! And what's better than starting your day with one of our 27 Incredibly Yummy Pumpkin Breakfast Recipes?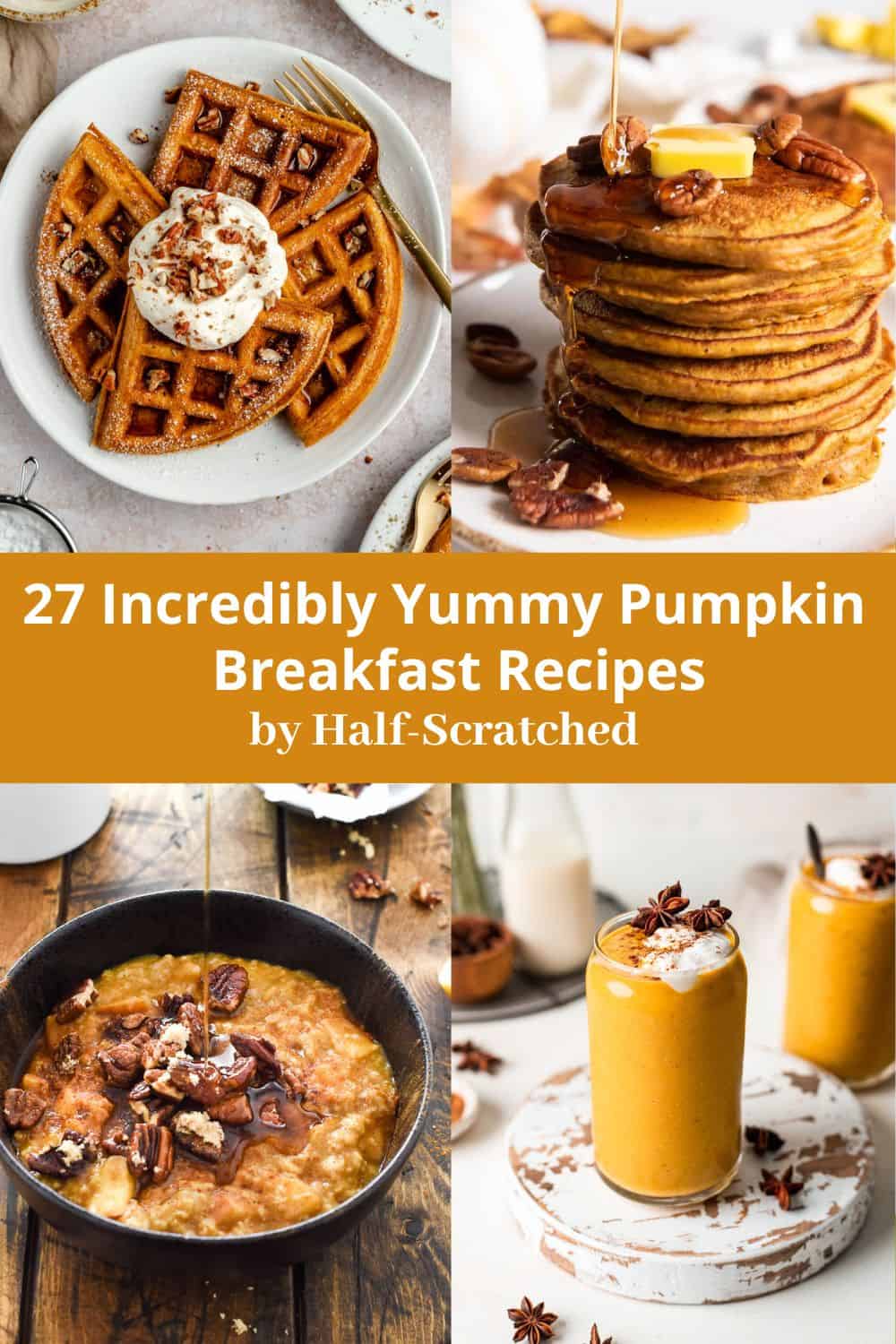 Pumpkin season means Autumn, gorgeous colors, chilly mornings and slowing down. Don't you just love those cozy mornings when you can enjoy a long lazy breakfast? And what's better than utilizing the ultimate fall produce, pumpkin?
Pumpkin is a type of winter squash native to North America. Rich in vitamins, minerals and antioxidants pumpkin has many health benefits.
It's incredibly versatile and easy to utilize in both sweet and savory dishes. It can be roasted, steamed or boiled and the most popular way is to make it into a puree that can be incorporated into many recipes to enjoy that authentic pumpkin flavor.
Often paired with warming spices of cinnamon, ginger, allspice, cloves and nutmeg, pumpkin recipes are incredibly delicious and nutritious.
Just any of your favorite breakfast recipes can be made with an addition of pumpkin and if you need a little inspiration we have got you covered with our 27 Incredibly Yummy Pumpkin Breakfast Recipes round-up.
1. Pumpkin Pancakes
Let's start this round-up with these soft and fluffy Pumpkin Pancakes by Kristine's Kitchen. Made with pure pumpkin puree and spiced with cinnamon, allspice, nutmeg and cloves these easy-to-make pancakes are the perfect cozy fall breakfast.
2. Apple Pumpkin Oatmeal with Maple Pecan Crumble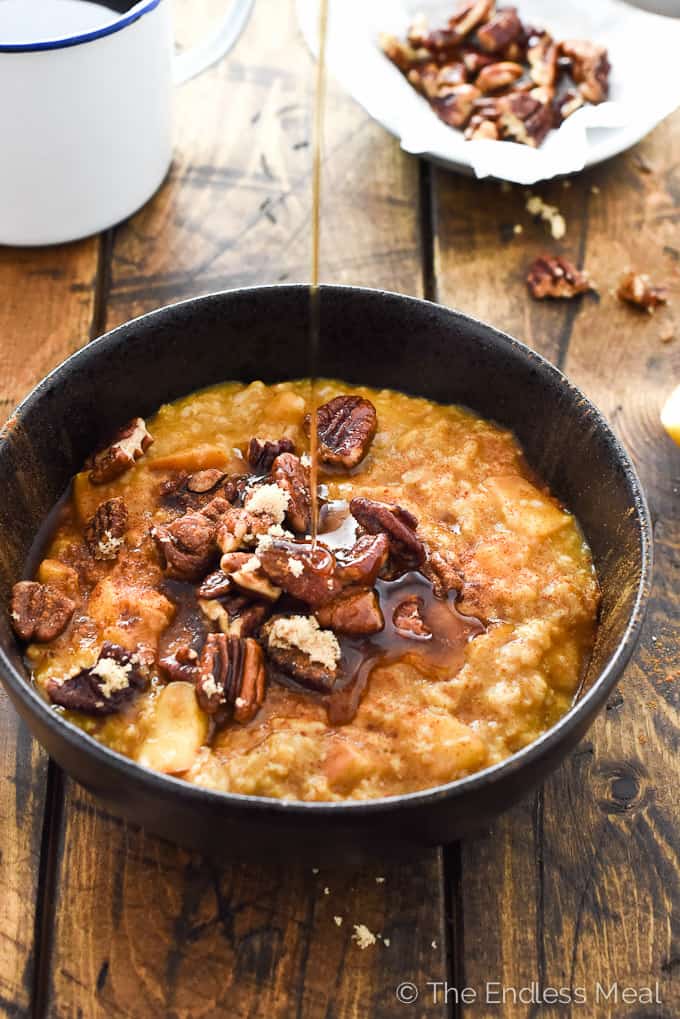 This deliciously creamy Apple Pumpkin Oatmeal with Maple Pecan Crumble by The Endless Meal is just what you need during those chilly mornings. Laced with apples and pumpkin pie mix and topped with crunchy maple pecan crumble this bowl of oatmeal feels so nourishing.
3. Vegan Pumpkin Pie Smoothie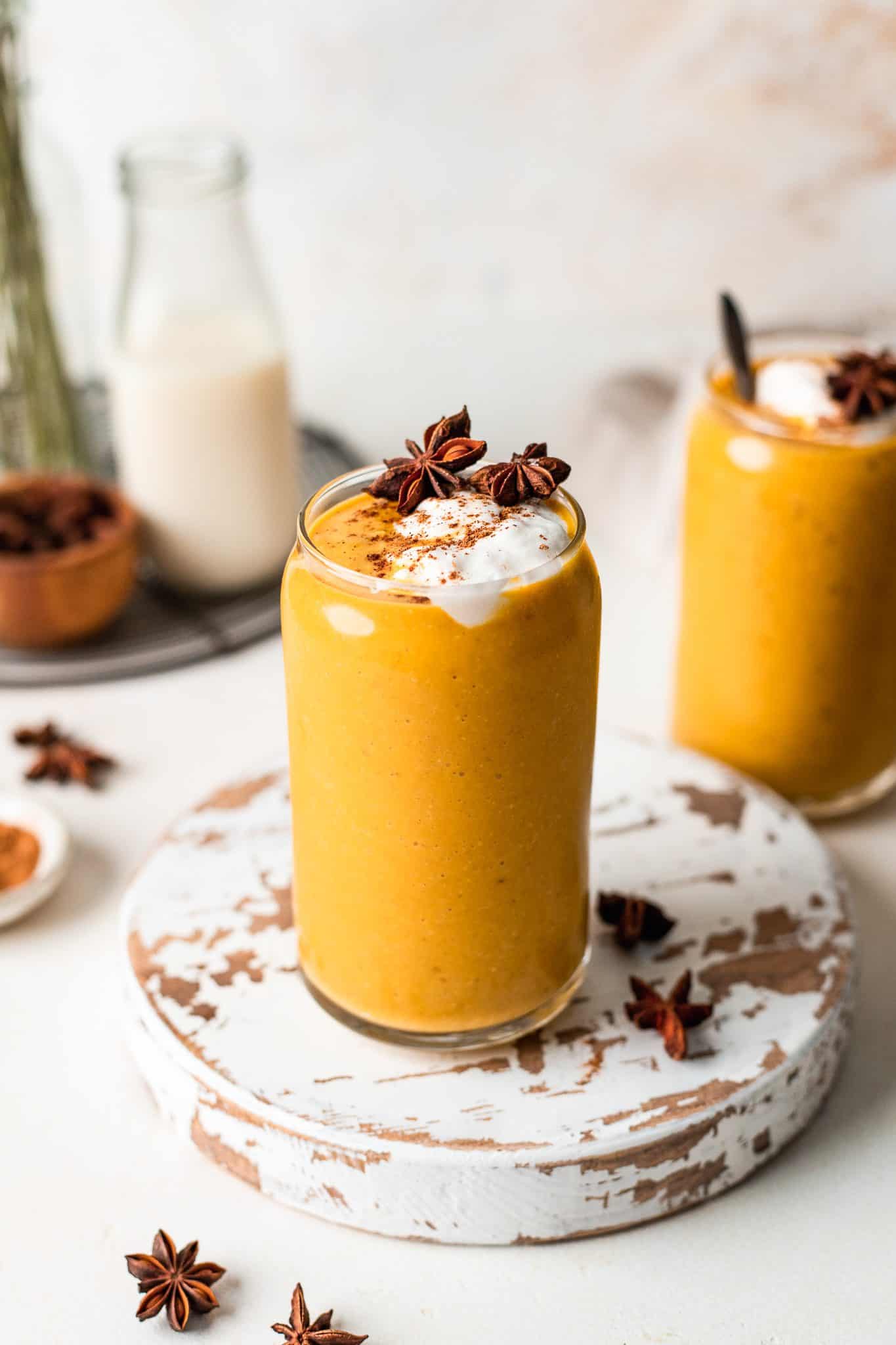 Make this easy and nutritious Vegan Pumpkin Pie Smoothie by The Banana Diaries. This super creamy protein-rich delicious smoothie is an excellent choice for a healthy fall breakfast.
4. Pumpkin Granola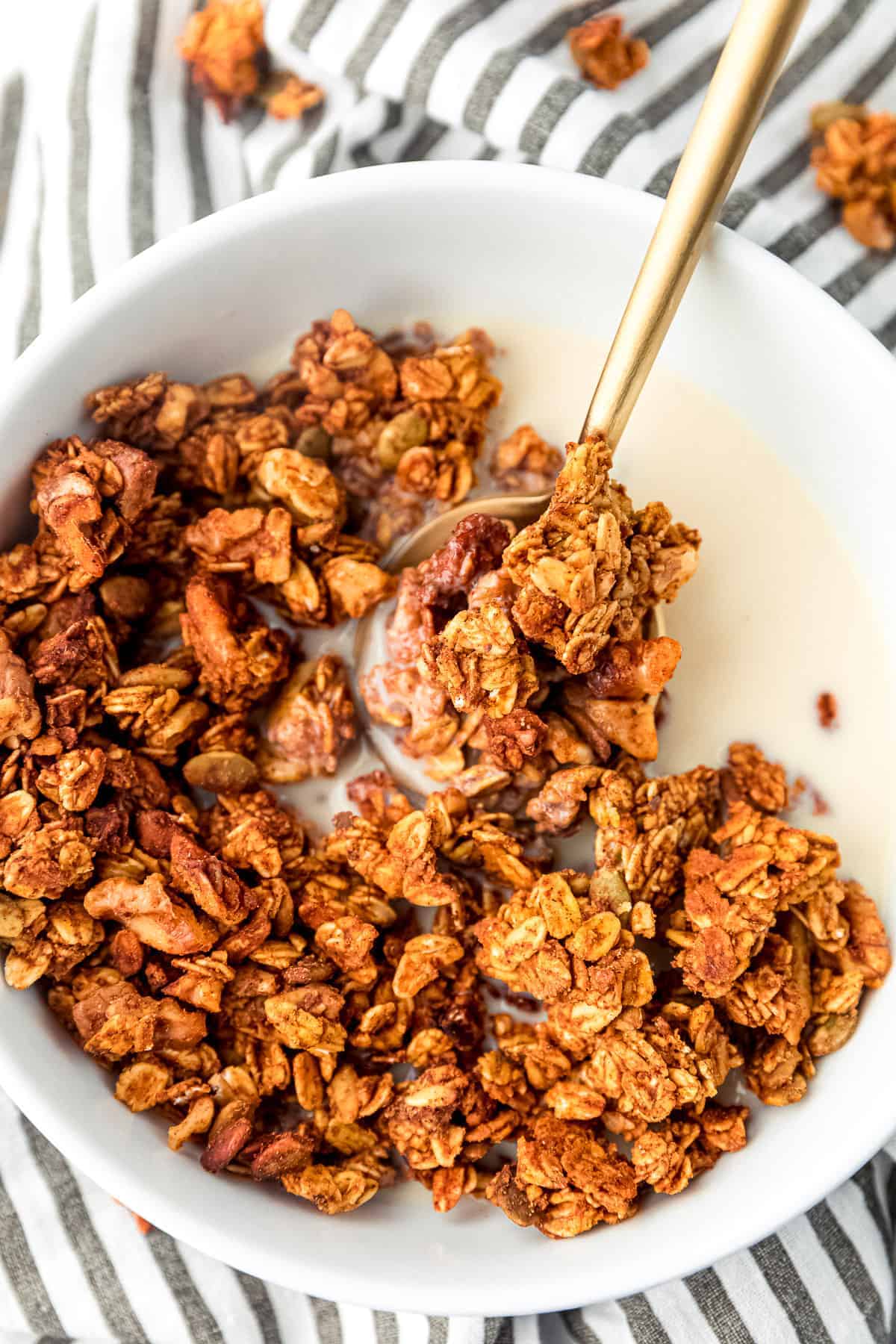 Learn how to make the best crunchy granola this fall. This yummy Pumpkin Granola by Jessica in the Kitchen is made with rolled oats, walnuts, pumpkin seeds, pumpkin pie spice, almond butter and pumpkin puree and sweetened with maple syrup. So delish.
5. 90-Second Pumpkin Pie Breakfast Quinoa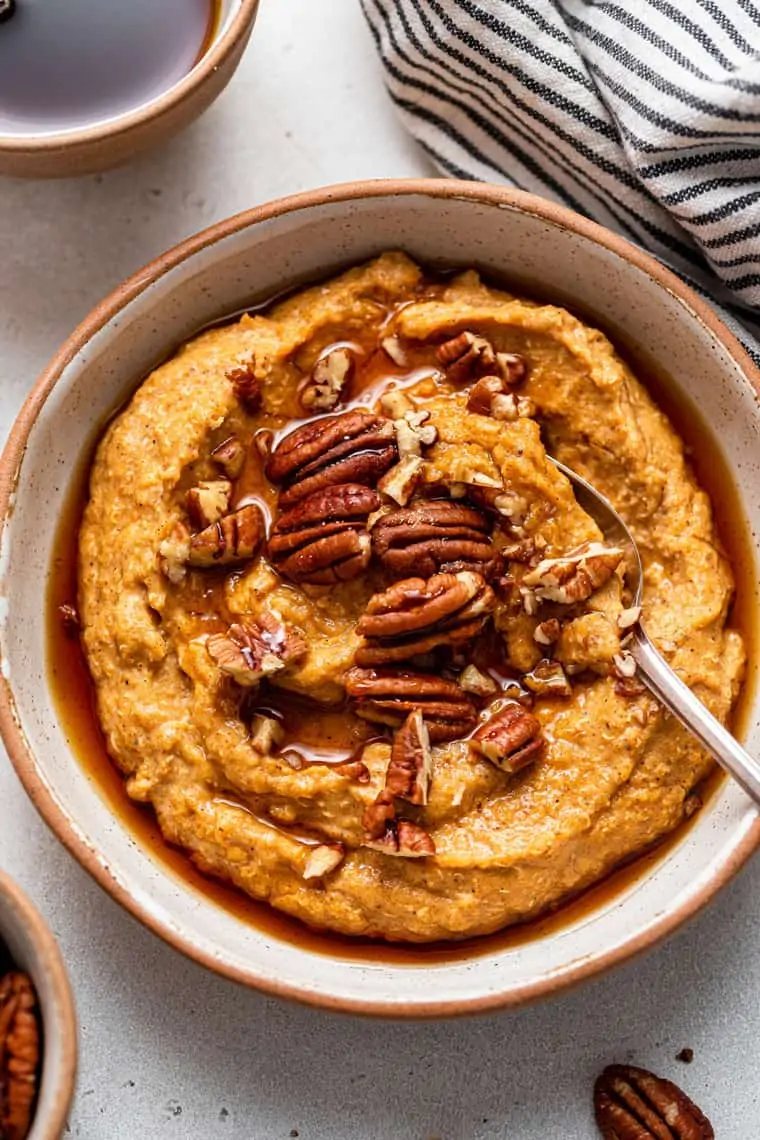 For a quick nutritious breakfast look no further. This 90-Second Pumpkin Pie Breakfast Quinoa by Simply Quinoa is packed with protein, vitamins and fiber. Made with quinoa flakes, pumpkin puree, maple syrup and spices it makes a wonderfully comforting healthy breakfast.
6. Homemade Pumpkin Spice Latte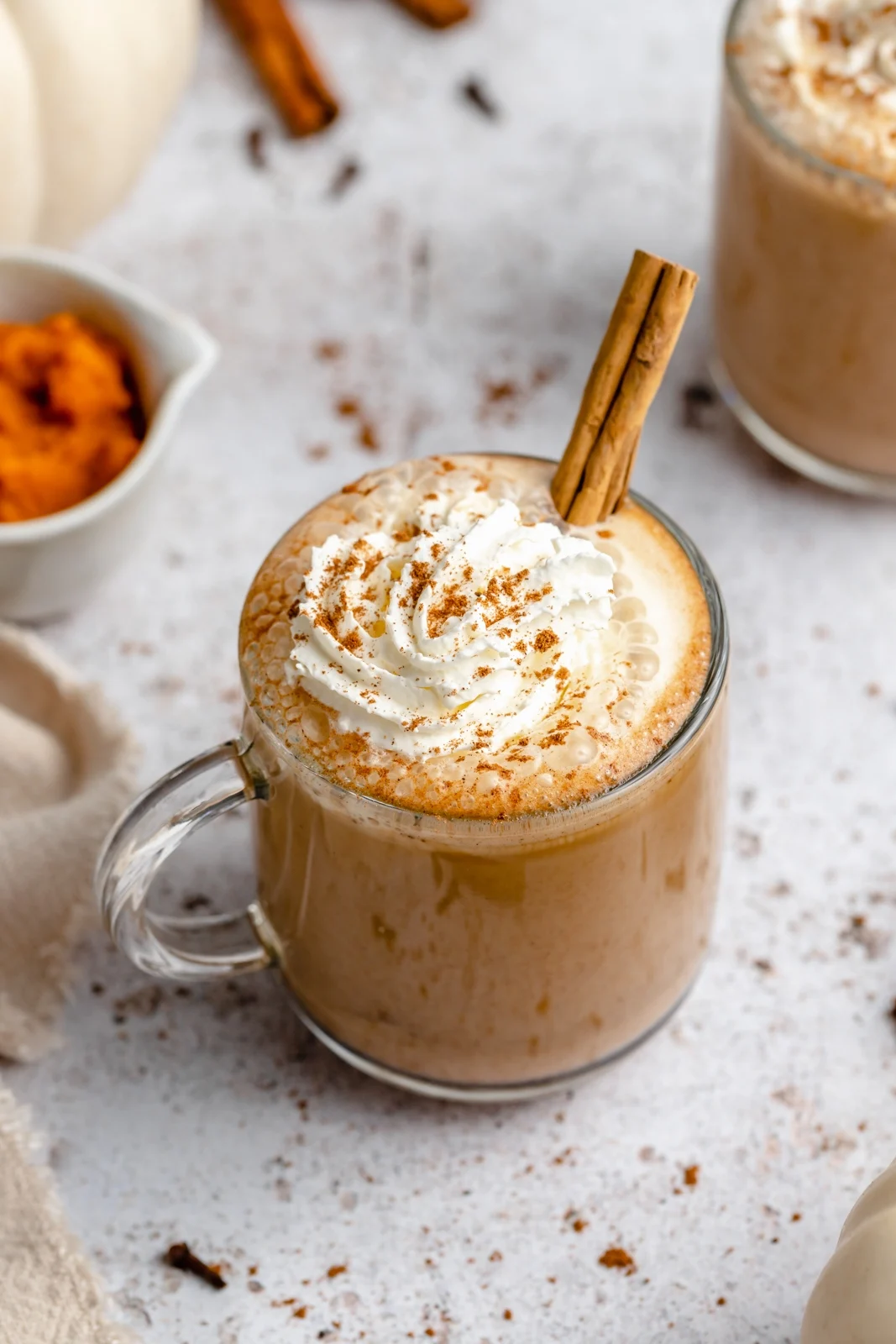 Start your day with this fabulous dairy-free Homemade Pumpkin Spice Latte by Ambitious Kitchen. This naturally sweetened real pumpkin puree latte with oat milk and pumpkin pie spice will rock your day.
7. Parmesan Pumpkin Scones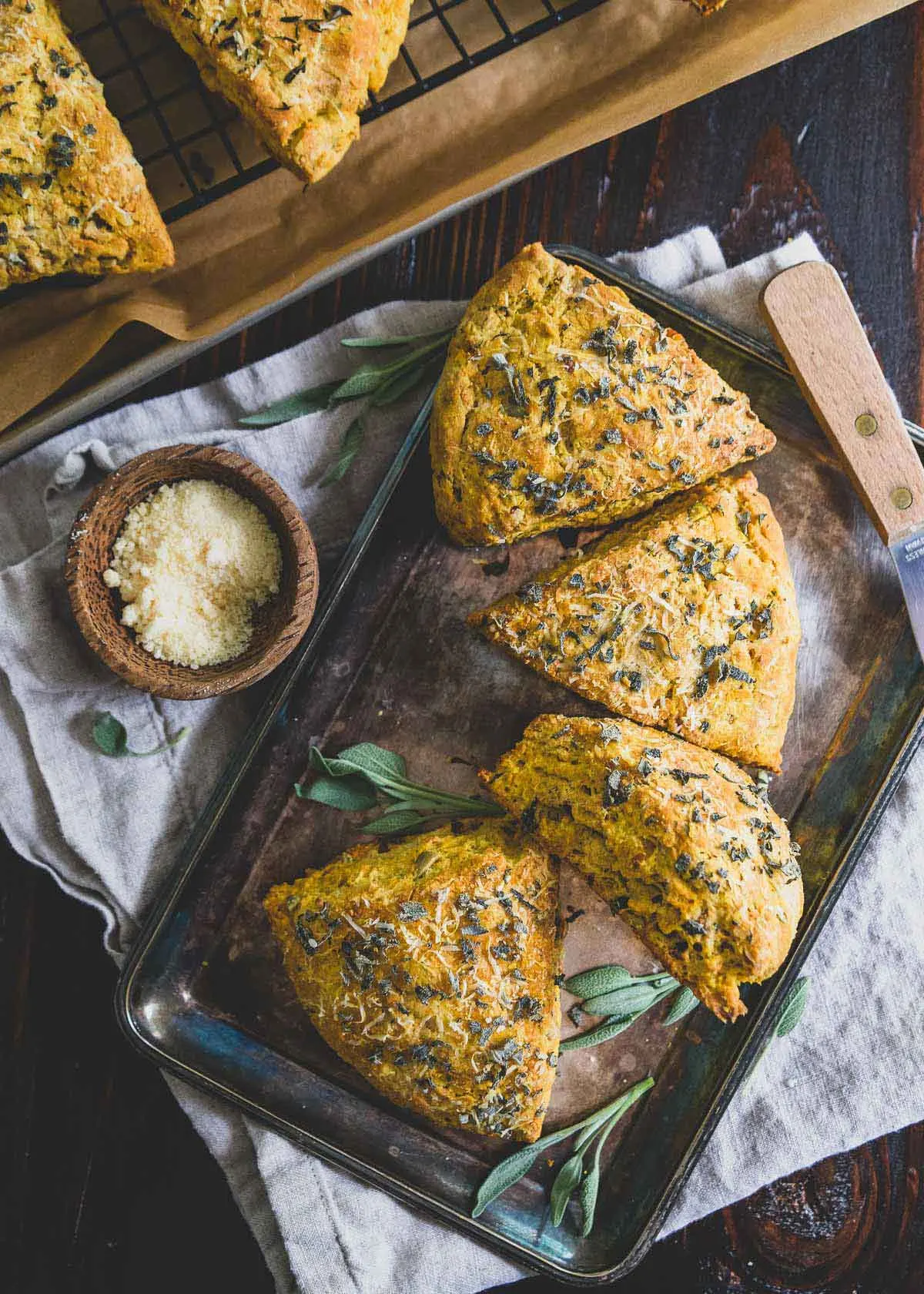 We think these savory scones would make a great addition to your fall breakfast recipes. These super flaky Parmesan Pumpkin Scones by Running To The Kitchen are buttery and filled with pumpkin puree, fresh herbs, Parmesan cheese, chopped pecans and pumpkin seeds.
8. Pumpkin Pie Smoothie Bowl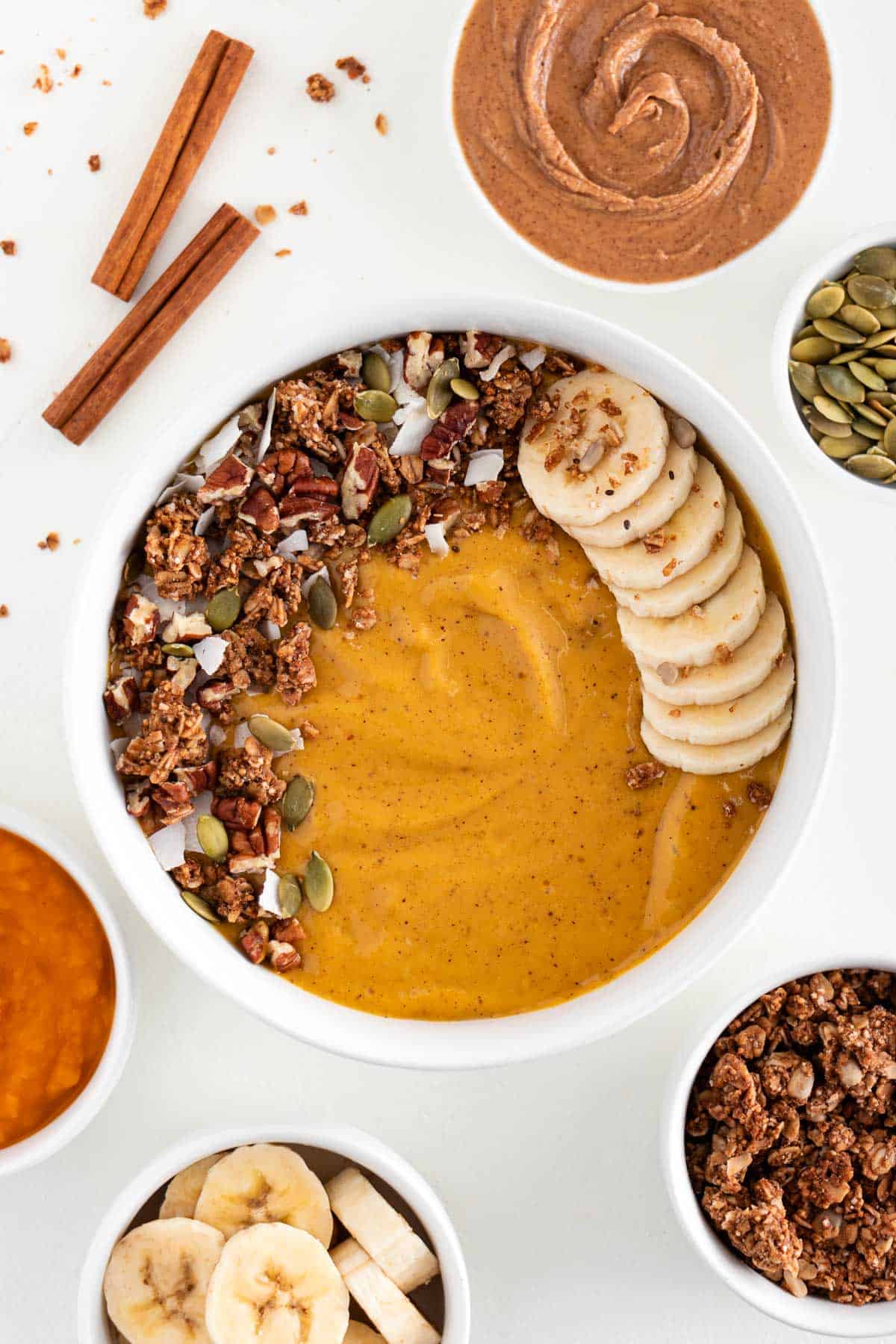 This yummy Pumpkin Pie Smoothie Bowl by Purely Kaylie is a healthy twist on the classic fall dessert. This super creamy sweet recipe with banana, pumpkin puree, dates and almond butter is flavored with vanilla, cinnamon, nutmeg and allspice.
9. Pumpkin French Toast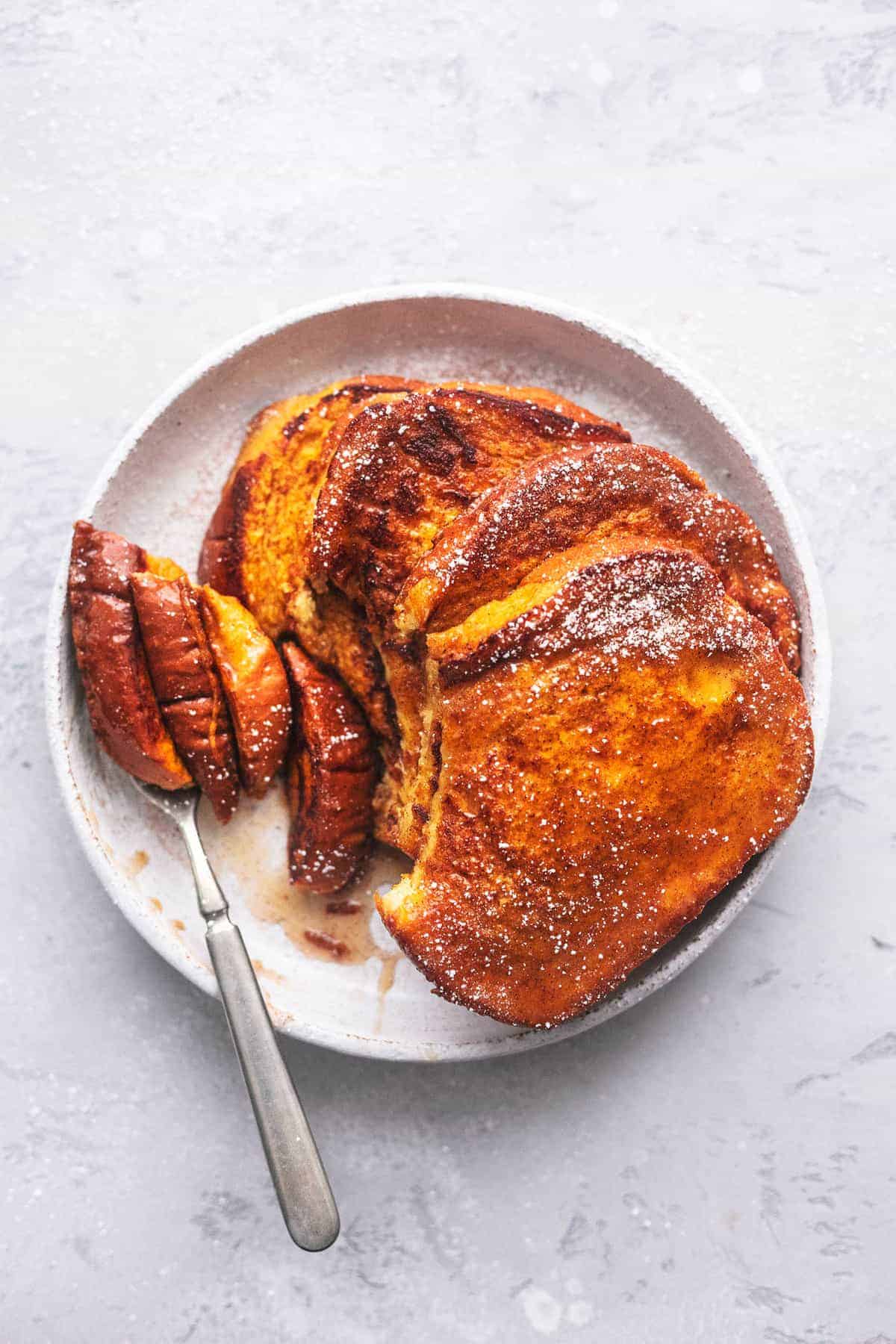 You can't possibly enjoy a more delicious breakfast than this Pumpkin French Toast by Creme De La Crumb. This kid-friendly recipe made with pumpkin puree, cinnamon, pumpkin pie spice, brown sugar, vanilla and eggs is simply out of this world.
10. Cream Cheese and Roasted Pumpkin Toast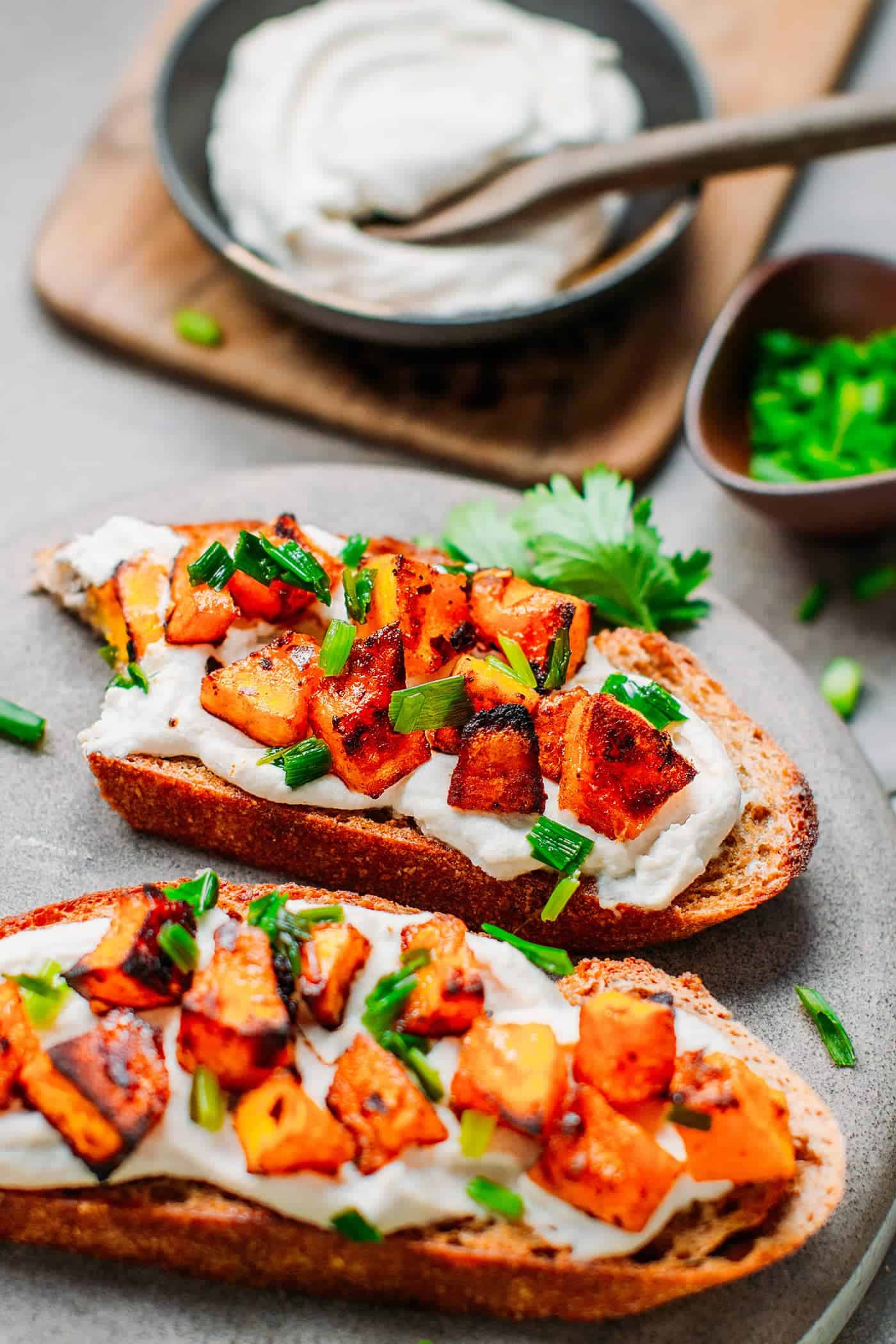 If you rather have a savory breakfast then this Cream Cheese and Roasted Pumpkin Toast recipe by Full of Plants is for you. This deeply satisfying plant-based toast is topped with a creamy fermented cashew cream cheese and perfectly spiced roasted pumpkin.
11. Pumpkin Waffles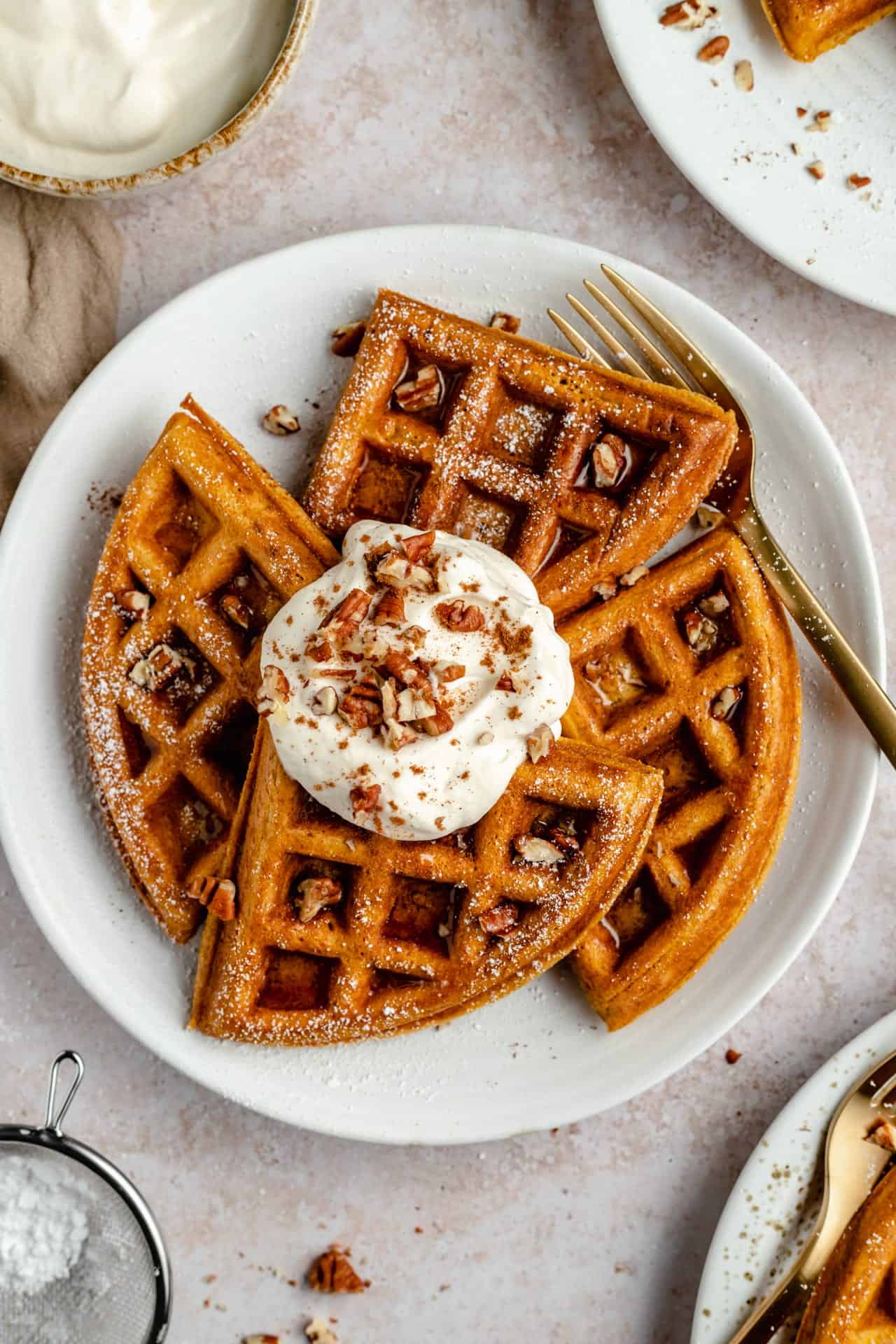 These moreish Pumpkin Waffles by Kim's Cravings are the perfect family fall recipe. Make these perfectly crisp on the outside and fluffy on the inside waffles with pumpkin puree, vanilla and warm spices and enjoy them with all the family.
12. Baked Pumpkin Oatmeal
Everyone will jump out of bed when smelling this wonderful Baked Pumpkin Oatmeal by Eat with Clarity. This hearty vegan breakfast with oats, pumpkin puree, warming spices and pecans will have you full and satisfied.
13. Healthy Pumpkin Overnight Oats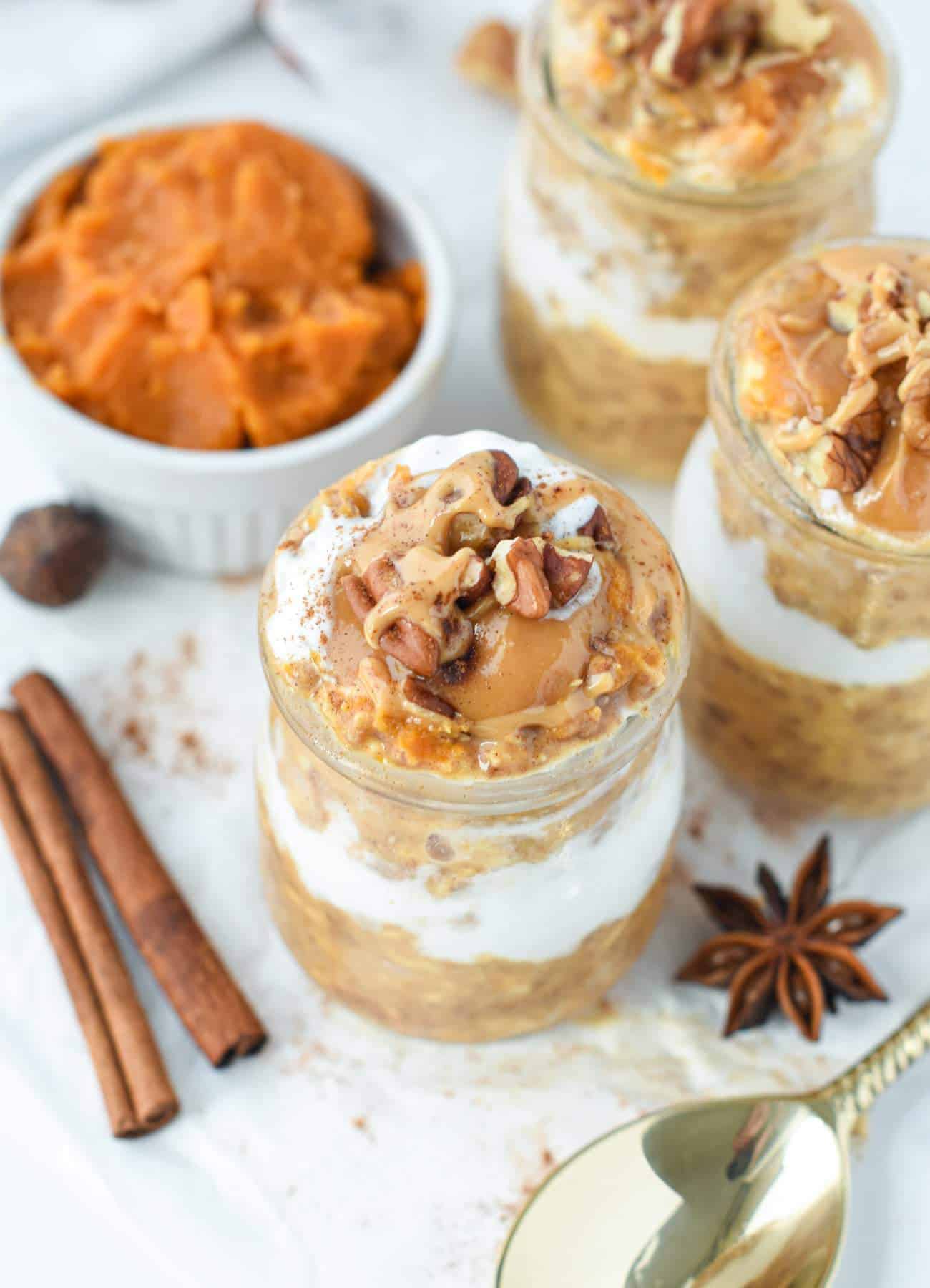 These Healthy Pumpkin Overnight Oats by The Conscious Plant Kitchen are one of the easiest nutritious fall recipes. This convenient nourishing vegan breakfast that takes only 5 minutes to make the day before makes an excellent choice for busy mornings.
14. Pumpkin Breakfast Quesadilla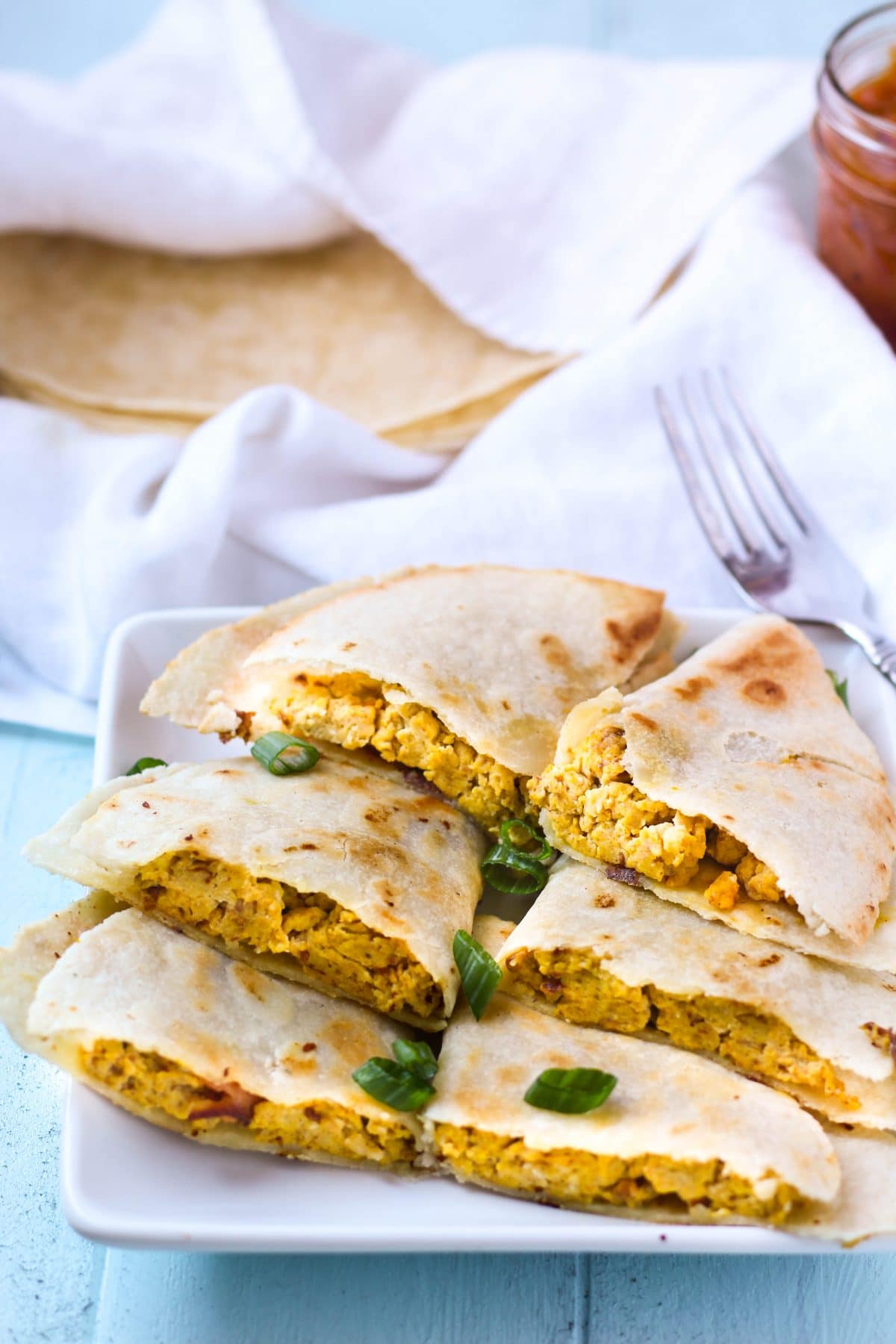 These Pumpkin Breakfast Quesadillas by Hungry Hobby are another fabulous savory pumpkin-inspired breakfast. In this recipe, gluten-free tortillas are filled with a delicious mixture of pumpkin, eggs, pumpkin spice, cinnamon, cumin and goat cheese.
16. Roasted Pumpkin Breakfast Bowls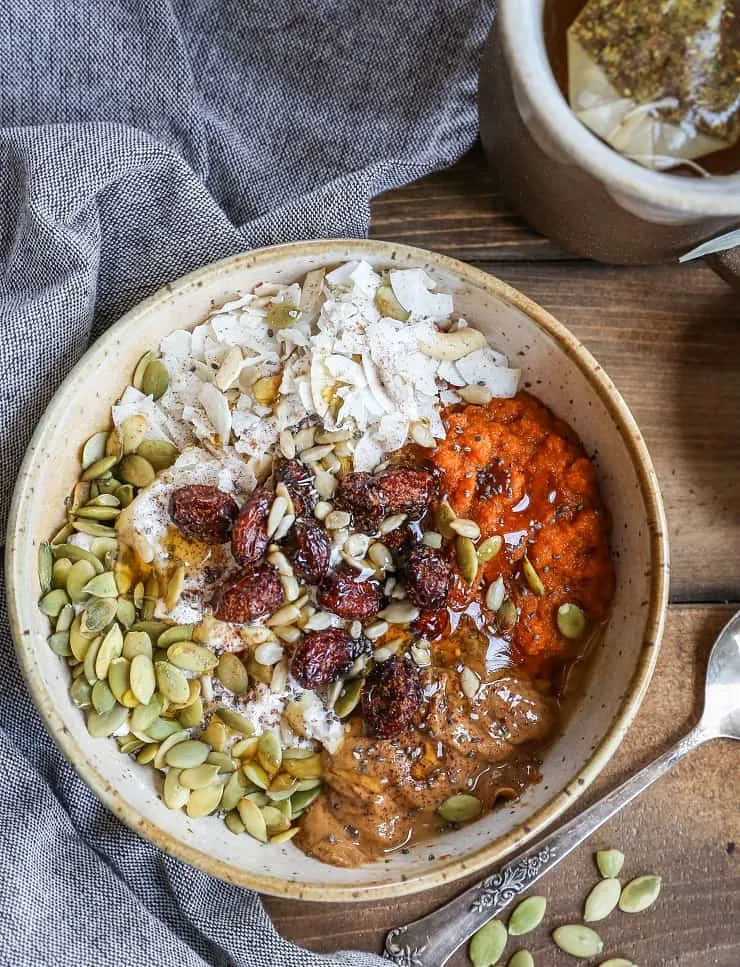 This vibrant Roasted Pumpkin Breakfast Bowl by The Roasted Root is almost like a dessert in a bowl. Full of plant-based fiber this delicious recipe is made with freshly roasted pumpkin, coconut milk, almond butter, maple syrup and cinnamon and topped with pumpkin seeds, flaked coconut, almond butter and dried cranberries.
17. Savory Pumpkin Grits Breakfast Bowl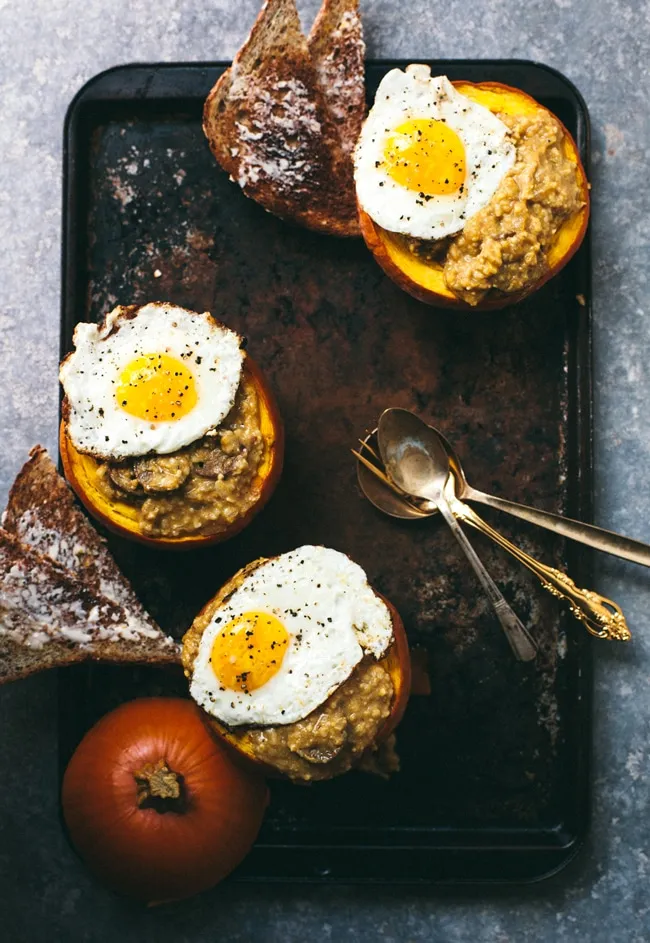 We love this stuffed pumpkin breakfast recipe. This flavorful Savory Pumpkin Grits Breakfast Bowl by Brewing Happiness is the perfect breakfast for those special Autumn mornings. In this recipe, roasted pumpkin is filled with veggie sausage and pumpkin grits and topped with a fried egg.
18. Mini Pumpkin Dutch Baby Pancakes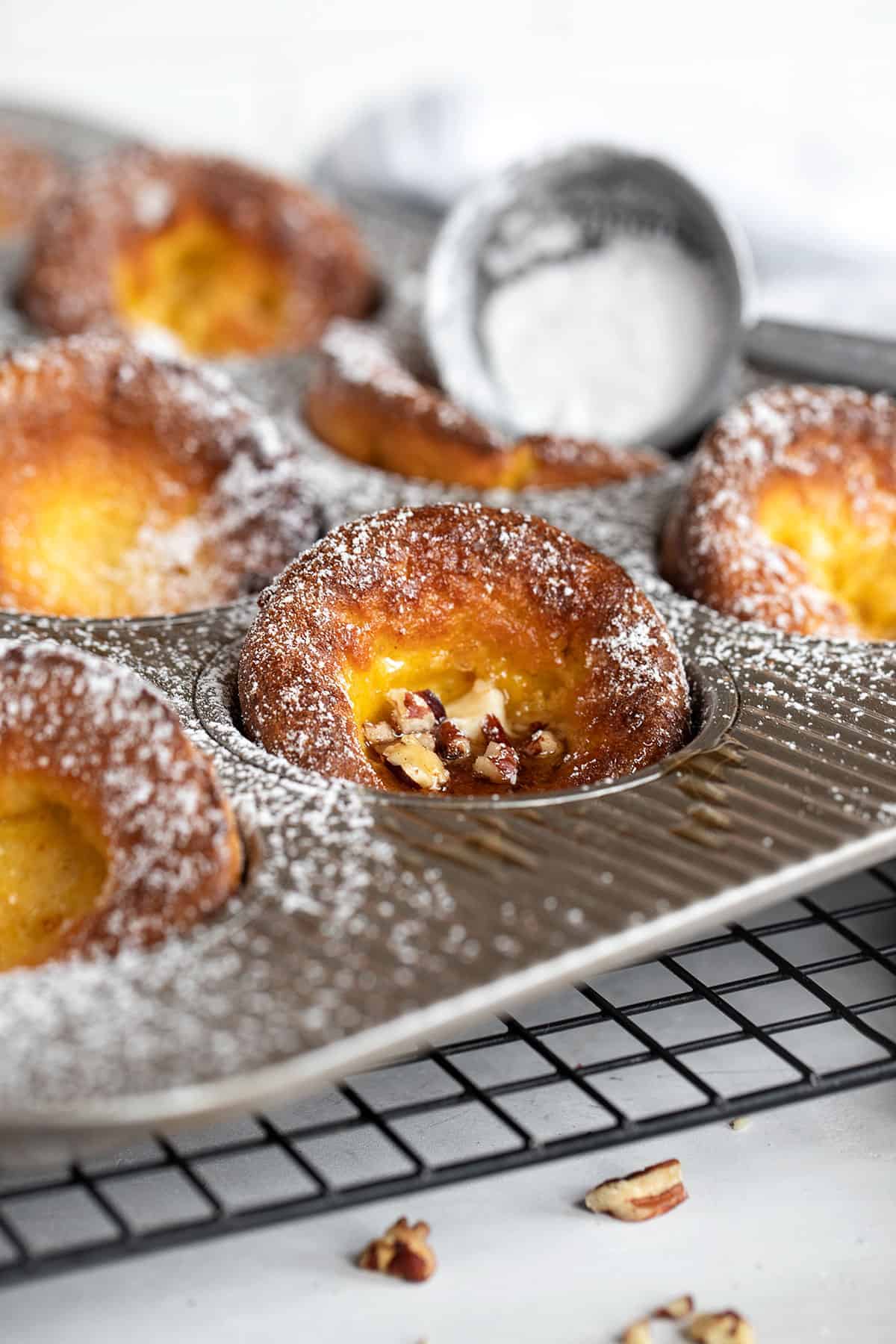 These delightful Mini Pumpkin Dutch Baby Pancakes by Seasons & Suppers make a great alternative to pancakes. This quick and easy recipe is wonderful served with a pat of butter, maple syrup and some chopped toasted walnuts or pecans.
19. Pumpkin Breakfast Cookies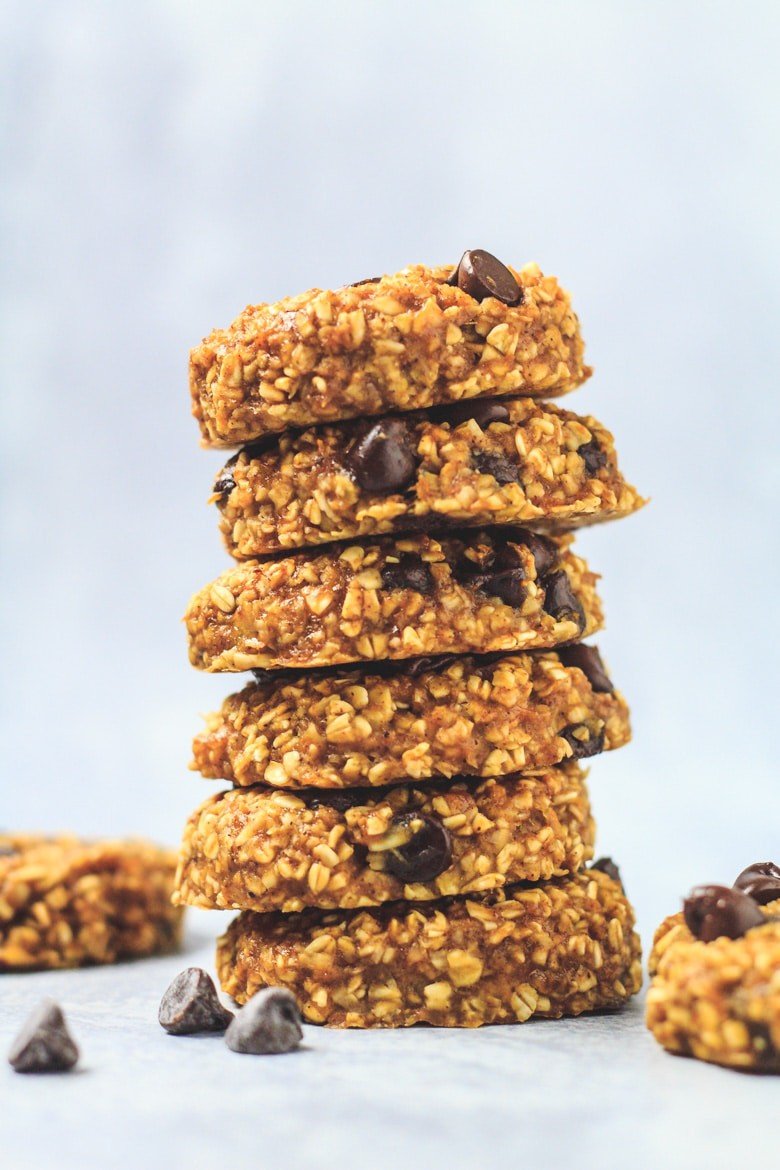 Here we have another incredible recipe for easy breakfast on the go. These moreish Pumpkin Breakfast Cookies by Marsha's Baking Addiction made with pumpkin puree, bananas, oats, chocolate chips and warming spices are soft, chewy and oh so tasty.
20. Pumpkin French Toast Casserole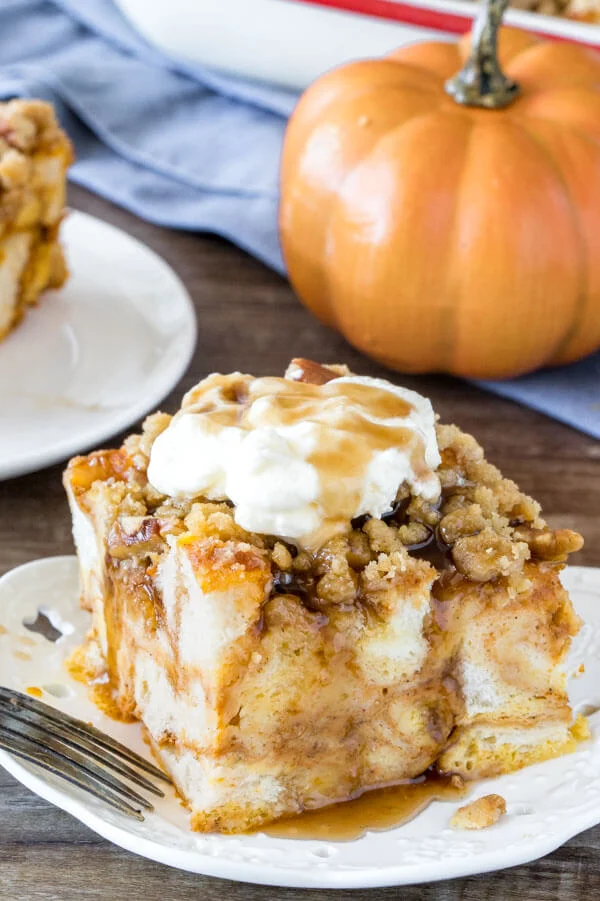 Impress your guests with this yummy Pumpkin French Toast Casserole by Just So Tasty. This delicious pumpkin bake with cinnamon pecan streusel topping can be prepped the night before and baked the next morning for the ultimate sweet fall breakfast.
21. Sausage and Pumpkin Vegetable Hash
This appetizing Sausage and Pumpkin Vegetable Hash by Eat The Gains is a gluten-free, dairy-free and Whole30-friendly recipe. This hearty savory dish is packed with pumpkin, seasonal veggies and sausage and topped with a fried egg.
22. Better Than Starbucks Pumpkin Bread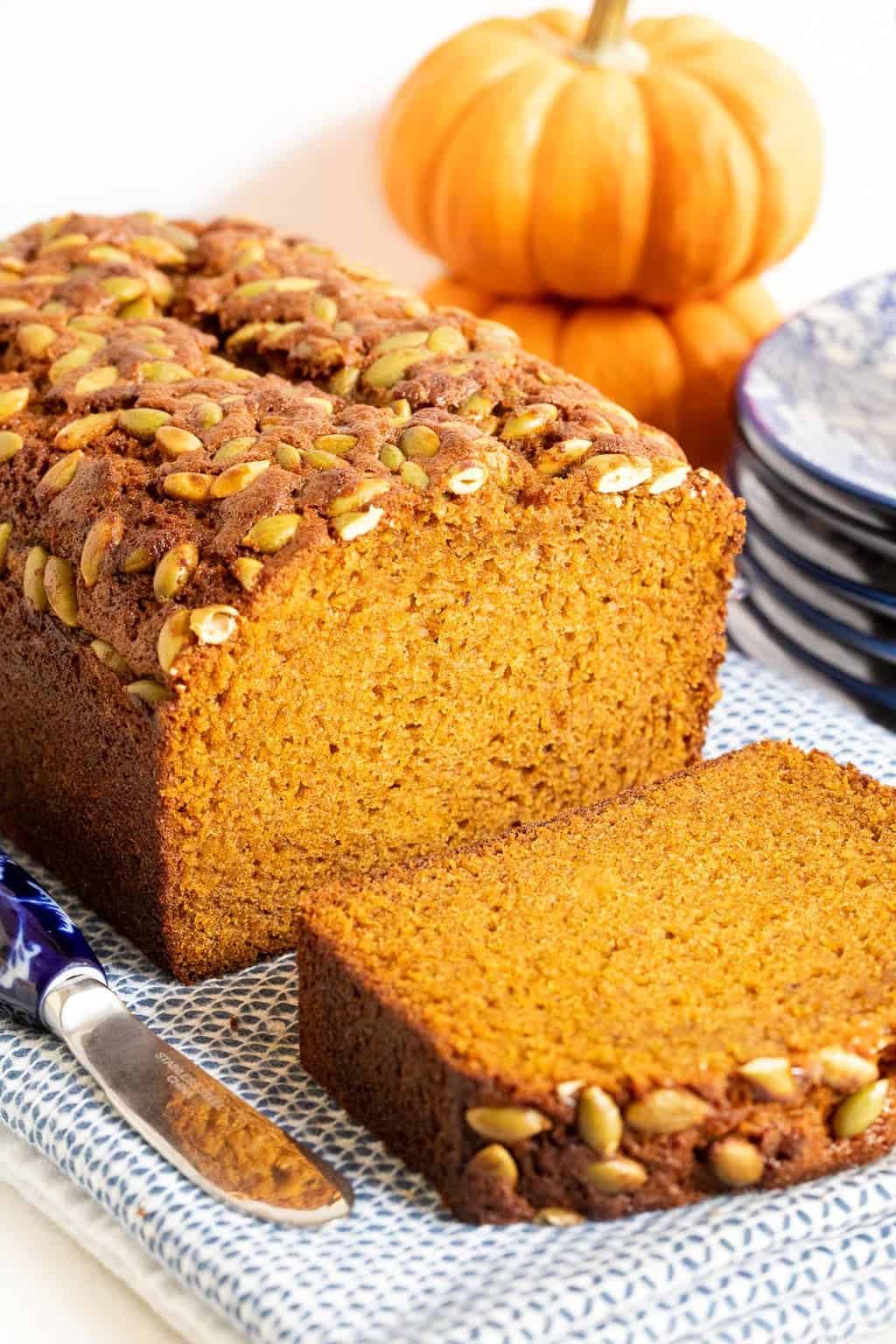 We couldn't have this round-up without including a delicious pumpkin bread recipe. This scrumptious Better Than Starbucks Pumpkin Bread by The Cafe Sucre Farine is an easy one-bowl recipe with tender, delicious crumb and pumpkin seeds honey topping.
23. Pumpkin Congee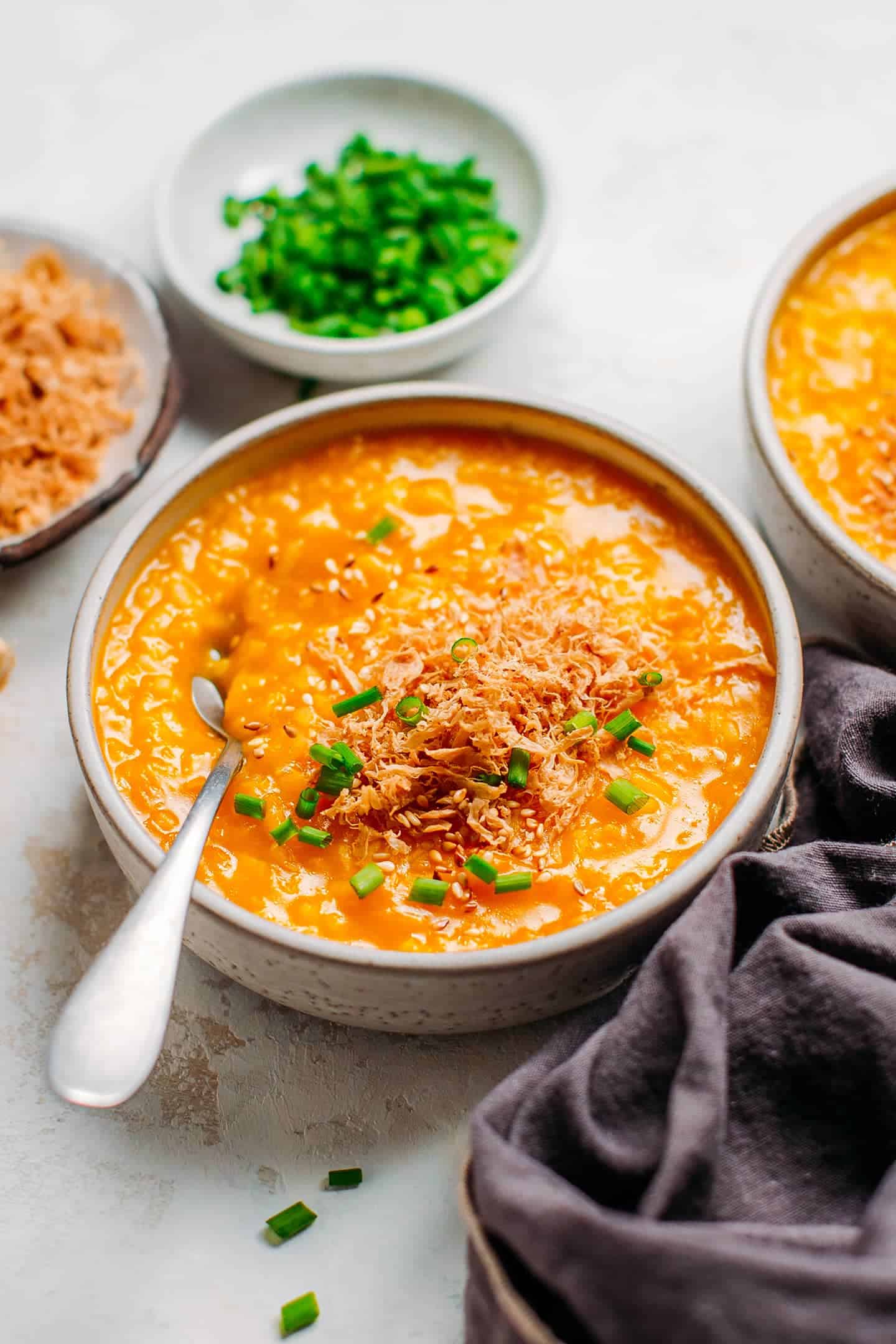 If you've never tried congee this Pumpkin Congee by Full of Plants is a delicious version of this classic Asian recipe. Congee is prepared by boiling rice with water to make porridge and this yummy version is made with the addition of roasted pumpkin, garlic and shallots.
24. The Best Healthy Pumpkin Muffins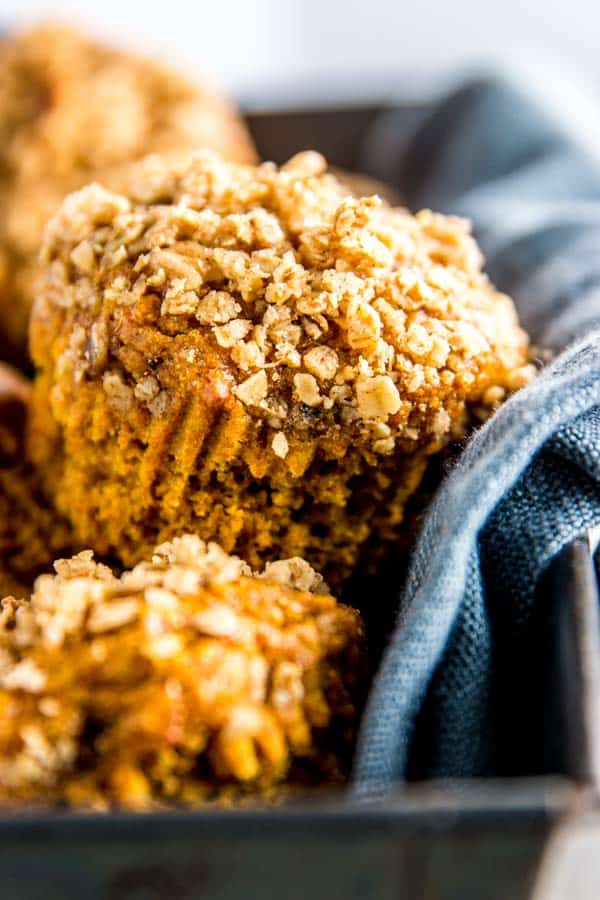 Savory Nothings claims that these are The Best Healthy Pumpkin Muffins on the web so you might want to give these a try. Pumpkin makes these yummy muffins moist, sweet and fluffy and makes your home smell like autumn.
25. 5-Minute Pumpkin Breakfast Farro Bowls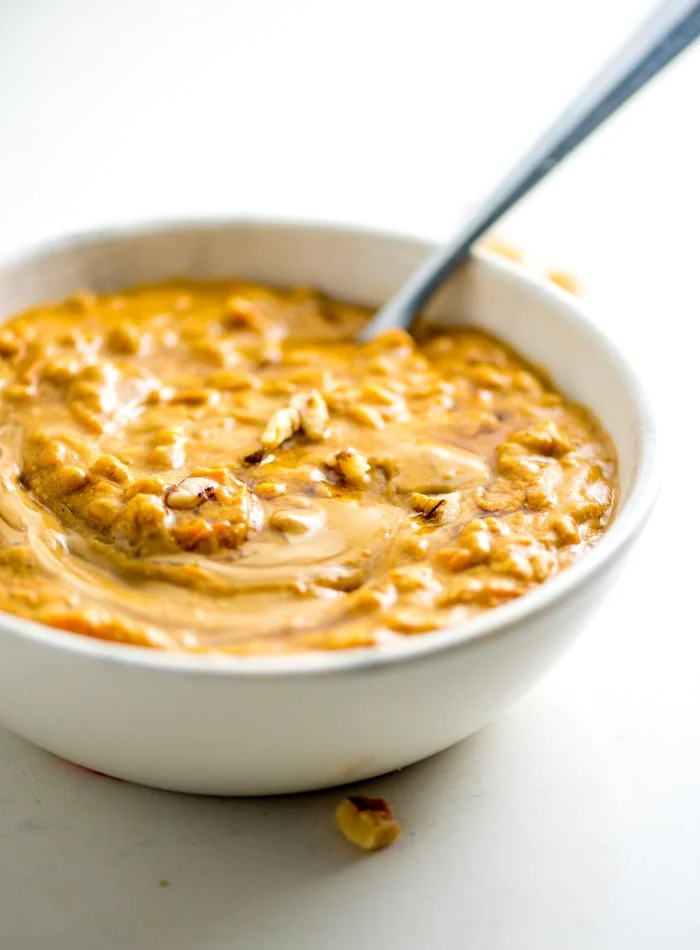 These delicious 5-Minute Pumpkin Breakfast Farro Bowls by Running on Real Food are a vegan, protein and fiber-rich recipe. Made with farro, pumpkin puree, grated carrot, vanilla protein powder, cinnamon and almond milk these bowls of goodness make a comforting nutritious breakfast.
26. Pumpkin Crunch Sheet Pan Pancakes
If you ever wonder how to serve pancakes to more than one person at a time this Pumpkin Crunch Sheet Pan Pancakes recipe by The View From Great Island is the answer. The fluffy pumpkin pancake batter is poured right onto a baking sheet and topped with crunchy pecans and cinnamon sugar and baked until risen.
27. Pumpkin Pie Yogurt Bowl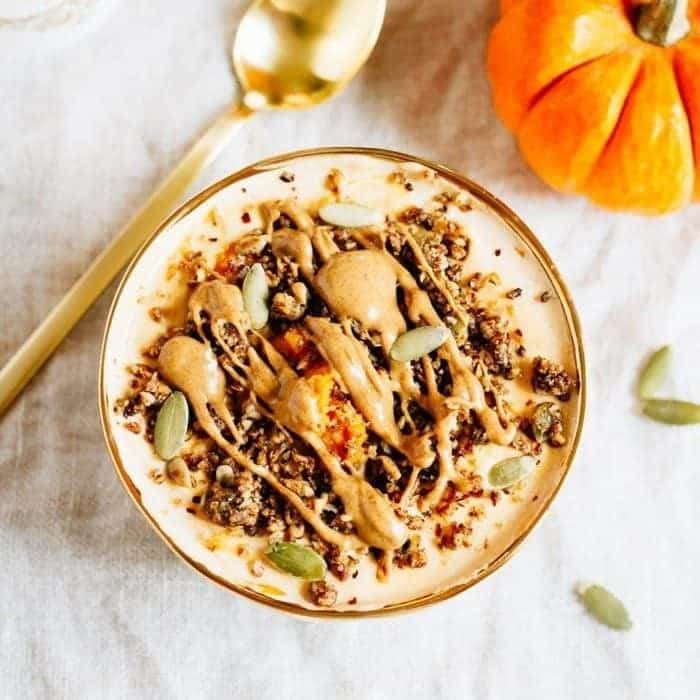 And finally, try this easy yummy Pumpkin Pie Yogurt Bowl by Eating Bird Food. This refreshing breakfast bowl is made with plant-based yogurt, pumpkin puree, pumpkin pie spice and maple syrup and topped with granola, pepitas and almond butter.