I'm sure you all know who's Costco since you looking for a way to see How To Cook Stuffed Salmon From Costco? But for those of you who don't, Costco actually is an American operator of discount stores of the type known as warehouse clubs or wholesale clubs. Thus Costco sells in bulk quantities of merchandise for deeply discounted prices to club members who pay an annual membership fee. And in this article, I'm going to show to cook the Salmon that you bought from Costco.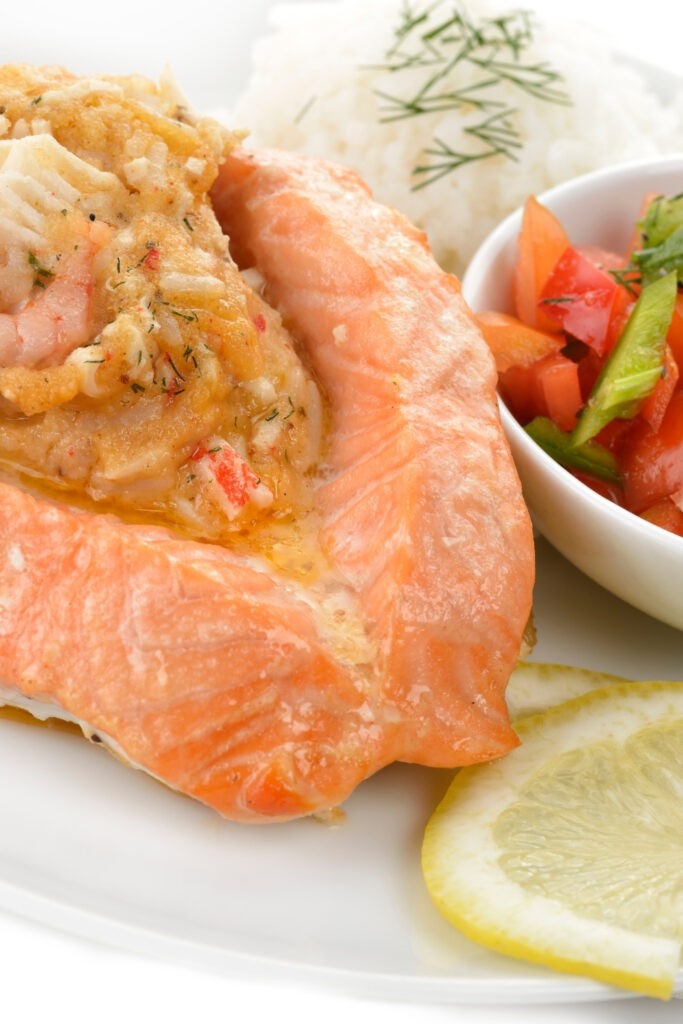 What's in Costco stuffed salmon?
The fresh farmed Atlantic salmon which its color added through the feed contains :
Imitation crab
Alaska pollock
Water
Wheat starch
Sugar
Potato starch
Egg whites
Sorbitol
As it contains 2% or less of the following:
Natural and artificial crab flavors
Soybean oil
Salt
Sodium tripolyphosphate
Tetrasodium pyrophosphate
Carmine color added
Can you freeze Costco stuffed salmon?
Yes, as the U.S Food and Drug Administration says you can freeze the uncooked portions of Costco stuffed salmon for four to six months.
How do you cook Kirkland Atlantic salmon?
You start by heating your oven to 400 F.
Then go ahead and place your Kirkland Atlantic salmon in a well-oiled baking dish.
Now let the portions bake for about 10 to 12 minutes or until the internal temperature reaches 145F.
How do you cook stuffed salmon at Walmart?
Start by removing all the packaging.
Now, preheat your oven to 350F.
Next, brush your stuffed salmon with soft butter then place it on a baking sheet.
At this point let your salmon bake for approximately 20 minutes or until the fish flakes easily and stuffing turns hot throughout and reaches 145F internally.
The appliances won't be the same and may vary, so adjust the cooking times as necessary.
How to cook Costco Stuffed Salmon In The Air Fryer
Preheat the air fryer at 400°F for 3 min.
Place the stuffed salmon in the air fryer basket, make sure to leave space between them.
cook for 10 min, check the internal temperature should be 145°F.
add an extra 2 or 3 min if needed and check again.
let cool for 2 min then serve.
Cooking Costco Stuffed Salmon in the air fryer takes between 10-15min in the air fryer at 350°F.
Does Costco have crab legs?
Usually, Costco's 3-pound bag has smaller crab legs as they have better selections in a 3-pound bag. These bags are fully cooked but frozen and they also sell king crab legs as follow:
| Alaskan King Crab Legs | Price |
| --- | --- |
| 1 lb (King Crab Legs Approximately 1-2 legs /claws per pound) | $49.43 |
| 5 lbs | $231.74 |
| 10 lbs | $411.99 |
king crab legs prices - Does Costco have crab legs?
Can I bake frozen salmon without thawing?
Don't worry you won't need to thaw your salmon, yes aren't you believing me? You don't need to take it out from the fridge the night before, then you realize it's not completely thawed when you want to prepare it to cook it. This will result in you panicking and trying the speed up the thawing so it'll be ready in time. Just simply leave it the freeze until you're ready to cook it don't waste your time.
How long does wild salmon keep in the fridge?
How long is salmon can sit in the fridge and still good? Salmon like other fishes and seafood are not recommended to be kept in the fridge for too long. At most, your fresh raw salmon will last two to three days in your refrigerator. For your own safety, when you buy fresh salmon try to cook it the same night you bought it. Frozen fish should be thawed and cooked the same day as mentioned above.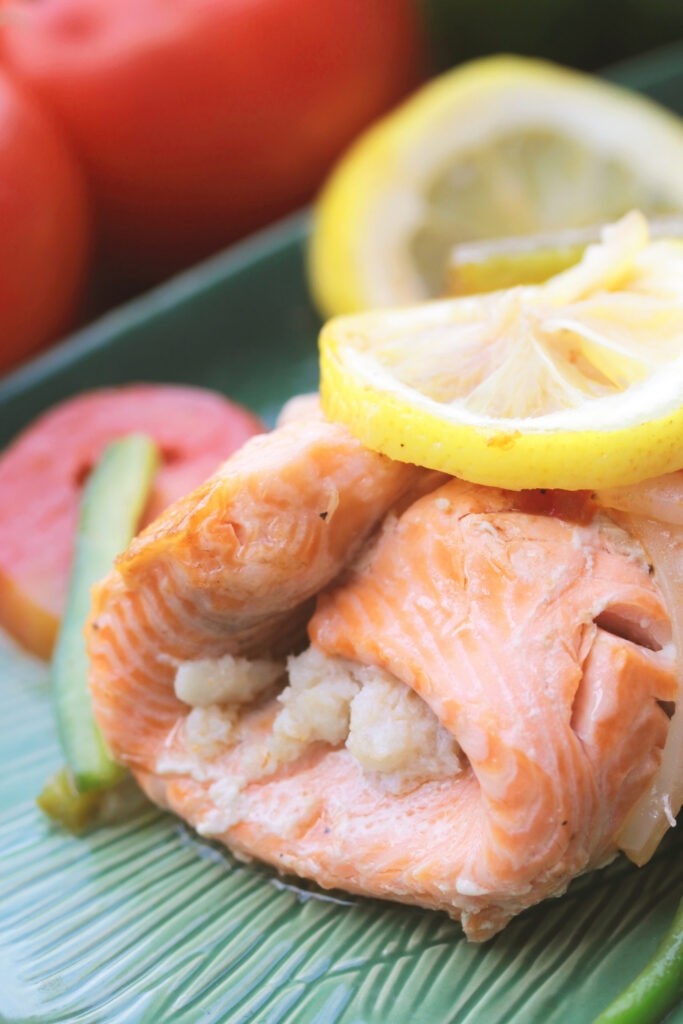 How do you cook great value salmon?
Follow these instructions and you should get the best results:
Start by Taking out your salmon from the freezer and let it thaw for about 45 minutes in cold water.
Then go ahead and put on a baking dish in a toaster oven with butter and lemon juice.
Now, let your salmon cook for 15 minutes on one side and 5 minutes on the other.
How long do I cook Costco salmon?
Start by preheating the oven to 375°F. Then remove the fillets from the pouch. Let them thaw then bake the fillet(s) for about 15 to 18 minutes in the center of the oven.
Does Costco have good salmon?
At Kirkland Signature Farmed Atlantic Salmon, for a price of $26.99, you will get three pounds of this frozen salmon at Costco. And If you feel uncomfortable and worried that these types of farmed salmon are not healthy for you, let me tell you that there's no conclusive research that wild-caught salmon is healthier. So don't be afraid of buying this option.
How do you make frozen salmon taste better?
Follow these instructions that I'm giving for a good way to cook a frozen salmon with a good taste when it's cooked:
First, Go ahead and purchase frozen salmon for about $9.99. Now, dry ou your salmon with a paper towel, and sprinkle chili powder all over the salmon. Next, sprinkle garlic powder and salt all over the salmon. Then sprinkle two tablespoons of brown sugar. Finally, pat at all seasonings with your hand, and place the salmon in a baking pan.
How long do I cook my salmon?
Start by preheating your oven to 450 degrees F. Next, season your salmon with salt and pepper. Then place the salmon, skin side down, on a non-stick baking sheet or in a non-stick pan with an oven-proof handle. Now, go ahead and bake your salmon until it's cooked through about 12 to 15 minutes. Finally, serve it with the cucumber and carrot salad with mayonnaise and squash, if desired.
How do you know when salmon is done?
One of you easiest tricks to see if the salmon has finished cooking is to gently press down on the top of the fillet with a fork or your finger. If the salmon flesh flakes, means its separates easily along the white lines that run across the fillet, that means it's finished cooking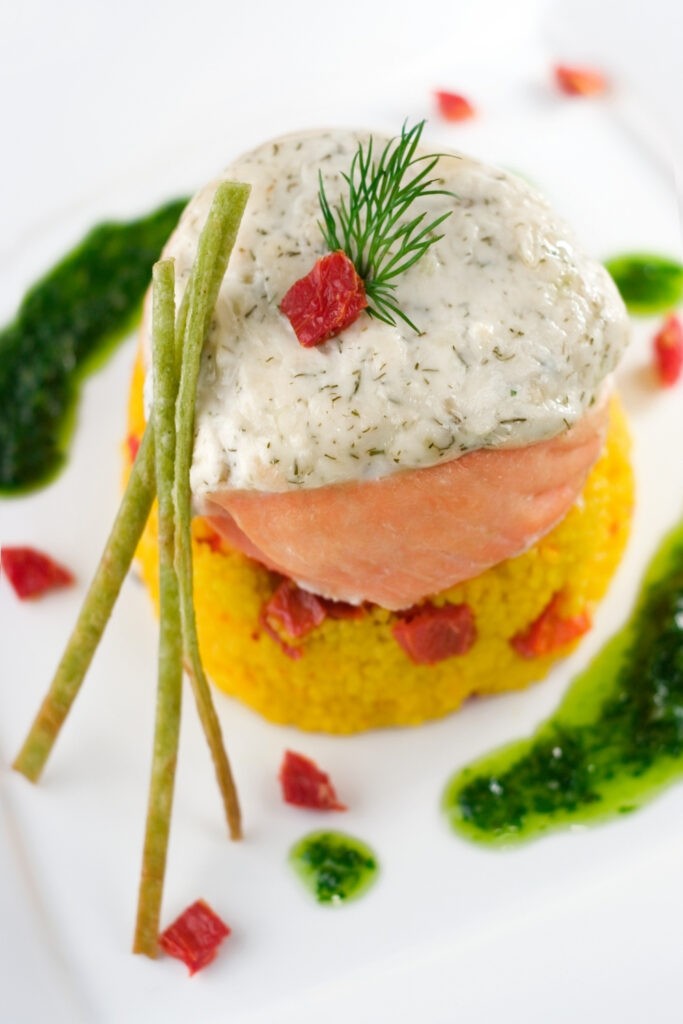 What vegetable goes with salmon?
Here are a list of dishes that goes well with Salmon:
Grilled Asparagus
Herb Roasted Potatoes
Asparagus and Carrots
Lemony Herb Couscous
Sugar Snap Peas
French Potato Salad
Honey-Balsamic Glazed Brussels Sprouts
Roasted Garlic -Parsnip Puree
Corn Salad
Mediterranean Chickpea Salad
Costco Stuffed Salmon Nutrition Facts
Amount Per Serving: 4 oz (113g grams)
Calories 250
Calories from Fat 144
Total Fat 16g
Saturated Fat 3.5g
Trans Fat 0g
Cholesterol 70mg
Sodium 470mg
Total Carbohydrates 11g
Dietary Fiber 0g
Sugars 1g
Protein 17g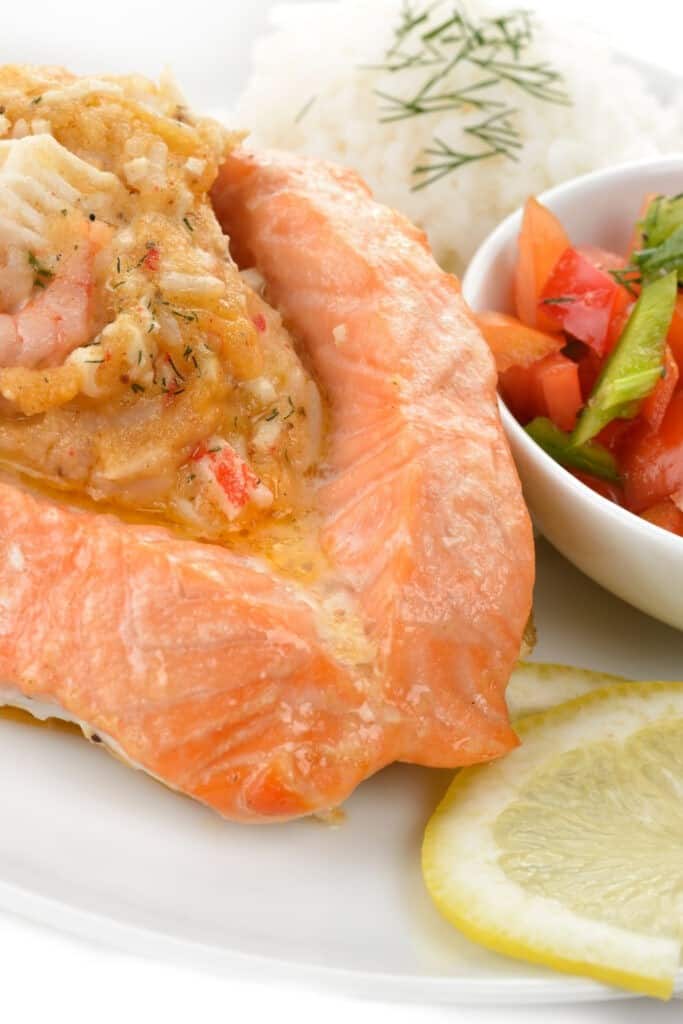 How To Cook Stuffed Salmon From Costco?
Description
Learn how to cook the stuffed salmon that you already bought from Costco in the oven and air fryer
Instructions
Preheat your oven to 350F.
Next, brush your stuffed salmon with soft butter then place it on a baking sheet.
bake for approximately 20 minutes or until the fish flakes easily and stuffing turns hot throughout and reaches 145F internally.
Serve and Enjoy
Stuffed Salmon From Costco, Costco Stuffed Salmon
Serving Size 4 oz (113g)
Servings 4
---
Amount Per Serving

Calories 250

Calories from Fat 144

% Daily Value *

Total Fat 16g

25

%

Saturated Fat 3.5g

18

%

Cholesterol 70mg

24

%

Sodium 470mg

20

%

Total Carbohydrate 11g

4

%

Sugars 1g

Protein 17g

34

%
---
* Percent Daily Values are based on a 2,000 calorie diet. Your daily value may be higher or lower depending on your calorie needs.