Tri-tip is the lesser-talked-about but just-as-delicious steak cut from the bottom of the sirloin. And smoking it is one of the best ways to enhance its natural flavorsome attributes; you just have to get the timing right.
A good rule of thumb is to smoke tri-tip for 30 minutes for every pound at 225 Fahrenheit. For instance, a 3-pound steak would require one hour and 30 minutes of cooking. However, this changes depending on your preferred doneness. So, keep a meat thermometer inserted in the tri tip's side throughout the smoking period, taking it out once the desired temperature is reached.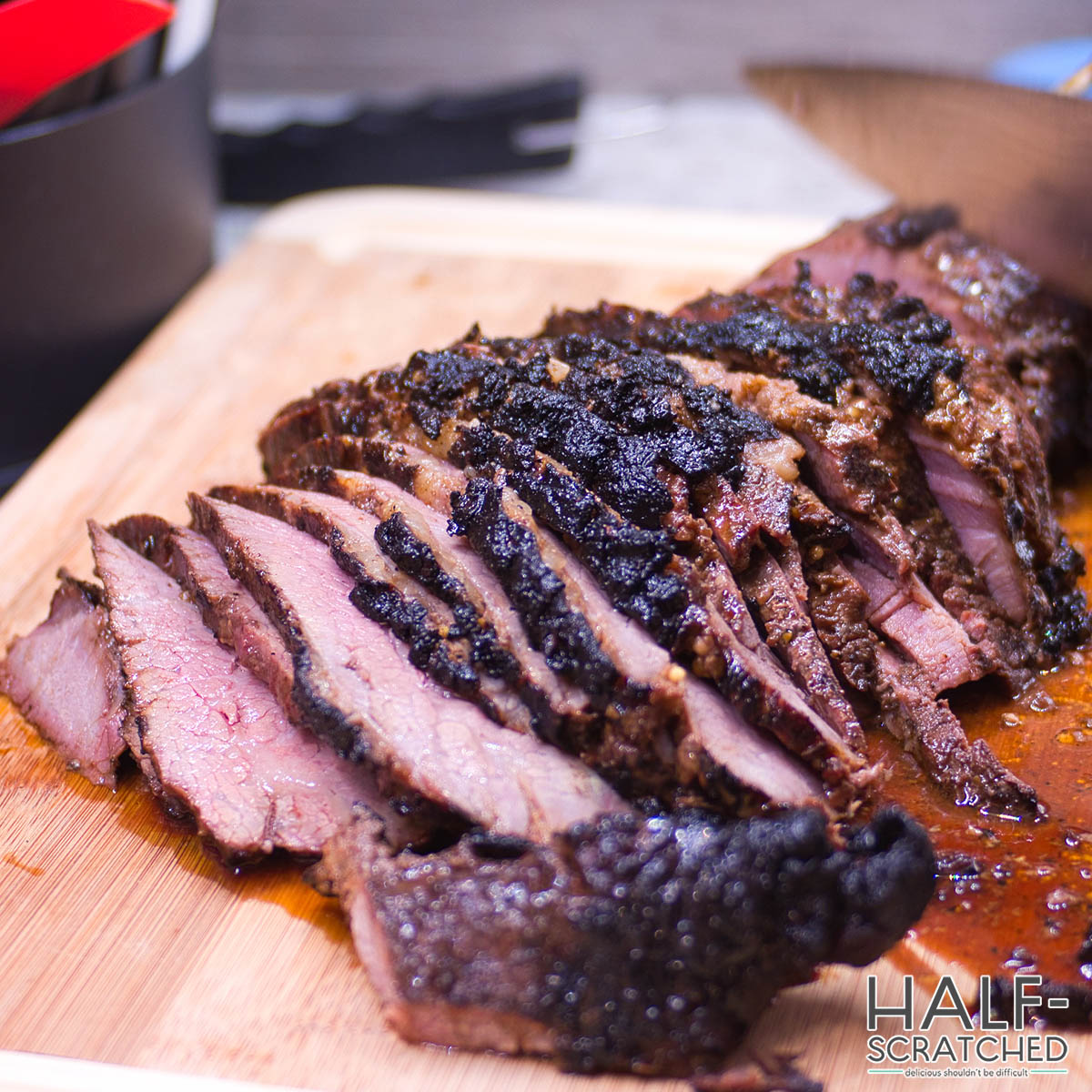 Let's take a look at the ideal international temperatures before moving on to choosing the best wood, learning a few expert tips, and discovering the easiest yet most delicious smoked tri-tip recipe.
The Only Tri-Tip Doneness Chart You Need for Smoking
As confirmed, the duration of the 225 °F smoking time depends on how you (or your loved ones) like steak — extra rare, rare, medium rare, medium, medium well, or well done.
| Doneness | Ideal Internal Temperature |
| --- | --- |
| Extra rare (i.e., blue) | 80 °F to 100 °F |
| Rare | 120 °F to 125 °F |
| Medium rare | 130 °F to 135 °F |
| Medium | 140 °F to 145 °F |
| Medium well | 150 °F to 155 °F |
| Well done | 160 °F and above |
It might be tempting to remove your tri-tip from the smoker once it reaches your ideal internal temperature. However, we recommend taking it out when it's about 5 °F off said temperature — the residual heat will make up the difference during resting.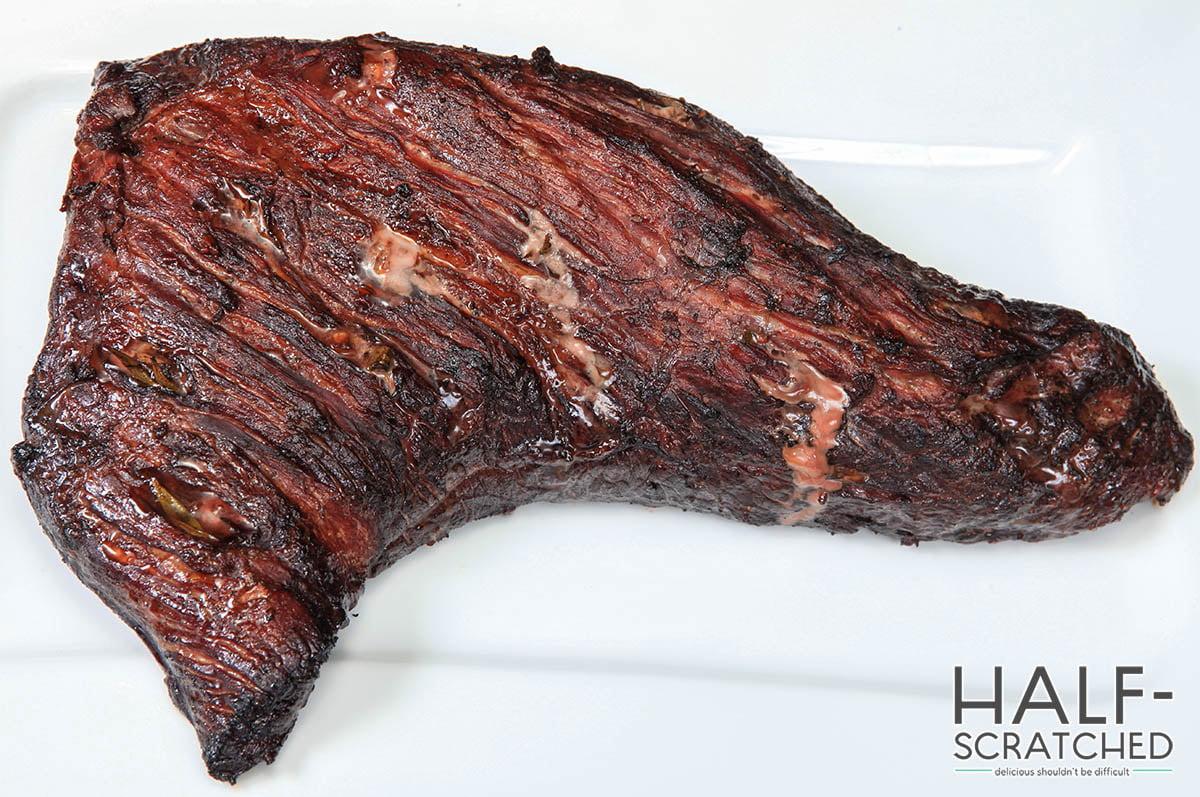 Quick Tricks for Smoking Tri-Tips to Perfection
You almost know everything you need to know. Just take this expert-given advice before tackling the beginner-friendly recipe:
While tri-tips are usually sold trimmed, cut any fat that is over ¼-inch thick.
You can quickly sear it in a hot cast iron skillet after smoking to enhance the texture and flavor of the crust.
Smoke to temperature rather than time.
Choosing the Best Wood for Smoking Tri-Tip
You know how long you're smoking the steak, but you don't want to use any old wood! Why? Because you'll impair its flavor and ruin any seasonings you've added.
We suggest picking from one of the following:
Oak
Passionate traditionalists choose oak for their tri tip smoking endeavors — red oak, to be specific. The question is, why?
The main reason is the way it burns. It's steady and slow, lasting for hours without requiring replenishing. And that's perfect for these steaks that prefer a low, slow smoke.
But it's also due to the flavor oak provides. It's smokey without bitterness, pairing wonderfully with the tri-tip's rich flavor.
If you're making a traditional Santa Maria-esque tri-tip, red oak is your ideal option.
Hickory
Depending on your location, oak may not be easy to source. In this case, hickory is second best for tri-tip. It burns like oak, offering steady, long-lasting smoke.
Sometimes, it even has an edge over red oak, due to the chunks lighting much faster. With that in mind, it's a good choice if you're in a hurry.
As for the flavor, it's more intense than oak. Consider it an almost bacon-esque taste. But don't worry, the tri-tip is robust enough to guarantee its natural flavors remain the meal's evident shining star.
Pecan
While pecan is technically a variation of hickory, it presents a sweeter, milder flavor with a nutty smoke.
If you are worrying about overpowering your steak but still wish to infuse flavor, you can't go wrong with pecan. And it will still give you that low, slow burn tri-tip adores.
Mesquite
Mesquite produces a lot of smoke boasting earthy, potent flavors. Famous Texas-based pitmasters use this wood in their smoking ventures.
As far as woods go, mesquite is the most flavorful one you'll come across, imparting an oh-so-intense flavor to the meat. But again, you don't have to worry about overpowering the tri-tip. As we've mentioned before, it's robust enough to stand on its own.
There's a caveat with this super-hard wood, though — it's quite difficult to manage. So, if you're reading this as a newbie meat smoker, we don't recommend it. After all, nothing will taste good if you've spent most of the time coughing from clouds of smoke!
Applewood
Applewood is found growing natively in North America and Central Asia.
Its fruity flavor infuses a mild, sweet taste into the steak, which enhances the meat's natural qualities without being as strong as mesquite or hickory.
Although, it isn't as dense as oak or hickory. Therefore, you might not get a steady (or as long) supply of smoke.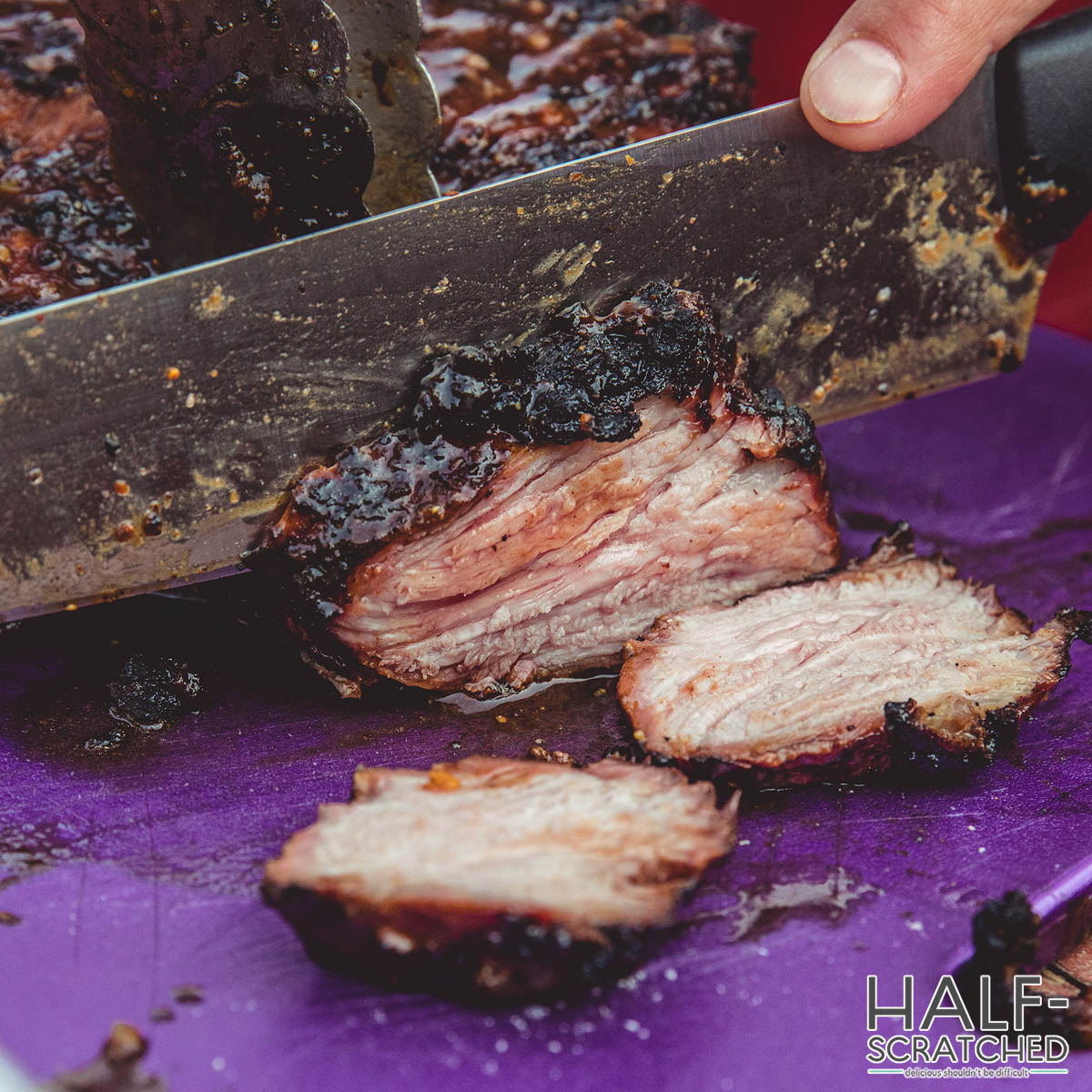 The Easiest (But Super Tasty) Smoked Tri-Tip Recipe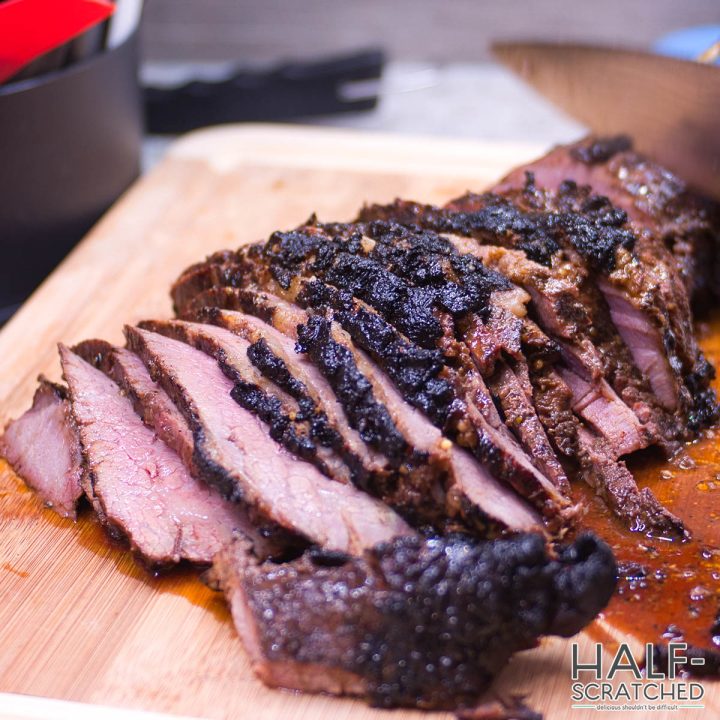 How Long to Smoke Tri-Tip at 225 Fahrenheit
Cook Time:
1 hour
30 minutes
Total Time:
1 hour
45 minutes
Smoke the perfect tri-tip at 225 Fahrenheit every time with our foolproof guide + many expert tips for perfect tri-tip.
Ingredients
3 pounds tri-tip
2 tablespoons light brown sugar
2 tablespoons coarse salt
2 teaspoons black pepper
1 tablespoon garlic powder
1 tablespoon onion powder
¼ teaspoon cayenne pepper
½ tablespoon smoked paprika
Instructions
In a small bowl, mix the brown sugar, coarse salt, black pepper, garlic powder, onion powder, cayenne pepper, and smoked paprika.
Place the tri-tip in a large dish.
Spread the rub you just created over the steak. Make sure you press it into the tri-tip so it really sticks.
Flip the steak over and do the same on the other side.
Once it's covered with the rub on all sides, cover it with plastic wrap.
Put it in the fridge for at least 12 hours but no more than 24 hours.
Prepare the smoker.
Preheat it to 225 °F.
Place the tri-tip straight onto the smoker rack, ensuring the fat side is down.
Place a digital thermometer at a slight angle into the steak's side. The tip of the thermometer should reach right into the center.
Cook at 225 °F until it reaches your desired internal temperature (use our handy chart provided at the beginning of this article).
Remove the steak from the smoker with tongs, putting it in a dish.
Tightly wrap the meat with aluminum foil. This keeps the moisture trapped inside, allowing the meat to reabsorb its fat and juices while resting.
Leave it to rest in the foil for 7 to 10 minutes.
Put the tri-tip on a cutting board.
Slice against the grain. The thinner you manage to cut your slices, the more tender each one will be!
Serve immediately with your favorite sides!
Notes
Cooking a 3-lb tri-tip will take about 90 minutes at 225 °F. However, this can change depending on your preferred doneness. So, just keep an eye on the meat thermometer inserted in the steak to determine when it's ready.
Remember to remove the steak from the smoker when it's about 5 °F off your target internal temperature. That way, the residual heat will continue cooking the meat while it's resting, ensuring you don't inadvertently overcook it.
You can skip the refrigeration if you're in a rush. However, the longer you allow the dry rub to sit on the meat in the refrigerator, the tastier your steak will be.
If you don't know what to serve with your beautifully smoked tri-tip, use one of our recommendations — garlicky mushrooms, baked sweet potato fries, creamy green beans, avocado and beetroot salad, grilled corn on the cob, cheesy French fries, or peach and cheese salad.
Nutrition Information:
Yield:

6
Serving Size:

1
Amount Per Serving:
Calories:

505
Total Fat:

25g
Saturated Fat:

0g
Trans Fat:

0g
Unsaturated Fat:

0g
Cholesterol:

188mg
Sodium:

2238mg
Carbohydrates:

6g
Fiber:

1g
Sugar:

4g
Protein:

60g