It's no secret that the United States loves its beef, and tri tip is one of the most popular cuts to cook. Named after its triangular shape with a tapered "tip," tri tip is especially popular in the southern states and is often used in barbeque dishes.
Tri tip is best cooked slowly in the oven and is very easy to do. Cook it at 375 degrees Fahrenheit and leave it depending on pounds. The general rule of thumb is to cook it for 20-25 minutes per pound, and with most tri tip being one to two and a half pounds, cooking time at 375 degrees will be about 40 minutes to an hour.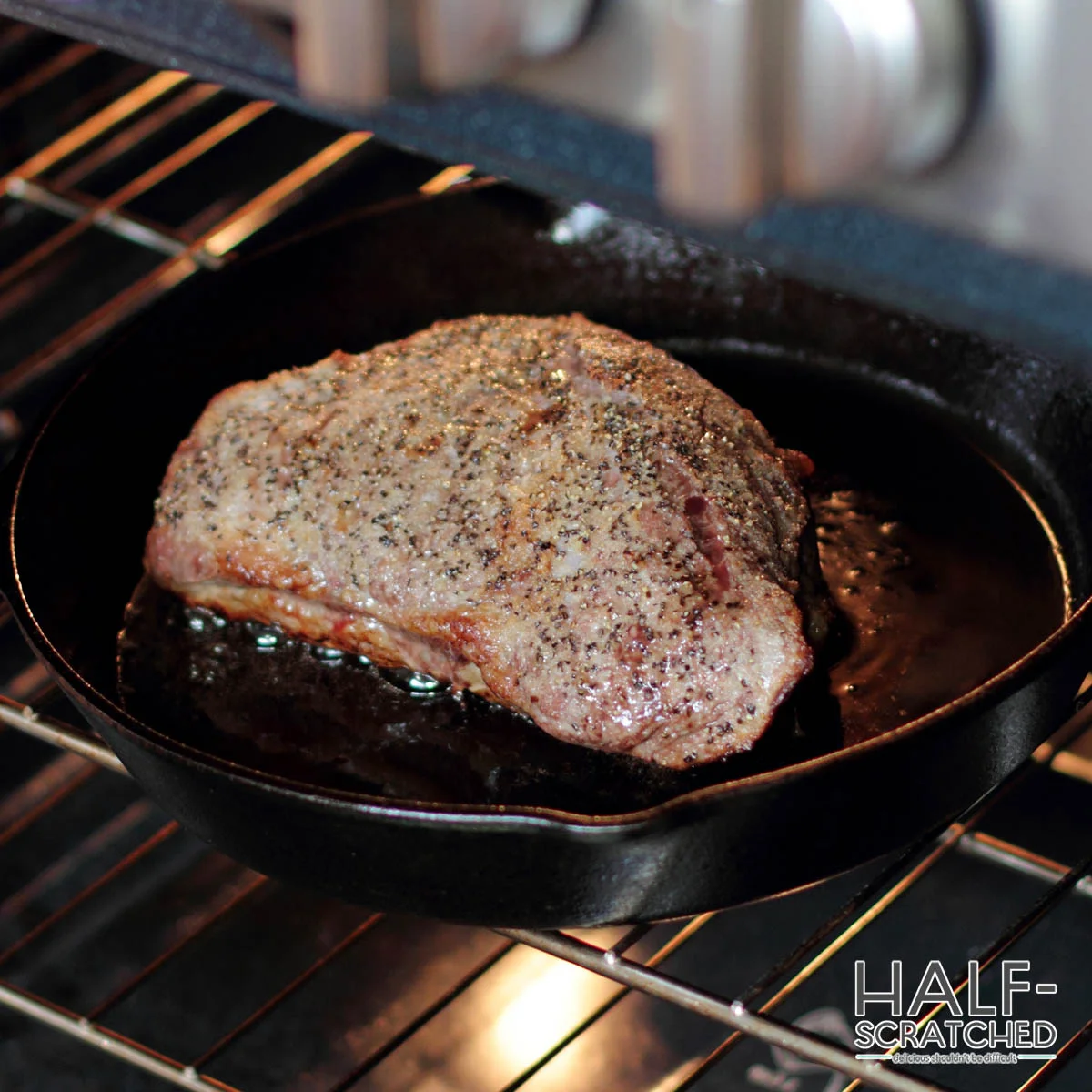 This guide will walk you through some tips and tricks for cooking tri tip, the best marinades and seasonings for tri tip, and a delicious tri tip dish. Read on!
Perfect Internal Tri Tip Temperatures
Some people prefer their meat to be pretty rare, while others like it cooked more. The following internal temperatures are how you determine whether the tri tip is cooked enough:
Internal temperature of 120-125 degrees Fahrenheit: this is considered rare. The center will be bright red and then pinkish towards the outside.
Internal temperature of 130-135 degrees Fahrenheit: this is considered medium-rare. The center will be very pink and more brownish towards the outside.
Internal temperature of 140-145 degrees Fahrenheit: this is considered medium. The center is light pink and the coloring towards the outside is brown.
Internal temperature of 150-155 degrees Fahrenheit: this is considered medium-well. The center is barely light pink and the coloring towards the outside is brown.
Tri tip that has an internal temperature of 160 degrees Fahrenheit is considered well-done, but a majority of consumers think that this is overcooked and don't recommend it. Well-done meat has a reputation for being flavorless and dried out.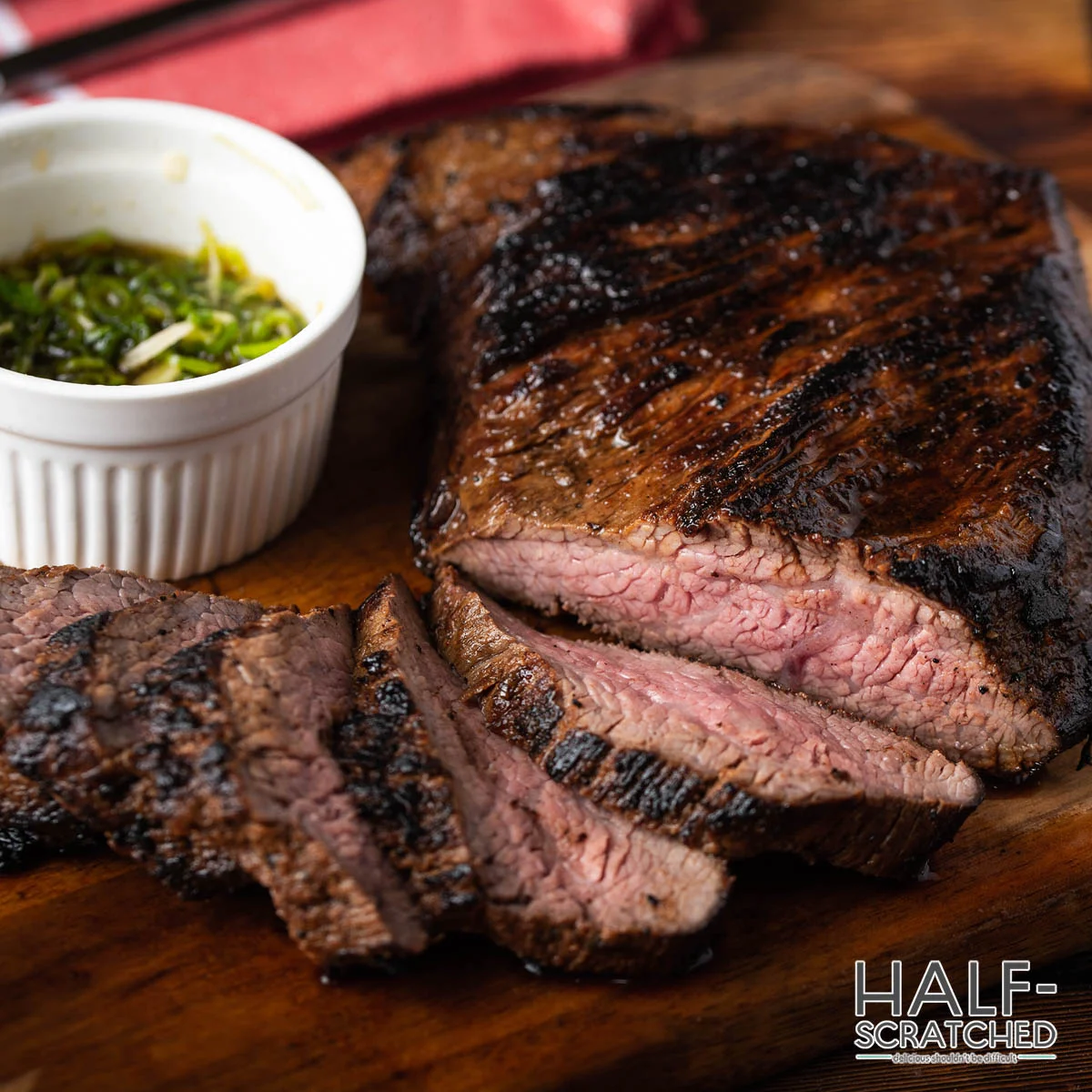 Baking Tri Tip Pros and Cons
There are two main ways to cook tri tip: either bake it in the oven or grill it. Both ways can produce delicious tri tip and it ultimately depends on what the individual prefers.
Baking tri tip is easy because you can just pop it in the oven and let it be. It's important to leave some layer of fat on the tri tip because the juices will keep the meat moist and tender.
Pros of Baking Tri Tip
Can be prepared all year long; grilling requires nicer and warmer weather since it has to be done outside.
Doesn't need fancy seasoning; oftentimes, salt and pepper is enough.
Cons of Baking Tri Tip
Should be marinated overnight, which can take time.
Doesn't have the smokey flavor of the grill.
Is There a Difference Between Tri Tip Roast Versus Tri Tip Steak?
You might hear tri tip being referred to as a roast versus a steak, but is there a difference? According to Butcher Box, the meat delivery service, a tri tip roast is referring to the entire cut of the meat. The tri tip is the bottom part of the sirloin, or hindquarters of a cow.
Tri tip steak, on the other hand, is often thought of as the roast that is sliced into strips. It will weigh less than the roast.
My Personal Tips for Cooking Perfect Tri Tip
Cooked tri tip is an easy way to create a delicious dish, even if you're a novice chef. Here are some general tips to think about before starting to prepare your tri tip: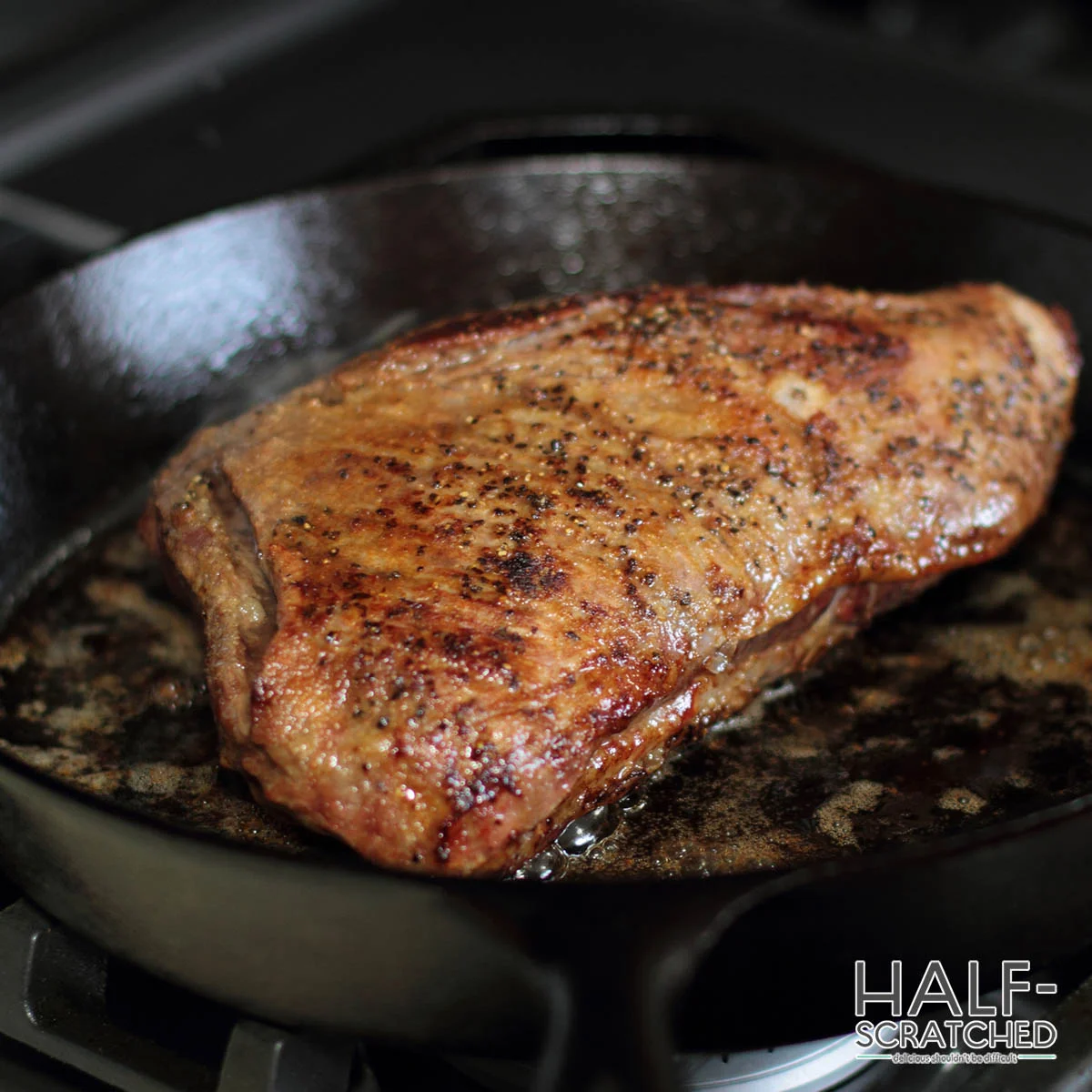 Let the Tri Tip "Rest" After Cooking
Why does meat need to "rest"? When it's cooked, a lot of liquid accumulates in the center. If you don't let the meat sit for a few minutes and immediately cut into it, then all that liquid will spill out. "Resting" allows the liquid to seep out from the center to the edges.
Invest in a Meat Thermometer
It is so important, especially when it comes to meat, to have a thermometer because the internal temperature will determine how cooked it is. A difference of a few degrees can determine whether your tri tip is rare or medium-rare.
Roast With the Fat Side Up
This only applies to roasting tri tip but be sure to have the fat side face up. With grilling, it's recommended to cut off the fat, but roasting requires the fat to add flavor and moisture while cooking.
By keeping the fat side up, the juices will drip down the tri tip, covering the entire piece. If it's on the bottom, the juices will just pool at the bottom.
Cut Against the Grain
The grain of any red meat refers to the direction that the muscle fibers run. It might seem counterintuitive to cut against the grain, but doing this makes the fibers shorter, which in turn creates a tender tri tip that's easier to chew.
Some Common Questions About Cooking Tri Tip
While you might feel like you're an expert at cooking tri tip now, there are always ways to improve! Here are some common questions and answers for cooking tri tip.
Will Tri Tip Last in the Fridge?
The USDA states that cooked meat of any kind should be kept in a fridge at 40 degrees Fahrenheit or less, and eaten within three to four days. If you want your tri tip to last, put it in the freezer, where it can last for up to four months.
When Cooking Tri Tip Should I Use Foil?
Definitely do not use foil if you're grilling your tri tip. Foil will prevent the tri tip from getting a nice crispy outer layer. You can use foil when roasting if you notice that the outside of the roast is getting crispy but the internal temperature is lower than wanted. 
Why Is My Tri Tip Chewy?
Why Is My Tri Tip Chewy?
1. You need to add more oil or marinate the tri tip longer.
2. You didn't let the tri tip get to room temperature after taking it out of the refrigerator. 
3. You overcooked the tri tip.
How Much Tri Tip Should One Person Have?
A good rule of thumb is that an individual person should eat about half a pound of tri tip. This means that the typical two-and-a-half to four-pound roast can feed five to eight people.
Spices and Marinades for Tri Tip
While tri tip can be delicious when paired with a carb like pasta, it's important to use spices and marinades to make the tri tip as flavorful as possible: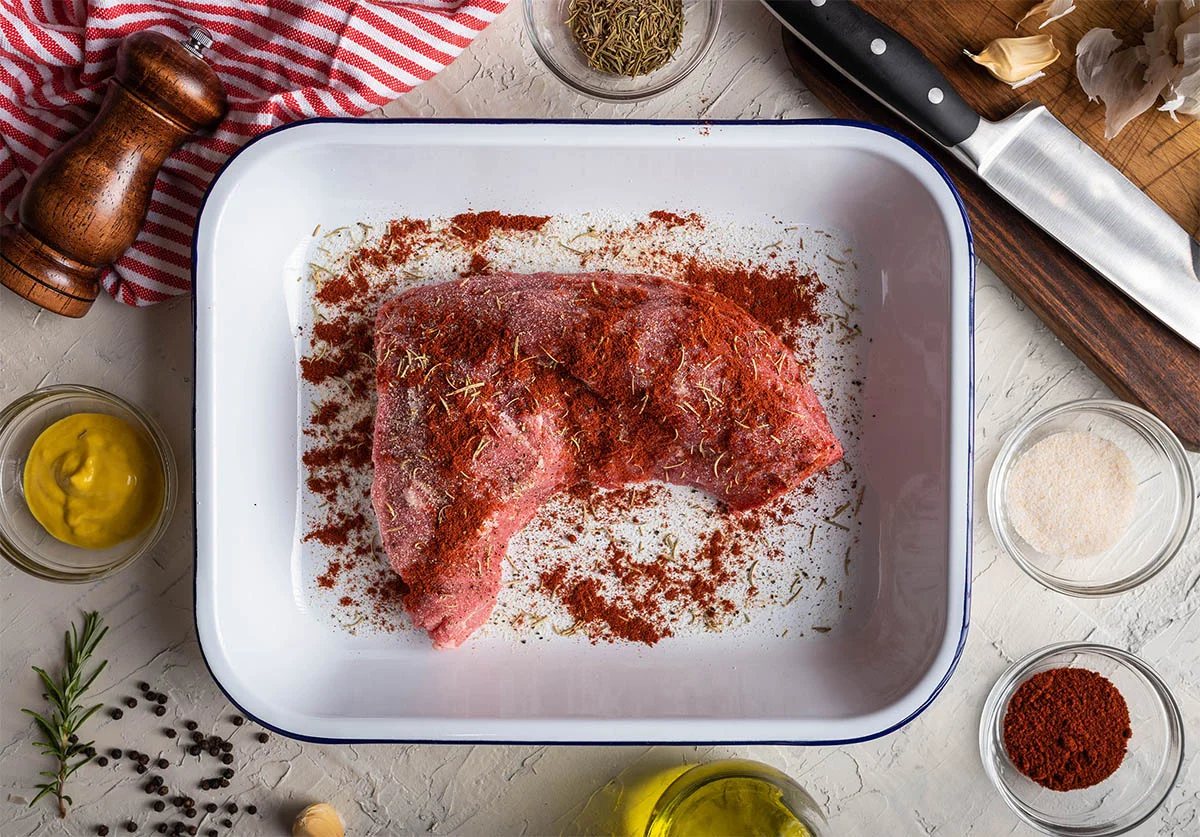 Salt and pepper: this is a simple combination but salt and pepper can really bring out the meaty flavor of tri tip.
Garlic or onion powder: it's better to buy the powdered version of these alliums because it's easier to rub it into the tri tip.
Brown sugar: besides being a natural tenderizer, sugar is an excellent way to complement the more savory aspects of tri tip. Brown sugar is preferred to white sugar because it has a toffee taste, which complements savory meat better.
Chili powder: if you like things hot, add some chili powder to your tri tip! The spiciness adds a nice kick to the meat.
Barbecue sauce: similar to chili powder, barbeque sauce gives tri tip some zing. It's probably the most popular sauce to pair with tri tip due to the fact that most barbeque places in the South use tri tip cuts of meat.
My Favorite Tri Tip Recipe: Roasted Tri Tip with Chimichurri Sauce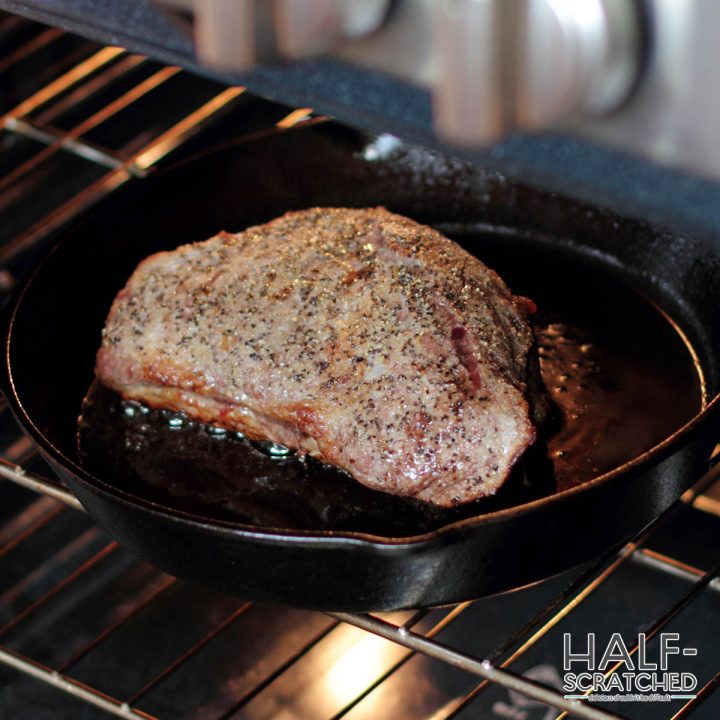 How Long to Cook Tri Tip in the Oven at 375 F
Additional Time:
12 hours
Total Time:
12 hours
55 minutes
It's no secret that Americans love their meat and this article will look at tips and tricks for cooking the perfect tri tip at 375 F.
Ingredients
1.5 pound tri tip
1 tablespoon kosher salt
1 tablespoon oil
Chimichurri Sauce
¼ cup minced garlic
½ cup of chopped parsley
½ cup of chopped cilantro
1 seeded and minced poblano pepper
3 juiced limes
¼ cup oil
1 teaspoon salt
½ teaspoon ground black pepper
Instructions
1. The day before roasting, rub tri tip with salt and refrigerate it overnight. Mix all the chimichurri ingredients together and also put in the refrigerator. This allows all the flavors to settle and soak together.
The day of roasting, take tri tip out of the refrigerator and set it out until it reaches room temperature. Season again with salt and pepper.
Preheat oven to 375 degrees Fahrenheit.
Preheat a pan and add oil. Once the oil is hot, sear the tri tip on all sides until browned.
Transfer the tri tip to the oven and roast until the internal temperature reaches 120 degrees Fahrenheit.
Let the tri tip rest for 15 minutes. Slice is thinly and serve with the chimichurri sauce.
Nutrition Information:
Yield:

3
Serving Size:

1
Amount Per Serving:
Calories:

731
Total Fat:

49g
Saturated Fat:

2g
Trans Fat:

0g
Unsaturated Fat:

21g
Cholesterol:

188mg
Sodium:

2094mg
Carbohydrates:

13g
Fiber:

3g
Sugar:

2g
Protein:

61g