Thanks to the beautifully marbled streaks of fat that run through a Boston butt, pork shoulder is the ideal meat for slow-cooking, braising, and smoking. After several hours over low heat, the connective tissues and fats render down into a richly flavored and succulently tender meat that's perfect for pulled pork sandwiches, barbeque tacos, and other dishes. But you'll first have to let it cook long enough.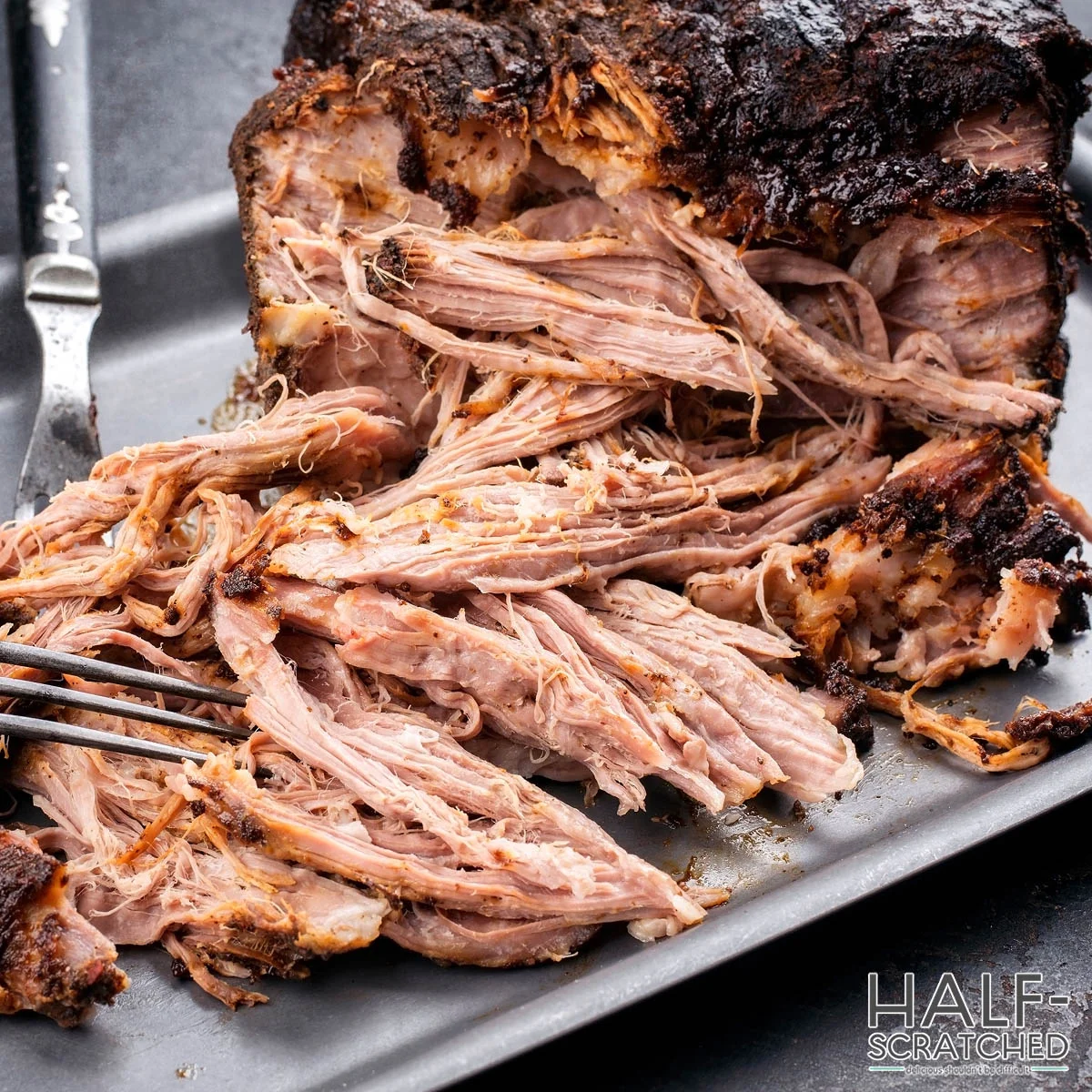 Due to their relatively large size, pork shoulders should smoke for between 8 and 10 hours at 225° Fahrenheit. However, this smoking time is completely dependent on the size and weight of the meat. For this reason, you should always weigh your Boston butt before cooking it and adjust the smoking time accordingly.
Smoking a Boston butt isn't for the faint of heart, but it's a labor of love that always produces an amazing result. If you've never tried smoking pork shoulder, I recommend reading through this cooking guide and checking the table below to get an estimate of how long it will take. I'll also provide some helpful tips to improve the quality of your meat.
Understand What You're Getting
If you're new to the world of Boston butts, the first thing you should know is that it's not actually cut from the butt of a pig. Instead, the name finds its roots in old New England, where butchers would pack less valued cuts of meat into a barrel known as a "butt". For this reason, the shoulder meat progressively came to be known as a "Boston butt".
In reality, though, it's a large fatty flank of shoulder meat that's usually sold bone-in and used for smoking, grilling, or braising. They are quite a large cut of meat, though, and if not cooked correctly, they can become tough and grisly. This is why they're better suited for slow-cooking methods. However, if you have the time and the equipment for it, they are—in my opinion—the best type of barbecue.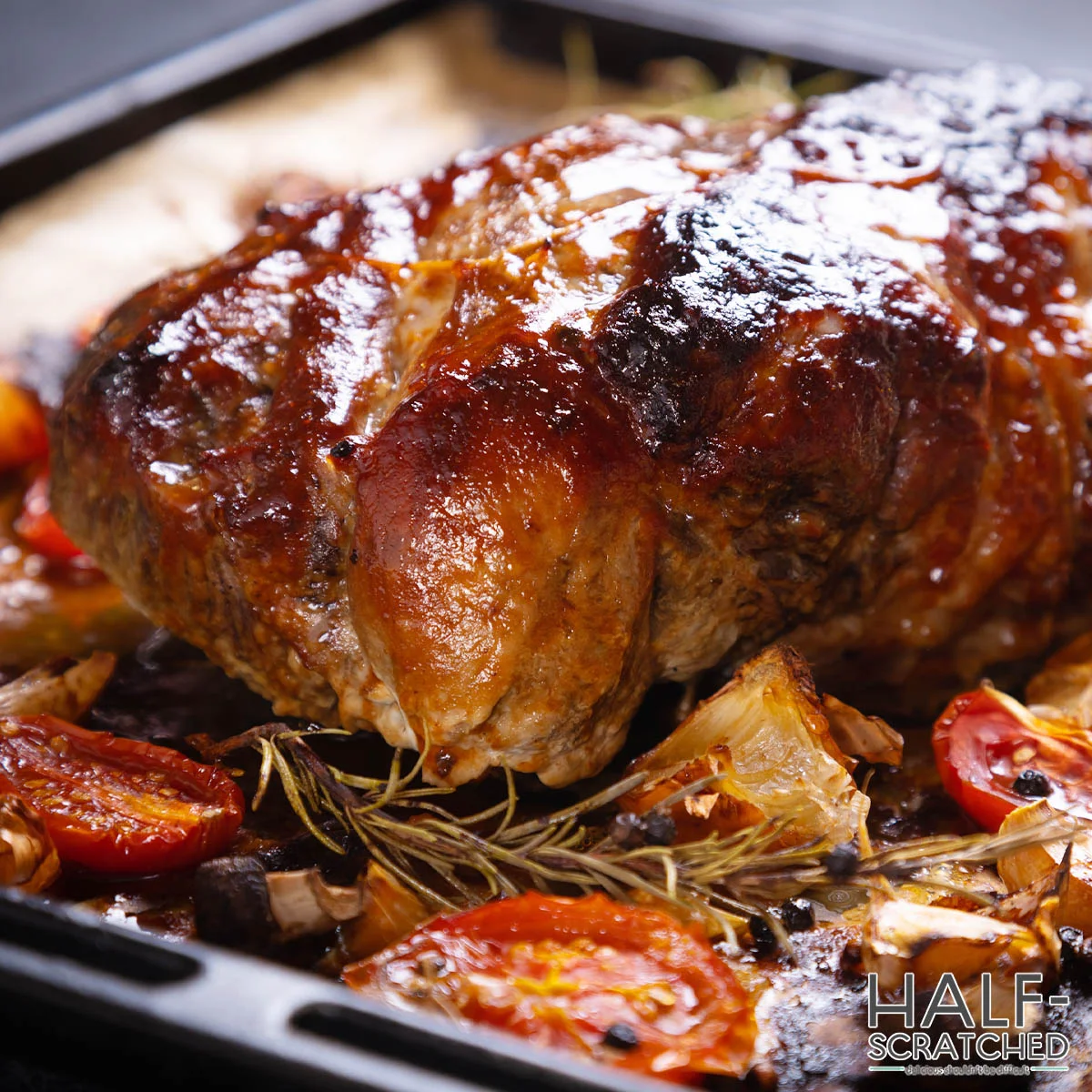 What Happens When You Smoke a Pork Shoulder?
8 to 10 hours may seem like a ridiculously long time to cook a piece of meat, but smoking is about more than just heating something up. It's a centuries-old tradition that spans the globe and is beloved for its ability to slowly break down fibers with low and indirect heat while imparting a unique flavor and texture that can't be achieved in any other way.
Smoking is an art that requires time, patience, and skill but the result is about as close to perfect as you can get. When you expose a pork shoulder to 225° heat for such a long time, it allows some of the fat to render away without sacrificing moisture or flavor. Instead, the fat melts into the meat, while the sinewy bands of cartilage soften and pull away from the bone.
Then, depending on the type of wood you use, you can infuse the meat with either a heavy hickory or mesquite smokiness or a lighter, subtler fruit smoke. The most important thing to remember, though, is to carefully control the temperature of your smoker to avoid overheating the meat. This can cause it to become dry and tough rather than succulent and tender.
How Long to Smoke a Boston Butt – Size and Weight
Unlike other cuts of meat that are generally standardized, pork shoulders come in a wide range of sizes—anywhere from 4 to 8 lbs. With such drastic weight differences, you'll have to account for size before you start smoking. Otherwise, you could end up overcooking a smaller shoulder or undercooking a larger Boston butt.
To help you better estimate how long to smoke a pork shoulder, I've prepared a chart below according to size:
| | |
| --- | --- |
| Size | Smoking Time |
| 3 lbs | 4 ½ hours |
| 4 lbs | 6 hours |
| 5 lbs | 7 ½ hours |
| 6 lbs | 9 hours |
| 7 lbs | 10 ½ hours |
| 8 lbs | 12 hours |
| 9 lbs | 13 ½ hours |
For anything larger or smaller than the sizes listed above, add or subtract 1 ½ hours per pound. The idea here isn't to smoke the meat until it's warm enough to eat (145° Fahrenheit) but to smoke it to around 200°. At this point, the meat will have tenderized and be ready for pulled pork sandwiches.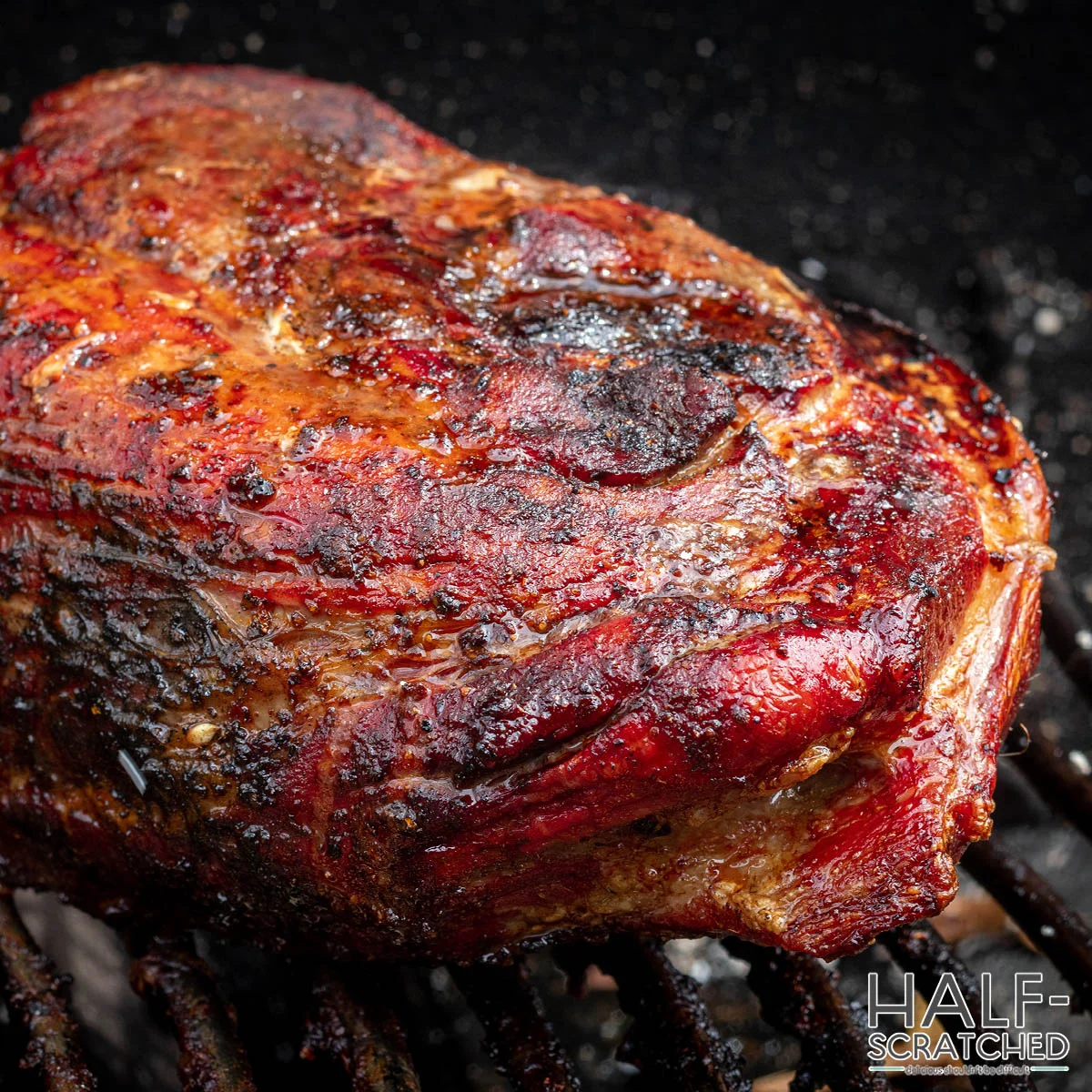 When to Wrap the Shoulder in Aluminum Foil
A large part of learning to smoke barbeque is mastering the amount of smokiness you infuse into the meat. While it's certainly meant to be a bit smoky, overexposing the shoulder can leave it tasting sooty, acrid, and oily. For that reason, it's best practice to cover the meat in aluminum foil after a certain point.
For standard 6 lbs Boston butts, I would recommend covering them around the 5-hour mark. If you're smoking a larger or smaller shoulder, keep an eye on the meat's internal temperature and then cover it once it reaches 160° Fahrenheit. This will also help to lock in some of the moisture that would otherwise evaporate into the smoker and speed up the cooking process.
Since your smoker shouldn't be too warm, though, don't expect foil to drastically shorten the cooking time. You should still let the shoulder smoke for another 3 to 4 hours before testing it for tenderness.
Don't Rely Entirely on Temperature
As I mentioned above, you'll smoke your Boston butt well above the FDA-recommended internal temperature of 145° Fahrenheit. This means that checking the internal temperature won't make much of a difference other than acting as a guideline. So, while it's ideal to let the meat cook to 200°, you'll be better off using your eyes to judge when it's ready.
I personally use a fork to test the meat for tenderness. When I can easily insert the prongs and pull away a small section of fat and meat, I know that it's close to being finished. You should also try to inspect the bone to see if the meat is already pulling away. If so, it should be well-smoked throughout the entire shoulder. Carefully remove it from the smoker and then try cutting into it.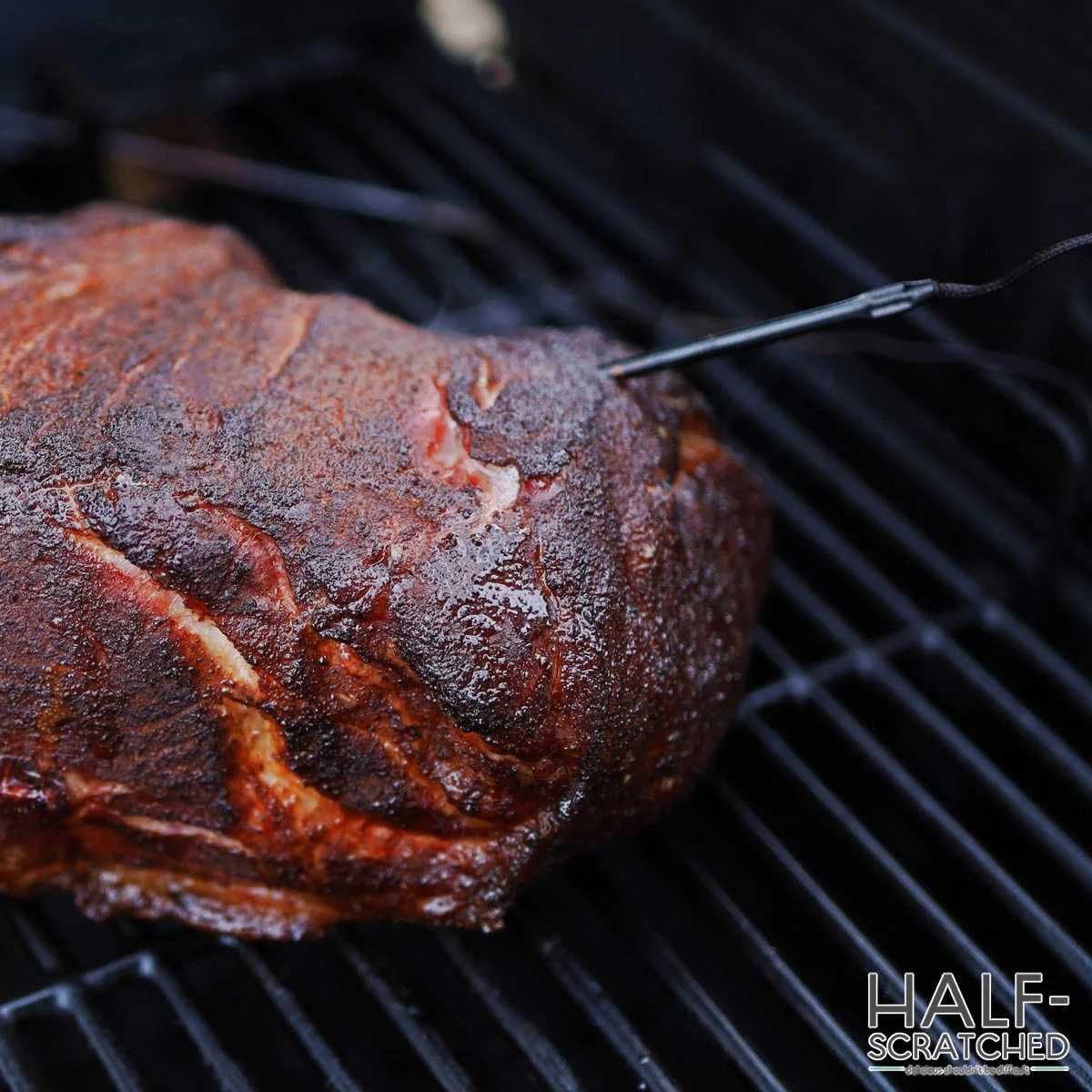 Control the Air Flow While Smoking
Probably the hardest part about smoking any type of meat is learning to control the airflow. This will directly affect the temperature in your smoker, as well as how thick the smoke gets. However, with a bit of practice, you can master the art. Here are some tips to help along the way:
Start with the Vents Open: When you first light the fire, be sure to keep the vents open so that air can flow into the barrel and smoke can escape. The vents shouldn't be left entirely open, though, as this will also allow heat to escape from the smoker.
Adjust the Vents According to the Smoke: Keep an eye on the smoke that's escaping your smoker. It should be a light whitish-blue color rather than a heavy grey or black. If it gets too dark, the smoke will impart of harsh carbonic flavor rather than a subtly sweet smokiness.
Use a Thermometer: Even slight variations in temperature can affect the quality of your meat, so I recommend using a thermometer to track changes in the barrel. If the temperature starts to drop, you can open the vents slightly to let more oxygen onto the coals or, if it gets too hot, close the vents to stifle some of the fire.
Other than that, just be patient and try to keep the lid closed as much as possible. Every time you open the lid, you'll let heat out and have to then readjust the temperature.
My Personal Tips for Improving Flavor and Juiciness
There's more to making delicious pork shoulder than adjusting times and temperatures. It also comes down to which flavors you use, how you prepare the meat once it's cooked, and the type of wood you use to smoke it. To help you get a better idea of how to lock in flavor and moisture, I've prepared a few tricks and tips I use to get the best results.
Save Some of the Jus
Jus, from the French word for juice, is what we call the liquid that drains from the meat as it smokes. After wrapping the butt in foil, you should be able to capture some of these juices and pour them off into a measuring cup. Save about 1 cup of jus and add it back into the pork as you're chopping or pulling it. This will keep the meat juicy and improve the flavor.
Be Selective with the Type of Wood You Use
Not all woods were created equal. Some impart a beautifully rich smoky quality, whereas others can overpower the natural sweetness of the pork. I personally prefer to use hickory wood, but I could be a little biased, as I live in an area surrounded by pecan orchards (the same type of tree by a different name). If you prefer something a little more subtle, try applewood or, for something stronger, mesquite.
Chop the Pork, Don't Pull It
This is a polarizing point of view so I'll preface it by saying that this is my own personal opinion. Since Boston butt is such a rich and fatty cut of meat, you want to capture as much of that fat as possible. Pulling pork simply shreds the meat into strands of protein whereas chopping it into cubes captures a balance of both the meat and fat.
Travel the World of Flavor
Smoking meat isn't a purely North American tradition. Indigenous people throughout Central and South America, as well as in the Caribbean, have been smoking meats for hundreds, if not thousands of years. Tap into some of these practices by experimenting with their flavors. For example, you can capture traditional Mayan flavors using some sour orange juice, achiote, garlic, spices, and banana leaves.
Inject Flavor into the Pork Butt
A marinade will only soak so far into the meat, but if you want to evenly distribute flavor, you can inject it directly into the pork shoulder. Fill a syringe with some garlic butter and seasonings, then insert it into the meat. Pull back as you depress the plunger so that butter and seasonings don't create a single pocket of flavor.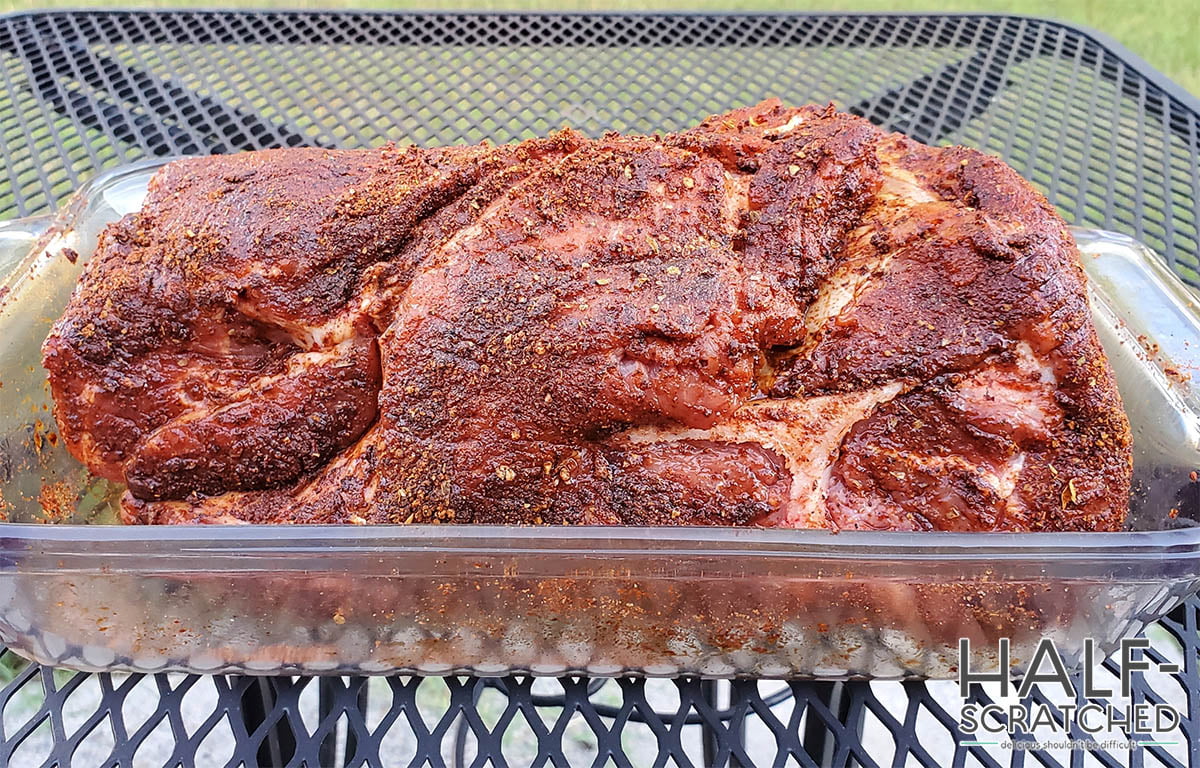 Some Frequently Asked Questions
Should smoked Boston butt be black?
If your pork shoulder comes out looking burnt or covered in a black crust, don't panic. This is completely normal. As long as you covered the meat after 5 hours, you can cut away some of the bark to reveal beautifully smoked meat that should taste clean and smokey.
How long will smoked pork butt last in the fridge?
I don't recommend storing smoked pork for any longer than 4 days. Understandably, though, a 6 lbs pork butt will make a lot of meat so, you can freeze any leftovers in a sealed container for up to 6 months.
How should I reheat smoked pork shoulder?
If you've already mixed a sauce into the pork, there's no reason why you can't microwave it. However, if you're worried about the meat turning mushy, you can also heat it in the oven at 350° for 10 minutes.
The Only Recipe for Smoked Pork Shoulder You'll Ever Need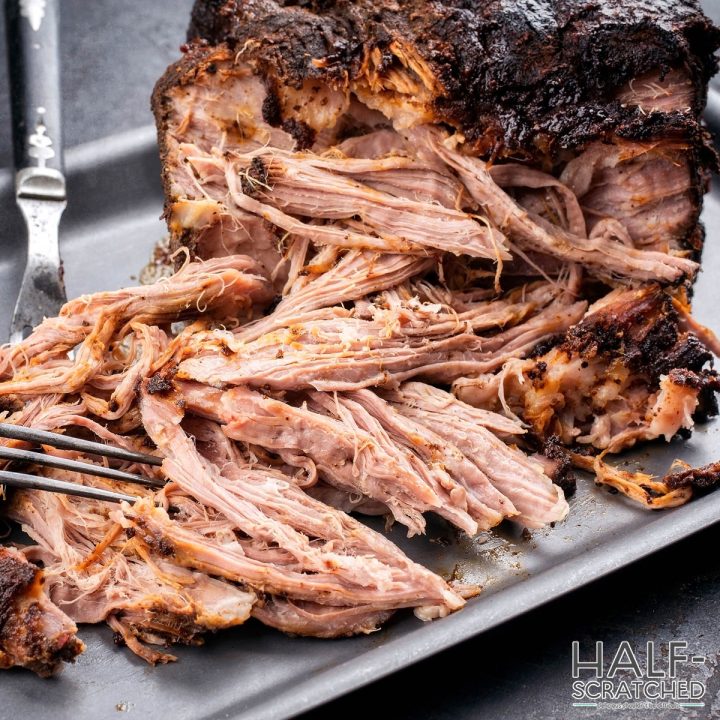 How Long to Smoke Pork Shoulder at 225 F
It may take all day to cook but smoked pork shoulder is always worth the time, patience, and effort. Learn how to smoke it to perfection.
Ingredients
1 pork shoulder (Boston butt), roughly 6 pounds
4 tablespoons of brown sugar
4 tablespoons of cumin
4 tablespoons of onion powder
4 tablespoons of garlic powder
4 tablespoons of cayenne pepper
4 tablespoons of smoked paprika
4 tablespoons of kosher salt
Instructions
Mix the sugar and spices together to create a rub for the meat. Set this aside while you prepare the Boston butt.
Using a large chef's knife, cut lines diagonally across the fatty back side of the pork shoulder. Then, run the knife in the opposite direction to create a sort of checkboard pattern. Trim away any excess or unwanted fat.
Coat the meat in the rub you prepared earlier, then let the pork butt sit for at least 30 minutes.
Prepare your smoker while the pork marinates in the rub. Start by filling the lower section with wood pellets, then top them off with charcoal. Light the charcoal and let it burn into the wood. Adjust the vents until the smoke turns a light blue, and your smoker reaches 225° Fahrenheit.
Place the Boston butt in your smoker and let it cook for a full 5 hours.
After 5 hours, carefully remove the meat and wrap it in aluminum foil to stop it from over-smoking.
Return the pork shoulder to the smoker and let it cook for another 4 hours.
After a full 9 hours have passed by, check on the pork by using a fork to pull away some of the meat. If it's tender, carefully pour off some of the liquid remaining in the foil and remove the shoulder from the smoker.
Cut away large sections from the bone and then, using a butcher's knife, chop the pork into small-to-medium-sized cubes. Pour in some of the juice as you're chopping to keep the meat moist. You can also add a sauce of your choosing at this point.
Nutrition Information:
Yield:

8
Serving Size:

1
Amount Per Serving:
Calories:

994
Total Fat:

66g
Saturated Fat:

24g
Trans Fat:

0g
Unsaturated Fat:

35g
Cholesterol:

293mg
Sodium:

2131mg
Carbohydrates:

16g
Fiber:

3g
Sugar:

6g
Protein:

81g