Cauliflower belongs to that special class of vegetables that children universally hate so if you have a couple of picky eaters on your hands, don't feel too bad about it. By switching things up and roasting the vegetable rather than steaming or boiling it, you may find that they suddenly change their minds. The trick, though, is to roast it long enough and at a high temperature.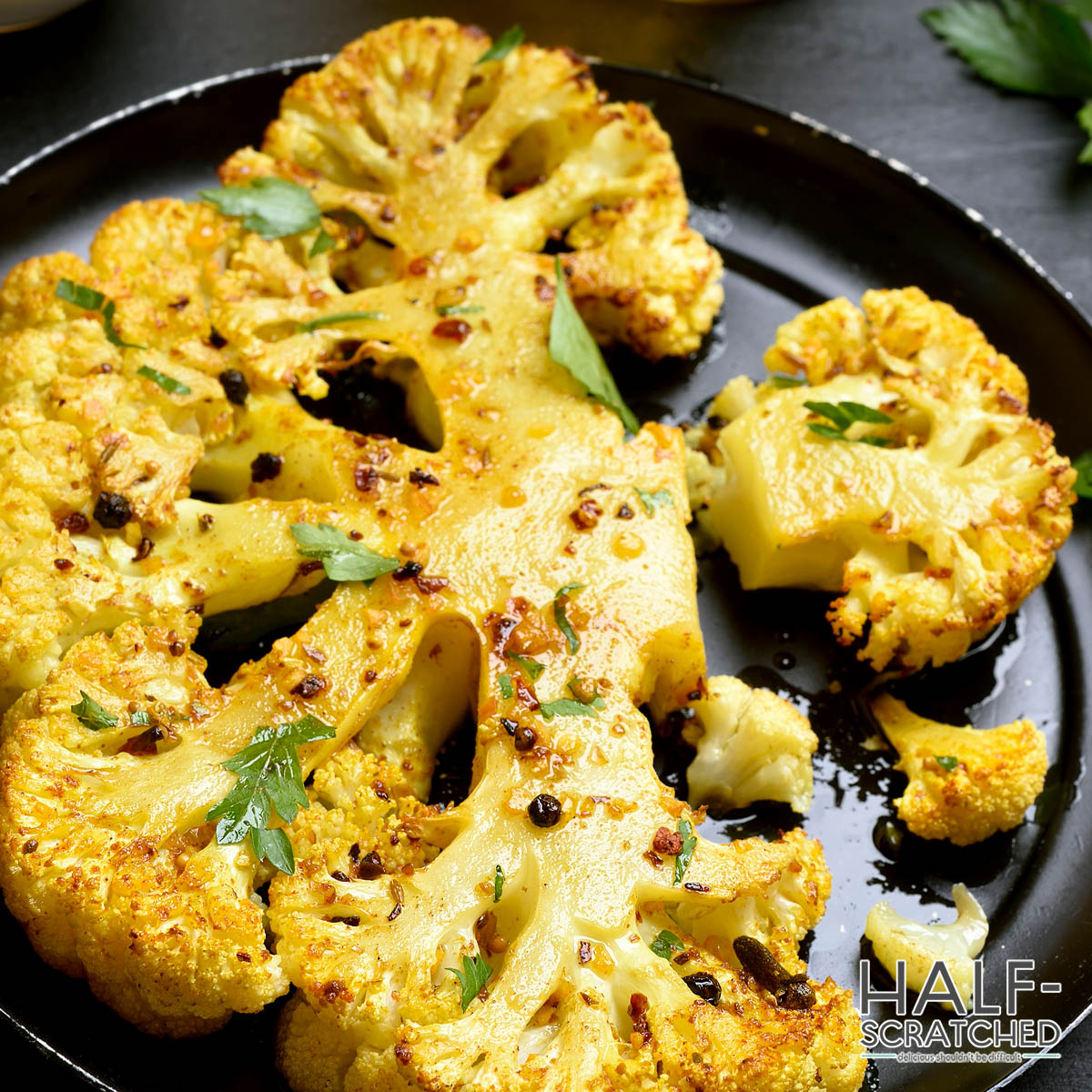 When roasting cauliflower, we recommend setting your oven to 400° Fahrenheit and placing a whole head of cauliflower directly into the oven. Let it bake for at least 45 minutes to create a crispy exterior with a soft and richly flavored inside. Then, slice the cauliflower into florets and serve the dish immediately.
The best thing about roasted cauliflower, though, is that it's so easy to make. In this recipe guide, I'll quickly run through the basic steps needed to prepare a roasted cauliflower, share some helpful guidelines, and then let you in on the tricks I use to get my kids to eat their veggies.
Why Roasting Makes Cauliflower Better
Like most vegetables, cauliflower has a naturally high water content. This means that if you throw it into a pot of boiling water, the intracellular fluid will quickly rise to a similar boiling point. This then causes the plant's cell walls to explode and, by the time it reaches your plate, the cauliflower will have transformed from a pleasantly crisp vegetable into a pile of bland and mushy florets.
Roasting doesn't let this happen. Instead, the dry heat of a hot oven disperses excess moisture, helping to create a crispier exterior while the inner stalks and stems soften. And, since roasting is a slower process, it allows the natural sugars in the vegetable to caramelize, creating a rich and more flavorful dish.
To get the most out of this experience, though, you'll have to set your oven to a high enough temperature. Although some recipes recommend roasting cauliflower at 450° Fahrenheit, I personally think this is too high. It'll cause the exterior to roast faster than the interior and you won't get to enjoy the richness of a slower bake. Instead, set your oven to 400° Fahrenheit.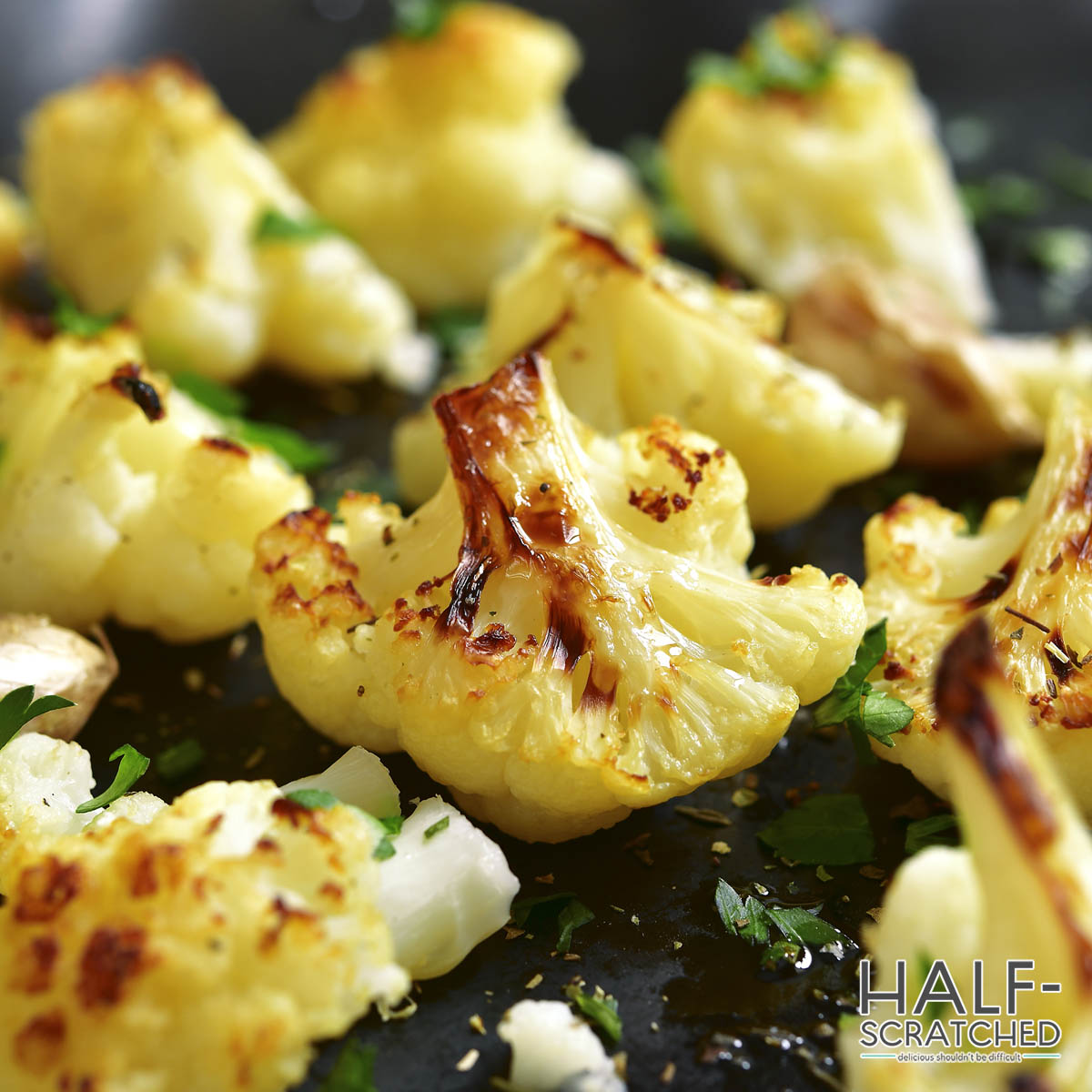 Roast the Cauliflower in Two Stages – Covered ; Uncovered
As with similar dishes, you should roast cauliflower in two stages—first covered with aluminum foil and then uncovered for the remainder of the time. By covering the head of cauliflower with foil, you'll trap a small pocket of air that will turn to steam in the oven. This steam will help to cook and soften the cauliflower without overcooking it.
Then, after 30 minutes, uncover the cauliflower and let it bake directly in the heat for another 15 to 20 minutes. This should be long enough for the outside to brown and create a deliciously crisp edge. You can also set your broiler to LOW and let the cauliflower roast directly beneath the coils to maximize the outer crispiness.
How to Tell When the Cauliflower is Done
Unlike a slab of roast beef or a whole chicken, cauliflower doesn't have to reach a specific internal temperature before you can eat it. If you wanted to, you could even eat it raw. But since we're roasting cauliflower today, you'll want to wait until it's at least tender to the touch.
After removing the head of cauliflower from the oven, use a fork and test for tenderness. The fork should slide easily into the cauliflower, but there should be a little bit of resistance. If the prongs go in too easily, you may have overcooked the cauliflower.
Cut the Cauliflower into Florets Before Baking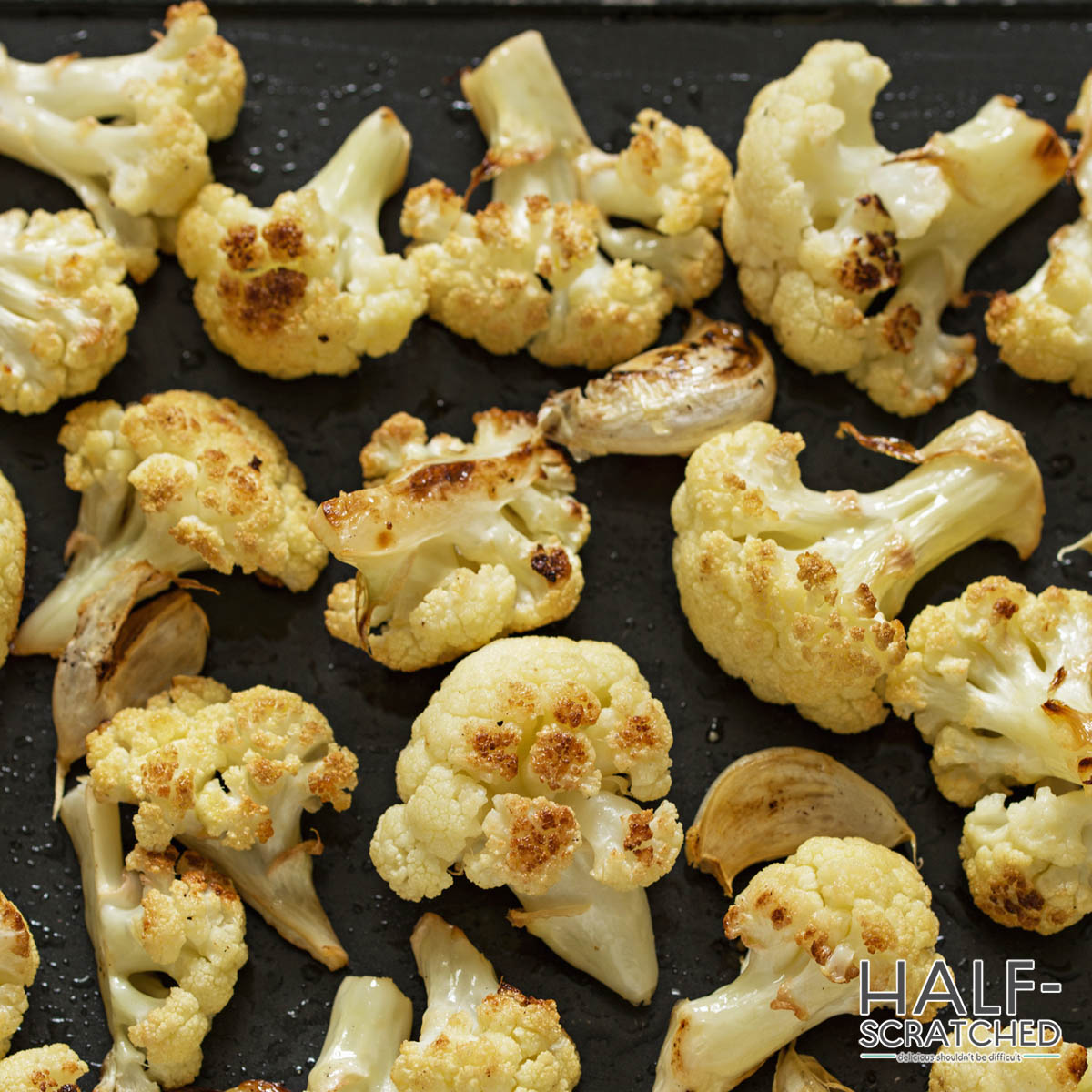 If you're in a rush, you can reduce the total baking time by precutting the cauliflower into individual florets. By increasing the surface area exposed to heat, the cauliflower will roast in about half the time. Keep in mind, though, that you'll need to be more vigilant to stop it from burning. If crispiness turns into char, your kids are all but guaranteed to thumb their noses at it.
This is also a smart way to increase the spice-to-cauliflower ratio. If your kids hate the flavor of cauliflower, you can coat the individual florets in a blend of herbs, spices, and cheese to mask the naturally bitter undertones of the vegetable. When they bite into their dinner, they won't even realize what they're eating.
Avoid Roasting Frozen Cauliflower
Likewise, if you're in a rush, you may be tempted to roast a bag of frozen cauliflower. This is a bad idea. Freezing vegetables, much like boiling them, causes the water inside of the plant to expand, rupturing the cell walls. No matter how long you roast the vegetable, it will always turn out soggy and unpleasant. Plus, frozen vegetables already have a higher water content than fresh vegetables.
If you want to use a bag of frozen cauliflower, we recommend steaming it to allow the frozen moisture to drop down through the steamer and into the boiler below. While it will still likely come out a little soggy, it'll still be better than if you tried to roast or boil the frozen veg.
Consider Breading and Air Frying Your Cauliflower into Poppers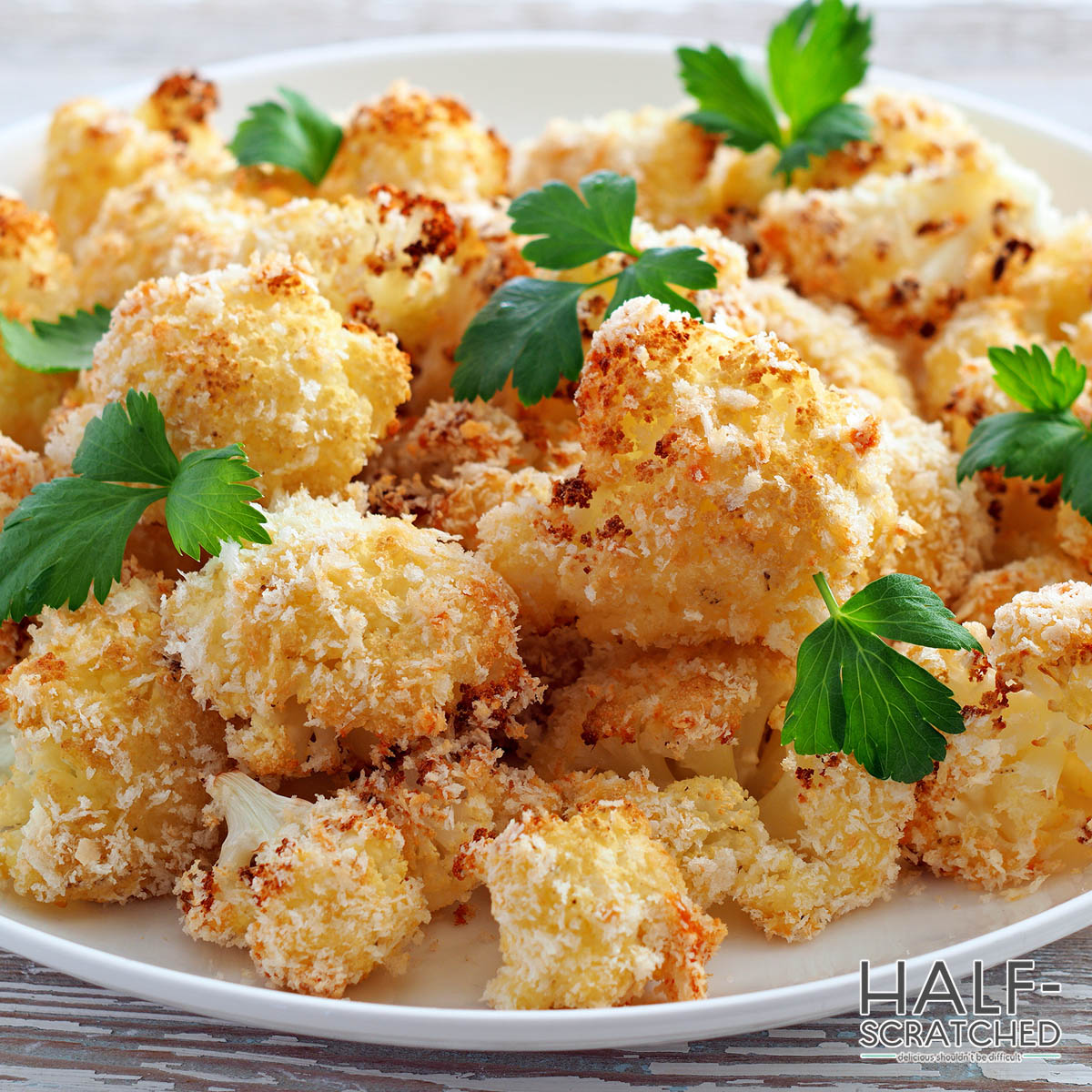 On the other hand, you can also turn fresh cauliflower into a delicious air-fried popper. Simply dip sliced florets of cauliflower into an egg wash mixture and then roll them in a pan of Panko breadcrumbs. Be sure to cover the wet areas as completely as possible and then toss the cauliflower into your air fryer. Let the veggies cook for 10 minutes and then remove and serve.
Once fully air fried, you can also coat the poppers in a sauce to create a sort of vegan boneless chicken wing. Just be sure not to over-coat the breading, otherwise, it can lose its crisp texture and turn soggy.
Personal Tips and Tricks to Improve Your Cauliflower
The beauty of cauliflower is that it acts as a perfect canvas for other flavors. So many vegan and low-carb diets use it as a replacement for other foods because it can easily adapt to whatever you mix it with. To give you an idea of how to improve your roasted cauliflower, here are some of my own tips and tricks:
Soak the Cauliflower in Salt Water
A head of cauliflower isn't exactly easy to clean. Its high density and peculiar shape make it just about impossible to reach the center without cutting it up. Luckily, you can clean a head of cauliflower by simply soaking it overnight. Create a salt bath using 1 cup of salt to 2 liters of warm water. Then, submerge the cauliflower and let it sit until you're ready to bake.
Roast the Cauliflower in a Dutch Oven
If you have one available, I highly recommend roasting your cauliflower in a Dutch oven. The cast iron will absorb and radiate heat against the cauliflower and capture any of the juices that escape. You can then remove the lid after the first 30 minutes and allow the head to develop a rich brown crust. Use any of the pan drippings to make a delicious vegetarian gravy.
Coat the Cauliflower in Oil and Spices
To lock in flavor, you'll want to oil the cauliflower and then coat it in various spices. I like to use a blend of walnut oil and avocado oil along with za'atar spices and a pinch of cayenne pepper. Don't be shy with the spices, though. The more you use, the better the flavor and the prettier the crust when you finally pull the cauliflower from the oven.
Slice the Cauliflower into Steaks and Pan-Sear Them
I picked this trick up from watching Gordon Ramsay's Masterclass. If you live with a tried-and-true carnivore, you might convince them to switch to vegetables by slicing a head of cauliflower into 1-inch steaks, pan-searing them in garlic and butter, and then flash-roasting them in the oven. Then, using the butter and garlic, create a delicious gravy to go with the cauliflower steak.
Add a Bit of Sweetness to Cancel Out the Bitter
If you find cauliflower a little bitter, you can cancel out the harsh flavor using a simple trick of science—by using something sweet. Create an easy glaze using honey, nutmeg, and cardamom, and then baste it over the cauliflower in the last 5 minutes of roasting. If you apply the glaze too early, it could burn and leave a nasty carbonic flavor.
My Favorite Recipe for Roasted Cauliflower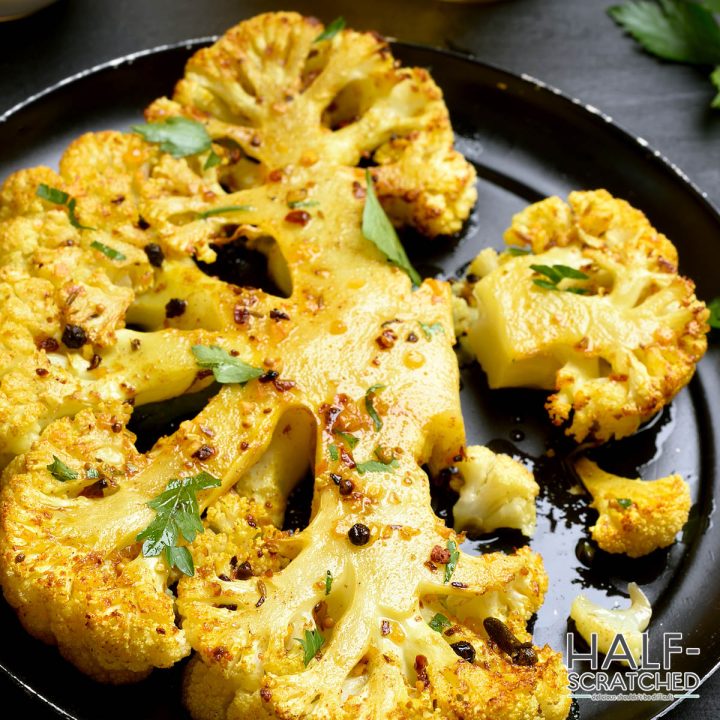 How Long to Roast Cauliflower at 400 F
Wow your kids and family by roasting your cauliflower like never before. This recipe's quick, easy, and sure to leave an impression.
Ingredients
1 large head of cauliflower, soaked in salt water overnight
1 tablespoon of avocado oil
1 tablespoon of walnut oil
1 teaspoon of smoked paprika
1 teaspoon of onion powder
1 teaspoon of garlic powder
1 teaspoon of salt
1 teaspoon of black pepper
1 teaspoon of cayenne pepper
1 teaspoon of oregano
1 teaspoon of thyme
1 teaspoon of turmeric
2 tablespoons of butter, melted
Instructions
Preheat your oven to 400° Fahrenheit.
Remove the head of cauliflower from the salt water and shake it dry. Then, prepare the cauliflower by removing any leaves or base stems.
Combine the two oils in a single dish and then mix the spices into the oil. This should create a thick paste of herbs and spices.
Apply the oil and spice paste directly to the head of the cauliflower using a pastry brush. Try to cover as much of the
cauliflower as possible.
Add the 2 tablespoons of melted butter to a medium-sized cast iron Dutch oven. Then, place the cauliflower inside. Cover it with the lid and place the Dutch oven into the oven.
Let the cauliflower roast for 30 minutes and then remove the lid from the Dutch oven.
Allow the cauliflower to cook for another 15 to 20 minutes or until it develops a deep brown crust.
Remove the cauliflower from the oven and serve it immediately.
Nutrition Information:
Yield:

4
Serving Size:

1
Amount Per Serving:
Calories:

172
Total Fat:

14g
Saturated Fat:

5g
Trans Fat:

0g
Unsaturated Fat:

8g
Cholesterol:

15mg
Sodium:

755mg
Carbohydrates:

11g
Fiber:

6g
Sugar:

5g
Protein:

4g