There are so many different ways to enjoy carrots! You can juice them, slice them, dice them, or even eat them whole. Plus, carrots are a great source of vitamins, minerals, and antioxidants, and they are low in calories and fat. For many families, they're also a must-have side dish for any roast dinner but, to make them perfect, they have to cook for the right amount of time.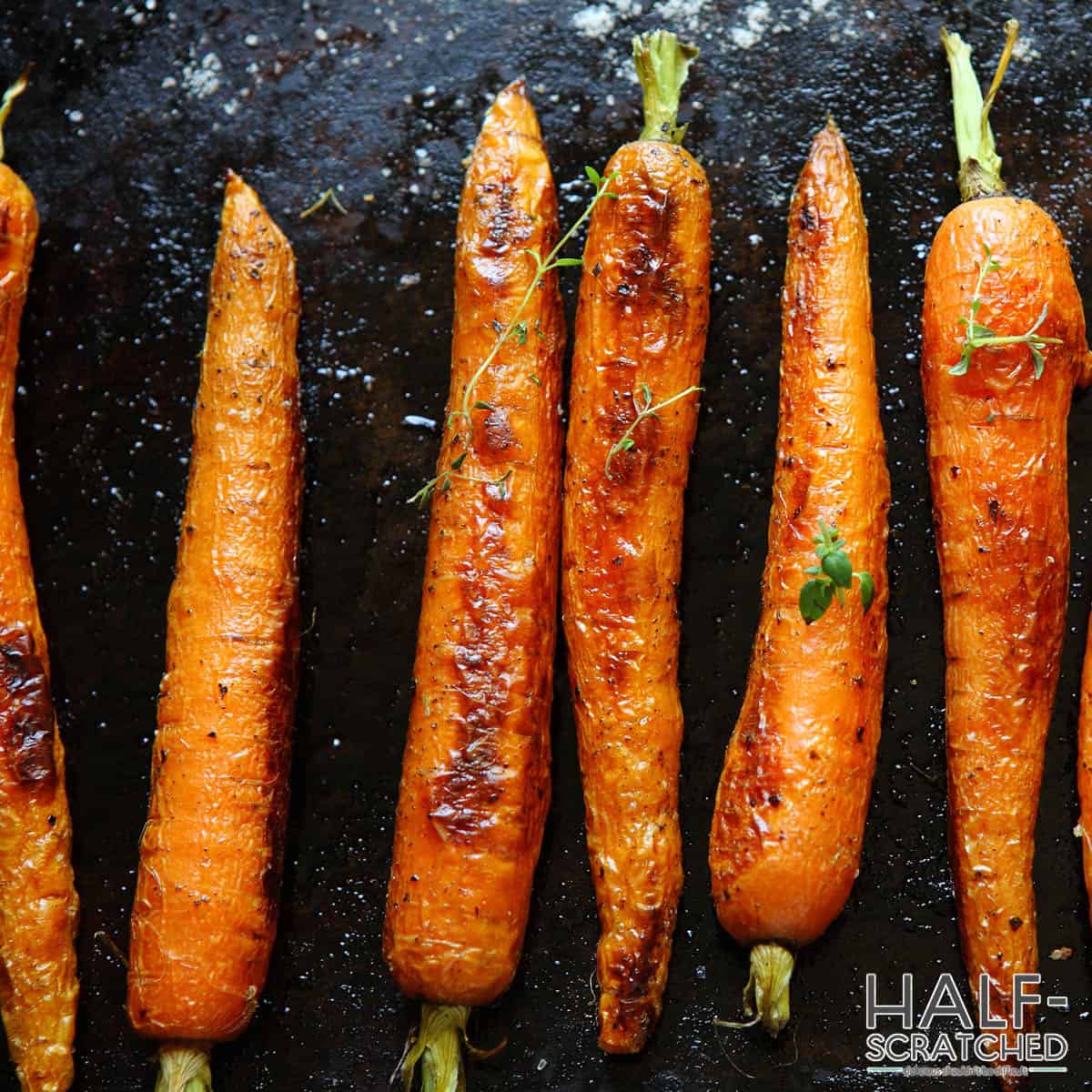 The general rule is to roast carrots at 400 degrees Fahrenheit for about 25 minutes or until they are tender and lightly browned. However, this will vary depending on the size and thickness of the carrots. For example, if you are roasting baby carrots, they will likely cook faster than larger, thicker carrots. To test them, simply use a fork to check for tenderness.
As simple as roast carrots may seem, by taking care to cook them properly, you and your family can enjoy a delicious, healthy, and satisfying side dish that everyone will love. This guide will explain how long you should roast carrots, how to adjust for different sizes and types of carrots, and also discuss a handful of insider tricks to improve the final dish.
Always Roast Vegetables at 400° Fahrenheit or Higher
Although baking and roasting both involve cooking something in the oven, roasting is done at a higher temperature and for a shorter amount of time. This method of cooking helps to caramelize the natural sugars in the vegetables, which results in a richer flavor and a slightly crisp exterior.
For carrots, you should always roast them at 400 degrees Fahrenheit or higher. If you cook them at a lower temperature, they will not caramelize properly and will likely end up mushy. The cook time will vary depending on the size of the carrots, but they should be roasted until they are tender and lightly browned.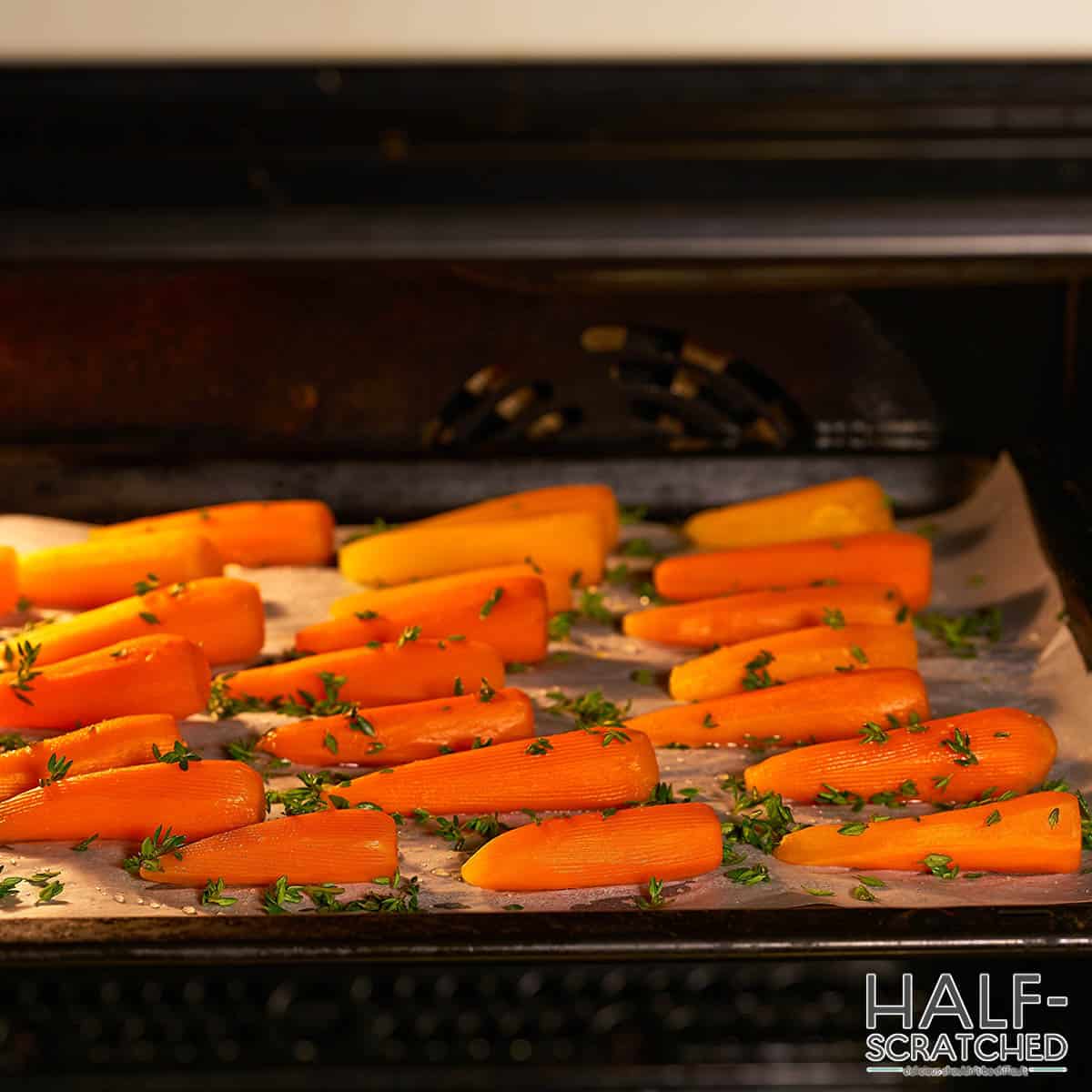 Roasting Times – From Baby Carrots to Rainbows, Danvers, and Whole, Unsliced Imperators
Carrots come in many shapes and sizes, and each type will require a different cook time. For example, baby carrots generally take about 20 minutes to roast, whereas larger, thicker carrots can take up to 45 minutes.
When roasting carrots, it's also important to keep in mind that different types of carrots will have varying cook times. For example, Danvers carrots (a type of heirloom carrot) tend to be larger and thicker, so they will take longer to roast than other types of carrots. Here is a helpful guide to roasting times for different types and sizes of carrots:
Baby carrots: 20-25 minutes
Thin rainbow carrots: 30 minutes
Thick Danver carrots: 40 minutes
Whole, unsliced Imperator carrots: 40 to 45 minutes
Of course, you'll find that even amongst the many types of carrots, there are large, small, and medium-sized options. Adjust your roasting times accordingly and let the vegetables cook until their tender but not mushy.
Use a Parboiling Technique to Shorten the Roasting Time
If you're in a hurry or need to use the oven for something else, you can parboil the carrots before roasting them. Parboiling is a cooking technique that involves boiling vegetables in water for a short period of time, usually 3 to 5 minutes. Doing this helps to soften the carrots so that they will cook faster when roasted.
To parboil carrots, simply add them to a pot of boiling water and let them cook for 3 to 5 minutes. Then, remove them from the water and dry them off as best as you can. They will likely retain a little bit of the water from boiling but by letting them sit and dry for a few minutes, you can guarantee that they roast properly and create a nutty, rich, caramelized flavor.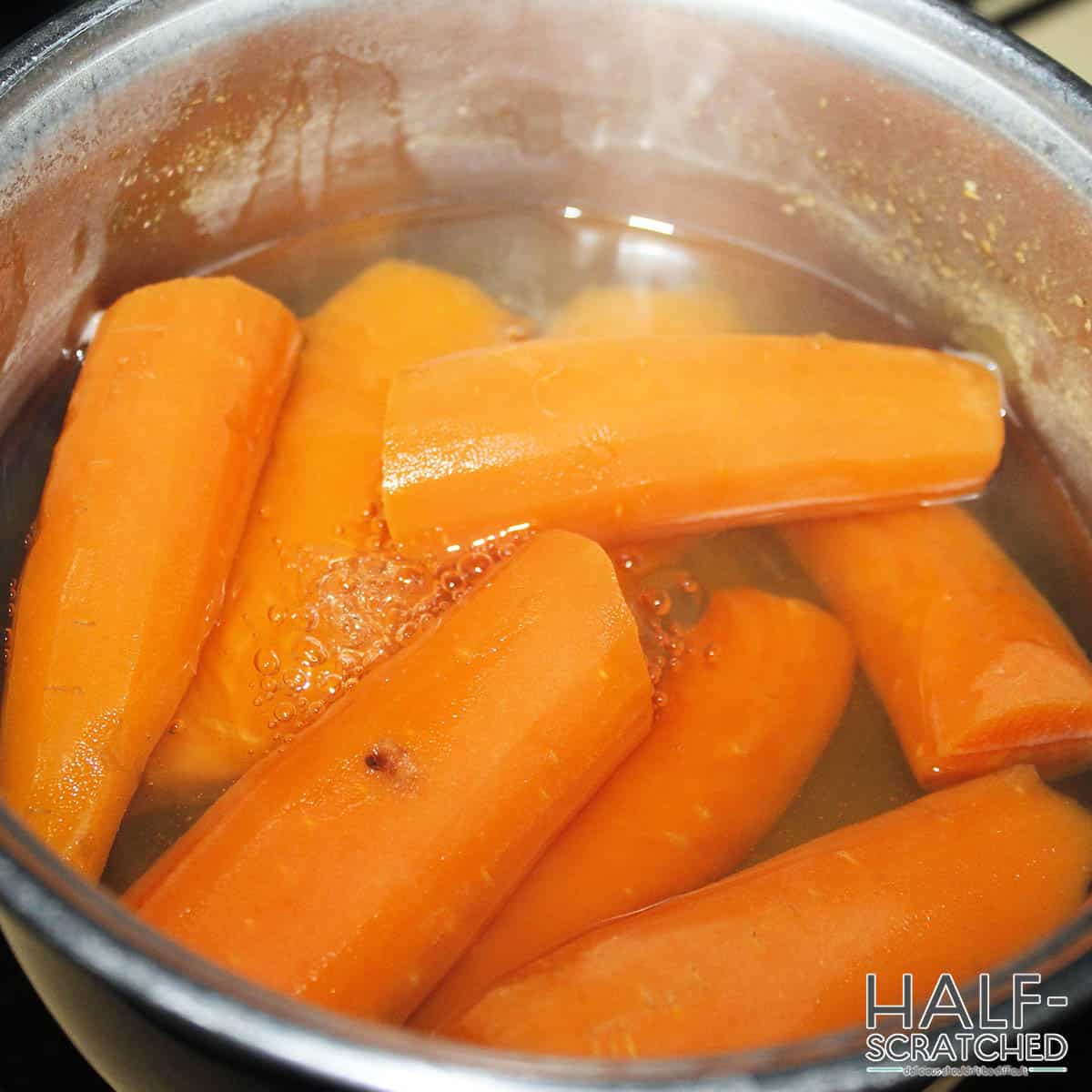 Air Frying Carrots Won't Produce the Same Results
Air frying has become a popular cooking method in recent years because it's quick, easy, and doesn't require a lot of oil. However, it's important to note that air frying and roasting are two very different methods. When you roast carrots (or any other vegetable), the goal is to caramelize the natural sugars to create a nutty, rich flavor.
This can only be achieved by cooking the carrots at a high temperature, usually 400 degrees Fahrenheit or higher. On the other hand, air frying uses a fan to circulate hot air around the food, which cooks it more quickly but doesn't caramelize the sugars in the same way. So, if you're looking for roasted carrots with that signature flavor, it's best to stick with the oven.
Should You Use Aluminum Foil?
Some people swear by using aluminum foil when roasting vegetables, but it's not necessary. In fact, it's perfectly fine to roast carrots (and other vegetables) without foil. However, if you do use foil, be sure to use it correctly:
First, you'll want to make sure that the carrots are dry before wrapping them in foil. If they are wet, the foil will cause them to steam, which will make them mushy.
Second, be sure to wrap the carrots loosely in foil. If you wrap them too tightly, the foil will hold in the moisture and again, cause them to steam.
Then, roast them according to the instructions above.
They may not develop the same roasted brown color that you'd expect from roasted carrots but they should still have the deep, rich flavor you're after. If you prefer the look of a browned carrot, you can let them roast for a few minutes directly under the broiler.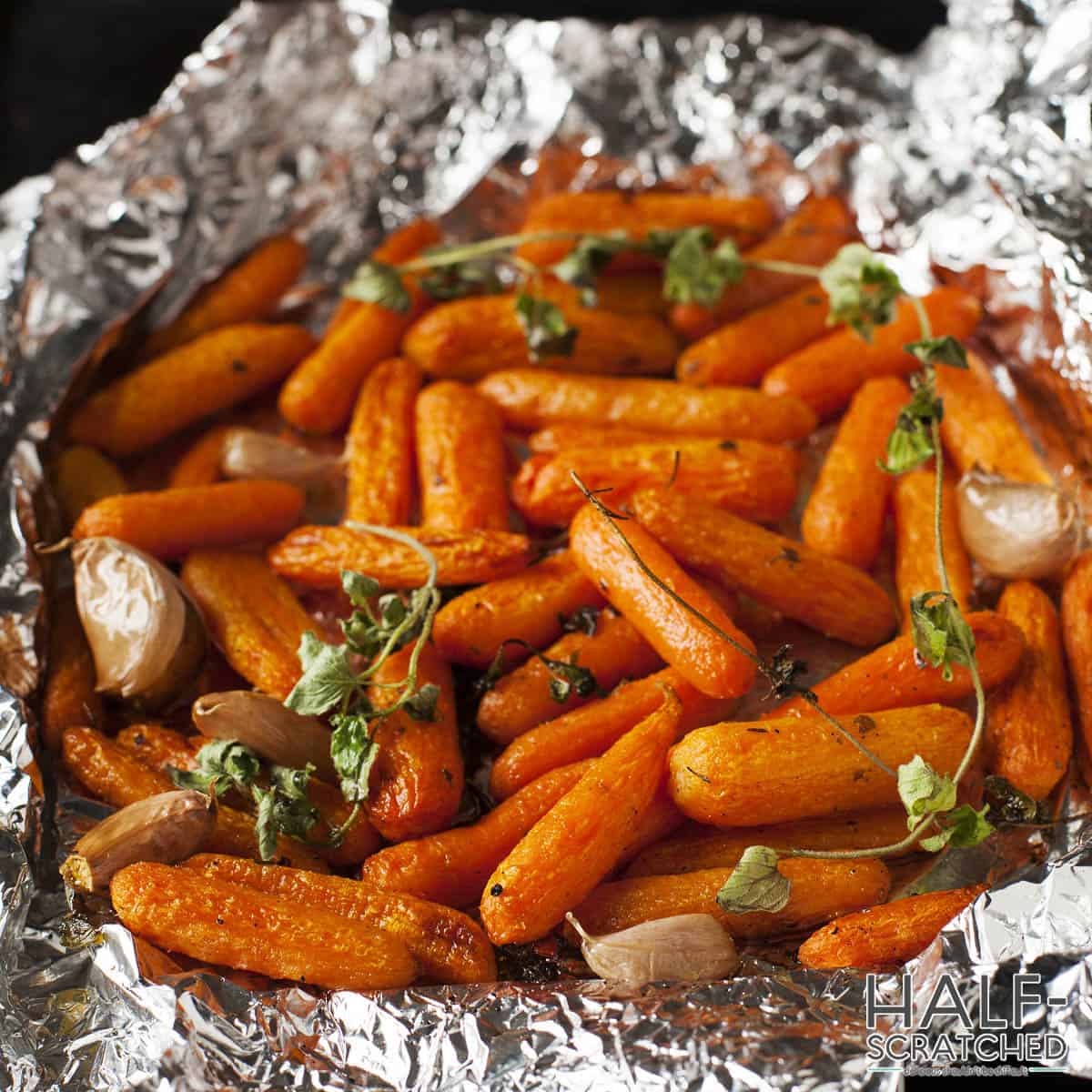 Check for Doneness with a Fork
One of the best ways to check if your carrots are done is to use a fork. Simply insert a fork into the thickest part of the carrot and if it's tender, they're done. If the fork slides in easily with no resistance, they're overcooked and will likely be mushy.
Another way to test for doneness is to cut into the carrot with a knife. Again, you're looking for tenderness but not mushiness. The carrots should be cooked but still have a slight crunch to them. If they have gone mushy or soggy, you can try to salvage the carrots by roasting them directly under the broiler for a few minutes longer.
Flip the Carrots Halfway Through Roasting
Roasting vegetables is a little more complicated than simply setting them in the oven and leaving them to cook. To ensure that the carrots cook evenly, you'll want to flip them halfway through the cooking time. This will help to evenly caramelize the sugars and prevent them from burning.
To flip the carrots, simply use a pair of tongs to turn them over. You can also shake the pan a few times to help rotate them. Just be sure not to disturb them too much or they may stick to the pan.
My Personal Tips to Improve Your Roasted Carrots
Depending on your personal preference and the rest of your meal, you may consider using a handful of these tips to improve the flavor of your carrots. Of course, they are not mandatory but they can help to spice up an otherwise traditional side dish.
Glaze the Carrots with Maple Syrup: Carrots are naturally sweet vegetables, and when roasted, their sugars caramelize to create an even sweeter flavor. However, if you want to enhance this sweetness, you can glaze the carrots with maple syrup. Simply brush the carrots with the syrup during the last few minutes of cooking.
Add Some Spice: Another way to enhance the flavor of your carrots is to add a little spice. This can be done by sprinkling them with cumin, smoked paprika, chili powder, or even a little bit of cayenne pepper. Just be sure not to add too much or it may overpower the other flavors in the dish.
Use Herbs: Carrots pair well with a variety of herbs, so feel free to experiment with different flavor combinations. Some of our favorites include rosemary, thyme, sage, and parsley. You can even add a little bit of fresh mint for a bright, flavorful twist.
Make a Sauce: Another great way to enhance the flavor of your carrots is to make a dipping sauce or glaze. This can be as simple as mixing together a little bit of balsamic vinegar, olive oil, and honey. Or, you can get creative and make a more complex sauce using different herbs, spices, and even fruit juices.
Roast Them with Other Vegetables: Roasting carrots with other vegetables is a great way to create a more complex and flavorful side dish. Just be sure to choose vegetables that will roast in the same amount of time, such as potatoes, sweet potatoes, parsnips, turnips, beets, or squash.
Use Bacon Fat for Added Umami: If you want to add a little bit of richness and depth of flavor to your carrots, consider roasting them in bacon fat. This may not be the healthiest option but it will definitely give the dish an extra boost of flavor. Simply cook the bacon until crisp, then remove it from the pan and use the fat to roast the carrots.
No matter how you choose to prepare your carrots, roasting them is a quick and easy way to enjoy a delicious, healthy side dish. By following the tips in this guide, you can be sure that your carrots will turn out perfect every time.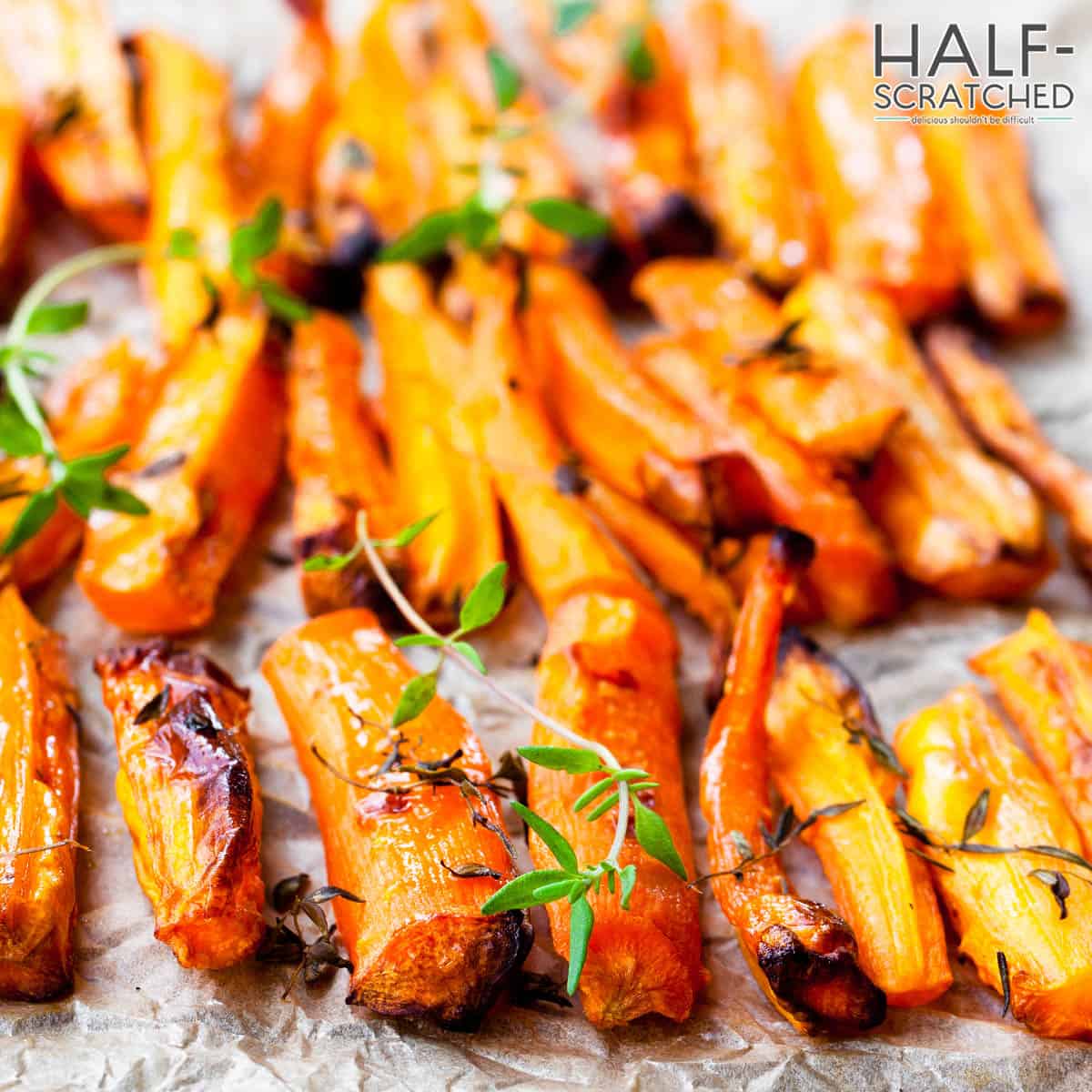 Frequently Asked Questions
Do You Have to Peel Carrots Before Roasting Them?
Although peeling your carrots can help to remove any dirt or debris, it's not necessary. If you're using organic carrots or carrots that you've washed thoroughly, you can simply leave the skin on. Not only will this save you time but it will also add an extra layer of flavor and nutrition. After all, the skin is known to contain high amounts of vitamins and minerals.
Do You Have to Wash Carrots Before Roasting Them?
Yes, you should always wash your carrots before cooking them. This will help to remove any dirt, debris, or pesticides that may be on the surface of the vegetable. Simply rinse them under cold water and then pat them dry with a clean towel. You can also use a food-safe soap if you're concerned about contamination.
Can You Roast Frozen Carrots?
Yes, you can roast frozen carrots but they will likely not turn out as well as fresh carrots. When roasting frozen carrots, be sure to thaw them first and then pat them dry. Otherwise, they will release too much water and will become mushy.
How Do You Store Roasted Carrots?
Roasted carrots can be stored in an airtight container in the fridge for up to 4 days. Alternatively, you can freeze the carrots for up to 6 months using zip-lock bags. When reheating, be sure to heat them slowly to prevent them from becoming mushy.
What Can I Serve With Roasted Carrots?
Roasted carrots make a great side dish for any type of roast, such as beef, chicken, or pork. They can also be served with other roasted vegetables or a simple green salad. You could even prepare them ahead of time and eat them as a mid-afternoon snack during the work week.
An Easy Yet Memorable Recipe for Roast Carrots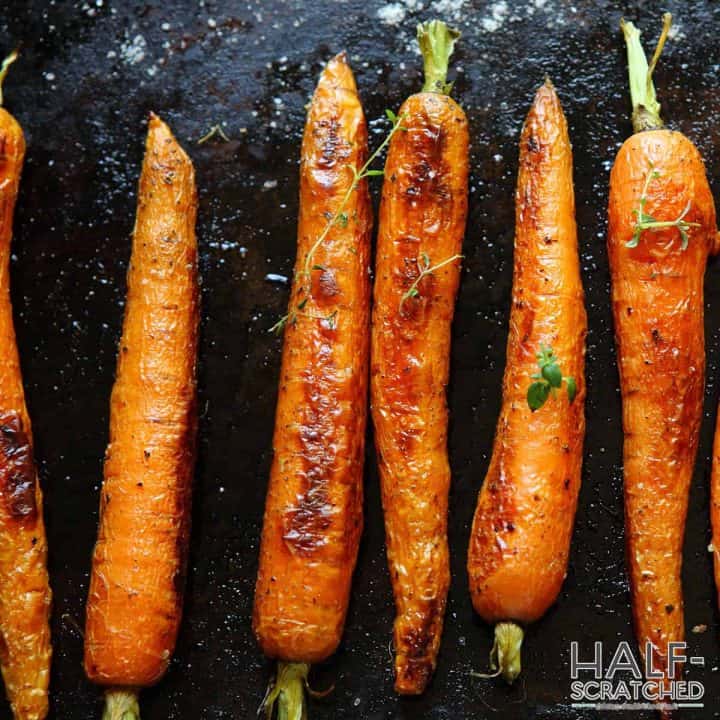 How Long to Roast Carrots at 400 F
Prepare perfectly roasted carrots for your next family dinner.
Ingredients
1 lb. of whole rainbow carrot
1 tbsp. of olive oil
1 tbsp. of honey
1 tsp. of thyme leaves
¼ tsp. of salt
Freshly ground black pepper, to taste
Instructions
Preheat your oven to 400°F.
Use a vegetable peeler to peel the carrots and then rinse them under cold water.
Arrange the carrots on a greased baking sheet and brush the carrots with olive oil.
Roast the carrots for 15 minutes before removing them from the oven.
Using a pair of tongs, flip the carrots over and brush them with honey.
Sprinkle the thyme leaves, salt, and pepper over the carrots.
Roast the carrots for an additional 15 to 20 minutes, or until they are tender and lightly browned.
Remove the carrots from the oven and serve immediately. Enjoy!
Nutrition Information:
Yield:

4
Serving Size:

1
Amount Per Serving:
Calories:

87
Total Fat:

4g
Saturated Fat:

1g
Trans Fat:

0g
Unsaturated Fat:

3g
Cholesterol:

0mg
Sodium:

212mg
Carbohydrates:

14g
Fiber:

4g
Sugar:

8g
Protein:

1g