Brussels sprouts are a notoriously polarizing vegetable—you either love them or you hate them. Yet, for so many people, the problem isn't that they don't like brussels sprouts—it's that they haven't had good brussels sprouts. To make delicious and still-somewhat-healthy sprouts, the trick is to roast them at a high temperature with a bit of fat.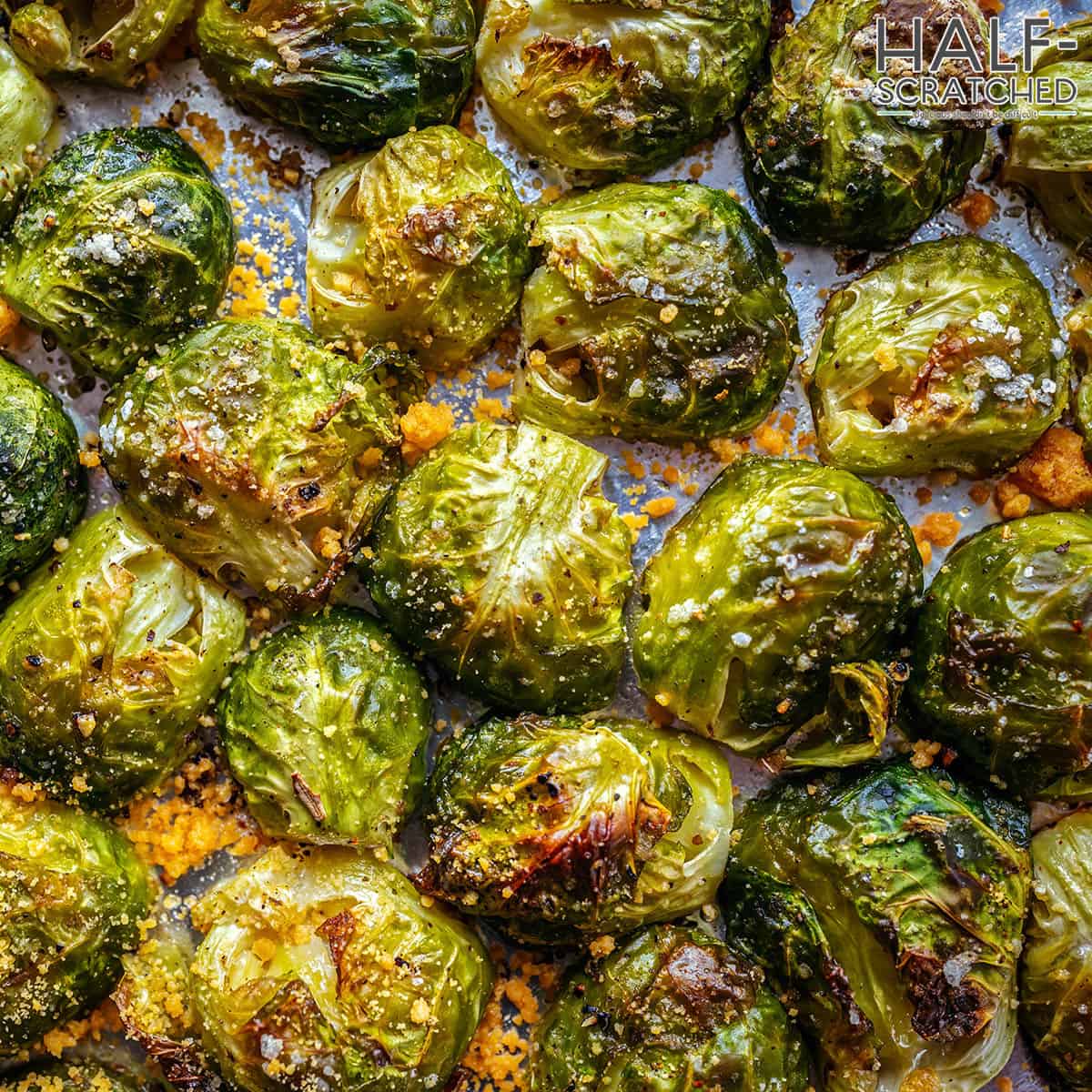 To roast brussels sprouts, preheat your oven to 400° Fahrenheit. Trim the sprouts and cut them in half, then toss them in a bowl with some olive oil and salt. Spread the sprouts on a baking sheet and roast for 20-25 minutes, until they're crispy on the outside and tender on the inside. The outer leaves should have deep brown marks, indicating a perfect roast.
Whether this is your first time experimenting with brussels sprouts or you're simply looking to improve your current cooking technique, this guide will help you make perfectly roasted sprouts every time. We'll explain how long to bake the bulbs, how to keep them from going mushy, and how to improve their notoriously vegetal flavor.
Always Roast Brussels Sprouts at 400° or Higher
The trick to making perfect brussels sprouts is to roast them. When people boil or steam the vegetable, it can come out mushy, bitter, and overall unappetizing. When you roast them, though, the sprouts transform into something crispy, sweet, and addicting.
To get the best results, always roast your sprouts at 400° or higher. This high heat helps caramelize the exterior of the vegetable, giving them a crispy texture and deep flavor. If you roast them at a lower temperature, they may not get as crispy, and their flavor will be more muted.
Ideally, you should aim for a temperature between 400-425°. Any higher, and they may start to burn. If you're roasting them at 400°, let them cook for around 25 minutes but keep an eye on them to make sure they don't scorch. Depending on the season and the size of the bulbs, they may have a lower water content, making them more susceptible to burning.
Avoid Covering the Sprouts with Aluminum Foil
Aluminum foil is a simple yet versatile kitchen aid that can help to insulate foods while they cook. Yet, many home chefs misunderstand how baking with aluminum foil affects other foods. When used correctly, it can be a great tool for keeping things moist, but when used incorrectly, it can make them soggy.
For perfectly roasted sprouts, do not cover them with foil while they cook. The foil will trap moisture, causing the sprouts to steam instead of roast. This will make them mushy and less flavorful. If you need to insulate the pan to prevent burning, place another pan or sheet on top. This way, the heat can still circulate and evenly cook the sprouts without trapping unwanted moisture.
Bake Until the Outer Leaves are Crisp and Browned
When roasted correctly, brussels sprouts should be crispy on the outside and tender on the inside. The outer leaves should be a deep brown, and the center should be cooked through but still slightly firm. To check if they're done, insert a knife into the center of a sprout. If it meets resistance, they need to cook longer. If it slides through easily, they're overcooked and will be mushy.
Another way to tell if they're done is to taste one. It should be tender but still have a slight crunch. The flavor should also be nutty and slightly sweet, with no bitterness. If you find that the bulbs are still rubbery, like cabbage, place them back in the oven to cook longer.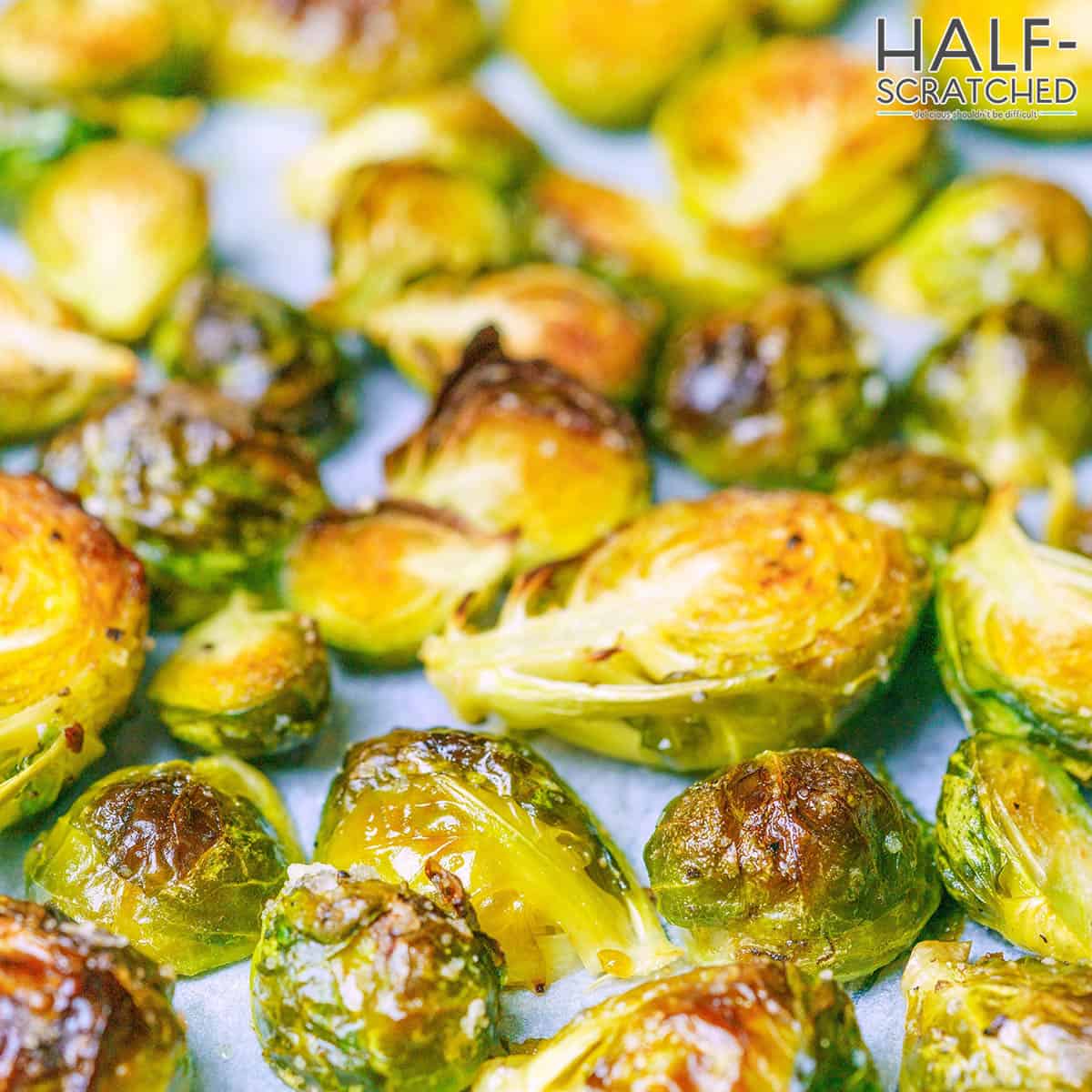 Rinse or Even Soak the Sprouts Before Roasting
If you're not a fan of brussels sprouts, the problem may not be the cooking method—it could be the vegetable itself. Brussels sprouts, like other cruciferous vegetables, contain a compound called glucosinolate. When the vegetable is cut or chewed, this compound is broken down and releases sulfur, which gives brussels sprouts their characteristic bitter flavor.
To reduce the bitterness, rinse the sprouts in cold water before cooking. This will remove some of the compounds that contribute to the bitterness. You can also soak them in a bowl of cold water for 30 minutes to an hour. This will give them time to absorb some of the water, which will help to dilute the bitterness.
If you're short on time, you can also blanch the sprouts. To do this, bring a pot of water to a boil and add the sprouts. Cook for two minutes, then remove them from the pot and place them in a bowl of ice water. This will shock the sprouts and stop the cooking process, preserving their crunch. It will also remove some of the bitterness.
After rinsing or blanching the sprouts, be sure to dry them thoroughly. If they're still quite wet when you go to roast them, they may not develop the iconic crispy crunch you're after. Or, let them roast for an additional ten minutes, bringing the total cooking time to around 40 minutes.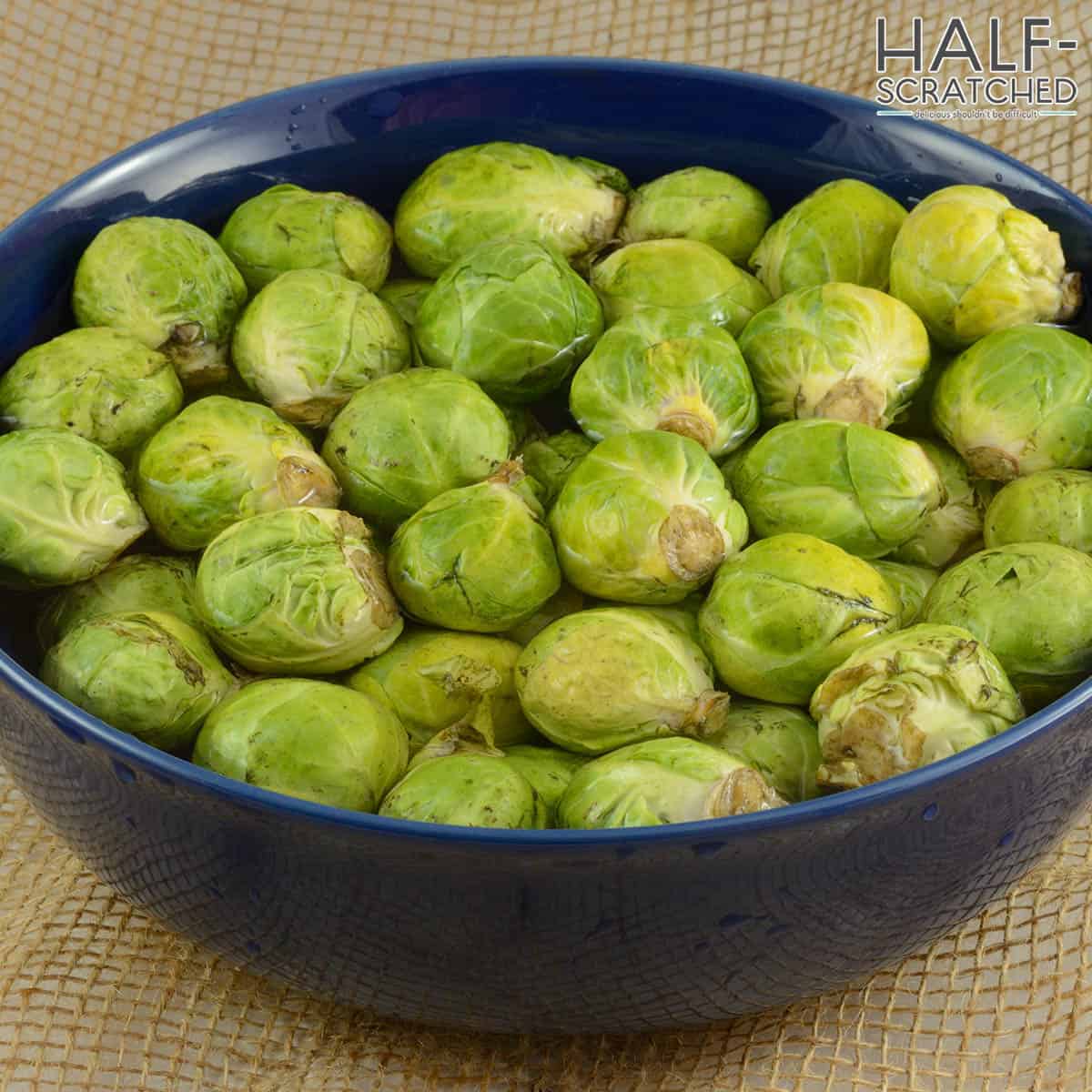 To Cut or Not to Cut the Sprouts in Half?
Cutting the sprouts in half will shorten the cooking time, but it may also affect the flavor. When you cut the sprouts in half, you're exposing more of the surface area to the heat. This can cause them to lose some of their moisture, making them less tender. It can also make them more susceptible to burning.
If you do choose to cut the sprouts in half, be sure to cut them evenly. This will help them to cook through at the same rate. We also recommend cutting them from top to bottom, rather than through the middle, so that they lay flat on the baking sheet.
Use an Air Fryer to Make Extra-Crispy Sprouts
If you're looking for an even crispier sprout, try using an air fryer. Air fryers work by circulating hot air around the food, similar to how a convection oven works. This makes the food cook evenly and prevents it from getting soggy while also helping the food to cook faster.
To cook the sprouts in an air fryer, start by preheating the appliance to 400°. Cut the sprouts in half and toss them with olive oil and salt. Spread them in the basket in a single layer and cook for 10-12 minutes until they're crispy and browned. Depending on how many sprouts you're cooking, you may have to prepare the halves in two batches.
Must-Know Tips to Improve Your Brussels Sprouts
In just a moment, we'll share our go-to recipe for deliciously roasted brussels sprouts but before we do so, we wanted to walk you through a handful of top tips to improve the flavor and quality of your dish. While these techniques are certainly not mandatory, they can help to reduce bitterness and create a perfectly crisp exterior with a soft, tender interior.
Roast the Sprouts in Bacon or Goose Fat
If you have access to clarified bacon or goose fat, we HIGHLY recommend using it to roast your sprouts. The fat will help to keep the sprouts moist while also adding incredible flavor. Simply spread a couple of tablespoons of fat across the bottom of a baking pan and let it melt for a few minutes in the oven. Then, lay the sprouts on top of the fat and roast as usual.
Add a Pinch of Sugar
A pinch of sugar may seem like an odd addition to roasted vegetables but trust us, it makes a world of difference. The sugar will help to caramelize the exterior of the sprouts, giving them a deep, rich flavor that heightens the naturally vegetal notes of a brussels sprout. Simply sprinkle a bit of sugar over the sprouts before roasting and let it do its magic.
Use a Balsamic or Apple Cider Vinegar
One of the best ways to offset the bitterness of brussels sprouts is to add a bit of acidity. This will help to brighten the flavor of the dish and make it more palatable. Just before serving, drizzle the sprouts with a bit of vinegar and give them a toss. We like to use balsamic or apple cider vinegar but you can use whatever you have on hand.
Toss with Parmigiano Cheese
If you're looking for a cheesy twist on roasted sprouts, try tossing them with grated Parmigiano cheese. The cheese will add a bit of salty flavor and help the sprouts to brown more evenly. Simply sprinkle the cheese over the sprouts before roasting. Alternatively, you can use a Grana Padano, Pecorino, or any other hard, salty cheese.
Add a Bit of Spice
Roasted sprouts are delicious on their own but if you're looking to give them a bit of kick, try adding a pinch of red pepper flakes or cayenne pepper. The spice will balance out the bitterness of the sprouts and give them a bit of heat. Just be sure to add it sparingly, as it's easy to go overboard.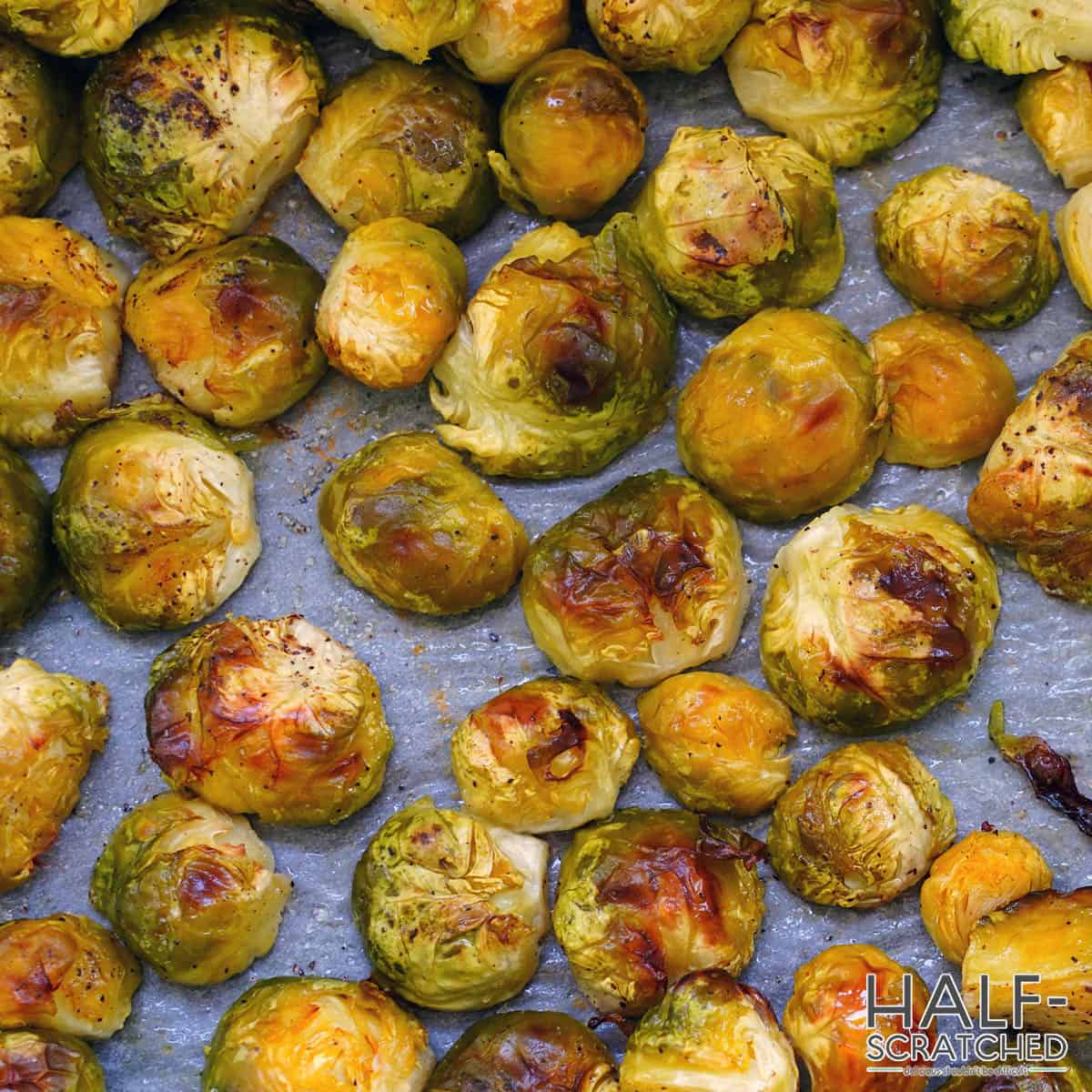 Frequently Asked Questions
Are Brussels Sprouts Baby Cabbages?
No, brussels sprouts are not baby cabbages. They're actually a member of the mustard family. They were bred in Belgium in the 16th century and got their name from the city of Brussels. Cabbage, on the other hand, is a member of the cruciferous family and is thought to have originated in the Mediterranean.
How Do You Make Brussels Sprouts Less Bitter?
There are a few different ways to make brussels sprouts less bitter. You can soak them in cold water, rinse them in cold water, or blanch them. You can also add a bit of acidity, such as vinegar or lemon juice, to balance out the bitterness. Finally, you can add a pinch of sugar to help caramelize the exterior and offset the bitterness.
How Long Do Brussels Sprouts Last in the Fridge?
Once they're roasted, brussels sprouts will last in the fridge for 3-4 days. Alternatively, you can freeze them for up to 3 months. Just be sure to let them cool completely before storing them in an airtight container.
What Can I Serve With Brussels Sprouts?
There are a variety of side dishes that go well with brussels sprouts. Some of our favorites include roast beef or chicken, roasted potatoes, roasted carrots, and roasted sweet potatoes.
The Perfect Recipe for Roasted Brussels Sprouts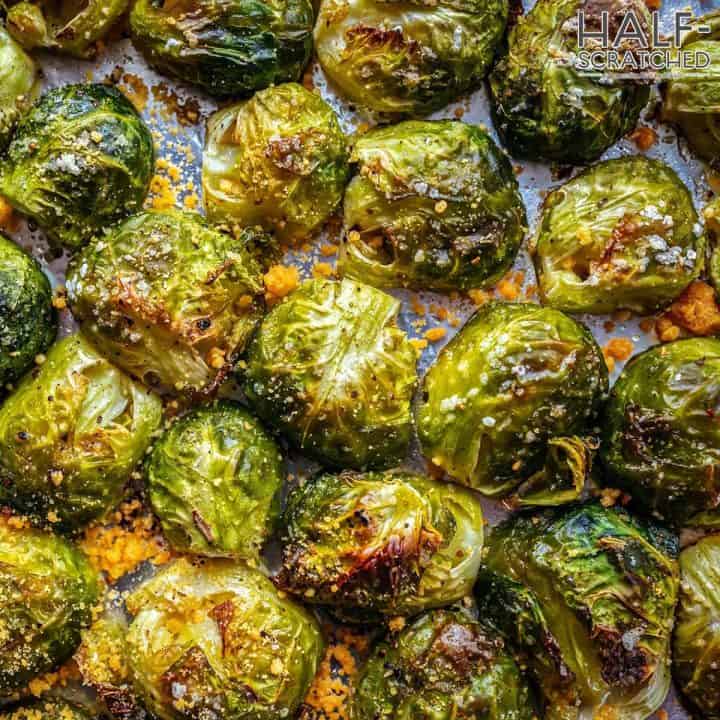 How Long to Bake Brussels Sprouts at 400 F
Total Time:
1 hour
15 minutes
If you've struggled to enjoy brussels sprouts your whole life, try roasting them using this top-tier cooking method.
Ingredients
1 ½ pounds brussels sprouts, halved
8 cups of water
2 large spoonfuls of clarified bacon or goose fat (use clarified butter if unavailable)
¼ cup balsamic vinegar
¼ cup grated Parmigiano cheese
1 teaspoon sugar
½ teaspoon salt
¼ teaspoon black pepper
¼ teaspoon red pepper flakes (optional)
Instructions
Preheat the oven to 400°.
Rinse the halved brussels sprouts in cold water and dry thoroughly.
In a large pot, bring the water to a boil. Add the halved brussels sprouts and cook for 2 minutes.
Remove the sprouts from the pot with a slotted spoon and place them in a bowl of iced water. Let them sit for 2 minutes.
Remove the sprouts from the water and dry them thoroughly.
Once the oven comes to temperature, remove the baking sheet and spread the fat across the bottom.
Place the sprouts on the baking sheet, making sure they're in a single layer.
Sprinkle the sugar, salt, pepper, and red pepper flakes (if using) over the top of the sprouts.
Bake for 25-35 minutes or until the sprouts are crispy and browned.
Remove from the oven and drizzle with the balsamic vinegar.
Sprinkle with the Parmigiano cheese and serve immediately.
Nutrition Information:
Yield:

4
Serving Size:

1
Amount Per Serving:
Calories:

240
Total Fat:

13g
Saturated Fat:

5g
Trans Fat:

0g
Unsaturated Fat:

6g
Cholesterol:

40mg
Sodium:

641mg
Carbohydrates:

17g
Fiber:

4g
Sugar:

6g
Protein:

16g