You can't beat a quick and easy mid-week meal. Learning to broil shrimp is a tasty yet fast way to satisfy your entire family.
Shrimp, like other seafood, are prone to overcooking, so a watchful eye is needed, particularly when using a broiler (a notoriously fast cooking method).
For the perfect broiled shrimp, you should cook them for two minutes on both sides, ensuring they maintain a five-inch distance from the heating element. While color and shape dictate when they're ready, an instant-read thermometer is recommended for beginners. Once it reaches 120°F, you're good to go.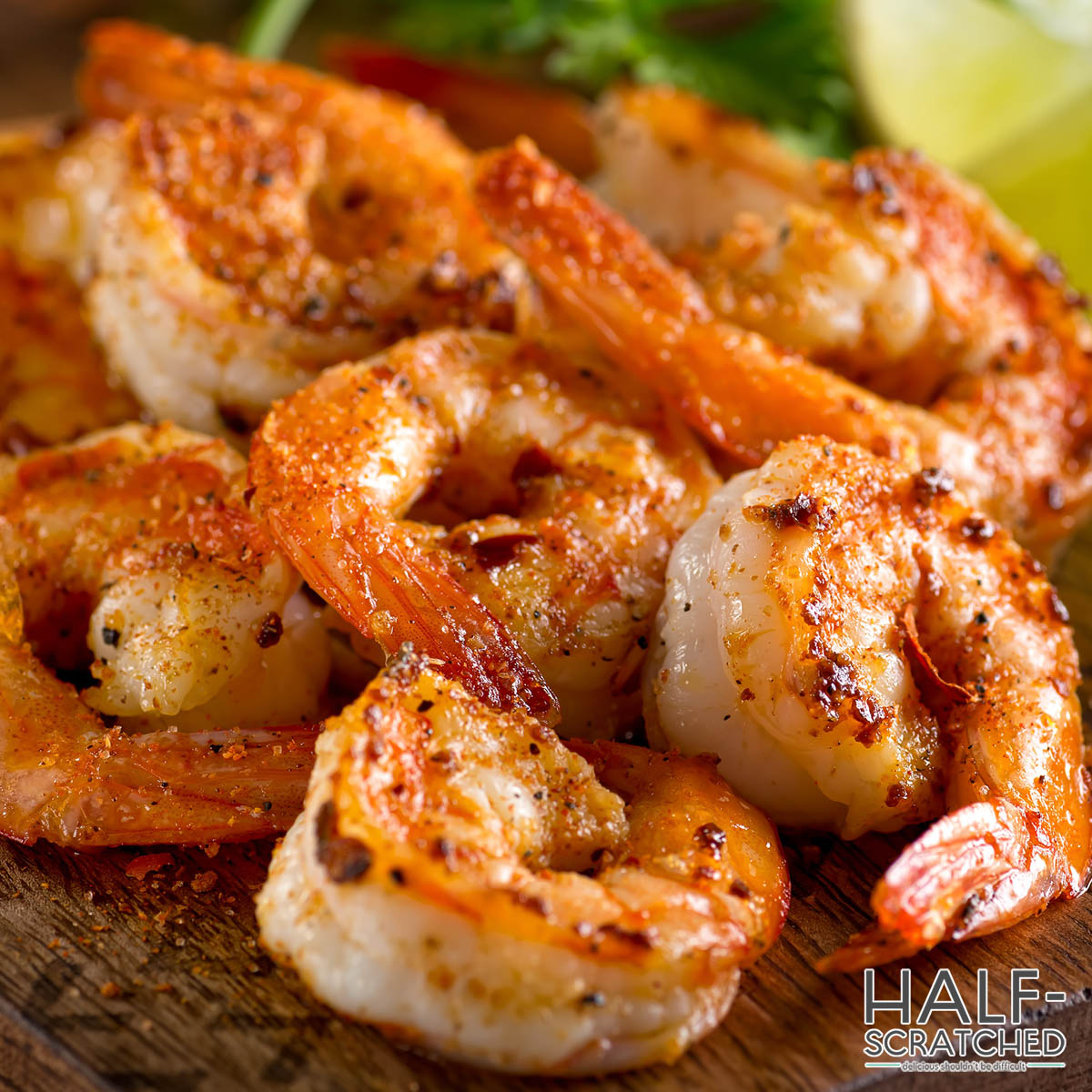 Preparation is vital when broiling shrimp. So below, you'll find everything you need to know about thawing, peeling, and deveining.
Why Broiling is the Best Cooking Method for Shrimp
You're probably used to grilling or sautéing your shrimp. But broiling is a faster, easier method that doesn't impact the quality — you're still rewarded with tasty, juicy meat that's beautifully crispy on the outside.
Plus, the shrimp cooks in just four minutes, allowing even the busiest of people to whip up a scrumptious, nutritious meal.
How to Know When Shrimp Is Perfectly Cooked
Its color, shape, texture, and temperature will tell you whether the shrimp is ready to eat. Depending on your level of shrimp-cooking experience, you can examine one or all of these elements.
For beginners, we recommend using temperature, as it's a guaranteed way to avoid eating undercooked shrimp.
Color
Proper cooked shrimp sports an opaque white color with a pinkish tinge on the outside. Although, the color can vary depending on the particular species.
Sometimes, it will boast a reddish translucent tone. Typically, this will happen when it's only partially cooked.
When overcooked, shrimp appear matte white or gray.
Shape
Well-cooked shrimp are curled into a "C." The shape begins to form as they lose moisture and the protein strands firm. You'll know it's been cooking too long if it looks more like an "O."
Texture
Firm, not chewy, is the name of the game when cooking shrimp. Undercooked morsels are too tough, while overcooked shrimp are terribly rubbery and dry.
That said, shrimp's age and size dictate the final texture. Bigger, older shrimp have more connective tissue, so they require longer cooking times for that oh-so-soft texture.
Temperature
Shrimp should have an internal temperature of 120°F. Simply insert an instant-read digital thermometer into the thickest part of the meat, removing it from the broiler once it reaches 120°F.
Even though the FDA recommends a minimum temperature of 145°F, shrimp are prone to fast overcooking and are safe to eat at just 120°F.
Shrimp are tender at 120°F and fully cooked at 145°F.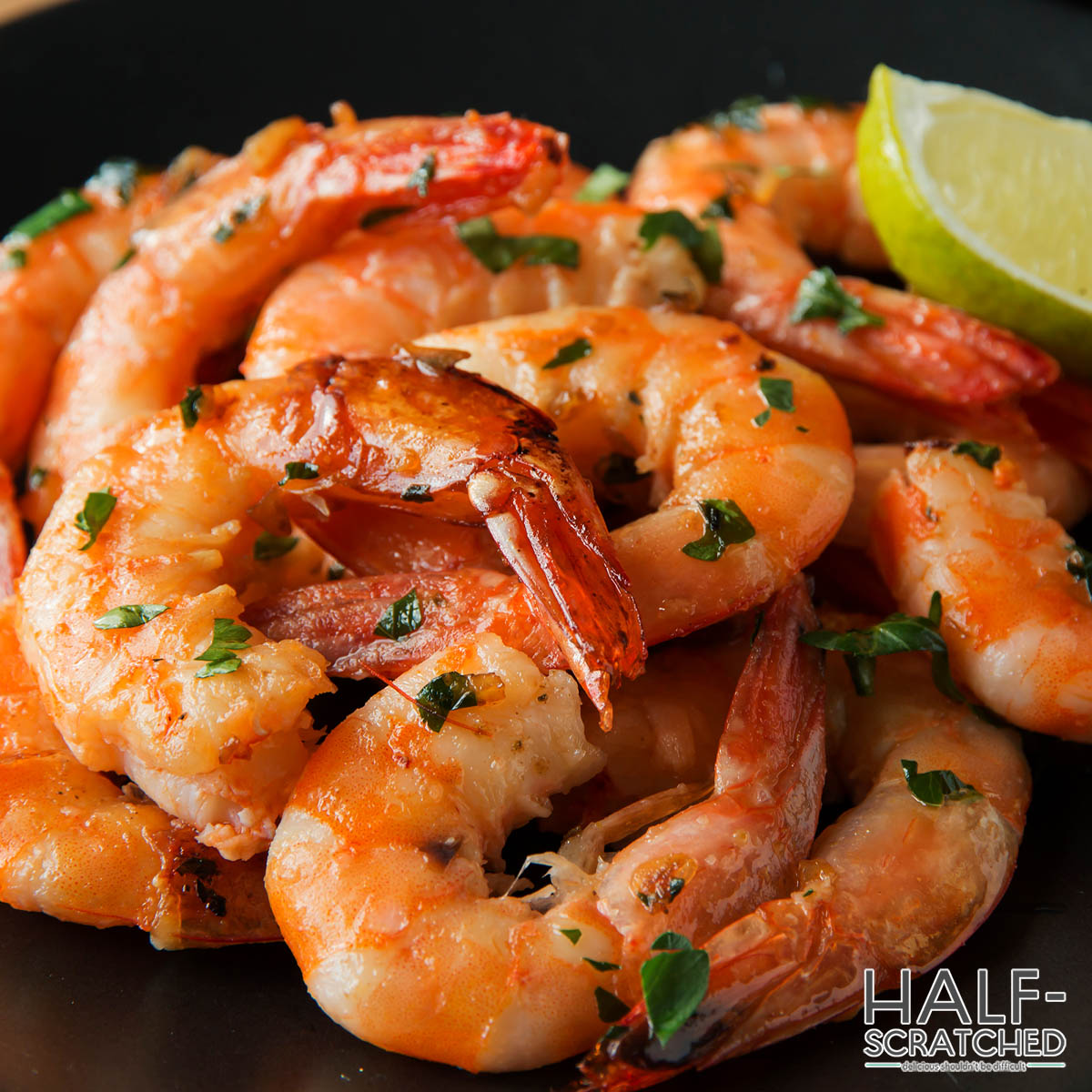 How to Prepare Shrimp for Broiling
That said, following preparation methods is vital to reaping the full delicious rewards. Whether thawing like a pro or deveining the shrimp, take care with these stages — they can make or break your dish.
The Thawing Process
You can't (or shouldn't) put frozen shrimp under the broiler. Instead, you must thaw it beforehand. Luckily, there are a couple of safe ways to do that.
Defrosting the Night Before
If you've remembered your dinner plates in good time, defrosting shrimp overnight is the best way to go. Just follow these steps:
Place the bag of frozen shrimp on a baking sheet/plate lined with paper towels. This will stop any leaks flooding your fridge's shelves.
Put it into the refrigerator.
Leave for 12 hours. You'll know it's thawed when the outside of the shrimp is translucent, and there isn't any interior-ice-caused stiffness.
Rapid Defrosting
Only have half an hour to spare? Use this rapid defrosting method to quickly thaw your shrimp so it's ready when needed.
Pour cold water into a large bowl.
Transfer the shrimp from their original packaging to a zip-top bag.
Seal the bag.
Fully submerge the bag in the cold water, ensuring it stays under by placing a lid or plate over it.
Leave the shrimp in the water for 20 to 30 minutes to ensure they're completely thawed.
Put the thawed shrimp on a paper-towel-lined plate and pat to remove the remaining moisture.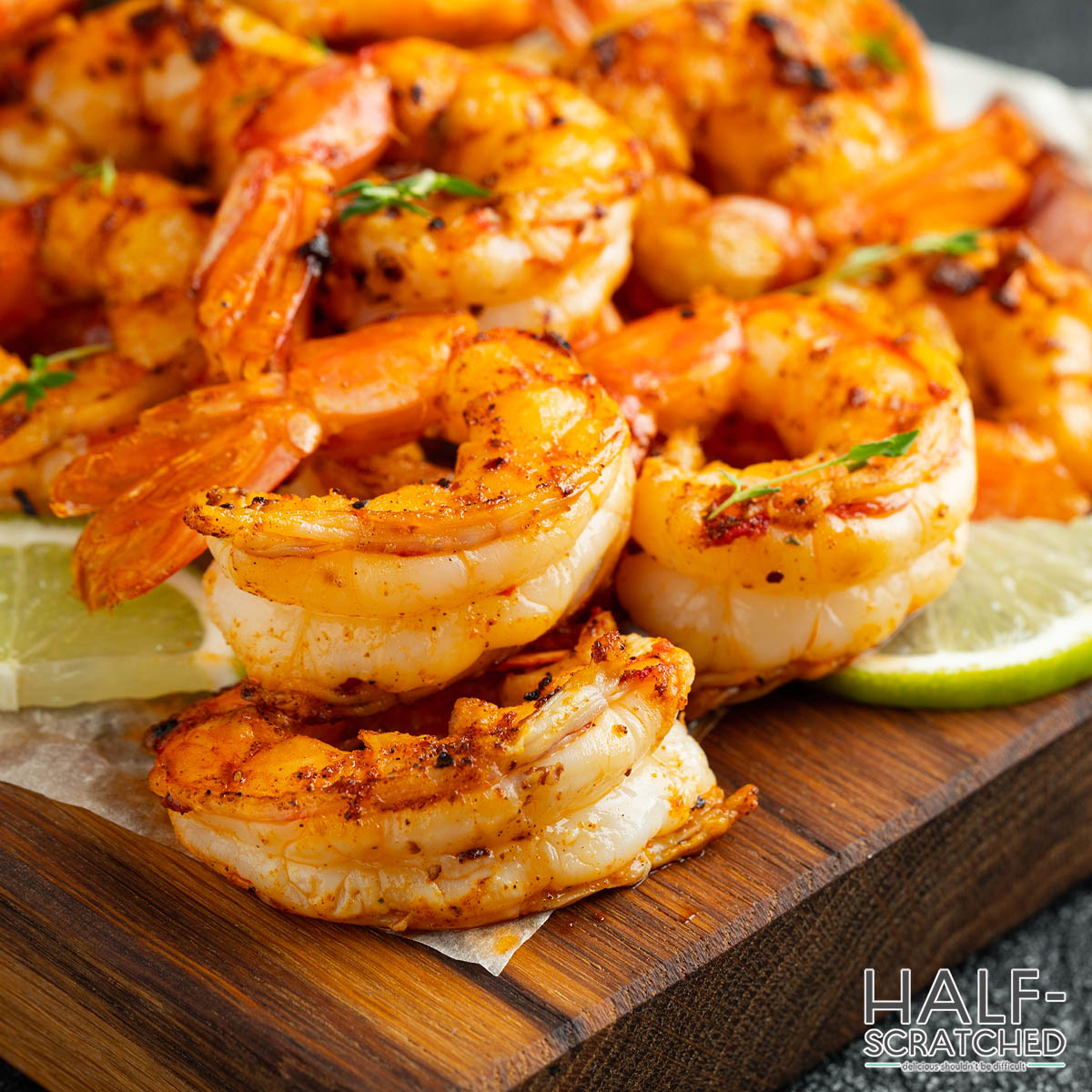 The Peeling and Deveining Process
After thawing, you'll need to peel and devein the shrimp before broiling. While the process can seem daunting if this is your first time, just go slowly, and you'll get the hang of it surprisingly quickly.
If the head is still attached, pull it off.
Pull the legs off, too.
Start removing the outer shell at the head end. Depending on your presentation style, you can keep the final segment of the shell and the tip of the tail on. Alternatively, keep the shell on entirely and use a pair of sharp kitchen scissors to cut along the outer edge of the back. This allows you to get to the vein later while retaining the flavor provided by the shell.
Put the shells in a securely fastened plastic bag. You can discard them or freeze the shells for seafood broth.
Using a paring knife, slice along the outer edge of the back. Aim to cut about ¼ inch deep.
With your fingers or the knife's tip, remove the vein (i.e., the dark line running across the shrimp's back and discard it. If you can't see it, leave it.
Place the peeled and deveined shrimp in a bowl of ice water or ice until you're ready to broil them.
The Ultimate Broiled Shrimp Recipe for Beginners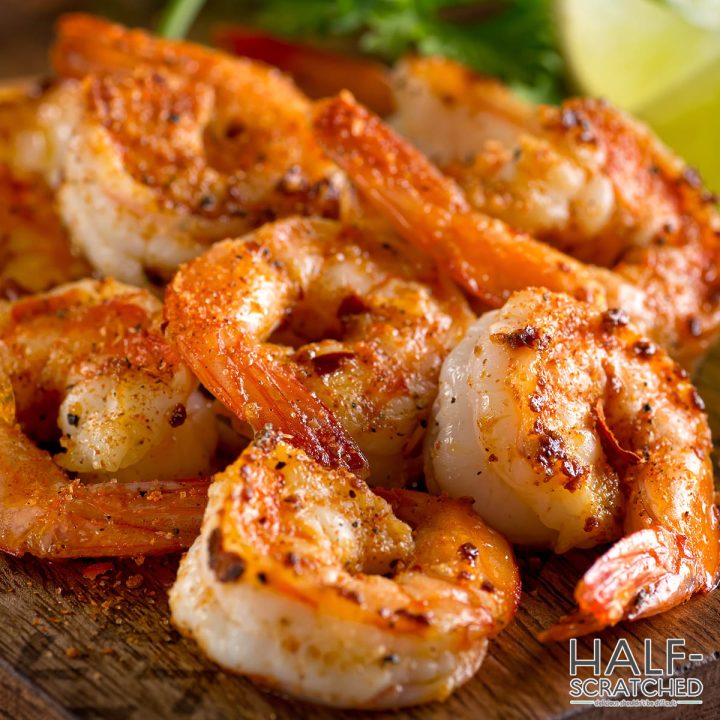 How Long to Broil Shrimp
Learn how long you should broil shrimp + answers to many other burning questions about how to cook perfect shrimp.
Ingredients
1.5 pounds raw jumbo shrimp (deveined, peeled, and thawed)
2 teaspoon olive oil
1.5 tablespoon cajun seasoning
4 tablespoon unsalted butter (melted)
1 teaspoon lemon juice (the fresher the better)
¼ teaspoon salt
¼ teaspoon black pepper
1 teaspoon honey
Instructions
Set your oven to high broil.
Make sure the oven tray is roughly five inches from the heating element.
Spray a baking sheet with non-stick cooking spray or line it with aluminum foil.
Pat the shrimp dry with paper towels.
Put the shrimp into a mixing bowl.
Add the olive oil and cajun seasoning to the bowl.
Toss the shrimp until they are entirely coated in seasoning.
Transfer the shrimp from the bowl to the baking sheet.
Put the baking sheet on the oven tray closest to the heating element and broil for two minutes.
Flip the shrimp and broil for another two minutes.
When the shrimp are pink and firm, take them out of the oven.
Immediately put them on a plate to rest.
While resting, whisk the honey, lemon juice, melted butter, salt, and pepper together.
Pour the butter mixture into a small serving bowl.
Serve the shrimp with the butter mixture and your favorite sides.
Notes
If you aren't a fan of the seasoning, you can always switch it out while following the same cooking instructions. Some people prefer cilantro lime; others like curry paste or powder; the rest like feta crumbles. It's up to you! Naturally, you can omit the butter dipping sauce if you're watching your fat intake.
Struggling for sides? Try these — roasted Parmesan asparagus, Greek vegetable salad, mango guacamole, potato salad, Caprese salad, coconut rice, corn on the cob, coleslaw, or au gratin potatoes.
Nutrition Information:
Yield:

4
Serving Size:

1
Amount Per Serving:
Calories:

334
Total Fat:

17g
Saturated Fat:

8g
Trans Fat:

0g
Unsaturated Fat:

7g
Cholesterol:

389mg
Sodium:

2964mg
Carbohydrates:

5g
Fiber:

0g
Sugar:

2g
Protein:

39g