Potatoes have earned a reputation as a "bad" food: French fries, potato chips, mashed potatoes. People argue that they're empty carbs and provide no nutrients, but the opposite is true. Potatoes are rich in Vitamin C and potassium, and it's often a matter of preparing the potato in a healthier way, such as baking.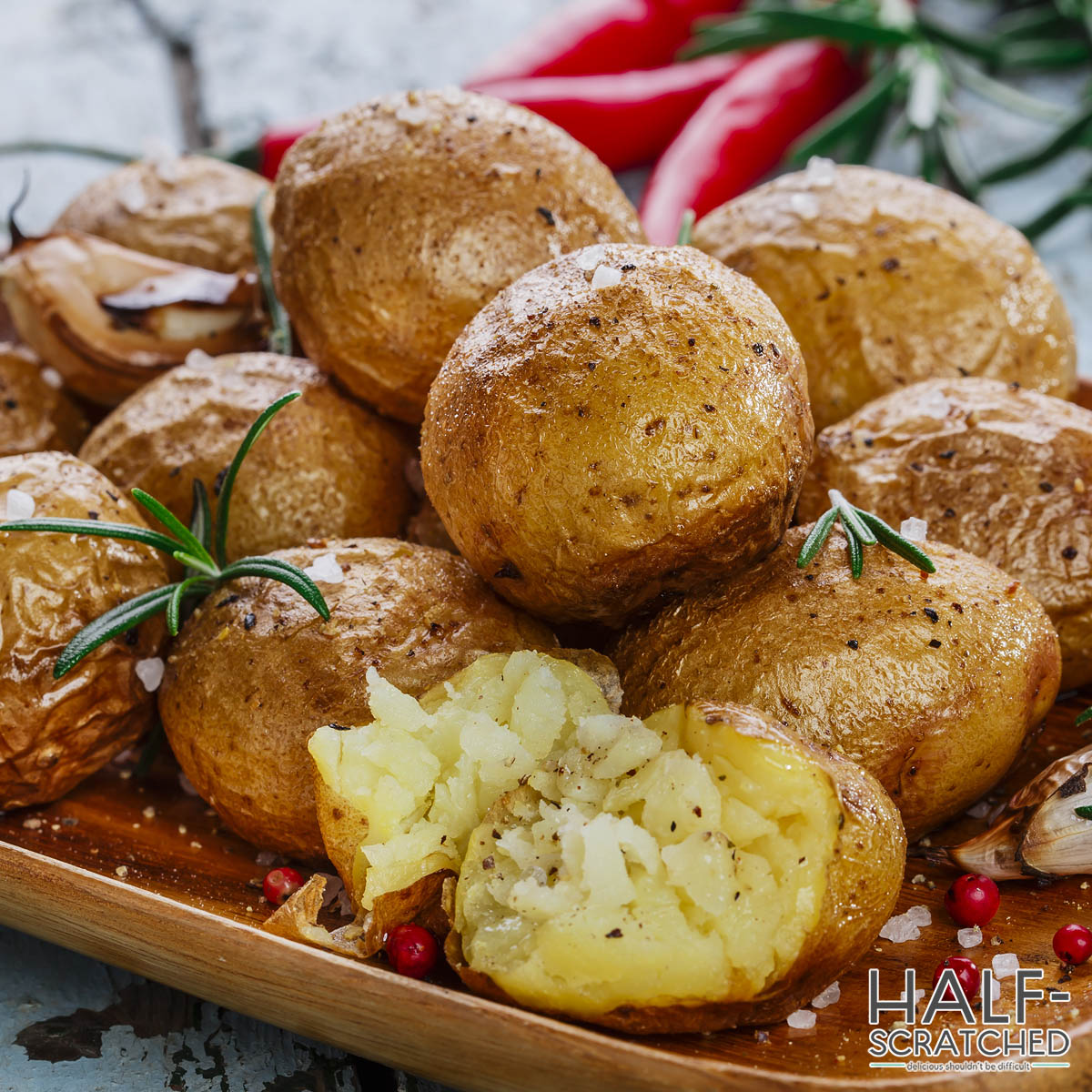 Potatoes are very easy to prepare and one of the most popular ways to do so is to bake them. You can bake potatoes at 375 degrees Fahrenheit for 70 to 75 minutes. This ensures they're fully baked through and are soft enough to eat or mash.
This guide will walk you through some tips and tricks for baking potatoes, such as ideal temperatures, the best toppings for baked potatoes, and a delicious baked potato dish. How long should it be baked and at what temperature? Is baking the best way to eat a potato? Read on!
Ideal Temperatures to Bake Potatoes
Potatoes should never be eaten raw as they have solanine and lectins, both of which can cause stomachaches. They also have resistant starch, which is hard for the human digestive system to break down without cooking. With that being said, potatoes can be baked at a variety of temperatures depending on how long you want to wait.
General baked potato recipes call for baking in the mid-400 degrees, but you can definitely bake them at a lower temperature, such as at 375 degrees Fahrenheit. It also depends on the size of the potato, as larger potatoes will take longer to bake, whereas smaller potatoes can bake quickly and at lower temperatures.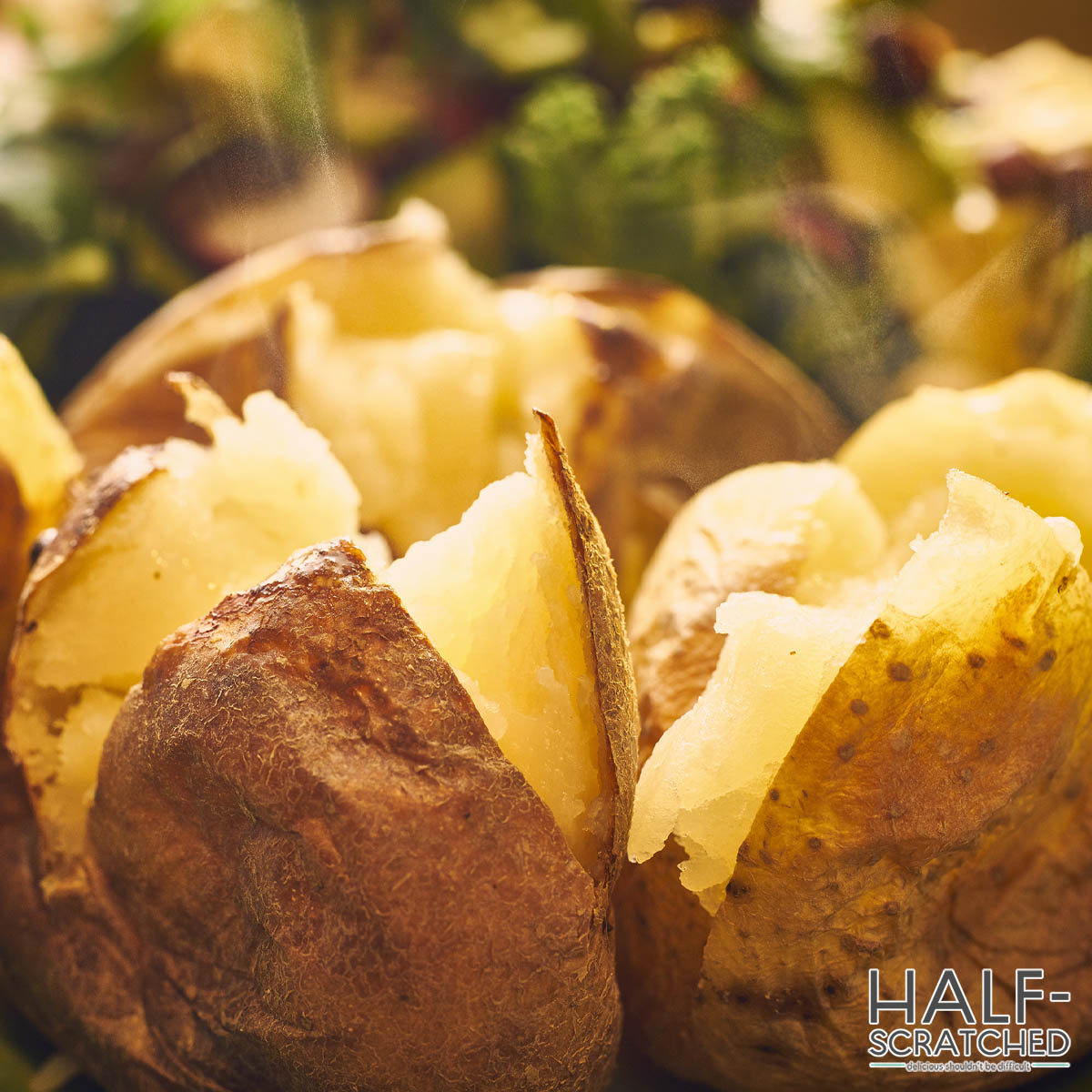 How to Prep Potatoes for Baking
Since potatoes grow in the ground, they prefer cool, dark environments. Before baking your potato, it's important to first store it properly. Raw potatoes should not be refrigerated or frozen because the starch in the potato will be converted to sugar and, when baked or fried, can turn into the carcinogen acrylamide.
In addition, potatoes will often be covered in dirt, but the general consensus is that they shouldn't be washed until you're ready to cook them. This is because if a potato is pre-washed and left out, then it's more likely to accumulate bacteria on its surface.
Peeling
News flash! The skin on potatoes is edible, and it's actually beneficial to leave it on because it has a lot of fiber and nutrition. The skin can also add some fun to a dish because some potato skins come in eclectic colors like red, purple, gold, or even blue!
One tip with the skin is to make sure to scrub or wipe it down well because dirt can accumulate in the nooks and crevices. You can use a vegetable brush or a cloth to gently wipe off any dirt or other unwanted substances.
How to Make Potatoes Bake More Quickly
Potatoes take a long time to fully bake because they are so wide around, but there are a couple of tricks that people use to help their potatoes bake faster.
Cutting
If baking a potato, it's always a good idea to cut it. Potatoes are very dense and thick, so cutting them literally halves the thickness and quickens the baking time. Potatoes can be cut into slices to be baked or, as in the case of a baked potato, a cut can be made on the top, allowing just a certain section of the potato to be open.
Make sure your knife is sharp, otherwise, you can hurt yourself. Potatoes can be hard to cut, especially when they're raw, so you don't want to hurt yourself with a dull knife.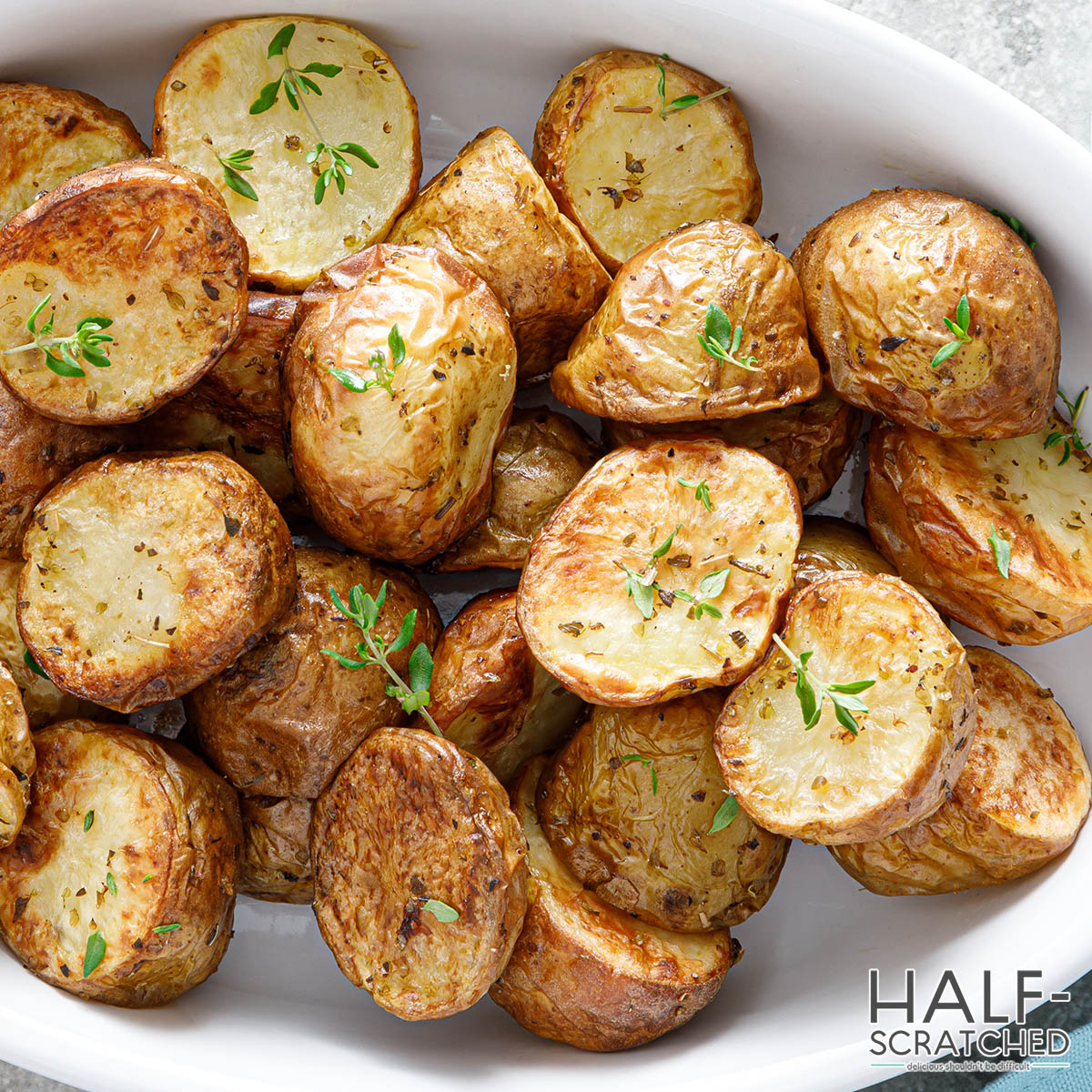 Is Foil Good for Baking Potatoes?
Aluminum foil was invented as a way to provide a barrier against moisture and bacteria. It's also used as an insulating cover, meaning that it keeps heat in, so when baking a potato in foil, it will actually cook faster because it keeps the heat in. Some things to consider when using foil:
Do you want a crispier baked potato or a softer, moist one?
When you use foil on your baked potato, the skin will be more papery and the inside will be steamier. On the other hand, baking a potato without foil will produce crispier skin and a dry inside.
Can You Overbake a Potato?
You can definitely overbake a potato but it doesn't mean the end of the spud. It will still be edible but it'll be dry and crumbly, which some people may find offputting.
A sure sign of overbaking a potato is wrinkled skin. It will start to pull away and feel very dry. If you're baking the potato in foil or on a baking sheet, another sign of overbaking is that there will be a brown spot on the bottom.
Saving an Overbaked Potato
One of the easiest (and yummiest!) ways to save an overbaked potato is to mash it up. This adds some moisture back into the potato and you can add milk, cream, or butter to counteract the dryness from overbaking.
Another way to save an overbaked potato is to gently toss it with oil and roast it until it gets crispy. This saves a person from having to eat a dried-out potato.
How Do I Reheat Baked Potatoes?
Baked potatoes can be reheated in the oven. Preheat to 350 degrees Fahrenheit and leave the baked potato in the oven for 15 to 20 minutes. You can also microwave baked potatoes but this can dry them out. A tip is to cover the baked potato dish with a damp paper towel to keep in some moisture.
Will Baked Potatoes Last in the Fridge?
After baking potatoes and eating as much as you can, you notice that there are some leftovers. Luckily, baked potatoes can be kept in the fridge for up to four days. After that, the quality of the dish will go down.
General Tips for Awesome Baking Potatoes
Baking potatoes are an easy way to create a delicious dish, even if you're a novice chef. Here are some general tips to think about before starting to bake these spuds:
Choose the "Right" Potato
Some potatoes bake better than others, namely russet potatoes. These tubers are low in moisture and high in starch content, making them fluffy when baked. Yukon Gold potatoes are also a solid choice because they tend to have a creamy texture.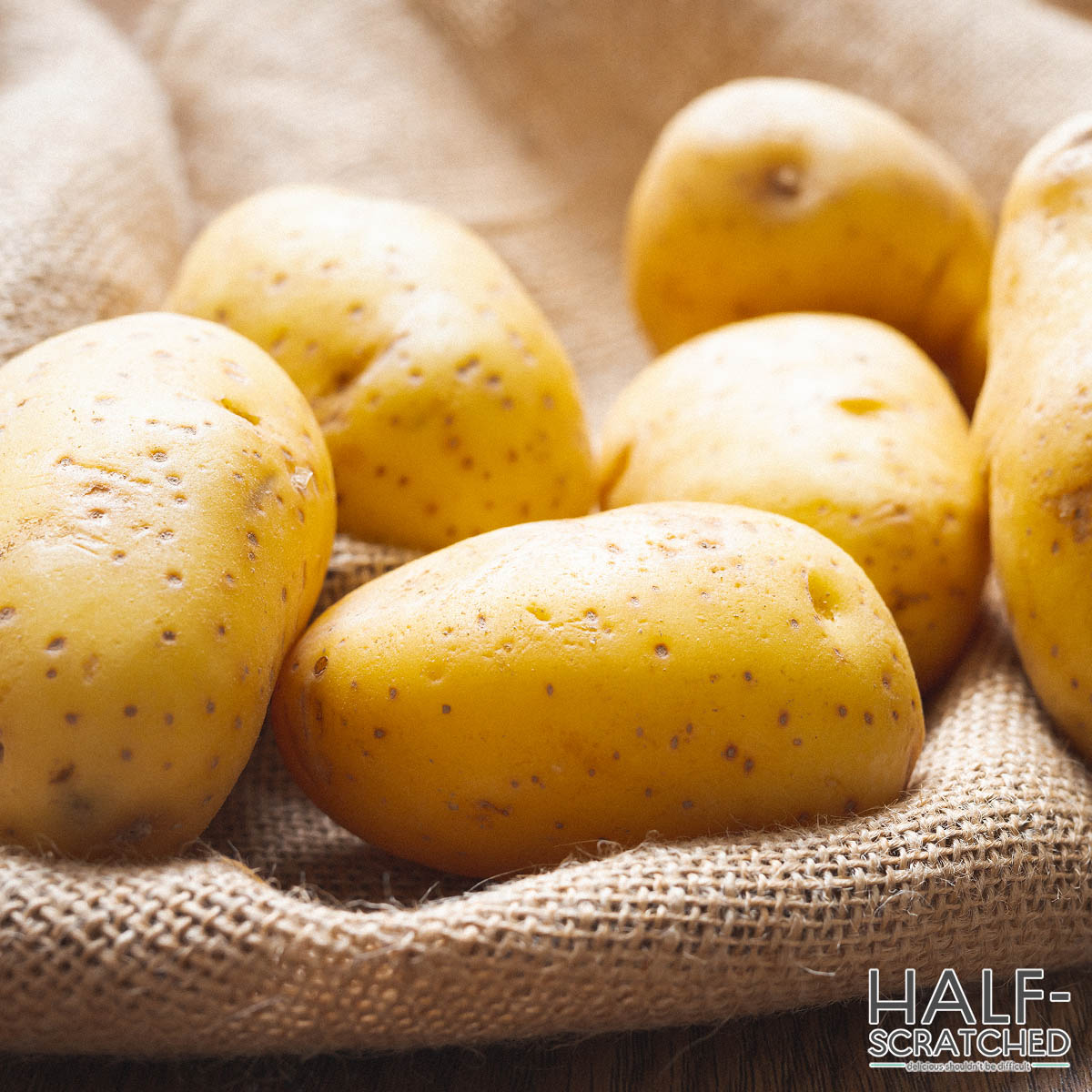 Recognize When a Potato Is Bad
Do not buy potatoes that feel soft and mushy. They should be firm to the touch and not have any bruises or black spots. If a potato is starting to grow sprouts, it's generally okay to eat them, just be sure to completely cut off the growths. If the potato has sprouts and is shriveled up, then it's time to dump them.
Store Potatoes Properly
As mentioned before, potatoes shouldn't be refrigerated. Keep potatoes in a cool, dark space that is around 45 to 50 degrees Fahrenheit. The ideal space would be in the garage or a root cellar, and they can remain there for up to three months.
Toppings and Spices for Baked Potatoes
While baked potatoes are delicious on their own, there are some spices and toppings that can elevate this humble tuber.
Butter: it could be argued that butter goes with everything but it really elevates a baked potato thanks to the creaminess.
Sour cream: similar to butter, sour cream adds a nice creamy texture to a baked potato but it also has a slightly sour taste, which pairs well with the potato's more neutral flavor.
Ground meat: ground meat of any kind (beef, pork) tastes delicious with a baked potato and is often sprinkled on top or baked within the potato.
Cheese: cheddar cheese tends to be the most popular kind to use with baked potatoes, but truly any cheese will work. Use it shortly after baking so the cheese melts.
Bacon: bacon, like the ground meat, adds an extra saltiness to baked potatoes and tastes even better when paired with onions .
Garden herbs: garden herbs like chives, basil, or cilantro complement potatoes very well and can be sprinkled on top of baked potatoes for a fresh herby taste.
My Family Favorite: Scalloped Potatoes Recipe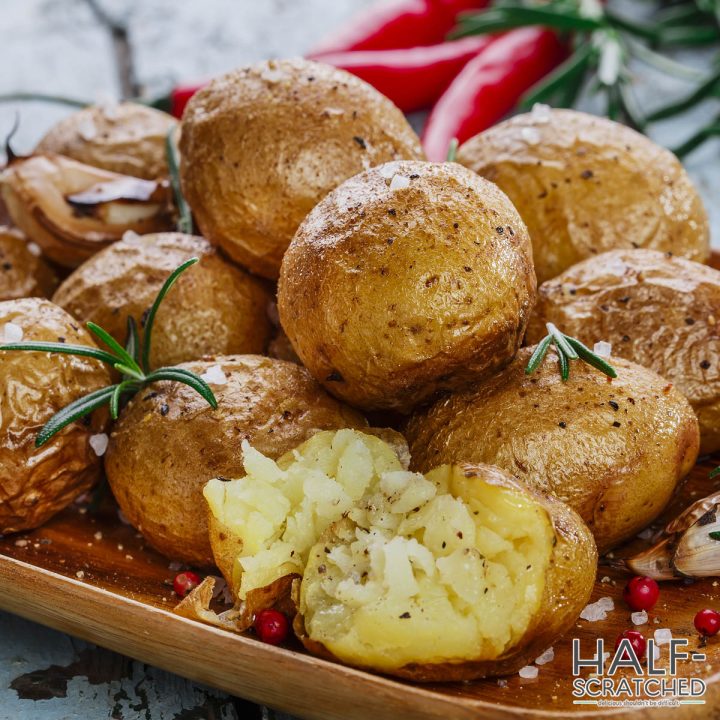 How Long to Bake Potatoes at 375 F
Cook Time:
1 hour
5 minutes
Total Time:
1 hour
15 minutes
Potatoes may have earned a reputation as being unhealthy, but this humble spud can be delicious and healthy, especially when baked correctly.
Ingredients
2 pounds russet or Golden Yukon potatoes
1 ½ tablespoons rapeseed oil
Instructions
Preheat the oven to 375 Fahrenheit. Scrub the potatoes clean and gently dry them. Prick some holes to the potatoes with a fork.
Place the potatoes on a baking sheet and rub some canola oil on them. Bake for 60 to 70 minutes. You can prick a potato with a fork or a toothpick to feel when it's soft in the center.
Nutrition Information:
Yield:

4
Serving Size:

1
Amount Per Serving:
Calories:

151
Total Fat:

5g
Saturated Fat:

0g
Trans Fat:

0g
Unsaturated Fat:

5g
Cholesterol:

0mg
Sodium:

11mg
Carbohydrates:

24g
Fiber:

2g
Sugar:

1g
Protein:

3g