Baking sweet potatoes might not be the quickest midweek meal, but it's certainly tasty and oh-so nutritious. And getting the cooking time just right will ensure they're not only delicious but also the perfect temperature.
While the size and thickness of the sweet potato will alter the cooking time, you should bake them for between 45 and 60 minutes at 425 °F. You'll know they're ready to eat when you can easily insert a fork or knife into it with very little resistance.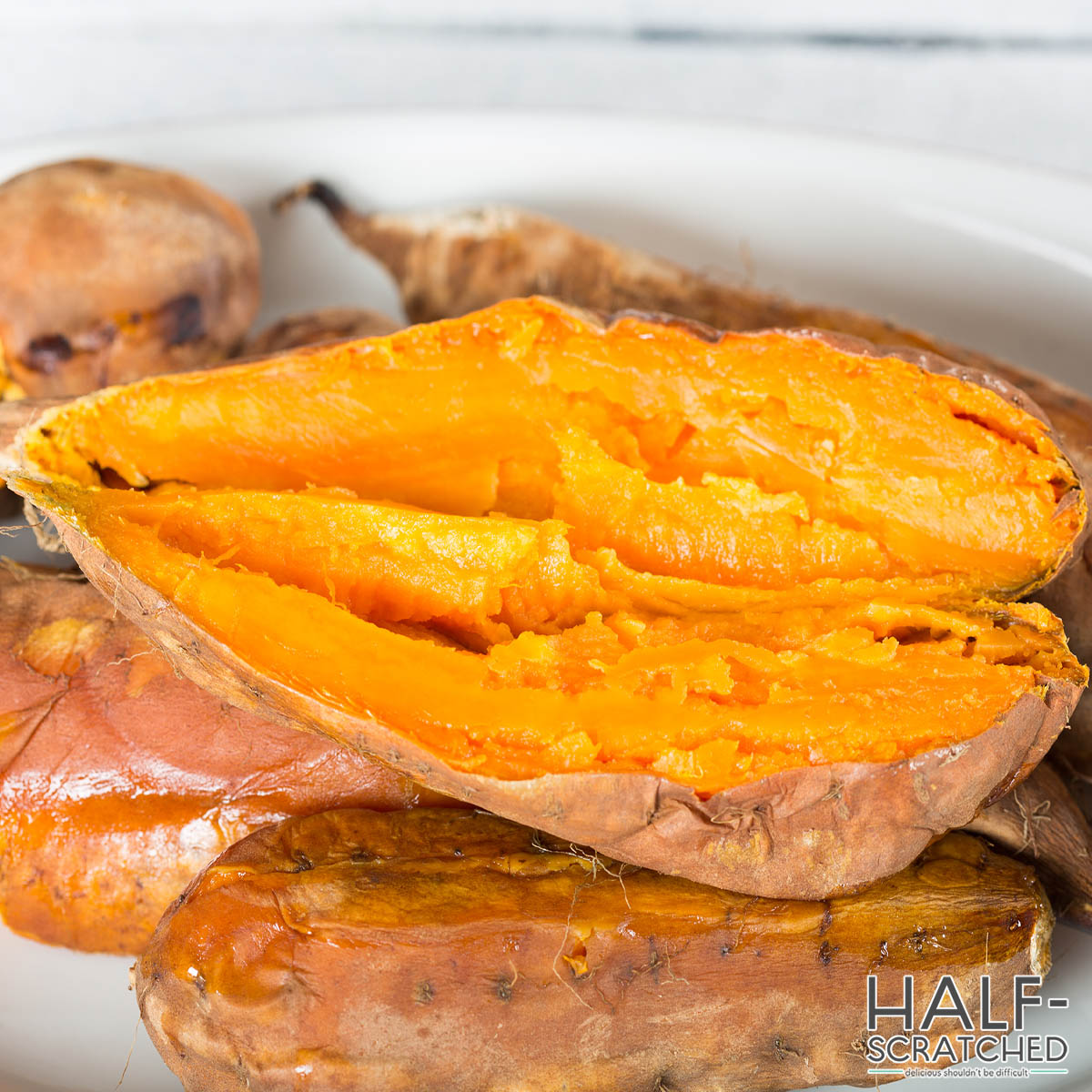 But knowing how long to cook the sweet potato is only a small part of the baking battle. We're going through much more in the following sections.
Choosing the Perfect Sweet Potato for Baking
Finding the right sweet potato is just as important as knowing how long to bake it. However, it might be harder to get it right than you think; there's an art to finding them!
The perfect sweet potato for baking will have the following three qualities:
Long
Small. Fat. Long. Skinny. Thick. You name the shape, there will be a sweet potato that fits the description.
However, if you want to bake it, you need a long one. This way, you can load it up with seasoning and ingredients, knowing there's plenty of room to hold all the fillings you can imagine.
Beyond the toppings, longer potatoes are "meatier" and sweeter — the two things you want from a baked sweet potato!
No Rot
A baked sweet potato recipe is no place for those with dried-up, rotted parts. Use them in soups or curries after cutting out the bad part, but don't try to bake them whole. The dried part of the flesh won't bake, and you'll need to watch where you eat, which doesn't make for a very pleasant dining experience.
Symmetry
Those with symmetry bake evenly and boast equal flavor throughout their entirety — no watery parts, while others are dry (and vice versa).
When viewing sweet potatoes, draw an imaginary line in the center from the top to the bottom. Check whether there is an equal amount of potato on either side of the line. If they do, you've found your perfect match!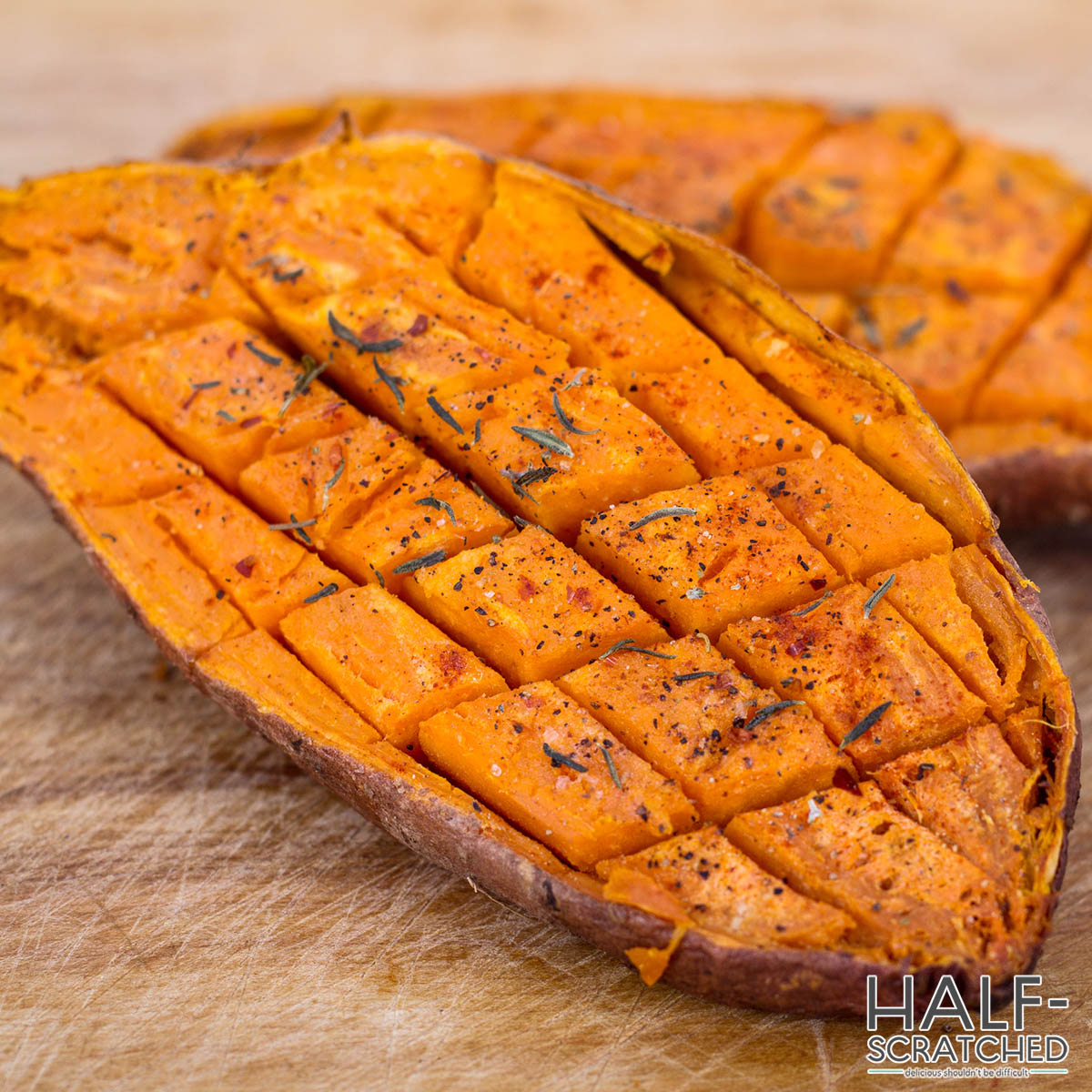 Baking Sweet Potatoes in Foil: Should You Do It?
After choosing your potatoes, you'll want to get stuck into the up to 60-minute 425 °F baking. But wait; should you wrap them in foil or not? This is the controversial question of the day; people sit firmly on one side of the fence or the other. And we are no different.
In my opinion, you should not bake sweet potatoes in foil. Leaving them unwrapped allows the skin to crisp up while the inside cooks for the perfect baked potato.
If you want softer skin, just wrap them in aluminum foil before baking.
6 Top Tips for Baking Sweet Potatoes at 425 Fahrenheit
Before divulging our favorite baked sweet potato recipe, we'll give you a few tips and tricks to perfect results every single time.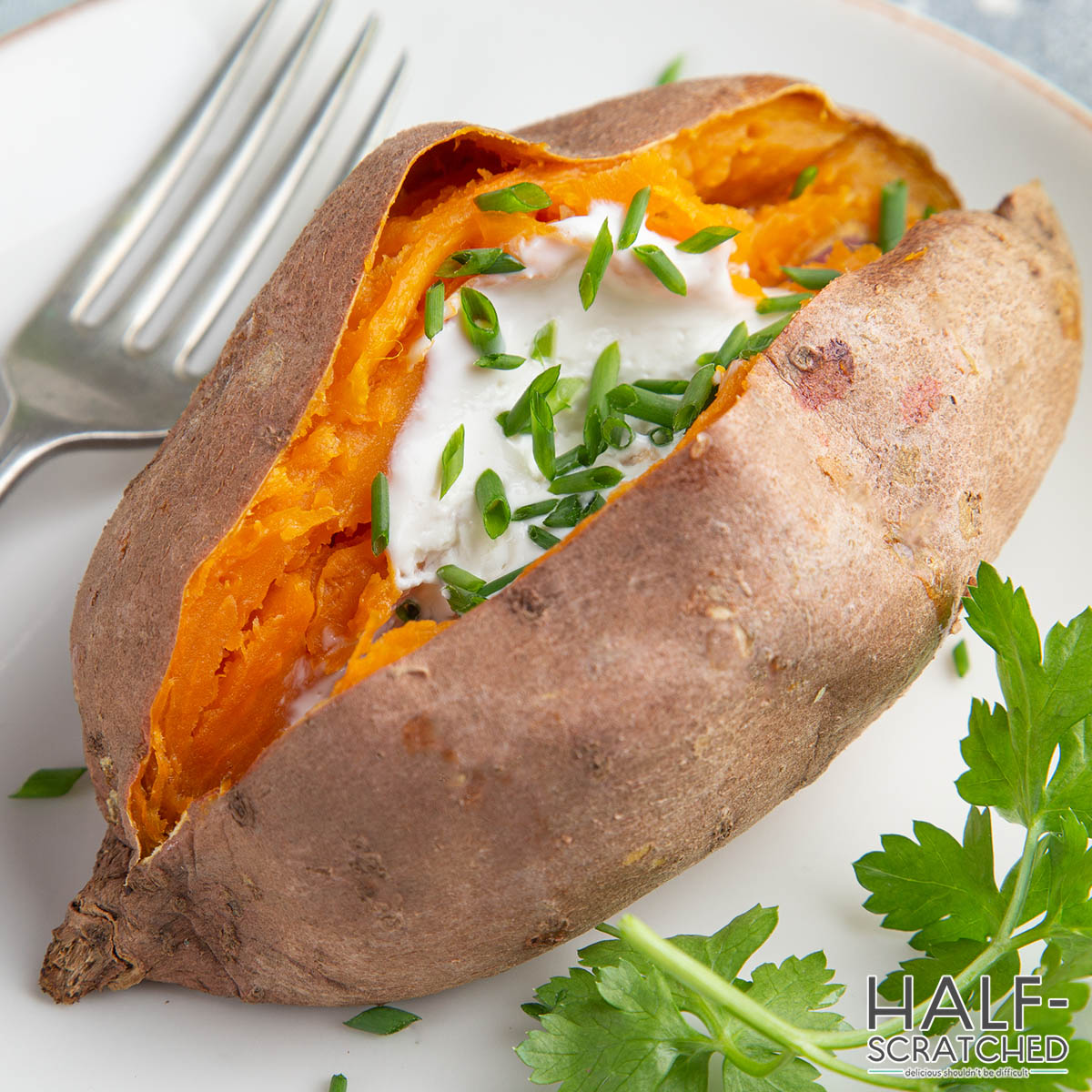 1. Don't Skip Lining Your Tray
You can use foil or parchment paper to line your tray, but whatever you do, don't skip it.
As the sweet potatoes cook, their natural sugars will ooze out and caramelize. Once cooled, these sugars will solidify, sticking to your baking sheet — not something you want to spend an awfully long time scraping off.
If you're really worried about sticking, lightly spray the lined baking sheet with nonstick cooking spray and you're good to go.
2. Always Wash and Dry Your Potatoes Before Baking
Don't leave dirt on your sweet potatoes — it will only ruin your perfectly good meal.
While a quick wash is usually favored by home cooks, a scrub is necessary. Use your fingers and a vegetable brush under cold, running water to remove all the dirt from the skin. If you're yet to scrub a potato, you'll be amazed by the results!
After washing, you need to ensure they're bone dry before using. Why? Otherwise, they'll steam in the oven and prevent the skins from crisping up.
Luckily, thoroughly drying them isn't hard. Simply pat with paper towels and leave for ten minutes or so.
3. Poke, Poke, Poke It
Forgetting to poke holes in your sweet potatoes before baking will turn the insides mushy (read: near-on inedible) and the outsides dry and uncooked.
So, use a fork to poke a load of holes around every potato. You don't need to make deep ones; they just need to provide an exit path for the steam.
4. Bigger Isn't Better
Even though larger, rounder sweet potatoes may look nicer, they will take much longer to bake. Plus, you are far more likely to end up with potatoes that aren't evenly cooked.
As we mentioned before, you want to look for long, symmetrical sweet potatoes without rot or dry patches.
5. Oil the Outside (But Do It Lightly)
How many times have you baked sweet potatoes and then ended up with dry, crinkled skins? Probably most times. But oil can save the day.
Brushing a layer of oil on the outside of the sweet potatoes before baking will ensure the skins remain smooth and easy to remove. You'll no longer have to deal with potatoes that look like massive, shriveled prunes!
6. Freezing Leftovers Is Possible
Contrary to popular belief, you can freeze leftover sweet potato after it's baked — yes, with or without the skin!
Once cooked, mash the leftovers in a bowl and spray a jumbo muffin pan with nonstick spray. Transfer the mashed sweet potatoes into the muffin pan, cover with foil, and put it in the freezer. As soon as it's frozen, put portions into zip-lock bags or a plastic box.
If you don't want to freeze them, they will keep for four or five days in an airtight container in the fridge.
The Best Basic Yet Beautiful Baked Sweet Potato Recipe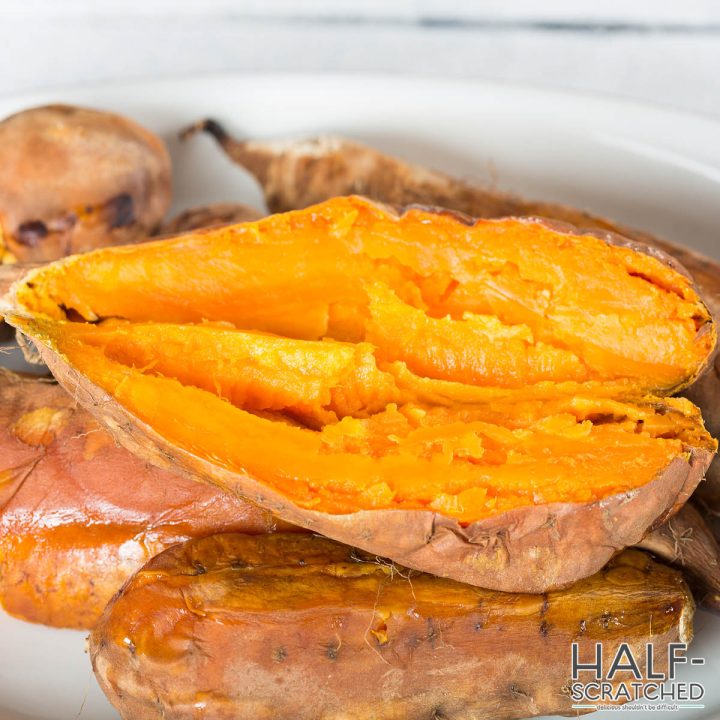 How Long to Bake Sweet Potatoes at 425 Fahrenheit
Wondering how long to bake sweet potatoes at 425 Fahrenheit? You've found the perfect place + expert tips for perfect sweet potatoes.
Ingredients
4 sweet potatoes
4 teaspoons unsalted butter
1 teaspoon salt
1 teaspoon pepper
Instructions
Preheat the oven to 425 °F.
Line a baking sheet with foil or parchment paper.
Spray the baking sheet lightly with nonstick cooking spray.
Wash and scrub (gently) the potatoes under cold running water.
Dry the potatoes thoroughly.
Using a fork, poke holes into each sweet potato seven or eight times. You don't need to insert the fork deeply; just pricking the surface will do the trick.
Put the potatoes on your lined and sprayed baking sheet.
Place the sweet potatoes in the preheated oven for half an hour.
Rotate the tray 180°.
Bake for another 15 to 30 minutes until a fork/sharp knife can be inserted easily into the thickest area.
Remove from the oven.
Let rest for five minutes.
Slice the potatoes lengthways. Be mindful that it will be hot, and steam will flow from it.
Apply 1 teaspoon unsalted butter to each potato.
Season with salt and pepper.
Mash the seasonings in slightly with a fork.
Enjoy with your favorite sides!
Notes
Depending on your preferred tastes, you can add maple syrup or brown sugar to your sweet potatoes for an interesting twist on the savory seasonings.
It can be tough to come up with sides for baked sweet potatoes. But never fear, we've got your back. We recommend trying one (or some) of these — steak bites, BBQ chicken thighs, sautéed green beans, baked asparagus, green salad, and/or honey butter corn.
Nutrition Information:
Yield:

4
Serving Size:

1
Amount Per Serving:
Calories:

138
Total Fat:

4g
Saturated Fat:

2g
Trans Fat:

0g
Unsaturated Fat:

1g
Cholesterol:

10mg
Sodium:

570mg
Carbohydrates:

24g
Fiber:

4g
Sugar:

7g
Protein:

2g