Meatloaf is a hearty, filling, comforting meal. Considered an American classic, this meal is easy enough to make, but cooking times can vary.
Meatloaf is usually cooked by the pound, with one and two-pound variants being the most popular. Since they're so dense, they'll need quite a while to bake fully in a 350-degree oven.
A 1lb meatloaf needs to bake in the oven for 30-45 minutes. For a larger, 2lb meatloaf, add on an additional 30 minutes for a total of 1 hour to an hour and 15 minutes. A three-pound meatloaf will need 1 ½ - 2 hours to be fully cooked. Use a meat thermometer to make sure the loaf is baked to completion – about 160 degrees Fahrenheit.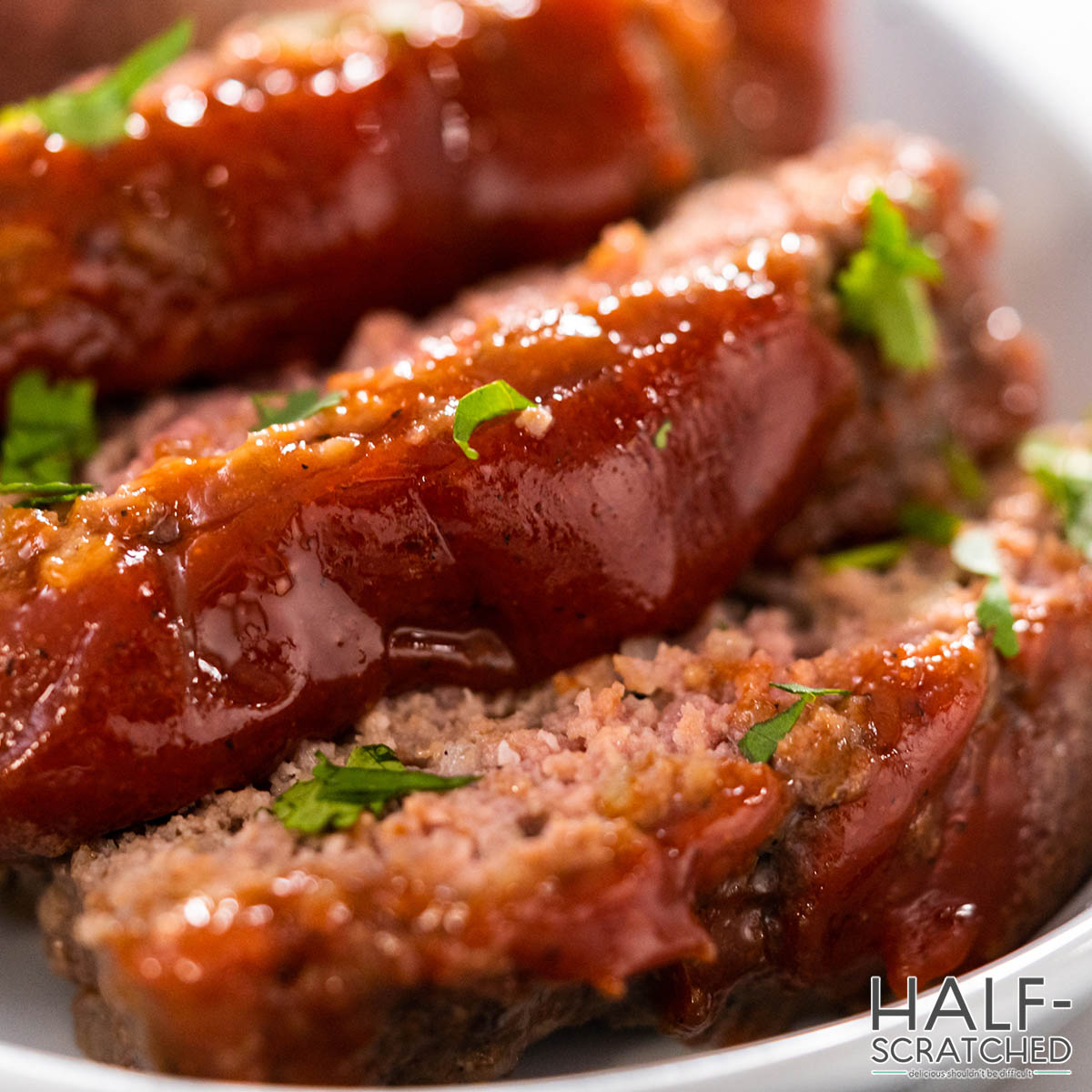 How to Tell if Meatloaf Is Done
Since it's all one dense layer, how can you tell your meatloaf is done cooking? Ground beef is usually considered done when it's browned, but a key element to a classic meatloaf is a glaze or sauce on top. While that's a tasty addition, it will make it hard to tell if the meatloaf is done or not.
If you don't have a meat thermometer handy, you can press your finger down into the center of the loaf. If it springs back up, your meatloaf is most likely done. If there's a dent, it needs more time.
What Temperature Should Meatloaf Be Cooked To
The best way to tell that meatloaf is done cooking is to insert a meat thermometer into the center. The USDA recommended temperature for ground meats, as you'd use in meatloaf, is at least 160-165 degrees.
Making your meatloaf with ground turkey for a leaner spin? No need to change the internal temperature goal; ground poultry should also be cooked to 165.
Should You Cover Meatloaf While Cooking It
Everyone has their own preferences as to how a meatloaf is made, however, most agree that moisture is preferable to dry, crumbly meatloaf. To achieve this, the best course of action is to cook the meatloaf covered for the first portion of the cooking process. Doing so will help keep moisture from escaping.
In the last 15 minutes, uncover the dish. This will help finish the glaze to perfection.
That's not to say that moisture is the only way to go with a meatloaf. There are some out there who prefer theirs with a crispy exterior and well-done meat. If that's how you like yours, then leave it uncovered through the entire cooking process.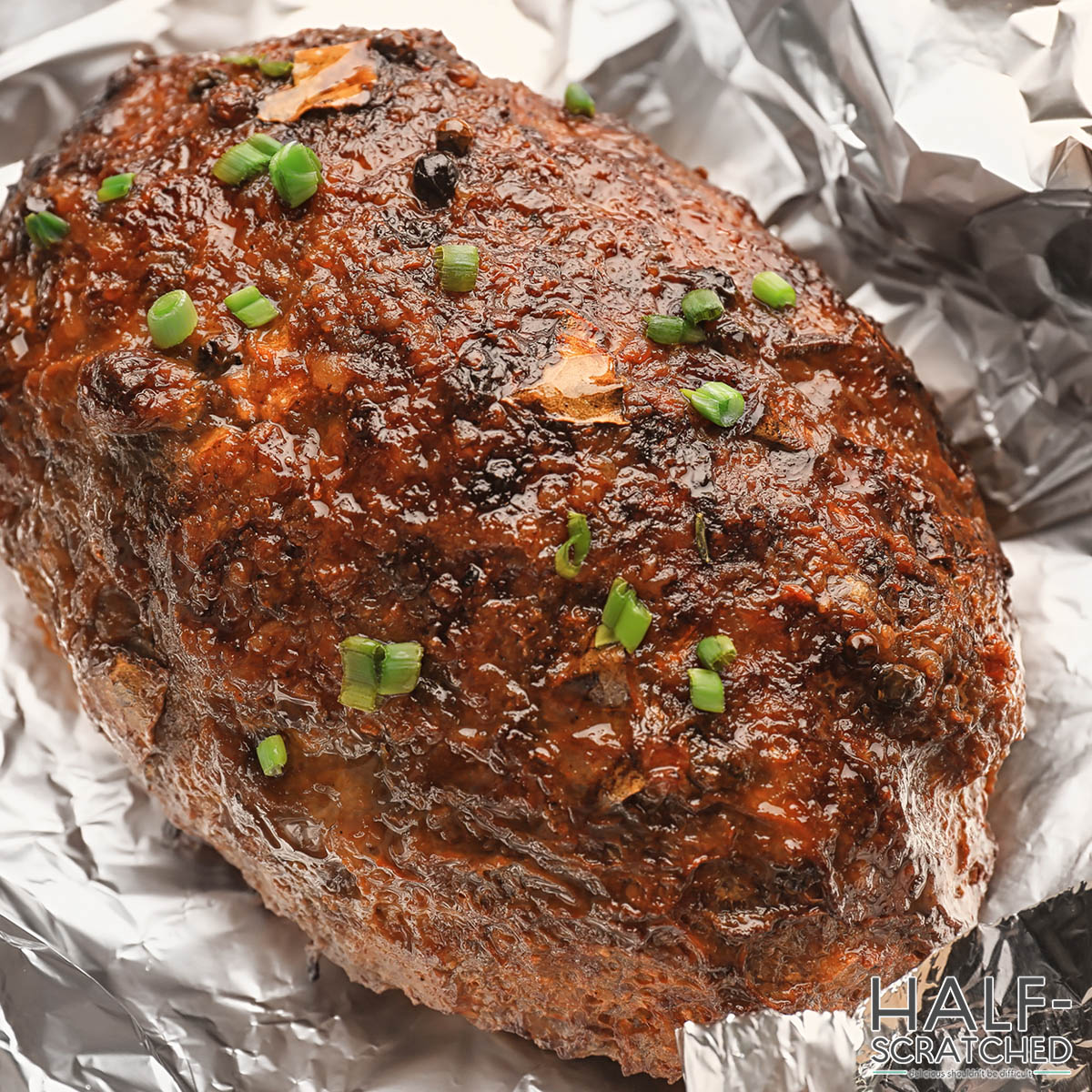 How Long Do You Bake Meatloaf in a 350 Degree Air Fryer
If you're looking to explore the possibilities of what your air fryer can achieve, maybe you'll be tempted to cook a meatloaf in the air fryer. In that case, how long do you bake a meatloaf at 350 in the air fryer?
Using an air fryer will speed up the cooking time of a 1lb meatloaf slightly: it will be done in 25 minutes in a preheated 350-degree air fryer.
If you're making a miniature, air-fryer-sized meatloaf, shorten that time even more to about 15 minutes.
As with a full-sized meatloaf, you should take care to let a miniature air-fried loaf rest for a few minutes after baking.
Do You Need To Let Meatloaf Rest After Baking
Like many baked meats, meatloaf will benefit from a short rest after a trip through the oven. If you cut into it too soon after cooking, you'll lose all of your structural integrity, leading to a meat pile rather than a meatloaf.
After you bake your meatloaf, let it rest for about 10 minutes before slicing. The wait may be hard, but it's definitely worth it!
How Long Does It Take To Defrost a Frozen Meatloaf for Baking
If you're a fan of meal prep, you don't need to be told that meatloaf is an excellent candidate for a freezer meal. To thaw your meatloaf so it is oven-ready, it'll take about 12 hours to completely thaw in the refrigerator.
Can You Bake Frozen Meatloaf at 350
Don't have time to defrost? You can still cook this comfort food classic, even if it's straight from the freezer. Bear in mind that it'll need a lot more time in the oven: about 1.5-2 times as much.
How Can You Cook Meatloaf Faster in the Oven
Sometimes, a hearty family dinner simply cannot wait. In this case, there are a few ways you can trim down the cooking time on your meatloaf.
Make it in advance. While this strategy doesn't help an immediate need for meatloaf, it is a good idea for the future. Raw meatloaf can be made the night before and refrigerated or frozen for up to 3 months.
Make A Smaller Loaf: Smaller meatloaves will always bake faster since there's less to cook through. You can bake a small meatloaf in the oven for 20-30 minutes.
Use a meatloaf pan: A meatloaf pan usually has a tray to collect the fat as it renders away from the meat. This usually speeds up the cooking time slightly.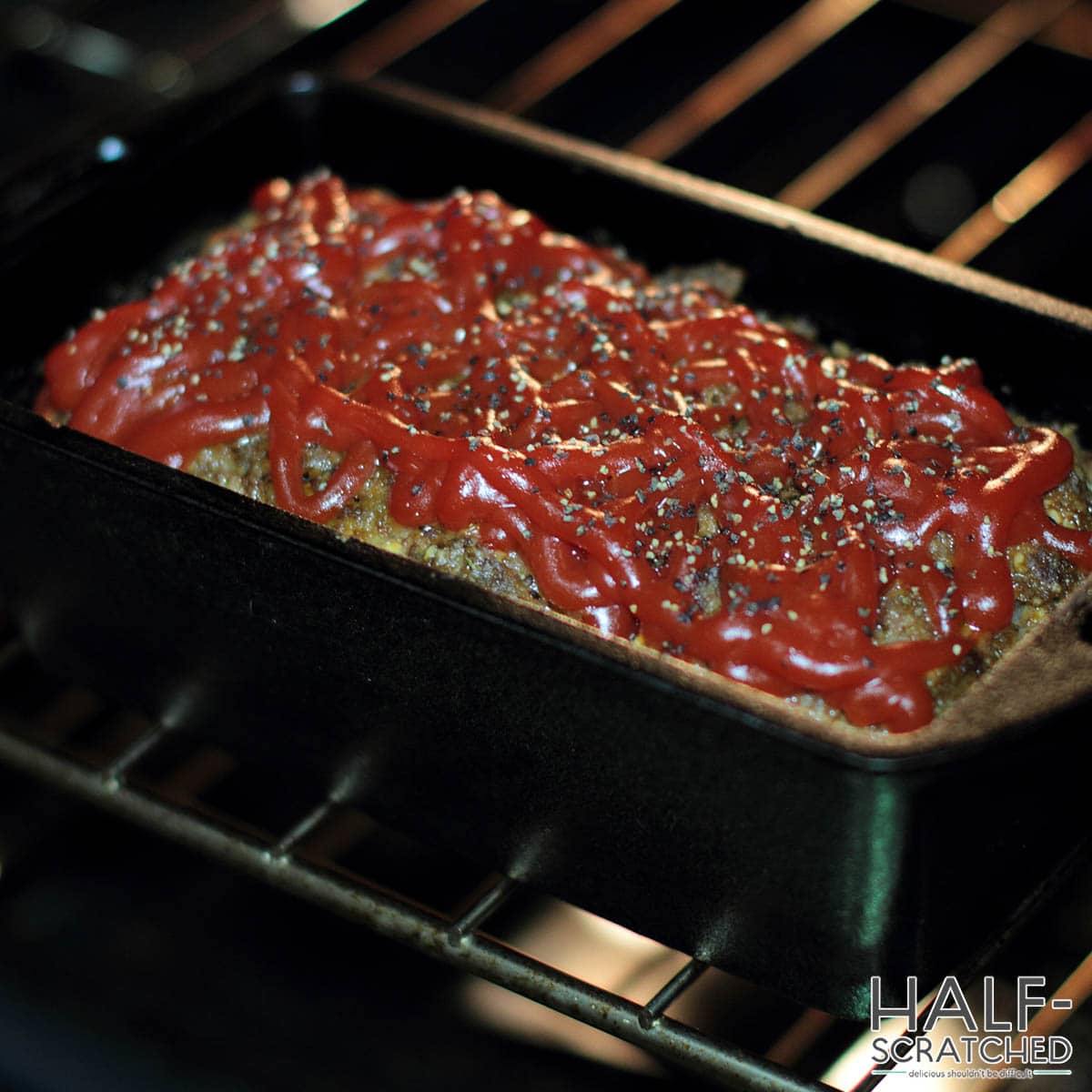 My Personal Tips for Perfect Baked Meatloaf
There are a few more tips you can employ to make the family dinner even better.
Use a Bigger Pan
When you shape your meatloaf, shape it so it isn't completely snug against the walls of your pan. Giving the meatloaf room to breathe will help it bake evenly – and it will make the edges deliciously caramelized.
Start Early
It's always wise to plan ahead you can make your meat mixture ahead of time and store it in its pan in the refrigerator for a few hours. Let it come up to room temperature when it's dinner time before putting it in your 350-degree oven and letting it do the rest.
Pay Attention to the Wet Ingredients
Elements like soaked bread, eggs, Worcestershire sauce, and other wet components are what will not only give your meatloaf that distinctive flavor but it will also help bind the meat mixture better.
Most importantly? It will retain that precious moisture you want from meatloaf.
Can You Bake Meatloaf at 350 on a Sheet Pan
Not every home chef is going to have a loaf pan at their disposal. That doesn't mean, however, that a delicious meal is out of reach. You can easily shape your mixture into the desired shape and bake it on a foil-lined sheet pan at 350.
Why Is My Meatloaf Falling Apart
A meatloaf that is crumbling apart at the slightest provocation from your fork is likely suffering from two issues:
It doesn't have enough binders. The binding agents like bread and eggs are required to hold all of your meat and other ingredients together. If you're making a larger meatloaf, be sure to adjust the ratio of binding agents accordingly.
It is overcooked. If it's been left in the oven for longer than it should have been, the meat will dry out and fall apart.
How Do You Keep Meatloaf From Falling Apart
As stated, there are two reasons why your meatloaf lacks structural integrity. Finding out the source of the problem, either your ingredients or cooking time. Take a look at the ratio of your meat to binders and decide if there is too little of it.
If you see that your ingredient ratios look right, the culprit is sure to be your baking time. Try to reduce your time by about 5-10 minutes until you find that sweet spot.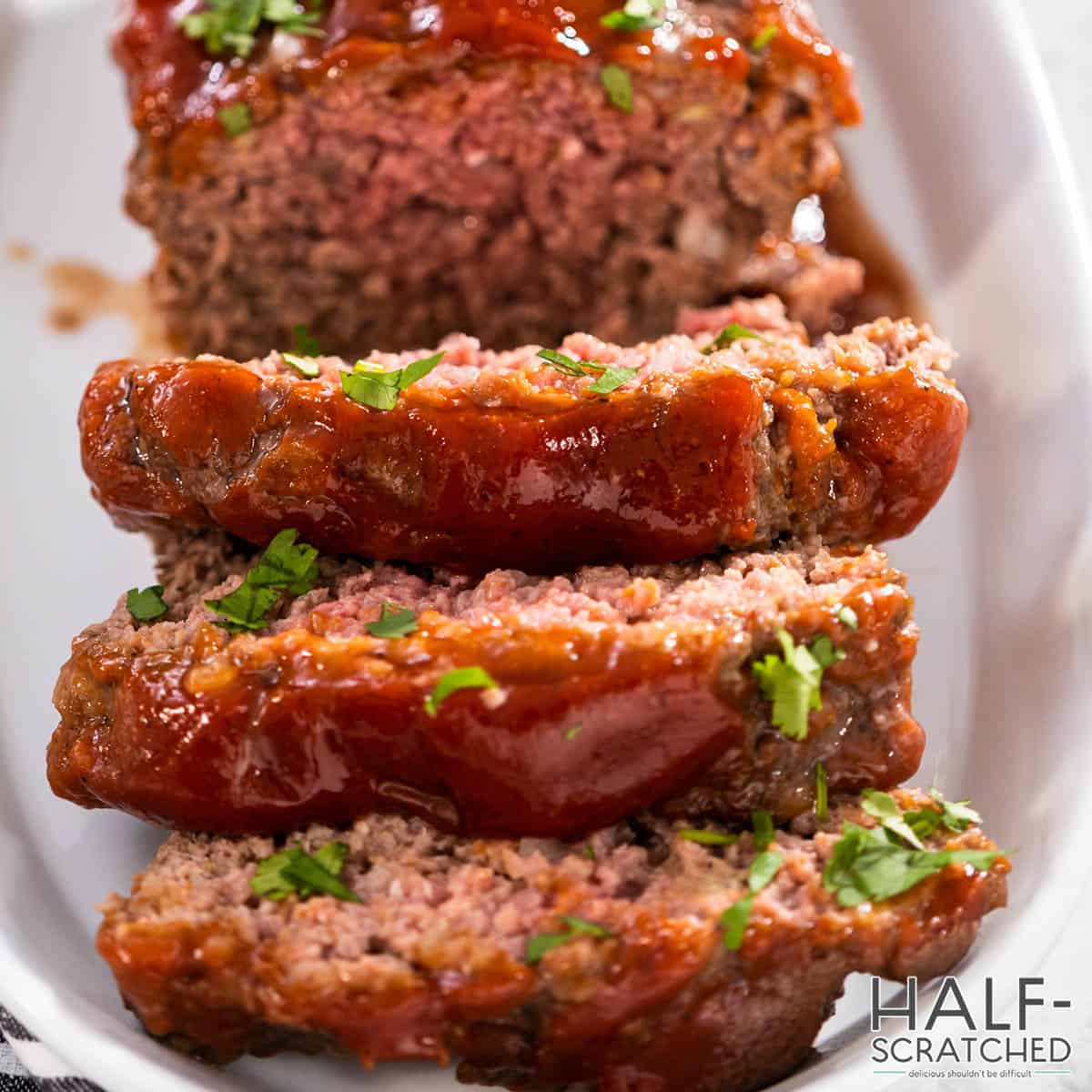 Can You Freeze Meatloaf
You can absolutely freeze meatloaf. If you want to prepare for future meals, make a big batch of the meat mixture and keep it sectioned off in the freezer for later baking. If you don't want to use multiple loaf pans, you can shape the loaves on a sheet pan and cover them in foil.
You can also freeze a meatloaf after you've cooked it. Allow the loaves to cool first before storing them.
Wrap the meatloaf in freezer paper first. If you want to store them in freezer bags, try to remove as much air as possible to prevent oxygen from creating frost on the surface of the meat.
How to Reheat Meatloaf
There are a few ways to reheat meatloaf, with some ways working better than others to preserve taste and texture.
In the Microwave
The microwave is the worst culprit when it comes to reheating a slice of meatloaf. However, it's definitely the fastest method and the usual go-to for next-day leftovers.
Place a damp paper towel over your meatloaf slice and set it on a microwave-safe plate. Microwave in intervals of 30 seconds, checking the temperature as it heats.
In a Skillet
If you'd prefer to take the reheating to the stovetop, you can always try using a trusty skillet. To reheat meatloaf in a skillet, spritz your slice lightly with cooking spray. Pour a bit of beef broth or gravy into a heated pan and cook your meatloaf in it for about two minutes over medium heat.
After two minutes, flip the slice and cook for another two minutes. Turn up the heat a little here to allow the liquid to evaporate and the edges to get a nice crisp.
In the Oven
To reheat the meatloaf in the oven, place either the entire loaf or just the slices you want to eat on a baking sheet or shallow baking dish. Drizzle a bit of beef broth over the meatloaf for moisture and flavor.
Cover the dish in foil and bake it on the center rack for 10 minutes at 350, until fully warmed.
Delicious and Easy Meatloaf Recipe
This is a basic meatloaf recipe that is sure to please. If you'd like to get creative, change up your ingredients. Adding extra herbs, thinking outside of the box with your glaze ingredients, or even adding bacon or cheese will push this recipe to the next level!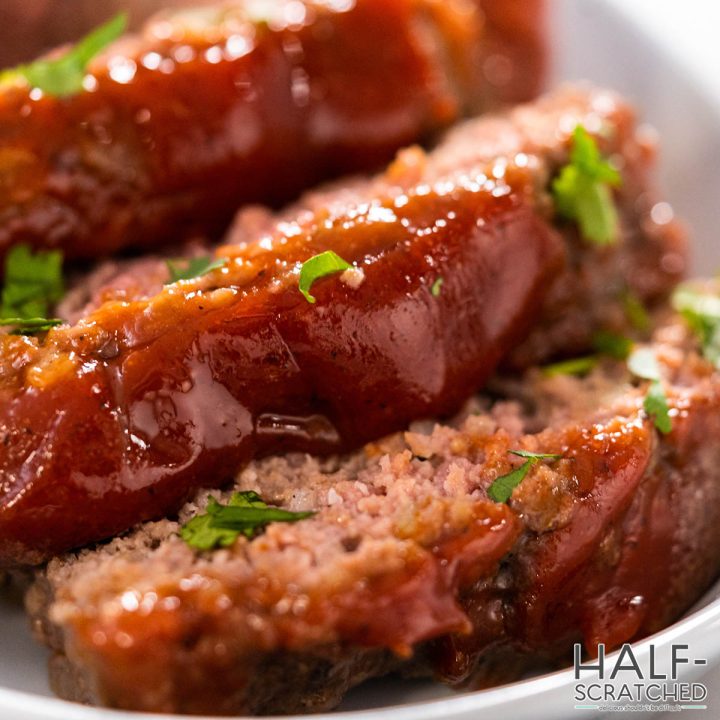 How Long to Bake Meatloaf at 350 F
Total Time:
1 hour
15 minutes
Looking to bake up a hearty, comforting meatloaf? Learn how long to bake it at 350 in the oven with this comprehensive guide.
Ingredients
Loaf
2 lbs ground lean ground beef
1 diced onion
2 large eggs, brought to room temperature
3 minced garlic cloves
4 tablespoon ketchup
1 tablespoon Worcestershire sauce
4 tablespoon parsley (dried or fresh)
¾ cup breadcrumbs, preferably panko
½ cup milk (whole milk works best)
3 teaspoon of seasoning of your choice, like Italian seasoning or a cajun blend
1 ½ teaspoons paprika
2 teaspoon salt
½ teaspoon black pepper
Additional seasonings as desired
Sauce
1 cup ketchup
2 teaspoon white or apple cider vinegar (apple cider vinegar will make it extra tangy)
2 tablespoon dark brown sugar
3 teaspoon minced garlic or garlic powder
1 teaspoon onion powder
½ teaspoon salt (to taste)
½ teaspoon pepper (to taste)
Instructions
Set your oven to preheat to 350 F.
Spray a loaf pan with neutral, nonstick cooking spray. If using a sheet pan, line it with aluminum foil.
Combine all beef ingredients (ground beef, eggs, onion, garlic, ketchup, panko bread crumbs, Worcestershire sauce, whole milk, and seasonings. Use your hands or two large spoons to combine.
Spread the mixture into your loaf pan. Cover if desired. Bake at 350 F for 50-60 minutes.
While the meatloaf is cooking away, make your meatloaf's glaze. Stir together white or apple cider vinegar, dark brown sugar, ketchup, and seasonings. Whisk until ingredients are well combined.
Use a pastry brush to apply the meatloaf glaze over the top of your loaf.
Bake for an additional 15 minutes until the glaze is sticky.
Let the meatloaf rest for 10 minutes before slicing.
If desired, top with chopped green onion or parsley for added garnish.
Notes
Want to get creative? Add some extra herbs, think outside of the box with your glaze ingredients, or even add bacon or cheese and take this recipe to the next level!
Nutrition Information:
Yield:

4
Serving Size:

1
Amount Per Serving:
Calories:

814
Total Fat:

32g
Saturated Fat:

12g
Trans Fat:

1g
Unsaturated Fat:

15g
Cholesterol:

297mg
Sodium:

3785mg
Carbohydrates:

56g
Fiber:

3g
Sugar:

27g
Protein:

74g