They may be called French fries, but no side dish has endured through the American culinary landscape as well as the simple fry. Whether you're enjoying them alongside a burger or on their own with a dish of ketchup, there's nothing quite as satisfying as a plate of warm fries. As unhealthy as they can be, though, you can always cut back on the oil by baking them instead.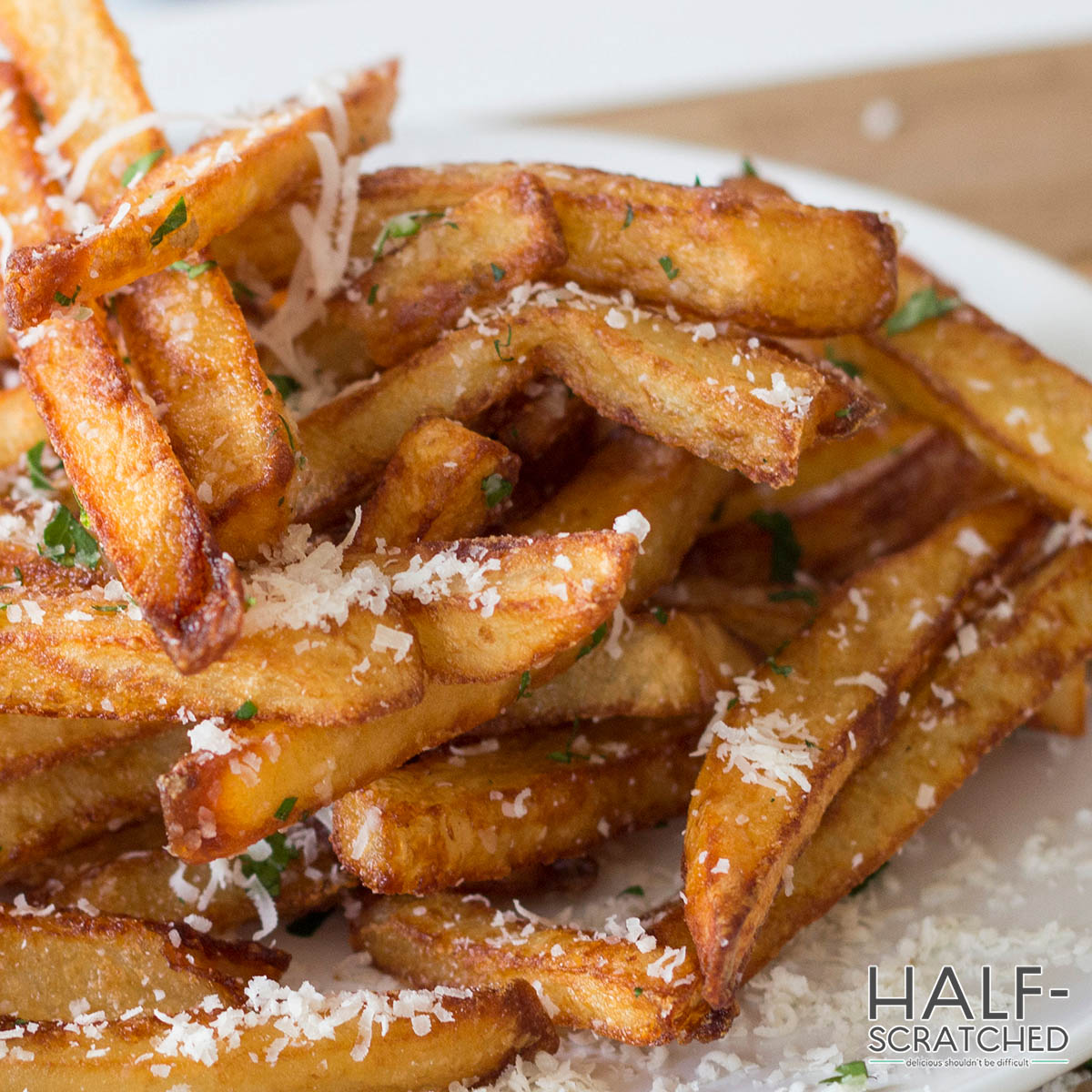 The baking time for fries depends on a number of variables, including the type of potato you're using, the size and cut of the fry, and whether they're frozen or homemade. For example, store-bought crinkle-cut fries should bake for around 20 minutes, whereas matchstick fries only need to bake for around 10 minutes. Likewise, homemade sweet potato fries won't need as long as russet fries.
If this seems like a lot of information all at once, rest assured that I'll go through it one step at a time. In today's post, I'll explain exactly how long to bake each type of fry, go through a few of the variables shared above, and then dive into more detail about how to turn a simple potato into restaurant-quality fries.
Frozen Fries vs. Freshly Made Fries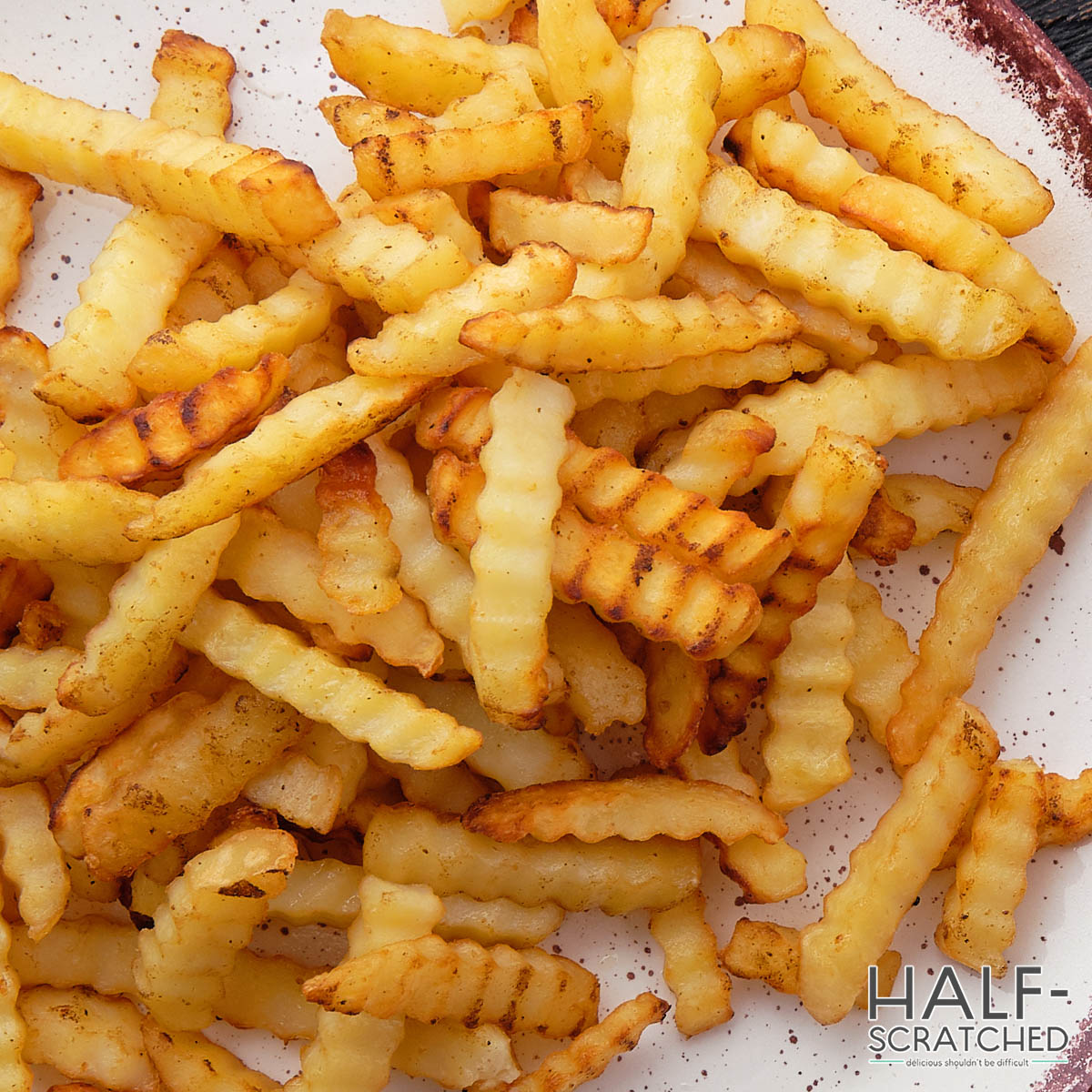 Before I go too deep into the details, let's take a moment to talk about frozen and fresh French fries. If you're short on time or simply don't want to go through the trouble of peeling, cutting, soaking, and starching fresh potatoes, there's no reason why you shouldn't use a bag of frozen fries. They're convenient, easy to prepare, and ready to eat within a half-hour.
However, they're not the same as homemade fries. When manufacturers prepare French fries on a mass scale, they go through the same process you would use at home, yet they go a step further by actually cooking the fries. This means that whatever you buy at the store is already pre-cooked. All you have to do is warm them up to remove any excess moisture and create a crispy exterior.
In terms of baking times, this means frozen will almost certainly be faster. Most commercial crinkle-cut, wedge, and waffle fries take around 20 minutes to bake at 400° Fahrenheit, while smaller matchstick or shoestring fries may take as little as 10 minutes. This will, of course, vary depending on the make and size of the fry, so be sure to read the package before you start cooking.
So, going forward, let's focus on homemade fries. Any baking times recommended from this point on will relate to fries you make on your own.
Traditional Russet Potato vs. Sweet Potato Fries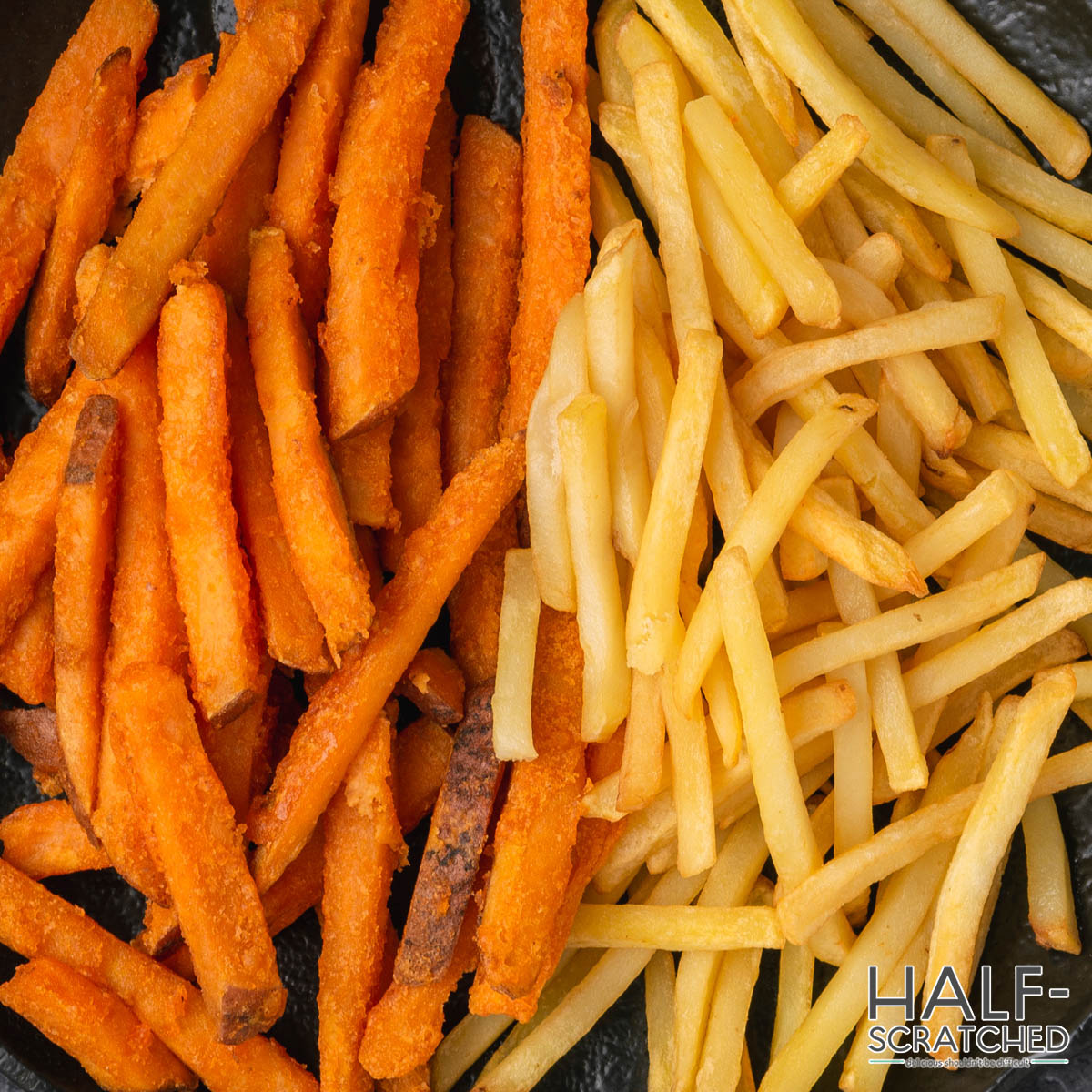 Technically speaking, you can make French fries from just about any potato, but for true restaurant quality, you should pick between either russet or sweet potatoes. Obviously, the flavor profile will be completely different, but if you prefer the natural sweetness of sweet potatoes, there's no better option. Russet potatoes will, however, need to bake longer than sweet potatoes.
Russets are naturally denser and contain more starch, less sugar, and less water. This means that, as they bake, they'll take longer to soften than sweet potato fries. For example, a batch of wedge-cut russet fries will need to bake for around 35 to 40 minutes, whereas a batch of similarly cut sweet potato fries would only need to bake for around 25 to 30 minutes.
The trick to making perfect sweet potato fries, though, is to guarantee that they don't burn. Since they naturally contain more sugar, they're more likely to caramelize and then burn than russet fries. To prevent this, check them at least every 10 minutes. If they start to turn black, remove the fries from the oven, lower the temperature to 350° Fahrenheit, and then return them once the oven has recalibrated.
Thinner Cut Fries will Cook Faster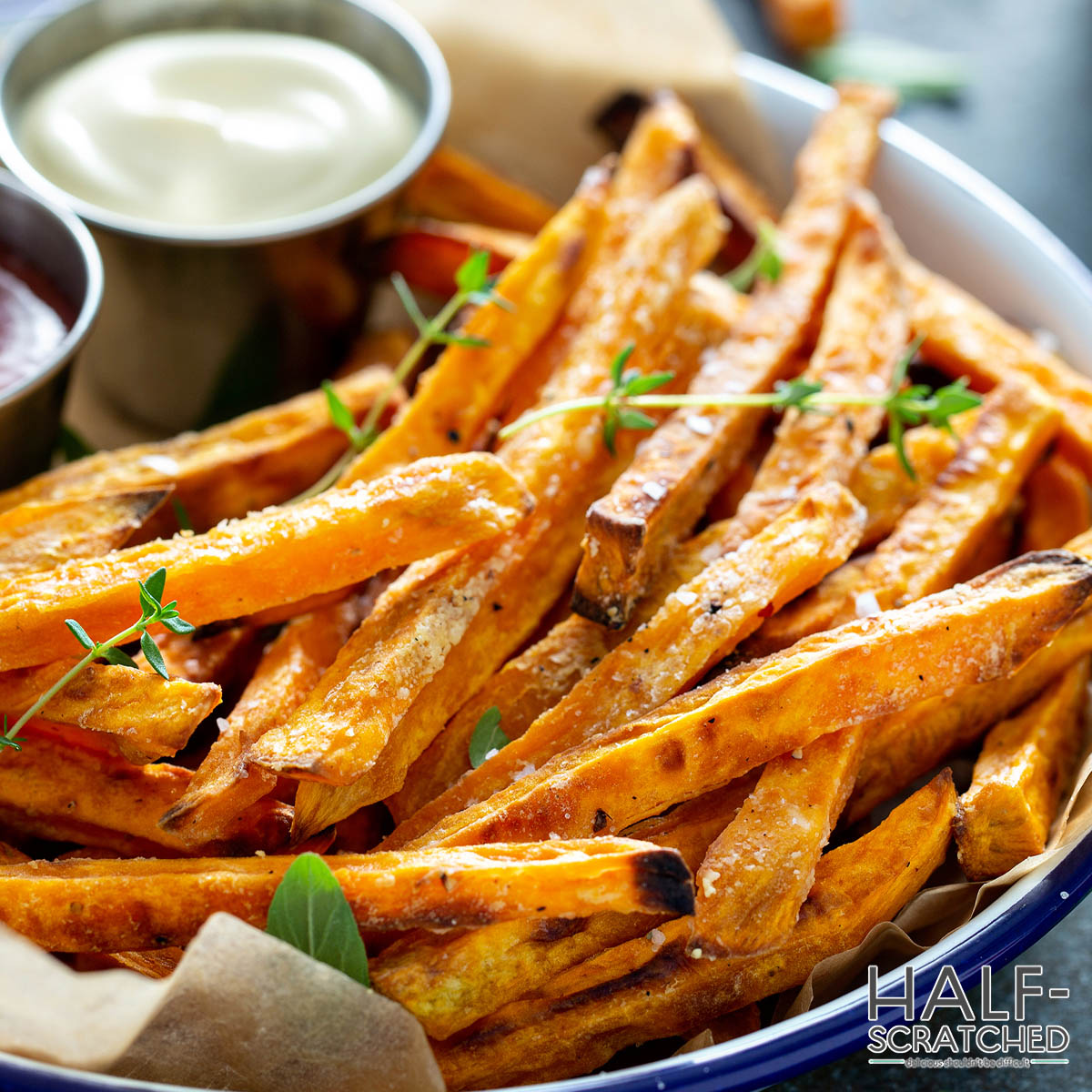 It shouldn't be a surprise to learn that thinner fries will cook faster than thicker fries. If you're in a rush or simply prefer fast-food-style French fries, I recommend cutting your potatoes into smaller, matchstick or shoestring-sized fries. The difference between these two styles is their length.
Matchsticks are shorter—around the length of your pinky—whereas shoestring fries are as long as a whole potato. At 400° Fahrenheit, either style will only need to bake for around 20 minutes. Be sure to pull them out halfway through, flip them over, and then let the other side bake evenly.
If you prefer your fries a little meatier, you can cut them into straight ½-inch steak fries or even into thick wedges. The closer you get to a full 1-inch diameter, though, the more time you'll have to add. For standard ½-inch crinkle-cut fries, let them bake for 18 minutes before flipping the fries and returning them to the oven for another 18 minutes.
Since they'll be in the oven for quite some time, it's a good idea to keep an eye on them to prevent your fries from burning. As with sweet potato fries, if they start to char, remove the pan, lower the temperature, and then finish baking your fries at a safer temperature.
Use an Air Fryer to Cut Down the Baking Time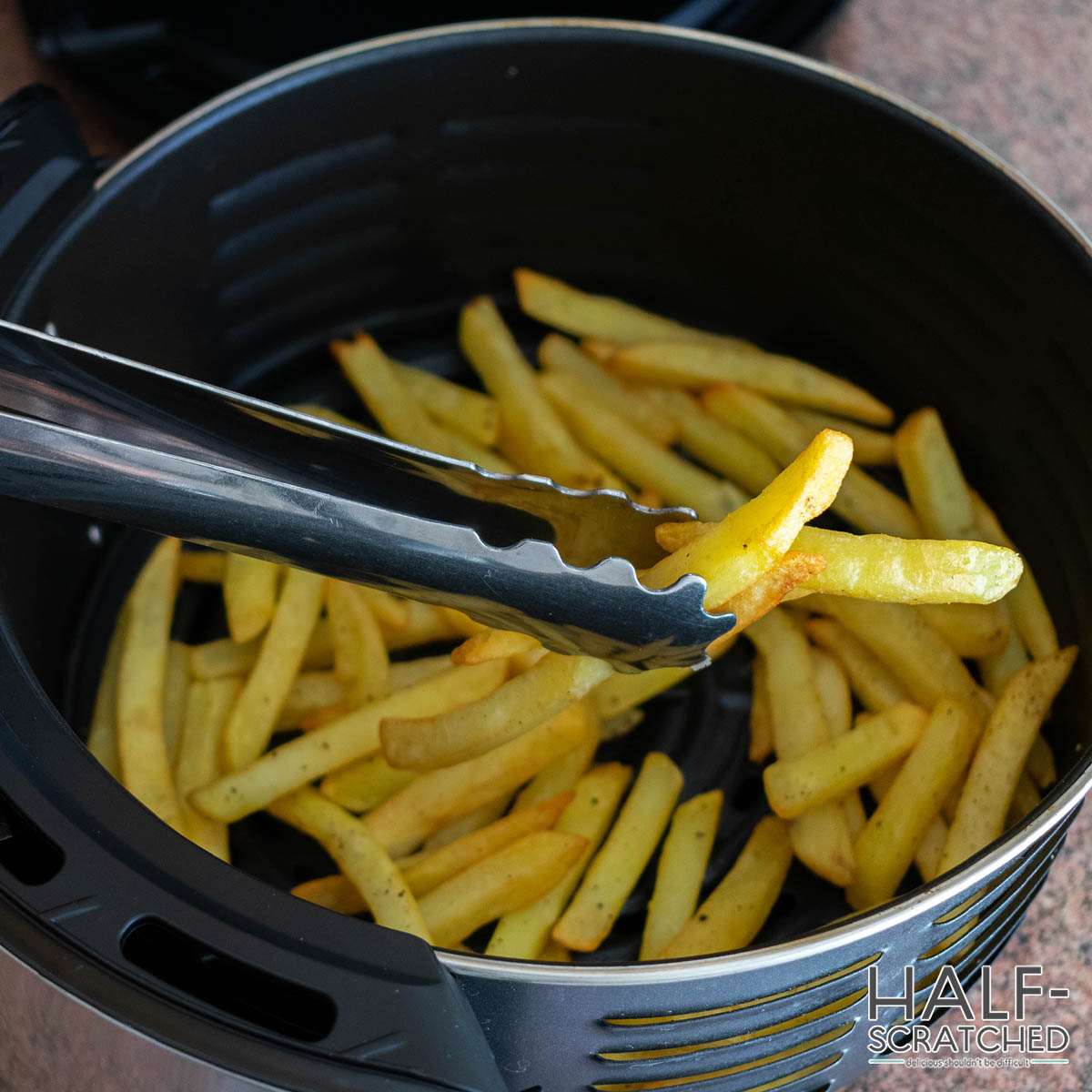 As far as I know, all fast-food chains deep-fry their French fries in either tallow or oil. While this certainly isn't as healthy as baking them, it does shorten the cooking time and adds flavor. If you're hoping to recreate a restaurant-style fry without the added cholesterol, you can use an air fryer to quickly create crispy, delicious fries.
Unlike standard convection ovens, air fryers circulate hot air around a much smaller area, helping to quickly cook foods while also creating the iconic crunch of fried food. Be careful not to over-fill the fryer with potatoes and then set it to cook for 15 minutes at 375° Fahrenheit. I recommend lightly tossing the fries in oil before they cook to help prevent sticking.
Insider Secrets for Making the Best Homemade Fries
Fries may seem nearly impossible to mess up, but you'd be surprised by how quickly they can go wrong. After making nearly a dozen batches of sticky, gummy, and mushy fries, I've finally perfected my own set of techniques to make high-quality, crispy, and delicious fries. I recommend using these tips to improve your own home recipe.
Soak the Fries in Cold Water
Don't be fooled by fast-food restaurants into thinking that you can simply chop up some fries and throw them in the oven. This is all but guaranteed to create gummy fries that stick together. To avoid this, soak the sliced potatoes in cold water for at least 12 hours. This will extract some of the excess starch and keep your fries crispy rather than mushy.
Pat the Fries Dry Before Baking
After letting the potatoes soak for up to 12 hours, they'll naturally have absorbed some of the liquid. Remove them from the starchy water, let them sit for 10 minutes, and then pat them dry as best as you can. If you try baking them straight out of the water, they'll come out soggy rather than crispy.
Toss the Fries in Cornstarch
It may seem counterintuitive to add more starch after you've just soaked away some of the natural potato starch, but you should always toss your fries in cornstarch before baking them. This will create an outer skin that'll turn beautifully golden brown as it bakes. This is the key to creating perfectly crisp fries with a soft, bouncy inside.
Salt the Fries After They Bake
Everyone loves a properly salted French fry but don't jump straight to seasoning. Salting the raw slices of potato will draw moisture from the fry, causing it to be soggy on the outside and grainy on the inside. Instead, let the outer coating of cornstarch bake into a crust and then add salt once the fries are finished.
Get Creative with Different Flavors
Potatoes are among the most versatile of foods because they happily accept most flavors. I.e., don't limit yourself to one seasoning. Feel free to add curry powder, paprika, black pepper, garlic salt, parmesan powder, or any other flavorings. If you can imagine it, it'll go well on a plate of French fries!
Frequently Asked Questions
Are French fries actually French?
No, in fact, the French call them pommes frites (fried potatoes). As the story goes, American soldiers enjoyed the tasty snack while on deployment in Belgium, and since the Belgians speak French, the soldiers started calling them French fries.
How much healthier are baked French fries?
Compared to deep-fried French fries, each serving of oven-baked fries contains around half of the calories (400 vs. 200).
Is it possible to reheat fries?
Although they'll never be as good as they are fresh out of the oven, if you want to reheat fries, I recommend placing them in an oven set to a very high temperature. You may even want to use the broiler set on HIGH.
My Guilt-Free Recipe for Late-Night French Fries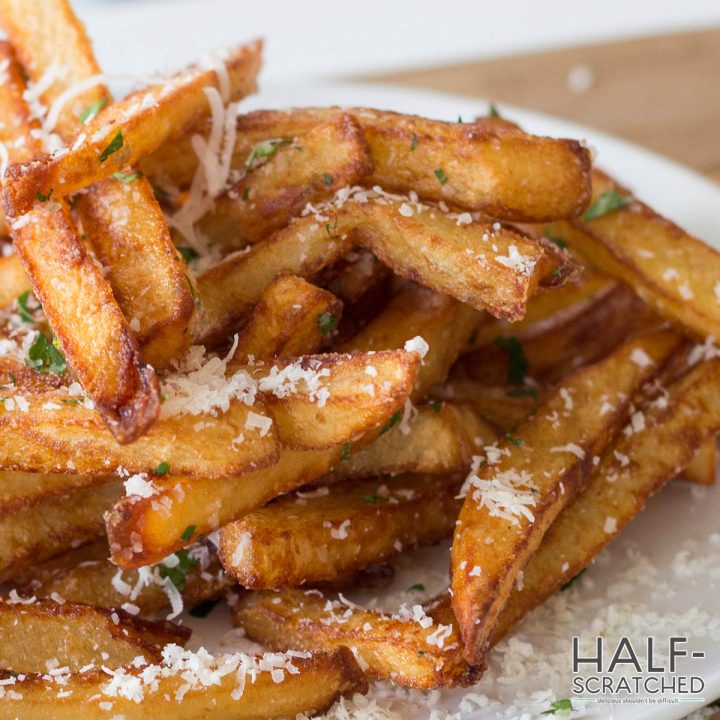 How Long to Bake French Fries at 400° F
Total Time:
2 hours
35 minutes
Whether you are baking potato or sweet potato french fries, frozen or homemade, learn how to bake perfect french fries.
Ingredients
4 large russet potatoes
6 cups of cold water
1 cup of cornstarch
2 tablespoons of garlic salt
2 tablespoons of dried powdered parmesan
Instructions
Wash and peel all four russet potatoes. Holding one potato vertically, cut down through the middle and then cut the two halves in half again. You should end up with four flat ovals measuring roughly ½ inch thick. Slice these into ½-inch steak fries. Repeat with all four potatoes.
After slicing all of your russet potatoes, place them in the cold water and then refrigerate for 2 hours.
Preheat your oven to 400° Fahrenheit.
Remove the soaked fries from the fridge, pour out the water, and then lay the fries on a double layer of kitchen towel. Leave them to sit for 10 minutes before returning and patting dry any excess water.
Once the fries are completely dry, place them in a pan, pour the cornstarch over them, and use your hands to toss the fries until completely coated.
Spray a baking sheet with non-stick spray and arrange the fries so that they don't overlap.
Bake the fries for 18 minutes before removing them from the oven, flipping them over, and returning them to finish for another 18 minutes.
After the fries are finished, remove the baking tray from the oven and then sprinkle the garlic salt and parmesan cheese powder over the fries. Being careful not to burn yourself, toss the fries in the seasoning until completely coated.
Nutrition Information:
Yield:

2
Serving Size:

1
Amount Per Serving:
Calories:

851
Total Fat:

2g
Saturated Fat:

1g
Trans Fat:

0g
Unsaturated Fat:

1g
Cholesterol:

2mg
Sodium:

4924mg
Carbohydrates:

190g
Fiber:

15g
Sugar:

7g
Protein:

17g