Want a super tasty yet quick and healthy meal for after work? Chicken thighs are exactly what you're looking for. You just need to know how long to bake them!
The time it takes to bake chicken thighs at 425 °F depends on their bone-in status. With bones, you should expect to cook them for 35 to 40 minutes. Boneless chicken thighs, however, only need 20 to 25 minutes in the oven.
To ensure they are ready, insert an instant-read thermometer into the thickest part of the meat to see if it reads 165 °F.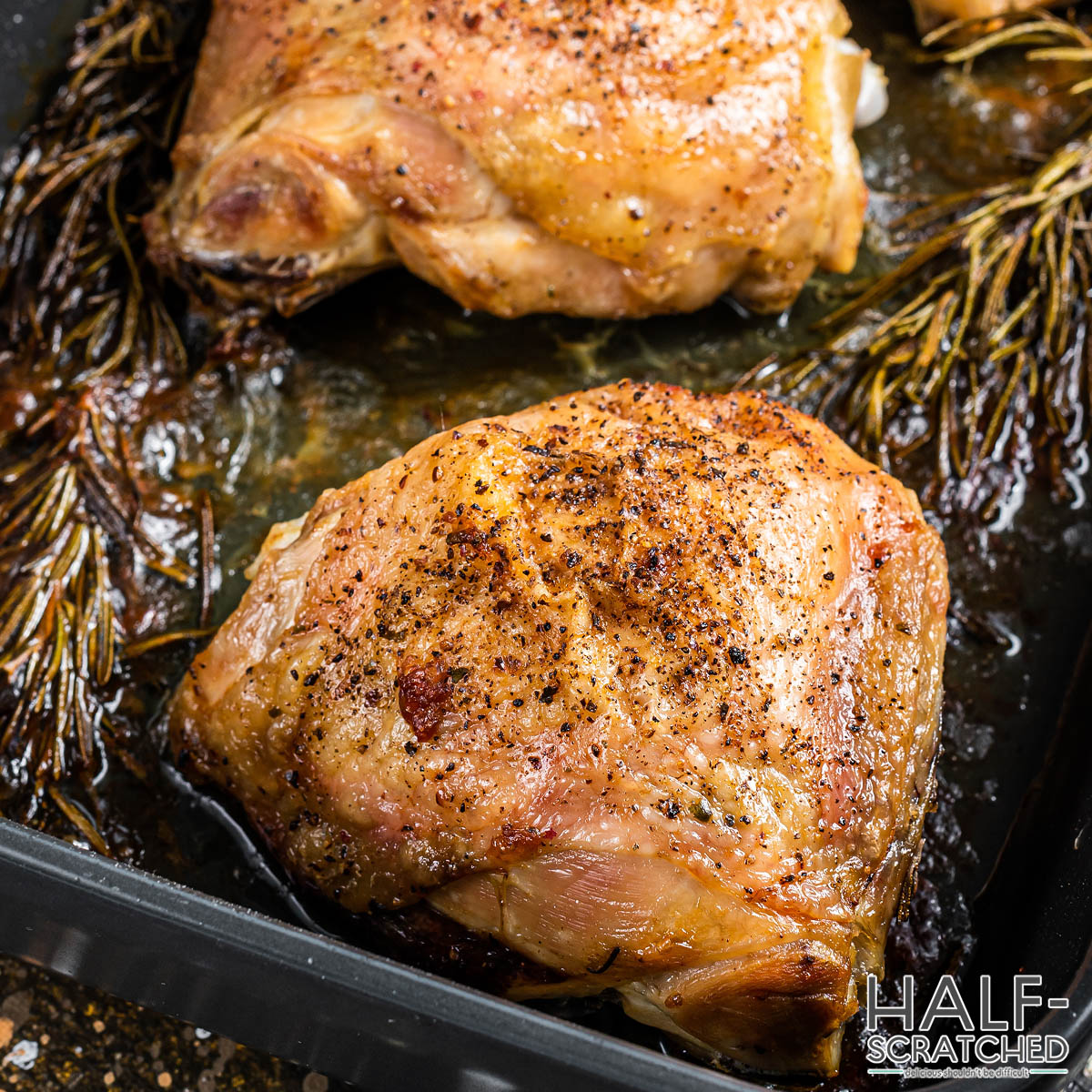 You have the times down to a T, but there's more to wrap your head around to bake perfect chicken thighs every single time.
Boneless VS Bone-In Chicken Thighs
Both boneless and bone-in chicken thighs have their advantages, and some people vehemently prefer one over the other. But let's discover the differences beyond the varying baking times.
Boneless and skinless chicken thighs are lauded for their quickness and ease. You don't have to spend ages in the kitchen, and they're also lower in calories and fat, making it a healthier option.
That said, they can be pricier. Not to mention they lack deep flavor due to the lower fat content.
Bone-in, skin-on chicken thighs are often preferred by chefs and home cooks for crispy skin and rich flavor. Plus, they are often more affordable than their skinless, boneless cousins.
Although, you will need to cook them for longer and handle the before-serving preparation. Some people prefer eating chicken without skin, so that must be removed. The bone is often removed too, requiring even more effort.
On top of that, they have a higher fat and calorie content.
With that in mind, it comes down to personal preference and your recipe's needs. If you want a healthy, quick option, skinless, boneless chicken thighs are typically your best baking option. But if you don't mind putting in the work for a richer flavor, bone-in, skin-on thighs are your best friend.
Regardless of the type you choose, always check the internal temperature has reached 165 °F in the thickest part of the meat.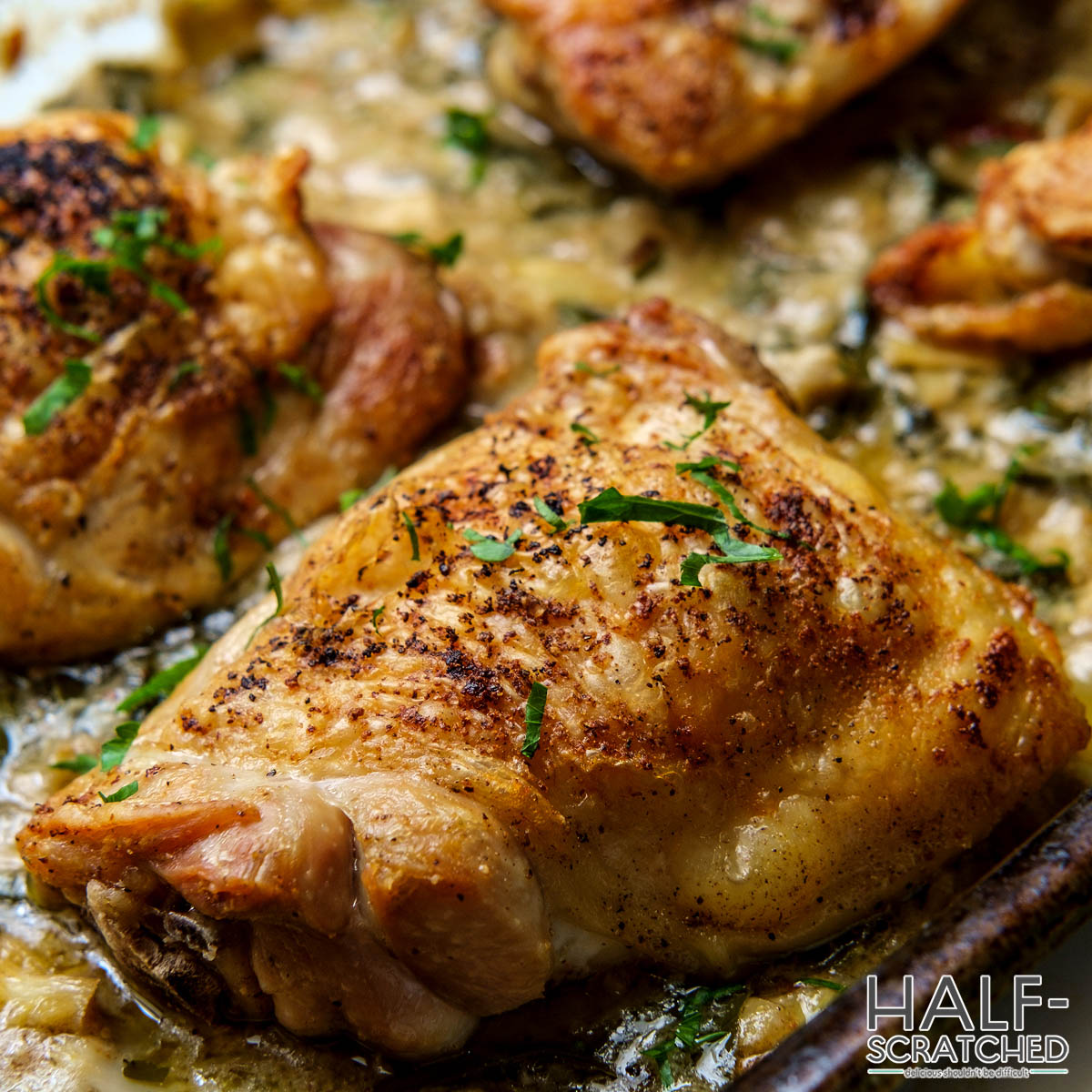 Can You Bake Chicken Thighs from Frozen at 425 Fahrenheit?
As the USDA (United States Department of Agriculture) states, you can cook chicken thighs from frozen! You just need to make sure it's still cooked all the way through before eating it.
Naturally, you should expect baking the thighs from frozen to take longer. Generally speaking, you should add 50% to the cooking time. So, bone-in chicken thighs will take 45 to 50 minutes, and boneless thighs will take 30 to 35 minutes to bake at 425 °F.
To be on the safe side, always use an instant-read thermometer to check the internal temperature has reached 165 °F. That way, you guarantee it's harmless to eat while avoiding overcooking the meat.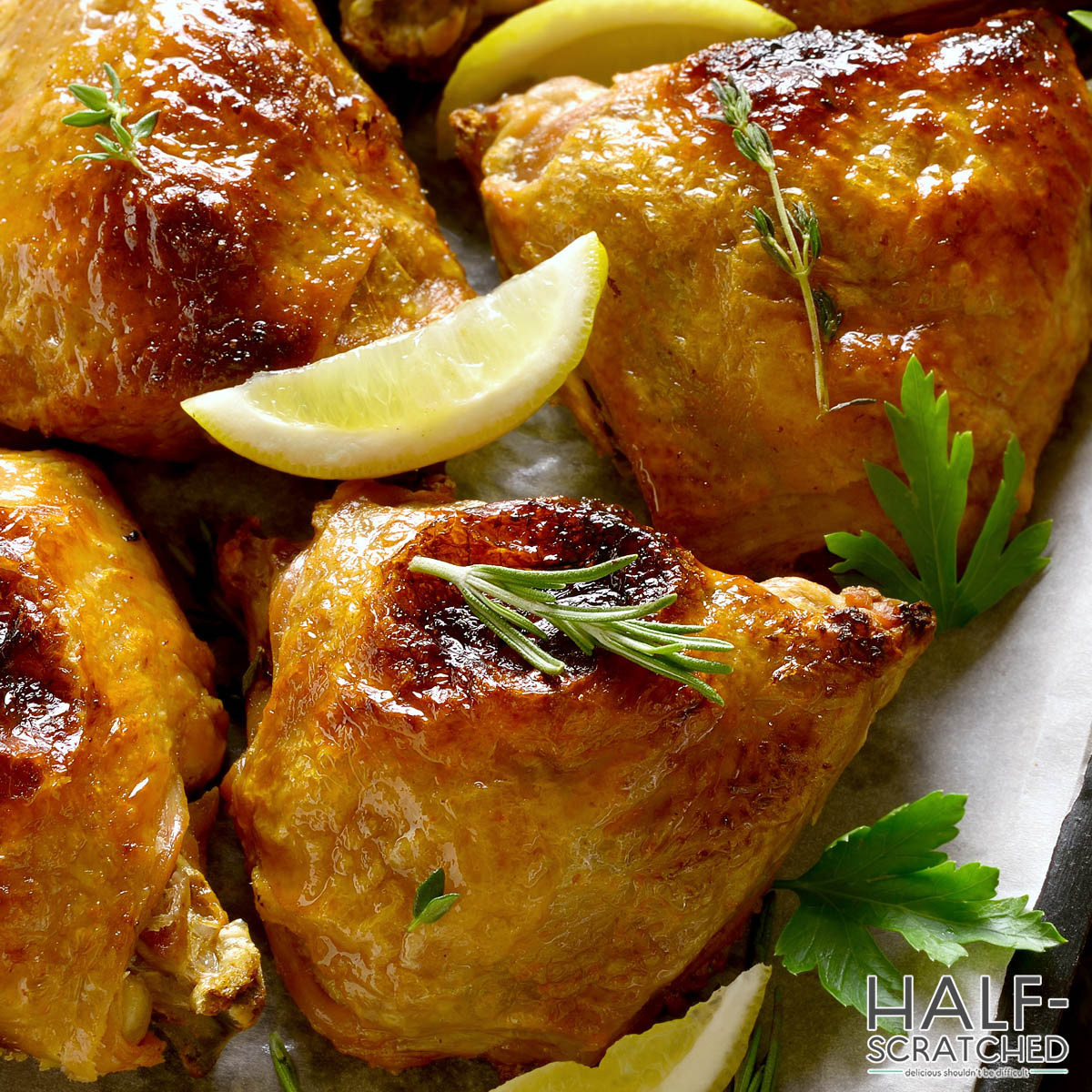 Chicken Thigh Seasoning Ideas
Chicken thighs are exceptionally versatile. So much so that almost any flavor will work wonders for your tastebuds, but if you're too overwhelmed by all the options, this section should help you out.
Store-Bought Seasoning Mixes
When time is of the essence, store-bought seasoning mixes will take your chicken thighs from drab to fab in no time at all.
Our favorites for this meat cut are taco, Cajun, and barbeque pre-packaged mixes. You can find them at any grocery store.
Homemade Seasoning Mixes
Play around with everything in your spice/herb cupboard to create your new favorite chicken thigh seasoning mix. As you grow your kitchen confidence, you'll be surprised by the myriad of flavor combinations you come up with.
To get started, give this homemade taco seasoning mix a go:
4 teaspoon paprika
2 teaspoon garlic powder
1 teaspoon brown sugar (swap this for a dry herb like thyme or oregano if you're following a keto nutrition plan)
2 teaspoon onion powder
½ teaspoon cumin
½ teaspoon cayenne pepper or chili powder (to taste)
1 teaspoon salt
1 teaspoon black pepper
Mix the above together in a small bowl and sprinkle it onto your chicken thighs before baking them at 425 °F.
Don't Be Afraid to Get Your Hands Dirty
Whether you've made your own seasoning or bought a pre-packaged option from the store, you need to apply it to the chicken thighs with your hands. This will help the seasoning adhere to the chicken, infusing it with tantalizing flavors.
Of course, you need to wash your hands thoroughly afterward! But don't let that put you off. Get your hands involved in the cooking process!
Storing and Reheating Baked Chicken Thighs
If you're meal prepping or just can't eat all the chicken thighs you've baked, you need to know how to store them so they stay safe and tasty to eat for as long as possible.
Storing
You can store baked chicken thighs in the fridge for up to four days. Just make sure you put them in an airtight container or sealed bag before placing them in the refrigerator.
Freezing them is also an option. Put the thighs in a freezer-safe container or bag and keep them in the freezer for two to three months.
Reheating
You have two options for reheating baked chicken thighs. However, it dries out quite quickly, so you'll need to ensure you follow the steps as closely as possible to avoid tough, hard-to-eat chicken.
Using the Microwave
Place the chicken thighs in a microwaveable dish.
Drizzle them with olive oil. This will help retain the moisture.
Cover the dish with microwave-safe plastic wrap, ensuring the chicken does not touch it. You don't want anything leaching from the plastic wrap into the chicken throughout cooking.
Put the thighs in the microwave on high heat for two to three minutes.
Check it's piping hot and serve your reheated chicken thighs!
Using the Oven
Preheat the oven to 425 °F.
Line a baking sheet with aluminum foil.
Put the chicken thighs in the center of the tin foil.
Brush the thighs with oil
Lift the sides of the foil up to form a package with the chicken.
Put the chicken thighs in the oven.
Reheat until the thighs reach an internal temperature of 165 °F.
Succulent Baked Chicken Thighs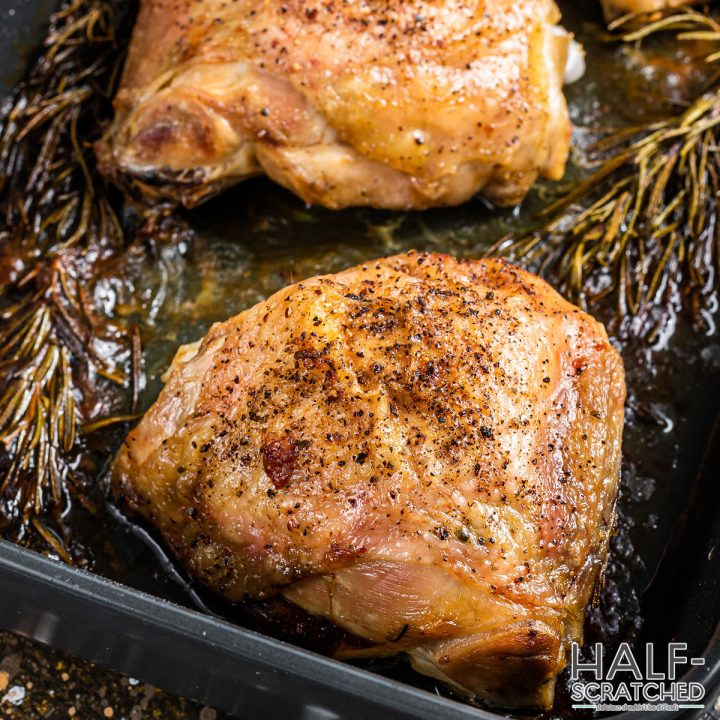 How Long to Bake Chicken Thighs at 425 F
Learn exactly how to long to bake chicken thighs at 425 °F with our simple yet thorough tutorial (delicious recipe included)!
Ingredients
6 bone-in chicken thighs with skin (5-6 ounces each)
2-3 tablespoons Italian seasoning
2 tablespoons olive oil
Salt (to taste)
Pepper (to taste)
Instructions
Preheat oven to 425 °F.
Line a pan with tin foil and put a baking rack on top of it.
Using a paper towel, dab the chicken skin dry to remove moisture.
Drizzle each thigh with olive oil.
Add the Italian season mix, salt, and pepper.
Put the chicken thighs on the rack.
Bake for 35 to 40 minutes.
Check the internal temperature has reached 165 °F.
Remove from the oven.
Let the chicken thighs rest for five to ten minutes.
Serve with your favorite accompaniments!
Notes
If you want extra crispy skin on your chicken thighs, turn your oven to high broil during the end of the cooking time and crisp for two to three minutes.
Just about anything works well with baked chicken thighs. But if you want a few ideas, we recommend these — red potato salad, Mexican street corn salad, sweet potato fries, cold lemon zoodles, quinoa brussels sprouts gratin, tabbouleh, tomato salad, roasted squash with pomegranate, and wedge salad.
Nutrition Information:
Yield:

6
Serving Size:

1
Amount Per Serving:
Calories:

323
Total Fat:

23g
Saturated Fat:

6g
Trans Fat:

0g
Unsaturated Fat:

16g
Cholesterol:

166mg
Sodium:

324mg
Carbohydrates:

1g
Fiber:

1g
Sugar:

0g
Protein:

31g