Bacon is a breakfast staple, especially in the United States, which begs the question of how bacon should be prepared to make it perfect. This article will look specifically at baking bacon in the oven.
You can bake bacon in the oven at 375 degrees Fahrenheit for about 15 minutes or until the sides start to crisp up and it gets a darker brownish-red color.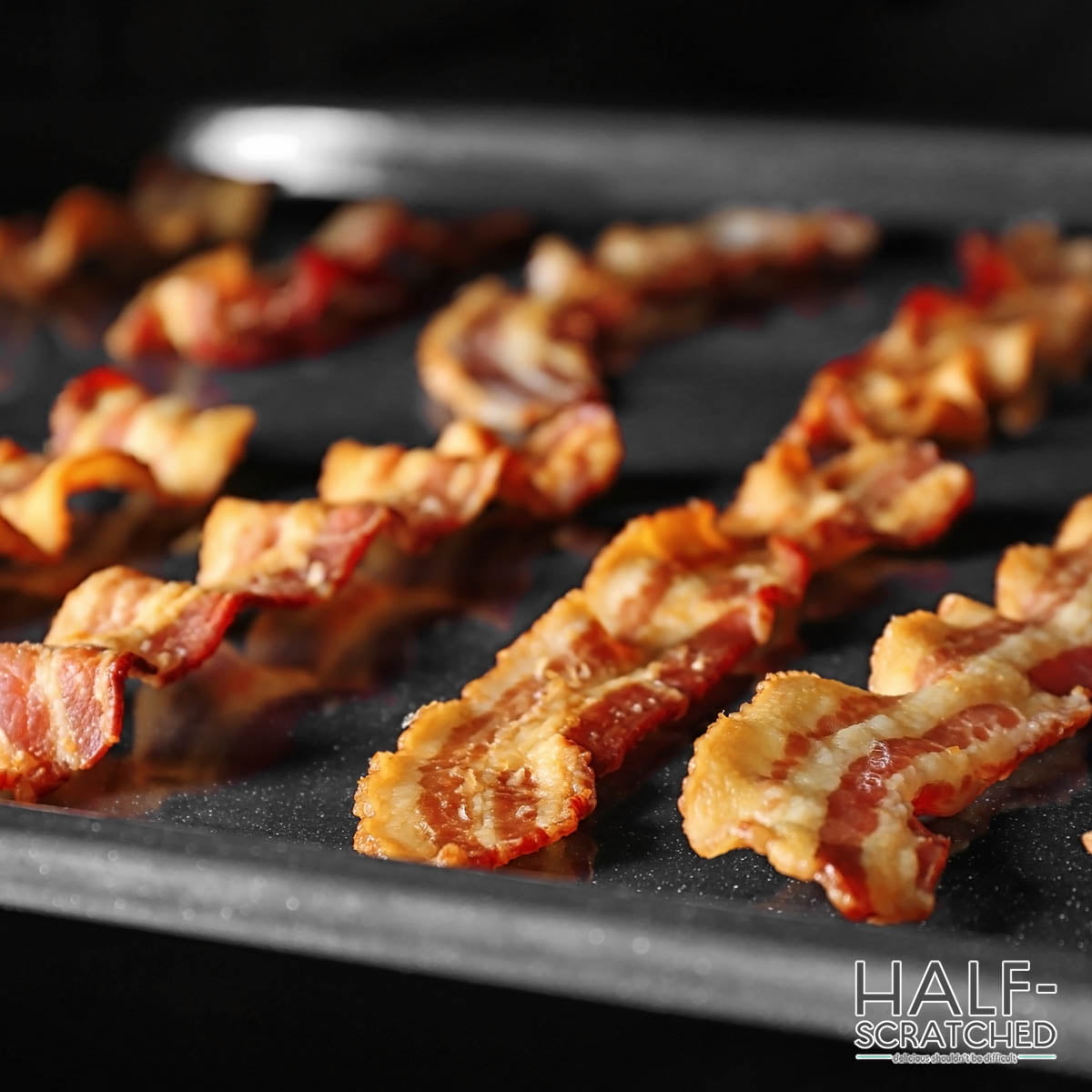 This guide will walk you through some tips and tricks for baking bacon in the oven, how to season baked bacon and a delicious bacon dish. Read on!
How Do I Get Crispy Baked Bacon?
Bacon tends to get crispy as it's cooking because it's not thick, but if you really love it crunchy, here are some tricks:
Remove Fat and Pat Dry
Fat is usually good when it comes to cooking, but with bacon, too much fat can affect the crispiness. To ensure that your bacon is going to be as crispy as possible, rinse uncooked bacon with hot water to get all the congealed parts off.
The next important step is to pat the bacon dry. When meat is dry instead of wet, then it'll crisp up easier.
Drain the Oil
Similar to fat, too much oil can prevent the baked bacon from getting crispy. One trick to do is, after the bacon has baked for a bit, take it out of the oven and drain the oil out of the pan. Then put it back into the oven.
You can put the oil in a container and use it to cook other food items. For example, if you're making breakfast, use the bacon oil to also cook the eggs and hashbrowns in for a rich and tasty meal.
Pour Little Cold Water Over the Baking Bacon
One trick for extra crispy bacon is to pour a little cold water over the baking bacon. As the water boils, it'll render the fat off the strips, leaving it drier and more susceptible to crisping. The key is to have as little moisture as possible on the bacon.
Do I Have to Flip Bacon in the Oven?
Typically you do not have to flip bacon while it's baking because it's so thin, so it should cook fully through. If your bacon is thicker, however, it might make sense to flip it.
One thing that should be done is the baking tray needs to be rotated so the bacon in the front will be in the back. The back of the oven tends to be hotter so it ensures even baking.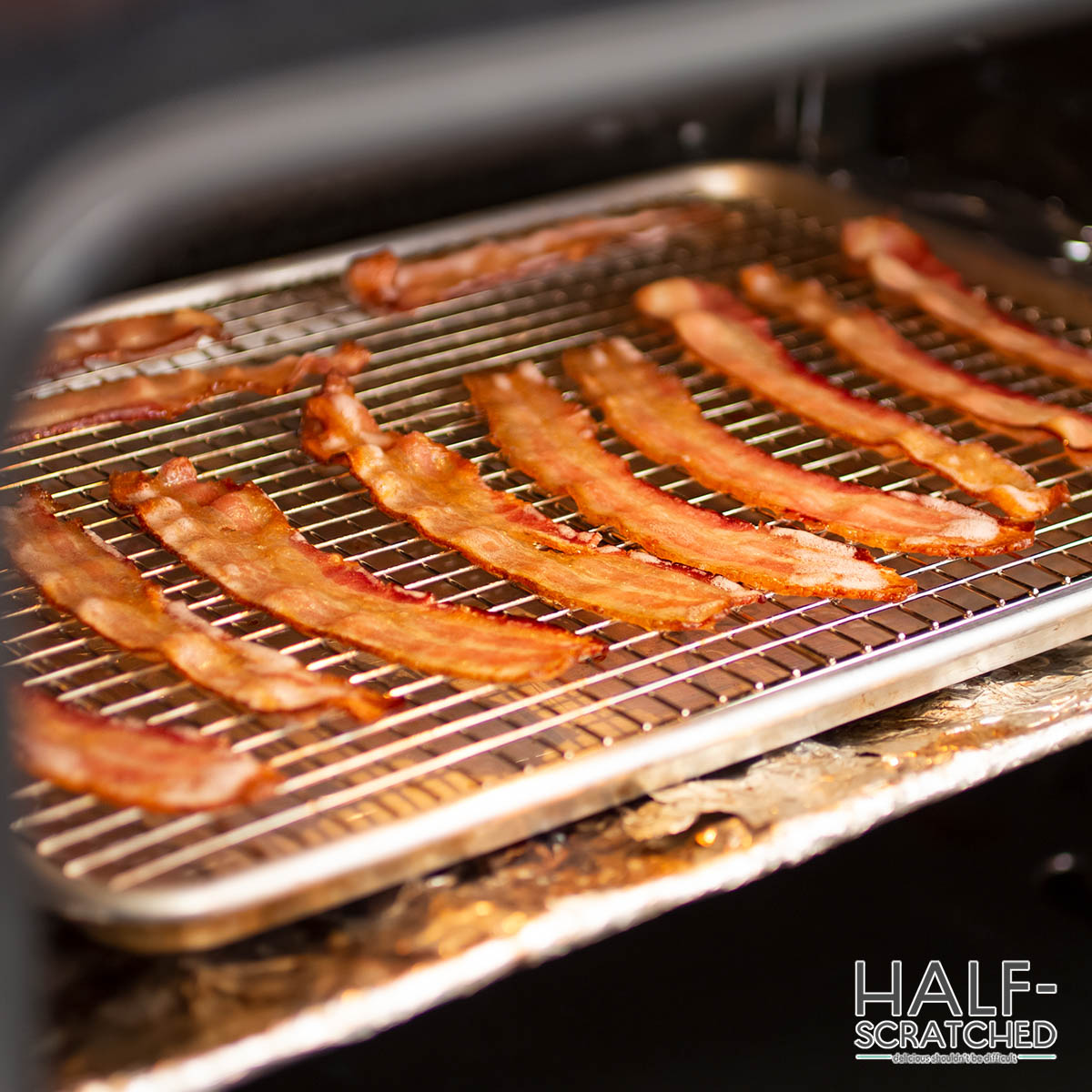 Should I Use Aluminum Foil?
Aluminum foil doesn't make your bacon as crispy since it blocks out heat and keeps moisture in, so if you want crunchy, crispy bacon, you're better off using parchment paper. With that being said, aluminum foil can still be used to bake bacon, especially if you're looking for something more tender, as in Canadian bacon.
Both aluminum foil and parchment paper are good options for easy cleanup as well since you don't have to clean any trays or dishes.
What is the Best Type of Bacon to Bake?
Bacon in all forms is delicious but did you know there are different kinds? Below are some of the most popular forms of bacon.
American Bacon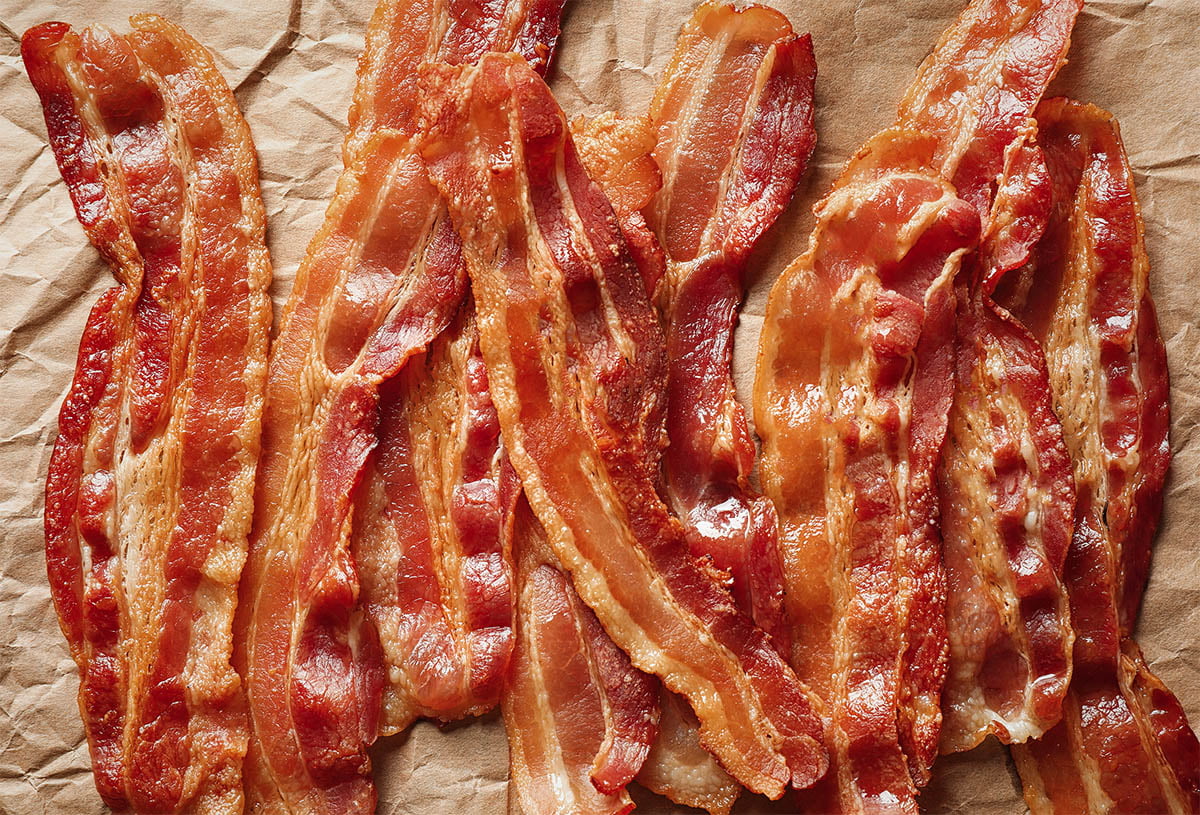 American bacon is taken from the belly of the pig and is what most people think of when you say "bacon." It's instantly recognizable for its layer of meat and fat. It's thin and long, although it contains a lot of saturated fat.
Canadian Bacon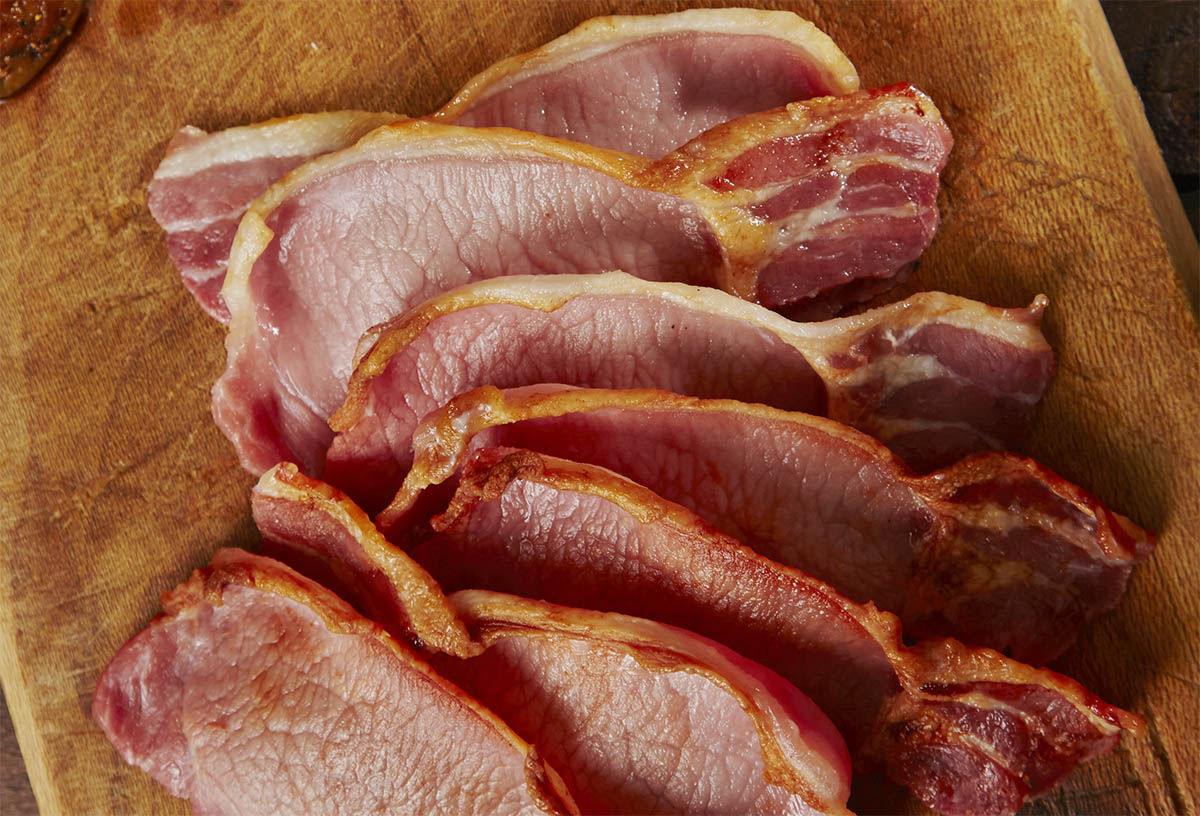 Canadian bacon is taken from the loin of the pig, which is actually leaner than the belly but still contains a good amount of delicious fattiness, which makes for a tender slice of meat. While this is called Canadian bacon, other countries, including Canada, call it back bacon.
British Bacon
British bacon is a combination of American and Canadian bacon because it's cut from both the pork loin and the pork belly. It looks very similar to Canadian bacon, but it has an "extension" of fat. So overall, it's fattier than the Canadian version but leaner than the American one.
Thick Cut Bacon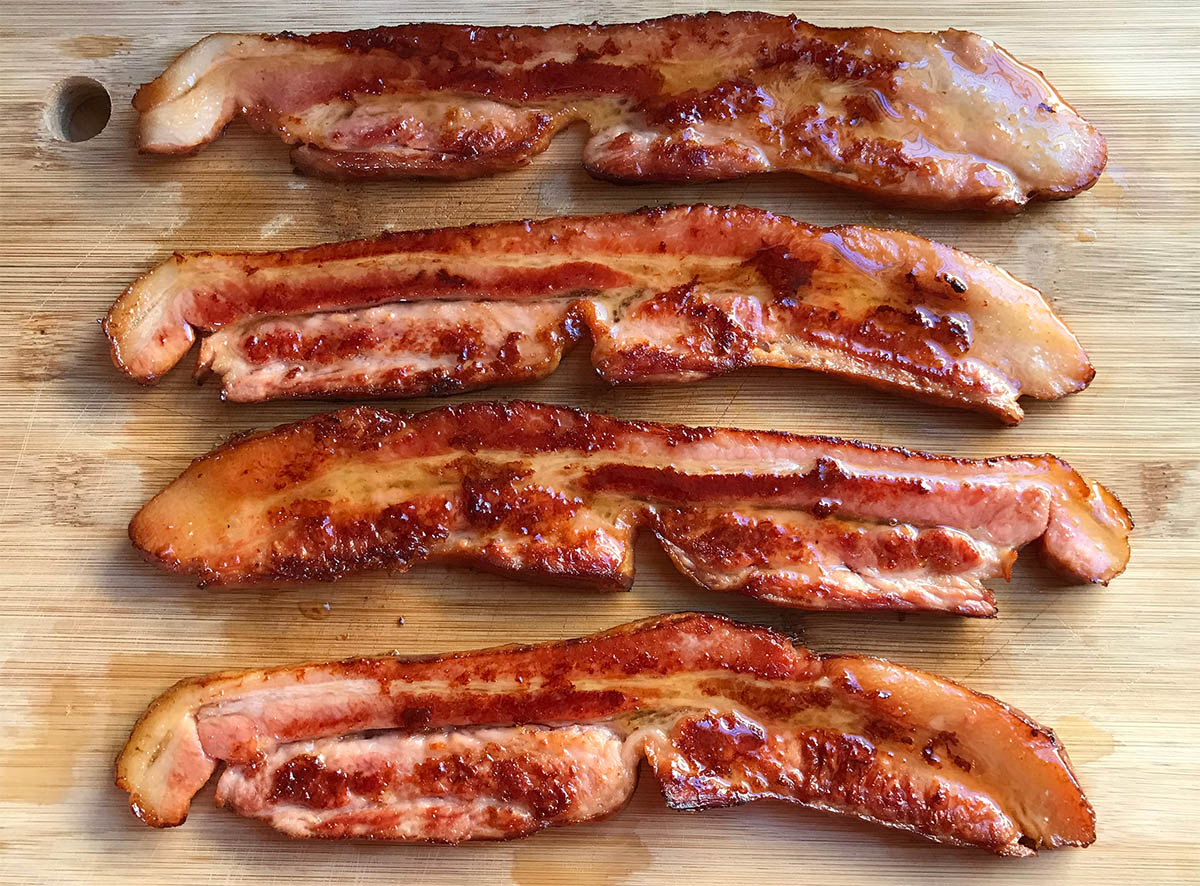 Also called slab bacon, thick-cut bacon is a whole smoked pork belly. It's the natural state of bacon before it's thinly sliced into the American bacon form. People like thick-cut bacon because you can personalize how thick your bacon will be.
Turkey Bacon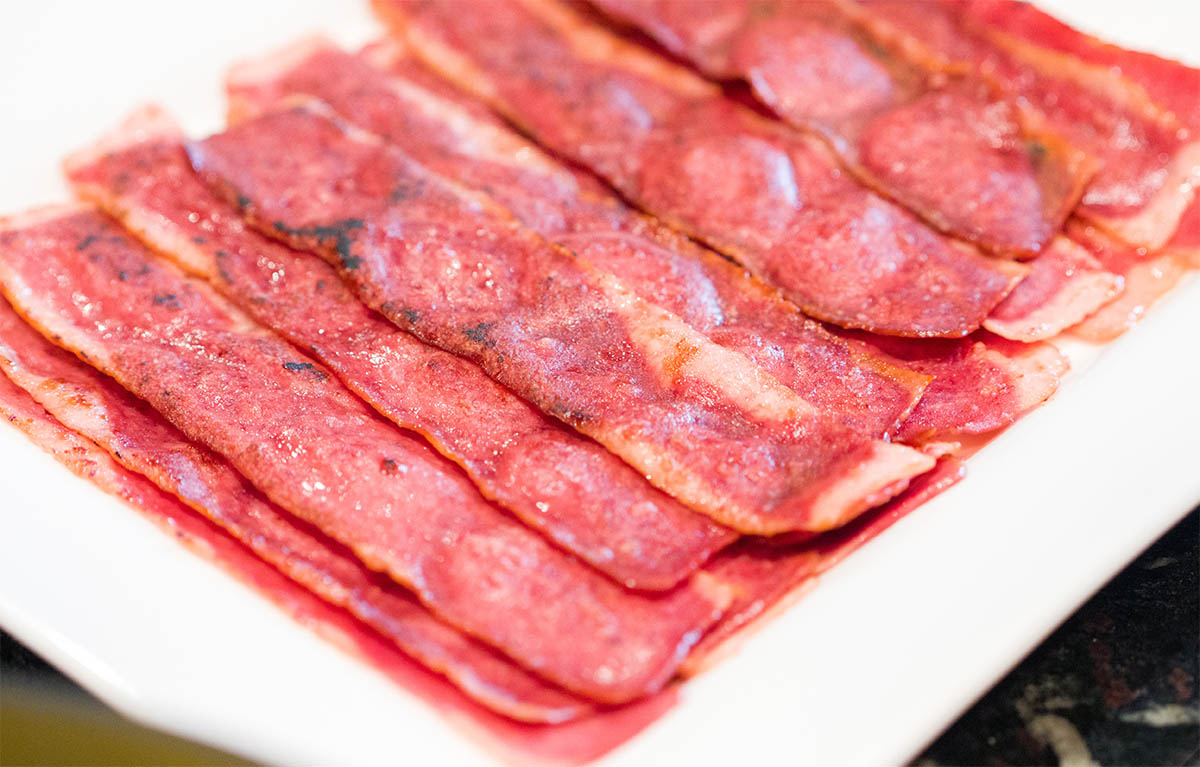 Turkey bacon is similar to normal bacon, except instead of pork, it's made from smoked turkey. Health-conscious eaters tend to gravitate towards turkey because it's lower in fat and calories than pork.
Non-Meat Bacon
Currently, there are a lot of vegetarian options for people that don't eat meat but still want "bacon." Some of the most popular ingredients to use are tempeh, tofu, coconut meat, or seitan. Soy sauce or liquid smoke is used to give it a "meaty" taste.
Best Ways to Reheat Bacon
The best part of bacon is arguably the crispy part but reheating bacon in the wrong way can result in the meat being limp or chewy. Below are some tips on how to help reheated bacon retain its crispiness and flavors.
On the Stovetop
The fastest way to reheat bacon is to do it on the stovetop. Take a skillet and pour some oil into it. Turn the burner on medium-high heat and once it gets hot, place some slices of bacon into it. Make sure the bacon isn't overlapping as this can prevent them from being reheated. Let it cook for a few minutes and enjoy!
In the Oven
You can also reheat bacon in the oven, but this will take a little longer. Preheat the oven to 375 degrees and place it on a tray. Cook it until it starts to sizzle and is crispy, about six to eight minutes.
Spices and Marinades for Baked Bacon
While bacon is already delicious (and quite salty!) on its own, it's important to use spices and other toppings to make the bacon as flavorful as possible:
Maple syrup: Maple syrup, or any kind of sugar really, is a great complement to bacon's saltiness. You can also use brown sugar or honey.
Chili powder: For spice lovers, adding a sprinkle of chili powder on top of baked bacon is a surefire way to elevate your baked bacon.
Cocoa powder: Because bacon has such a strong meaty flavor, some unsweetened cocoa powder adds a nice depth to it.
Roasted garlic: Roasted garlic can be spread onto bacon as its baking and adds a subtle spice and warmness.
Best Food Pairings with Bacon
Bacon is the ultimate breakfast food but it can also be a star in other types of dishes too!
Eggs or Hashbrowns
A complete breakfast usually consists of proteins and carbs, so pairing bacon with eggs or hashbrowns (or both!) is a great way to start the day!
Salads
Salads are always a healthy choice but sometimes you want to indulge a little. Adding crumbled bacon bits to the top of your greens will make your salad salty, crunchy, and tasty!
Hamburgers
The patty in the hamburger is usually the star of the show, but when throwing bacon into the mix, the burger instantly becomes juicier and gains a nice smokey flavor.
"Elvis" Sandwich
Elvis is known for reinventing rock'n'roll but he also had a unique favorite sandwich: peanut butter, sliced banana, and bacon! It might sound weird but the sweet, salty, and nutty combo is a win for all.
Bacon Cheddar Popcorn Recipe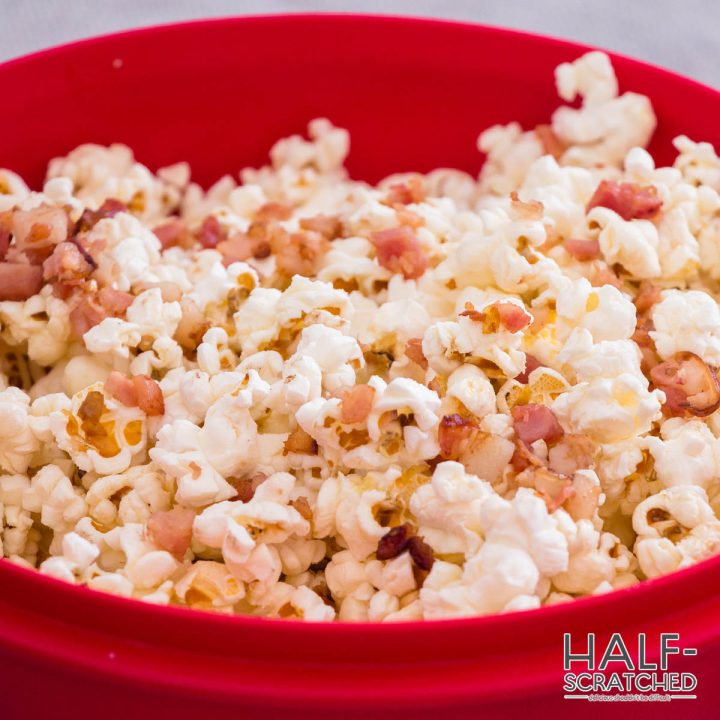 How Long to Bake Bacon at 375 F
Bacon is a staple in American households and this article will show you how to bake perfect bacon in the oven at 375 degrees and turn it into delicious popcorn bacon.
Ingredients
4 slices of baked bacon
½ cup popcorn kernels
1 tablespoon oil
¼ pound finely grated cheese
salt
Instructions
Preheat oven to 375 degrees Fahrenheit and place bacon on a baking tray.
Bake for 8-10 minutes, or until bacon is crispy. Drain off the bacon grease and crumble the bacon.
Take a pot and pour the bacon grease and oil in. Heat it up.
Add popcorn kernels and cover until you hear popping. Lift the pot and shake around to mix up the kernels with the grease and oil.
Turn heat off and throw the crumbled bacon and finely grated cheese into. Shake until evenly covered.
Nutrition Information:
Yield:

2
Serving Size:

1
Amount Per Serving:
Calories:

410
Total Fat:

35g
Saturated Fat:

14g
Trans Fat:

1g
Unsaturated Fat:

18g
Cholesterol:

79mg
Sodium:

1063mg
Carbohydrates:

3g
Fiber:

0g
Sugar:

0g
Protein:

21g