Bacon is a part of an elite group of foods that, no matter what you add them to, make everything better. Thanks to its balance of saltiness, meatiness, and smokiness, it pairs well with just about any savory dish for some added flavor and fat. But to get the most out of your bacon, you'll have to cook it for the right amount of time.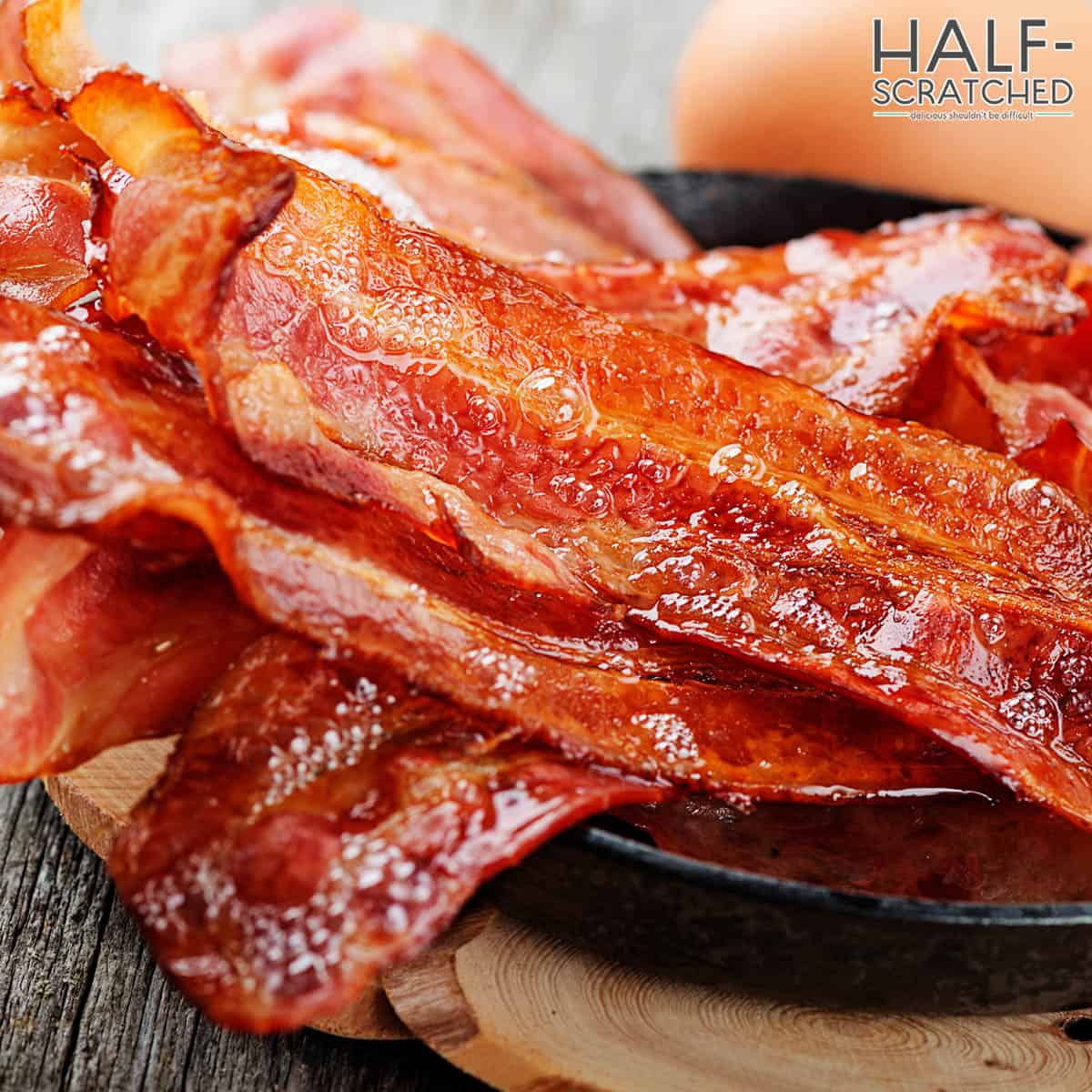 Although it's beloved by most people, bacon's cooking time is arguably the most controversial and polarizing topic in breakfast cuisine. Some people like it cooked to a crisp, which can take up to 20 minutes, whereas others prefer it soft and greasy, which only takes about 12 minutes. Plus, these cooking times are also affected by the thickness of the bacon.
If you're questioning how long you should bake bacon at 400° Fahrenheit, continue reading to learn everything you'll need to know. This guide will explain how long to cook bacon according to your preference, share some top baking tips, and provide a quick and easy recipe to help you create the perfect homemade bacon.
Bacon is Already Smoked and Cured
In most cases, bacon is both smoked and cured. Curing is a process that uses salt, sugar, and other chemicals to preserve meat and prevent it from going bad. This process also adds flavor to the meat and gives bacon its characteristic pink color.
After the curing process is complete, the bacon is then smoked, which adds even more flavor. The type of wood used to smoke the bacon also contributes to the flavor profile. For example, hickory-smoked bacon has a sweeter flavor, while oak-smoked bacon tastes more intense.
Can You Just Eat It Raw?
Smoking might be an acceptable way to cook chicken, ribs, and other cuts of meat, but when bacon manufacturers smoke their products, they simply do so to imbue the meat with added flavor. Smoked and cured bacon generally isn't cooked all the way through so it's not safe to eat it raw. And bacon is a pork product and pork is known to carry the trichinosis parasite.
This parasite is killed when pork is cooked to an internal temperature of 145° Fahrenheit. So, if you want to eat bacon "raw", you'll have to cure it yourself using a combination of salt, sugar, and nitrates. Then, you'll have to smoke it until it reaches an internal temperature of 145° Fahrenheit, which can take up to 10 hours.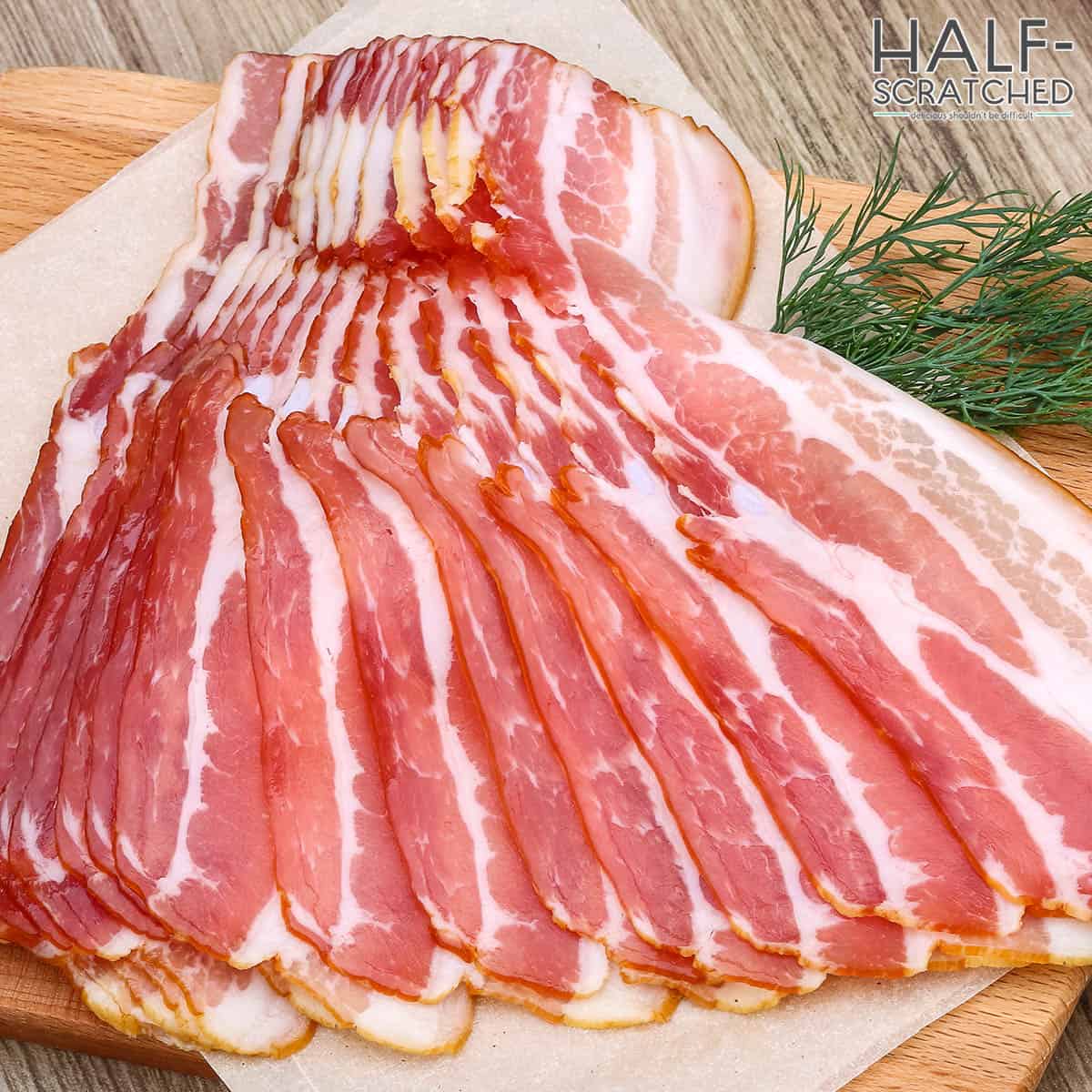 Bacon Baking Times by Crispiness
For most people, the crispiness of their bacon is the most important factor. And although you can cook bacon on the stovetop, baking it is the best way to achieve evenly cooked, perfectly crisp bacon without all the grease and mess.
Extra Crispy: (20 minutes) If you like your bacon extra crispy, you'll have to cook it for 20 minutes. This will ensure that the fat is rendered and the bacon is cooked through. Keep in mind that bacon cooked for this length of time will be very hard and might even be burnt.
Crispy: (16 minutes) For bacon that's crispy but not burnt, cook it for 16 minutes. This is the sweet spot for most people as the bacon will be crisp but will still have some fat left on it.
Medium: (12 minutes) If you prefer your bacon on the softer side, cook it for 12 minutes. The bacon will have some crispness to it but will mostly be chewy.
Soft: (8 minutes) For bacon that's soft and greasy, cook it for 8 minutes. This is the shortest recommended cooking time as the bacon won't have any crispness and will mostly consist of fat.
These baking times are ideal for standard American streaky bacon. If you're using a different cut of bacon, you may have to adjust the cooking time according to the information below.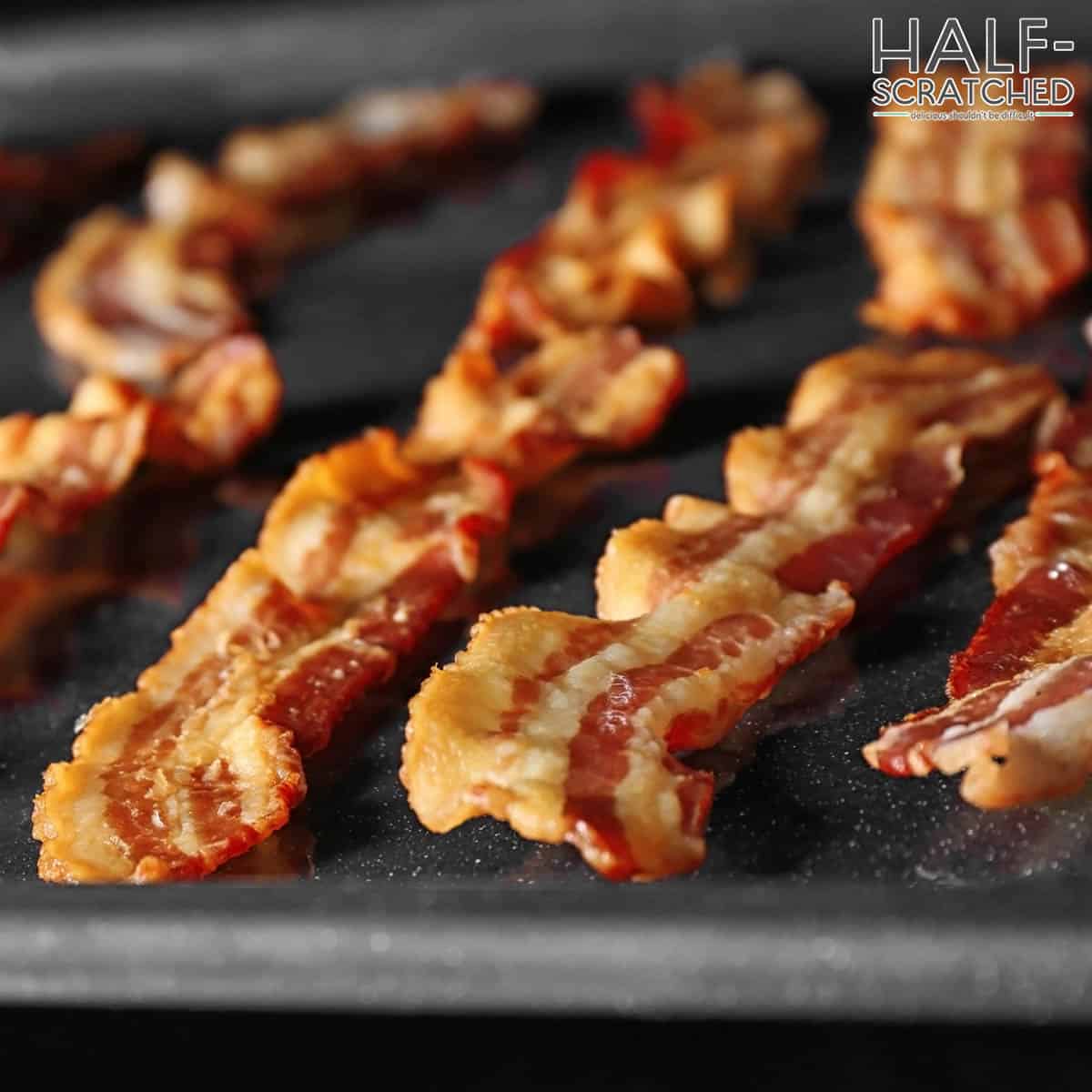 Bacon Baking Times by the Cut of Meat
Although we use the term "bacon" to refer to salty, cured, and smoked cuts of thinly sliced meat, there are actually a handful of cuts that fall into the category. Some are thicker and leaner, while others are thin and contain more fat:
American Streaky Bacon: This is likely the type of bacon you think of when you imagine bacon. It's the most common and popular type of bacon in the United States and is made from pork belly. It's a fatty cut of meat with long streaks of fat running through it.
Canadian Bacon: Also known as back bacon, Canadian bacon is a leaner and less fatty option. It's made from the pork loin, which is the muscle that runs along the back of the pig. Canadian bacon is generally thicker and will have to bake for 18-20 minutes
European Bacon: This type of bacon is very similar to Canadian bacon but is a bit fattier. It's made from pork belly and is common in the United Kingdom and Ireland. Cook it for around the same time as Canadian bacon but check on it around the 15-minute mark to account for personal preferences.
Turkey Bacon: As the name suggests, turkey bacon is made from turkey meat, which is quite a lot leaner than pork. Turkey bacon generally cooks quickly so be sure to check on it after 10 minutes to account for personal preferences.
Collar Bacon: Collar bacon is another type of bacon that's popular in the UK. It's made from the pork collar, which is the meat that surrounds the neck. Collar bacon is generally cooked slowly as a whole piece of unsliced meat with wine and herbs over the course of 2 hours.
Pancetta: Pancetta is an Italian type of bacon that's made from pork belly. It's similar to American streaky bacon but is a bit fattier. Pancetta is fully cured and smoked and can be eaten without cooking it.
If you are unsure how long to cook any of these products, you can also check the label on the packaging for specific cooking instructions.
Should You Use Aluminum Foil When Baking Bacon?
Another hotly debated topic among bacon lovers is whether or not to use aluminum foil when baking bacon. Some people swear by it, while others say it's unnecessary. If you do choose to use aluminum foil, make sure to use the shiny side up as the dull side can cause the bacon to stick.
You should also crinkle the foil so it doesn't lay flat on the baking sheet. This will help the bacon cook evenly and prevent sticking. If you don't want to use foil, you can also use a wire rack. This will allow the fat to drip off and prevent the bacon from sticking. Just be sure to line the baking sheet with parchment paper to catch the drippings.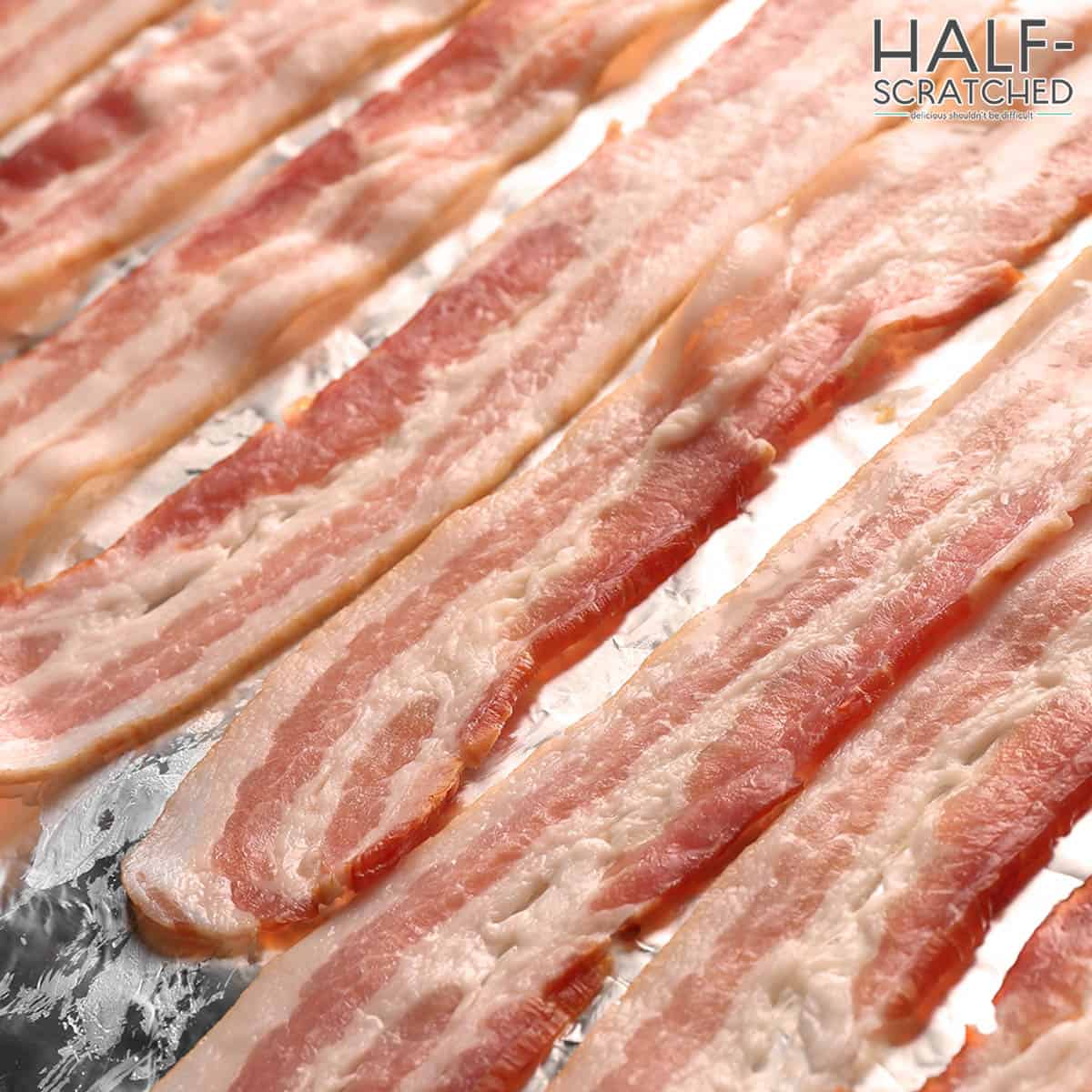 Can You Cook Frozen Bacon?
If you're in a rush to make a big breakfast but only have frozen bacon, don't worry—you can still cook it without defrosting the meat. Bacon has such a high fat content that it will quickly melt and cook in the oven. Just keep in mind that it will take about 50% longer. So, if you're baking at 400° Fahrenheit, cook it for around 20-30 minutes.
You can also cook frozen bacon on the stovetop. Just heat a pan to medium heat and cook the bacon for about 5 minutes before flipping. Then, continue cooking for another 5 minutes or until the bacon is cooked to your liking. If you have the time, though, defrost the bacon in the fridge overnight. This will help the bacon cook more evenly and prevent it from sticking.
My Top Tips for Baking Bacon
Before we share our easy go-to bacon recipe, we wanted to guide you through a handful of top tips that will help you make perfect bacon. Use them as you see fit, and don't be afraid to experiment with your own recipe.
Give the Bacon Enough Room: When you lay the bacon side by side, be sure to leave a little bit of room between each slice. If you pile the bacon slices on top of each other, they'll stick and fail to cook evenly.
Use Thick Slices: When it comes to bacon, thicker is usually better. Thin slices of bacon tend to overcook quickly and can become burnt. If you can find it, opt for bacon that's at least ½-inch thick or speak with a local butcher and see if they can make fresh cuts of bacon for you.
Preheat the Oven: This might seem like an obvious tip, but you'd be surprised by how many people forget to preheat their ovens. Preheating the oven ensures that the bacon cooks at an even temperature, helping it to speed up the process and produce a better overall result.
Don't Overcrowd the Oven: If you're planning to cook a large batch of bacon for a brunch event, you may be tempted to cook several trays at once. We don't recommend doing so, though. Overcrowding the oven with multiple baking trays will limit the internal airflow and reduce your oven's convection power.
Use a Spatula: When you're ready to remove the bacon from the baking sheet, use a spatula rather than tongs. Bacon is delicate and can easily tear so it's best to use a spatula to transfer it to a paper towel-lined plate.
Drain the Grease: After you've transferred the bacon to a paper towel-lined plate, be sure to drain the grease. If you don't, the bacon will be greasy and oily. You can save this grease and use it to cook other dishes or simply throw it out.
Season to Taste: Once the bacon is cooked, season it to taste with salt, pepper, or your favorite spices.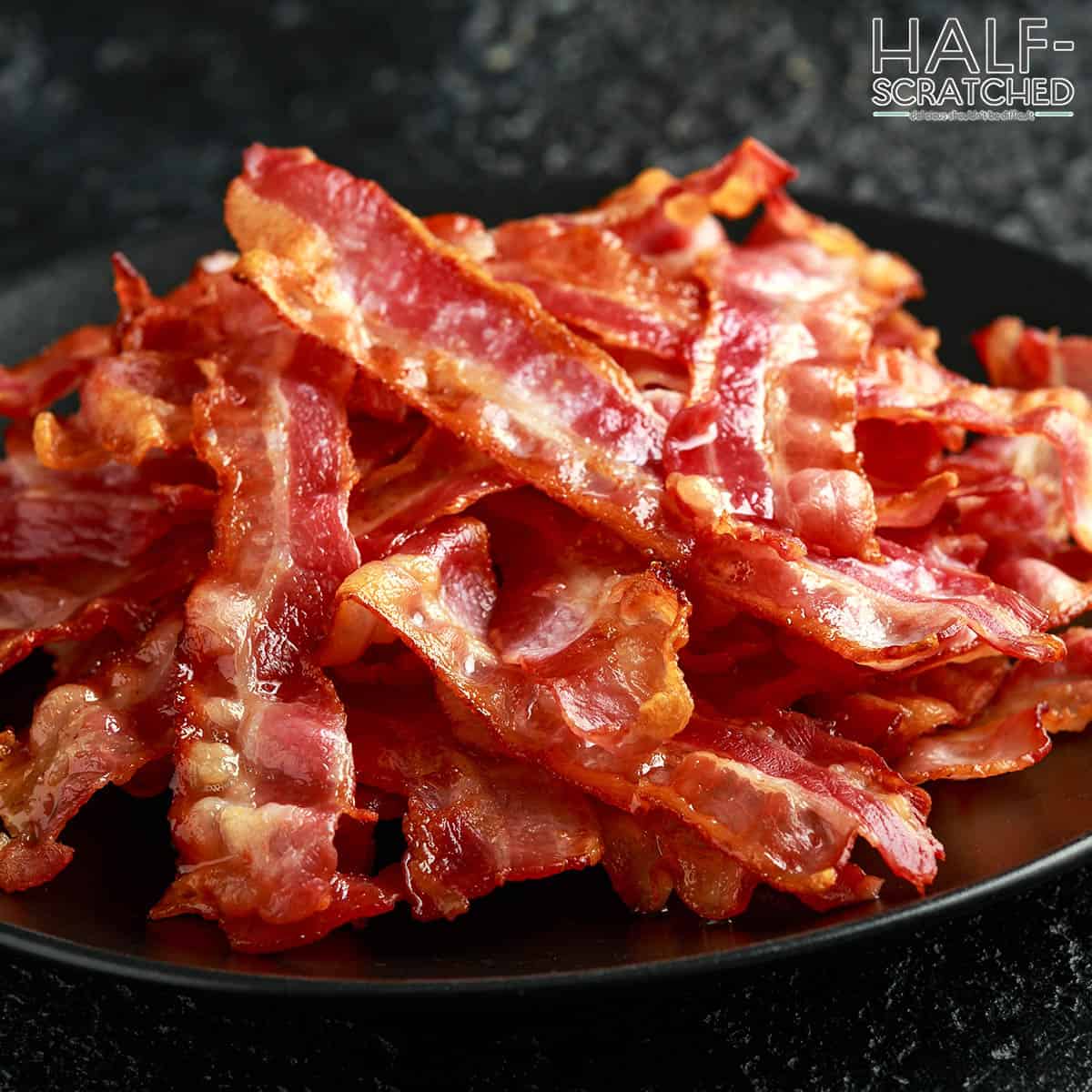 Frequently Asked Questions
Why is bacon sometimes called "fatback" if it comes from the pig's belly?
Although both meat products come from a pig and are sliced into thin strips, fatback and bacon are actually two different things. Fatback is almost 100% fat, taken from the back of the pig, whereas bacon—or at least American streaky bacon—comes from the belly of a pig and contains both streaks of meat and fat. Over time, though, people have conflated the two products.
How unhealthy is bacon?
Standard bacon is high in saturated fat, which can increase your cholesterol levels and contribute to heart disease. It's also high in sodium and can cause bloating, water retention, and high blood pressure. Plus, bacon is a processed food, which means it contains added preservatives that can be harmful to your health.
How long does bacon last?
Bacon has a relatively short shelf life and will only last for about a week in the fridge. If you want it to last longer, you can freeze it for up to two months. Just be sure to wrap it tightly in freezer-safe paper or aluminum foil.
Can you cook bacon in the microwave?
Yes, you can cook bacon in the microwave, but we don't recommend it. Microwaving bacon can cause it to splatter and make a mess. Plus, it doesn't cook the bacon evenly, so some pieces will be overcooked while others will be undercooked.
Is all bacon smoked?
Not all bacon is smoked and many of the brands that advertise a smokey flavor profile actually use a flavored additive to create the distinct taste. If you're looking for a truly smoked bacon product, be sure to read the label carefully or purchase an organic brand of bacon.
A Basic Bacon Recipe for Any Home Cook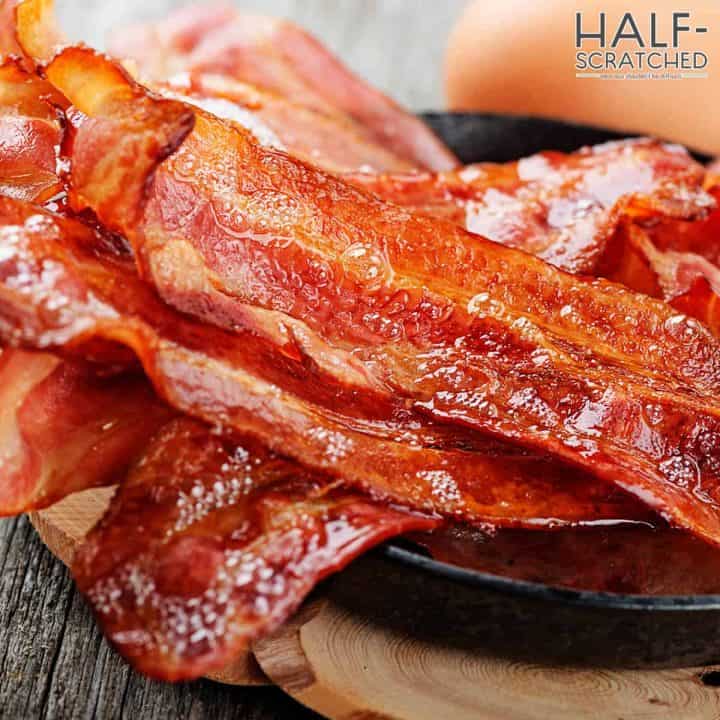 How Long to Bake Bacon at 400 F
Whether you prefer your bacon crispy or soft, we have the perfect cooking time for you. Lean how long to bake bacon at 400F.
Ingredients
1 pound of bacon
Salt and pepper to taste
Instructions
Preheat the oven to 400° Fahrenheit.
Line a baking sheet with parchment paper or aluminum foil and lay the bacon slices side by side, making sure to leave some room in between each slice.
Bake the bacon for at least 12 minutes or until it's crispy to your liking.
Remove the bacon from the oven and transfer it to a paper towel-lined plate to drain the grease.
Season the bacon to taste and enjoy.
Nutrition Information:
Yield:

4
Serving Size:

1
Amount Per Serving:
Calories:

531
Total Fat:

40g
Saturated Fat:

14g
Trans Fat:

0g
Unsaturated Fat:

25g
Cholesterol:

112mg
Sodium:

1983mg
Carbohydrates:

2g
Fiber:

0g
Sugar:

0g
Protein:

38g