When you think of typical American dishes, what comes to mind? If you thought of apple pie, you are not alone.
Apple pie should be baked at 375 degrees Fahrenheit for one hour or until the crust looks golden brown. The smell will also let you know that the pie is ready.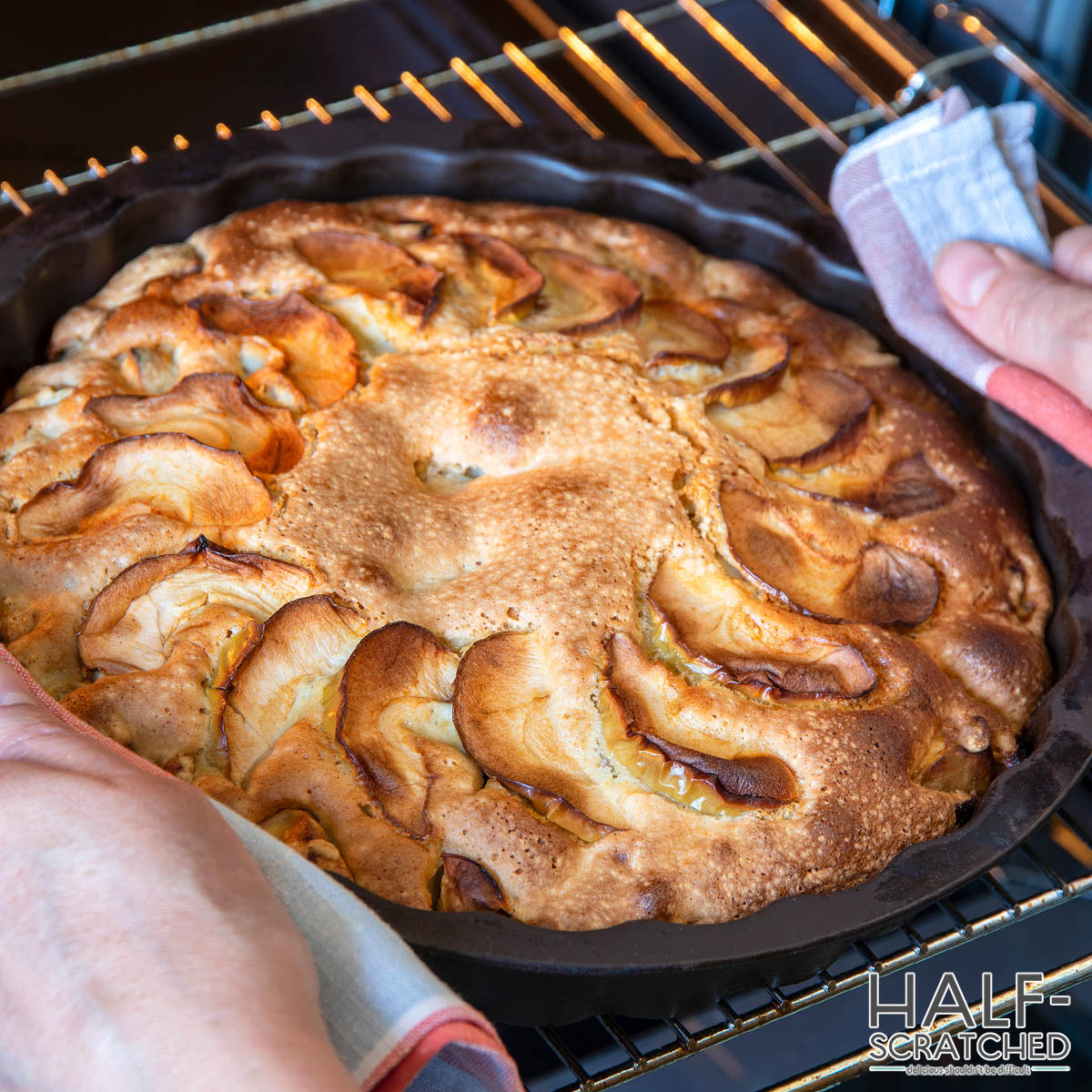 This guide will walk you through some tips for baking the best apple pie, the perfect pairings with apple pie, and tricks for nailing that butter crust. Read on!
Choosing the Right Apples
When it comes to apple pie, not all apples are created equal. While you can choose whatever apple you want, some are better due to their flavor and texture.
Granny Smith
Arguably the most popular apple to use in apple pie, Granny Smith apples tend to remain pretty firm when baked and tend to be on the tarter side. People like that they won't turn into a mushy mess and the tartness really compliments the added sugar.
Jonagold
Jonagold apples tend to be a combination of tart and tangy, and they are the typical red color that a lot of people think of when they hear the word "apple." Similar to Granny Smith apples, Jonagolds hold up really well when baked.
Honeycrisp
Honeycrisp apples are quite sweet and are only available a few months a year, making them more expensive to buy. They also tend to get softer than Granny Smith and Jonagold, but some people like their apple pie filling to be like that. You can also use less sugar when using these apples.
Golden Delicious
Another great apple for apple pie are Golden Delicious. They're a yellow-skinned apple that are on the sweeter side with a hint of tartness. A lot of people like these apples because they make a slightly mushier filling without being overly sweet.
Other Things to Think About When Buying Apples
Besides thinking about the kinds of apples to buy, you'll also want to keep these things in mind:
Organic or not? According to the Environmental Working Group, apples are in the top five list of fruits and vegetables most likely to be contaminated with harmful pesticides. If possible, try to buy organic apples for your apple pie.
Availability. Apples, at least good quality apples, may not be available year-round, so determine what kind of apples you want to use for your pie. For example, if you can't get a Honeycrisp apple, you may need to rethink and choose another apple.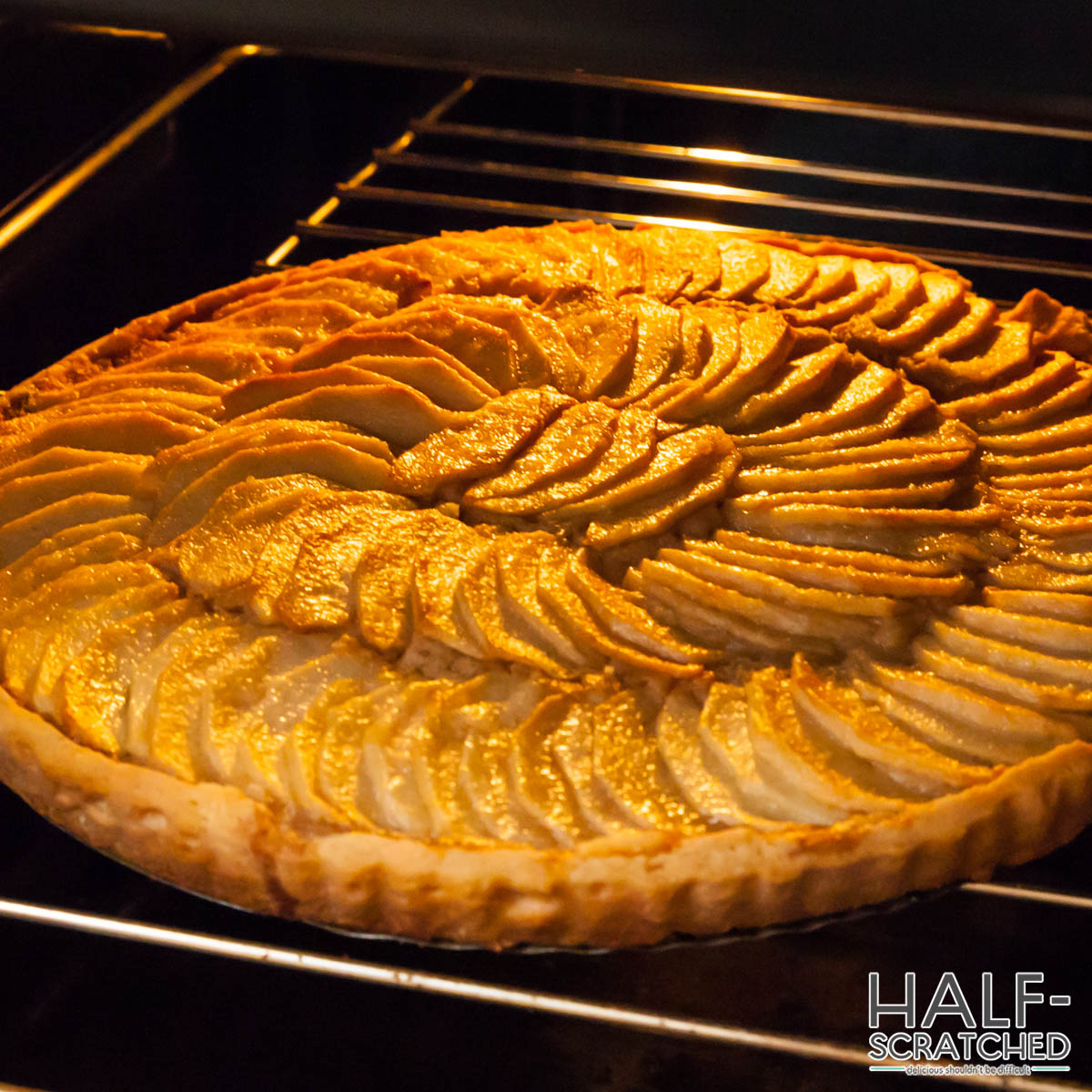 Can I Use Other Ingredients with the Apple?
While we're all talking about apple pie, sometimes adding a little something extra to the apple filling can really elevate it.
Chopped nuts: walnuts, pecans, or almonds are all perfect complements to an apple filling and add a satisfying crunch.
Dried fruit: cranberries or raisins are another interesting addition to add to apple pie. They can add a small burst of tartness or sweetness.
Cardamom: apple pie usually uses cinnamons, but a fun twist can be substituting cardamom instead.
Alcohol: adding a dash of dark spirits, such as bourbon or whiskey, adds a deeper flavor to apple pie and makes it more appealing to adults.
Ginger: ginger has a special spiciness to it and adding some grated ginger to your filling gives a nice kick to the pie.
Pears: despite the name, making an apple pie that has some pear mixed in with the filling makes it sweeter and slightly juicier.
How to Make Perfect Buttery Crust
Many people struggle with the crust of any pie but here, we have some secrets to making the greatest apple pie crust.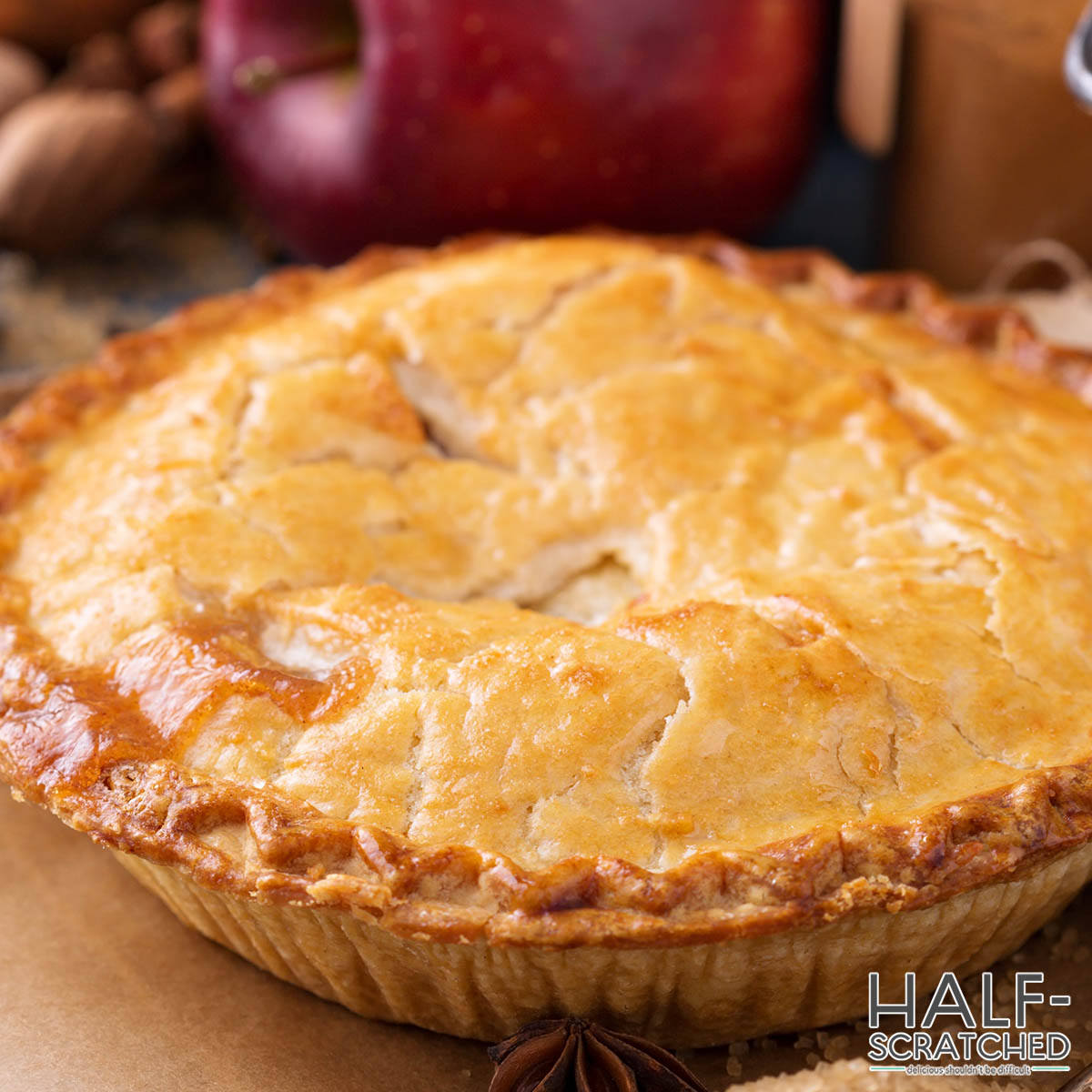 Use shortening or lard
There's nothing wrong with using butter in your pie crust but shortening and lard are more malleable and easier to work with. It makes the dough easier to roll out.
Make sure the fat you're using is very cold
Whether it's shortening, butter, or lard, make sure that the fat you're using in your pie crust is very cold and cut into small pieces. The fat shouldn't be completely melted into the dough because then the crust won't be as flaky.
Limit liquid
If an apple pie recipe calls for water (or any liquid), use the minimum amount required. The dough should hold together when you pinch it but you don't want it to be a solid block; it should be a bit raggedy.
Chill the dough
Once you've mixed the dough together, let it chill before rolling it out. This can be anywhere from 30 minutes to up to two days before you plan to use it. This'll make rolling out the dough much easier.
Let the dough fall into the pie pan
When the dough has been rolled out and is ready to be baked, let it fall into the pie pan rather than you pushing it in. If you push it in, it might accidentally tear.
General Tips for Baking Apple Pie
Baking apple pie isn't as hard as it seems. Here are some general tips to think about before starting to bake your apple pie: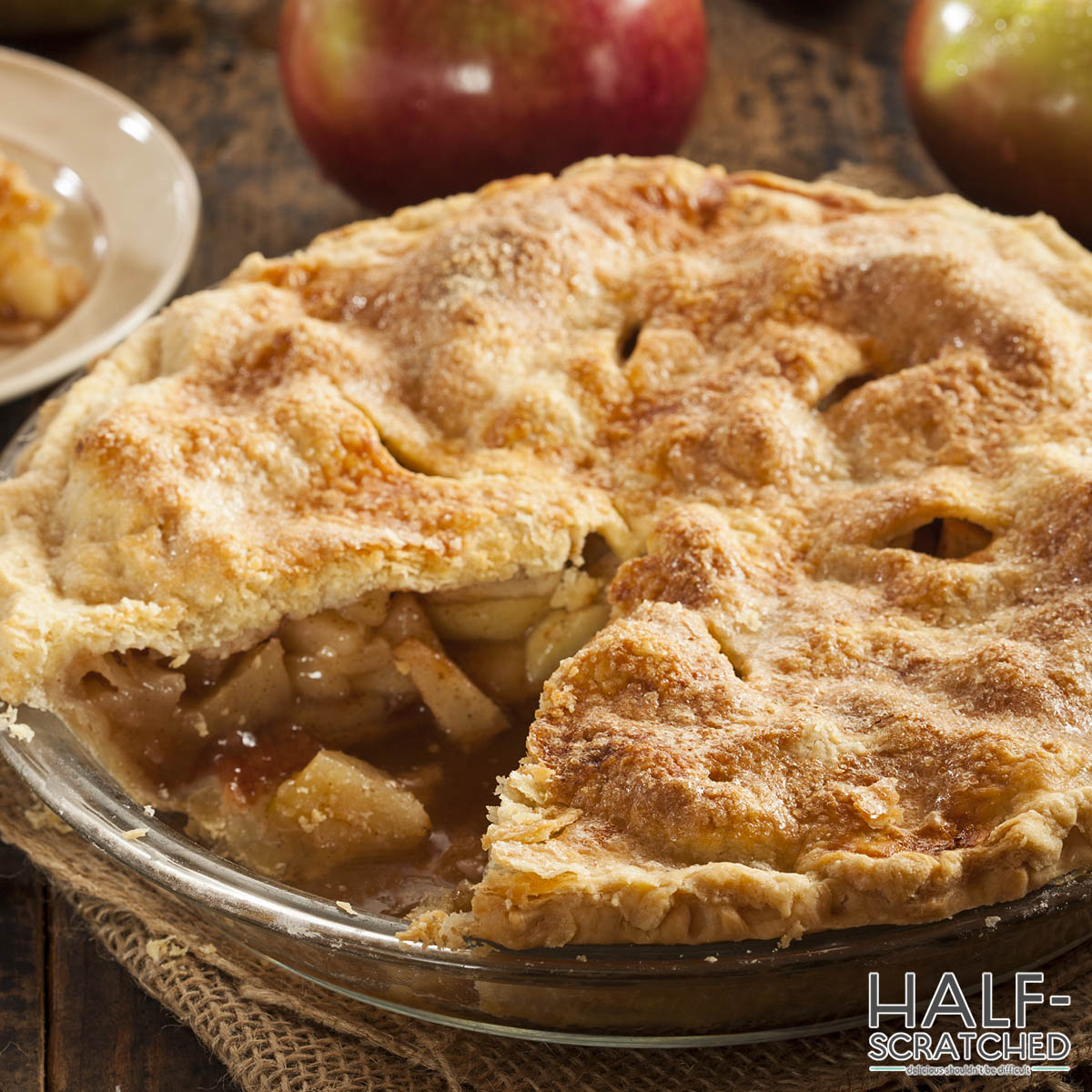 Keep everything cold
All the ingredients and baking equipment should be kept cold for the best apple pie results. From the butter, apples, mixing bowls, and pie pans, put everything in the fridge and don't let them get to room temperature. The flakiest crusts are formed when there are still chunks of fat (e.g. butter) that haven't melted.
Try using vodka instead of water
If the apple pie recipe calls for water, try using vodka instead. You don't want a thick doughy crust; instead, you want something that's flaky and buttery. Studies have found that gluten doesn't form in ethanol and vodka is about 40% ethanol, so it'll keep the crust light and airy.
Use tart apples (but not necessary)
We had recommended certain kinds of apples previously and any apple can be used for apple pie, but the general consensus is that tart apples are the best kind to use. Here's the science behind it: pectin. This is what gives objects its shape and structure. You want apples with more pectin because then it won't get mushy when baked.
Pectin breakdown is less likely to happen when the pH is low (more acidic), so tart apples naturally have more pectin.
Parcook apples beforehand
Cooking your apples beforehand can actually help your apples keep their shape. Heating them for a few minutes turns the pectin into a more stable form, which means that even when it's baking, it'll still retain its shape.
A Few Questions and Answers
While you might feel like you're an expert at baking apple pie now, there are always ways to improve! Here are some common questions and answers pertaining to apple pie.
How long will apple pie last in the fridge?
Apple pie can last up to four days in the refrigerator. Make sure to cover it with plastic wrap or put it in a container with some kind of covering. If you see mold or the apple pie starts to smell funky, then it's gone bad. 
What is the best ice cream to pair with apple pie? 
Pie a la mode means "topped with ice cream" and it's a common way to eat pie, especially warmed apple pie. The traditional way to eat apple pie a la mode is with vanilla ice cream, but any flavor can be used.
Try to stick to ice cream that is on the simple, plainer side. Some other flavors could be cinnamon, caramel, or pumpkin.
My Family's Favorite Apple Pie Recipe: Dutch Apple Pie
How Long to Bake Apple Pie at 375 F
Additional Time:
50 minutes
Total Time:
2 hours
20 minutes
Apple pie is America's favorite dessert and in this article, we share tips and tricks on how to make it in the oven at 375 F.
Ingredients
Crust
3 cups flour
1 cup and 2 tablespoons cold salted butter
¾ teaspoon salt
1 tablespoon sugar
½ cup ice cold water
1 egg
Filling
8 cups of apples that are peeled and sliced
⅓ cup granulated sugar
⅓ cup brown sugar
1 tablespoon lemon juice
2 teaspoon cinnamon
1 teaspoon nutmeg
¼ teaspoon cloves
⅛ teaspoon allspice
¼ teaspoon salt
⅓ cup flour
Topping
1 cup old-fashioned rolled oats
1 cup flour
⅔ cup light brown sugar
¼ teaspoon cinnamon
½ cup cold salted butter
a pinch of salt
Instructions
Make the dough for the pie crust first. Whisk together flour, salt, and sugar. Take the butter straight out of the fridge so its cold and cut it into chunks. Toss them and coat with flour. Cut the butter in with a fork until the mixture looks like small crumbles.
Drizzle the cold water into the mixture, two tablespoons at a time. When the dough forms and holds together when squeezed, then it's ready.
Gather the dough and form it into a ball. Cut it in half and flatten each half out. Wrap it tightly in plastic wrap and chill it in the refrigerator for two hours.
Roll out the dough in all directions. It should be about ⅛" thick.
While the dough is in the freezer, you can start on the filling and preheat the oven to 375 degrees Fahrenheit.
Mix all the filling ingredients together, letting it sit for 10 minutes so everything can soak in.
Then start on the toppings. Whisk together all the topping ingredients together except for the butter. Cut the cold butter into cubes and cut it into the mixture until it's crumbly.
Beat the crust egg and brush the egg wash over the flattened crust while it's placed in the pie pan. Spoon the apple mixture into the crust and sprinkle the topping over the apple filling.
Bake for an hour to an hour and 15 minutes, checking on the pie every 30 minutes or so to make sure it's not burning.
The pie will be done when the filling is bubbly and the topping and crust is golden brown.

Nutrition Information:
Yield:

10
Serving Size:

1
Amount Per Serving:
Calories:

488
Total Fat:

13g
Saturated Fat:

8g
Trans Fat:

0g
Unsaturated Fat:

4g
Cholesterol:

49mg
Sodium:

333mg
Carbohydrates:

86g
Fiber:

5g
Sugar:

36g
Protein:

8g