These tasty little mushrooms are a nutrition powerhouse. And if you haven't yet included enoki mushrooms in your diet now it's the time!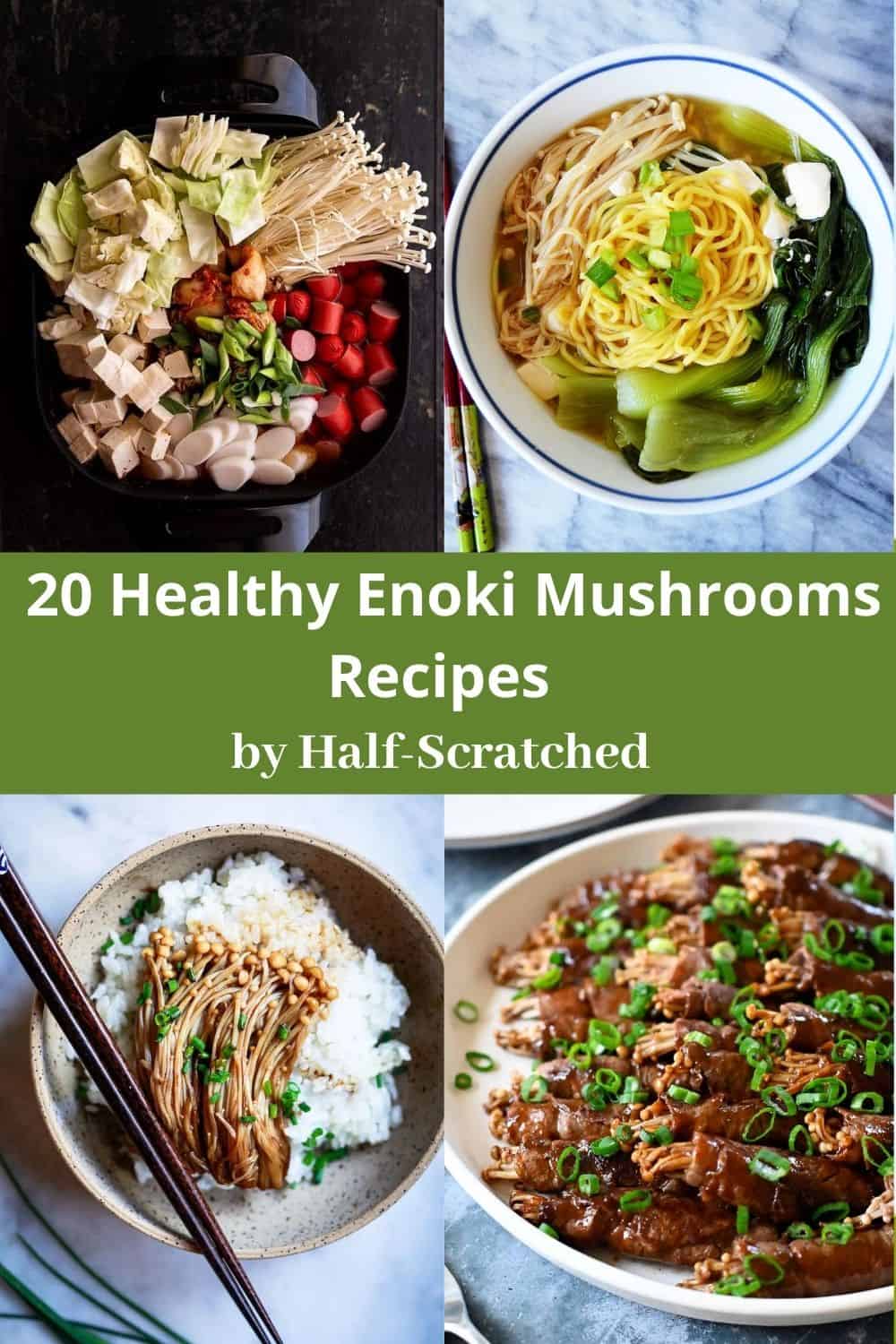 Enoki mushrooms popular in Asian cuisine have a mild flavor and crunchy texture. They are highly nutritious with a good amount of fiber, B vitamins and are a great source of antioxidants.
They can be eaten raw but it's best to lightly cook them by either steaming, sauteing or stir-frying. You can enjoy them in a variety of recipes like soups, stews, ramens, stir-fries and salads.
We have compiled 20 superb enoki mushrooms recipes for you to enjoy.
1. Enoki Mushroom with Garlic Sauce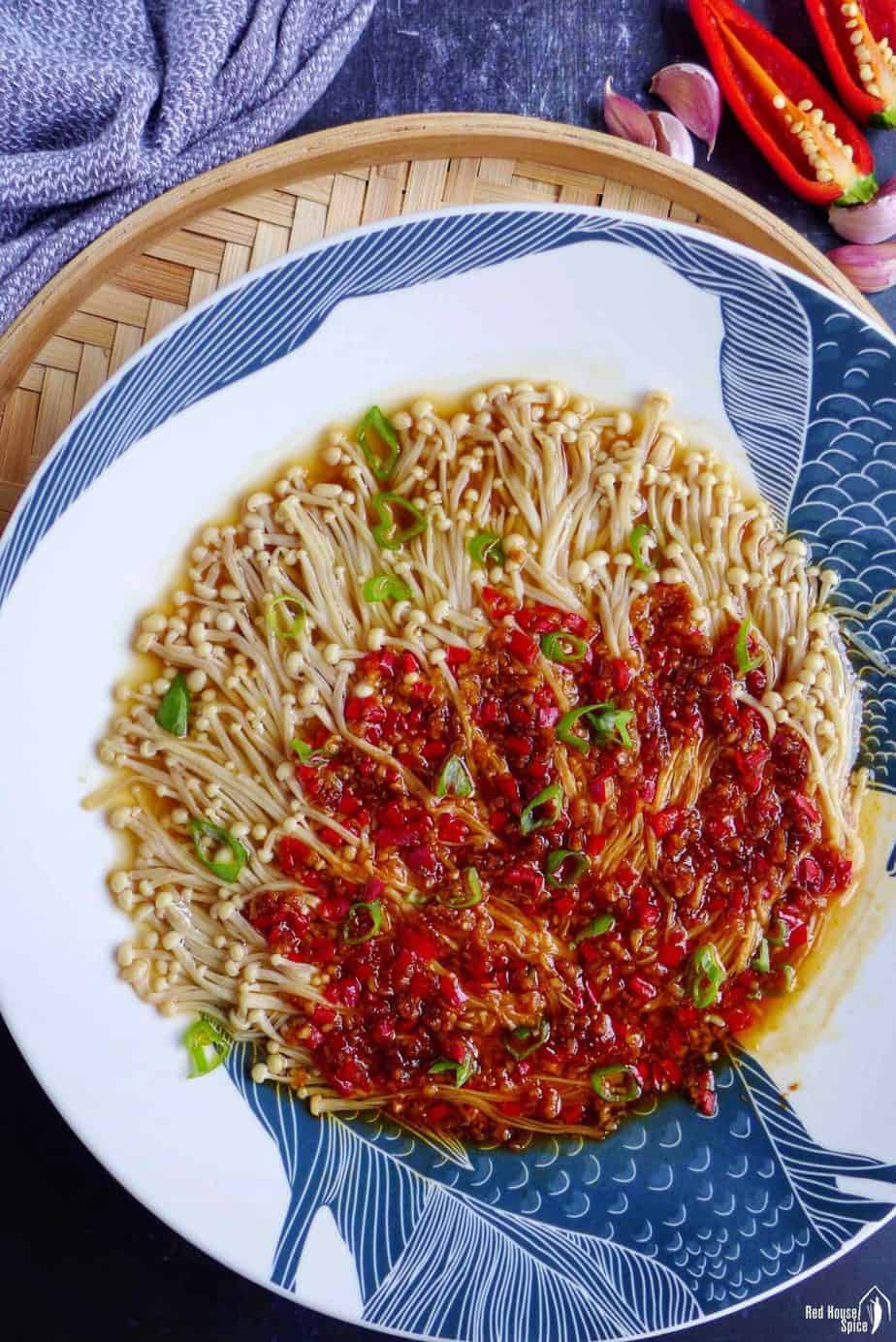 A simple way to enjoy enoki mushrooms is by steaming, that way you ensure their freshness, flavor and nutrition are retained to the maximum. This Enoki Mushroom with Garlic Sauce recipe by Red House Spice shows you exactly how.
2. Beef Enoki Mushroom Rolls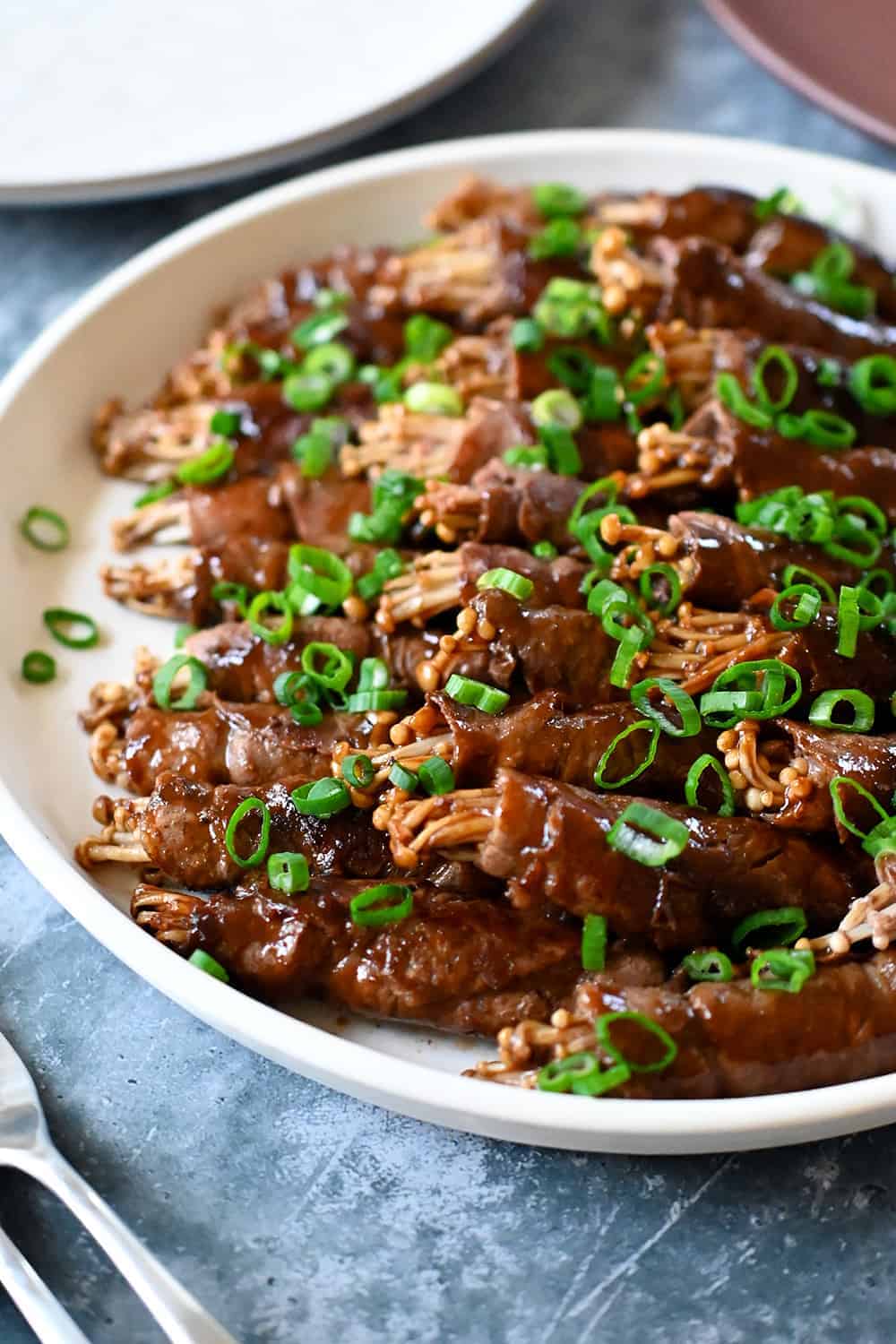 These fabulous Beef Enoki Mushroom Rolls by Nom Nom Paleo are a gluten-free spin on popular teriyaki steak rolls. Try this keto-friendly recipe and let us know how you love it.
3. Enoki Mushrooms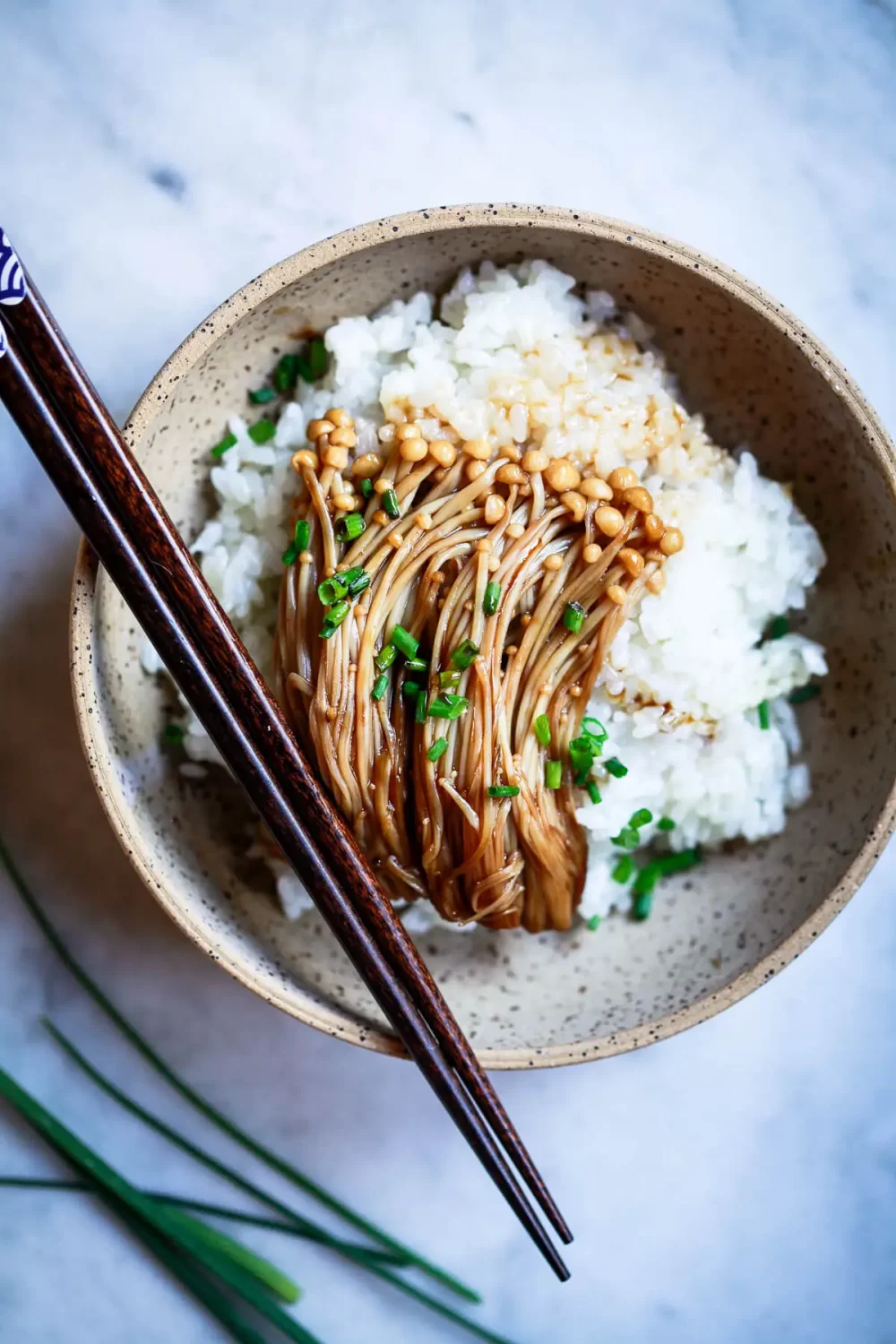 Simplicity at its best. These Enoki Mushrooms recipe by Yummy Mummy Kitchen is so simple yet incredibly tasty. Cooked with teriyaki and soy sauce and topped with black sesame seeds and chopped chives.
4. Easy Korean Army Stew (Budae Jjigae)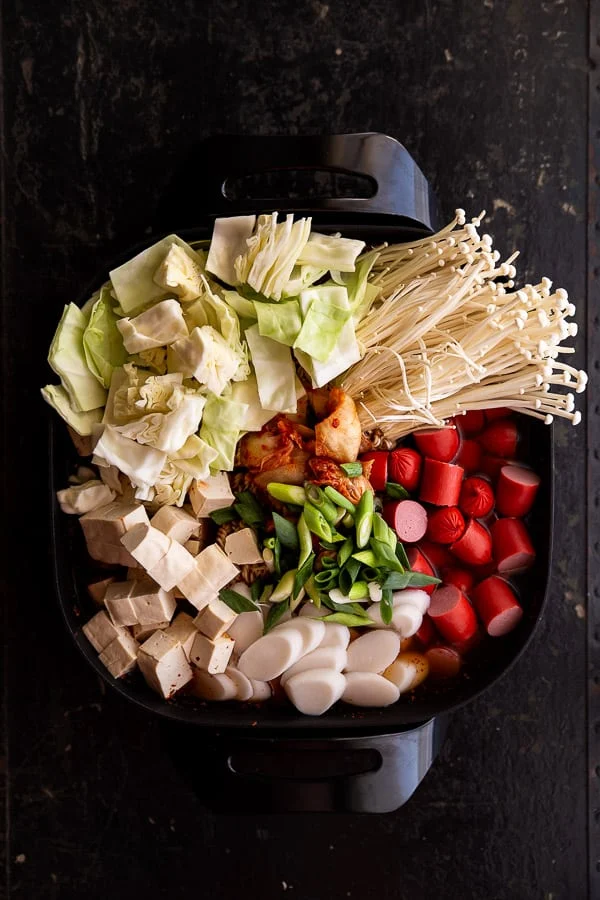 This blend of east-meets-west Easy Korean Army Stew (Budae Jjigae) recipe by Wandercooks is a mouth-watering spicy stew you will want to make over and over again. Make it with a blend of spicy Korean chili paste, soy sauce and chicken stock spicy broth and your choice of add-in ingredients.
5. Enoki Mushroom Soup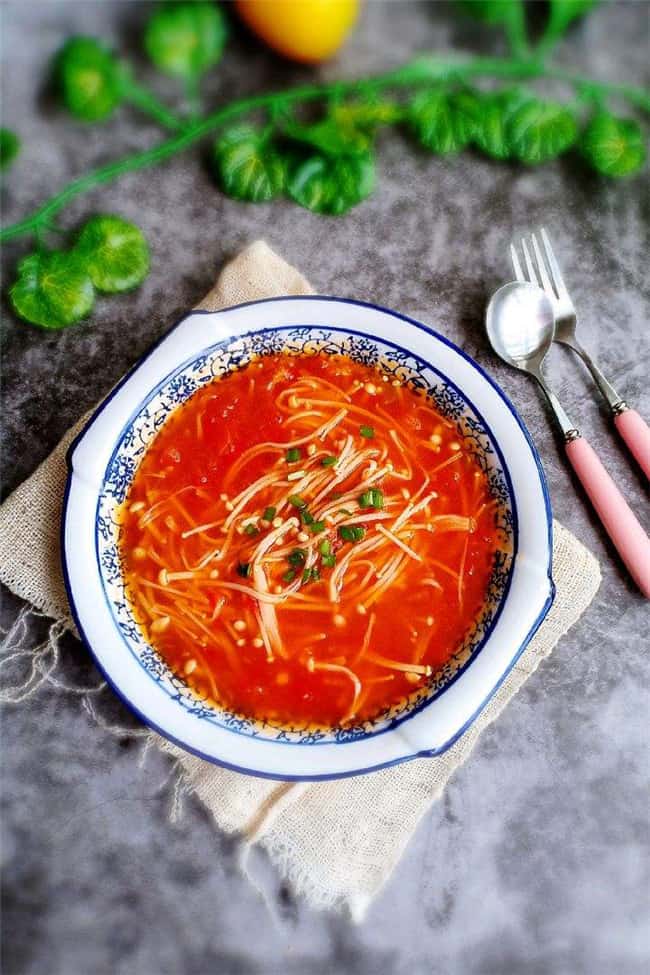 Try this simple colorful Enoki Mushroom Soup by China Yummy Food. This delicious nutritious soup takes only a few ingredients to make and it's ready in 15 minutes!
6. Three Mushroom & Thyme Chickpea Pancake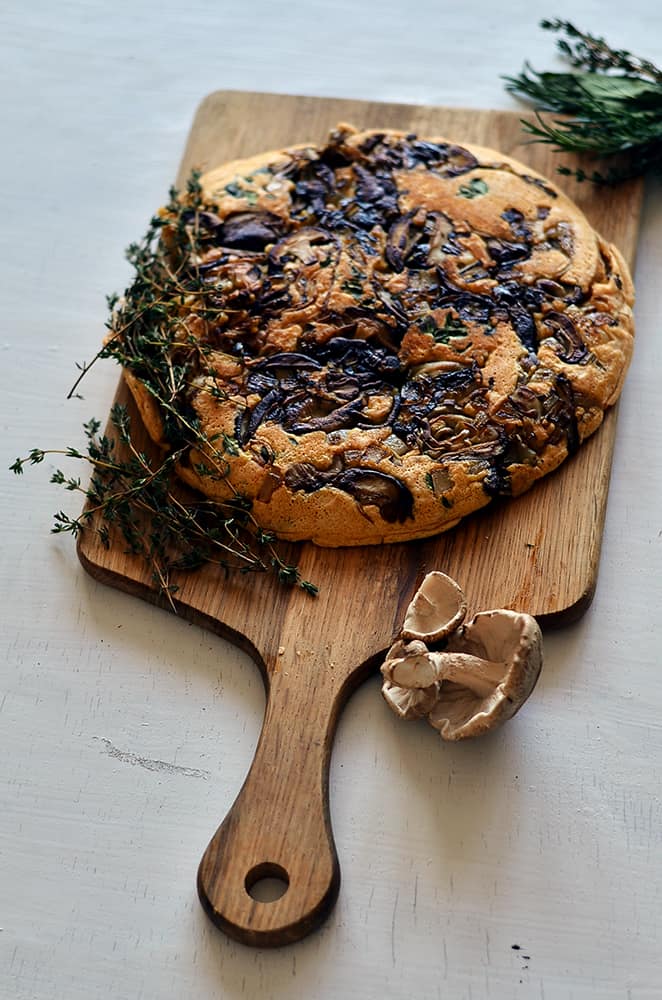 This gluten-free vegan Three Mushroom & Thyme Chickpea Pancake by The Hungry Herbivores is such a wholesome recipe. Simple enough to make and full of flavor from mushrooms, chickpea flour and thyme enjoy it for breakfast or a quick lunch.
7. Enoki Mushrooms with Soy Butter Sauce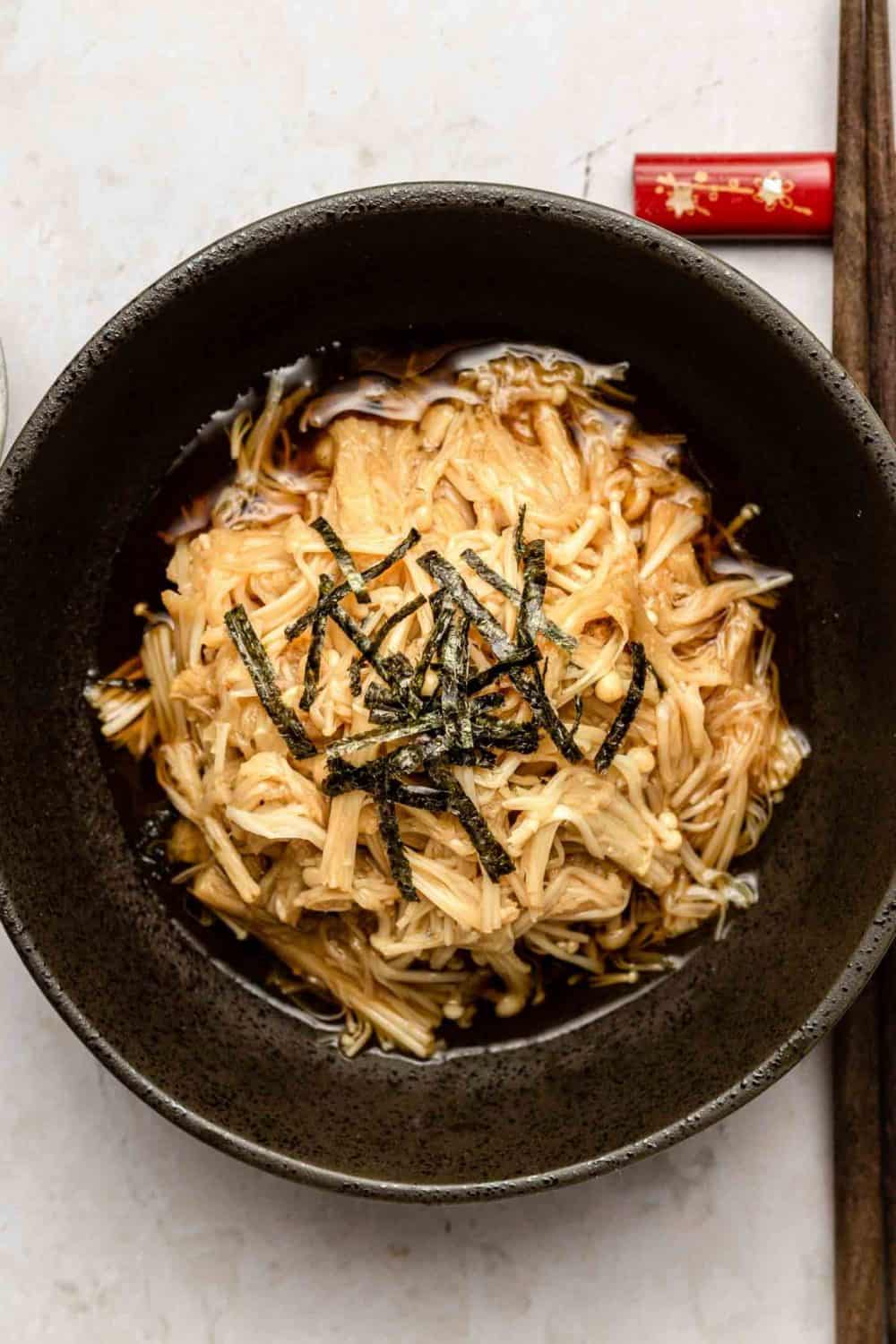 How about a 5-minute recipe? These Enoki Mushrooms with Soy Butter Sauce by Okonomi Kitchen are so simple yet absolutely delicious. Enoki mushrooms are dressed in Japanese soy sauce, mirin and vegan butter sauce.
8. Enoki Mushroom Orzo Salad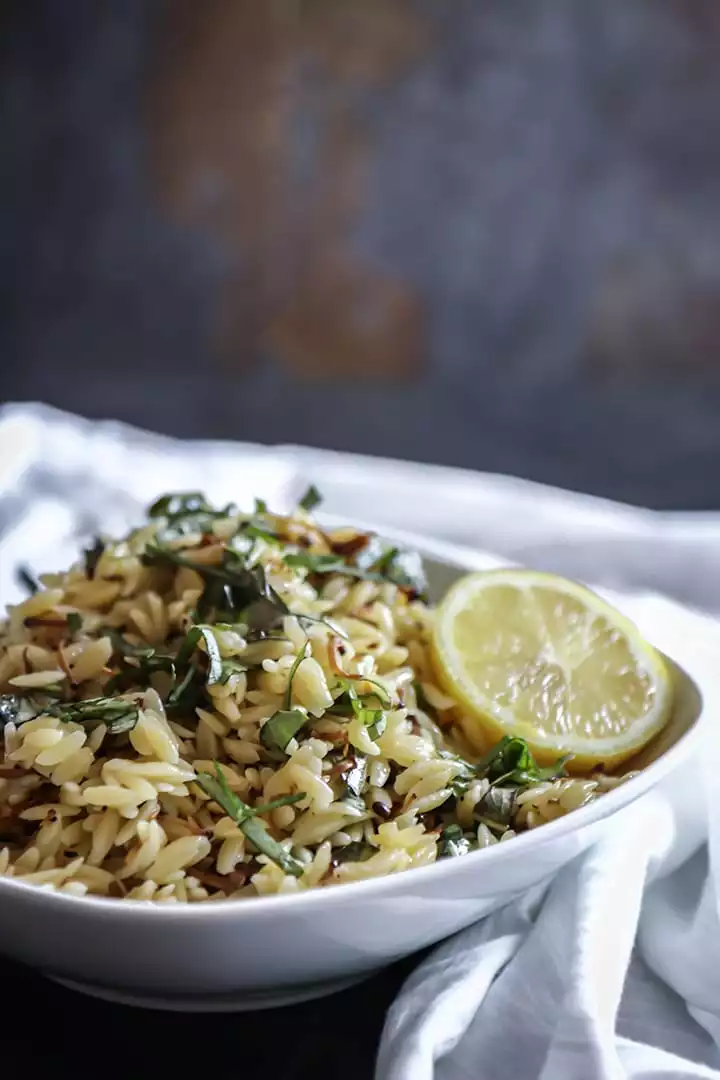 If you fancy some plant-based comfort food then this Enoki Mushroom Orzo Salad by Fork in the Road is for you. Orzo pasta and enoki mushrooms are drizzled with truffle oil, lemon and fresh basil. Enjoy it warm or cold.
9. Ramen Miso Soup with Enoki Mushrooms and Baby Bok Choy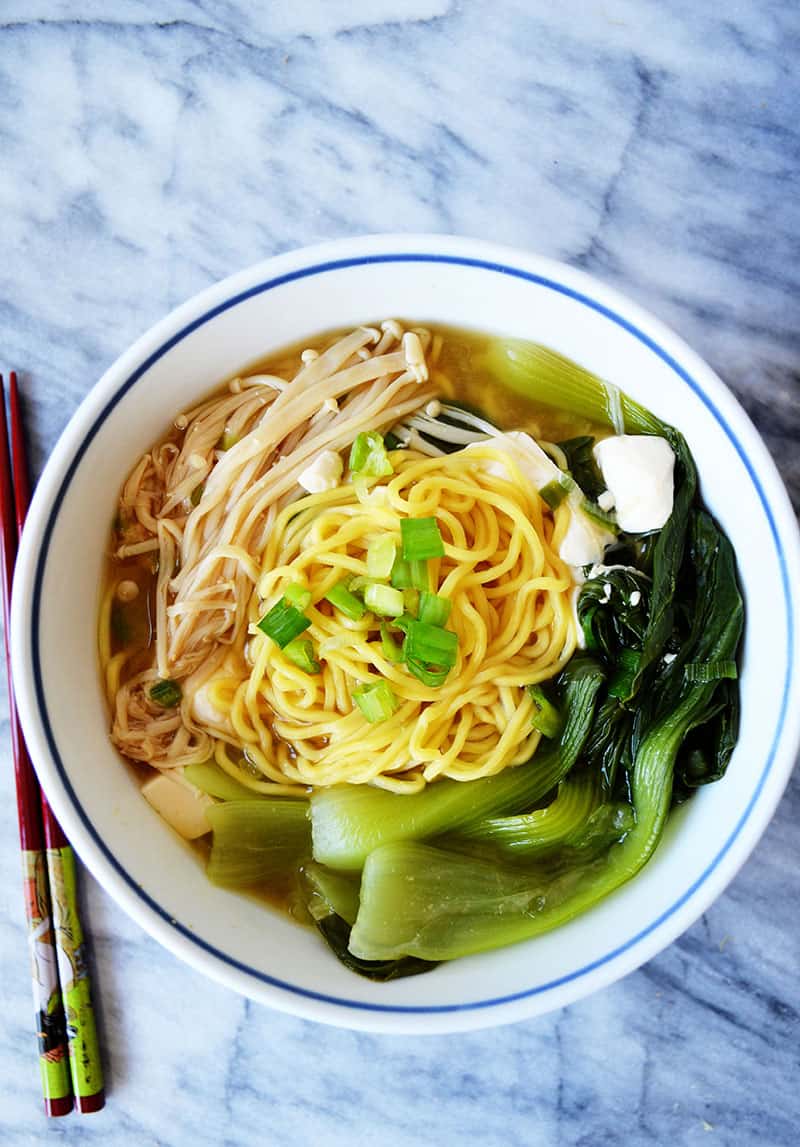 We love a good ramen miso soup and this Ramen Miso Soup with Enoki Mushrooms and Baby Bok Choy recipe by Sprig and Flours looks so comforting and healthy.
10. Bacon Wrapped Enoki Mushrooms and Kabocha Squash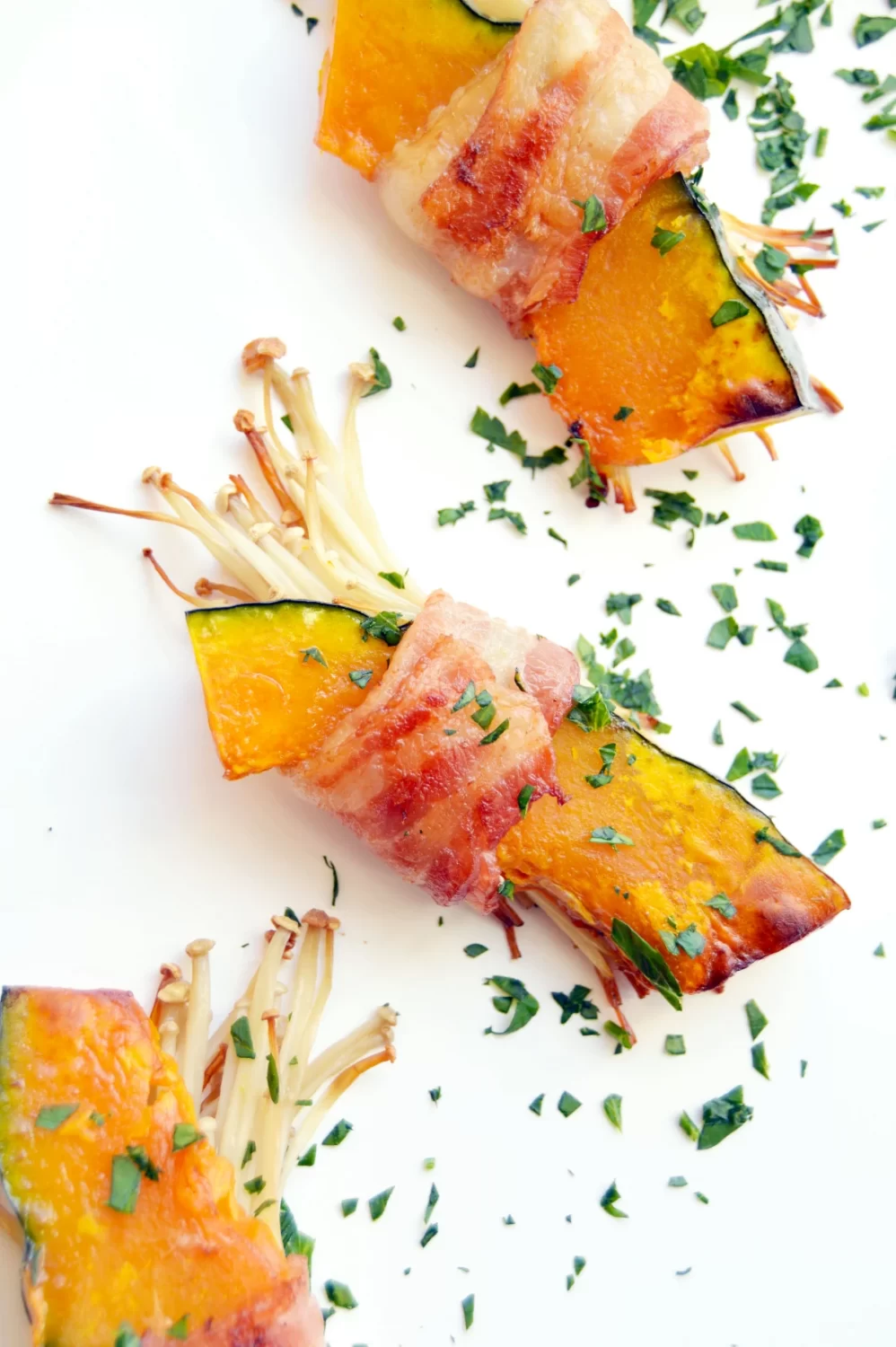 This mouth-watering appetizer tastes as delicious as it looks. Make this Bacon Wrapped Enoki Mushrooms and Kabocha Squash recipe by The Busy Spatula for a crowd-pleasing appetizer.
11. Enoki Mushroom "Carnitas" Tacos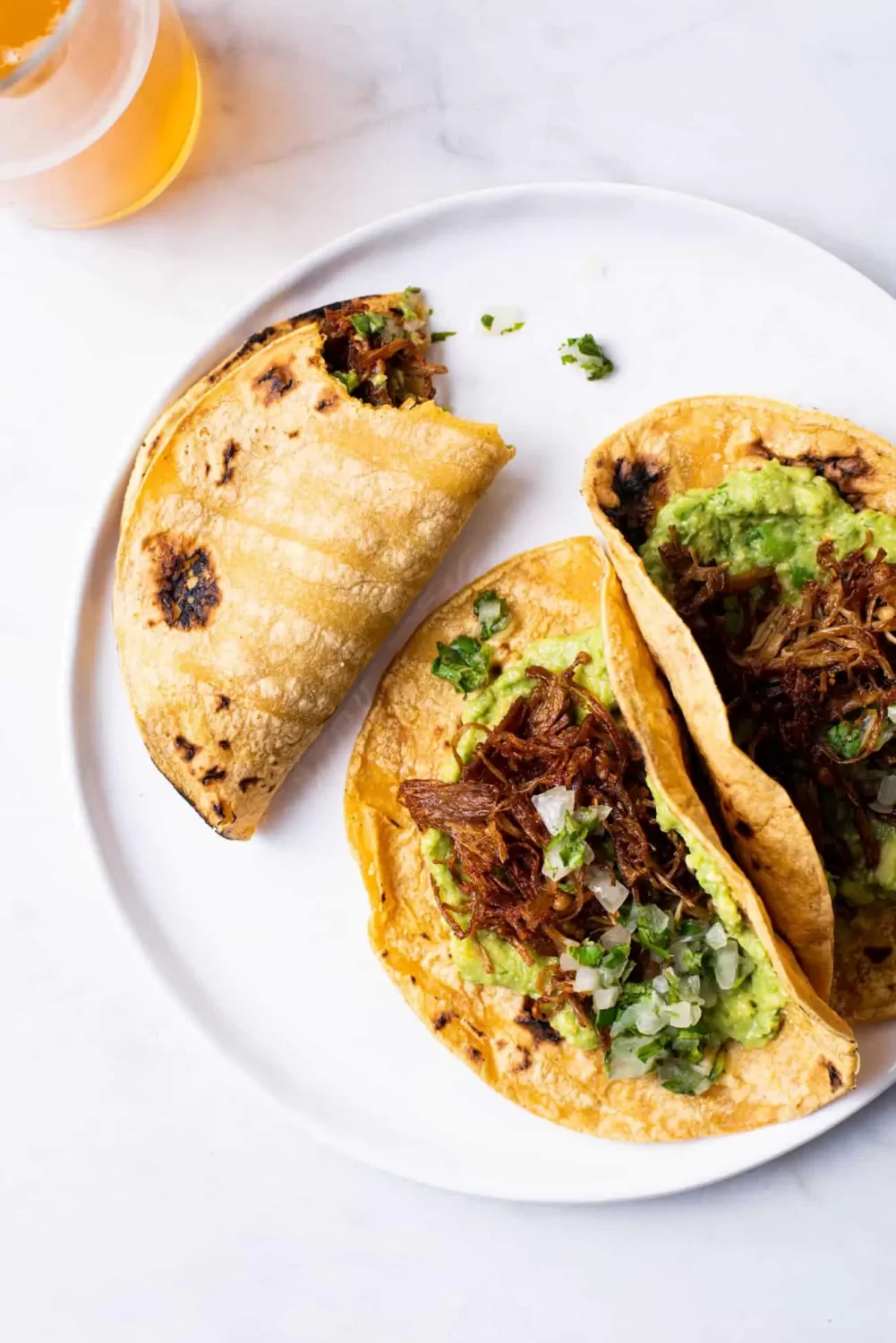 Don't these vegan Enoki Mushroom "Carnitas" Tacos by The New Baguette look amazing? Serve these tasty plant-based enoki mushroom tacos with guacamole and zingy cilantro onion relish. Perfect to impress your vegan friends.
12. Steamed Enoki Mushrooms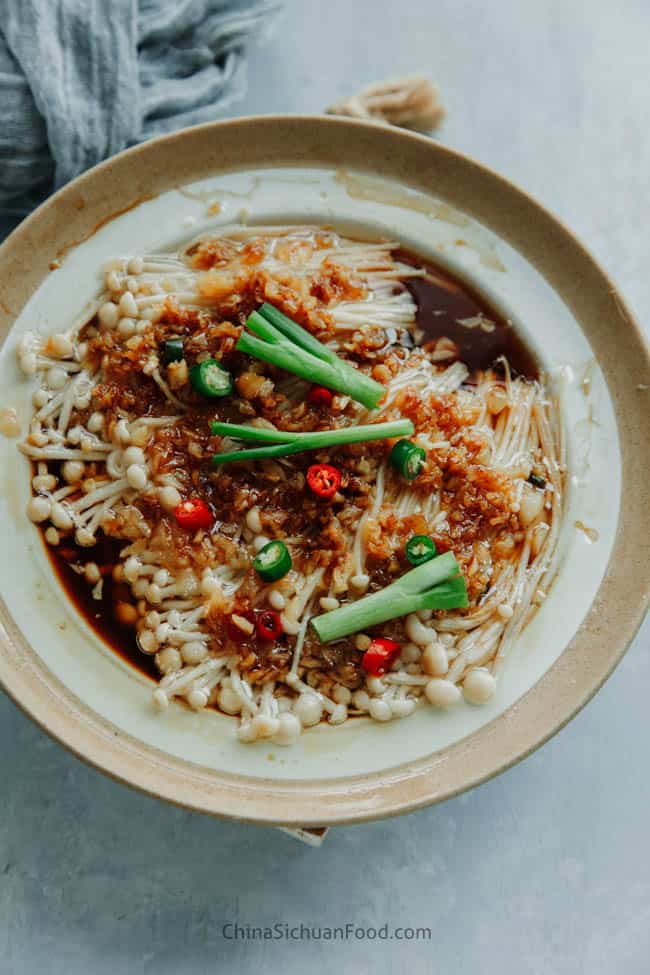 For another very simple and quick way to cook enoki mushrooms follow this Steamed Enoki Mushrooms recipe by China Sichuan Food. Served with delicious garlic sauce and ready in 15 minutes.
13. Fish Sauce Pickled Enoki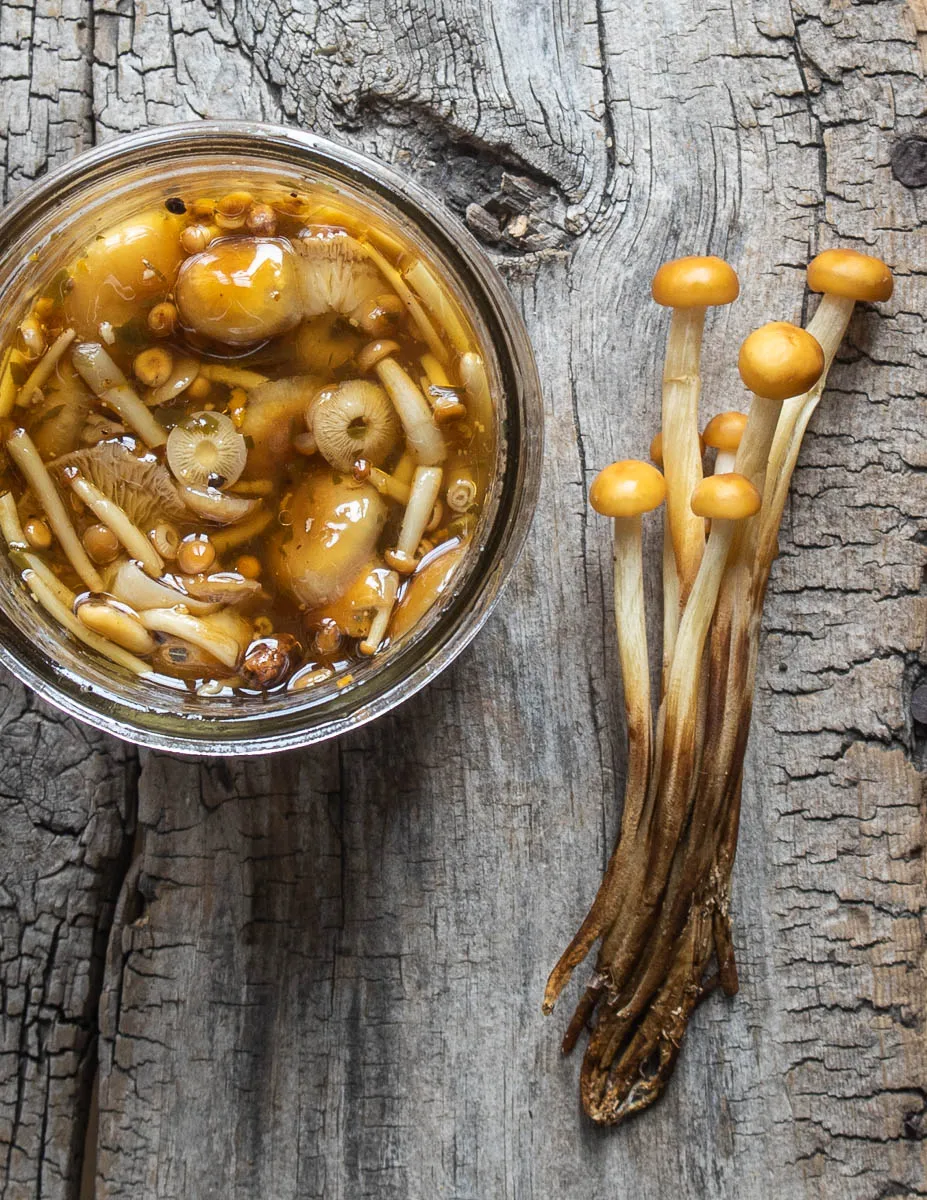 We love this Fish Sauce Pickled Enoki by Forager Chef. A wonderful way to bring extra flavor to any of your dishes. Stir some into a bowl of soup or noodles, add some to your poke bowl or serve with a fish.
14. Pan-Fried Crispy Enoki Mushrooms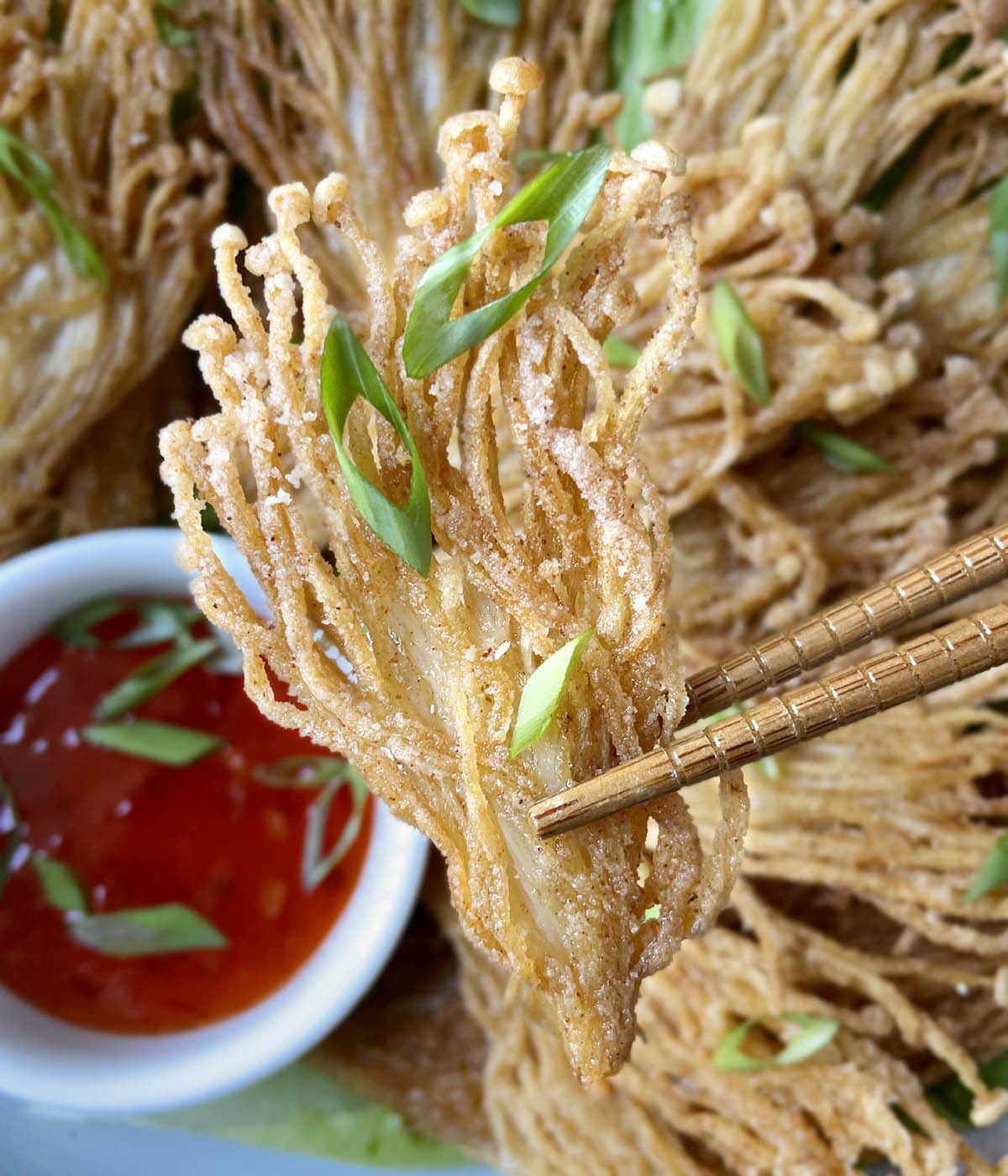 These Pan-Fried Crispy Enoki Mushrooms by A Day in the Kitchen look so much fun. Enoki mushrooms are lightly coated in tapioca mixed with spices and fried in olive oil. Great for appetizer, side dish or garnish.
15. Coconut Shrimp Curry
This flavorsome Coconut Shrimp Curry by PassionSpoon looks so tantalizing. Colorful spicy coconut soup with shrimp and enoki mushrooms is served with fresh cilantro ginger sauce.
16. Spicy Eggplant Stir-Fry With Mushrooms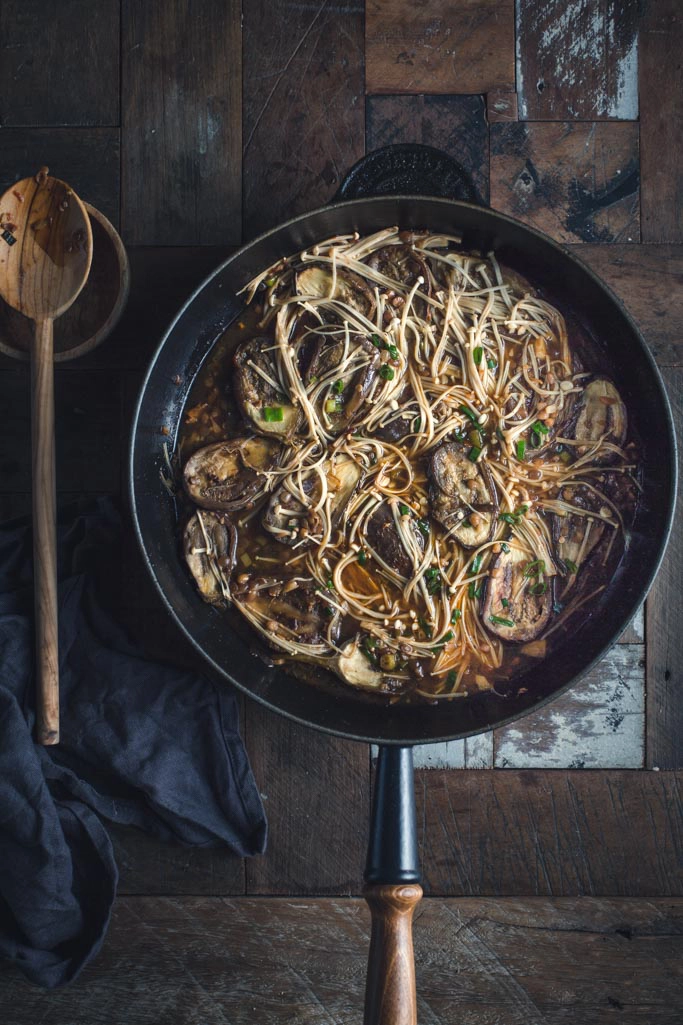 We adore this Spicy Eggplant Stir-Fry With Mushrooms by My Goodness Kitchen. This vegan eggplant and enoki mushroom Asian inspired dish has so much flavor layered in we can't wait to try it.
17. Bacon-Wrapped Enoki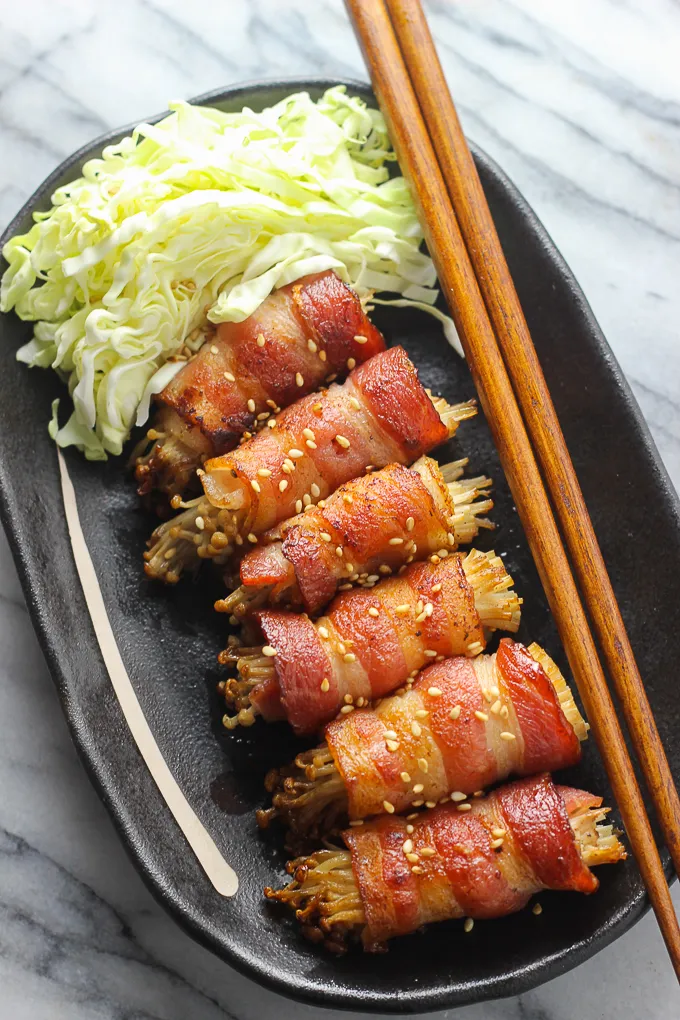 These Bacon-Wrapped Enoki by Spice the Plate look moreish. With only 3 ingredients of enoki mushrooms, bacon and sesame seeds you will have an award-winning appetizer in no time.
18. Vegan Curry Ramen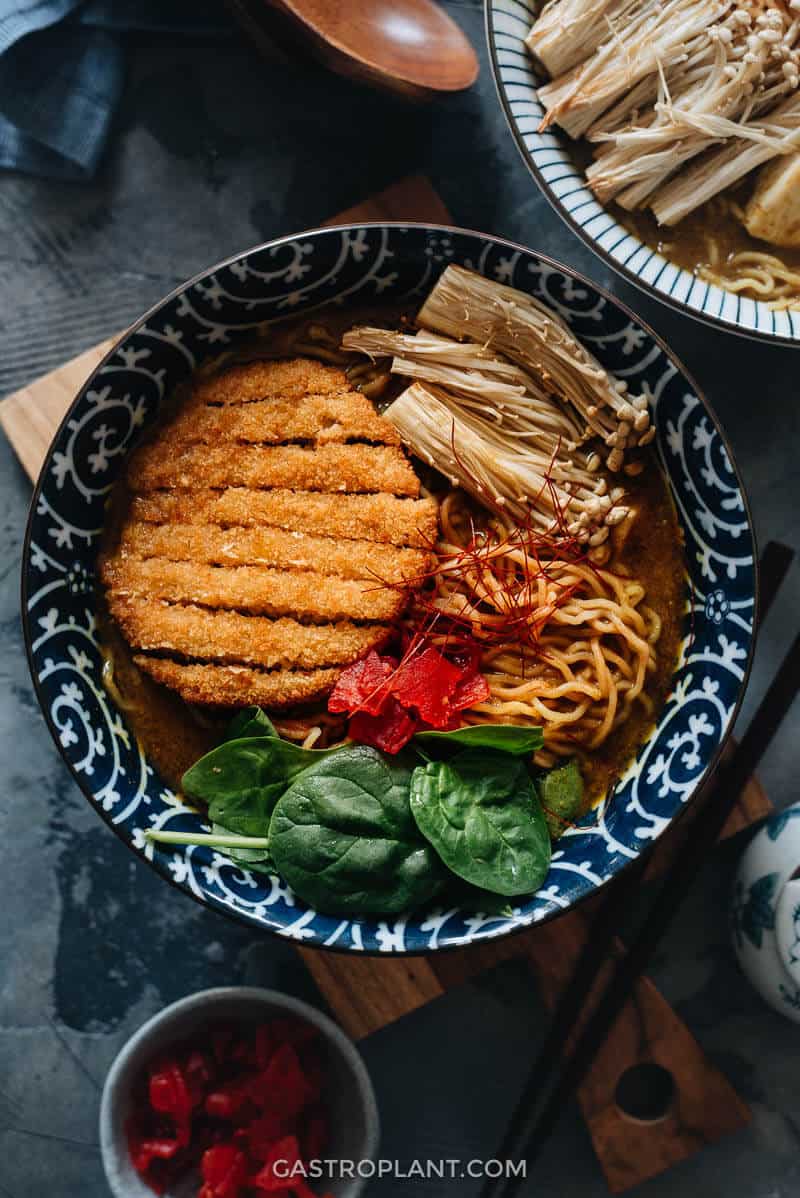 This beautifully presented Vegan Curry Ramen by Gastroplant is a feast for the eyes. This cozy bowl of goodness consists of roasted enoki mushrooms, baked tofu and fresh spinach in a fragrant Japanese-inspired curry broth.
19. Korean Enoki Mushroom Pancakes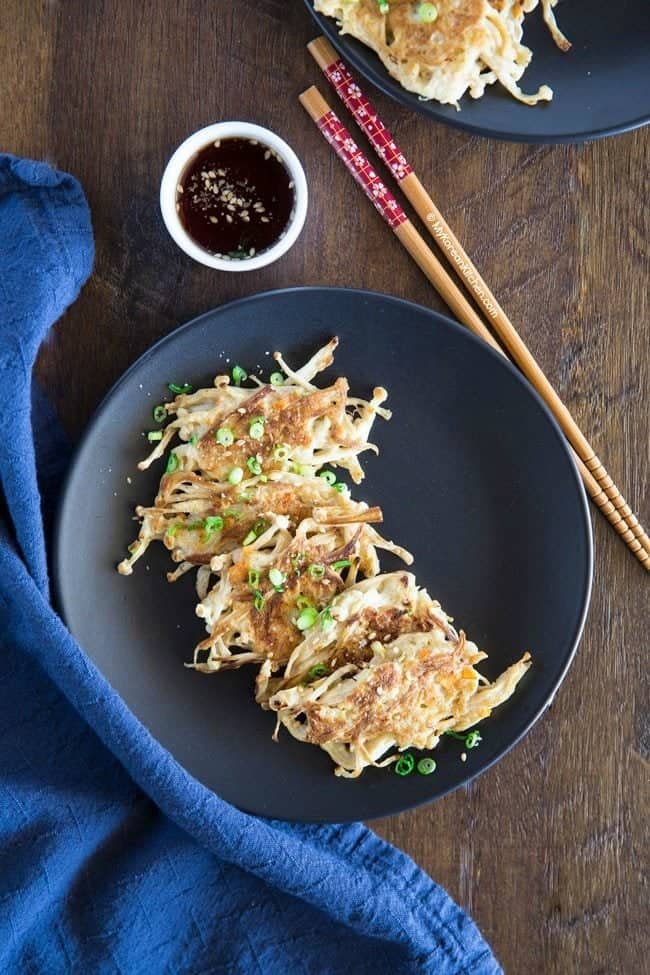 What a tasty appetizer these Korean Enoki Mushroom Pancakes by My Korean Kitchen would make. With their crisp texture and amazing flavor, they are another wonderful recipe for a mushroom lover.
20. Enoki Mushroom Stir-Fry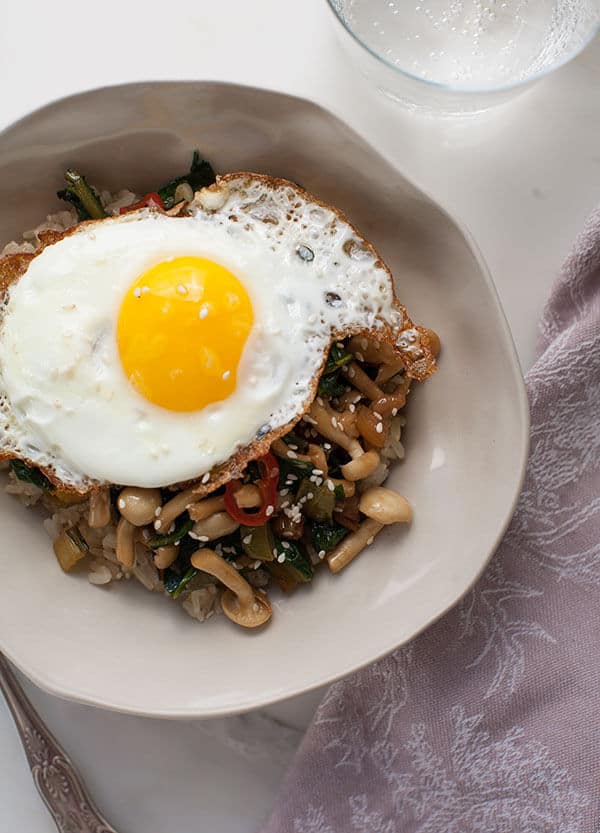 Finally, this packed with flavor Enoki Mushroom Stir-Fry by A Cozy Kitchen is another must-try recipe. Make this dish with enoki mushrooms, swiss chard, green onions, ginger, jalapeño pepper and mirin and top with a fried egg for a quick filling meal.