Wow your dinner guests by mastering one of these 16 Impressive Entremet Recipes and uncover the patisserie chef within you.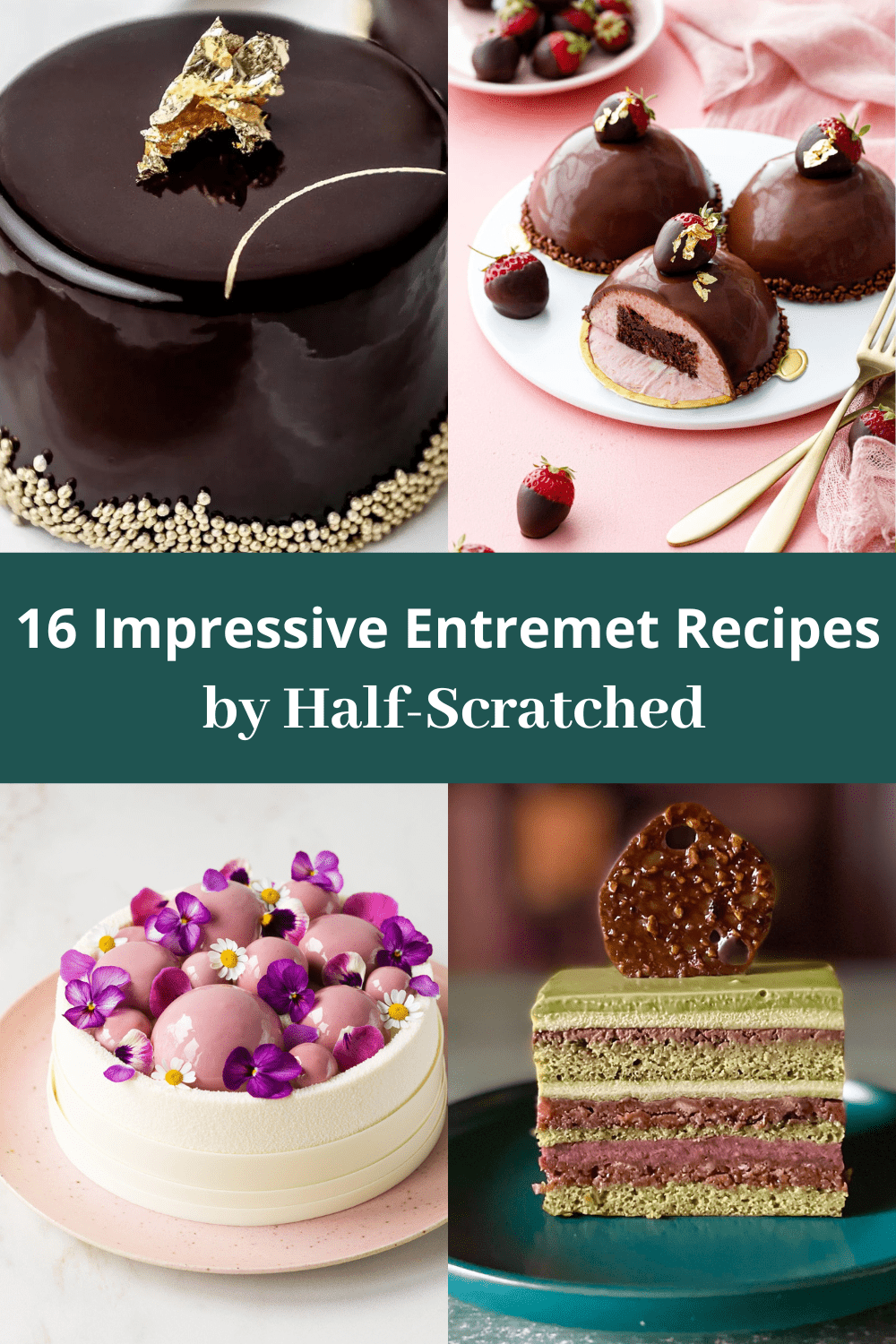 Entremet is a dessert of French origin composed of multiple layers, textures and flavors that complement and enhance each other. It's more complicated than your average cake and with so many elements it's often made and assembled over two days. There's no set shape or size when it comes to entremet but it consists of at least three different layers - the base cake layer, different mousse layers, mirror glaze and decorations. Some entremets can get very advanced but we have included some simpler recipes for you to try. Entremets are perfect for special occasions and dinner parties and if you have one coming up get inspired with our 16 Impressive Entremet Recipes round-up.
1. Strawberry and Rhubarb Entremet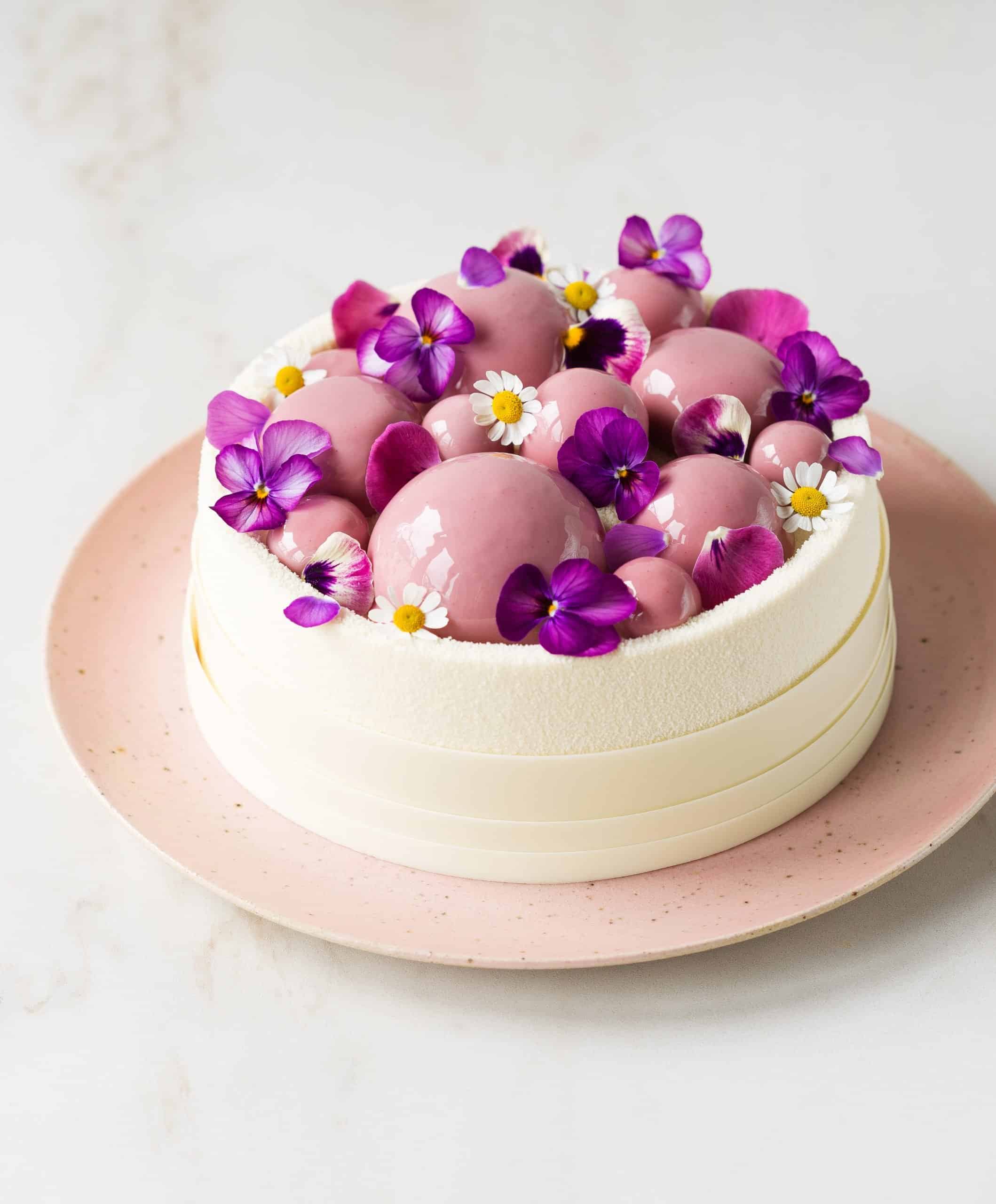 Fall in love with this stunning Strawberry and Rhubarb Entremet by In Love with Cake. This gluten-free mousse cake with a pairing of rhubarb, strawberries and white chocolate features delicious layers of white chocolate and vanilla sponge cake, strawberry croustillant, rhubarb and strawberry compote, strawberry and vanilla mousse, white chocolate, mascarpone and vanilla mousse, ruby chocolate mirror glaze and white chocolate bands.
2. Peanut Butter and Dark Chocolate Mousse Cake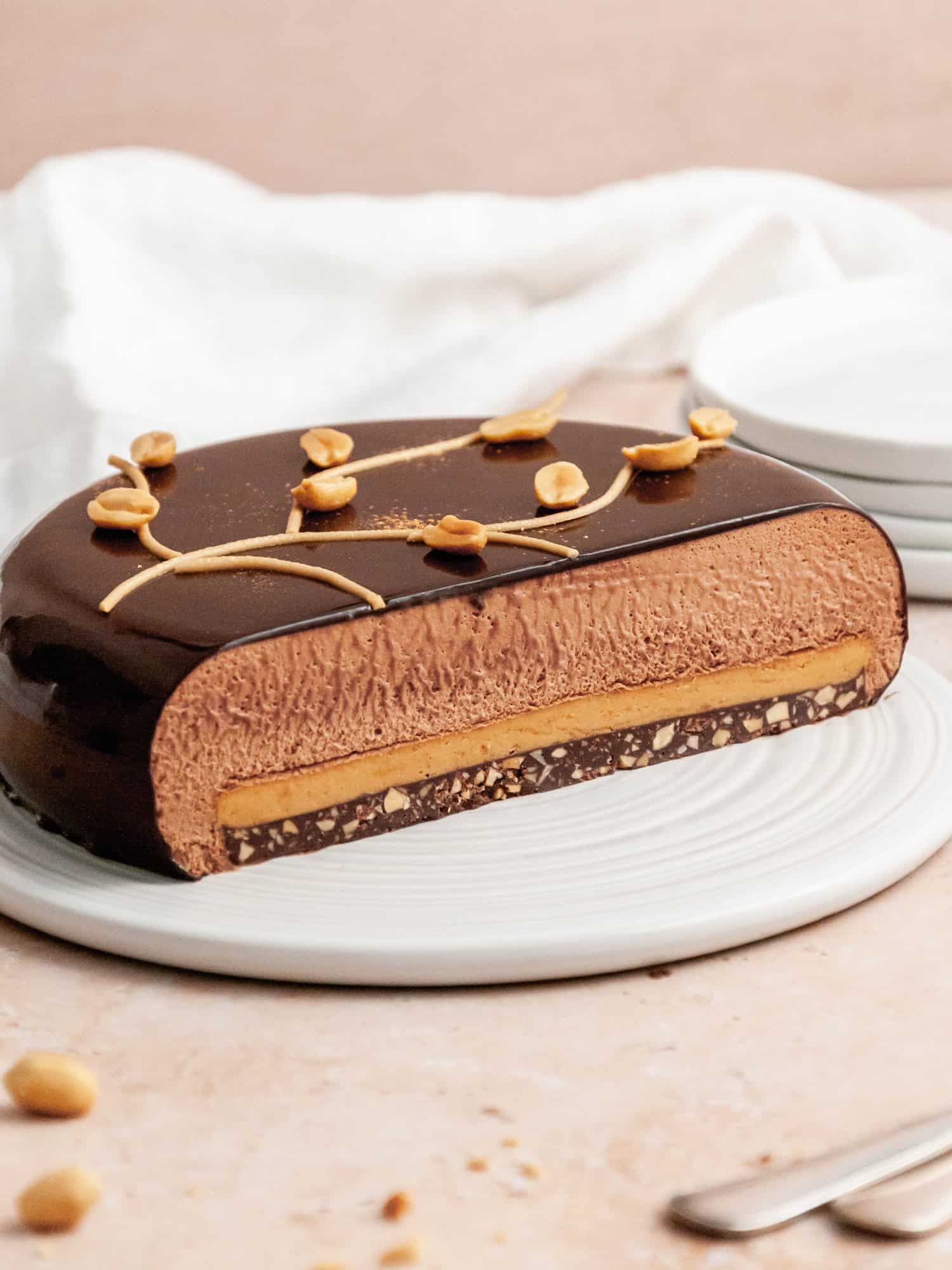 This dreamy Peanut Butter and Dark Chocolate Mousse Cake by Julie Marie Eats is pure perfection. In this recipe, the crunchy dark chocolate and salted peanuts crunch layer is topped with a luscious peanut butter layer, a smooth dark chocolate mousse and covered with a shiny cacao glaze and caramelized white chocolate decoration.
3. Mango Kalamansi Entremet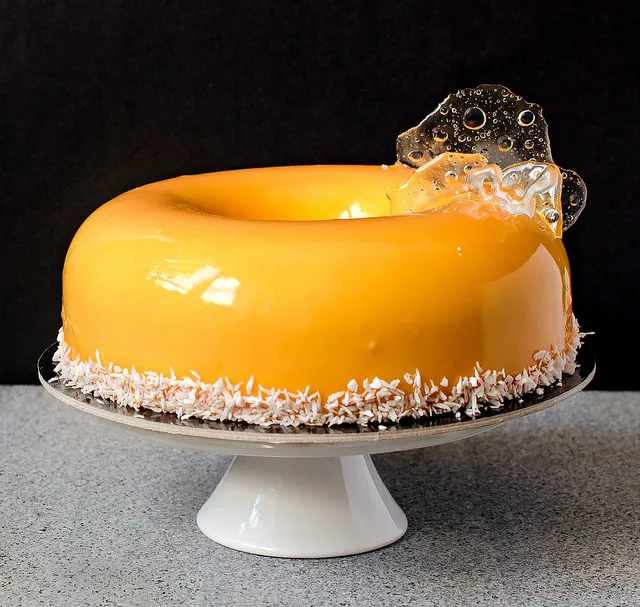 Delicate mango and bold kalamansi complement each other in this bright Mango Kalamansi Entremet by Pastry Workshop. This beautiful entremet consists of coconut joconde, coconut croustillant, mango crémeux, kalamansi mousse, cream cheese mousse and kalamansi glaze.
4. Chocolate Covered Strawberry Mousse Cakes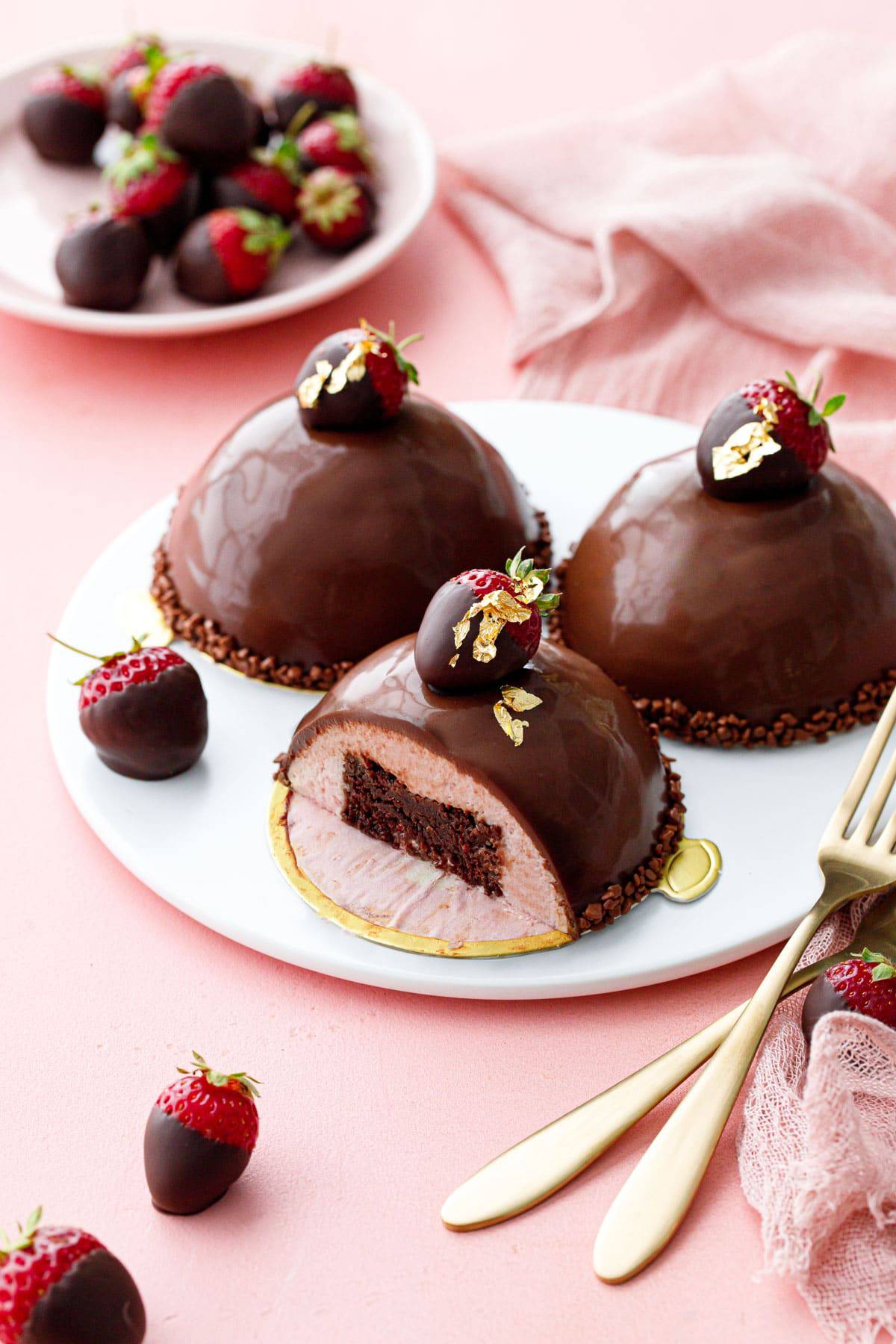 These cute Chocolate Covered Strawberry Mousse Cakes by Love and Olive Oil are impressive little entremet cakes made of rich chocolate brownie core, a cloud-like strawberry mousse and a glossy chocolate ganache glaze decorated with a chocolate-dipped strawberry.
5. Chocolate Entremet Cake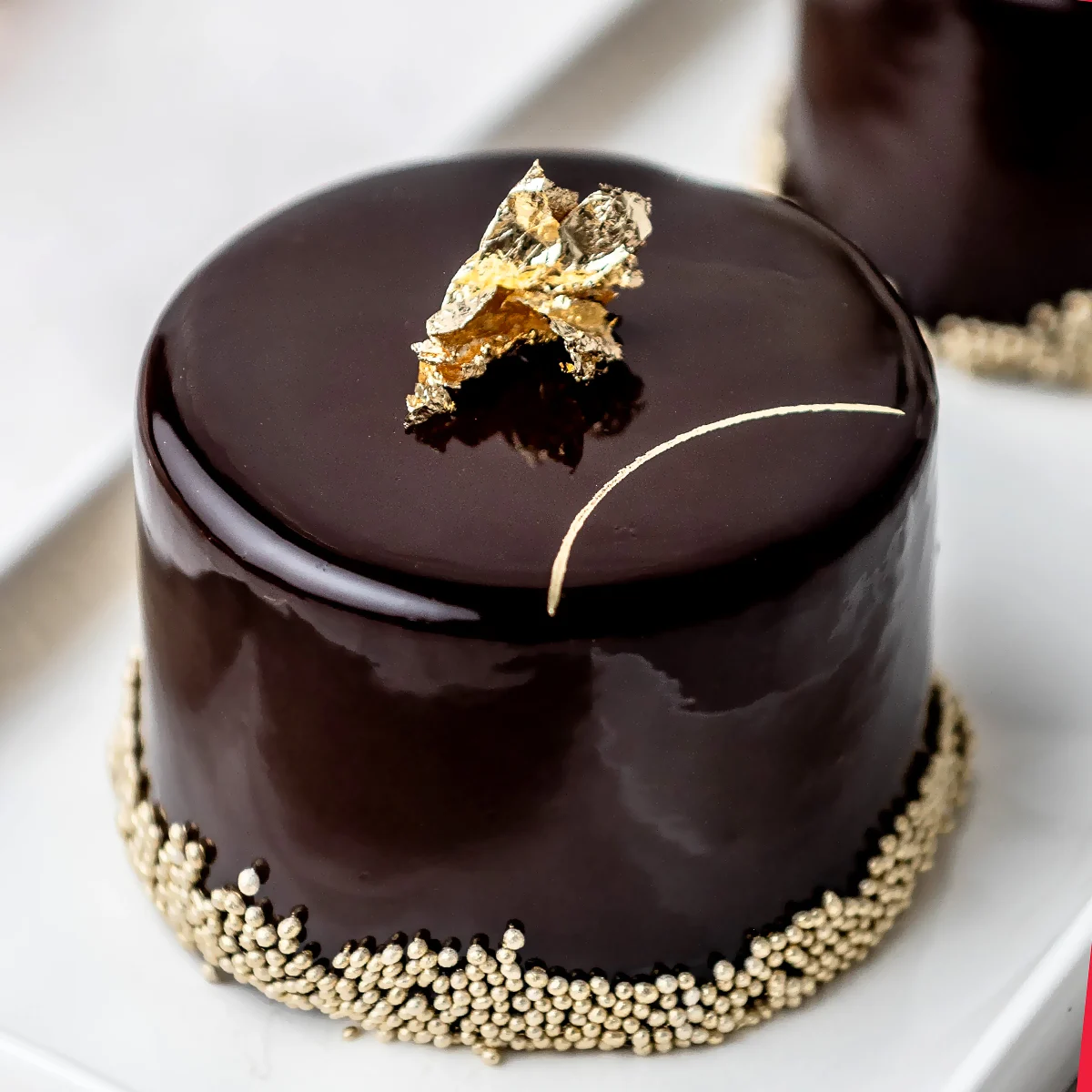 Learn how to make this elegant Chocolate Entremet Cake by Sugar Geek Show. This heavenly entremet features chocolate fudge cake, chocolate ganache, airy chocolate mousse and chocolate mirror glaze adorned with gold decoration.
6. Nutty Caramel Georgia Entremet Recipe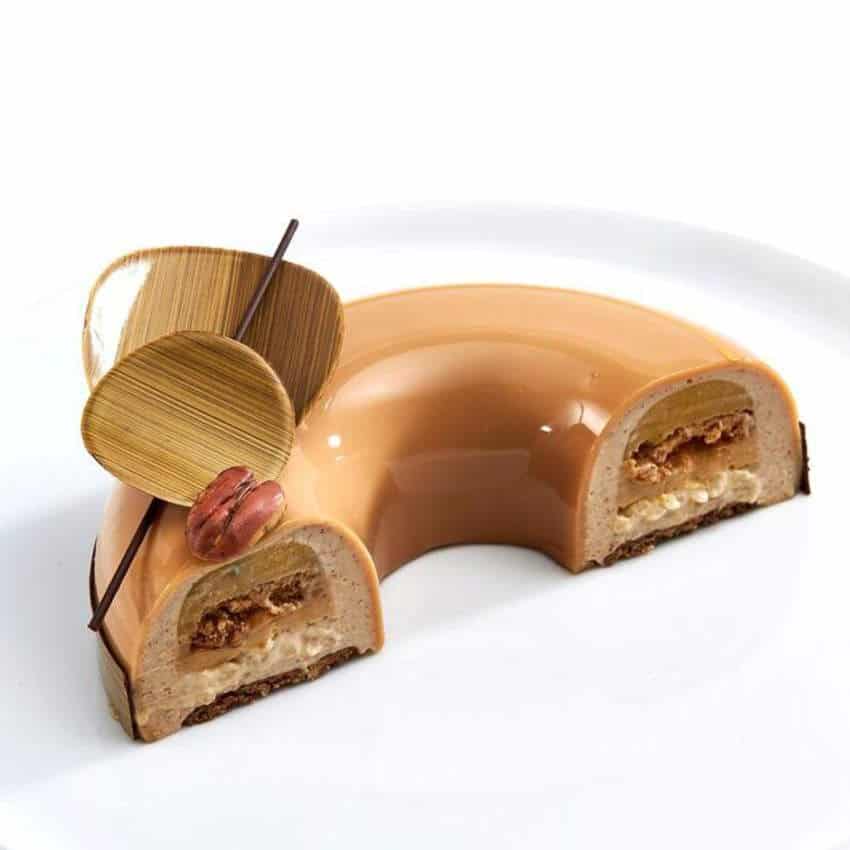 Do you feel brave enough to attempt this impressive Nutty Caramel Georgia Entremet Recipe by Chef Iso? This light airy entremet consists of seven different layers with complex textures, flavors and techniques with flavors of caramel, pecan, vanilla and passion fruit.
7. Raspberry and Sansho Pepper Entremet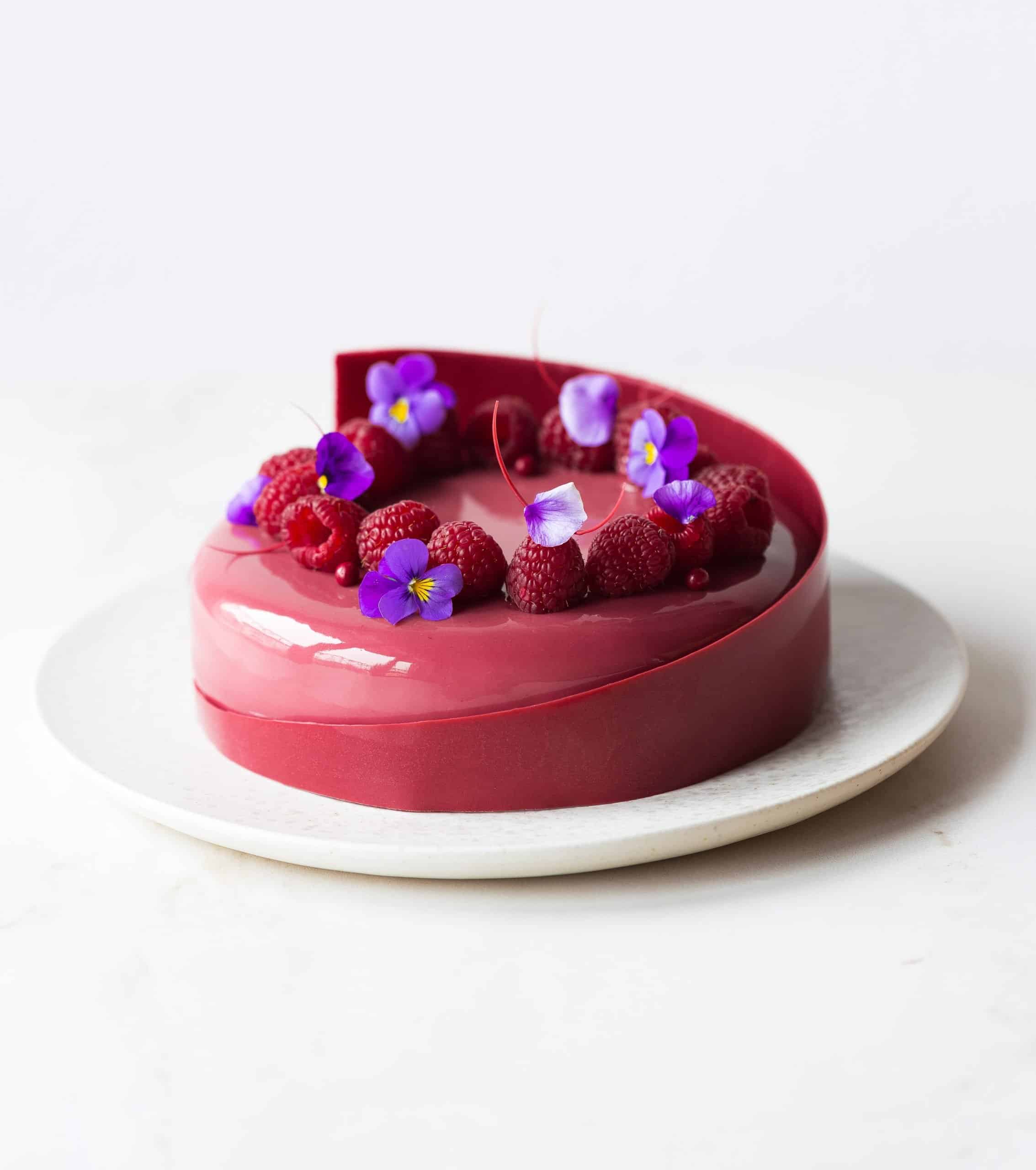 This breathtaking Raspberry and Sansho Pepper Entremet by In Love with Cake is a gluten-free entremet highlighting flavors of raspberries, aromatic sansho berries and white chocolate. With six different elements, this stunning dessert is a piece of art.
8. Valentine's Day Entremet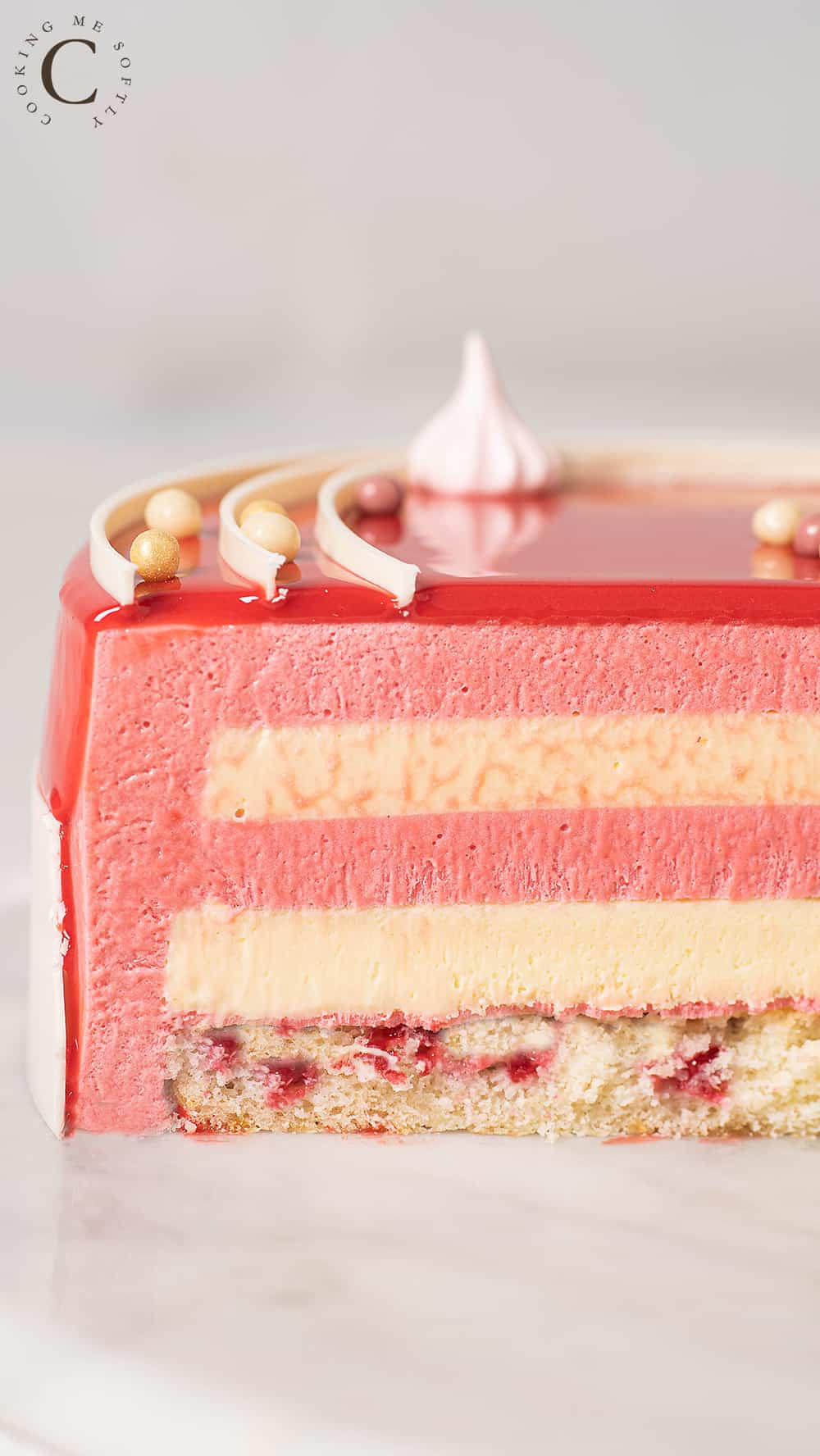 Impress your loved one with this divine Valentine's Day Entremet by Cooking Me Softly. This delicious dessert is made with raspberry biscuit, white chocolate crémeux, custard, raspberry mousse, red mirror glaze and white chocolate decorations.
9. Matcha Opera Cake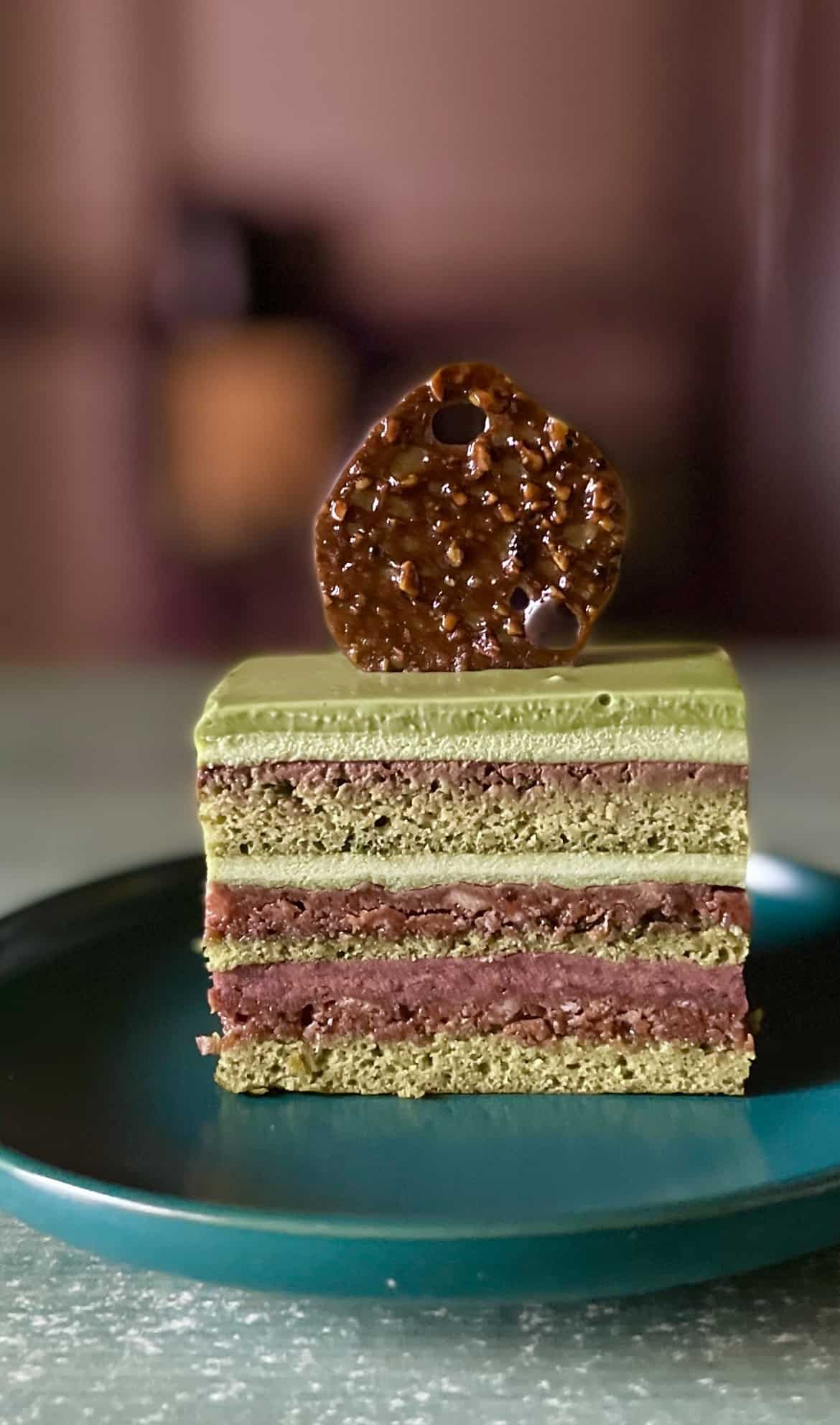 This mesmerizing Matcha Opera Cake by A Dessert Diet is a labor of love. Delicious layers of matcha joconde, praliné feuilletine, red bean paste, matcha mousse, chocolate ganache, matcha ganache and florentines are all enticing us in.
10. Tiramisu Entremet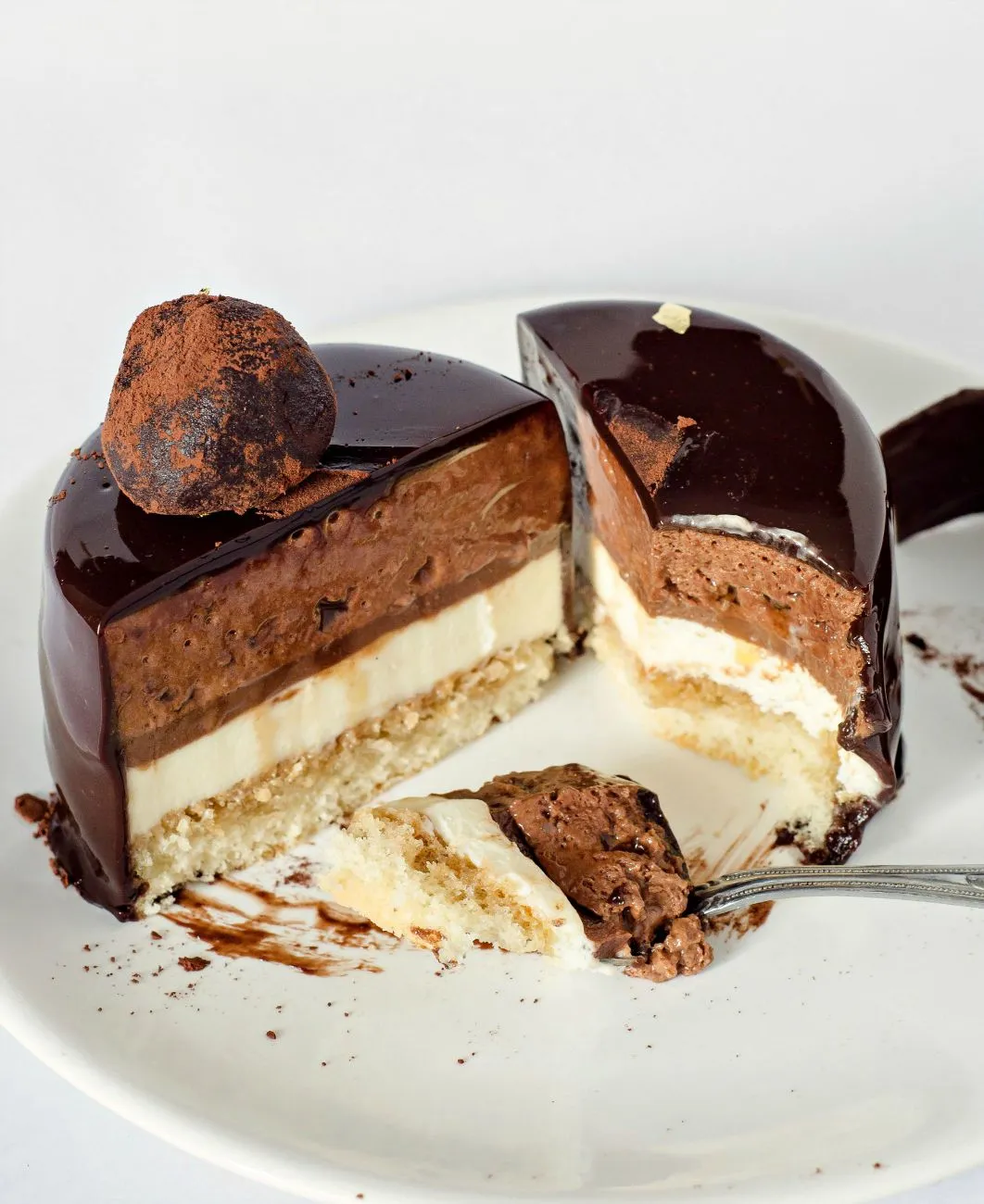 Dazzle your guests with this elegant Tiramisu Entremet by Pastry Workshop. This stunning dessert is created with genoise, coffee syrup, mascarpone mousse, coffee cremeux, chocolate praline mousse, chocolate coffee glaze and truffles.
11. Caramel and Coffee Entremet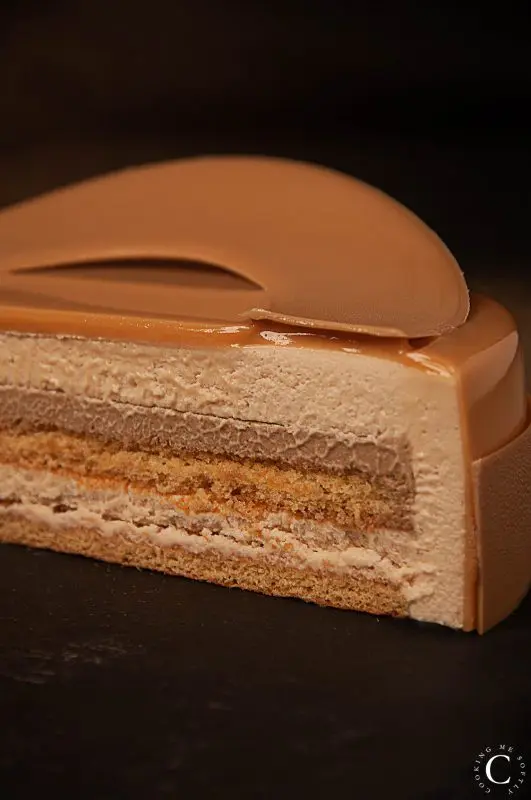 This divine Caramel and Coffee Entremet by Cooking Me Softly is a delicious four elements entremet with layers of caramel biscuit, coffee custard, dulcey chocolate light mousse and caramel glaze.
12. Chocolate and Raspberry Mousse Cake with Dark Chocolate Mirror Glaze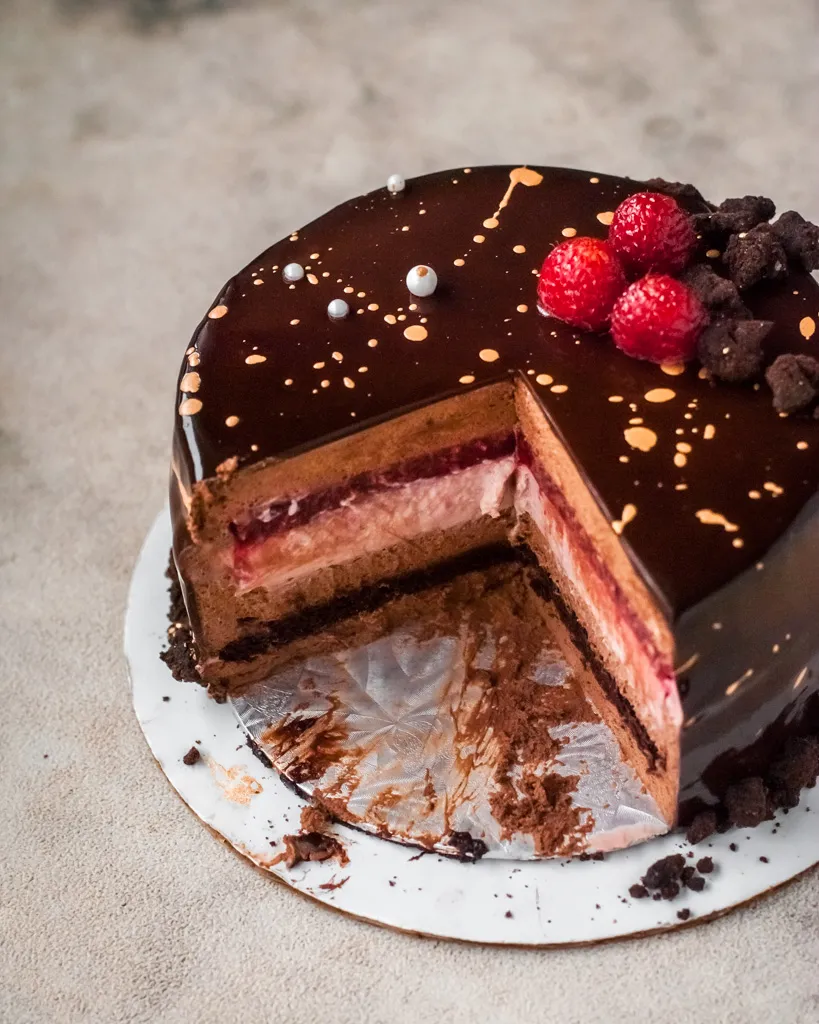 Beautifully luscious is this Chocolate and Raspberry Mousse Cake with Dark Chocolate Mirror Glaze by Cook Til Delicious. Imagine layers of chocolate cake, raspberry gelée, a smooth ruby crémeux and rich dark chocolate raspberry mousse all covered in a shiny glaze and sprinkled with chocolate crumbs. Just heavenly.
13. Caramel Mousse Cakes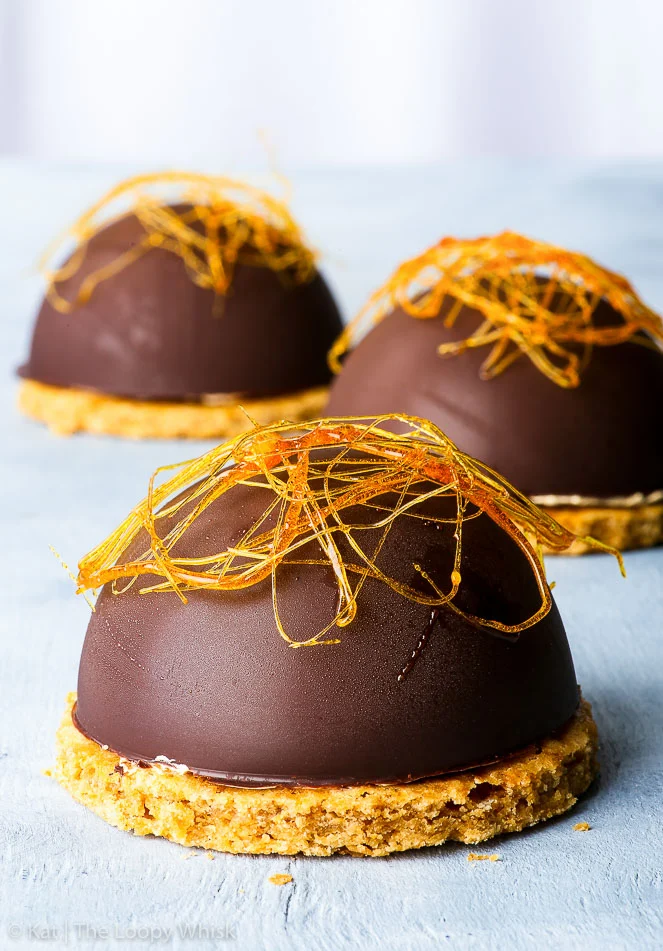 These Caramel Mousse Cakes by The Loopy Whisk are gluten, dairy and refined sugar-free entremet. With only three elements - coconut oil cookie base, caramel mousse and a delicious dark chocolate shell this dessert is a healthier and simpler option.
15. Chocolate Mirror Glaze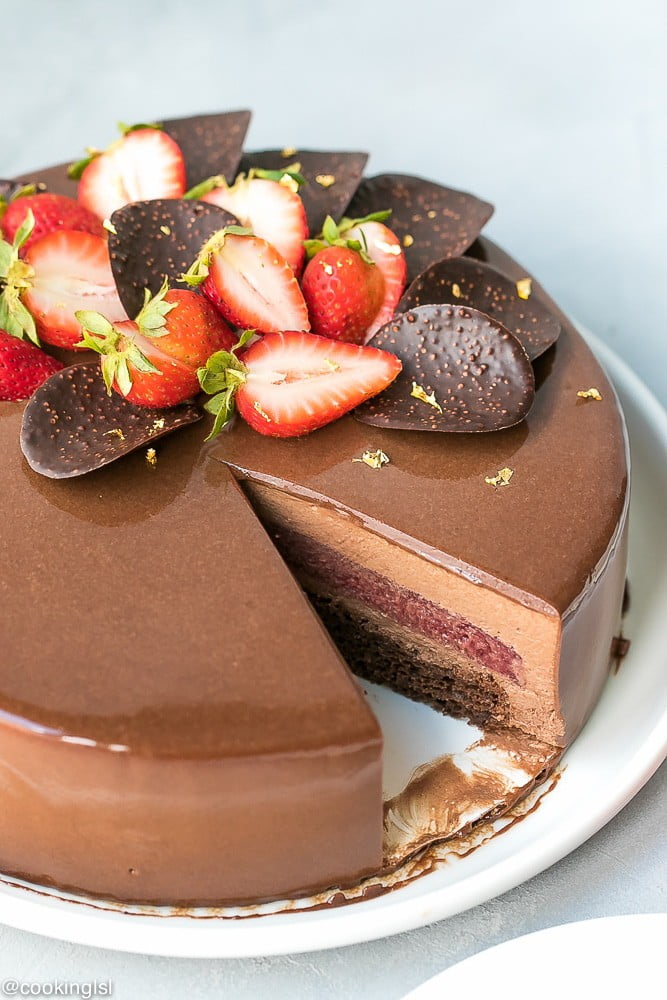 This stunning Chocolate Mirror Glaze by Cooking LSL has components of chocolate sponge cake, strawberry jelly and chocolate mousse all covered in shiny chocolate mirror glaze. Decorated with fresh strawberries this yummy cake is perfect for a summer dinner party.
16. Pistachio Tart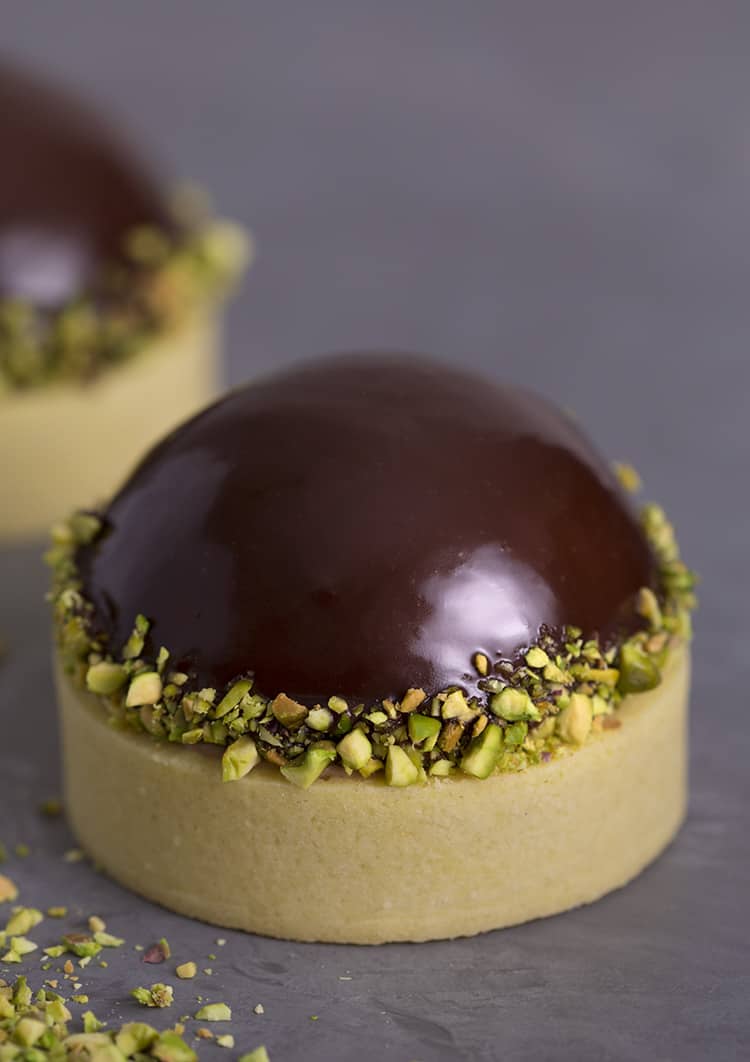 How about this tempting Pistachio Tart by Preppy Kitchen? This recipe features a chocolate-covered dome set within a tart base filled with vanilla pastry cream, Swiss meringue buttercream, chocolate ganache, chocolate glaze and crunchy pistachios.