Are you looking for your next dessert recipe inspiration? Our collection of 25 Heavenly Pistachio Dessert Recipes is here to help!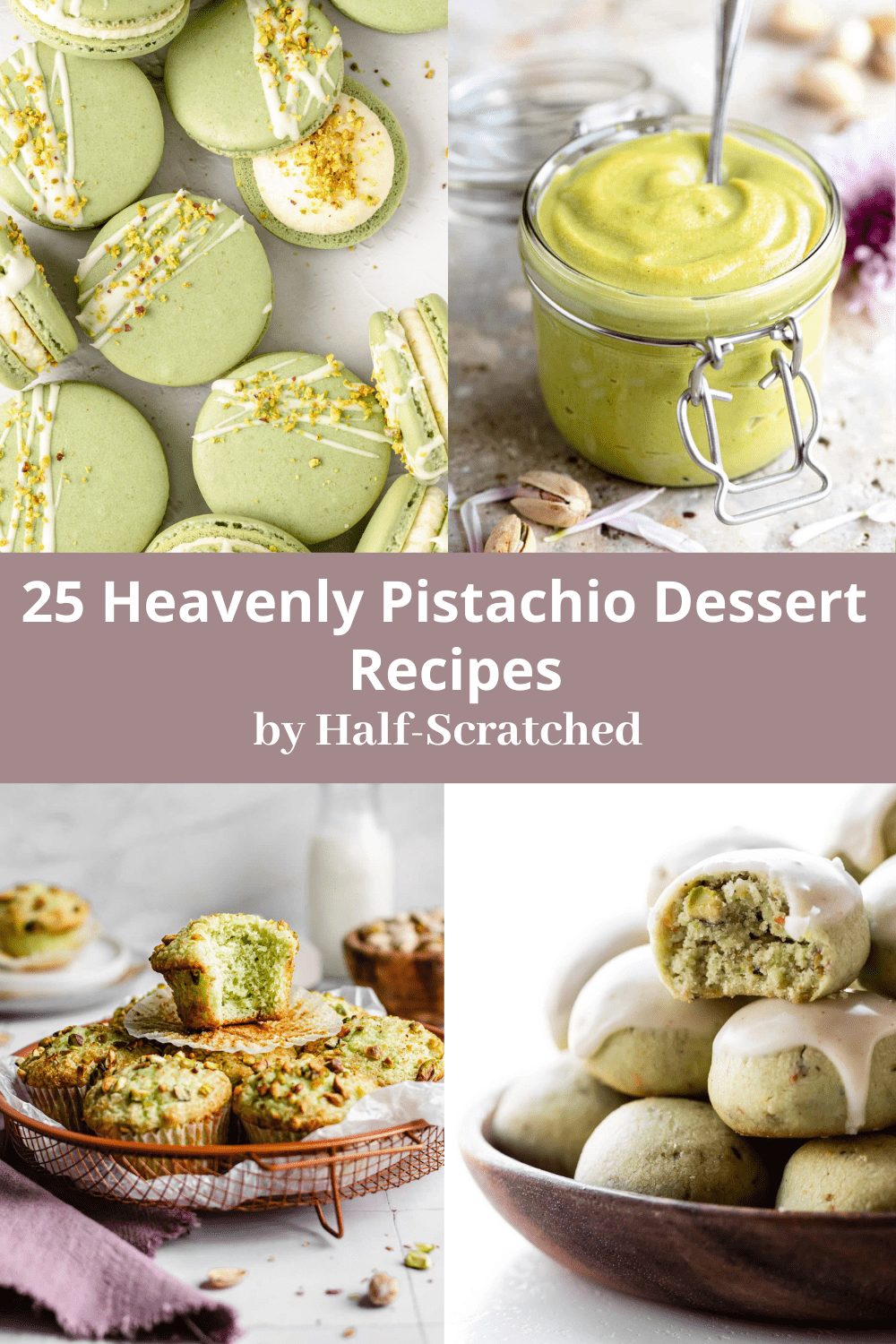 Pistachios lend themselves beautifully to making desserts because of their vibrant green color and sweet nutty flavor. They pair really well with almonds, chocolate, vanilla, cardamom, honey and citrus fruit. They will add a wonderful flavor and moist texture to your sponge cakes.
You can blend pistachios into pistachio butter that can be added to frostings, cake fillings, and desserts. If you love pistachios then making a homemade pistachio ice cream is a real treat.
Get inspired with our 25 Heavenly Pistachio Dessert Recipes round-up and create your own homemade delicious pistachio desserts to enjoy.
1. Pistachio Macarons with White Chocolate Ganache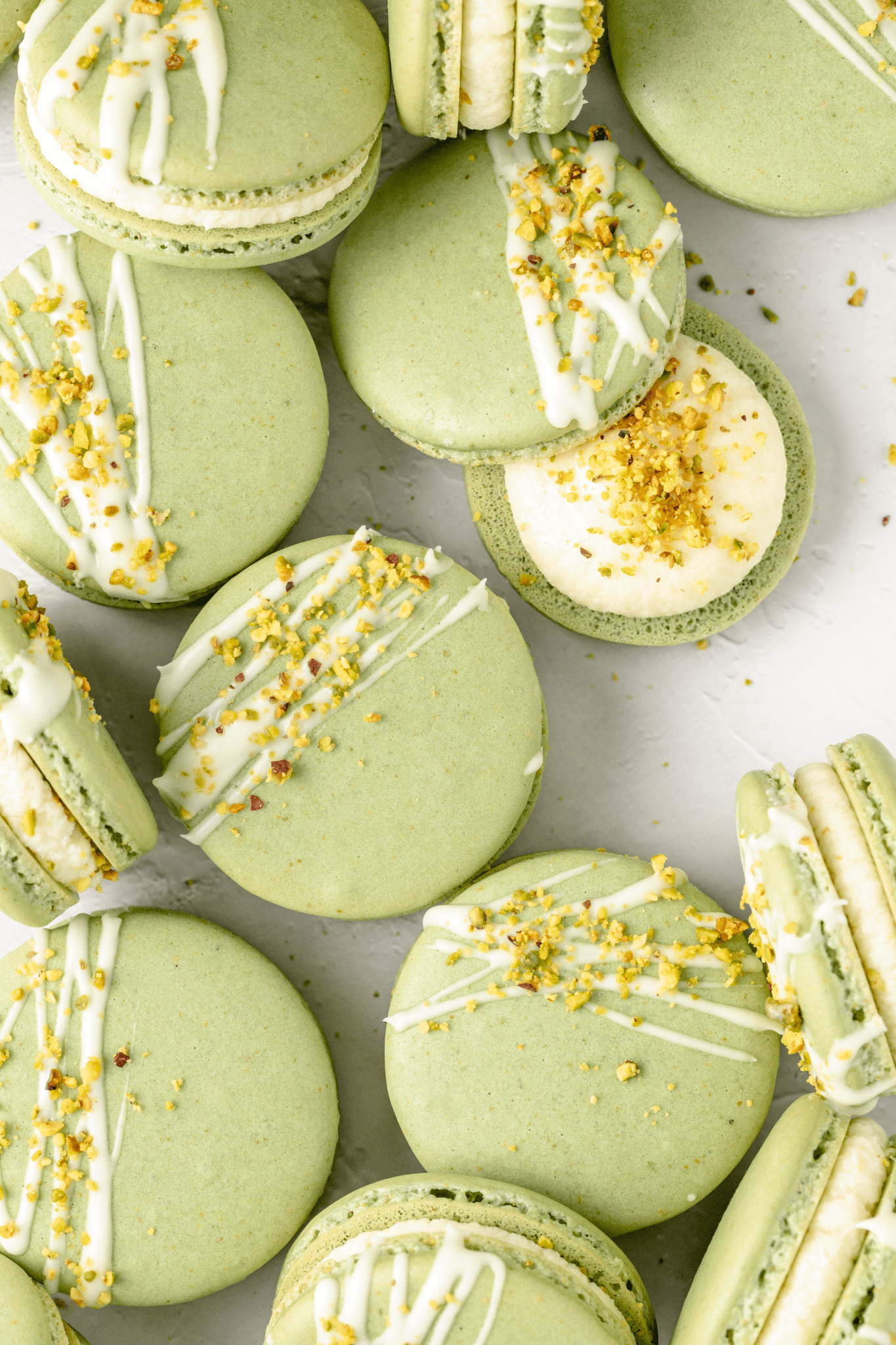 These homemade Pistachio Macarons with White Chocolate Ganache by Barley and Sage are simply divine. In this recipe, the light French pistachio flavored macaron shell is filled with a creamy white chocolate ganache, drizzled with white chocolate and topped with crushed pistachios.
2. Pistachio Cake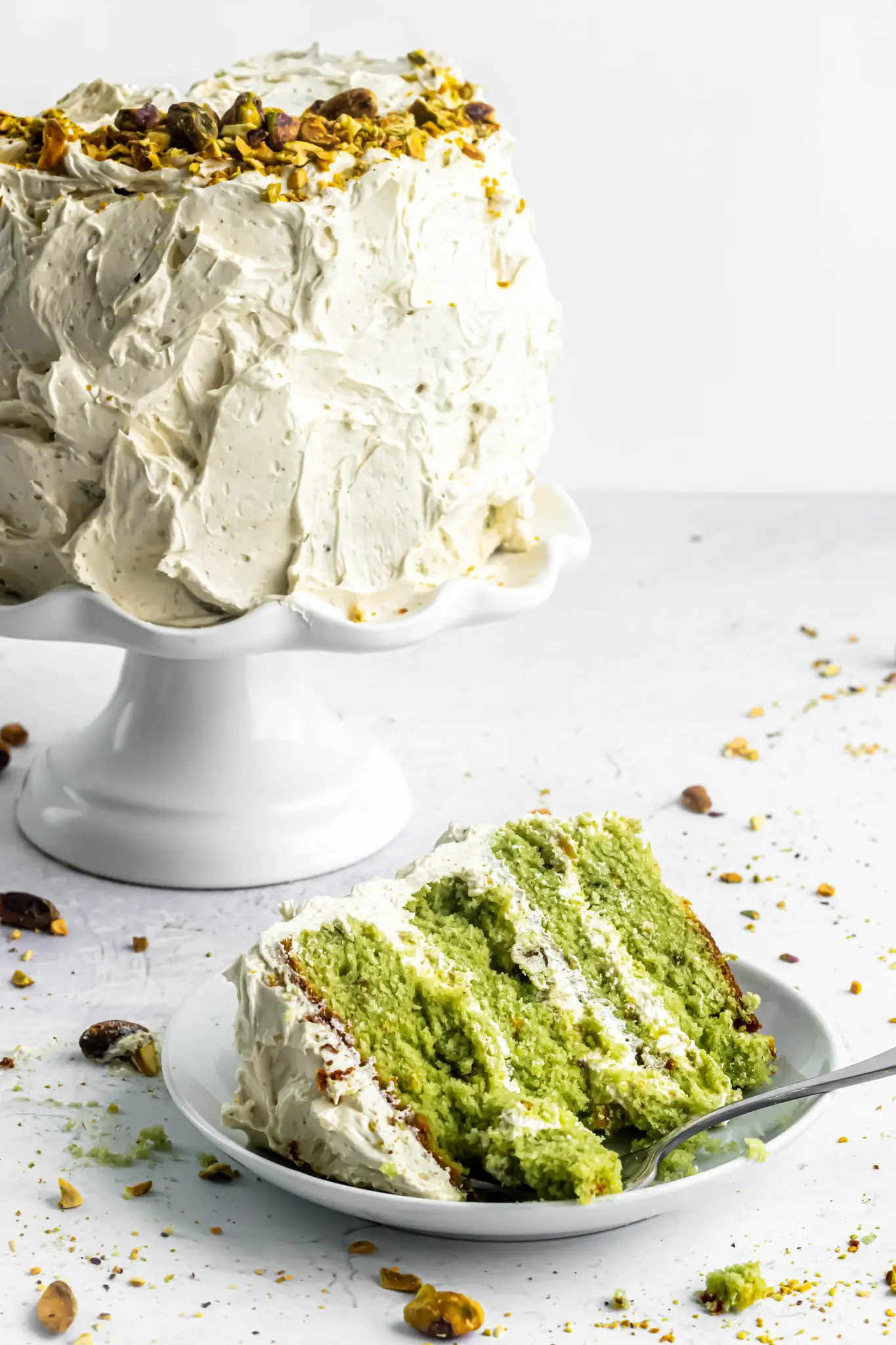 We love the vibrant color of this showstopping Pistachio Cake by Bonni Bakery. This stunning cake features soft pistachio sponge cake flavored with pistachio paste and chopped pistachios and is frosted with pistachio Italian meringue buttercream.
3. Pistachio Butter Cheesecake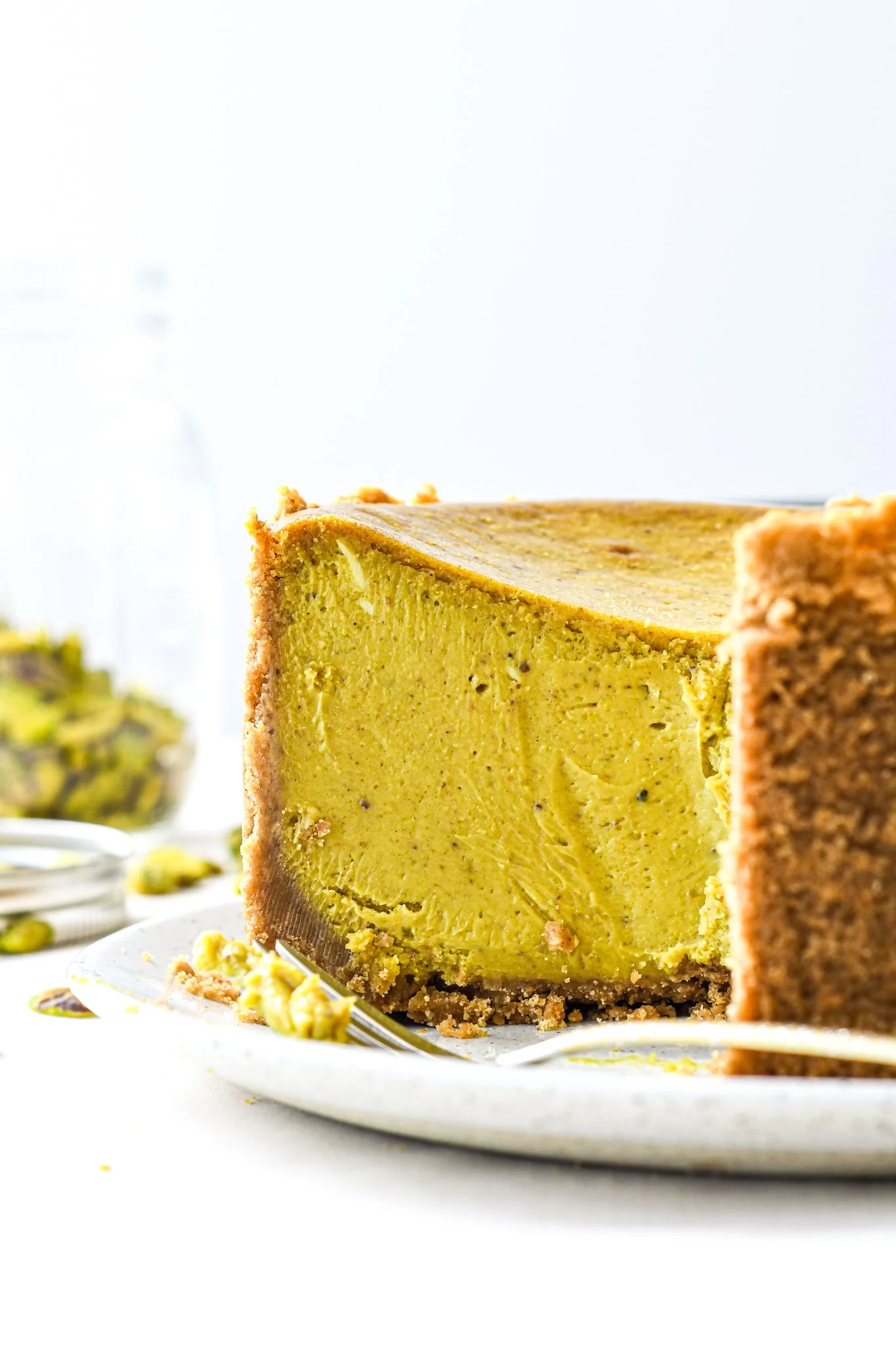 This luscious Pistachio Butter Cheesecake by Buttermilk is one of the creamiest cheesecakes you will ever try. It's made with homemade pistachio paste that makes this delicious cheesecake taste like actual pistachios.
4. Honey Pistachio Cupcakes with Cream Cheese Frosting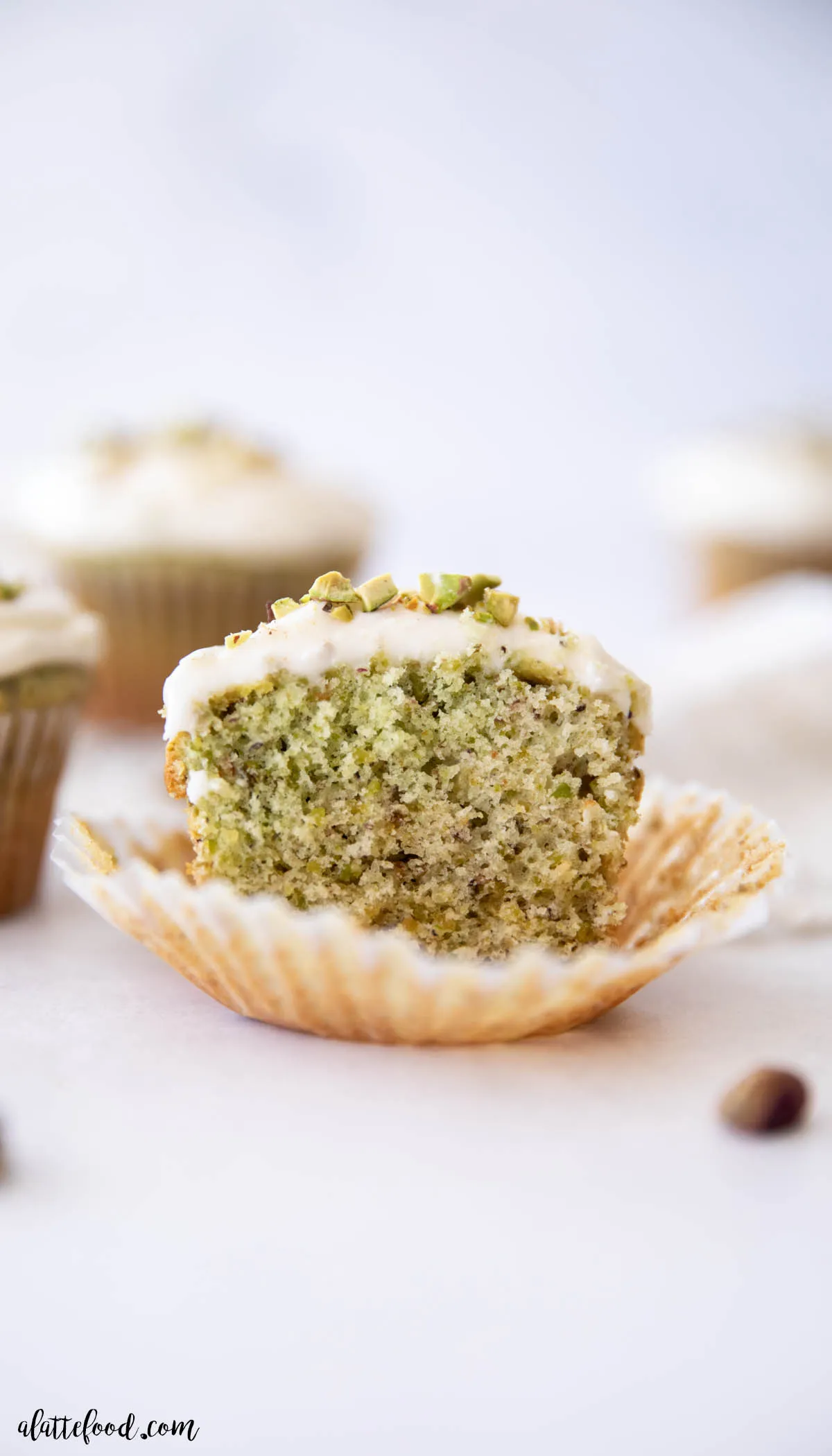 Bake these light and fluffy Honey Pistachio Cupcakes with Cream Cheese Frosting by A Latte Food. These delicious cupcakes are made with ground pistachios and flavored with notes of honey, almond, and vanilla.
5. Italian Pistachio Cream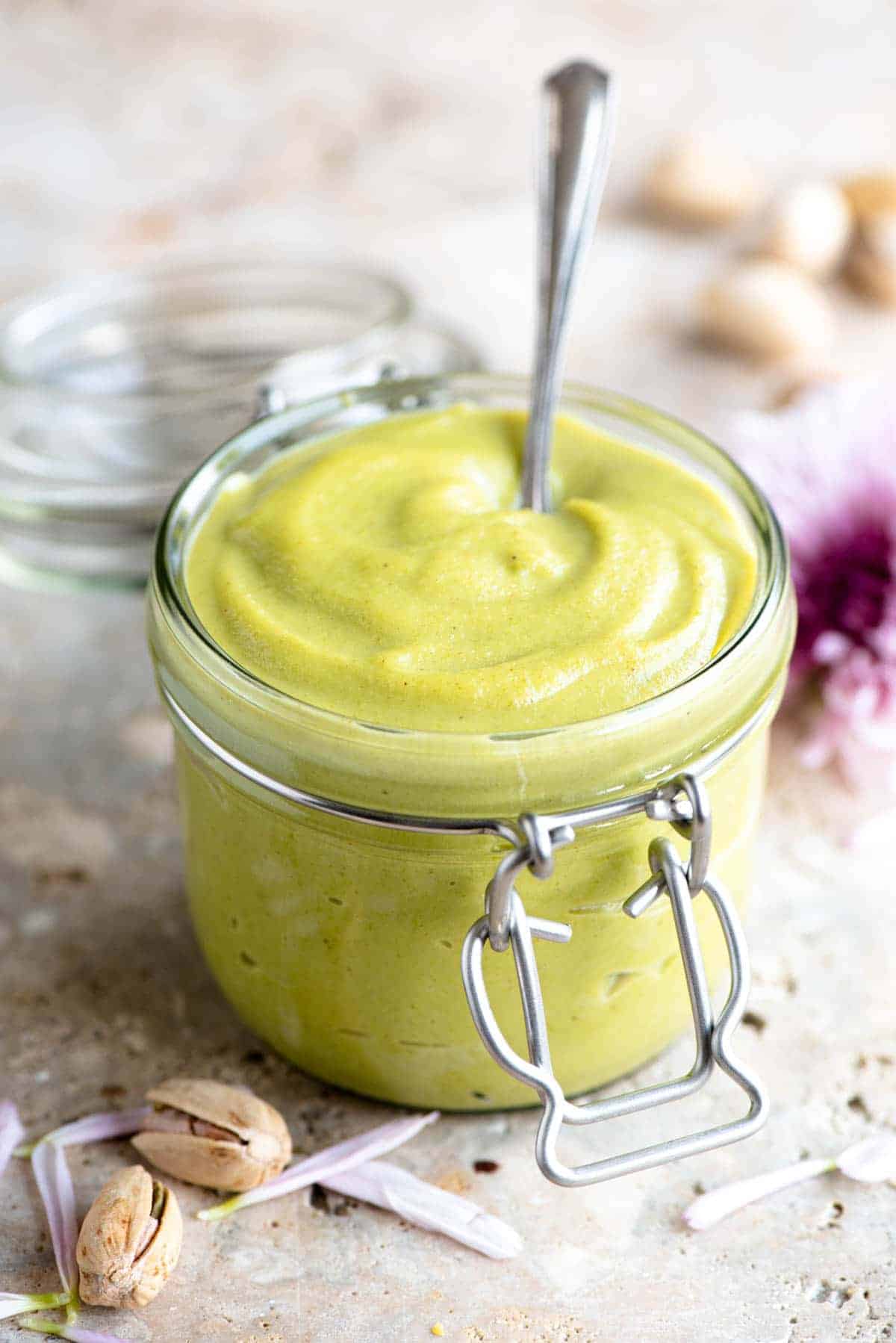 Italian Pistachio Cream by Inside the Rustic Kitchen is a popular and decadent Italian spread. This simple luscious cream made with pistachios, white chocolate and milk makes a wonderful addition to desserts, cakes and pastries and of course, can be used as a delicious spread.
6. Lemon Pistachio Cake with Mascarpone Frosting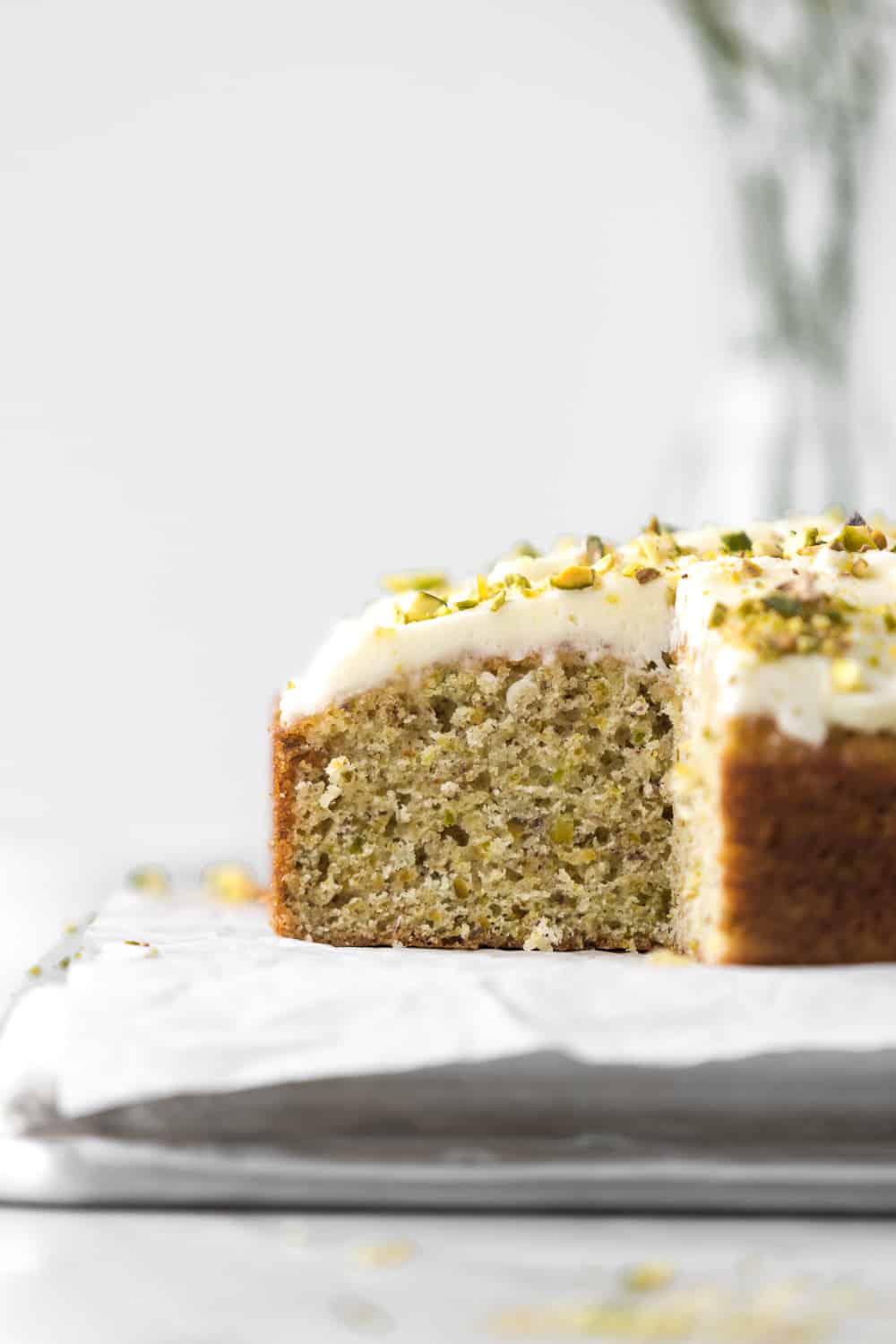 This elegant Lemon Pistachio Cake with Mascarpone Frosting by With Spice is bursting with fresh zesty lemon and pistachio flavor. The cake features a springy pistachio crumb spread with creamy, lemony smooth mascarpone frosting.
7. Pistachio Cannoli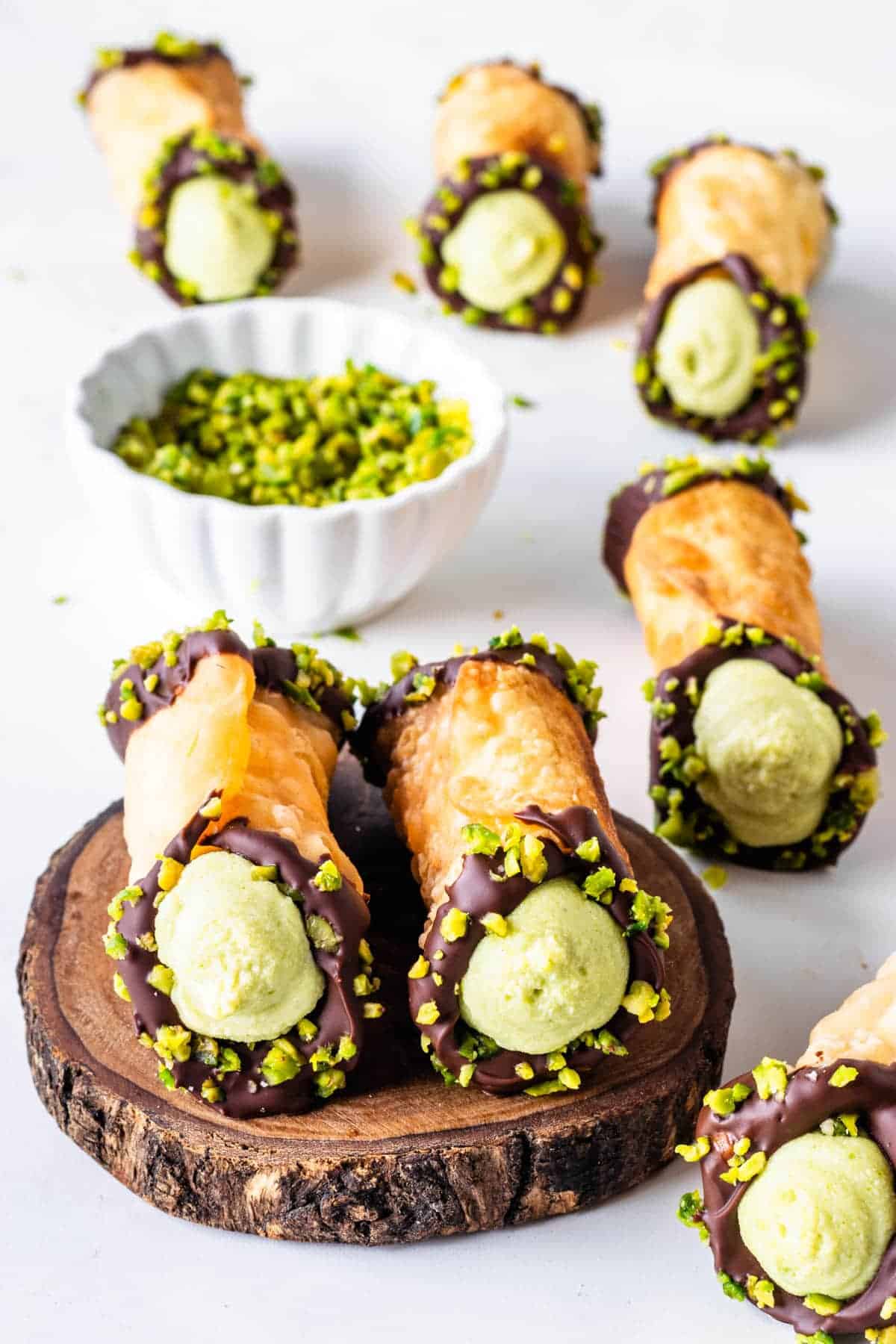 Learn how to make this decadent classic Pistachio Cannoli recipe by Pies and Tacos. This recipe teaches you how to make crispy light homemade cannoli shells that are filled with pistachio cream made with homemade pistachio paste and ricotta cheese.
8. Bakery Style Pistachio Muffins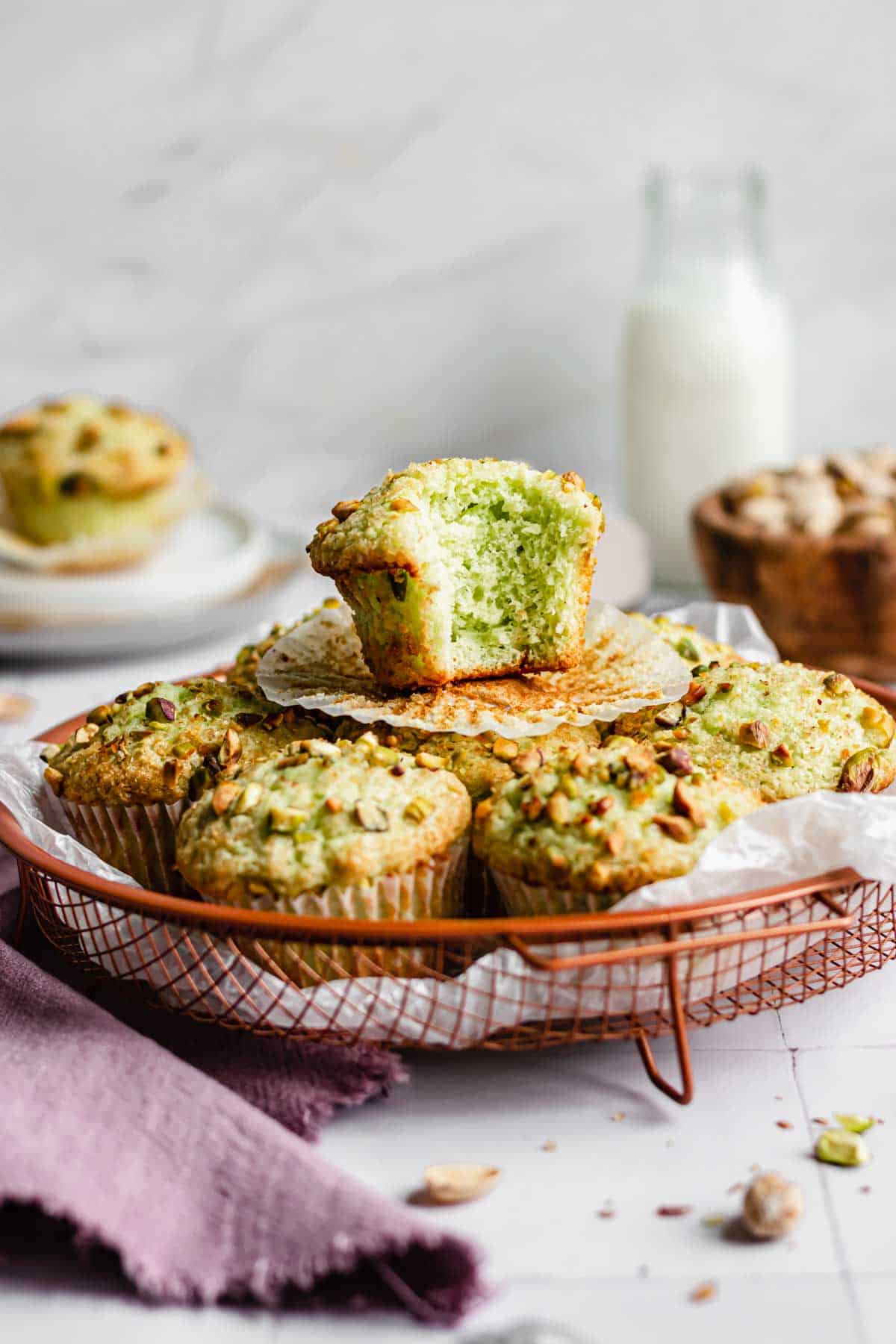 Who loves a good muffin? These fabulous Bakery Style Pistachio Muffins by The Cozy Plum are moist, fluffy and topped with a sugar crust and real pistachios. You will love their pistachio and almond flavor.
9. Vegan White Chocolate Pistachio Tart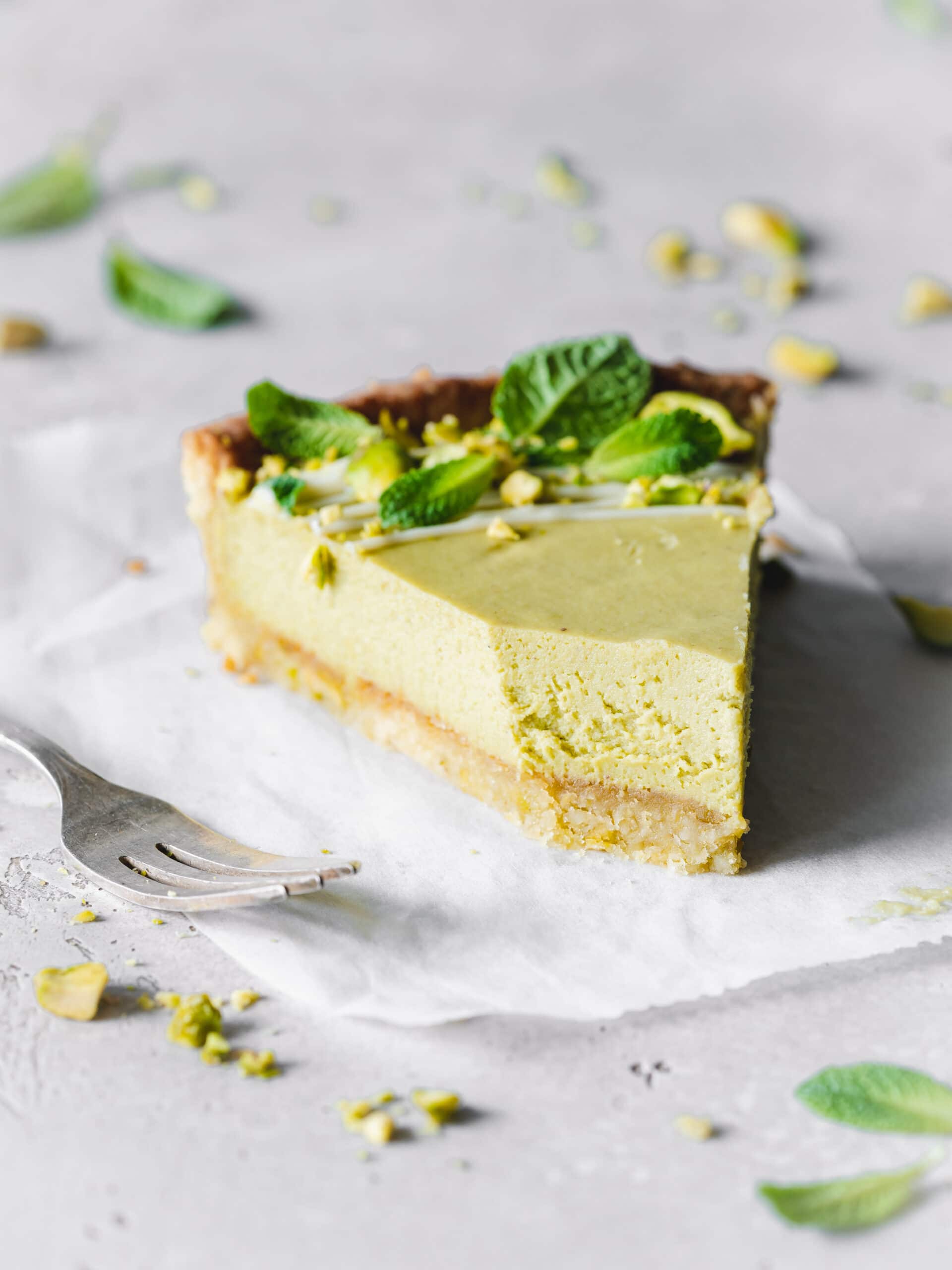 This Vegan White Chocolate Pistachio Tart by Addicted to Dates is a must-try recipe for pistachio lovers. It features a baked pistachio almond shortbread crust filled with heavenly creamy pistachio and dairy-free white chocolate filling.
10. Pistachio Cake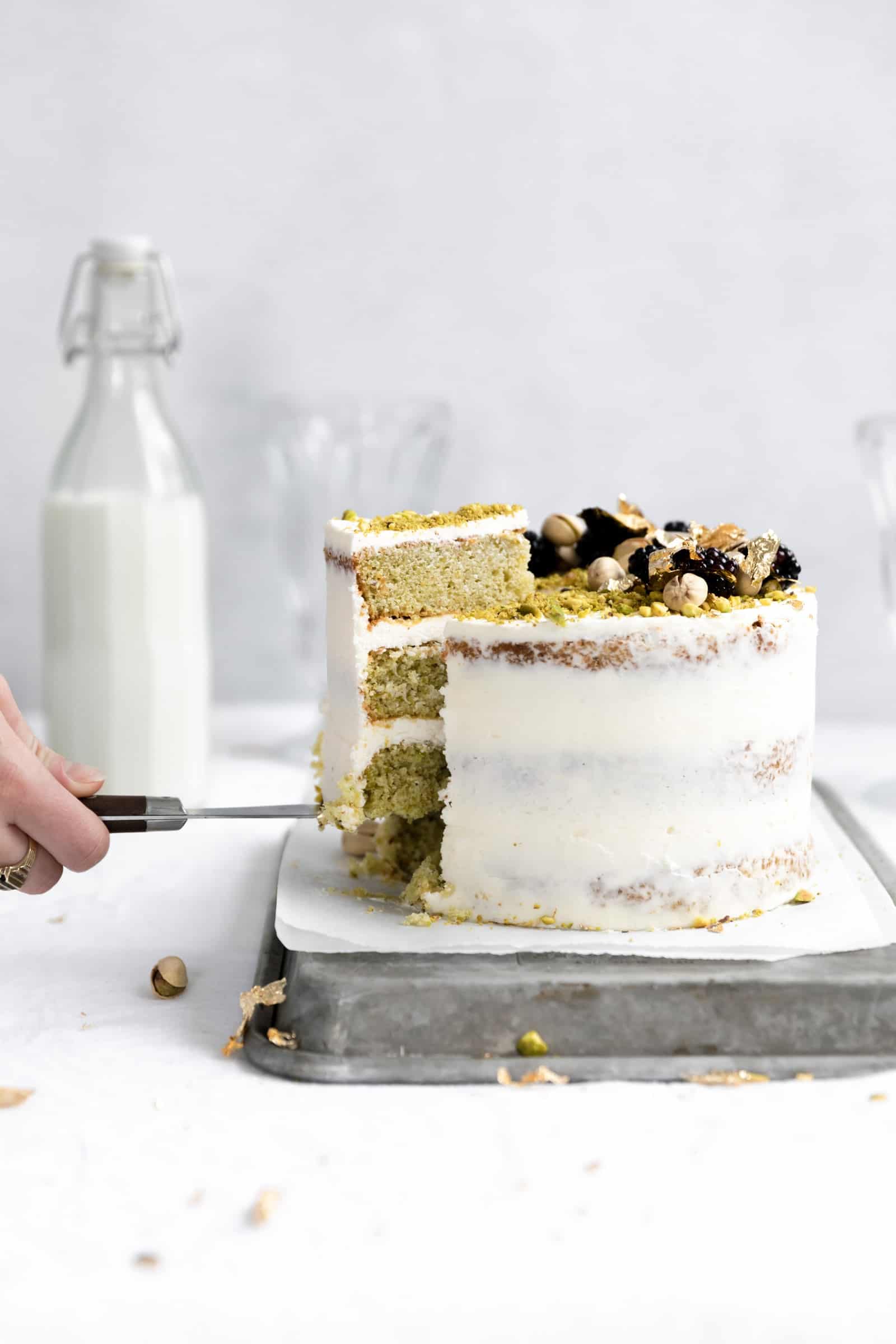 If you're looking for a cake for a special occasion then this Pistachio Cake by Broma Bakery would make a statement. This beautiful three-layer pistachio cake is moist, bursting with flav and is frosted with luscious cream cheese frosting.
11. Cream Puffs with Pistachio Creme Mousseline and Raspberry Jam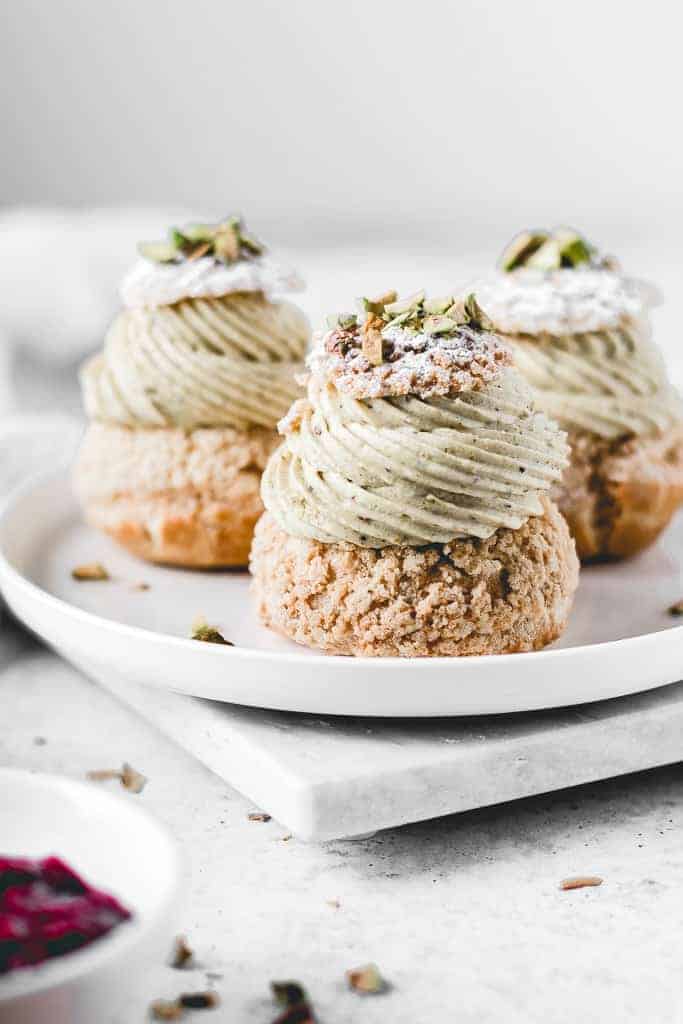 These Cream Puffs with Pistachio Creme Mousseline and Raspberry Jam by Ana's Baking Chronicles are beautiful examples of French patisserie. The perfectly crunchy choux pastry is filled with delicious and silky pistachio crème mousseline and homemade raspberry jam.
12. Pistachio Drop Cookies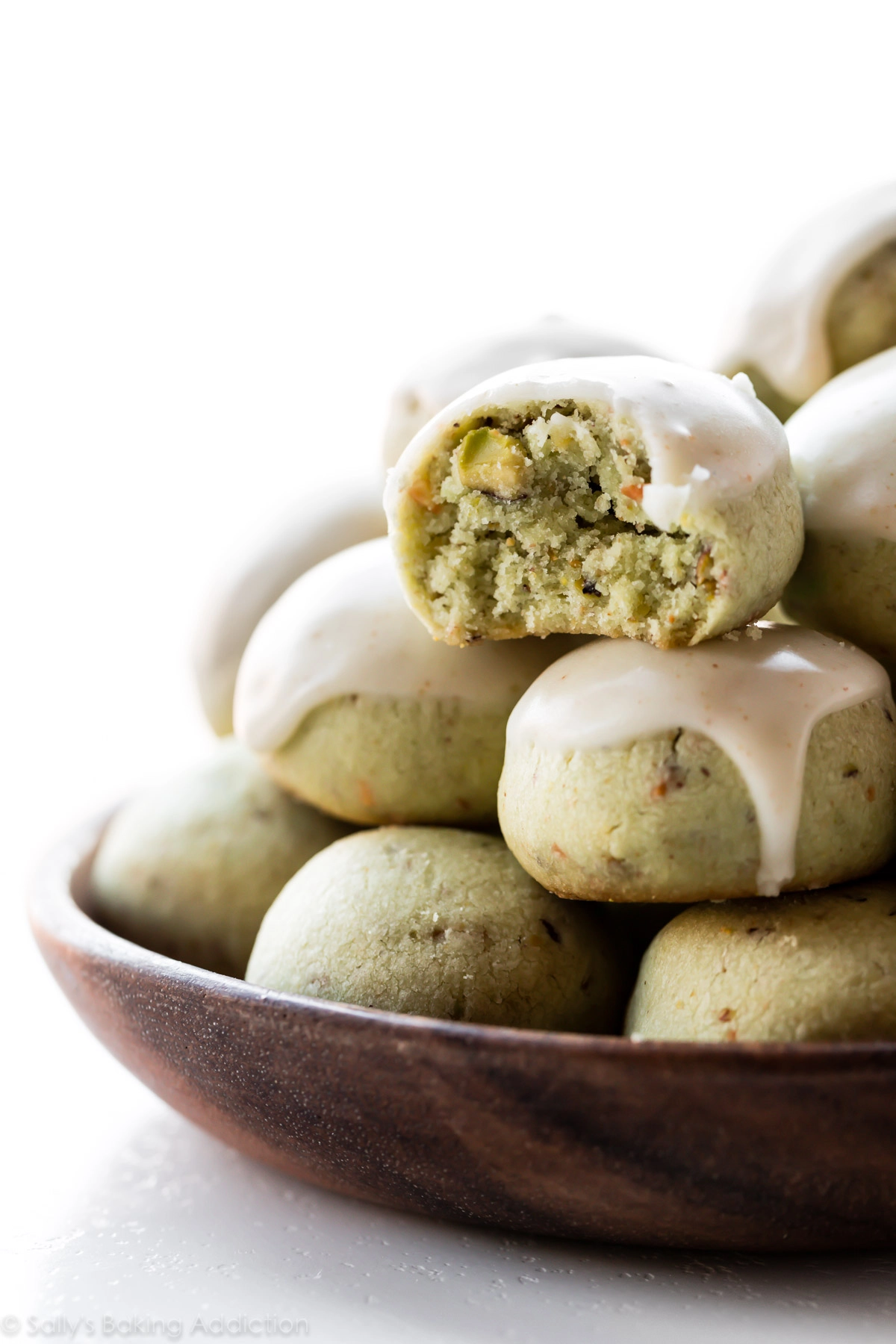 These Pistachio Drop Cookies by Sally's Baking Addiction are like little drops of heaven. Made with real pistachios and almond extract this easy delicious cookie recipe is prepared in one bowl with only six ingredients.
13. Ten Minute Vegan Pistachio Pudding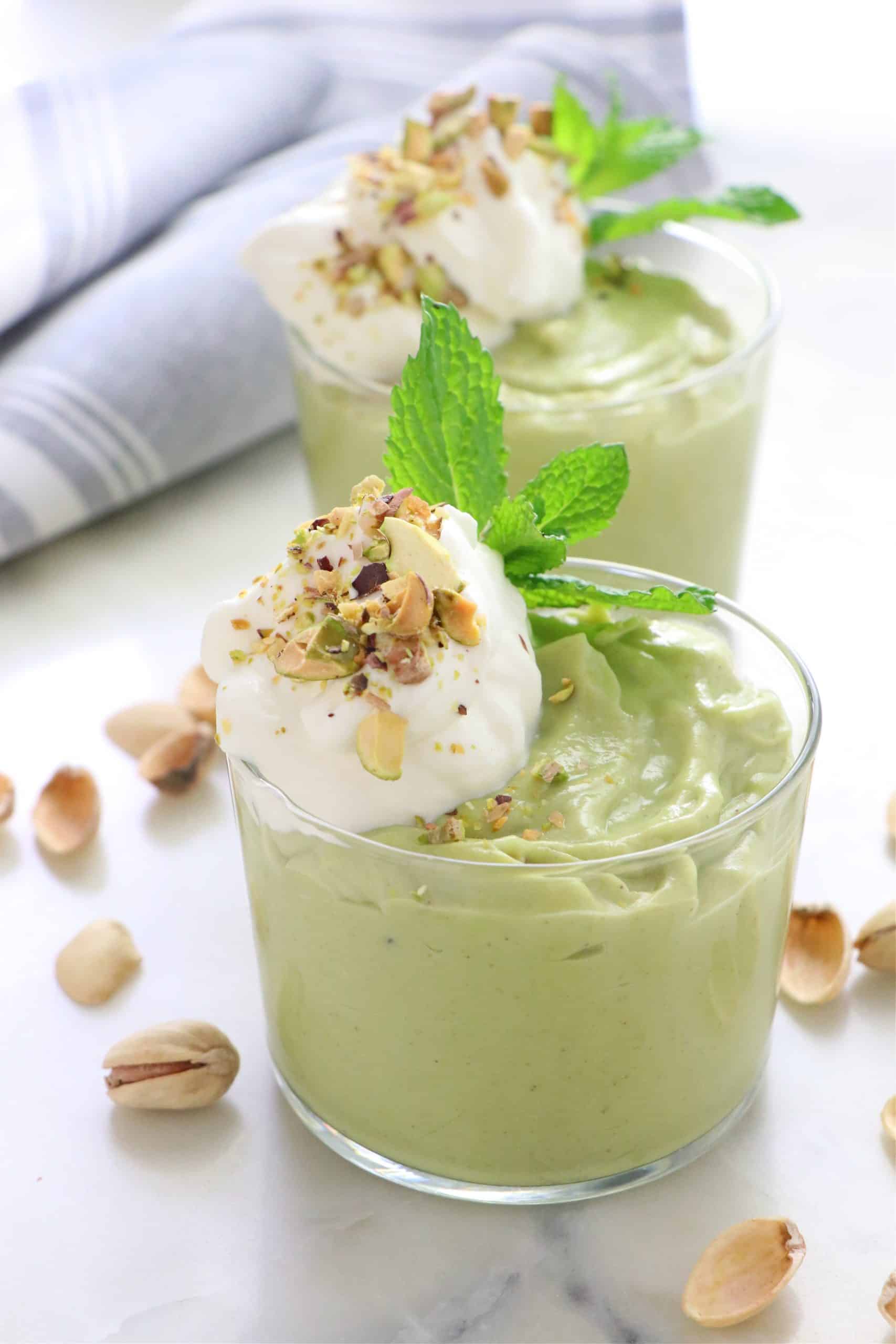 Why not have a go at making this luscious 10 Minute Vegan Pistachio Pudding by Labeless Nutrition. This quick, easy, affordable dessert has a rich pistachio flavor and a secret healthy ingredient.
14. White Chocolate Pistachio Blondies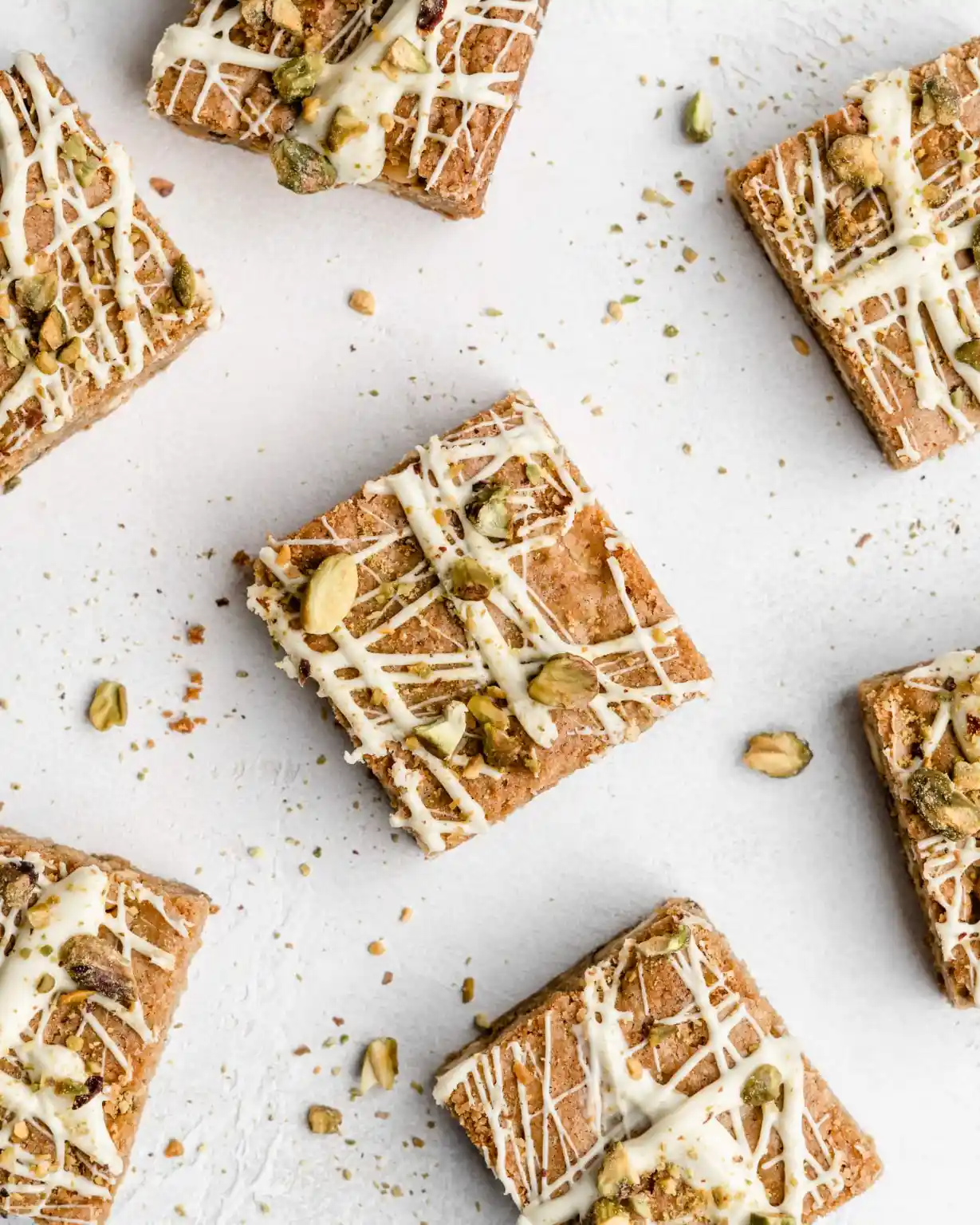 White chocolate and pistachios pair so beautifully in these White Chocolate Pistachio Blondies by Food Duchess. This recipe features blondies made with toasty, nutty brown butter, white chocolate and chopped salted pistachios.
15. Fig And Pistachio Vegan Cheesecake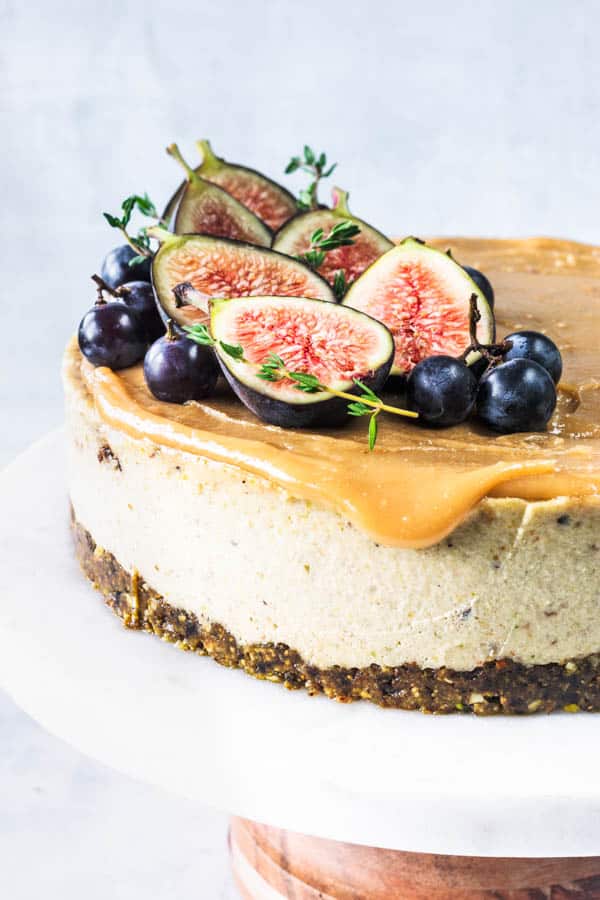 This divine Fig And Pistachio Vegan Cheesecake by Pies and Tacos is one of the dreamiest cheesecakes. Made with raw based fig pistachio crust, creamy pistachio cheesecake layer, fig jam and delicious vegan caramel sauce it's a play of delicious flavors.
16. Pistachio Cardamom and Lemon Loaf Cake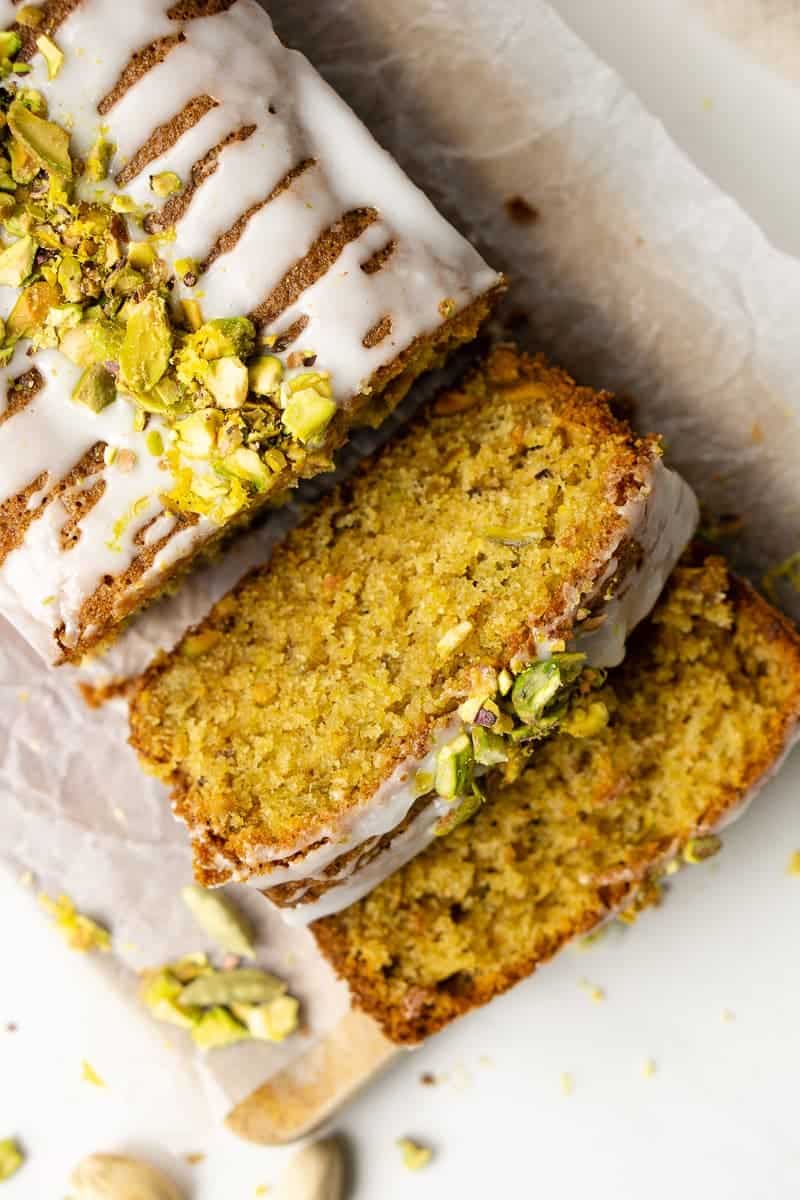 If you fancy baking simple yet delicious cake with a difference then this Pistachio Cardamom and Lemon Loaf Cake by Eight Forest Lane is the one to try. This dairy-free loaf cake is moist, fluffy and finished off with a tangy lemon drizzle.
17. Pistachio Tiramisu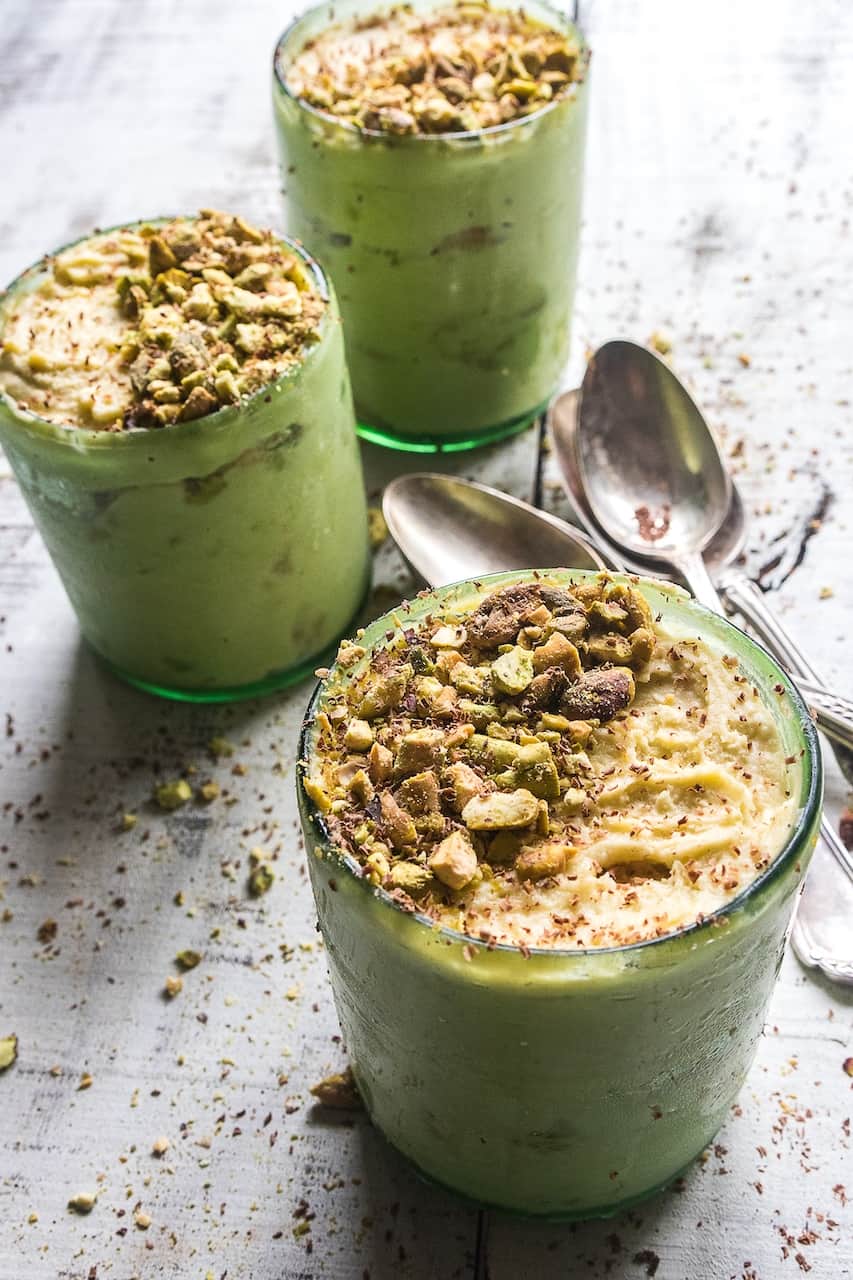 Tiramisu is getting a makeover in this beautiful vibrant green Pistachio Tiramisu recipe by Our Italian Table. This classic Italian dessert is elevated to an entirely new level of deliciousness with the addition of pistachio cream.
18. Pistachio Butter Cookies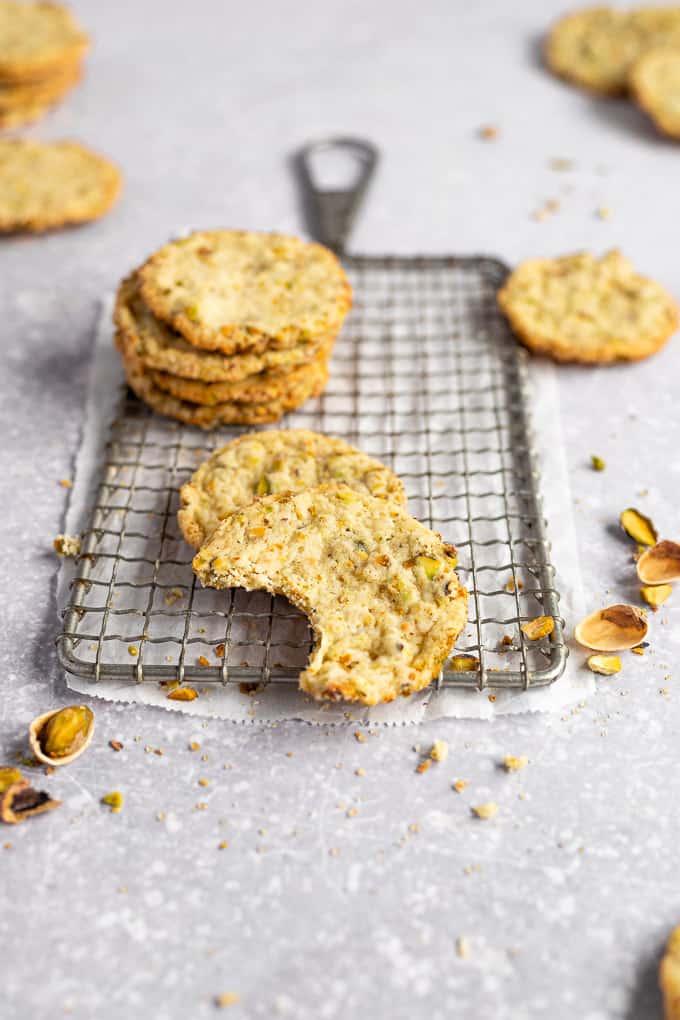 These melt in your mouth Pistachio Butter Cookies by Fork in the Kitchen are crisp and chewy. Packed with pistachios both inside the dough and coated on the sides, they taste as fabulous as they look.
19. Pistachio and Mascarpone Pie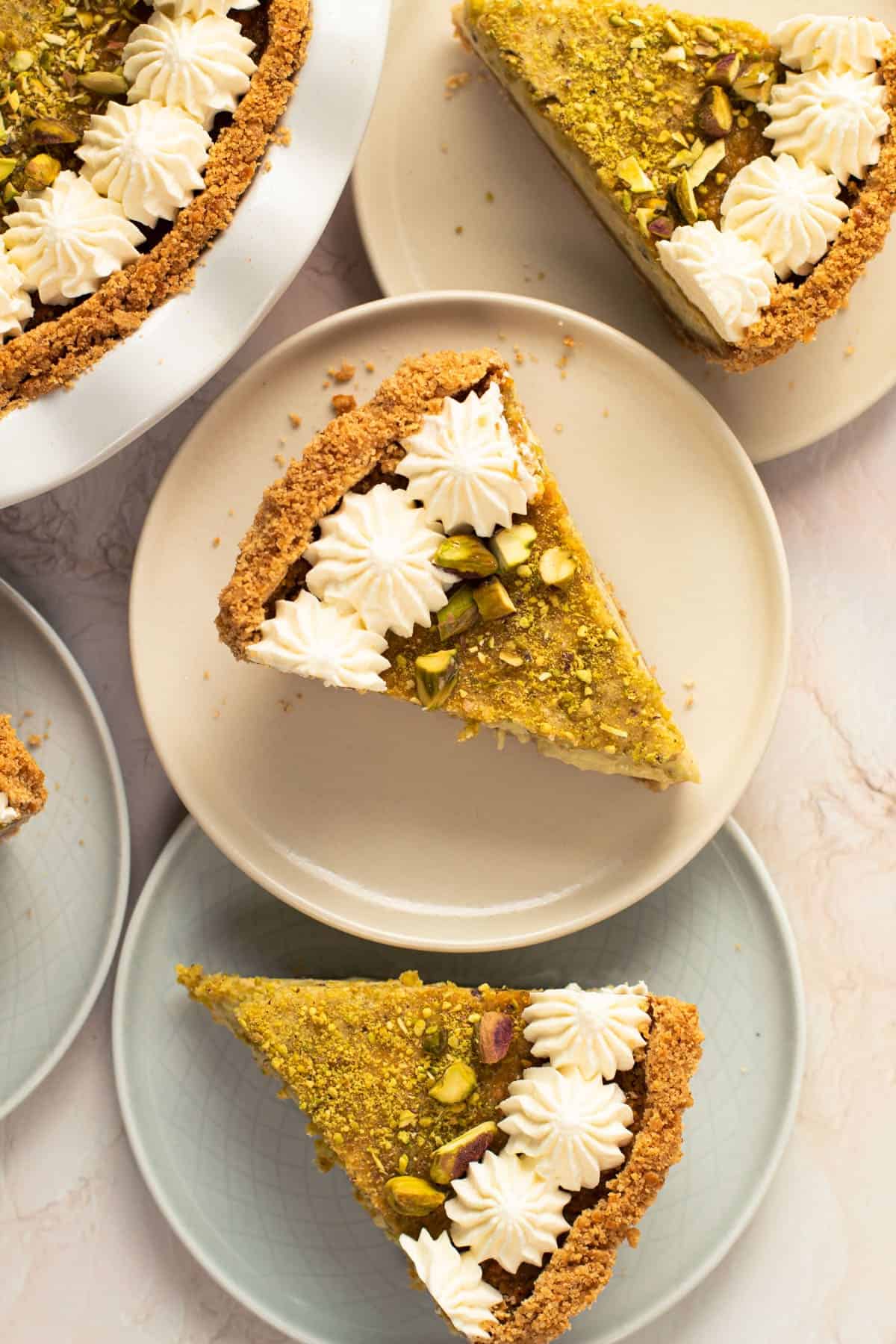 You just want to dive right into this gorgeous Pistachio and Mascarpone Pie by Everyday Pie. This recipe features crunchy, salty and sweet pretzel crumb crust with baked tangy creamy pistachio and mascarpone custard.
20. Easy Pistachio Cake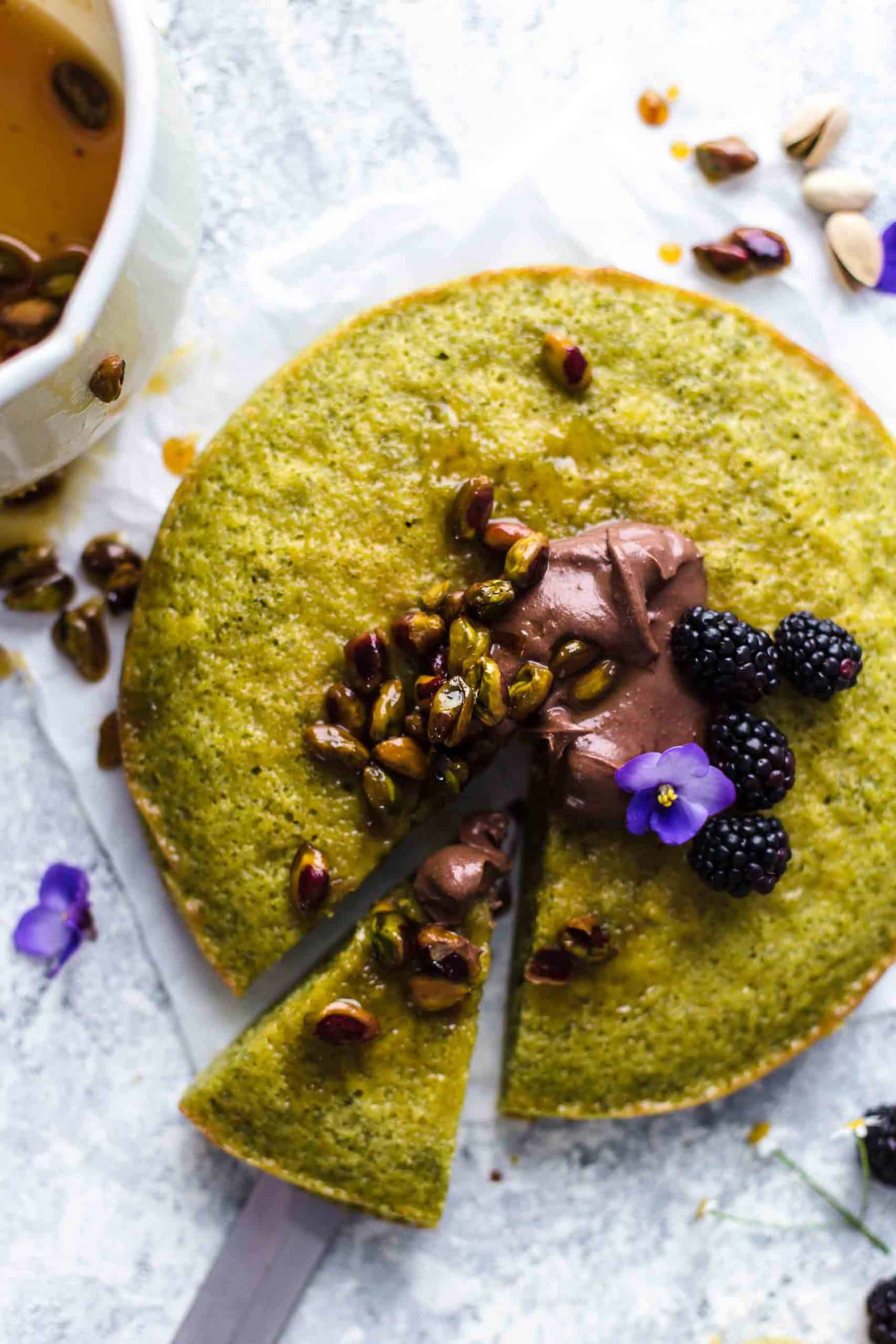 This soft and moist Easy Pistachio Cake by Also the Crumbs Please takes only ten minutes of preparation. Made with ground pistachios and drizzled with orange pistachio syrup this simple to make cake is pure pleasure.
21. Pistachio Amaranth Moringa Bars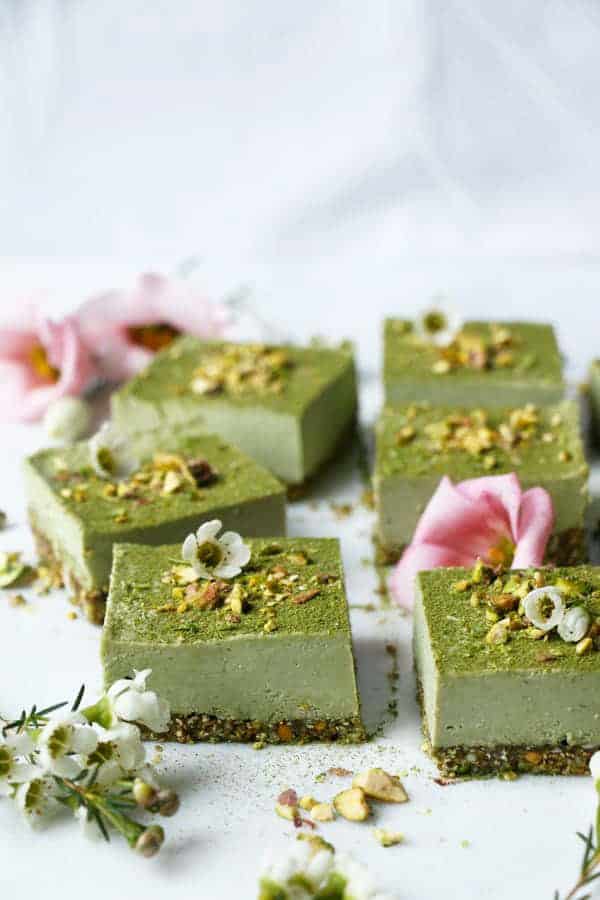 Pistachio Amaranth Moringa Bars by Nirvana Cakery are a little fusion between high protein superfood bars and raw dessert. These plant-based vibrant green bars are made with puffed amaranth, pistachios and pumpkin butter crust and a creamy moringa cashew layer.
22. Pistachio Ice Cream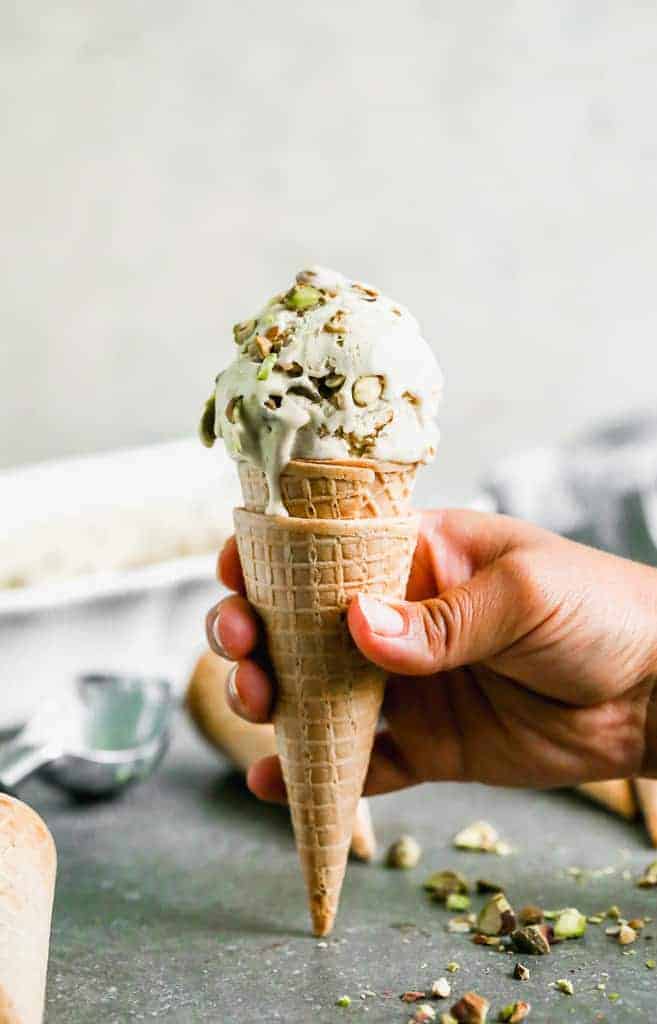 This luxurious creamy Pistachio Ice Cream by Tastes Better from Scratch has the perfect balance of sweet vanilla flavor and savory nuttiness from crushed pistachios. Must try recipe for pistachio lovers.
23. Raspberry, Pistachio & White Chocolate Roulade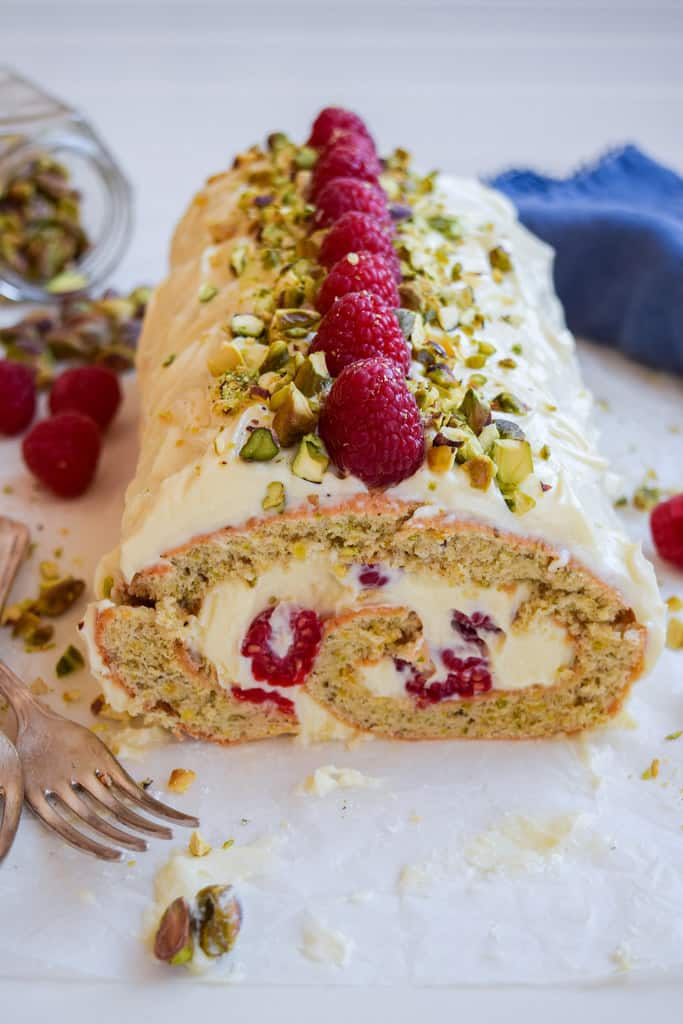 Have a go at baking this divine Raspberry, Pistachio & White Chocolate Roulade by Rachel Phipps. This delicious pistachio roulade is filled with white chocolate cream cheese and fresh raspberries and topped with more raspberries and crushed pistachios.
24. Matcha Pistachio Bliss Balls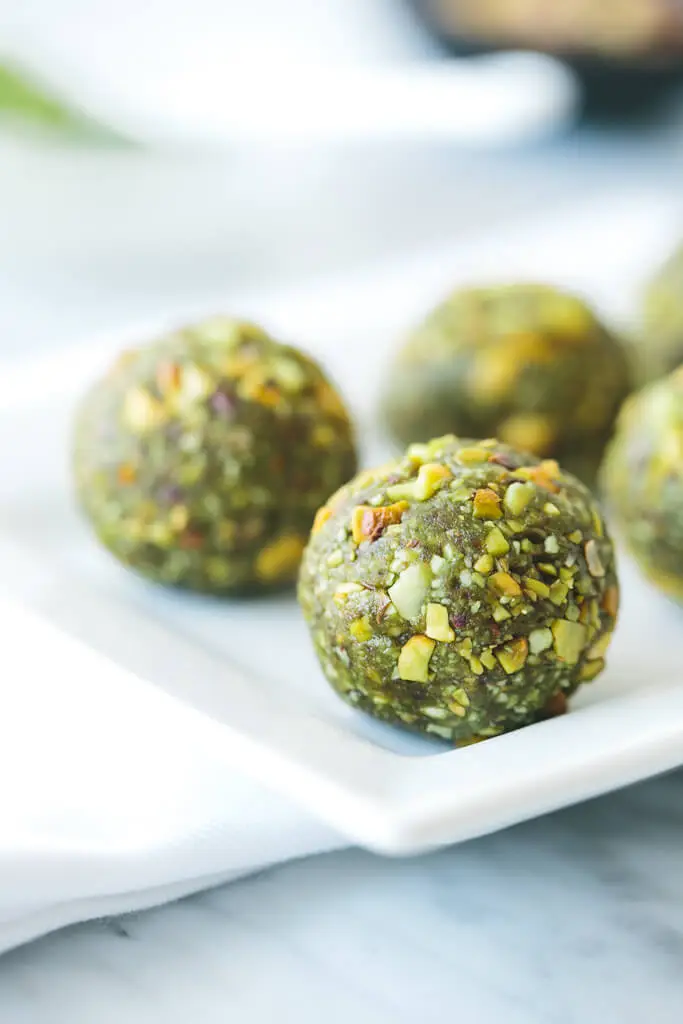 If you're health-conscious then these cute Matcha Pistachio Bliss Balls by Downshiftology are a healthy power-packed treat. Super simple to make and so moreish.
25. Pear Pistachio Frangipane Tart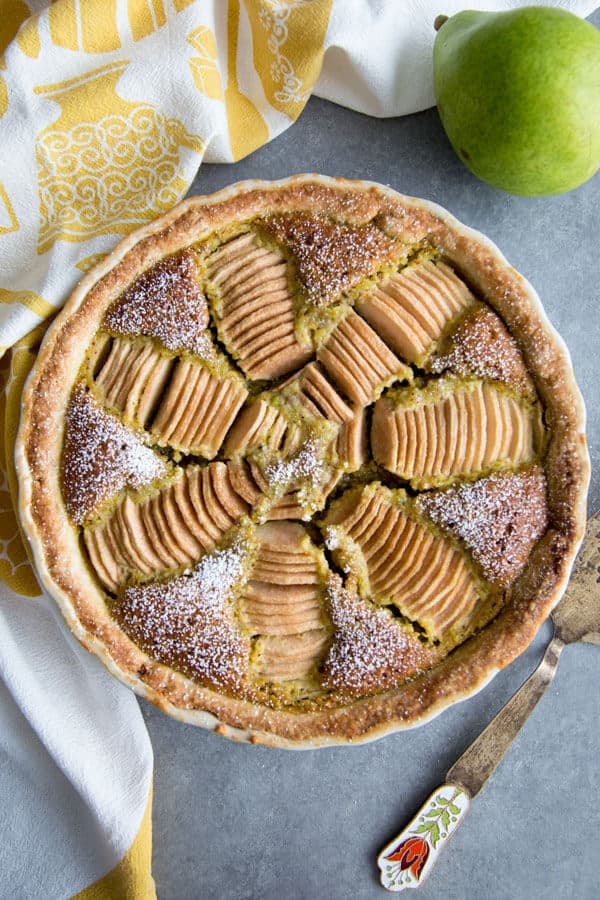 This Pear Pistachio Frangipane Tart by Wild Wild Whisk is one of the loveliest desserts to bake in the fall. This recipe features a buttery crust filled with orange zest flavored creamy pistachio frangipane filling and fresh pears.