Forever ago—we're talking like 10 years—I got on this kick to celebrate holidays that usually went unobserved in our family. One of the holidays we celebrated was Chinese New Year. Along with fortune cookies and not-so-authentic Chinese food, I made a batch of Chinese thumbprint cookies. They were a huge hit!
This time around I thought it would be fun to try Chinese almond cookies because I absolutely adore anything almond flavored. (Guard your bear claws, my friends.)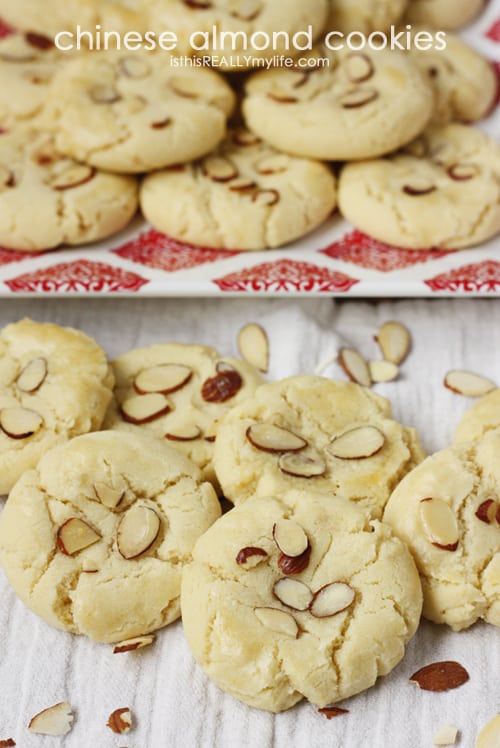 I love these Chinese almond cookies because they're chewy on the inside and slightly crunchy on the outside with just the right amount of almond flavor.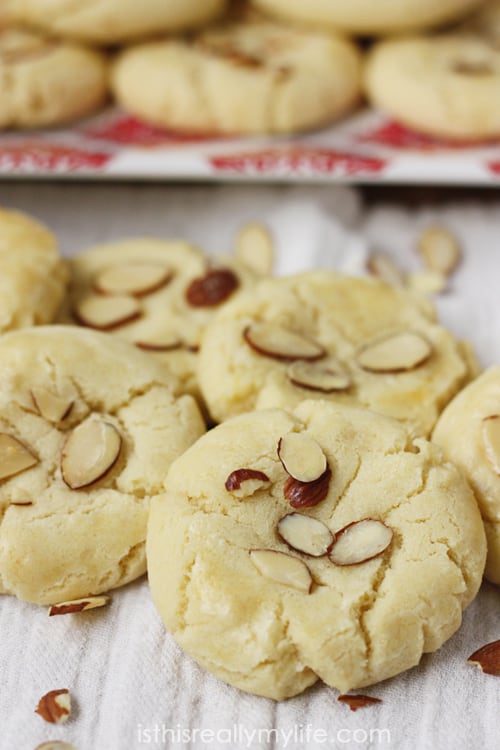 The recipe calls for 1-inch balls of cookie dough, which gives you about 5 dozen cookies. But I'm all about cutting my workload in half (and doubling the size of my cookies), so I went with my usual cookie dough scoop.
I ended up with about 2 ½ dozen cookies once baked but only 2 dozen when the kids got home from school. I'm not sure what happened...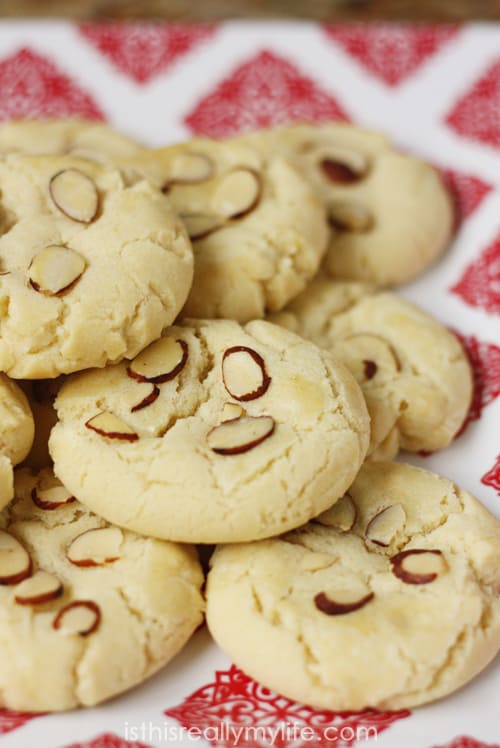 The entire family loved these cookies. And guess what? They taste yummy frozen. If you're lucky enough to have some left over, I suggest placing them in a Ziploc bag and hiding them in the very back of the freezer, bottom shelf.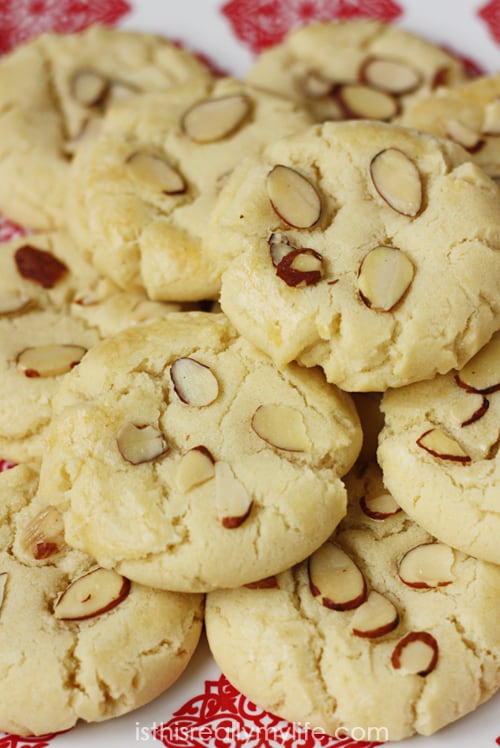 One thing to note about this recipe: It uses an egg white wash for that added sheen. I found the best way to apply it without removing the sliced almonds atop the cookies was to load up the pastry brush with wash and press down as you brush.
You'll lose a sliced almond or two but you can easily return it atop the cookie.
Printable recipe for Chinese almond cookies below.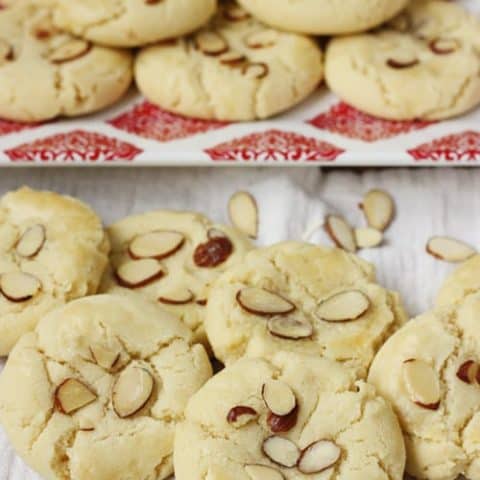 Chinese Almond Cookies
These Chinese almond cookies are a fun way to celebrate Chinese New Year. For smaller cookies, roll into 1-inch balls. You'll yield about twice as many cookies.
Ingredients
1 cup unsalted butter, softened
1 cup sugar
1 egg
1 teaspoon real almond extract
3 cups all-purpose flour
1 teaspoon baking soda
½ teaspoon salt
Sliced almonds
1 egg white
½ teaspoon water
Instructions
Preheat oven to 325 degrees.
Beat egg white and water in a small bowl; set aside.
Cream butter and sugar in a large bowl until light and fluffy. Beat in egg and almond extract.
Combine flour, baking soda and salt in a separate bowl. Add to creamed mixture and beat until thoroughly combined.
Take a tablespoon of dough and roll into a ball. Place 2 inches apart on ungreased baking sheets. Gently flatten with the bottom of a drinking glass.
Sprinkle each cookie with almond, gently pressing almond into dough. Gently brush egg white mixture over cookies.
Bake 14 to 16 minutes or until edges and bottoms are lightly browned. Cool for 2 minutes before removing to wire racks to cool completely.
Nutrition Information:
Yield:

32
Serving Size:

1
Amount Per Serving:
Calories:

138
Total Fat:

7g
Saturated Fat:

4g
Trans Fat:

0g
Unsaturated Fat:

3g
Cholesterol:

21mg
Sodium:

81mg
Carbohydrates:

16g
Fiber:

1g
Sugar:

6g
Protein:

2g