I tried this recipe for Mrs. Field's snickerdoodles at a cookie exchange during the holidays. They were perfect—thick, chewy and cinnamon sugary. I brought the snickerdoodle recipe home and didn't wait long before whipping up a batch in the kitchen.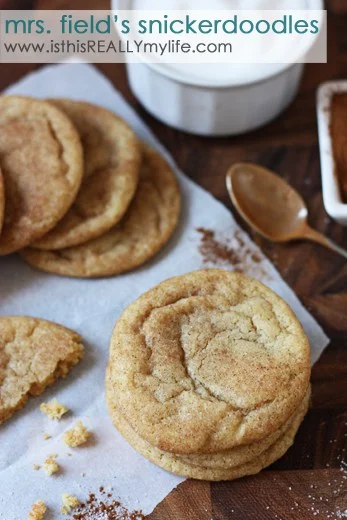 Much to my chagrin, I could not get them to bake as well as the cookie exchange version. Oh, they tasted fabulous...but they were as flat as the Utah winter is long (i.e., they were doormats). I played around with the oven temperature a bit and baking time and that seemed to help.
Fortunately, if you double the recipe you get the cookies (nearly) perfect by the third dozen.
And who doesn't double a recipe for Mrs. Field's snickerdoodles?
I still think this recipe is missing some magical Mrs. Field's ingredient...purposely left out by my friend from the cookie exchange and everyone else who's posted these Mrs. Field's snickerdoodles. It's totally not my baking ability because cookies and me are like this.
Imagine me crossing all my fingers at once.
Below you'll find a printable recipe for Mrs. Field's snickerdoodles. I'll be posting another snickerdoodle recipe in a few weeks after a bit more tweaking. I think Mrs. Field's is on to something with that brown sugar but I'm not sold on the low oven temp and baking time.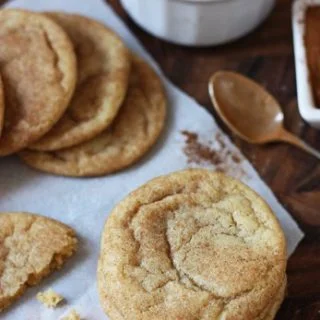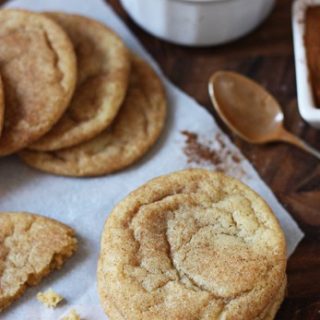 Mrs. Field's Snickerdoodles
The classic Mrs. Field's snickerdoodles recipe. I found an oven temp of 300 degrees to be way too low. The cookies turned out super flat at this temp, so I increased the temperature to 350 and decreased the cooking time by 2 to 4 minutes.
Ingredients
½ cup butter, softened
½ cup granulated sugar
⅓ cup brown sugar
1 egg
½ teaspoon vanilla
1 ½ cups flour
¼ teaspoon salt
½ teaspoon baking soda
¼ teaspoon cream of tartar
2 tablespoons granulated sugar
1 teaspoon cinnamon
Instructions
Preheat oven to 300 degrees.
In a large bowl cream together butter, ½ cup granulated sugar and brown sugar with an electric mixer on high speed. Add egg and vanilla and beat until smooth.
In a separate bowl combine flour, salt, baking soda, and cream of tartar.
Pour dry ingredients into wet ingredients and mix well.
Chill dough for 30 to 60 minutes in the refrigerator.
While dough chills, combine 2 T granulated sugar and 1 teaspoon cinnamon in a small bowl.
Take about 2 T of the dough and roll it into a ball. Roll dough in cinnamon sugar mixture and press it onto an ungreased cookie sheet. Repeat for remaining cookies.
Bake for 12 to 14 minutes and no more. Cookies may seem undercooked but will continue to bake after they are removed from the oven.
Let cool on cookie sheet for 2 to 3 minutes; remove to a wire rack to cool completely.
Store leftover cookies in an airtight container.
Nutrition Information:
Yield:

24
Serving Size:

1
Amount Per Serving:
Calories:

96
Total Fat:

4g
Saturated Fat:

3g
Trans Fat:

0g
Unsaturated Fat:

1g
Cholesterol:

18mg
Sodium:

85mg
Carbohydrates:

14g
Fiber:

0g
Sugar:

8g
Protein:

1g