Lobster tails aren't solely for fancy restaurants. Bring an upper-class feel into your home by learning how long to broil them.
Like other seafood, lobster tails cook rapidly, requiring a watchful eye to avoid that meal-ruining rubberiness. Depending on the thickness of the tails, they'll require broiling on high heat for seven to ten minutes, approximately four to six inches away from the heating element.
You'll know they're ready when the meat changes from opaque to white. But always be safe and check the temperature with an instant-read thermometer; a reading of 145°F is perfect.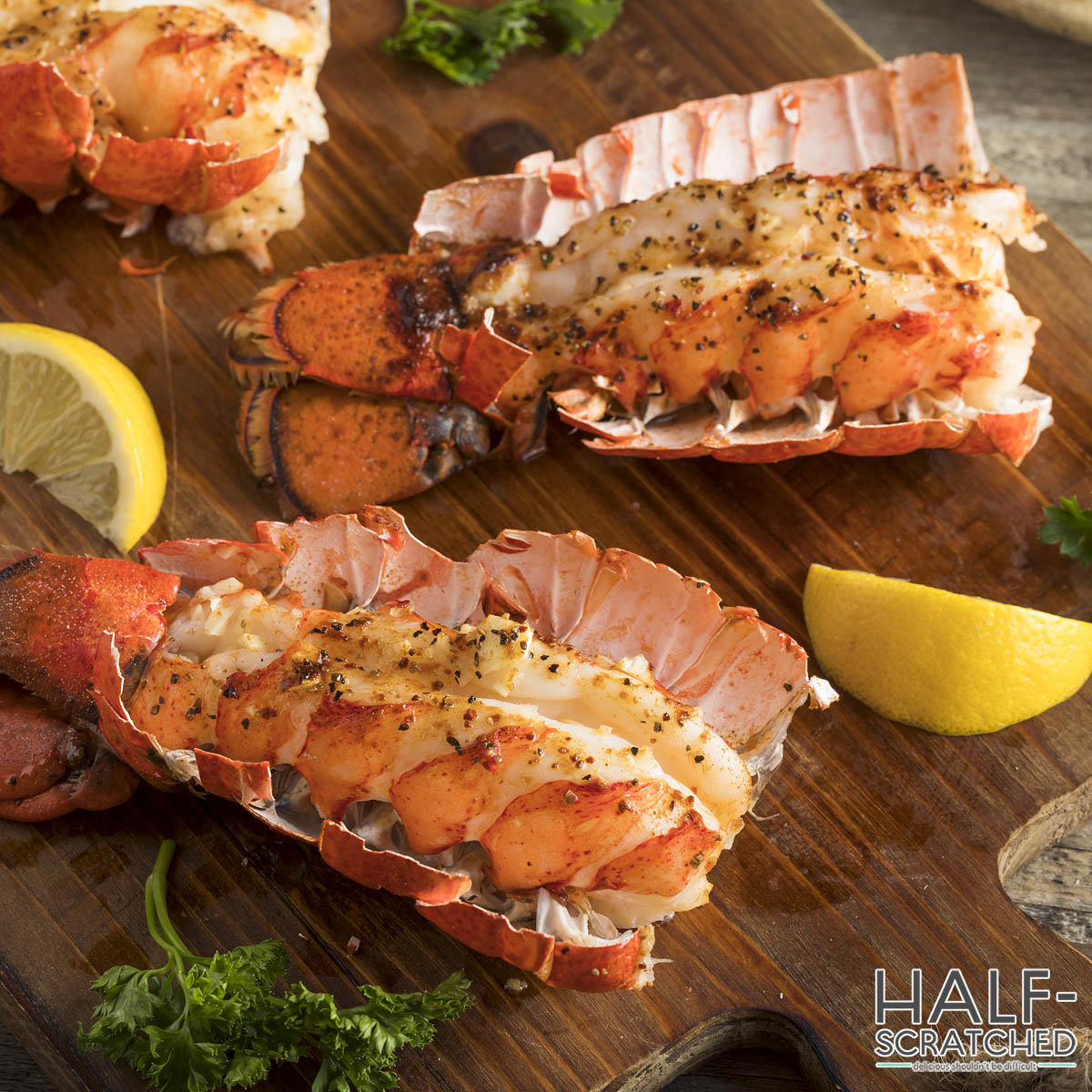 Unlike red meat or poultry, lobster tails require a bit more preparation before they're ready to cook. As you'll see from the following sections, it isn't quite as simple as removing it from the packet.
How to Defrost Frozen Lobster Tails
Unless you are lucky enough to live by the coast, you are probably going to be working with frozen lobster tails. While restaurant chefs will undoubtedly recommend using fresh seafood, that may not be an option, so don't be afraid of frozen.
That said, you need to make sure they're completely thawed before starting the broiling process to avoid uneven cooking. But busy, fast-paced lives don't allow much time to wait for them to thaw naturally. Thus, we'll share how you can accelerate the process.
Fill a bowl with cold water and place the frozen lobster tails in it until they're 100% thawed. This should take around half an hour.
We know it's tempting to use hot water or the microwave, but this is bad practice and might ruin your delicate seafood.
How to Prepare Lobster Tails for Broiling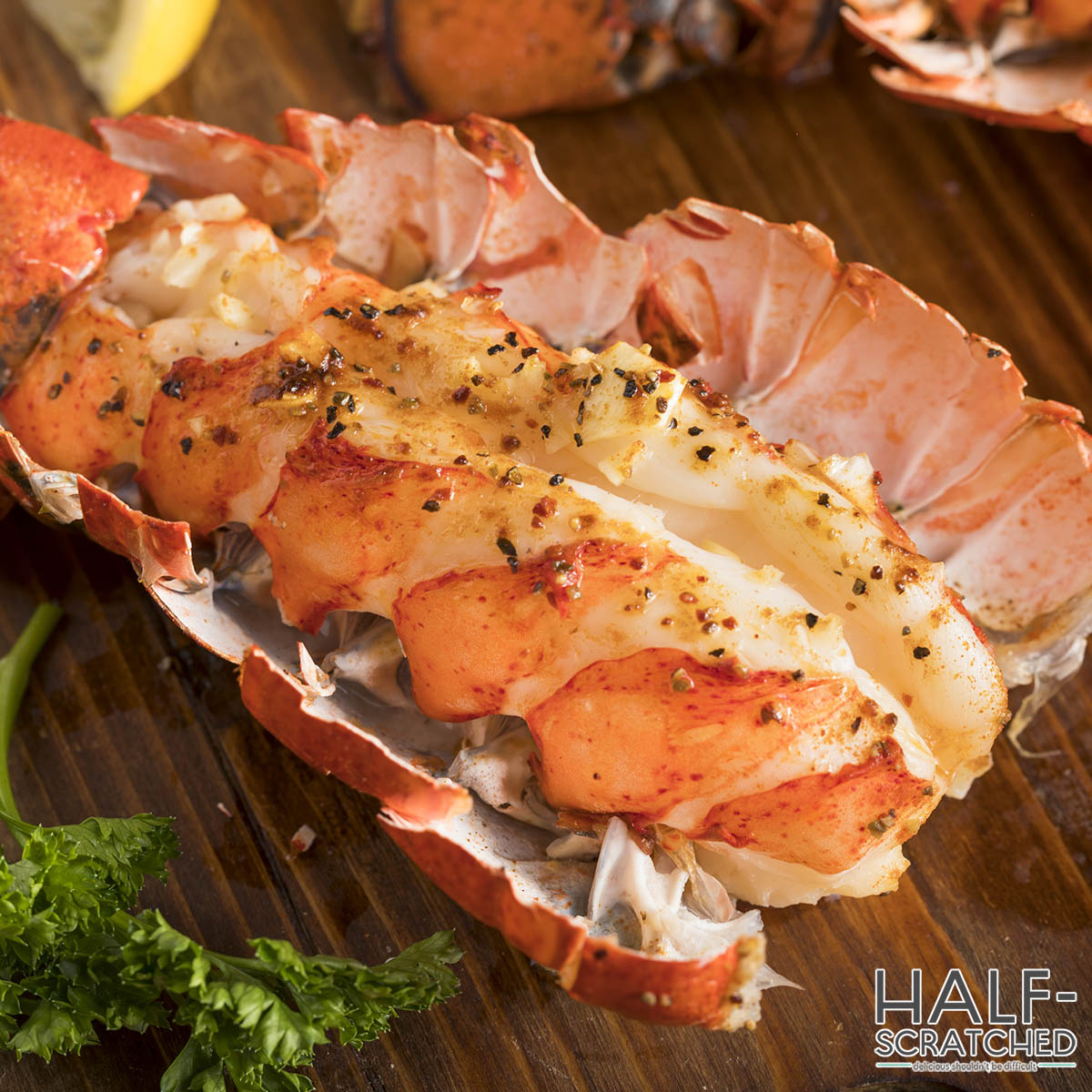 Once the lobster tails are defrosted, you need to expose the meat so it's ready for broiling. If you haven't tackled this task before, the concept can seem daunting. However, it isn't as challenging as you might believe. In fact, there are just three steps.
Grab a pair of sharp kitchen scissors and cut straight through the middle of the shell. Snip until you reach the fins on the bottom.
As you're cutting the shell, be careful that's all you're slicing; you don't want to pierce the meat.
When you get to the fins, use your fingers to pull the shell from the meat, leaving it exposed inside the shell.
See? Not as hard as you thought! If you prefer a video, you can watch here how to prepare lobster tails.
How to Butterfly Lobster Tails for Gorgeous Plating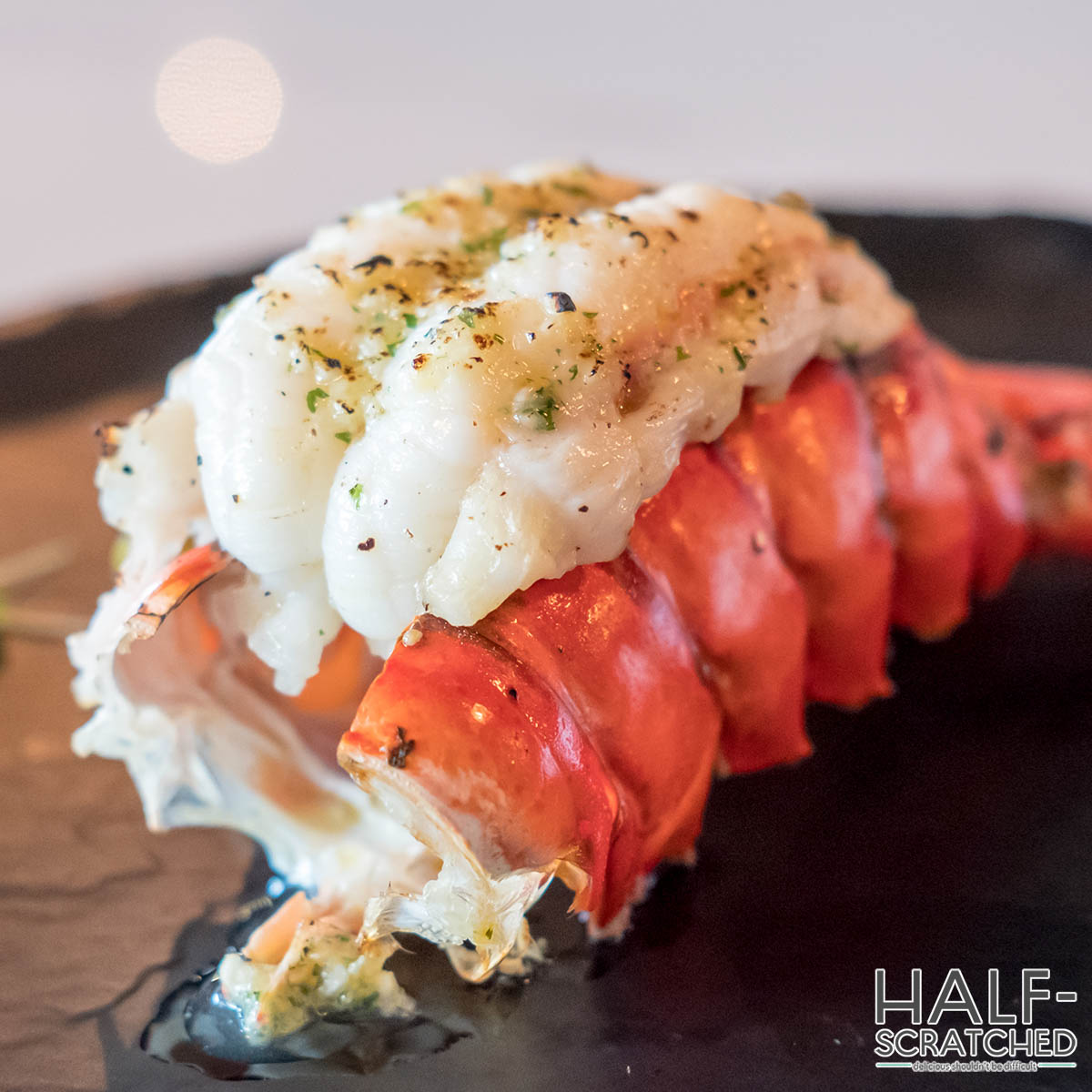 Consider this a very optional step — your lobster tails are ready for broiling after the above preparation. However, some recipes will call for butterflying the tails.
Ultimately, it's your choice whether you decide to do it. Although, the positive reception you're bound to get from mastering the butterfly is phenomenal.
Starting from where we left off in the previous section, follow these steps to butterfly the lobster tails:
Hold the meat with your fingers and gently pull it up. The meat should separate from the tail.
Don't pull too hard. You want to make sure the end of the tail meat is still attached to the base.
While holding the meat away from the shell, use your other hand to close the shell underneath.
Lower the meat, placing it on the shell.
You've successfully butterflied a lobster tail!
If you prefer a video, watch here how to butterfly a lobster tail.
Top Tips for Broiling Lobster Tails to Perfection
With defrosting, preparing, and presenting down to a T, you're nearly ready to broil your lobster tails for seven to ten minutes, depending on your oven and the thickness of the meat. But to make sure all your prep isn't for nothing, follow these expert tips to experience the Michelin-star-worthy tails at home.
Preheating Your Oven is Key
You don't want uneven cooking. You also don't want inefficient broiling. Therefore, you need to make sure you preheat your oven on high before putting the lobster in.
Being too hasty is a recipe for disaster with any seafood, including lobster. So, be patient and wait for the heating element to get nice and hot.
Always Season Your Lobster Tails
Lobster has a unique flavor already. But that doesn't mean you should forgo the seasoning. Instead, use spices that complement it.
All you need is salt with a touch of paprika and a pat of butter (about one tablespoon) per lobster tail. It's perhaps one of the easiest proteins to season.
Don't Over Season
Try not to overdo the seasoning. While many people think it will add more flavor, lobster is delicious in its purest form. Therefore, overpowering it impairs the taste rather than enhances it. Stick to the salt, butter, and paprika we mentioned above for best results.
Maintain a Watchful Eye Throughout the Broiling Process
We mentioned this briefly early, but it's too important not to state it again — always watch your lobster as it broils. Its delicate nature means it's likely to burn without close observation throughout the process.
Staying nearby ensures you can take it out at the ideal moment (i.e., when the meat turns from opaque to white) and avoid overcooking.
Instant Read, Digital Thermometers Will, Change Your Lobster-Broiling Life
Using the color change to decide whether it's ready is great for those more experienced in the kitchen (and broiling lobster). If you're just learning the ropes, however, you need an instant-read digital thermometer.
Inserting it into the thickest part of the lobster tail will tell you the precise internal temperature, guaranteeing you're eating safe seafood when it reaches 145°F.
The Ultimate Broiled Lobster Tail Recipe for Beginners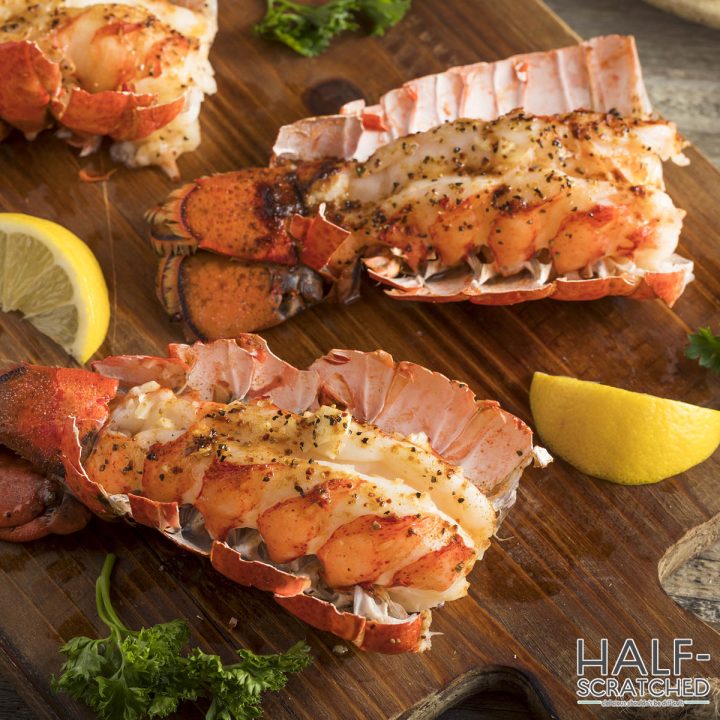 How Long to Broil Lobster Tails
Bring the restaurant experience to your home by learning precisely how long to broil lobster tails in the oven!
Ingredients
2 4-6 ounces lobster tails (thawed)
⅛ teaspoon salt
⅛ teaspoon paprika
⅛ teaspoon black pepper
2 tablespoons butter
½ lemon (cut into wedges)
Parsley (freshly cut, for garnish)
Instructions
Position your oven's top rack approximately four to six inches away from the heating element.
Preheat it on high to ensure efficient cooking.
Using scissors (the sharper, the better), cut along the center of the lobster tail. Be gentle; you want to cut the shell only, not the meat.
Keep snipping until you reach the tail fins.
Turn the tail over.
Using both thumbs, carefully break each rib, making it easier to tear the shell apart and expose the meat.
Put the tails in a cast iron pan or place them on a baking sheet lined with foil.
Season both tails with paprika, salt, and pepper.
Place one pat of butter (one tablespoon) on each tail.
Put the lobsters on the top rack of the oven.
Broil for seven to ten minutes until the meat turns white and is a nice brown color on top. You will need to keep watching the lobster — they can burn quickly in the intense heat! If you're worried about eyeballing the readiness, put a digital thermometer into the thickest part of the tail. If it reads 145°F (62.8°C), you're good to go.
Plate the lobster tails, garnishing with fresh parsley.
Serve with a lemon wedge, melted butter, and your favorite accompaniments.
Notes
If you are struggling to come up with side dishes, try these — maple glazed carrots, caramelized onion and potato gratin, calamari, clam chowder, potato salad, garlic roasted vegetable fries, garlic spinach, or grilled Caesar salad.
For a more substantial side, you should try serving lobster tails with steak. And yes, you can also broil that!
Nutrition Information:
Yield:

2
Serving Size:

1
Amount Per Serving:
Calories:

595
Total Fat:

18g
Saturated Fat:

8g
Trans Fat:

0g
Unsaturated Fat:

7g
Cholesterol:

337mg
Sodium:

992mg
Carbohydrates:

13g
Fiber:

1g
Sugar:

1g
Protein:

90g