Lobster is one of the most decadent dishes that can be served. Whether used as an entrée or a succulent addition to a classic surf and turf combination, it's a favorite for seafood lovers. The deliciousness of lobster tails baked at 400° Fahrenheit depends on the cooking time and preparation. But how long does it take to bake lobster at 400° Fahrenheit?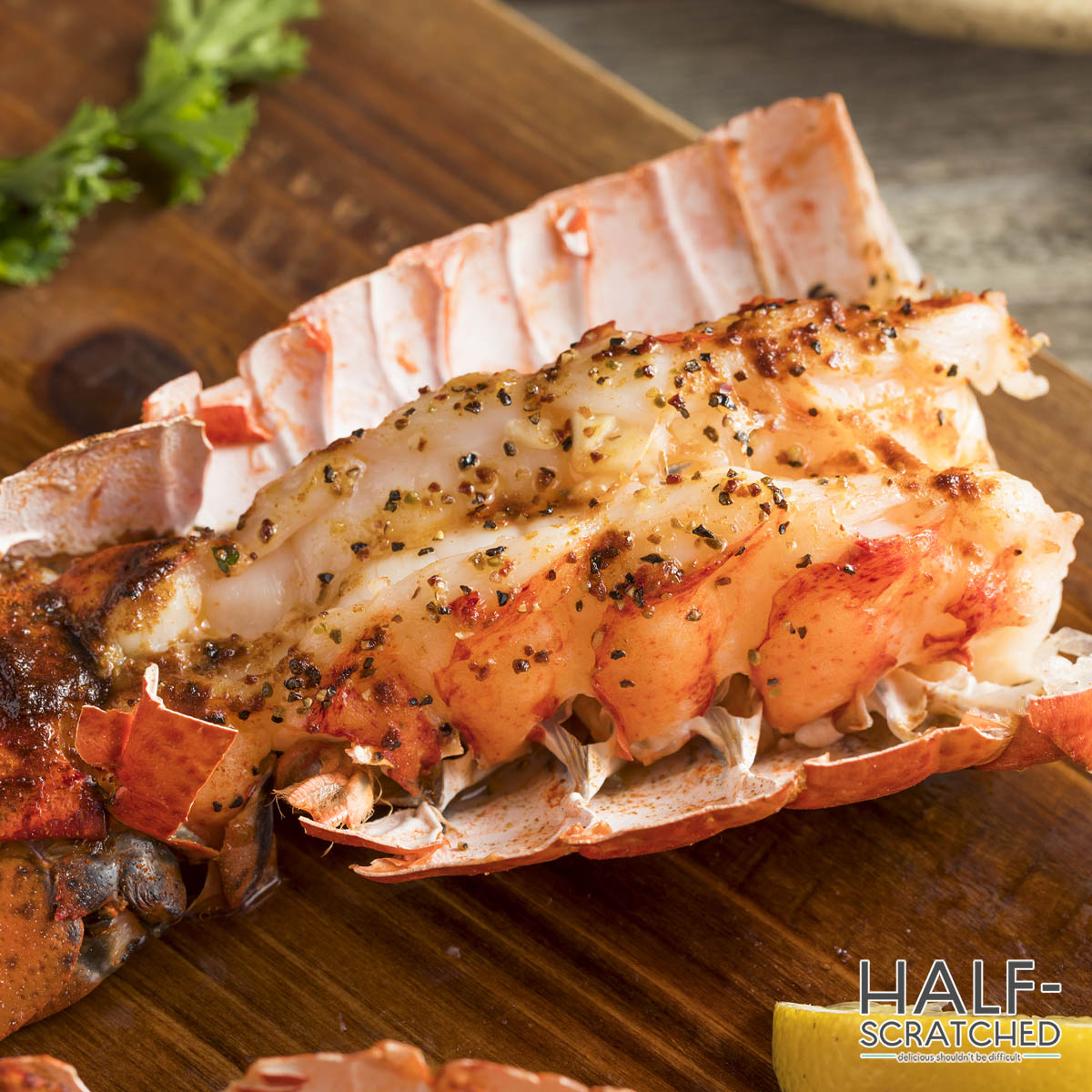 The exact baking time will vary depending on the size of the lobster tails and the number of tails that are being cooked. Generally, it should take between 12 and 15 minutes to bake them. This can change depending on whether or not the tails are wrapped in foil and the type of baking sheet they're cooked on.
The last thing you want is rubbery and overcooked lobster. Fortunately, we're here to help. This article will discuss how to bake lobster tails, factors that can affect the baking time, whether to use foil, and tips to create a perfectly delicious meal. With the right preparation, you can savor the succulent taste of lobster and enjoy a decadent dish with your family and friends.
Bake at 400° Fahrenheit to Sear the Flesh Without Sacrificing Moisture
Lobster, like most types of fish, is a delicate seafood that can easily become tough and rubbery if overcooked. When it is cooked for longer than recommended, the proteins within the lobster begin to break apart and harden, resulting in a dry and rubbery texture. Therefore, it's best to start at a high temperature, such as 400° Fahrenheit, to sear the flesh without sacrificing moisture.
Baking the lobster at a lower temperature simply takes too long, causing the meat to harden into an unpleasant texture. The high temperature also helps to create a golden-brown crust on the surface of the lobster, adding to the flavor and texture of the dish.
If you are unsure whether or not the lobster is cooked through, you can use a kitchen thermometer to check the internal temperature. The lobster should reach an internal temperature of 145° Fahrenheit before it is ready to be served.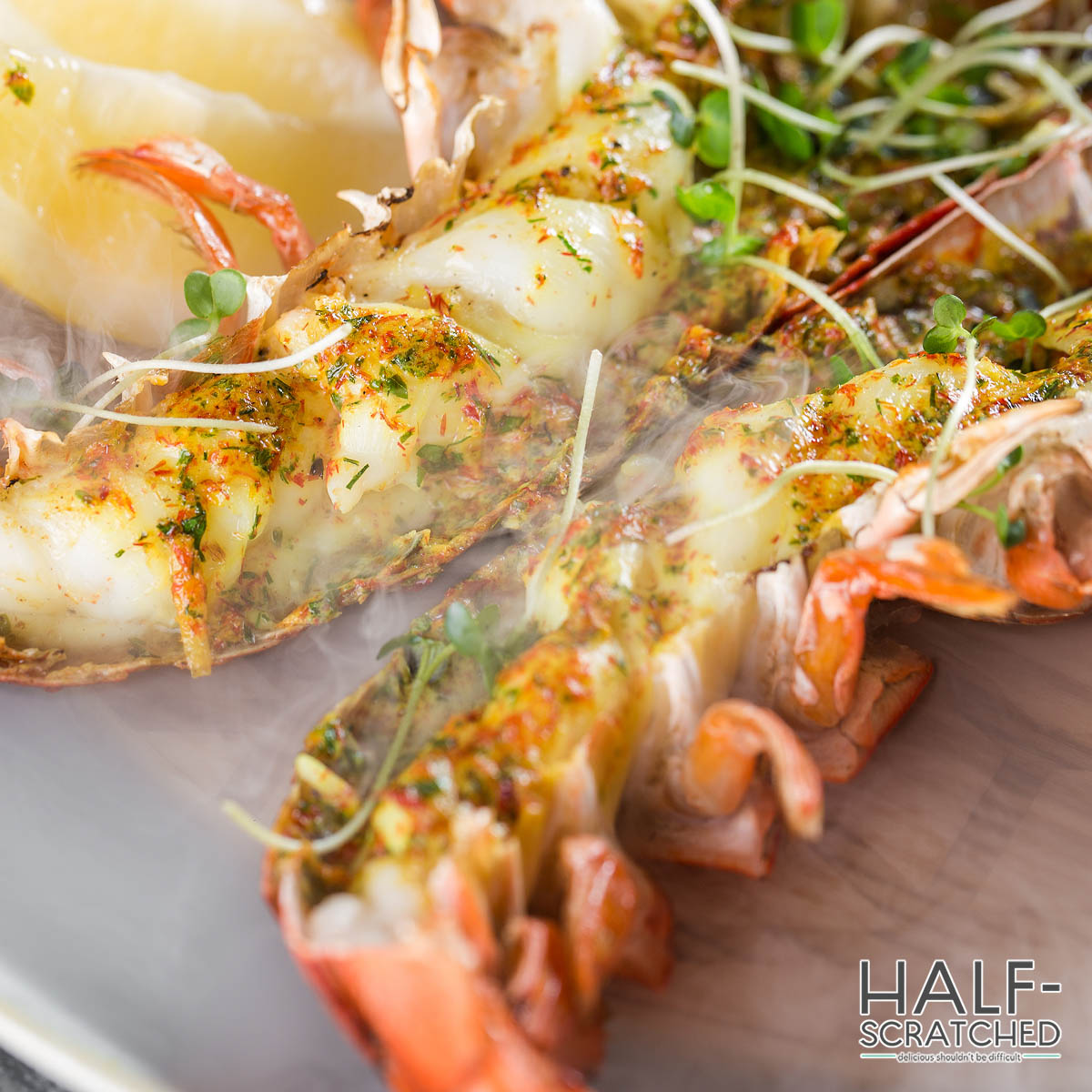 Wrap the Tails in Foil to Keep the Moisture Inside
Wrapping the lobster tails in foil will help to keep the moisture inside and guarantee that they don't become dry and rubbery. The foil prevents steam from escaping, which helps to keep the lobster tails moist and tender. You can then unwrap the tails in the last couple of minutes and expose them to the broiler to create a beautiful golden crust.
To wrap the tails in foil, simply place them on a large piece of aluminum foil and fold the edges together to form a sealed pouch. You can also add butter, herbs, and spices to the pouch for additional flavor. To ensure that the lobster is cooked evenly, make sure that the tails are evenly spaced and not overlapping. This will help them to cook evenly and keep them from sticking together.
Size and Number Will Affect the Baking Time
The size and number of lobster tails that you are baking will affect the baking time. Generally, it should take between 12 and 15 minutes to bake a single 4-ounce tail at 400° Fahrenheit. If you are baking multiple tails, you may have to increase the baking time to ensure that they're cooked through.
For example, if you are baking four 4-ounce tails, you may need to increase the baking time to 18 minutes. If you are baking multiple large tails (6-8 ounces), you may need to increase the baking time even further to a full 20 minutes. Just be sure to keep an eye on the meat to prevent it from overcooking.
Use the Right Baking Sheet
Although baking sheets may seem like a one-size-fits-all kitchen utensil, there are surprising differences between how certain materials conduct and transfer heat. For example, a baking sheet made of aluminum is a better conductor of heat than one made of stainless steel. This means that it will transfer heat more quickly, resulting in shorter baking times.
On the other hand, stone baking sheets take longer to heat up but they hold heat longer than metal sheets. For this reason, we don't recommend baking lobster tails on stone. Instead, stick to either an aluminum or Pyrex baking sheet.
It's important to note that the size of the baking sheet also matters. If you are baking multiple tails, be sure to use a large baking sheet that can accommodate them without overlapping. This will ensure that the lobster tails are cooked evenly and prevent them from sticking together.
Baking Lobster Tails from Frozen
Not everyone has the luxury of buying fresh lobster tails. If you are unable to source the tails from a fresh fishmonger, you may be forced to buy tails. The good news is that baking frozen lobster tails is just as easy as baking fresh ones. The only difference is that you'll need to increase the time to account for added moisture and the coldness of the frozen tails.
Generally, it should take about 20 minutes to bake a single frozen 4-ounce tail at 400° Fahrenheit. If you are baking multiple tails, you may need to increase the baking time to 25 minutes. It's also important to note that frozen lobster tails are usually pre-cooked, so you'll need to check the internal temperature of the meat before serving. The internal temperature should reach 145° Fahrenheit before the tails are ready to be served.
Bake in an Air Fry to Reduce the Cooking Time
If you are in a hurry to serve dinner, you can shave a few extra minutes off the baking time by using an air fryer. These nifty kitchen appliances circulate hot air through a smaller area, helping to distribute heat faster. Simply place the tails in the air fryer and let them cook for 4 to 6 minutes. They should come out perfectly.
Top Tips to Make Perfectly Delicious Baked Lobster Tails
There's more to making a delicious meal than getting the baking times right. In the following section, we'll introduce a handful of helpful tips to improve your seafood feast. Use these tips as you wish and don't be afraid to come up with your own.
Always Butterfly the Tails Before Baking
Unless you are planning to boil the lobster tails, it's always recommended to butterfly the tails by cutting them lengthwise down the center. If you don't cut through the shell, too much steam and pressure will build up within the tail, causing the meat to turn hard and rubbery. Additionally, opening up the tails will allow the meat to turn golden brown and delicious.
Baste the Tails Halfway Through Baking
Halfway through baking, baste the lobster tails with melted butter or oil. This will help to keep the meat moist and prevent it from drying out. Basting also adds an extra layer of flavor to the dish and helps the tails to brown more evenly.
Let Them Rest and Serve Immediately
Always let lobster tails rest for a couple of minutes before serving them. This will allow the meat to cool down and the flavors of the meat and butter sauce to meld together. You should also serve the lobster tails as soon as possible, as the meat can become dry and rubbery if left out for too long.
Serve With a Sauce
Lobster tails taste great on their own, but a sauce can take them to the next level. Serve the lobster tails with a classic lemon-butter sauce or a garlic-infused aioli. You can also top them with a creamy Hollandaise sauce or a spicy salsa for added flavor.
Don't Fear the Broiler
If you want to add a bit of crunch and color to the lobster tails, you can finish them off in the broiler. Just be sure to keep an eye on them as they can burn quickly. We recommend setting your broiler to the low setting and keeping the tails at least 6 inches from the heat source.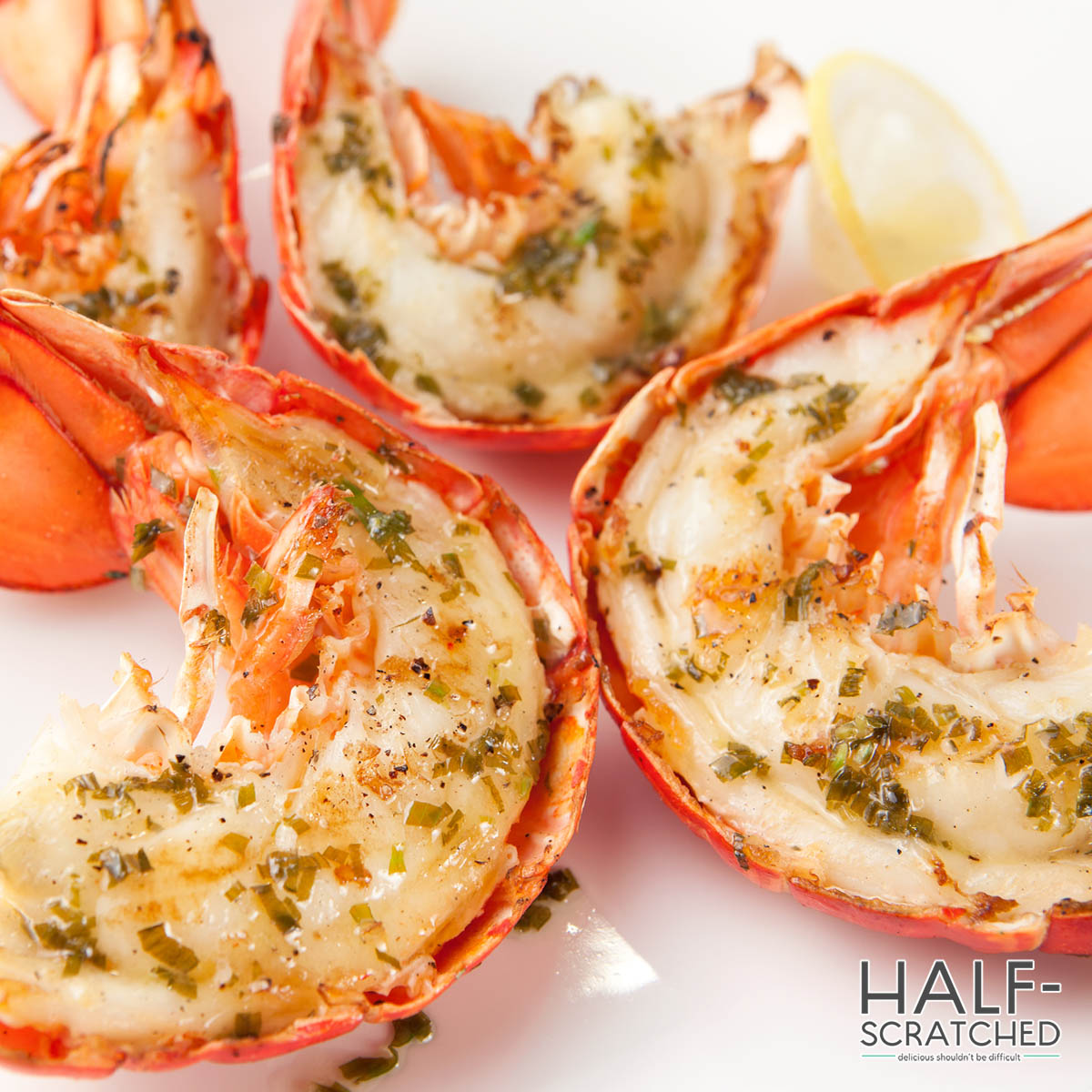 Frequently Asked Questions About Lobster Tails
Can you reheat leftover lobster without it going rubbery?
Yes, you can reheat lobster without it going rubbery. The best way to do this is to heat it in a skillet over medium-low heat with a bit of butter or oil. You can also heat it in the oven at a low temperature (250° Fahrenheit). Be sure to keep an eye on the lobster, as it can easily overcook if left unattended.
What is the best way to store cooked lobster?
The best way to store cooked lobster is to wrap it in plastic wrap or aluminum foil and place it in an airtight container. This will help to keep the lobster fresh for up to 4 days in the refrigerator.
Is lobster healthy?
Yes, lobster is a healthy food choice. It is high in protein and contains essential vitamins and minerals, such as vitamin B12, phosphorus, and selenium. It is slightly higher in cholesterol than other types of meat, though, so be conscious of this if you are on a heart-healthy diet.
Baked Lobster Tails – A Simple Recipe to Remember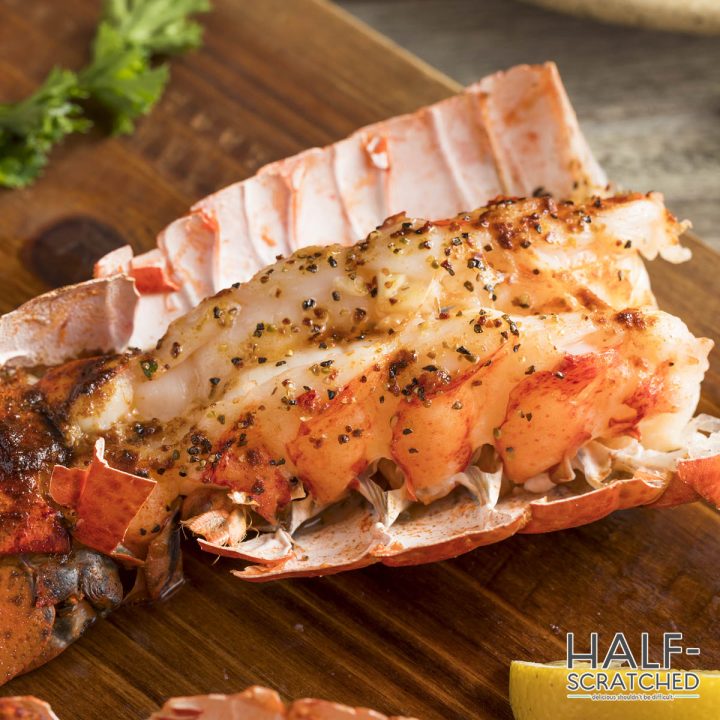 How Long to Bake Lobster Tails at 400 F
Learn how to bake perfect lobster tails at 400° Fahrenheit and get top tips to make a delicious seafood feast.
Ingredients
4 lobster tails, 4 ounces each
2 tablespoons melted butter
2 cloves garlic, minced
1 teaspoon dried oregano
Salt and pepper, to taste
Instructions
Preheat the oven to 400° Fahrenheit and line a baking sheet with aluminum foil.
Butterfly the lobster tails by cutting them lengthwise down the center.
Wrap the lobster tails in foil by tucking the edges upward to create a small pouch.
Place the tails on the baking sheet and season with salt and pepper before sealing the pouches.
In a small bowl, mix together the melted butter, garlic, and oregano.
Let the lobster tails bake for 10 minutes before removing them from the oven. Turn the broiler on Low.
Carefully open the foil pouches and brush the butter mixture onto the lobster tails. Place them under the broiler and let the meat sear for 2 to 5 minutes.
Let the lobster tails rest for a few minutes before serving. Enjoy!
Nutrition Information:
Yield:

2
Serving Size:

1
Amount Per Serving:
Calories:

433
Total Fat:

16g
Saturated Fat:

8g
Trans Fat:

0g
Unsaturated Fat:

6g
Cholesterol:

235mg
Sodium:

754mg
Carbohydrates:

9g
Fiber:

0g
Sugar:

0g
Protein:

60g