While many people may argue that meatballs originated in Italy or Sweden, the true origin is unknown. This doesn't take away from the fact that meatballs are delicious, especially when baked and eaten with a carb.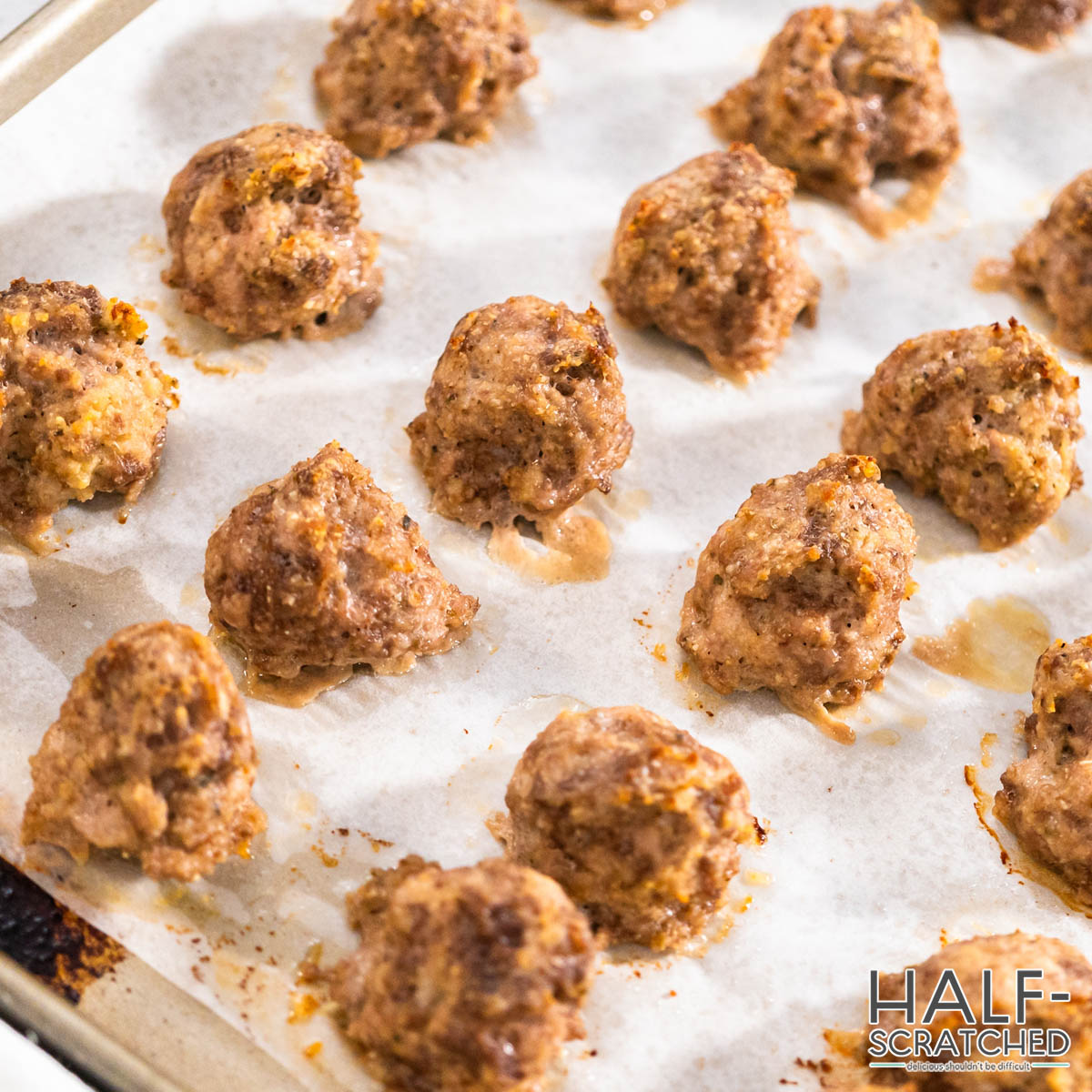 Meatballs are usually baked, and it's very easy to do. Just pop them in the oven at 375 degrees Fahrenheit for 30 to 35 minutes.
This guide will walk you through some tips and tricks for baking meatballs, such as different ways to bake meatballs, the best kind of meat for meatballs, and a delicious baked meatball dish. Read on!
Ideal Temperature to Bake Meatballs
The perfect temperature to bake meatballs will vary depending on what kind of meat you're using and how big the meatball is. Usually, the temperature will range from 350 degrees to 400 degrees Fahrenheit, but 375 degrees tends to be the most commonly used.
Similar to other meats, it's important to have a meat thermometer on hand because the internal temperature of done meatballs should be at least 165 degrees Fahrenheit.
How Big Should My Meatballs Be?
Meatballs can be any size you want but know that the bigger and thicker they are, the longer they will take to bake. Always check the internal temperature to make sure that they are at least 165 degrees Fahrenheit.
The standard size for meatballs is about a golf ball. If you're going to use meatballs in a soup, they should be smaller.
The Best Kind of Meat to Use for Meatballs
The main ingredient in meatballs is… meat! However, the great thing about meatballs is that you can try out many different varieties.
One thing to note is that any meat you use should always be ground. This means that the meat is chopped up by a meat grinder or by hand. Ground meat can be made from any part of the animal, but the meat from the rear end or hind legs tends to be the best because it's the toughest and won't ever be tender enough for steaks.
Beef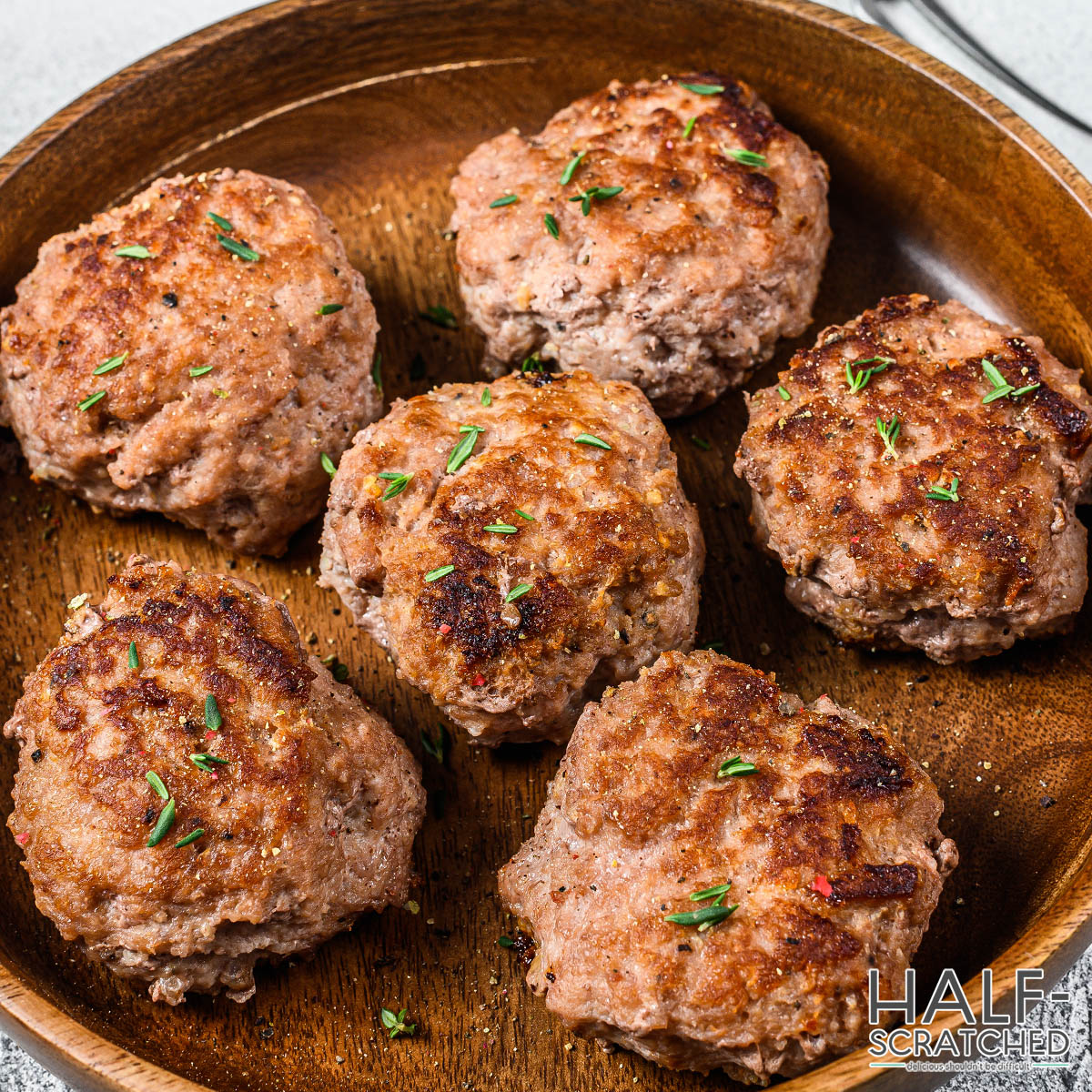 Beef is the most commonly used for meatballs because it's the fattiest. Therefore it creates some of the juiciest and most flavorful meatballs.
Pork
Pork is also a popular meat to use for meatballs because it tends to have a nice meaty flavor. However, it's more common for ground pork meat to be mixed with ground beef rather than having a pure pork meatball. The reasoning behind this is that beef is still richer than pork, so using only ground pork wouldn't create as moist of a meatball.
Chicken
Chicken can also be used for meatballs, but be warned: they will likely need more fat or flavoring added. Poultry is leaner than beef and pork, so the meatball tends to be less flavorful and has a tendency to dry out faster since there's less fat.
"Exotic" Meats
Nowadays, there are a lot of different meats available for purchase, and luckily they come in ground form! This includes:
Bison
Goat
Sheep
Elk
Deer
Ostrich
Turkey
Game birds like quail, fowl, and pheasants
Fish
Fish meatballs have recently become more popular because of the omega-3s that fish provide. While ground fish does exist, it doesn't hold its shape as well as beef, pork, or chicken, so making fish meatballs will require more ingredients to "bond" it together, such as bread crumbs and sauces (mustard, cream).
Making Meatballs for Food Allergies
It's obvious that meatballs contain meat, but it's also common for them to contain gluten or eggs. Here are some tips for how to make meatballs when you or others you know have food allergies.
Gluten-Free
A lot of meatballs will use bread crumbs as a way to keep them from drying out. As the meat is cooking, bread crumbs will absorb the juices, keeping them within the meatball. Unfortunately, those with gluten allergies won't be able to eat them.
The easiest way to remedy this is to buy gluten-free bread crumbs or gluten-free crackers. This way, you know that there's no risk of gluten being present. Bread crumbs are also not necessary for meatballs, and you can even make them without them. Just be sure to make up for potential dryness by baking in more sauce or oil.
Egg-Free
Eggs are often used in meatball recipes as a way to "hold" the ingredients together. Some people may have egg allergies, but luckily there are a lot of egg substitute options to choose from. They're not vegan-friendly, but they will help hold everything together.
Some popular food items that can replace eggs in meatballs include plain yogurt, buttermilk, unsweetened applesauce, or ricotta cheese.
Vegetarian or Vegan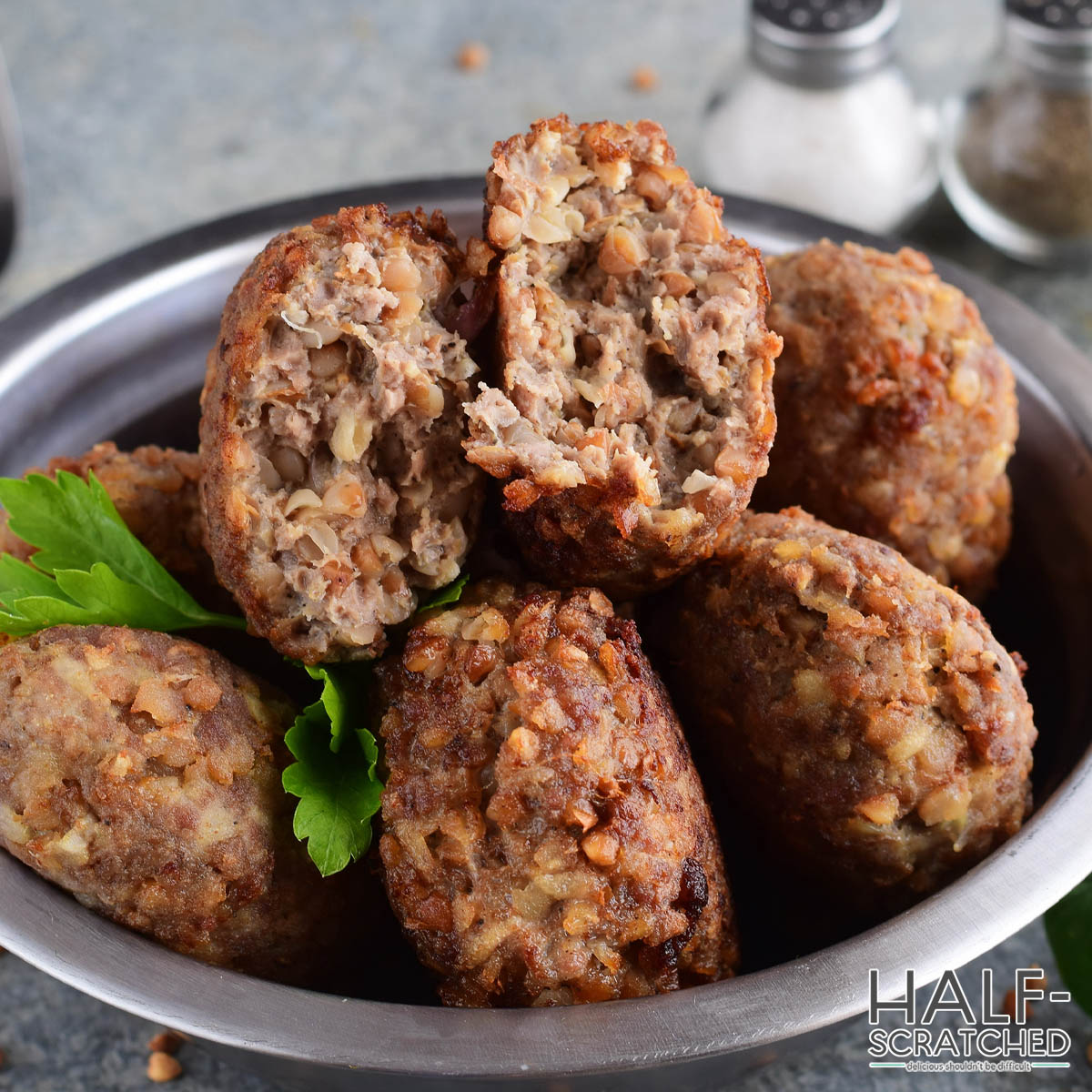 According to a Gallup poll, about five percent of Americans consider themselves vegetarian, although more and more people are cutting meat out of their diets due to environmental reasons.
Meatballs might seem like the last kind of food that would appeal to vegetarians and vegans, but it's actually very easy to create a veggie-friendly meatball thanks to the influx of plant-based "meats" that have hit the markets. In addition, there are a lot of egg and dairy substitutions that you can use if you're vegan.
Tips for Baking Delicious Meatballs
Baked meatballs is an easy way to create a delicious dish, even if you're a novice chef. Here are some general tips to think about before starting to bake meatballs:
Choose High-Fat Content
Meatballs are better with higher fat content in the meat, so try to choose ground meat that's 70/30. If your meat is leaner, such as chicken, you can add more fat by baking it in oil or butter. This will make the meatballs more tender overall.
Keep Things Cold
When gathering all the ingredients to make meatballs, keep things in the refrigerator so they remain cold. You don't want the fat to break down in the meat, so it's especially important to keep that chilled.
Form the Meatballs Gently
If meatballs are formed too tightly, they can end up being tough and chewy. Form the spheres gently, which can be made easier by using an ice cream scooper.
Oil Your Hands
If you roll meatballs with dry hands, the meat will stick to them. Lightly oil your hands so the meat will easily come off.
How to Reheat Baked Meatballs
If you're reheating meatballs without sauce, the best way to do so is to preheat the oven to 300 degrees Fahrenheit and bake them for about 15 minutes. It would also behoove you to put foil on top to prevent them from drying out.
If you're reheating meatballs with sauce, you should do so on the stovetop. Pour some of the sauce into a pot with the meatballs and let it slowly heat up and start to simmer. Leave it for about ten minutes.
Will Baked Meatballs Last in the Fridge?
The USDA states that baked meat of any kind should be kept in a fridge at 40 degrees Fahrenheit or less, and eaten within three to four days. If you want your baked meatballs to last, put it in the freezer, where it can last for up to four months.
Best Ways to Eat Baked Meatballs
Baked meatballs are a versatile food, and even though most people will only think about them in the context of spaghetti or pasta, there are other exciting ways to eat baked meatballs too.
With Pasta
The most well-known way that meatballs are eaten is with pasta, specifically spaghetti. The Italians supposedly brought the idea of spaghetti and meatballs with them when many immigrated to the United States.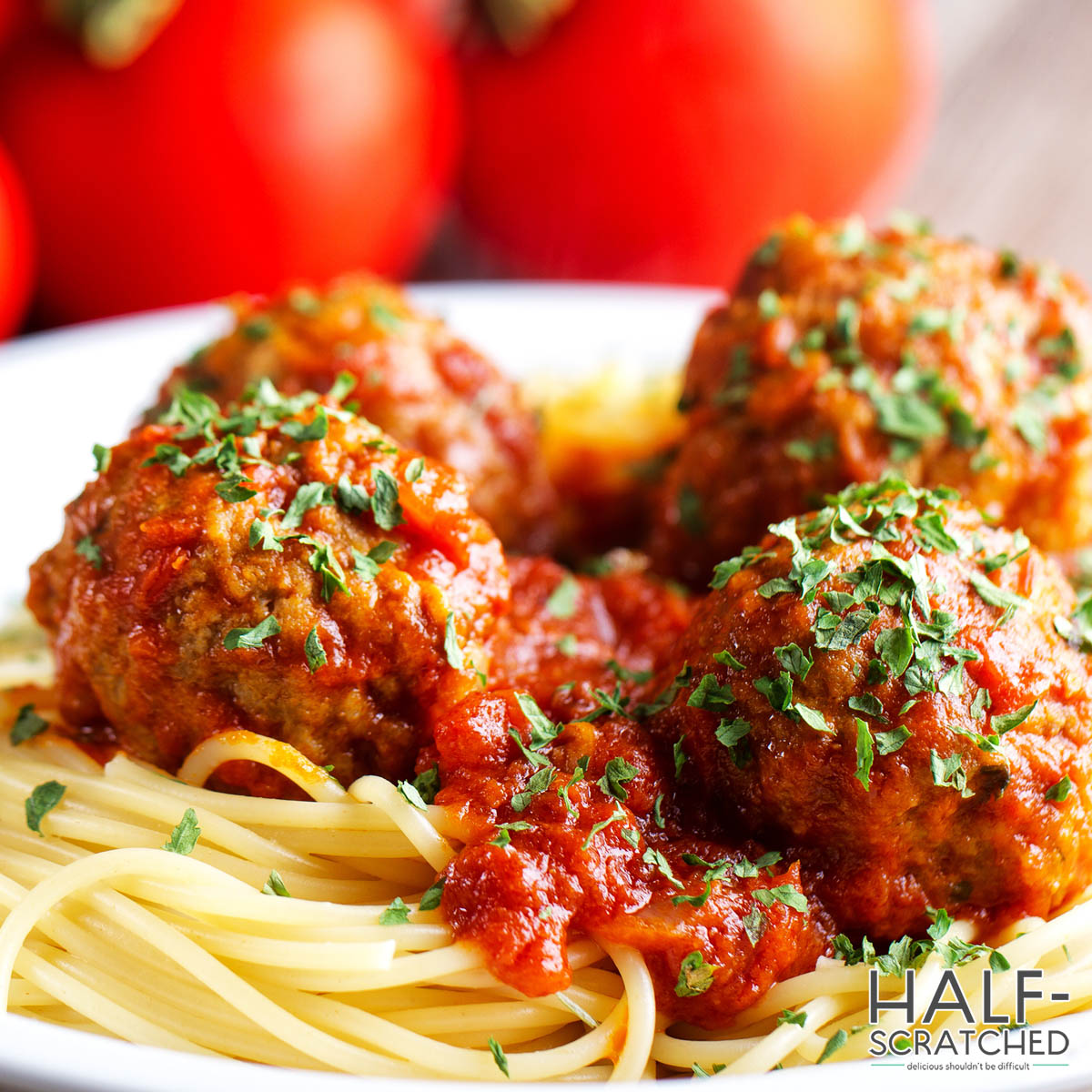 In a Sandwich
Another Italian American invention is the meatball sandwich, which is usually meatballs sandwiched in a roll and topped with red sauce and cheese. It's basically like spaghetti and meatballs, except instead of pasta, there's bread.
In Soup
A lot of Asian cultures will have meatballs in soups, sometimes wrapped in the skin (e.g., a wonton) or by itself. The Vietnamese have a soup called pho that has meatballs in it made from beef and has sesame oil and fish sauce.
By Itself
If you've ever been to IKEA, you might have tried their meatballs. They're not with pasta or drenched in sauce; instead, they're by themselves. You're supposed to eat them with lingonberry sauce, although they are quite tasty on their own too.
Spices and Toppings for Baked Meatballs
While baked meatballs can be delicious when paired with a carb like pasta, there are some spices and toppings that can elevate the meatball itself:
Cheese: There's nothing better than a nice juicy meatball topped with cheese and some people even bake cheese into the meatball. There are also a lot of varieties of cheese, which can complement the flavors of the meatball.
Chili powder or flakes: This adds a kick of spice to the meatball, which can be unexpected but also a delicious surprise.
Ethnic spices: Meatballs are often thought of as Italian so Italian seasoning is commonly added; however, you can mix up the flavoring by adding a spice or sauce from another country, such as an Asian spice like curry or an African spice like paprika.
Garden herbs: Herbs like rosemary or sage are easy to grow in your own garden, but they can make meatballs very flavorful and tasty.
Delicious Oven Baked Meatballs Recipe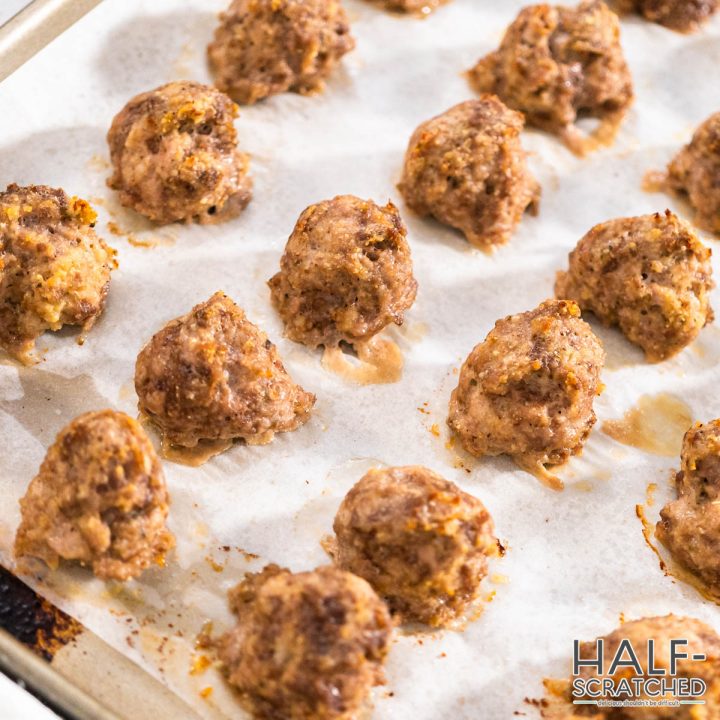 How Long to Bake Meatballs at 375 F
Meatballs are one of America's favorite foods, and with these tips and tricks, you'll be making the perfect meatballs in no time!
Ingredients
1½ pounds ground meat (beef is popular)
¼ cup bread crumbs
1 egg
½ teaspoon garlic powder
1 teaspoon onion powder
½ teaspoon dried basil
1 teaspoon salt
½ teaspoon ground black pepper 
Instructions
Preheat oven to 375 degrees Fahrenheit and line a baking sheet with parchment paper.
Combine all the above ingredients in a bowl and mix thoroughly using your hands. You can also use a wooden spoon, but hands is the easiest.
Take a spoonful of the mixture and roll it into a sphere shape. Continue doing this until you have no more meat.
Place the meatballs on a prepared baking sheet, about one inch apart.
Sprinkle pepper and salt on the tops of the meatballs.
Cook for 25 to 30 minutes, or until they are a golden brown color.
Nutrition Information:
Yield:

4
Serving Size:

1
Amount Per Serving:
Calories:

511
Total Fat:

31g
Saturated Fat:

12g
Trans Fat:

1g
Unsaturated Fat:

15g
Cholesterol:

198mg
Sodium:

751mg
Carbohydrates:

6g
Fiber:

1g
Sugar:

1g
Protein:

49g