Meatballs are an excellent topping for pasta, the filling for a sub, or a great appetizer on their own. However, with such varying sizes and materials, it can be hard to decipher how long you should bake meatballs at 350 degrees.
For an average sized, beef meatball, you will need to bake for 20-30 minutes at 350 for the meat to be fully cooked. This is not including the time you are going to sear it in the pan first.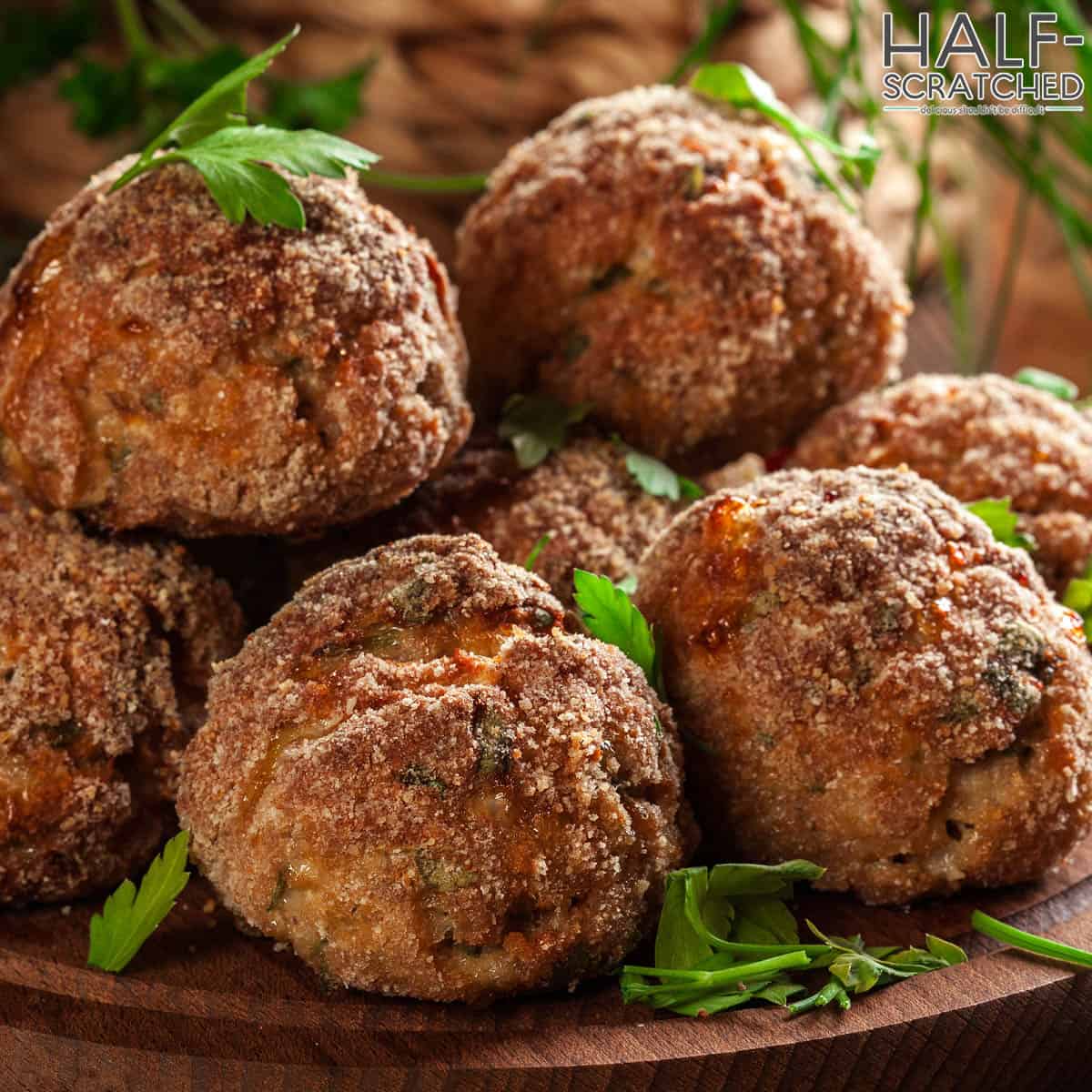 If you've got your meatballs baking away in some sort of sauce, consider cooking them longer. The sauce will keep heat from getting into the meat, and it will thus take longer to actually penetrate and cook to completion.
As a bonus, cooking the sauce a little longer helps it to reduce to the desired thickness. That's especially true if meatballs are the main event, not an addition, as they would be in spaghetti, for example.
Different Types of Meat
How long you need to bake meatballs will usually come down, at a base level, to what type of meat you're using. For any meatball-baking venture you undertake, you're going to follow two major steps. Those steps are pre-cooking and baking.
Pre-cooking refers to browning them in a skillet over the stove first. This is the process that imparts a nice browned color on the meatballs and gets them ready for the oven.
The second step, of course, is baking at 350. Here is a quick rundown on the usual meat types you'd encounter in a standard meatball recipe. Many recipes combine meats, such as beef and pork. In these cases, adjust to the meat with a longer cooking time.
Meat Types And Cooking Times:
Beef: 10 minutes in the pan, bake 20-30 minutes.
Pork: 5 minutes in the pan, bake 20-30 minutes.
Ground lamb: 20 minutes in the pan, bake 20-30 minutes.
Ground chicken: 25 minutes in the pan, bake 20-30 minutes.
Ground turkey: 20 minutes in the pan, bake 30-40 minutes.
Check-in on your meatballs periodically. You want to ensure that they're evenly cooked, and not over or underdone.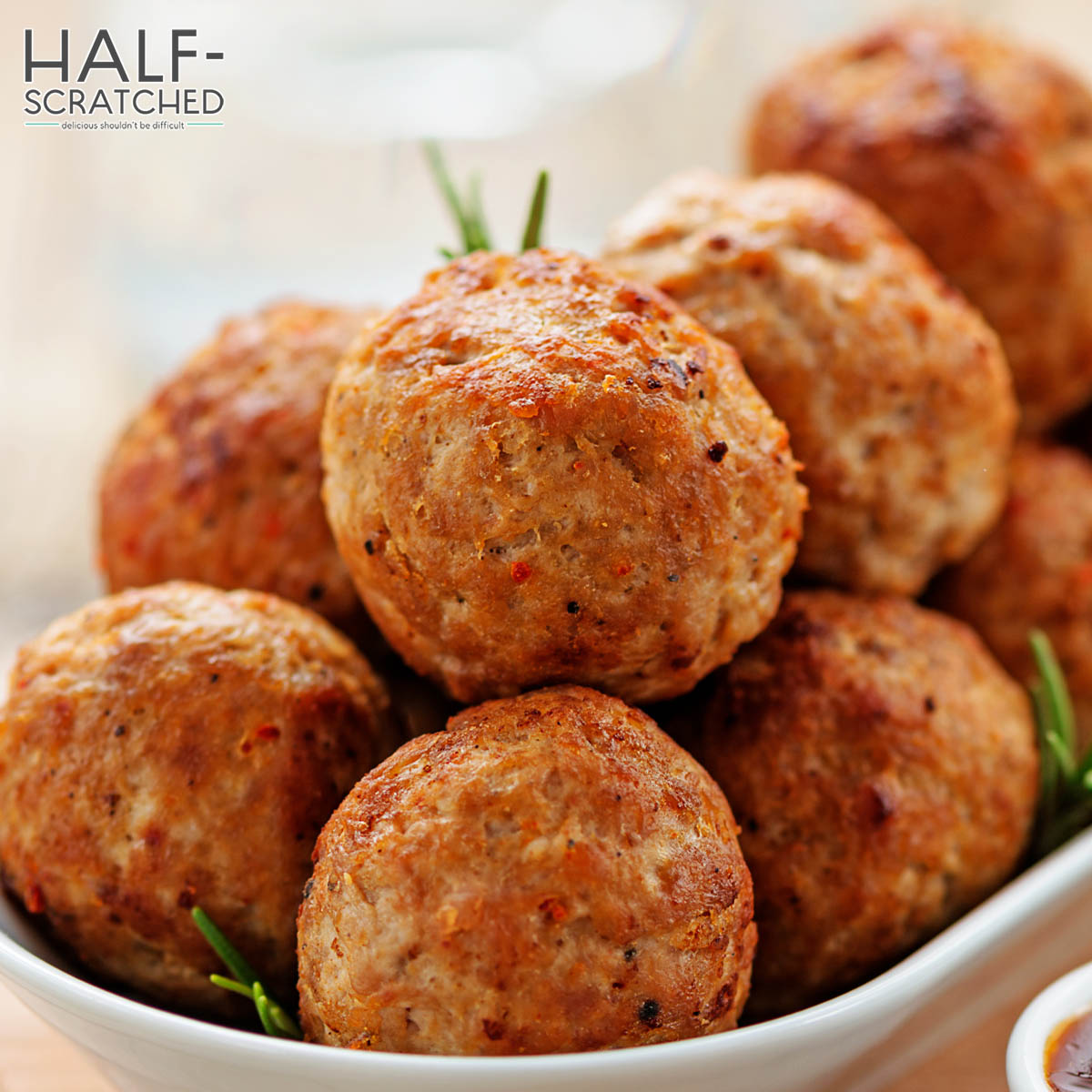 Other Things to Consider When Baking Meatballs at 350 Degrees
Meatballs, however, are not a monolith, and there are a few things you'll need to keep in mind when you go about baking a batch.
Things to keep in mind are the type of meat, as discussed, but that's not all. Are these cut-with-a-fork thick or eat-with-a-toothpick tiny? Are you cutting out the hassle of hand-mixing meat and breadcrumbs in favor of heating up your favorite brand of freezer meatballs?
These are all things to take into consideration when you're figuring out how long to bake meatballs at 350.
Type of meat: The composition of your meatball will have an impact on the cooking time. Some types of meat, like beef, will cook up faster than ground chicken. As stated above, when mixing meats, adjust your cooking time to the meat that needs the longest.
Size of meatballs: A more diminutive meatball will need less time for the heat to fully penetrate to the center and complete cooking. Bigger meatballs, of course, need more time.
Pre-cooked: The meatballs you usually buy frozen in a bag from your local grocery are usually pre-cooked. In this case, they don't need as long in a 350-degree oven.
Fillings: Filling a meatball with a tasty, melty cube of cheese will make for a delicious addition to a cheesy pasta dish. When you're adding a filling, add another one or two minutes to the cooking time to make sure the cheese is delightfully gooey and melted.
When you're deciding how long to cook meatballs at 350, consider all of the outside factors that may make that estimated 20-30 minute longer or shorter.
Can You Bake Meatballs at 350 Without Using Breadcrumbs
Theoretically, you can cook meatballs without using breadcrumbs. Keep in mind, though, that the breadcrumbs act as the binder that holds everything together. Omitting the breadcrumbs is fine as long as you have another binder to use. Without a binder, your meatballs will crumble apart.
Don't have any breadcrumbs available right now? Not to worry; rolled oats or Parmesan cheese all work as substitutes for breadcrumbs in meatballs. Not only are they suitable binders, but some are gluten-free, and they'll all add a layer of deliciousness.
Can You Bake Meatballs at 350 Without Using Eggs
Just like with the breadcrumbs, no one is stopping you from baking meatballs without egg. As before, though, those eggs are here to bind ingredients together, preventing a crumbly ball. They'll also add a bit of delicious richness!
If you're out of eggs, try a flax egg or chia egg. You can also sub in a little bit of milk -- whole milk works best, but you can just as easily use a lower percentage. No matter what percent you use, try not to use too much, though, as it will have the same effect as no binder at all.
Can You Bake Meatballs at 350 Without Using Flour
A flourless meatball is similar to a breadcrumbless one in that you can get away with it, as long as you've got a plan B.
In fact, a recipe for meatballs with flour usually doesn't have breadcrumbs, and vice versa. If you don't have flour, use breadcrumbs.
How Can You Tell Your Meatballs Are Finished Cooking
The most accurate method for deciding if your baked meatballs are completely safe to eat is to make use of a meat thermometer. The recommended temperature for a ground beef meatball is 160 degrees F.
Don't have a thermometer handy? Another way to gauge doneness is by gently pressing a fork into the surface of the meatball. If the meatball bounces back and has some tension, it's done or nearing doneness. If it squishes or indents, it's not time yet.
If you're making a lot of them, a way to check is to isolate one and cut it in half, using your eyes to check for pink.
How Long Should You Bake Meatballs at 350 in an Air Fryer
A selection of meatballs will need around 15 minutes in an air fryer that's been preheated to 350 degrees. Frozen meatballs will take 30 minutes in the air fryer.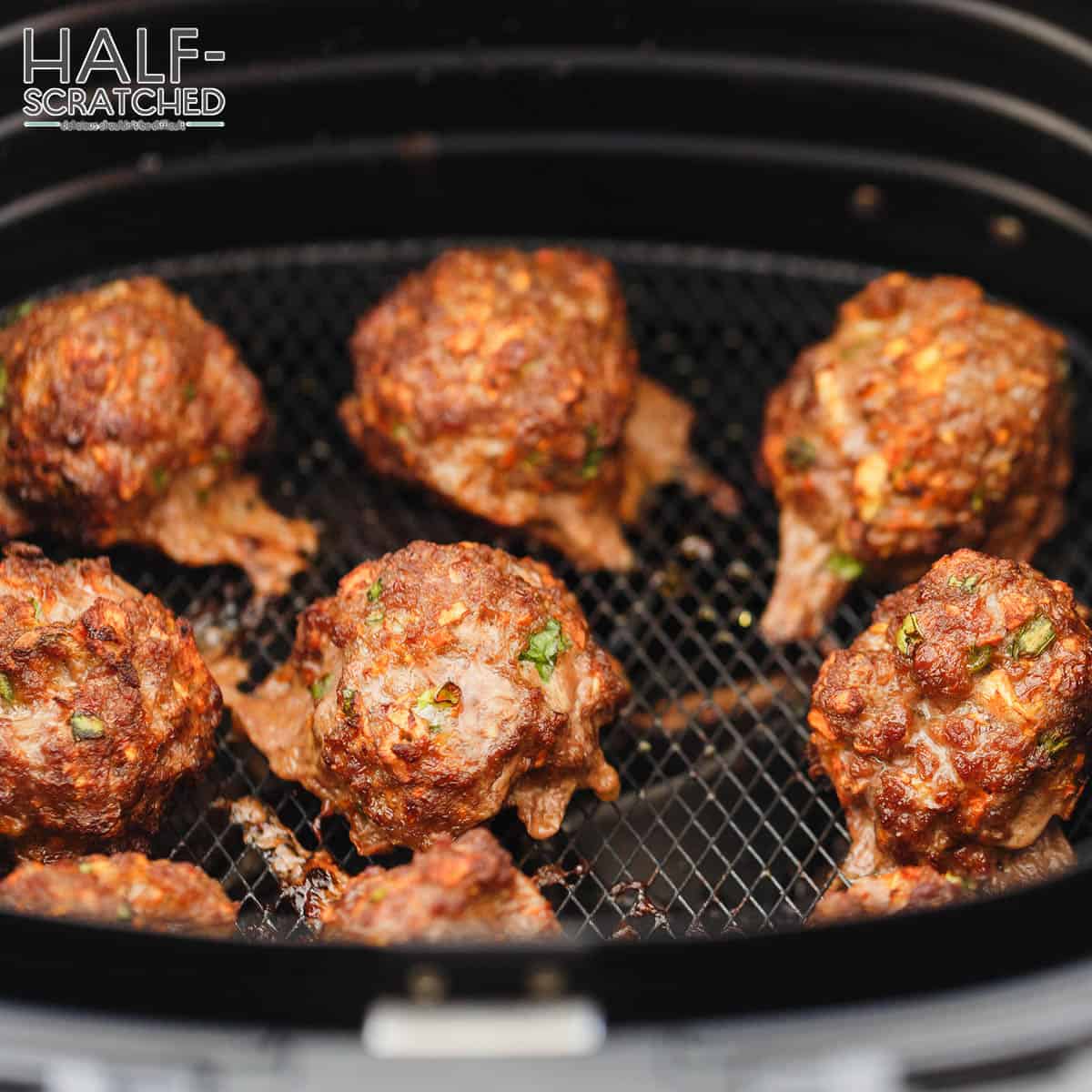 Can You Overcook Meatballs
Just like anything, meatballs can be overcooked. When they've been in an oven for too long, they'll eventually get dry and crumbly. This can be rescued with a bit of sauce, but it's still best practice to only cook them for the recommended time at 350.
How Large Should a Meatball Be
How large a meatball is is down to what you're doing with it and how you like it! If you're making them for snacking, stick to a smaller meatball. A sub sandwich will need a meatball that can fill up the bread without falling out or without you needing to stretch your jaw to take a bite out of.
For spaghetti or other pastas, you should shoot for something more mid-sized. Or, you can make a few very large meatballs to make a statement. It's entirely your choice how big you make your meatballs.
Keep in mind, though, that tinier meatballs need less time in the oven than larger ones. Keep a careful eye on them as they're in the oven and check the temperature as they begin to look done.
Why Are My Meatballs Coming Out Crumbly
The culprit of crumbly meatballs is in the binders – too much of them or too little.
Too much of either, and you've got meatballs that are too loose to hold their form. Too little, and the meat has nothing to hold it together – and it will crumble apart just the same.
Finally, cooking a meatball too long in a 350-degree oven can lead to it drying out and crumbling apart.
Common Mistakes to Avoid When Bake Meatballs at 350 Degrees Fahrenheit
Aside from cooking to the right temperature and for the correct amount of time, there are a few more tips and tricks that will ensure that your meatballs come out perfect.
Not Preheating the Oven
It can be surprisingly easy to get swept up in the process of making dinner. You're mixing ingredients, combining meat and breadcrumbs and herbs to make the perfect meatballs, when you realize you haven't preheated your oven to 350. This is a common cooking pitfall and one that will force your meatballs to take longer in the oven.
Preheating the oven will ensure that the atmosphere is perfectly hot and ready to cook your meatballs without needing to come to temperature.
Overcrowding the Baking Sheet
One of the issues people run into in the meatball-making process is packing too many on one sheet. When this happens, air from the oven cannot adequately circulate around each meatball. You'll wind up with cold spots and uneven cooking.
When baking meatballs in the oven at 350, leave enough space between them - at least an inch or two. With plenty of space between them, the hot air will help a delightfully crispy crust form on your meatballs.
How to Store Meatballs After Baking
To store meatballs in the fridge, stash them in a freezer bag that you've squeezed the air out of. Minimizing oxygen on your meatballs will keep them from going bad faster.
If you don't have a freezer bag, use an airtight container. Press a layer of saran wrap over the surface of the meatballs to keep as little air above them as possible.
Store baked meatballs in the refrigerator for four days at most. After that, they are no longer safe to consume.
To freeze meatballs, store them in a clearly labeled freezer-safe bag or airtight container. This will help them retain their freshness and stave off the effects of freezer burn. Make sure that you squeeze the air out of the freezer bag before putting it in.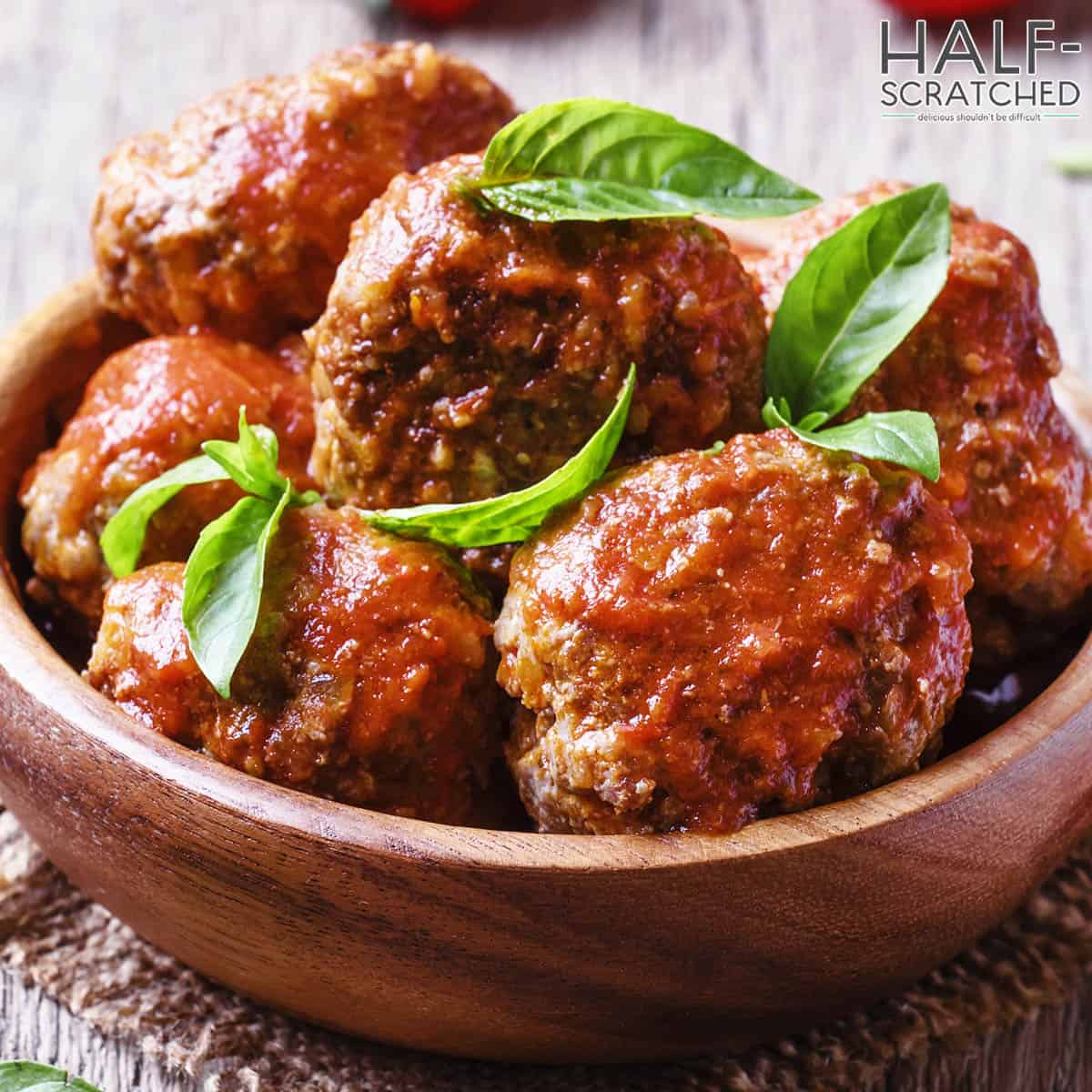 How Do You Reheat Meatballs
There are a few different ways that you can reheat meatballs. The most recommended way is to pop them in a 350-degree oven for 10-15 minutes. For a faster reheat, you can heat up your meatballs in the microwave.
Reheating meatballs in the microwave is fairly quick and simple, depending on the size of your meatballs. Set them up on a microwave-safe plate and heat for 1-2 minutes.
Easy and Delicious Meatballs Recipe
Meatballs usually require a lot of ingredients, but the process for making them isn't complicated at all. Here is a simple meatball recipe that will be at home as a solitary snack or a topping for spaghetti.
How Long to Bake Meatballs at 350 F
Here is a simple meatball recipe that will be at home as a solitary snack or a topping for spaghetti.
Ingredients
1 cup bread crumbs - use a seasoned blend to add more flavor to the meatballs
½ cup milk – whole milk works best
¾ pound ground beef
¾ pound ground pork
Half of a small yellow onion, minced.
4 cloves of garlic, finely minced
2 eggs
1 cup parmesan cheese
2 teaspoon Worcestershire sauce
1 teaspoon Italian Seasoning Blend
A pinch of crushed red pepper flakes
Instructions
Preheat your oven to 350 degrees.
In a small bowl, combine bread crumbs and milk
In a separate bowl, mix the beef, pork, grated onion, minced garlic, eggs, parmesan cheese, Worcestershire sauce, Italian seasoning blend, and red pepper flakes.
Combine moistened bread crumbs with the meat mixture.
With clean hands, work the mixture until it is just combined.
Line a baking sheet with parchment paper or foil.
Roll meat into 24-30 small meatballs with your hands. You can also use a cookie scoop.
In an oiled skillet, cook the meatballs until just browned, about 5-10 minutes. Flip and rotate the balls so that they brown evenly. Transfer the meatballs to the lined pan.
Bake your meatballs for 25-30 minutes or until it hits an internal temperature of 160°F.
Nutrition Information:
Yield:

4
Serving Size:

1
Amount Per Serving:
Calories:

875
Total Fat:

52g
Saturated Fat:

21g
Trans Fat:

1g
Unsaturated Fat:

25g
Cholesterol:

297mg
Sodium:

1088mg
Carbohydrates:

33g
Fiber:

3g
Sugar:

8g
Protein:

66g