When you think of comfort food, what immediately comes to mind? Chili? Chicken pot pie? What about mac and cheese? This carb-heavy cheesy goodness is one of the most popular dishes that people turn to when they want to feel cozy and luckily, it's not too hard to make!
You can make mac and cheese on the stove, but one of the best ways is to actually bake it in the oven at 375 degrees Fahrenheit. Place the mac and cheese in a preheated oven and bake it for 25 to 30 minutes, although it can be shorter or longer depending on the individual oven.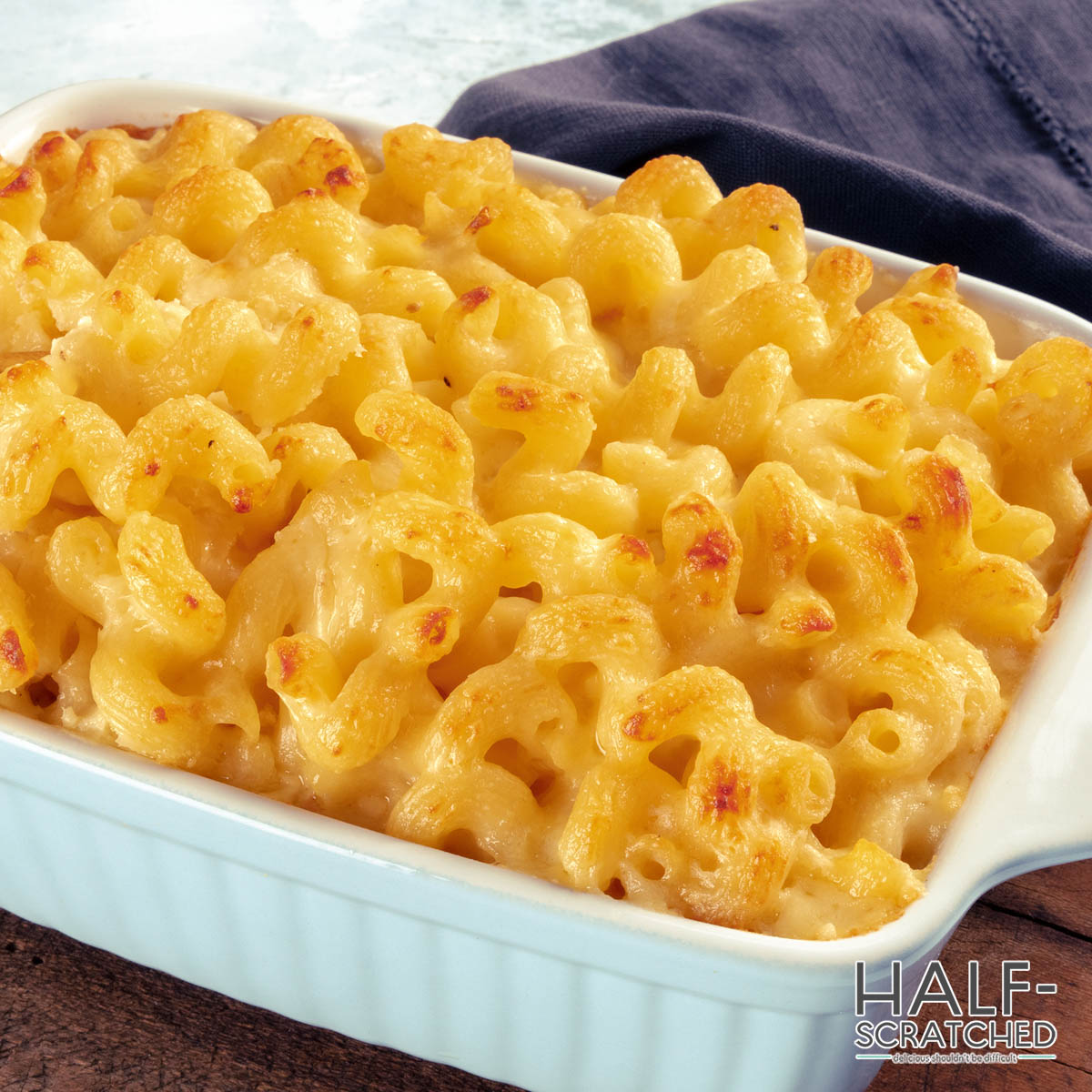 The internal temperature of the mac and cheese should be 165 degrees or higher. This is especially important if you've added meat to the dish since there can be adverse effects from eating raw meat.
This guide will walk you through some tips and tricks for baking mac and cheese, the best toppings and seasonings for mac and cheese, and a delicious mac and cheese dish. Read on!
How Do I Get a Crispy Top?
Arguably one of the best things about baked mac and cheese is the crispy top. While adding cheese on top creates a beautifully melted covering, it's likely that only the edges will brown and crisp.
The easiest trick to a crispy topping on mac and cheese is to add breadcrumbs. Once your mac and cheese is in the baking pan, sprinkle with a layer of cheese and then a layer of breadcrumbs. The breadcrumbs will start to brown after about 20 minutes.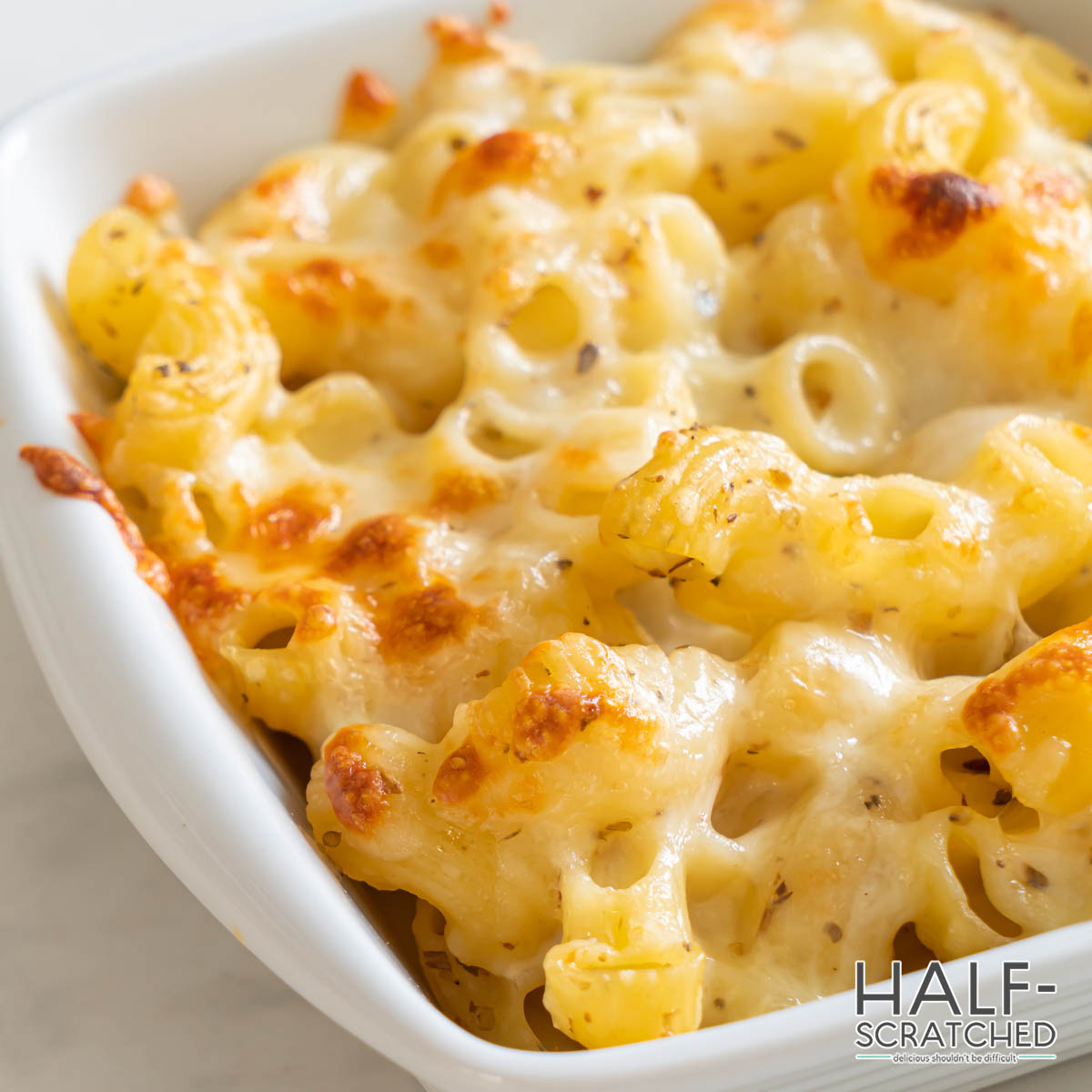 My Top Tips for Baking Perfect Mac and Cheese
Oven-baked mac and cheese is an easy way to create a delicious dish, even if you're a novice chef. Here are some general tips to think about before starting to prepare your mac and cheese:
Grate Cheese by Hand
Pre-packaged cheeses or powdered cheeses often have a lot of additives that make it goopy, so for best mac and cheese results, you should grate the cheese by hand. Make sure the cheese is on the colder side because this will make grating easier.
Use a Roux With Added Milk
The secret to creamy mac and cheese is to create a roux, then add milk and cheese. Roux is made using flour and melted butter, which is toasted and whisked in a pot. Add the milk and cheese in slowly so the ingredients have time to melt and spread out.
Save the Pasta Water
After you boil the pasta, save a couple of cups of water. You can use it to loosen the cheese sauce at the end of baking or, if you're reheating, add a little to the mac and cheese to help retain the creaminess.
Mix Pastas and Cheeses
You can and should mix and match both pastas and cheeses! For the pastas, remember to choose pastas with lots of ridges or that are hollow so the cheese and sauce will stick better. For the cheeses, you can use different ones to create more creaminess or flavor.
Make Sure the Cheese Is Spread Evenly
A ratio that tends to work for creamier, saucy cheese sauce is to do one tablespoon butter, one tablespoon flour, one cup milk, and one cup of shredded cheese.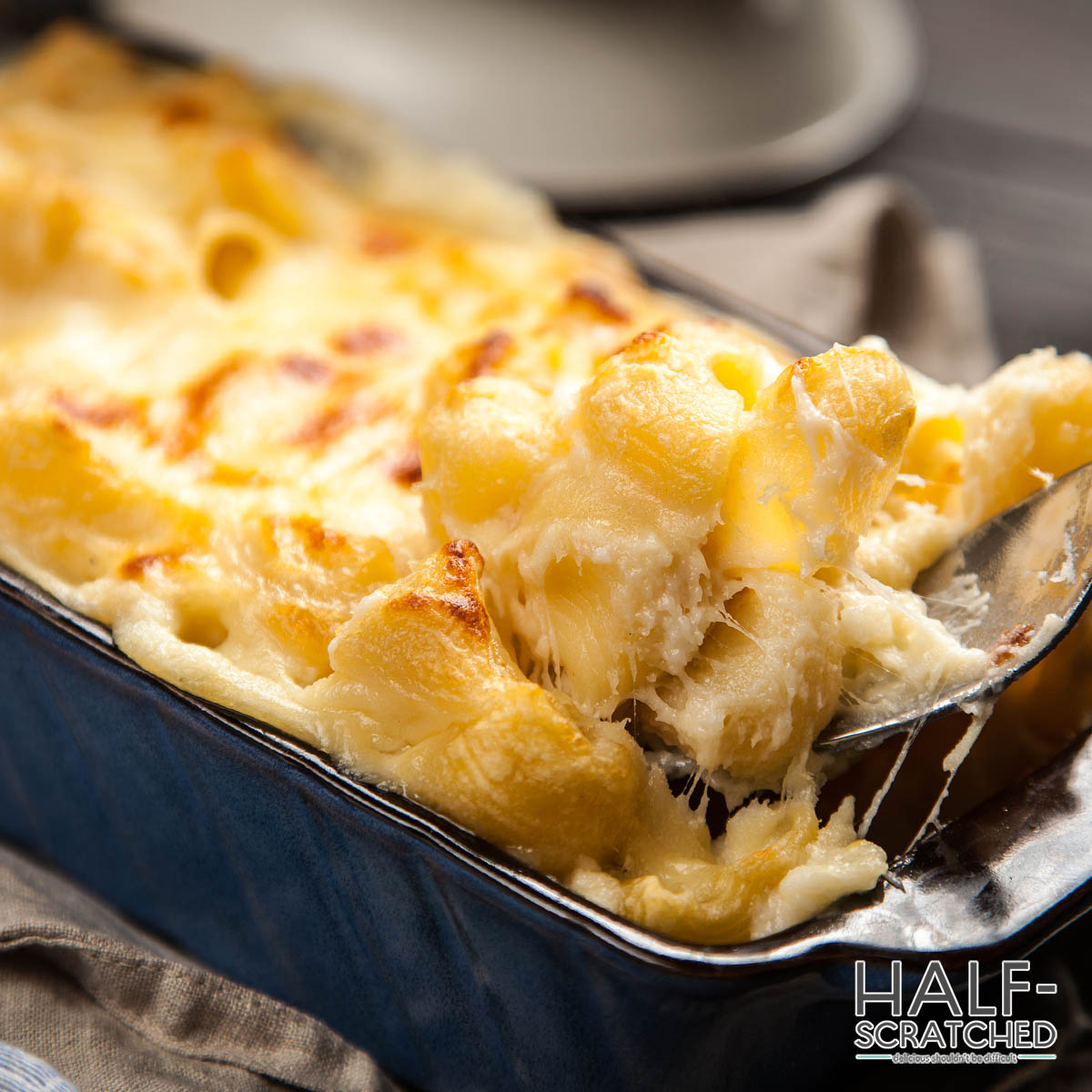 What is the Best Pasta to Use for Baked Mac and Cheese
Mac and cheese has traditionally been made with, obviously, macaroni. According to Oxford Dictionary, macaroni is "a variety of pasta formed in narrow tubes." This includes pastas such as rigatoni, elbow, and corkscrew shapes. Is there a "best" one? It ultimately depends on personal preference.
Nooks and Crannies
Look for pasta that has a lot of bumps and ridges, as these "hold" onto the cheese and sauces better. Fusillini, which looks like a spiral, is a perfect example, as is the conch-shaped pastas.
Hollow Tubes
Hollow pastas are also excellent options for mac and cheese. The cheese and sauce gets stuck inside the tube, creating an extra creamy and cheesy bite.
Angles
Many people think of elbow pasta as the typical shape in mac and cheese and for good reason. Pasta that has interesting angles catches other ingredients like cheese better.
Avoid Long Pasta
Spaghetti and penne don't make good mac and cheese pasta because they're too smooth, and the sauce and cheese tend to slide right off.
Gluten-Free Pasta Options
There are a lot of gluten-free pasta options nowadays, so people with celiac or a wheat allergies can now enjoy mac and cheese without putting their health at risk. Here are some pastas that are made with gluten-free ingredients:
Chickpea pasta
Brown rice pasta
Shirataki pasta (made from the root of the konjac plant)
Quinoa pasta
Soba (buckwheat) pasta
What About Vegetable Noodles?
Another type of noodle that has become more popular in recent years are noodles made from vegetables, sometimes called "zoodles." Originally made from zucchini, vegetable noodles can be made from carrots, cucumbers, sweet potatoes, or beets.
While these hold a noodle shape, they're not great for mac and cheese because they'll often become flimsy when baked and don't hold sauce or cheese very well.
What is the Best Cheese to Use for Baked Mac and Cheese
The other important part of mac and cheese is the latter ingredient: cheese! Is there one kind that is the best? Here are some of the most common.
Cheddar
Gruyere
Parmesan
Gouda
Cheese with rinds, such as brie
Of course, you can use whatever cheese you want! A note about cheeses with rinds: be sure to cut off the rind because it won't melt into the mac and cheese and will create weird chunks in the dish.
Dairy-Free Cheese Options
Some people might argue that fake cheese isn't as good as real cheese, but these options actually create delicious results.
Nut milk cheese
Slightly nutty cheese made out of nuts has gained popularity recently. Almonds, cashews, and macadamias are all high in fat, so the richness of cheese is closely imitated.
Coconut milk cheese
Coconut milk cheese does have a hint of coconut flavor, but overall, it's a good cheese substitute. Similar to nuts, coconut has a lot of fat, so it makes a nice creamy cheese.
Tofu cheese  
One of the first vegan cheeses was made with tofu, so it makes sense that it continues to be a popular choice for fake cheese. It has a blander taste, so it would do well to be seasoned when baking the mac and cheese.
Spices and Marinades for Baked Mac and Cheese
While mac and cheese can be delicious with just cheese, it's important to use spices and other toppings to make the mac and cheese as flavorful as possible:
Garlic and onion powder: this is a simple combination, but garlic and onion together can add a lot of depth to mac and cheese.
Paprika: paprika is subtle but tasty. The red coloring also looks nice when sprinkled on top of the mac and cheese.
Garden herbs: sometimes, the best toppings can be found in your garden! Herbs like basil or oregano are an easy way to make your mac and cheese more flavorful.
Chili powder or cayenne powder: if you like things hot, add some chili powder or cayenne powder to your mac and cheese! The spiciness adds a nice kick.
Bacon bits: adding bacon bits not only adds a nice crunch to mac and cheese but it also provides a salty and meaty flavor.
Shrimp or lobster: this is a delicacy but seafood mac and cheese is one way to instantly elevate this humble dish.
Vegetables: from corn to broccoli, adding some chopped-up vegetables to mac and cheese adds some freshness. It also makes the dish feel healthier.
Crushed Cheetohs: while not the healthiest option, there's no denying that adding Cheetohs on top of mac and cheese makes for extra crunchy and cheesy goodness!
Best Food Pairings with Mac and Cheese
Often, mac and cheese is seen as a side dish, especially in southern cooking. Here are some dishes that pair nicely with baked mac and cheese.
Fried Chicken
The ultimate southern dish, fried chicken, goes perfectly with mac and cheese. The crispy bits on the chicken complement mac and cheese really well.
Cornbread
Cornbread is also a side dish, but a lot of people will often choose corn bread and mac and cheese to go with their meal.
Pulled Pork Sandwich
Similar to fried chicken, pulled pork is another Southern staple that pairs well with mac and cheese. It's quite salty, so the carbs from mac and cheese will counteract some of that.
My Family's Homemade Mac and Cheese Recipe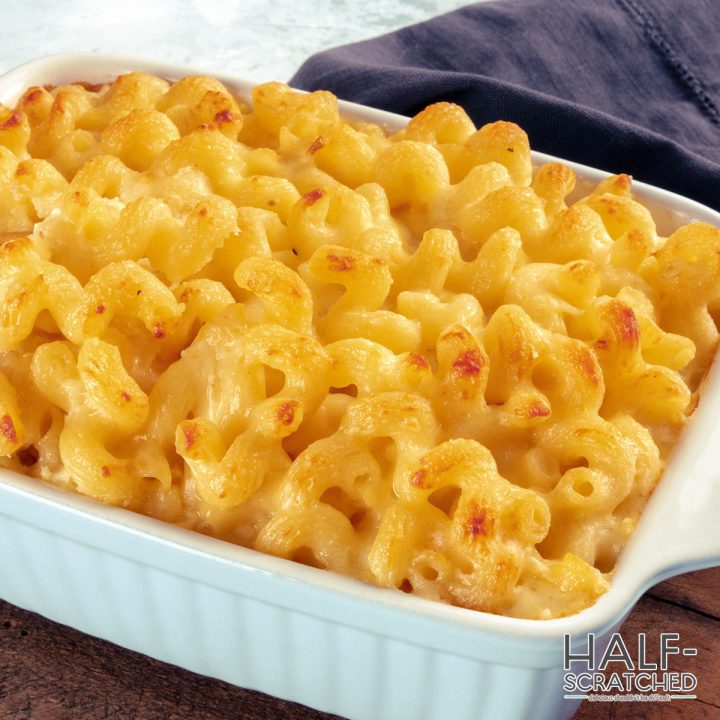 How Long to Bake Mac and Cheese at 375 F
Mac and cheese is the ultimate comfort food and in this article I'll share tips and tricks on how to bake it to perfection.
Ingredients
1 box (16 ounces) of uncooked pasta
3 tablespoons flour
¼ cup butter (for roux)
2½ cups whole milk
2 cups shredded cheese of your choosing
½ cup grated parmesan cheese
salt and pepper to taste
Bread Crumb Topping
½ cup bread crumbs
2 tablespoons butter
1 pinch paprika
Instructions
Preheat oven to 375 degrees Fahrenheit and grease an eight-inch square dish.
Bring a pot of water to a boil and add the pasta, simmering for about eight minutes. It's OK if it's not fully cooked since it'll bake more in the oven. Drain and add to the baking dish.
Melt butter in a skillet and whisk in the flour until the mixture is about light golden brown.
Add the milk, whisking lightly into the roux. Bring to a simmer and then add in the cheeses. Stir over low heat until all the cheese is melted and the sauce has thickened, adding more milk if necessary.
Pour the cheese mixture over the pasta.
Melt the butter for the topping and add in the bread crumbs, tossing until well coated and browned.
Spread bread crumbs over the pasta and sprinkle with paprika.
Bake in the preheated oven until the topping is golden brown and you see the pasta and cheese bubbling. This should be about 30 to 35 minutes.
Nutrition Information:
Yield:

6
Serving Size:

1
Amount Per Serving:
Calories:

436
Total Fat:

30g
Saturated Fat:

18g
Trans Fat:

1g
Unsaturated Fat:

10g
Cholesterol:

85mg
Sodium:

647mg
Carbohydrates:

24g
Fiber:

1g
Sugar:

6g
Protein:

17g