Baked macaroni and cheese is a dish that you can bite into and instantly be transported to childhood memories of family get-togethers, the holidays, and good times. It's gooey, cheesy, starchy, and filled with love that's guaranteed to warm your soul no matter what the occasion. Making it perfectly, though, means baking it for the right amount of time.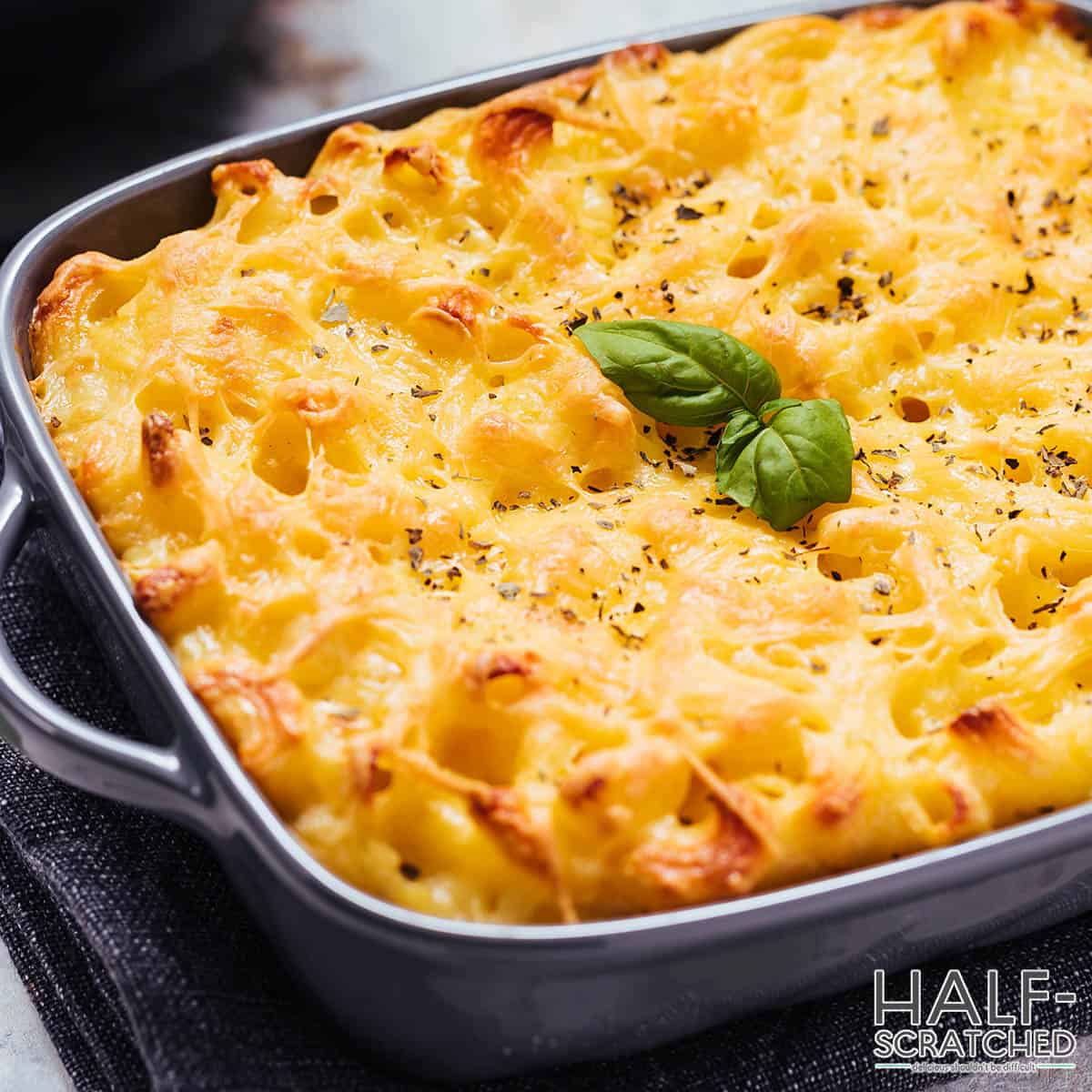 If you're baking your macaroni and cheese at 400 degrees Fahrenheit, you'll want to bake it for about 25 minutes. This will ensure that the cheese is melted and bubbly, and the macaroni is cooked through. You may need to adjust the time depending on your oven and the recipe you're using, but 25 minutes is a good place to start.
When mac and cheese is done right, it's more than just delicious—it's heavenly. If you're new to baking it, though, you may need some advice to help you along the way. Follow this guide as we walk you through a few key tips and your final dish is sure to wow family, friends, co-workers, and anyone who gives it a try.
Bake at 400° Fahrenheit to Achieve the Perfect Texture
Unlike stovetop mac and cheese, baked macaroni is renowned for its melted, browned, and gooey crust of cheese that forms on top of the dish. This cheesy goodness is only possible when you bake your macaroni at a high enough temperature, and 400 degrees Fahrenheit is just the right temp to create that signature baked mac and cheese texture.
If you try to bake it any lower, you won't get that crispy top layer of cheese. And if you bake it at too high of a temperature, you risk drying out the dish or even burning the cheese. So, 400 degrees is really the perfect happy medium for this dish.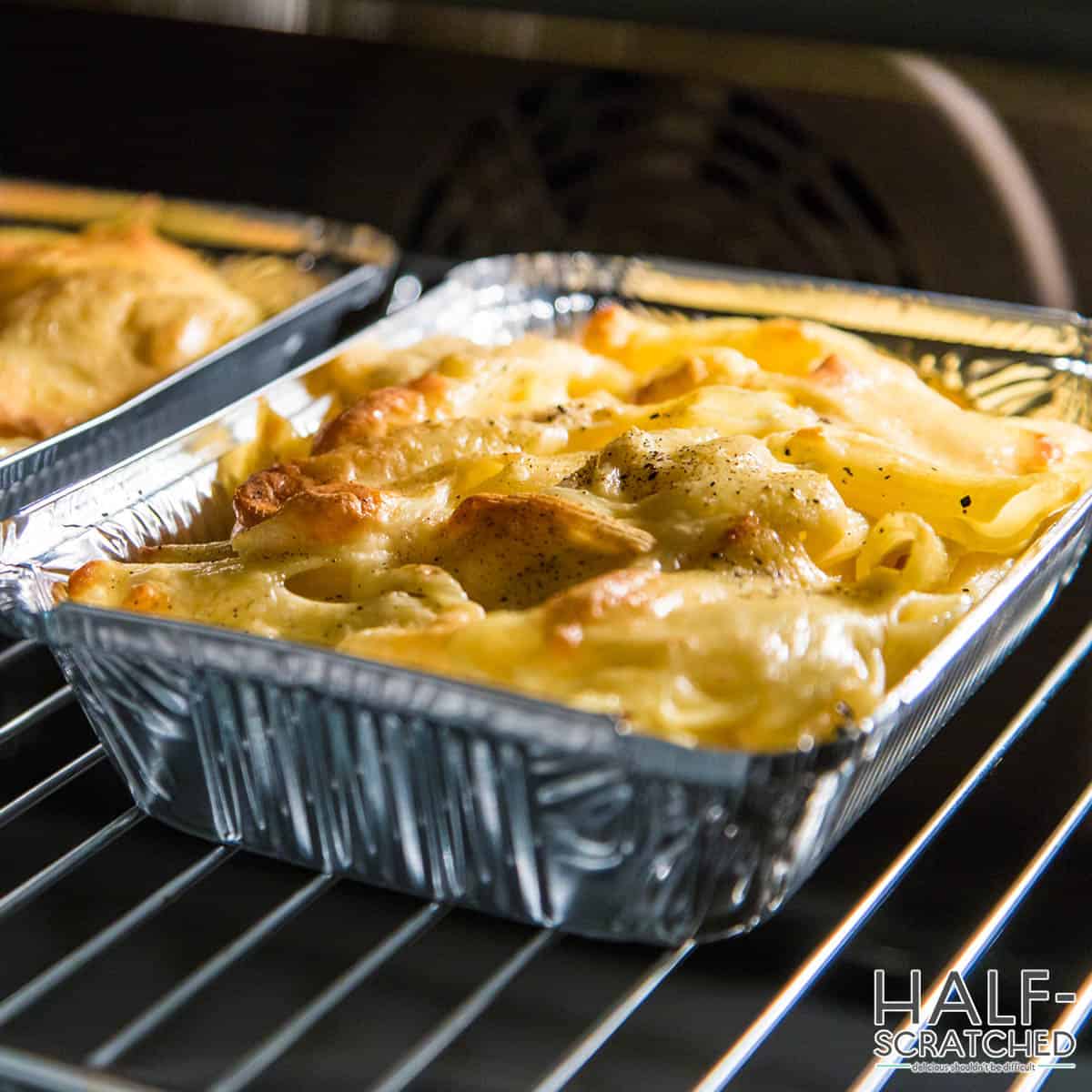 Bake for 25 Minutes (or Until Perfectly Melted and Bubbly)
Now that you know the perfect temperature to bake your mac and cheese, it's time to focus on the cooking time. We recommend baking it for about 25 minutes, but this may vary slightly depending on your oven and the recipe you're using. What you're really looking for is for the cheese to be melted and bubbly so that it forms that beautiful golden-brown crust on top.
Once you see the cheese starting to brown, you can pull the dish out and let it cool for a few minutes before serving. If you want to get really technical, you can use a food thermometer to check that the internal temperature of the mac and cheese has reached 160 degrees Fahrenheit.
This is the optimum temperature for both the cheese and the pasta to be fully cooked and at their best but don't worry about getting sick if it's not quite there yet. If you're worried about the crust burning, simply take it out anyway. The pasta and cheese are completely safe to eat and won't cause food poisoning.
Do Not Cover Macaroni and Cheese with Aluminum Foil
You may be wondering if you should cover your dish with aluminum foil while it's baking. The short answer is no, you don't need to. In fact, we actually recommend not covering it so that the cheese has a chance to form that beautiful golden-brown crust.
When you cover foods with aluminum foil, it traps air against the food and, as that air heats up, it transforms into steam. So, by covering your mac and cheese, you'll effectively be steaming it rather than baking it. This will create a wet and sloppy mac and cheese rather than a gooey and consistent final dish.
Creating a Crust – To Use Breadcrumbs or Not?
If you're reading this, you've probably already scoured the web looking for a variety of baked mac and cheese recipes. In your journey, you've likely run across recipes recommending that you use breadcrumbs to make a crust on top of your mac and cheese. And while this is certainly an option, it's not necessary.
The truth is, the cheese creates its own crust as it melts and browns in the oven. So, there's really no need to add anything extra. If you want to use breadcrumbs, though, go ahead! Just know that it's not a requirement for this dish.
The only difference between using breadcrumbs and not using breadcrumbs is aesthetic. If you want a crispy and crunchy top, breadcrumbs are a great way to achieve that. If you're not worried about the texture, though, you can save yourself the trouble and just let the cheese do its thing.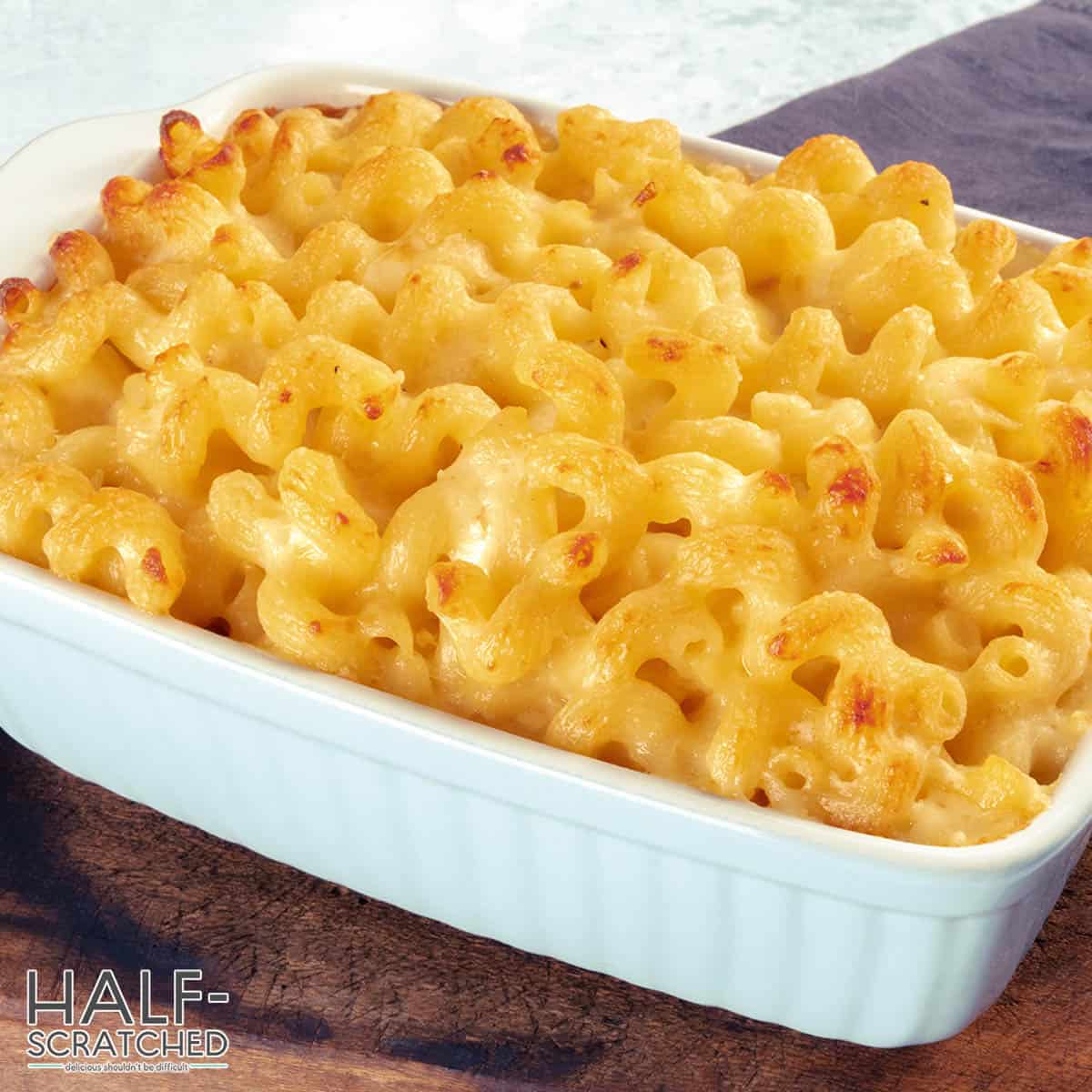 Will Adding Meat Affect the Baking Time?
Many homemakers like to add chunks of ham or other meats to their macaroni to amplify the flavor and add a bit of protein to the dish. By doing so, you may be wondering if you'll have to bake it longer. The beauty of macaroni and cheese, though, is that the ingredients are almost always cooked ahead of time before you assemble them into a final dish.
This means that the only thing you're really doing when you bake it is melting the cheese and heating everything up so that it is combined together evenly. So, even if you add meat to your macaroni, you won't need to bake it any longer. Just follow the same cook time and temperature recommendations as you would for a meatless dish.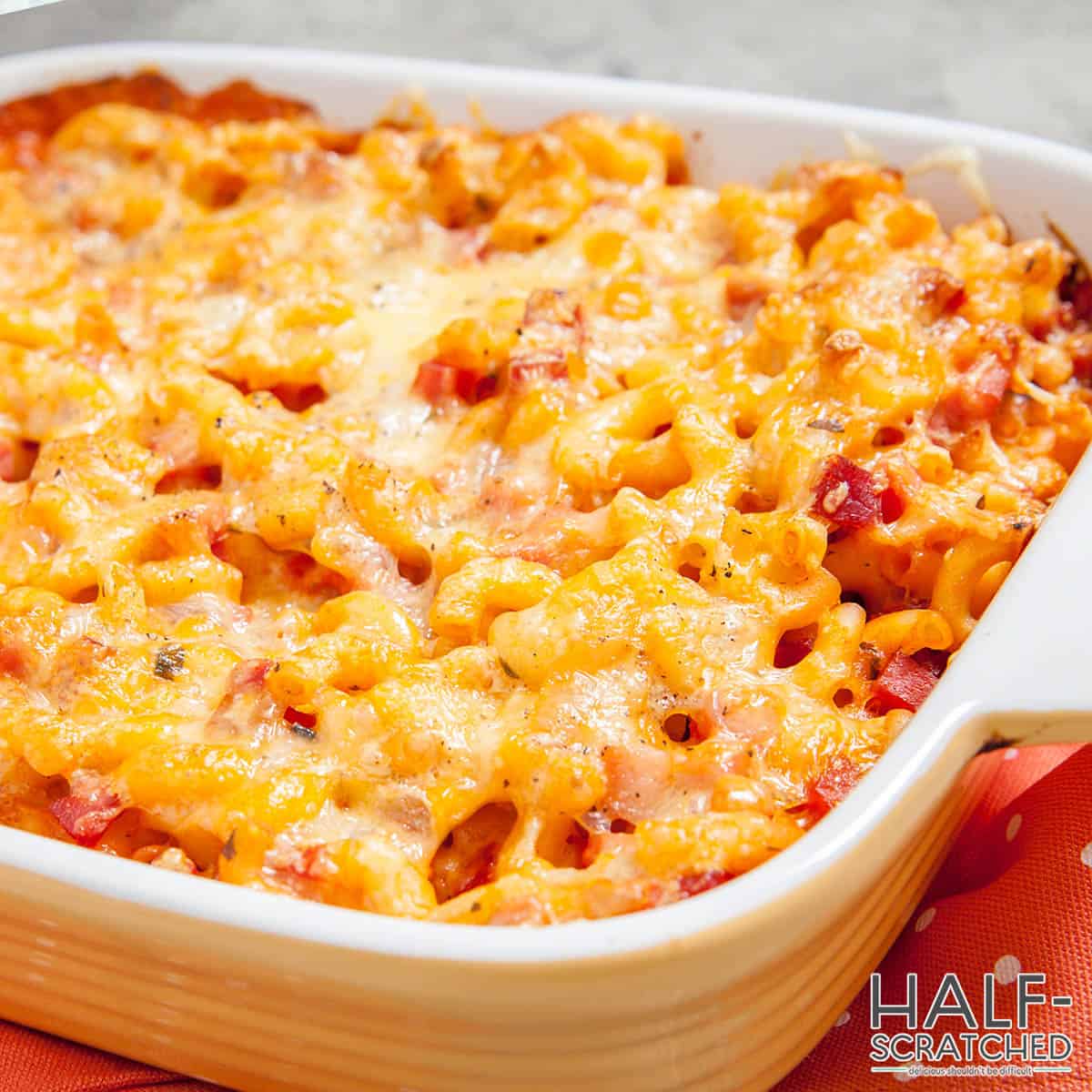 Add an Egg for a Firmer Mac and Cheese
There are two camps of people in the mac and cheese department—those who like a creamier dish and those who prefer it firm, like a quiche. Depending on your personal preference, you may want to add an egg to your macaroni before baking it.
The egg will help to bind everything together and create a firmer macaroni and cheese. Just be aware that this will also make the dish a bit denser. So, if you're looking for a light and airy mac and cheese, you may want to skip the egg.
For a rich and creamy final result, we recommend making a béchamel sauce that's loaded with your preferred cheeses. This will create a sauce that's thick and creamy, and it will be sure to coat each noodle in cheesy goodness. Just be aware that this method will take a bit longer since you'll need to cook the sauce on the stovetop before adding it to the macaroni.
A Few Considerations to Improve Your Baked Macaroni and Cheese
Before you start cooking, we wanted to share a few tips that will improve the overall result of your final dish. These can be applied as you see fit but they will help to transform your mac and cheese from yummy to divine.
Always let mac and cheese rest after baking: After you remove your macaroni and cheese from the oven, don't be tempted to dive right in. Let it rest for at least 10 minutes so that the cheese has a chance to firm up. This will help to prevent it from oozing out all over your plate when you take your first bite.
Use high-quality cheese: One of the best things about mac and cheese is its cheesy flavor. So, don't skimp on the quality of cheese that you use. We recommend using a mix of cheddar, Gruyere, and Parmesan for the best flavor.
Use fresh pasta: If you have easy access to fresh pasta, we highly recommend using freshly made macaroni. Not only with this cut back on your overall cooking time but it will also improve the flavor and texture of your dish. If not, be sure to boil your pasta to al dente and ALWAYS salt the water until it's as briny as the sea.
Use a combination of milk and cream: For a richer mac and cheese, we recommend using a combination of milk and cream. This will add more fat to the dish but it will also make it creamier and tastier. Just be aware that this will also add more calories if you're trying to watch your weight.
Use a high-quality baking dish: For the best results, bake your mac and cheese in a quality baking dish. We recommend using a ceramic or glass dish for even heat distribution. If you use a lower-quality dish, the edges will brown or even burn before the center has had a chance to cook together. No one wants this so don't be afraid to invest in quality cookware.
Preheat your oven and don't overcook: This may seem like a no-brainer but we wanted to mention it anyway. Always preheat your oven before baking your mac and cheese. This will help to ensure that it cooks evenly. Additionally, be sure to check in on your mac and cheese after the 20-minute mark to guarantee that it's not overcooking.
If you're not satisfied with the color of your mac and cheese after 20 minutes, continue baking but be sure to watch the dish closely, as the next few minutes can change the crust drastically.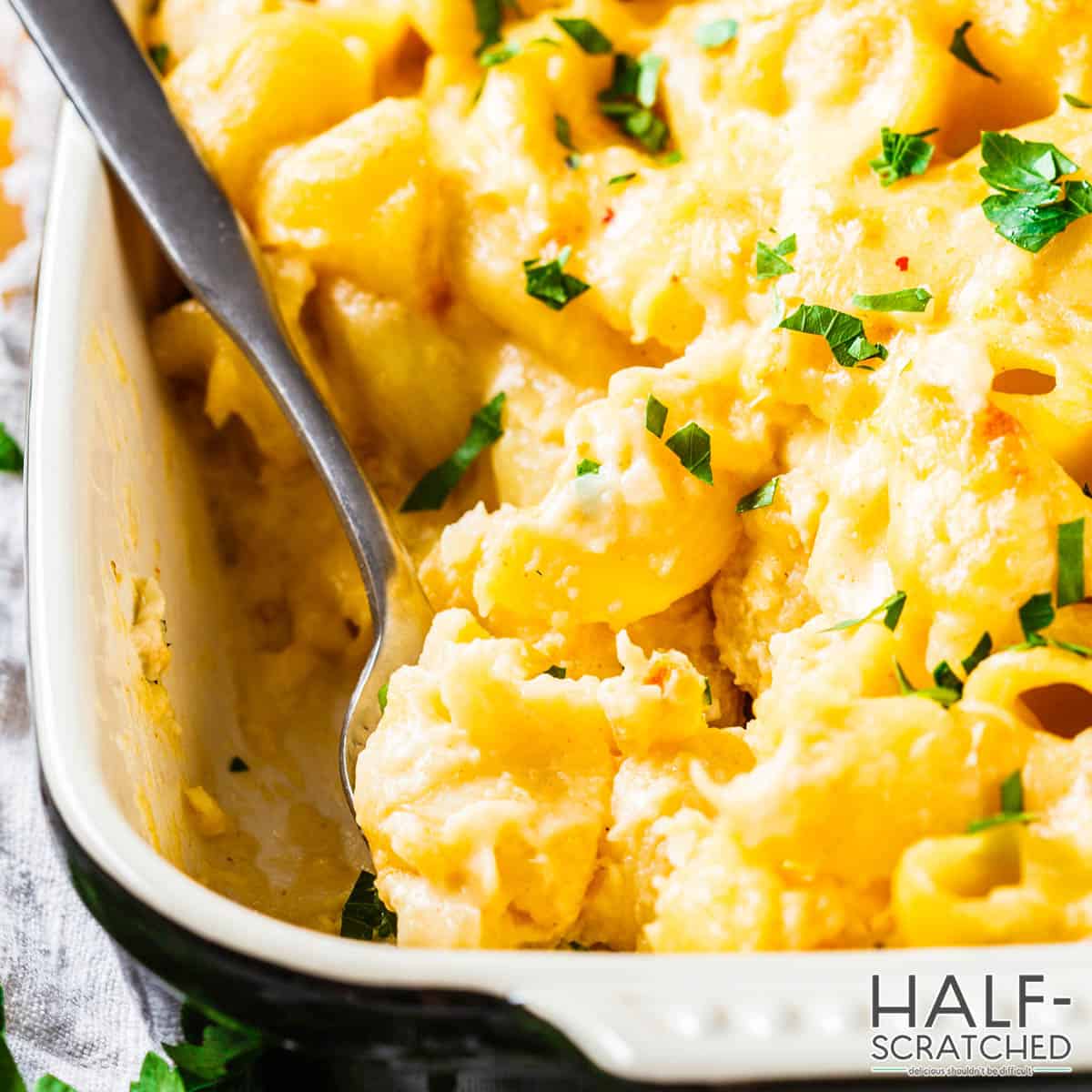 Frequently Asked Questions About Mac And Cheese
How can I make macaroni and cheese if I can't eat dairy?
Is macaroni and cheese considered Italian food?
What's the difference between macaroni and cheese and Pasta al Forno?
Macaroni and cheese is a dish made with cooked macaroni pasta that's mixed with a cheese sauce. Pasta al Forno, on the other hand, is a baked pasta dish that's made with a variety of ingredients like meats, vegetables, and cheeses.
Can I use any type of cheese for macaroni and cheese?
Yes, you can use any type of cheese that you like for this dish. However, we recommend using cheddar, gruyere, and parmigiana for the best flavor.
How can I make macaroni and cheese if I can't eat flour?
If you can't eat flour, you can make a roux with arrowroot powder or cornstarch. Simply whisk together ¼ cup of arrowroot powder or cornstarch with ¼ cup of milk, then add it to the pot in place of the flour.
How can I make macaroni and cheese if I can't eat dairy?
To make a dairy-free macaroni and cheese, you can use a variety of plant-based milks like almond milk, coconut milk, or soy milk. You can also use vegan cheese or a dairy-free cheese sauce.
A Mac and Cheese Recipe You're Sure to Remember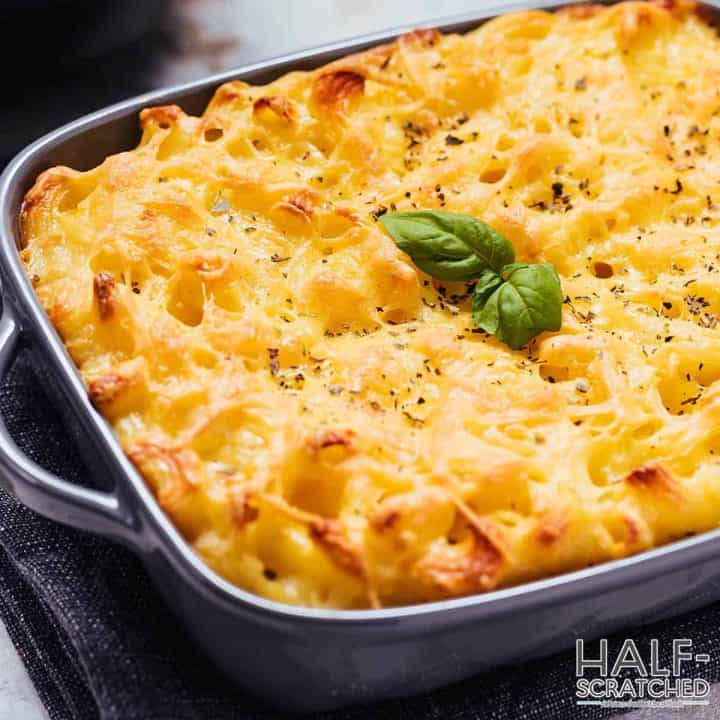 How Long to Bake Mac & Cheese at 400 F
Bake your mac and cheese for at least 20 minutes at 400 degrees to develop a rich and golden-brown crust.
Ingredients
1 pound elbow macaroni
4 tablespoons butter
4 tablespoons all-purpose flour
1 ½ cups of milk
½ cup of cream
2 cups of shredded cheddar cheese
½ cup of grated parmigiana cheese
1 teaspoon of dry mustard
½ teaspoon of salt
¼ teaspoon of black pepper
⅛ teaspoon of cayenne pepper
⅛ teaspoon of ground nutmeg
1 cup of breadcrumbs
Instructions
Preheat your oven to 400 degrees F (200 degrees C) and butter or spray a 2-quart baking dish.
Bring a pot of water to a boil and salt the water until it's noticeably briny. Cook the macaroni for 8 to 10 minutes, or until al dente, then drain and set it aside.
In the same pot, melt butter over medium heat. Once the butter has fully melted, whisk in flour, and cook for 1 minute until slightly brown. Slowly whisk in the cream and milk and bring to a low simmer to create a bechamel sauce. Cook for 1 to 2 minutes, or until thickened.
Remove the pan from the heat, and stir in cheddar cheese, parmigiana cheese, dry mustard, salt, black pepper, cayenne pepper, and nutmeg. Add the cooked macaroni and stir until everything is evenly coated and combined.
Pour the mixture into the prepared baking dish and sprinkle the top with breadcrumbs.
Bake for 20 to 25 minutes, or until bubbly. Let the dish rest for at least ten minutes and then serve with a side of green veggies.
Nutrition Information:
Yield:

4
Serving Size:

1
Amount Per Serving:
Calories:

847
Total Fat:

49g
Saturated Fat:

28g
Trans Fat:

2g
Unsaturated Fat:

16g
Cholesterol:

138mg
Sodium:

1200mg
Carbohydrates:

69g
Fiber:

4g
Sugar:

8g
Protein:

32g