Chicken tenders are one of the most popular finger foods to eat. While they may often be affiliated with fast food, they can also be part of a healthy meal. Learn how to bake perfect chicken tenders.
Chicken tenders should be baked for around 20 minutes in the oven at 375 degrees Fahrenheit. Depending on the thickness of the chicken tenders, the baking time can be a bit shorter or longer. The most important thing is that the internal temperature of the chicken is 165 degrees Fahrenheit or higher.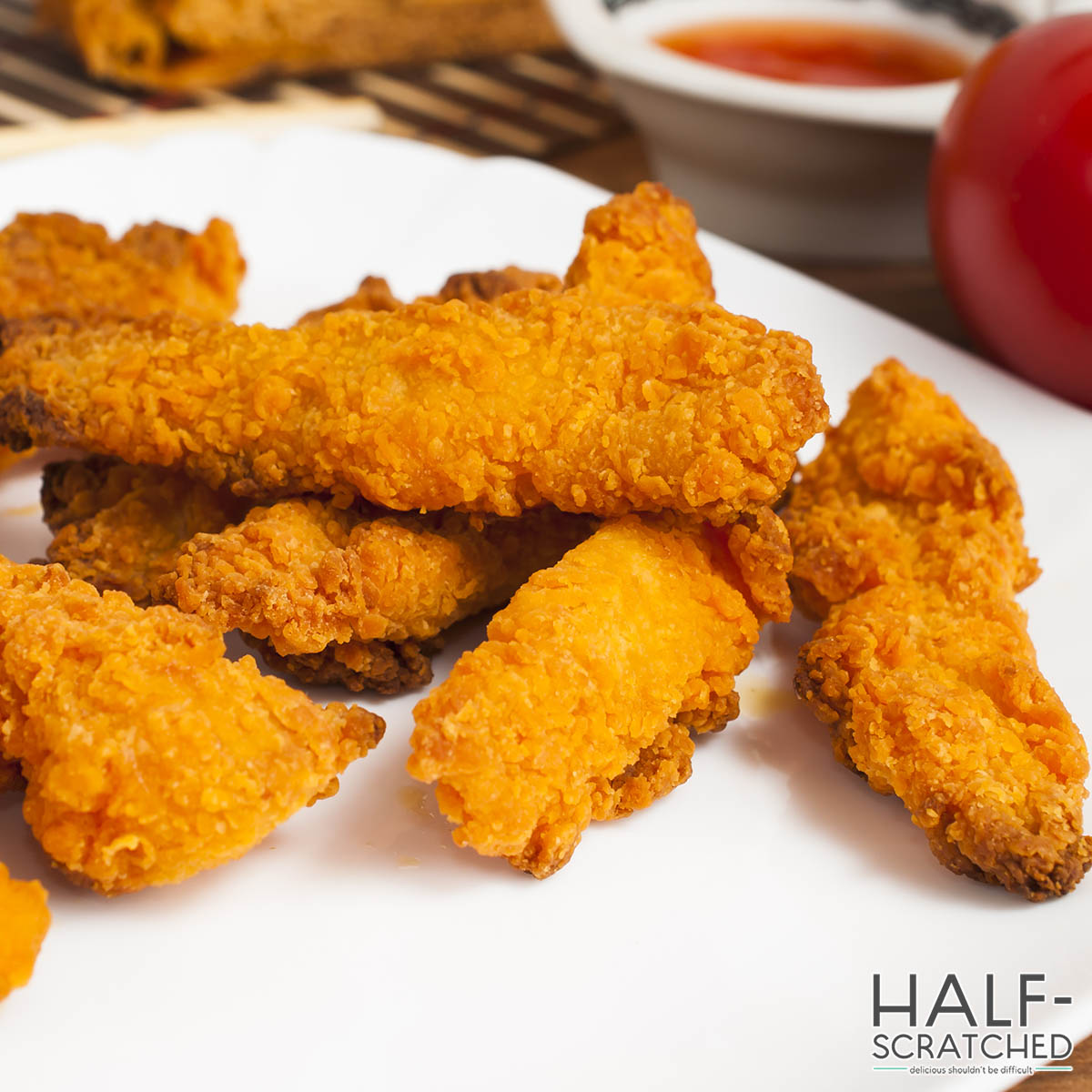 This article will look at tips and tricks to bake chicken tenders and even provide a recipe for preparing and baking them yourself!
What Are Chicken Tenders?
First off, what are chicken tenders? Many people are familiar with them on menus but probably aren't sure exactly what makes a chicken tender. It's not the breast, drumstick, or wing; rather, chicken tenders are a cut of meat called the pectoralis minor or the inner filet. It's the area right below the chicken breast. It's then breaded and fried.
Generally, chicken tenders will be made from the breast, although not always from the inner filet. The USDA states that the tender is "the inner pectoral muscle which lies alongside the sternum (breast bone)."
Are They the Same as Chicken Nuggets?
Chicken tenders and chicken nuggets are different despite people using the names interchangeably. Nuggets are made from the ground and processed chicken. They're then formed into different shapes (e.g. dinosaurs), breaded, and fried.
What About Strips?
To add another name to the mix, there are also chicken strips. These are more similar to chicken nuggets and they're made from white chicken meat, but the part of the chicken is unknown.
Sometimes chicken strips can be chicken tenders; this occurs when the breast meat is cut into strips, so the name refers to the actual shape rather than the meat itself.
Breading Chicken Tenders
Chicken tenders are defined as being breaded, but is there a best way to do so? What kind of breading should be used? Here are some tips for breading chicken tenders:
Follow the right order: the best way to bread chicken tenders is to dip them in flour, then into egg mixture, and finally into bread crumbs.
Choose the right bread crumbs: the best bread crumbs to use for chicken tenders are often crushed-up cereal. Corn flakes that aren't sweetened are popular options, but if you're short on time, many grocery stores will also sell pre-made bread crumbs.
Chill in the refrigerator: after you've breaded your chicken tenders, put them in the fridge for 30 minutes before frying them. The coldness helps the egg, flour, and bread crumbs come together and hold.
You should bread all your chicken tenders before you start to bake them. This step is vital to what makes chicken tenders the popular dish that they are.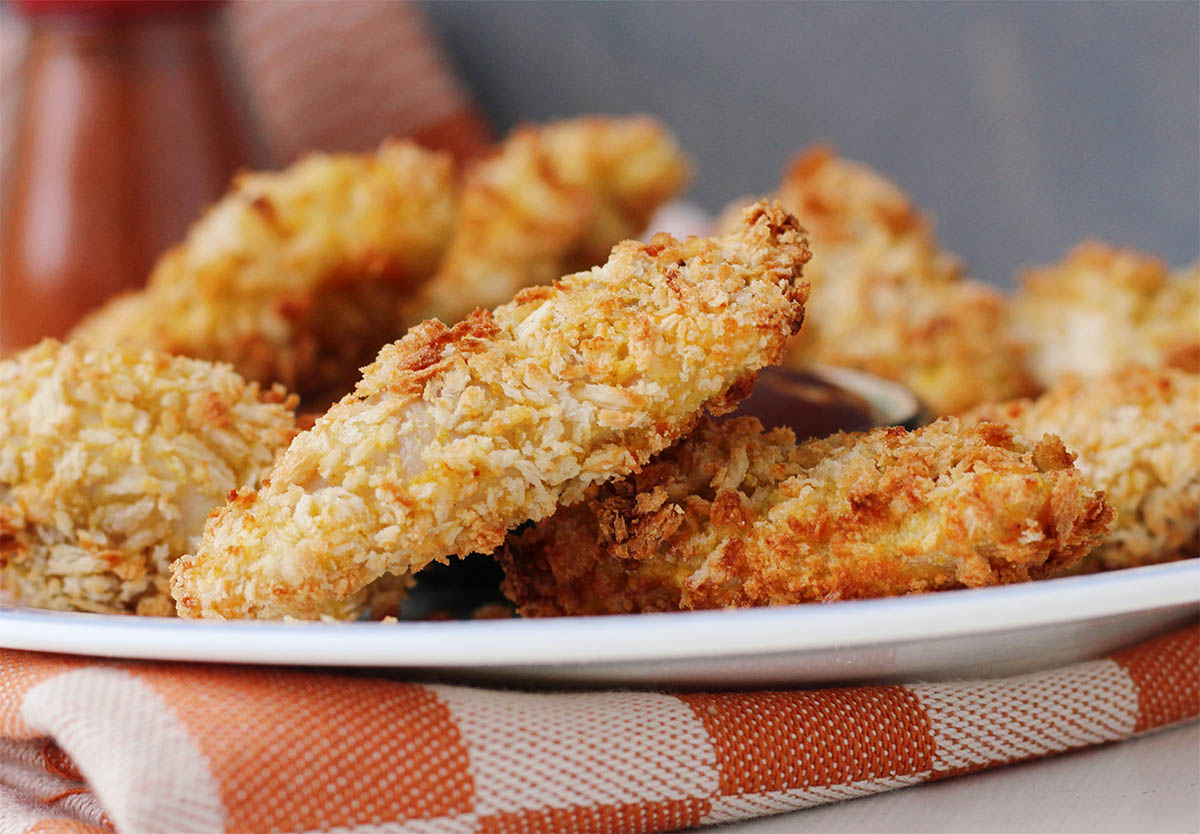 Can You Make Gluten-Free Chicken Tenders?
Since preparing chicken tenders requires both flour and bread crumbs, it can be hard for people with gluten sensitivities to eat them. Luckily there are actually quite a few options to make chicken tenders gluten-free.
The easiest way is to buy flour and bread crumbs labeled "gluten-free." You can also choose flour or bread crumbs made from ingredients that do not contain gluten, such as nuts, other ancient grains (e.g. kamut), or starches like tapioca.
Baking Crispy Chicken Tenders
Fried chicken tenders are crispy and just delicious overall, but deep frying them is not as healthy. Baking them can actually be just as crispy if you follow these tricks:
Use breadcrumbs on the outside instead of just flour. This creates a nice crispy outside as opposed to just using flour.
Toast breadcrumbs before baking. Before adding the breadcrumbs to the chicken tenders, toast them either in the oven or toaster oven. Sometimes there's additional moisture when baking, so by toasting them beforehand, it'll be more likely they'll retain their crispiness.
Use parmesan cheese. By mixing parmesan cheese with the breadcrumbs, you're helping them to bind together. This means more surface area to get crispy.
Pat dry the chicken tenders with a paper towel. This will help the bread crumbs, eggs, and flour stick better, and will help the meat itself remain crispy yet moist.
Put the chicken meat in the fridge the day before. You don't want your chicken to be too moist because then it won't get crispy. You want it to be as dry as possible!
Do not use aluminum foil: aluminum foil keeps moisture in, which can make both the chicken tenders and the breadcrumbs soggy.
While many people can enjoy chicken tenders without them being crispy, they often taste better when they have a crispy outer shell.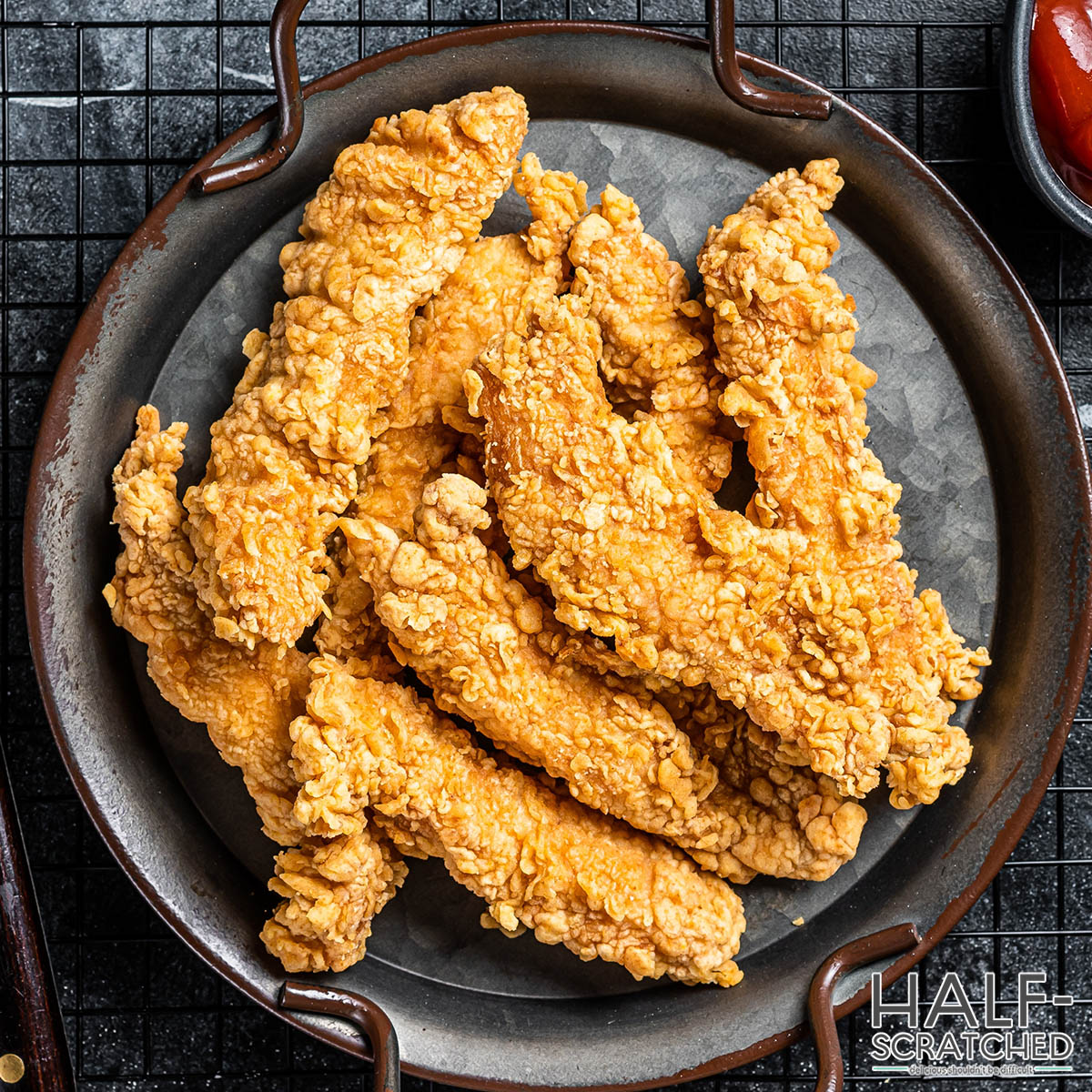 General Tips for Baking Chicken Tenders
Baking chicken tenders doesn't have to be hard! Follow these tips for stress-free cooking!
Buy Whole Chicken Breasts to Save Money
As mentioned before, chicken tenders are from the inner filet, and they can be found right underneath the main breast. Buying the entire breast rather than just the tenders is usually cheaper because there's no middleman cutting the tender from the breast.
Douse in Olive Oil
Dousing your chicken tenders in olive oil before breading them will help to keep the chicken from drying out too much when it's baking. You don't want them to be too moist. Otherwise, they won't be crispy, but adding oil reacts differently in the oven than water.
How Can I Add Flavoring to My Chicken Tenders?
Sure, a crispy breaded outside is delicious, but what if you want a little more flavor? The best way to do this is to add your favorite spice or flavor during the breading process. Dry spice can be mixed in with the flour or bread crumbs, while a liquid sauce or something more wet would work well with the egg dip.
Speaking of Adding Flavor, Here Are Some Good Dipping Sauces for Chicken Tenders
There are a bunch of great sauces for dipping chicken tenders into, but how can you choose? Here are some of the most popular ones:
Ranch dressing
Barbeque sauce
Mayonnaise
Your favorite hot sauce
Honey (sweet goes with savory very well)
Are Frozen Chicken Tenders Just as Good?
The short answer is yes, frozen chicken tenders are just as good as fresh ones. Just be sure to defrost it completely and pat it dry so it doesn't add too much moisture and become soggy.
How Long Can I Keep Cooked Chicken Tenders in the Fridge?
Cooked chicken tenders can last from three to four days in the fridge. If you want them to last longer, put them in the freezer, where they can last for months.
Family Favorite Oven Fried Chicken Tenders Recipe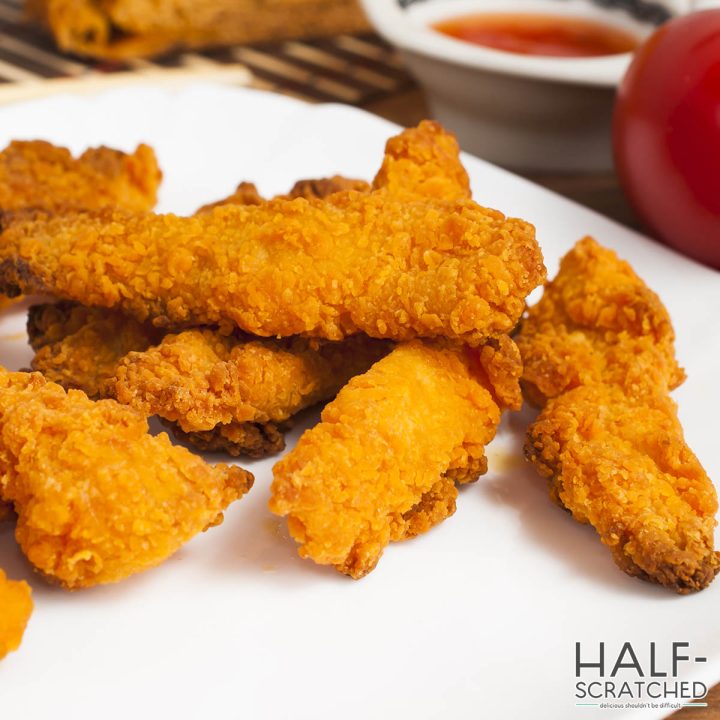 How Long to Bake Chicken Tenders at 375 F
Chicken tenders are a fun and delicious way to eat chicken and this article will give you teach you to bake them into perfection.
Ingredients
1¼ pound chicken tenders
¼ cup all-purpose flour
1 egg
1 tablespoon water
1 cup bread crumbs
½ cup grated parmesan cheese
Instructions
Preheat oven to 375 degrees Fahrenheit and line a baking tray with aluminum foil. The foil provides easy cleanup and isn't necessary if you don't want it.
Set out three bowls. In the first, put flour; in the second, put beaten egg and water; in the third, put the bread crumbs and parmesan cheese.
Place the chicken tenders in the first bowl, then the second, then the third, and finally, place on the baking tray.
Bake for 20 to 30 minutes, or until the tender is no longer pink in the middle or the internal temperature is 165 degrees Fahrenheit.
Nutrition Information:
Yield:

3
Serving Size:

1
Amount Per Serving:
Calories:

845
Total Fat:

40g
Saturated Fat:

9g
Trans Fat:

0g
Unsaturated Fat:

26g
Cholesterol:

163mg
Sodium:

2100mg
Carbohydrates:

73g
Fiber:

4g
Sugar:

3g
Protein:

48g