Want a versatile protein for your weekly meals? Chicken breast is one of the best! You just need to know how long to bake it at 425 Fahrenheit, and that's what we're here for.
You should bake large chicken breasts (i.e., ¾ inch to 1 inch thick) for 23 to 25 minutes at 425 Fahrenheit. If you're working with medium chicken breasts (i.e., less than ¾ inch thick), limit the baking time to 15 to 20 minutes. Set the timer for the lower end of the cooking times to avoid overdoing it.
You'll know they're ready when their internal temperature reaches 165 °F.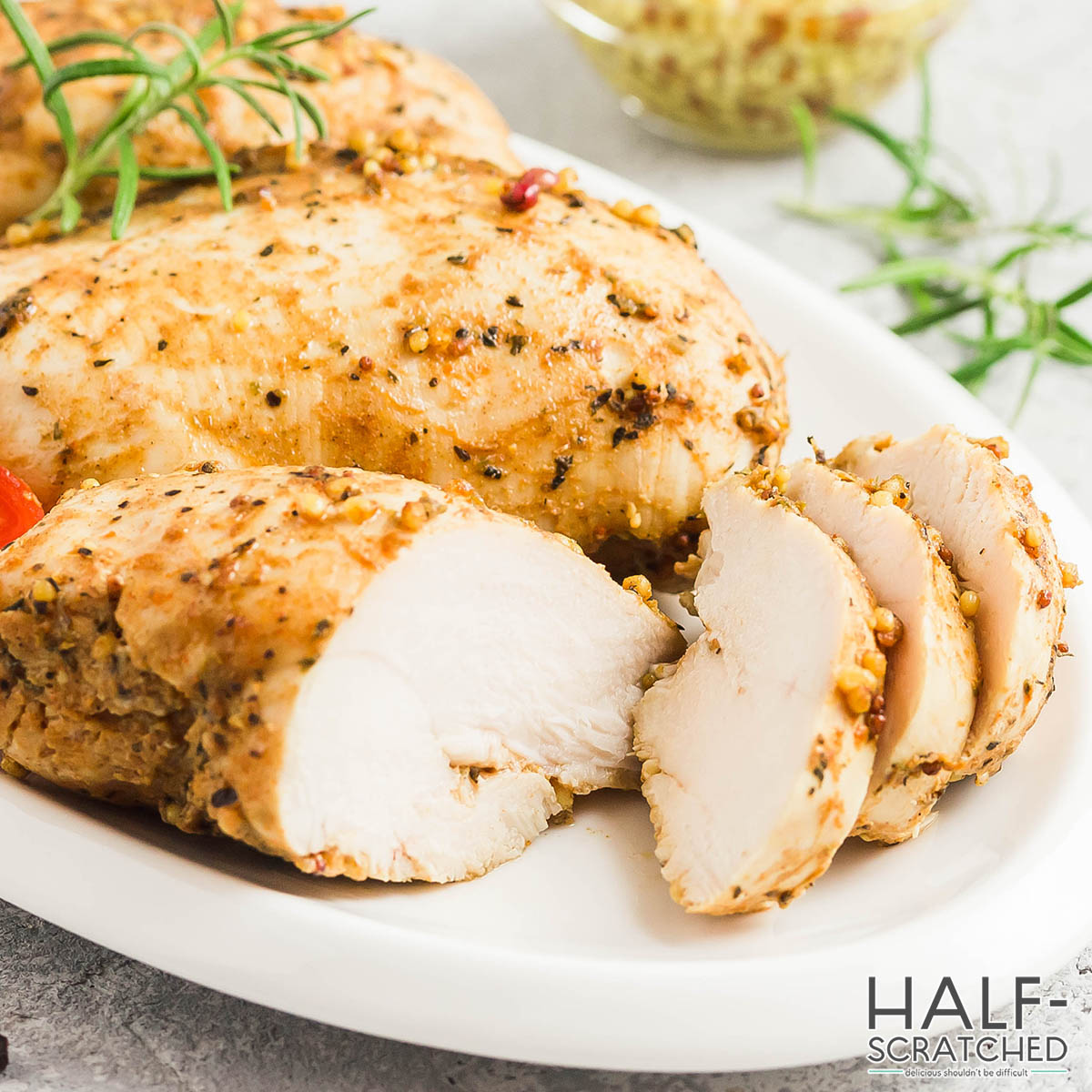 As we're sure you know, there's more to baking chicken breasts to perfection than the duration. So, let's jump into all the juiciness.
How to Keep Your Chicken Breast Moist Throughout Baking
Overcooked chicken isn't pleasant. Yet, it's a very common occurrence. But there are ways to retain its juiciness throughout baking for the most succulent chicken breasts you've ever made (and had the pleasure to eat).
Always Check Temperatures with an Instant-Read Thermometer
Using an instant-read thermometer to check the internal temperature of your chicken doesn't just ensure it's safe to eat; it guarantees you never overdo the breasts.
For food safety, the internal temperature should be 165 °F. However, don't let it creep over the 175 °F mark. Otherwise, you'll have to deal with dry, overcooked chicken — nobody wants that!
All you need to do is insert the thermometer into the thickest part of the breast. Using a thinner area could mean the thicker areas are unsafely underdone.
Choose Similar-Sized Chicken Breasts
If your chicken breasts are wildly different sizes, they will be ready at different times. To avoid this annoying occurrence, shop for similar-sized breasts.
Similarly, you don't want chicken breasts that are super thick on one side. Unfortunately, this is quite hard to avoid. Store-bought breasts are notoriously lopsided.
But fear not; there is a fix.
Put the raw chicken between two sheets of plastic wrap or secure the breast in a zip-lock bag. Then, use a meat mallet or rolling pin to pound out the thicker side. Stop once the breasts have an even thickness throughout.
Take Advantage of Marinades
Marinades are a no-brainer for flavorful, juicy chicken. Plus, they're massively versatile, ensuring they'll complement any recipe. And the longer you leave it, the more the breasts absorb the flavor (just don't let it run over 24 hours).
No Marinade? Brush with Oil
On the flip side, there are times when marinating your chicken breasts before baking isn't an option. In which case, brush it with oil to ensure moisture retention.
Let it Rest
Most people only let steak or large cuts of meat rest. But believe or not, chicken breasts need to rest after cooking — albeit only for five minutes.
The short but sweet resting period allows the juices to redistribute themselves throughout the meat for even succulence. That way, the moisture won't ooze out upon slicing.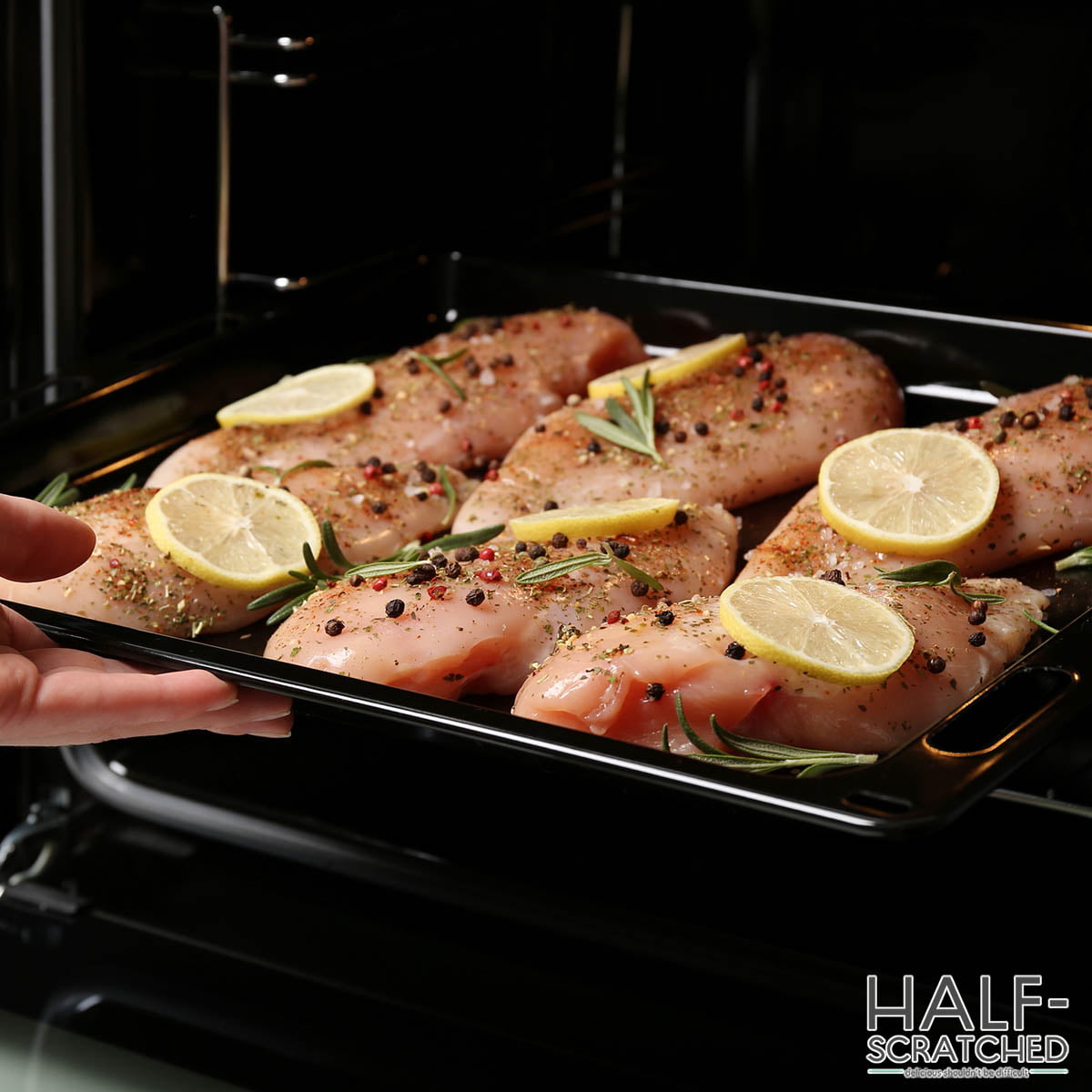 Seasoning and Marinating Your Chicken Breasts for Baking
Chicken breasts have a reputation for being bland, but with the right seasoning or marinade, they're beautiful.
Here are a few marinades/seasoning mixes to try:
Chili lime: This is great for Southwest or Mexican recipes. Mix ½ tablespoon olive oil, 1 teaspoon chili powder, and 1 juiced lime.
Balsamic vinegar and extra virgin olive oil: Perhaps the easiest marinade; just mix ½ tablespoon olive oil and ½ tablespoon balsamic vinegar. Almost every recipe will go well with this.
Lemon juice and extra virgin olive oil: If you love making salads or Italian recipes, this should be your go-to marinade. Mix together ½ tablespoon olive oil and ½ tablespoon lemon juice. Extra points if you use freshly squeezed lemon juice!
Teriyaki: Fantastic for stir-fries and Asian recipes, just use 1 tablespoon of teriyaki sauce from the store.
Southwest, Italian, or Mexican seasoning blend: Ready-made, store-bought seasonings are fantastic. They let you flavor your chicken breasts with ease. We recommend mixing 1 tablespoon of the blend with around 1 tablespoon of olive oil for best results.
If you don't like the sound of these, you can always make your own. As you become more confident baking chicken breasts, you'll experiment with flavors and come up with unique blends that suit you.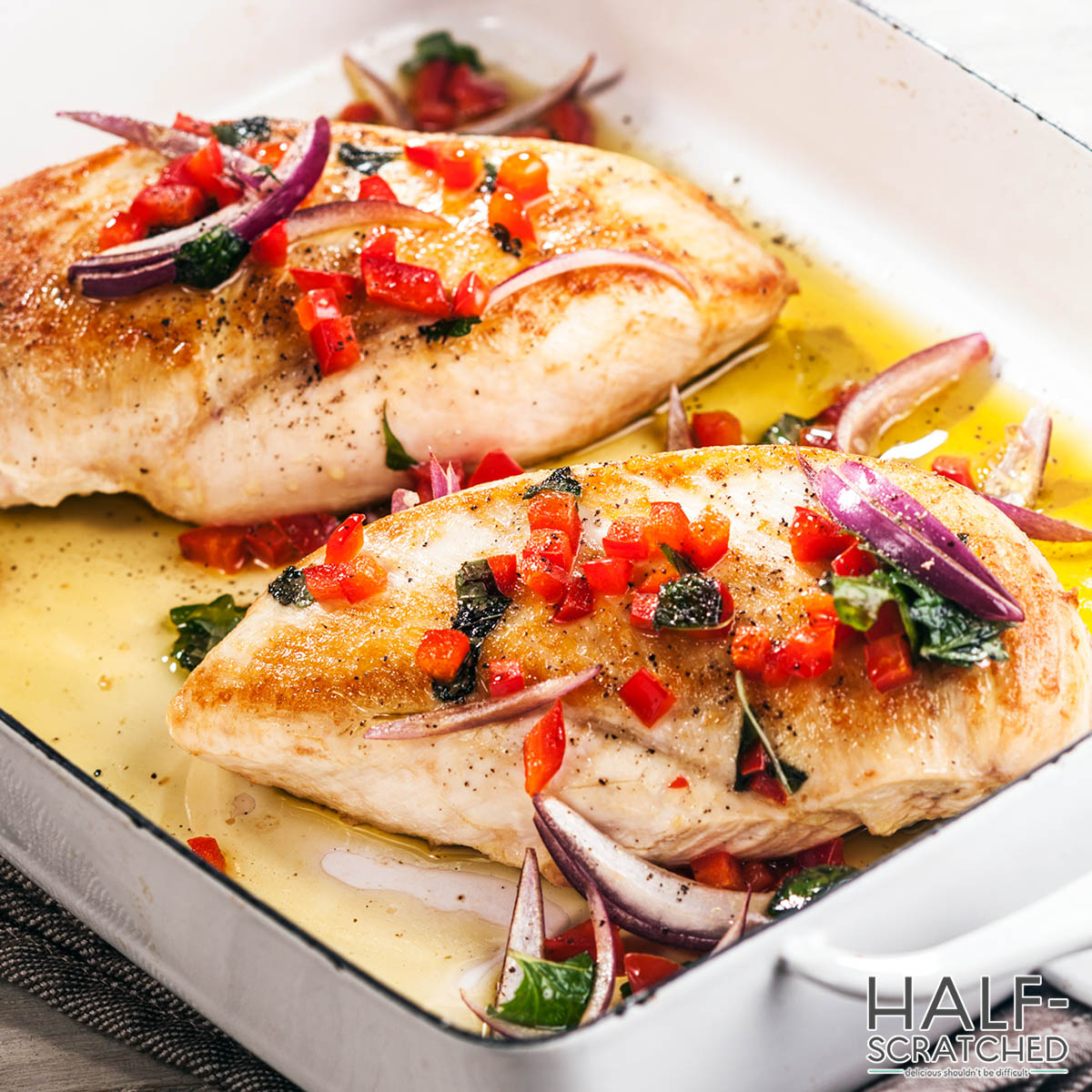 Storing and Reheating Baked Chicken Breasts
You don't want to waste that delicious chicken you've baked. So, we've put together a short yet super handy guide to ensure you can safely store, freeze, and reheat the breasts when life gives you leftovers.
Storing
After baking at 425 °F, you can store any leftover chicken breast in the fridge for three to four days. Just make sure you put them in an airtight container first.
Freezing
To make the chicken breasts last longer, you can freeze them. In fact, they freeze really well!
Before putting them in the freezer, cool them completely and put them in a freezer-safe container (a freezer bag is your best bet). Finally, pop them in the freezer. They will keep incredibly well for four to six months.
Reheating
While storing and freezing chicken breasts are easy, reheating is a different beast — they dry out incredibly easily. However, if you're willing to put a bit of effort in, you can help them retain moisture.
Put the chicken in a pan with a dash of water. Alternatively, you can use chicken stock. In fact, we prefer this method, but it's not worth it if you're only reheating a small amount.
Cover the pan with a lid and turn the stove to medium. Heat at the same temperature until the chicken breasts are warmed.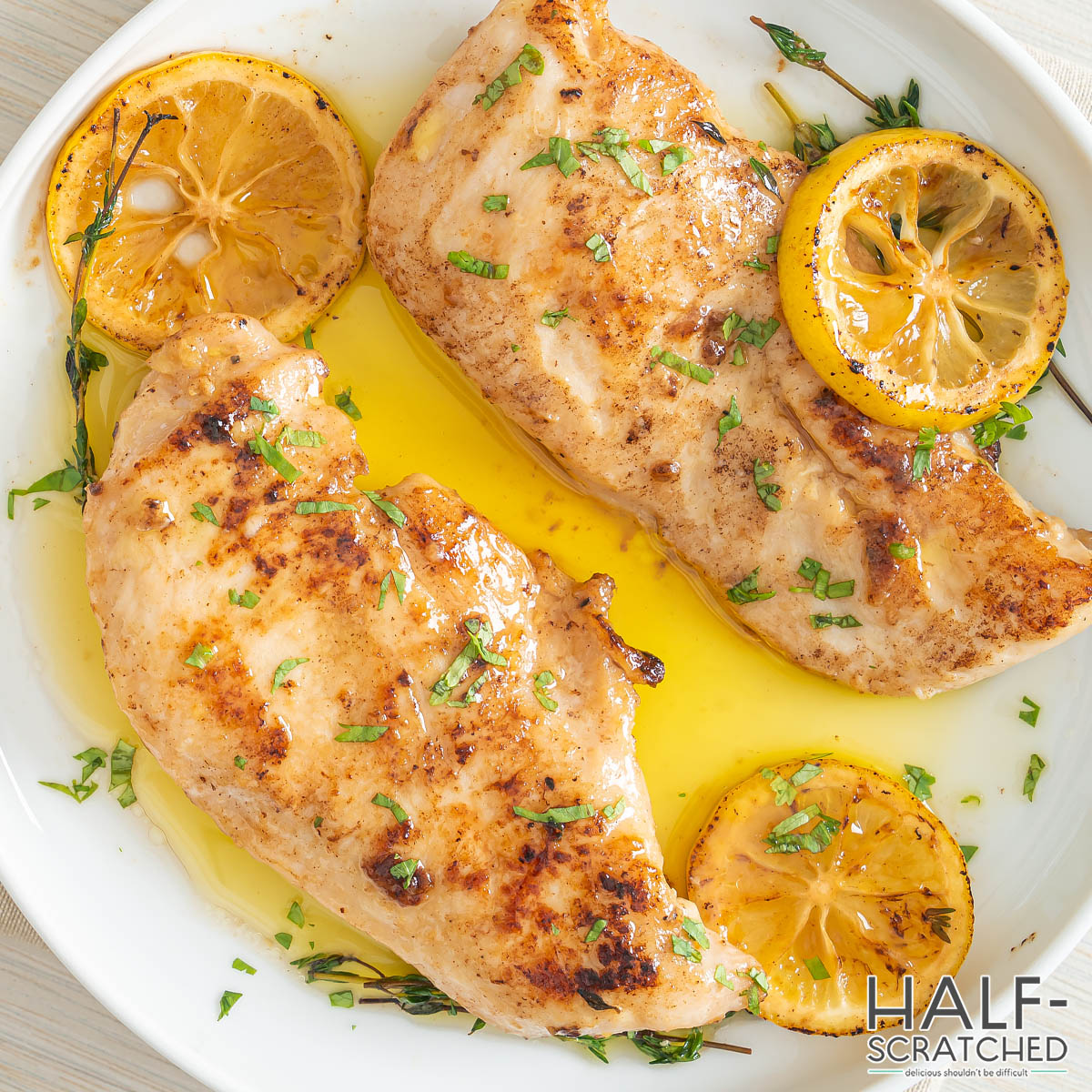 The Juiciest Chicken Breast Recipe Ever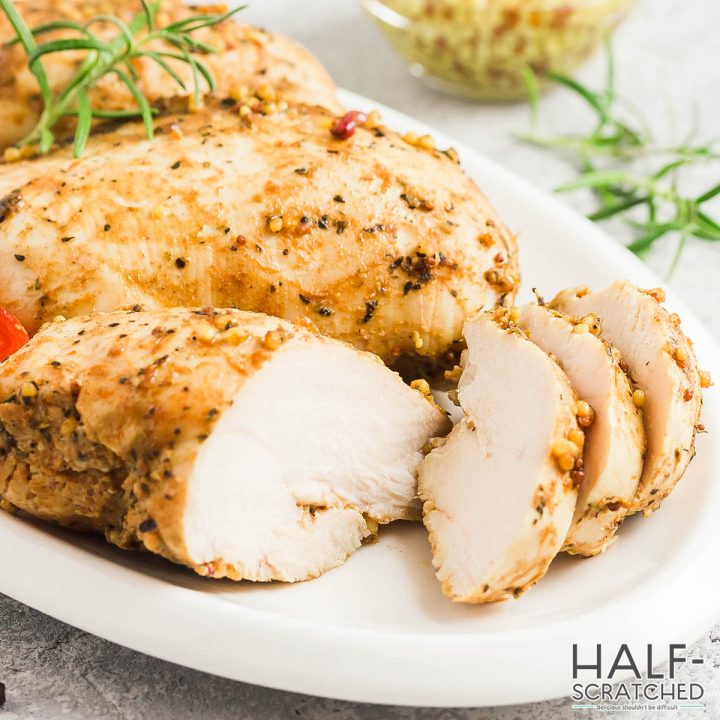 How Long to Bake Chicken Breast at 425 F
Learn how long to bake chicken breast at 425 Fahrenheit with our foolproof guide + expert tips for perfect chicken breasts.
Ingredients
4 chicken breasts
Salt (to taste)
Pepper (to taste)
½ tablespoon balsamic vinegar
½ tablespoon extra-virgin olive oil
Instructions
Preheat the oven to 425 °F.
Mix the balsamic vinegar, extra-virgin olive oil, salt, and pepper together in a small bowl.
Put a gallon zip-lock bag inside another zip-lock bag.
Put the chicken in the double bag.
Pour in the marinade.
Seal the bags.
Massage the marinade into the chicken. You can marinate the chicken for up to 24 hours before cooking.
Line a baking sheet with tin foil.
Remove the chicken from the bags.
Place the chicken breasts on the lined baking sheet.
Put the chicken in the oven for 15 to 20 minutes, depending on the size of the breasts.
Use an instant-read thermometer to check whether the chicken is ready. It should read 165 °F.
If it's ready, remove the chicken from the oven.
Leave it to rest for 5 minutes.
Slice.
Serve with your favorite accompaniments!
Notes
You don't have to use this marinade. Refer to the others we suggested earlier or create your own.
If you don't have any zip-lock bags to hand, you can simply toss the chicken with the marinade on the baking sheet.
Having trouble working out what to serve with baked chicken breast? Don't worry; it's so versatile that it will work with almost everything! That said, here are a few ideas — minty snap pea salad, tomato and feta white bean salad, arugula salad, tangy carrot slaw, cabbage apple slaw, lemon-ginger spinach, asparagus and radishes with mint, one-pot smoked almond couscous, garlic parmesan sweet potatoes, roasted carrots with orange, and potato, squash, and goat cheese gratin.
Nutrition Information:
Yield:

6
Serving Size:

1
Amount Per Serving:
Calories:

144
Total Fat:

4g
Saturated Fat:

1g
Trans Fat:

0g
Unsaturated Fat:

3g
Cholesterol:

68mg
Sodium:

157mg
Carbohydrates:

0g
Fiber:

0g
Sugar:

0g
Protein:

25g